Traveling to South Korea or even living there? Are you looking for a method to access foreign and geo-blocked US Television and other streaming networks for free? No matter the reason why, we are going to show you in this article how to unblock and watch US TV live and with ease when in South Korea.
Why Can't I watch US TV in South Korea?
Although South Korea does not censor access to the internet, like some other countries (China for example), they do have some restrictions out there. This can be bypassed easily – we will discuss exactly how to do it below.
Certain streaming platforms create digital entertainment such as movies and TV shows, which are restricted in other countries or territories outside their own, the United States being the best example.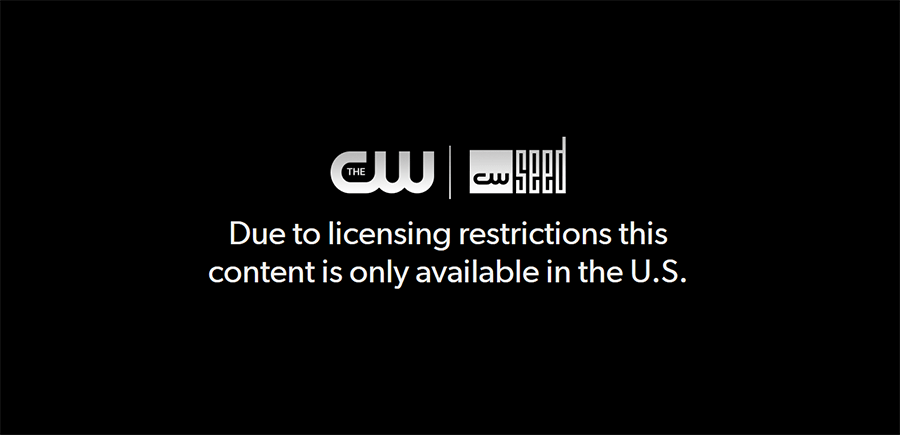 They can see the region from where you are trying to access their website using your IP (internet address). This IP can show you the approximate location or region; therefore, the website blocks you from accessing it.
These geo-restrictions are a pain to deal with, because of the limitations you are forced to take if you ever want to watch restricted content in another country, such as South Korea.
The solution to bypass geo-restrictions: use a VPN
Before telling you about the top-rated VPN's out there, we have to explain to you what a VPN really is. VPN stands for Virtual Private Network, a software which allows you to connect to a different network around the world, therefore changing your IP address to that set region.
Not only a VPN allows you to change your virtual location, but it also helps you keep your data more secure on your device. Imagine it like a fake address for your house, so unwanted people that look for you cannot find you there, the given address not really being real and there.
Avoid geo-blocks thanks to ExpressVPN >
VPN softwares have evolved over time, nowadays being very easy to use them, both for privacy reasons but also, in our case, to stream your favorite American TV channels in South Korea. Most of the browsers have a VPN already built-in, but in this article, we present to you our top choices regarding VPNs so you can enjoy the best quality products.
How To Use a VPN to unlock American TV Channels?
Knowing how a VPN works is only the first step. Knowing how to actually use it is the main priority – and it is really easy! Here is how to do it:
Choose one of our recommended VPNs below and sign up to the service. Our prefered one being ExpressVPN.
Download the app and sign into it using your details
Choose a US-based server from the list and connect to it
Visit the US TV site you want to watch and choose a show
Now, sit back, relax, and enjoy!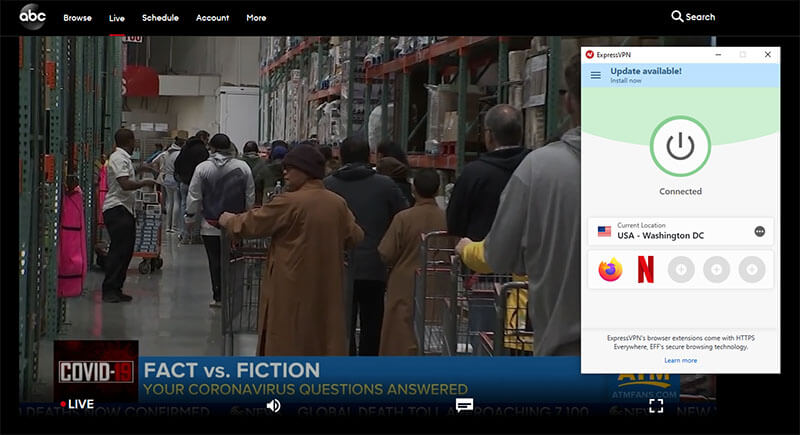 Best VPNs to Watch US TV in South Korea
The internet is flooded with VPN services, but you should be careful about who you trust your data with in the online environment.
We have narrowed your choices regarding VPN to the best three options in order for you to access an American streaming platform and unblock all the content which is not available in South Korea.
ExpressVPN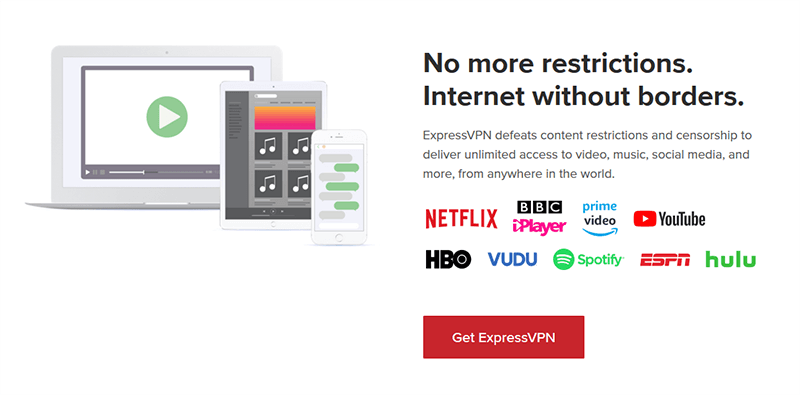 Unblocking your favorite US TV channels no matter where you are will not get any easier with the help of ExpressVPN. In fact, we believe it is one of the best if you're in South Korea.
Using ExpressVPN with its 3,000 servers available worldwide will provide you with plenty of choices for your virtual location (especially if you're looking for a server in the US). They have many more benefits compared to their competition and a ton of features.
ExpressVPN offers the highest speed connection to its servers and the website you are trying to access, although this reflects in its pricing. If you are looking for High Definition content at full speed without buffering, ExpressVPN must be your go-to choice. This proves that ExpressVPN is an investment well made in the long run.
This VPN protects your address using a 256-bit AES encryption, IPv6 protection, and DNS, so you do not have to worry about privacy. The software even has a switch that blocks data from being transferred to and from your device.
ExpressVPN offers 24/7 support with a live chat, and they do not log information about your device, ultimately meaning you cannot be traced. It is available for all the popular platforms, including Windows, Android, iOS, and even Linux.
NordVPN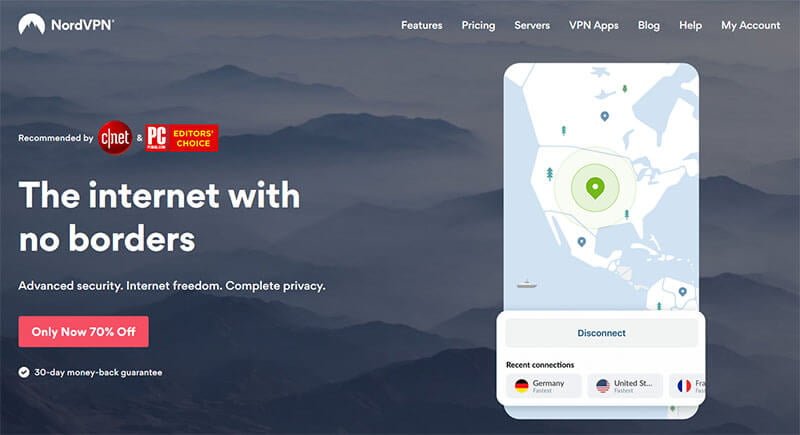 NordVPN is taking a spot on this list due to its extensive network. They feature 5,500+ servers online spread in over 50 countries, including South Korea. This means you can be placed virtually anywhere, allowing you to access any website from any country or region with high connection speeds and no buffering.
Isn't that perfect in order to help you watch US Televison live when in South Korea ? 😉
Regarding data safety, this VPN uses 256-bit encryption and protection against services such as WebRTC, IPv6, DNS, and even port-forwarding leaks. As a user, you can also block ads on specific websites of your choice (or all of them) and scan your computer for malware, even using two VPNs at the same time.
They also have a very strict no-logs policy, which means everything you do online stays private, and you can register on any website as anonymous by using a 10-minute email address and buy the membership using BitCoin.
NordVPN is available for macOS, iOS, Android, Linux, and Windows. So grab it here if you are keen:
CyberGhost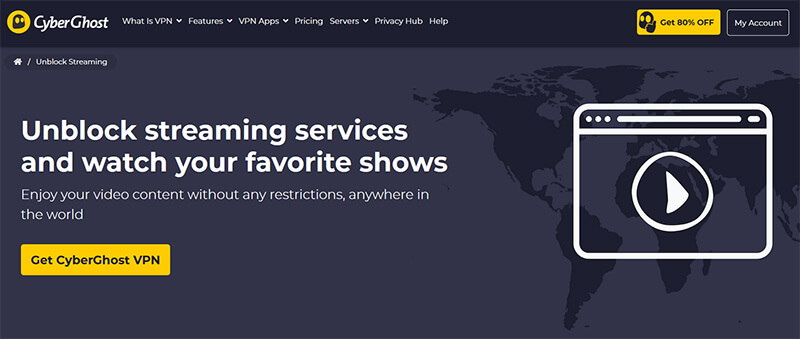 Using CyberGhost takes out the hassle of being online and having insecurities about privacy and your personal data. With almost 6,000 servers online spread around 90 countries, you can obtain a low-latency internet connection from pretty much anywhere in the world for a reasonable price compared to the competitors.
Even though the VPN has been designed with ease of use in mind, they are standing strong regarding security. Like their competitors, the 256-bit encryption is also available. They protect you from port forwarding, IPv6, DNS attacks, and WebRTC.
Along with this security option and a no-logs policy, it also features a kill switch. This ensures you will never browse the internet worried about your privacy while you are in South Korea. Even when watching US TV live!
This software is also available on most popular platforms, from Windows to Android, macOS, and iOS. To get this awesome VPN, or to test out the service, click the button below.
Wrap Up
Surfing the internet has never been easier. To unblock your access to a US stream online, watch your favorite American TV channels, or simply browse safely on the internet in South Korea, we recommend you start using a VPN.
Our top pick for a regular Internet user is CyberGhost. This simple VPN comes for a reasonable price and offers high-speed connections anywhere you want to connect. The impressive amount of servers available and broad device compatibility, make this VPN our go-to when someone asks what comes to mind first.
NordVPN and ExpressVPN are pricier, but the price reflects better quality if you are streaming very high definition content, so in the end, it is up to you which one of these three you choose. If you are still looking for a VPN after all this, IPVanish can also be a solution so check it out.