People around the world love streaming. Whether it's music or video material, we like the ability to have all our favorite multimedia stuff, without having to download it. Spotify is a platform that makes millions of people happy thanks to its extensive music library. However, it's not available in every country, making it inaccessible for some people around the world. To listen to your favorite artists anywhere in the world, you'll need a VPN, so let's see what are the best options for Spotify.
Best VPNs for Spotify in 2021 [ALL TESTED]
For those in a hurry, we decided to present our list right away. Here are our top 3 picks for Spotify:
1. ExpressVPN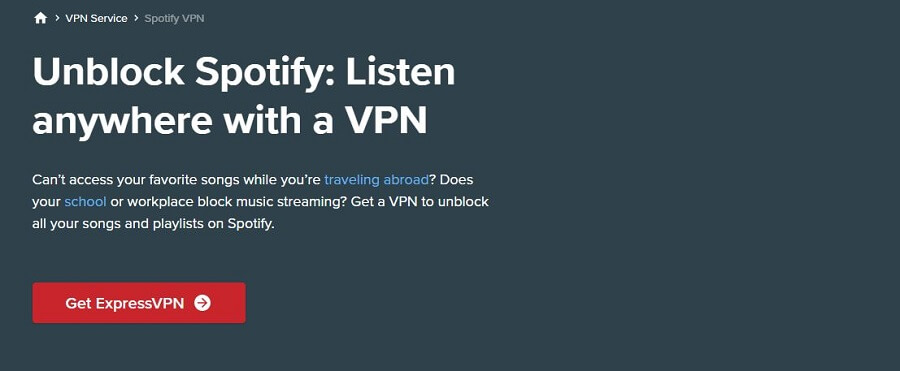 ExpressVPN covers almost the entirety of the planet with its 3,000+ servers in 94 countries. With that number of servers, finding the one that works with this platform will not be a problem. With a VPN, it's simple to unblock apps, and with this one – it's dead simple to listen to your favorite songs on Spotify!
It has an intuitive interface that lets you change your IP in a split second. Speed-wise, it's like a Bugatti. You can enjoy your favorite music in the highest quality, as well as watch Netflix in 4K resolution. Aside from Spotify, ExpressVPN unblocks Hulu, HBO GO, Disney+, and many other platforms.
Since it's from the BVI, it doesn't store logs, which is crucial for your privacy. It encrypts your connection with 256-bit encryption and in case you disconnect or change servers, there's an automatic kill switch. To prevent your IP from leaking, there's IP and DNS leak protection.
ExpressVPN comes with 24/7 live chat support and supports up to 5 simultaneous connections. You can also use it on your router to protect up to 16 or 32 devices in your home. And finally, the provider offers a 49% discount and 3 months free for a 12-month subscription plan.
Unblock Spotify With ExpressVPN >
2. NordVPN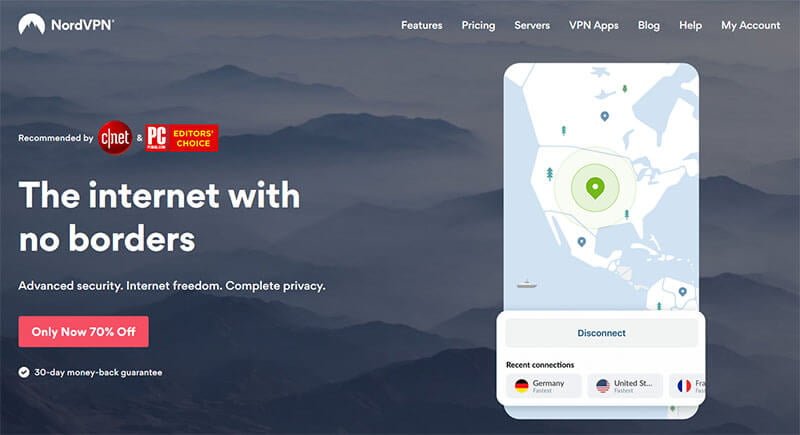 NordVPN blasts its way through the market with its 5,600+ servers in 61 countries. Not only will it unblock Spotify but a plethora of different platforms. It even unblocks DAZN, allowing you to watch any F1 races of the season or enjoy UFC matches.
Listening to some quality music should also make you feel safe, right? After all, this enjoyment is sometimes out of this world, especially when you're driving and enjoying a sunset or peaceful night time. Well, NordVPN is here to protect you with its 256-bit encryption and obfuscated servers.
We like the addition of a Double VPN. This feature lets you route your traffic through two different VPN servers, making it impossible to intercept. Also, if you want even more security, you can use it with Tor, and with it, you can access the Darkweb if you want.
An ad-blocker, CyberSec, is also here and it repels stubborn ads and malware. Being a Panamanian provider, NordVPN has a transparent no-log policy, keeping your identity anonymous. If you want to get it, smash the button below and see what the definition of quality is.
Listen to Music on Spotify With NordVPN >
3. CyberGhost

This Romanian VPN provider is great for every purpose, from streaming and torrenting to browsing and listening to music. It has dedicated servers for P2P and streaming but can also unblock Spotify if you want it. After all, it has 6,200+ servers in 91 countries, making it the largest provider on the market.
Many of you think that size doesn't always matter. For that reason, CyberGhost offers more than just a huge server network. It offers a no-log policy and the incredible ability to bypass geo-restrictions. Aside from listening to music, you can watch shows on Netflix and Hulu, which many of you will like.
Plus, you can unblock gambling sites such as bet365. See how to do that here https://monkeyprivacy.com/unblock-bet365-abroad. CyberGhost has 24/7 live chat and support is top-notch.
It supports up to 7 simultaneous connections and even has a 1-day free trial for Android, iOS, and Windows users. Furthermore, its 3-year plan is very cheap, placing it among the cheapest providers on the market.
If you don't like it, you can use its 45-day money-back guarantee. But, as we said, if you need a Virtual Private Network for Spotify, you'll surely like it a lot.
How to Use a VPN to Unblock Spotify?
How do you use this tool to unblock your favorite music-streaming platform? Here's our step-by-step guide:
1. Get a Subscription
Subscribe to a provider of your choice. Even though we gave you three options, our recommended option is ExpressVPN, as it's our #1 provider in 2021.
2. Install the VPN App
Download the app on the platform of your choice and install it. After that, you'll be met by the home screen.
3. Connect to the Server in Supported Country
Glance over to the list of supported countries below and choose a server from one of those countries. To do that, click on the country under the circular button, select the one from the server list, and connect to it.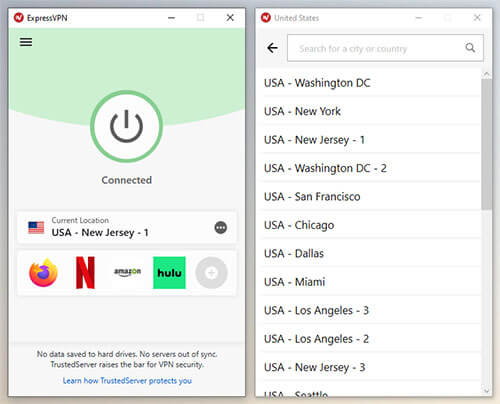 4. Listen to Music Effortlessly
Open your Spotify app and listen to music to your heart's contempt!
What is a Spotify Error?
Those who live out of supported countries will get an error that looks like this:

As you can see, it implies that the platform isn't available in your country. The question is – why does it happen? Well, aside from the obvious reason, we need to mention the license, which is always the reason for geo-restrictions.
Although the platform is made in Sweden, it supports a plethora of countries worldwide. This is due to licensing. Simply put, it needs to buy a license from original copyright holders to work in certain countries. Broadcasting music in a non-supported country will result in copyright infringement and the company would be in serious trouble.
We can compare this case to HBO GO, 10Play or BBC iPlayer. These platforms are available in the USA, Australia, and the UK respectively. They have a license to broadcast their content there, so you can't access them from any different country.
Which Countries are Supported?
We would lie if we said that Spotify doesn't support a lot of countries. Just take a look at this list: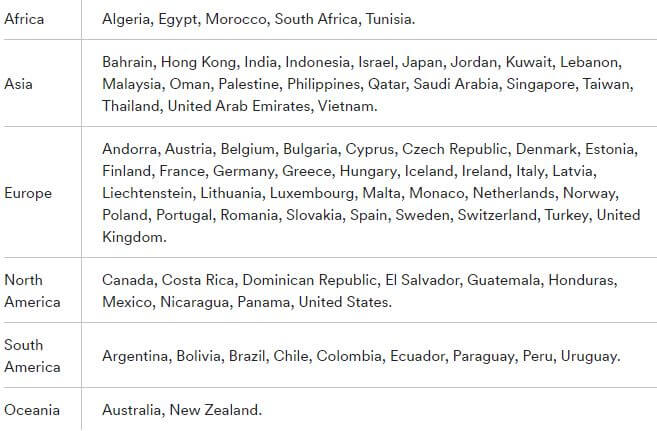 You can tell that support is pretty expensive. But, what if you're from Croatia or Azerbaijan? In that case, you should use a Virtual Private Network to unblock it.
Will Free VPNs Unblock Spotify?
To be honest, some of the free providers will actually work. But, there's a catch. Not only do they offer slow speeds but also limited bandwidth. So, you'll get stuttery, interrupted music streaming AND on top of that, you'll get a couple of gigabytes a month for using the internet.
We also want to stress how dangerous these providers can be. Most of them store logs, which they can later sell to third parties for revenue. After all, how would they earn if they give their service for free, right?
Avoid free providers at all costs. Instead, buy a subscription from one of the VPNs from our list and never look back.
Summary
To summarize, unblocking Spotify is very easy if you're using the right set of tools. The best provider for this purpose is ExpressVPN, which we wholeheartedly recommend. Aside from its big discount in 2021, it offers everything you need for smooth and uninterrupted music streaming.
Music lovers will not hesitate to get what's best for their ears. Aside from good headphones, you need this service to unblock the content you love.