We've seen numerous examples of cheap providers being exceptionally good. Some of them are Surfshark and CyberGhost, while others, more or less, fall flat on their faces. However, we have an interesting provider for a review today – UltraVPN. It comes at competitive prices and seems to offer quite a lot for what you need to pay. This makes it a great contender for an interesting, in-depth review, so we couldn't resist buying it and testing UltraVPN out for you. Keep reading, friend!
What is UltraVPN?
So, what exactly is UltraVPN? Well, as its name implies, it's a VPN provider from the United States that promises a lot in terms of speeds and performance. Being from the USA, this provider seems like it's plagued from the get-go. Countries that are members of the 5 Eyes aren't well received in the VPN community, and the US is probably one of the worst in that regard.
We reviewed IPVanish, which was pretty good, but Hotspot Shield wasn't, and it kept a lot of personal info about its users. Both of these are from the US, by the way. This provider, on the other hand, seems a bit different at first hand.
But, to see if UltraVPN is really different, we need to review it properly and in-depth. Without further ado, let's kick off our UltraVPN review and see if it's worth your cash.
Compatible Devices and Ease of Use
First things first – devices. We all love it when the provider supports a multitude of devices, as it allows us to connect it to pretty much every device in our home.
Sure, every provider supports computers and smartphones, but we always want a little bit of extra support. Is it possible to use it on Kodi or routers, for example? Well, not exactly.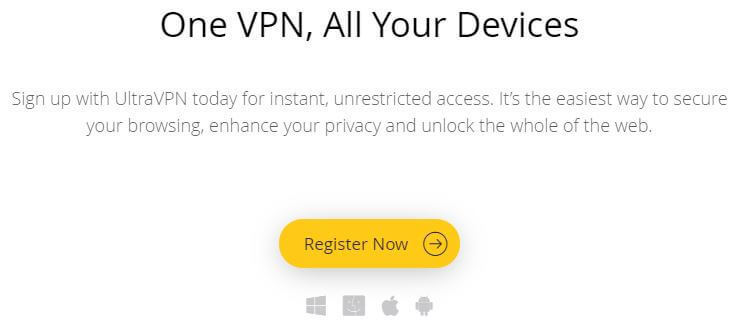 We can see what UltraVPN supports right away – Windows, Mac, iOS, and Android. There's another natively-supported platform that isn't on this list and it's Fire TV. The provider has a special app for this platform, so you can install it easily and unblock streaming sites.
Computers
Computers are first. As we mentioned, UltraVPN supports pretty much every computer platform, except for Linux, which definitely is a downside. Since we use a Windows computer, we'll test UltraVPN on this platform and review its ease of use and functionality.
Upon buying the VPN, you'll be prompted to download the app for the platform you're using. Click on the setup file and the setup will initiate: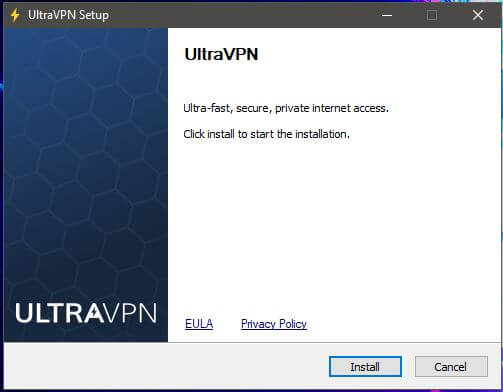 The promises can be seen right away, "Ultra-fast, secure, private internet access." We've yet to see that, but for now, just click Install and it'll immediately start installing: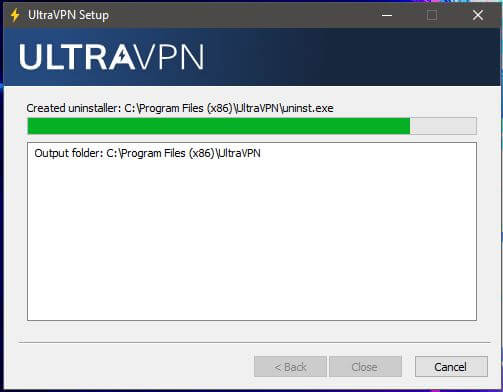 This process lasts about 5 seconds and immediately after that, the app launches itself for you. At this point, you're just an innocent bystander, but as soon as it launches, you take the control back.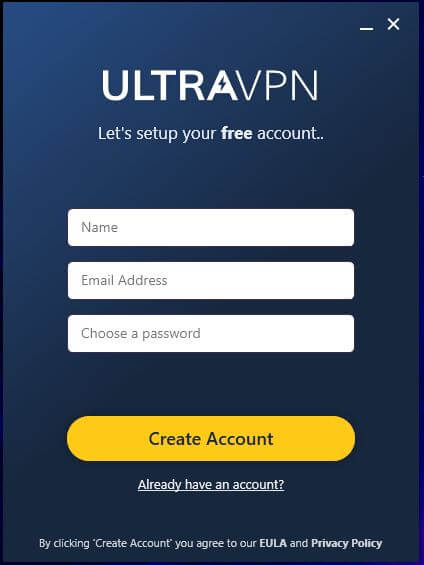 Here's your Sign Up screen. Given that we've already bought it, we have an account, so we went to the Login screen instead, typed in our credentials, and arrived at the home screen: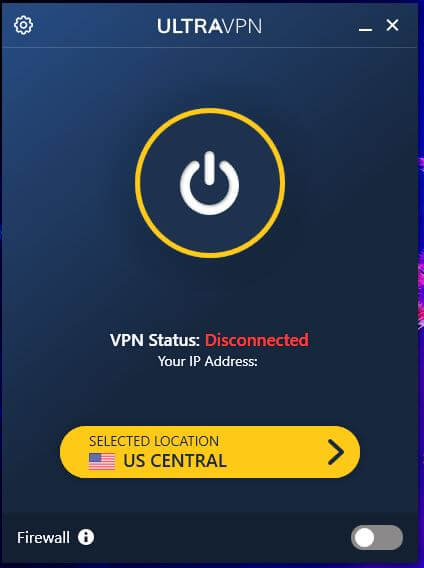 Very simplistic and minimalistic, as you can see. To open the server list, click on the arrow pointing to the right, next to the country.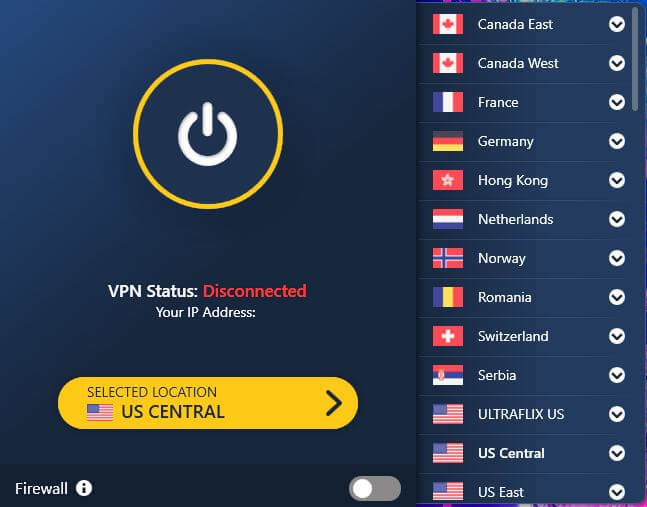 The server list opens right next to the app, so choose your server and click on the connection button to establish a connection.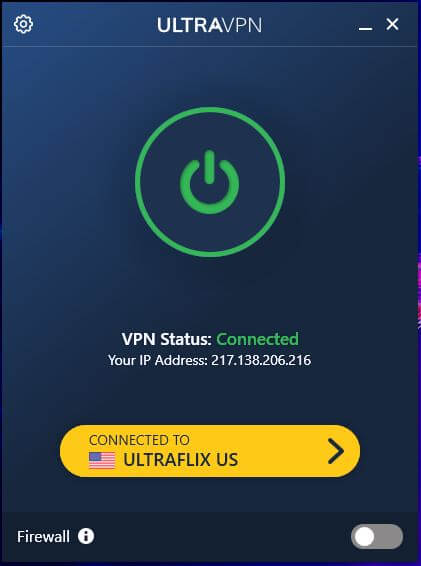 There you go, you're all set up! We like the UltraVPN app, it looks very good and does the job easily. We'll see if the same can be said for smartphones.
Smartphones and Tablets
Mobile devices also get their UltraVPN treatment and both iOS and Android can use it. The VPN can also be used on iPad if you want, as it supports Apple's roster of operating systems. As always for our reviews, we use an Android device, so we're going to test it on that platform.
First off, you want to download it from the Google Play Store, as shown in image 1.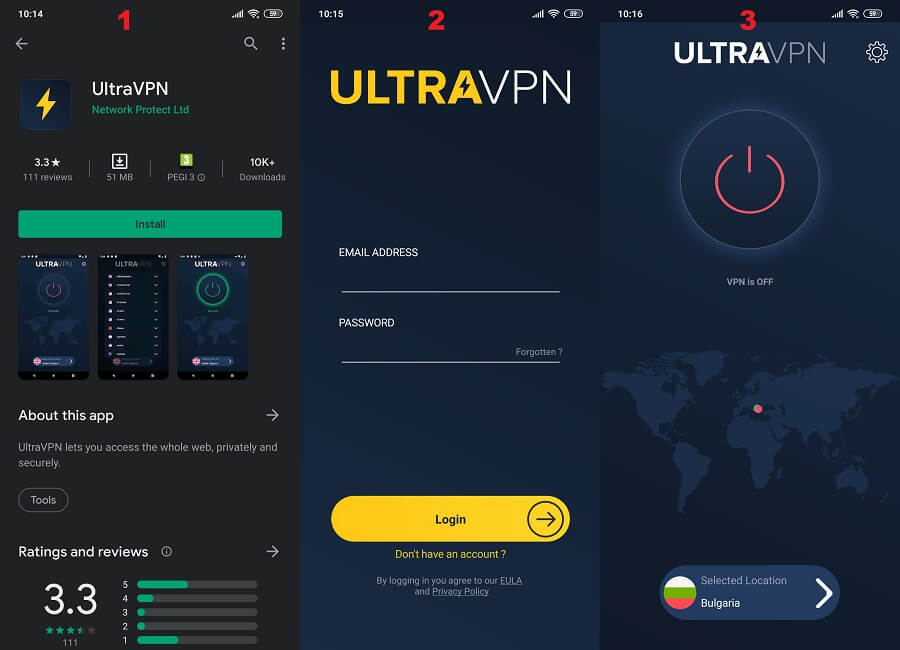 You can see that it has only 3.3 stars, which is not good news. Nonetheless, open the app and you'll see the Login screen, as shown in image 2. Sign in and you'll see how the home screen looks like in image 3. You get a world map here, whereas, on the PC, you don't.
Open the server list by tapping on the arrow next to Selected Location. Image 4 shows you how that looks: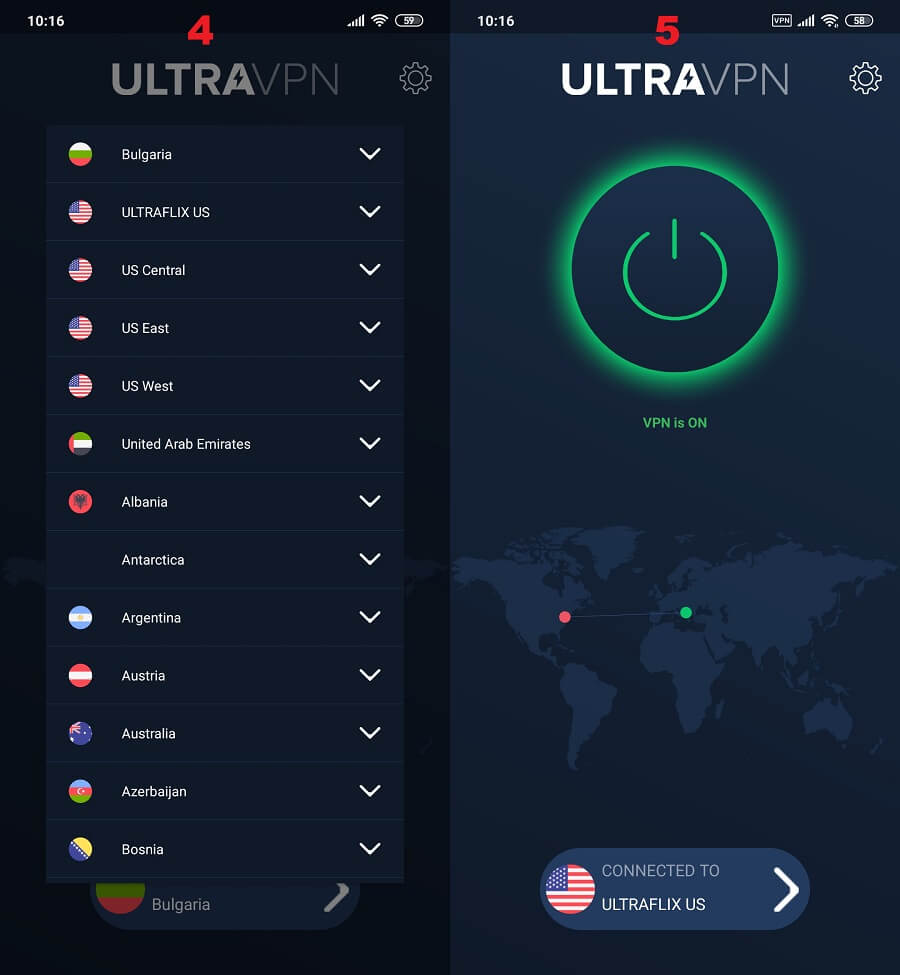 Tap on the server you want and press the connection button in image 5 to establish a connection. As you can see, the app is very simple, so you'll get around it pretty easily. However, we must notice that it's a bit clunky. When you press the button, it needs a second or two to react somehow.
There aren't smooth animations and it just snaps from one color to another. We don't know if it's an issue only for us, but we had to mention it.
Other Devices
AS we've seen during our complete review, UltraVPN doesn't support routers, which is kinda strange given that it supports Fire TV. And as we said, this is pretty thorough support, as they have a completely dedicated app for it, including a dedicated page, too!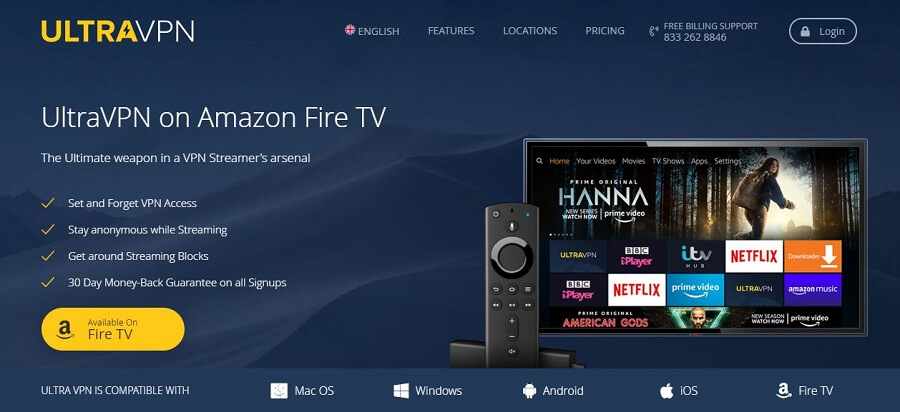 Streaming lovers will definitely appreciate this addition, as Amazon Fire TV is a very popular platform used worldwide. Overall, we're not impressed by its device support, especially since routers aren't on the list.
How Fast is UltraVPN? We Checked Its Speed!
Our speed test is known to be very thorough and rigorous, in order to bring you the results that are 100% true. Many providers passed through this test and not many of them won the battle with us. ExpressVPN still manages to impress us with its speed but apart from it, we're pretty much cold-blooded.
The important thing to mention is that every provider reduces your native internet speed to some extent. Some do it by 10%, while some of them go up to 90%, depending on the quality of the provider. Since many factors play a role here, we need to clarify how we did our tests for this review of UltraVPN.
We did 3 tests in the morning, 3 in the mid-day, and 3 in the evening, for 3 different locations. Also, we kept the best score and used the best location when it was possible. Our physical location is in the United States (non-VPN test) and we used these 3 locations for testing:
The United States
The United Kingdom
Australia
Without using a VPN, our native internet speeds are:
Ping: 11 ms
Download Speed: 211.88 Mb/s
Upload Speed: 202.20 Mb/s
Now, when using UltraVPN, our ping, download, and upload speeds respectively, for 3 testing locations, are:
US Server: 74 ms / 65.34 Mbps / 76.93 Mbps

UK Server: 181 ms / 30.85 Mbps / 27.51 Mbps

Australian Server: 402 ms, 8.72 Mbps, 10.77 Mbps

We can see that UltraVPN's speeds are all but impressive. Even when using the US server, speeds were atrocious compared to what our native speeds are. Don't get us wrong, speeds were serviceable on both US and UK servers, but when we put it next to our default internet speeds, they're minuscule.
We saw the biggest downfall was the Australian server, which trumped our download speed to a single-digit number. Needless to say, we couldn't do anything more than browsing on this server, and even that was painfully slow.
Long story short, UltraVPN gains a negative point in our review, as it has VERY slow speeds. Huge disappointment, really.
How Good is UltraVPN for Streaming?
The reason for our disappointment is the fact that UltraVPN is exceptionally good at streaming – who would've thought?! When we saw its capabilities, we mourned its lackluster speeds, because it could've been a hell of a provider for streaming. For example, it unblocks US Netflix 10 times out of 10 during our review.

We tested Netflix UK and Netflix Canada, and they all work pretty fine. Other American platforms work, too, such as Hulu:

What about Disney+? Well, UltraVPN smashes it like a bulldozer: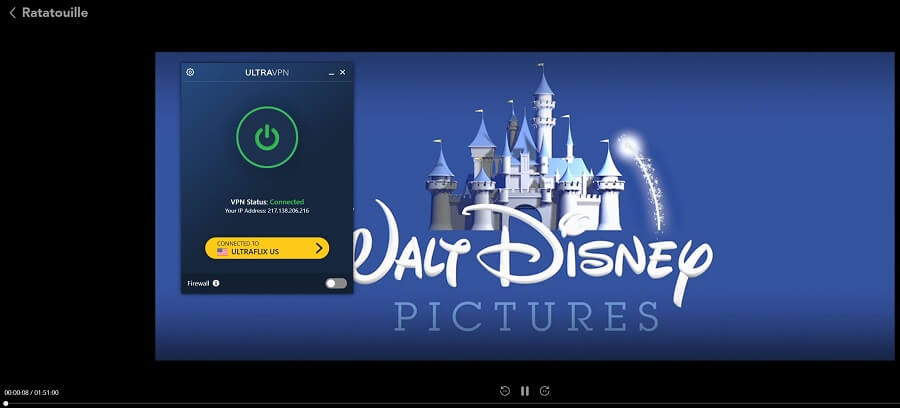 In our tests, we managed to access HBO GO, too, and as always, we expect nothing less: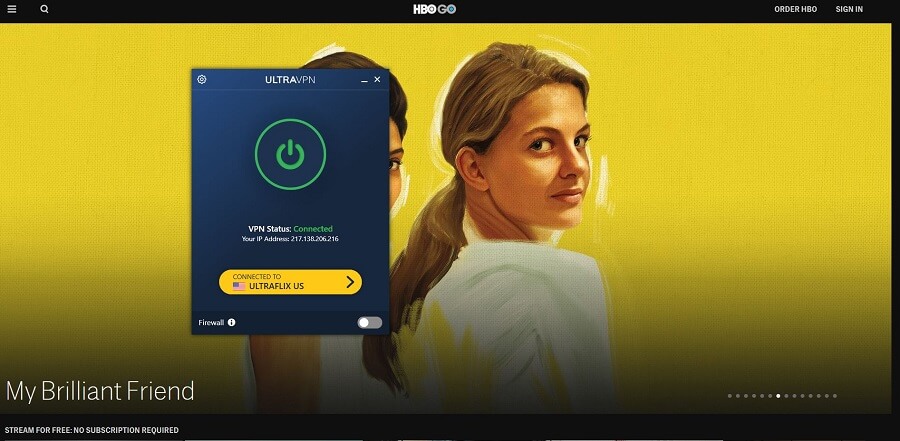 The fact that UltraVPN works with DAZN made us very happy. It's been a long time since we've seen a VPN that unblocks this platform, except for ExpressVPN and VPNArea.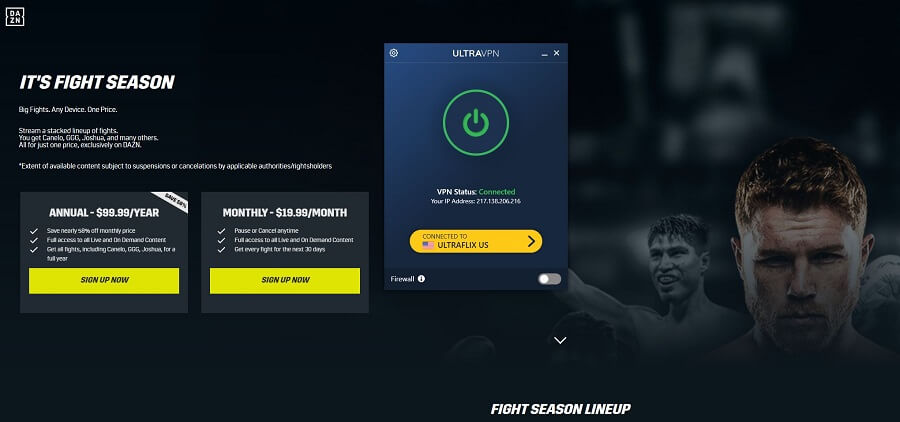 Finally, we have BBC iPlayer on the test, which also works like a Swiss clock: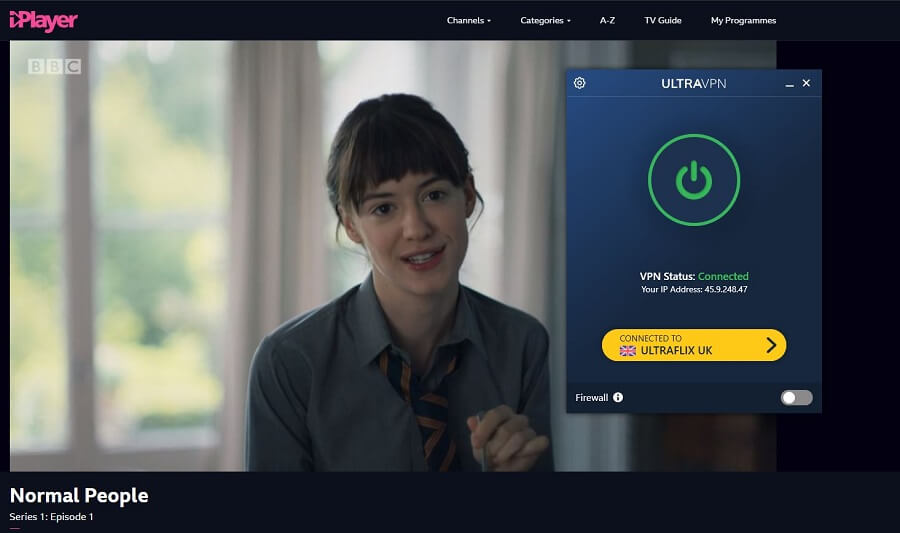 UltraVPN passes our streaming test with flying colors, unblocking EVERY platform we threw at it. We must admit that we're pretty impressed in this regard. We're glad that some providers still emphasize streaming, rather than being only safe and secure, and offering nothing more than that.
Confidentiality, Security & Logs
Speaking of safety and security, we got to the crucial paragraph in this review of UltraVPN. Safety and security are fundamental stuff in every Virtual Private Network, and without them, it's basically pointless using this service.
We always like to start from the privacy policy and move on to other features. So, let's do it now.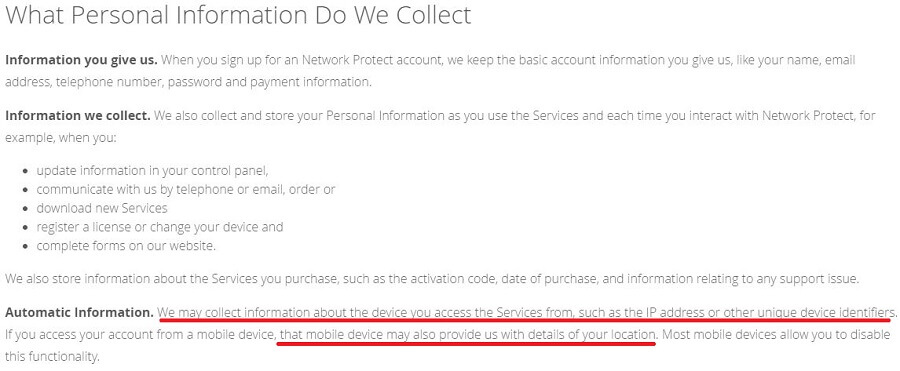 As seen from the image above, the privacy policy is straightforward and they don't use those techy words to confuse the hell out of you. However, once you scroll down a bit, you see that they store your IP address and other unique device identifiers.
We also highlighted the part when they say that your mobile phone sends them your location. You can disable this functionality, but then again, what are you going to do without it, if you need navigation or weather forecast?

This is the part that concerns us the most and it's about sharing your information with third parties. You see that their cooperation with third-party companies are pretty… well, intimate if we can say it like that.
They definitely share some of the information with third parties and judging by this part of the policy, we don't like it at all. Moreover, they mention selling, transferring, and merging parts of their business and assets, where they may share some of your data with a particular company.
On the flip side, they claim that they don't keep any logs. How can you sell or give any? UltraVPN definitely isn't very safe to use, especially because of their 14 Eyes involvement. For us, it's already game over in terms of safety, but still, let's do the IP leak test and see what it says: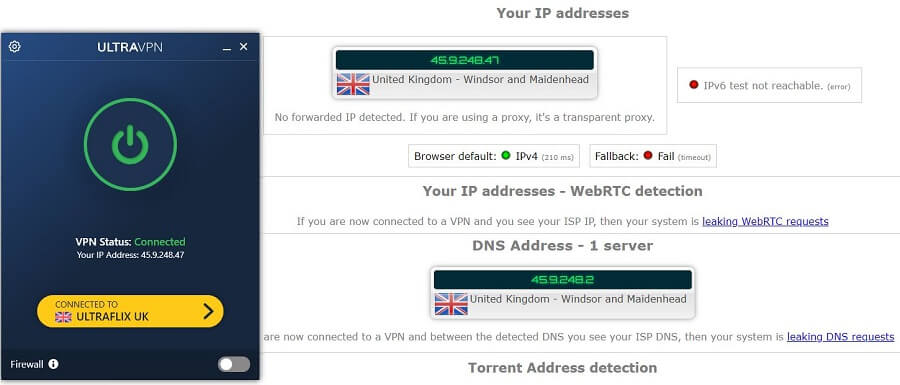 The IP leak test showed no IP or DNS leaks, making UltraVPN secure enough. As for other security features, we have an automatic kill switch, 256-bit encryption, IKEv2, UDP, and TCP protocols. That's enough for impeccable security, but given that UltraVPN stores some logs, we'll be very careful.
Can I Do Torrenting Safely With UltraVPN?
Despite being from the United States, UltraVPN allows torrenting. It doesn't have any DMCA policies, warnings, notices, and so forth. Simply put, you just need to connect to the server of your choice, visit the torrent site you want, and download a torrent file of your choice. That's what we did.

The provider isn't very clear on whether it allows for P2P connections, but with a bit of asking them around, we found that it allows. If you're planning on buying it, that's some pretty good news.
Can I Use UltraVPN to Bypass Censorship?
And what about censorship? Well, censorship usually plagues countries like the UAE, Russia, China, Pakistan, and Iran. In these countries, governments block numerous sites on a daily basis, making it impossible to sometimes access even YouTube or Facebook.
But, our measuring point, as always, is China. The Great Firewall of China is still a fierce enemy of many VPNs on the market, detecting and blocking a majority of them. Nowadays, only a handful of providers work there, and unfortunately, UltraVPN isn't one of them, as it can't bypass censorship.
If you need a Virtual Private Network for this purpose, be sure to choose either ExpressVPN or NordVPN. These two work in China and all the countries we mentioned.
Pricing and Plan Options
In this paragraph, we'll review some pricing options and see how valuable UltraVPN is for the price. This time, we're going to do it slightly differently. Since the provider offers a few special add-ons that cost more, we're gonna mention them in the Special functionalities part.
For now, we'll focus just on the price of the basic VPN, as this is the one we tested.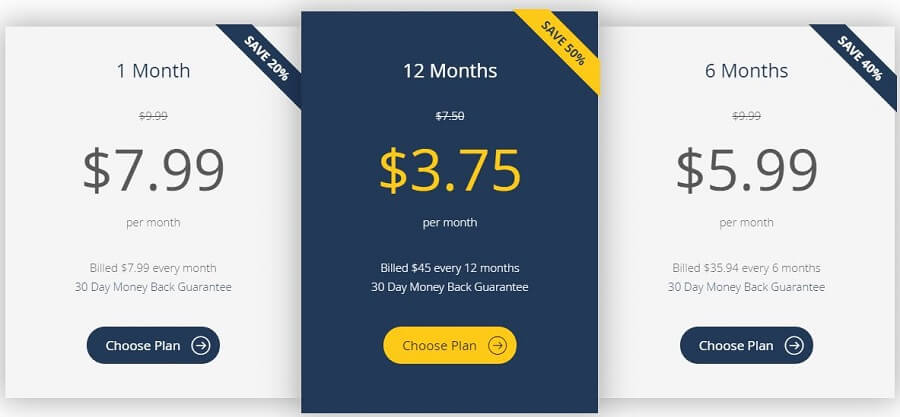 We can see that these prices are pretty low. A monthly plan comes at $7.99 a month, which is significantly cheaper than almost any provider on the market. A six-month plan comes at $5.99 a month or $35.94 every six months, while the annual plan costs just $3.75 a month.
If you're looking for a cheaper annual plan, you aren't going to find one. However, if you want a cheaper plan based on a monthly basis, you can get CyberGhost for $2.75 a month for a 3-year plan. While this sounds awesome, UltraVPN has other functionalities that you need to pay for and it ruins the affordability we have here.
Should you decide to buy UltraVPN, you can use these payment methods: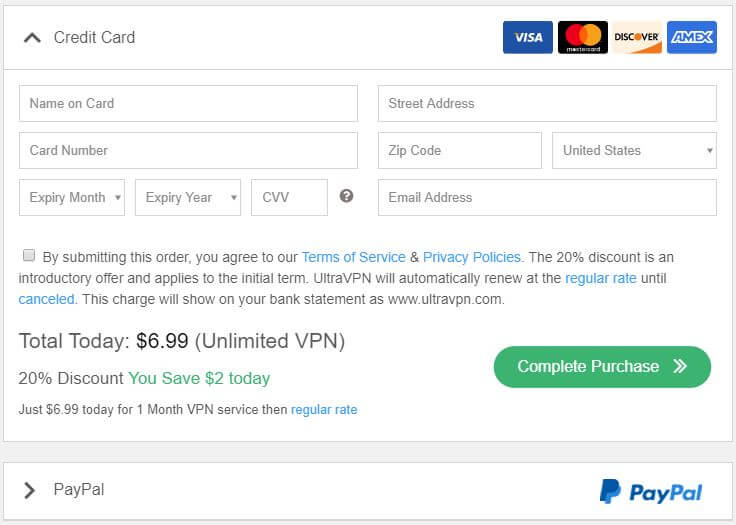 These are basic payment methods, and although we're glad that PayPal is here, we aren't glad that Bitcoin is missing. UltraVPN also offers a 30-day money-back guarantee with no special tricks and deceptions:

You can get your refund by contacting the support, and since we touched on it, it's time to review it.
How Can I Contact UltraVPN?
Contacting this provider is pretty easy, as it has a live chat feature, which we always appreciate. While live chat is here for less complex solutions, it's still what many people prefer over traditional email support. When you visit their 'Contact Us' page, the provider shows you what methods you can use for contacting it: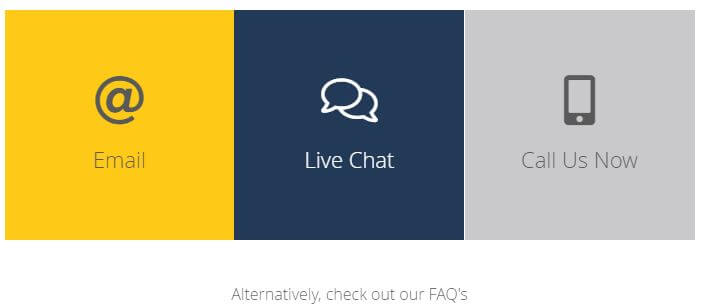 You'll see one thing that you don't often see in VPN providers – phone support. UltraVPN has a toll-free phone number that you can call from anywhere in the world, should you need any help. The good thing is that it's available 24/7, too.
The live chat feature is also there 24/7 for you and they're pretty responsive. Although, we must admit that one operator didn't speak the truth. We asked him about getting a free trial of their premium service for reviewing purposes.
He told us that there's a 7-day trial when you register. We did that but it turned out to be just a basic, limited version of the app. Then, we just bought a monthly subscription and rode it out. Nevertheless, we got a bit off the topic, so we haven't mentioned email support.
You see it above and it's not that impressive. If waiting for half an hour or hour for an answer is your style, be our guest.
The Special Functionalities
You didn't forget the prices we mentioned a few minutes ago, right? Well, you might want to take a look at this:
Look at what else they charge you for. It's ludicrous. For example, to get an unlimited number of simultaneous connections, you need to pay approximately $38, which significantly increases the overall price.
Now, if you were to add more stuff, you'd get a price so high, that it's simply not worth it. This Ad Block Pro thing could've been added to the basic VPN, alongside Unlimited Protection. They could've increased the price a bit, as it's still low, and make a much better product accessible to everyone.
The funny thing is that they offer Priority Support for almost 10 bucks, so you can wait shorter in a queue when you need support. Also, you get an additional device at $16. Paying 16 bucks for another device to protect is going to make you look like a jackass – don't do it.
We know that special functionalities are in the app, but the app has NOTHING to offer aside from kill switch. This is all you're going to get that can be called "special."
Other Things You Should Know
There are still a few more things we haven't mentioned in our review of UltraVPN, so let's go over them in this section.
Number of Servers
At first, UltraVPN seems like a much bigger provider. But, once you see how many servers it has, you'll quickly change your opinion.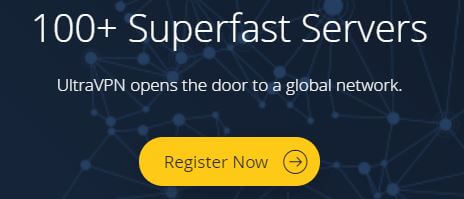 With only 100+ servers worldwide, this provider is simply too small to compete with the likes of NordVPN and CyberGhost, as these have 5,700+ and 7,000+ servers respectively.
Number of Countries
UltraVPN at least covers a decent number of countries with its servers: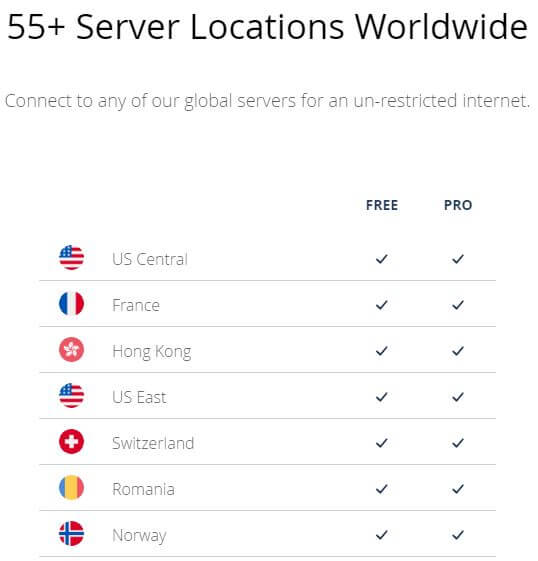 Just above 55 locations worldwide isn't a bad number, especially with a server network so small. Every country has one server, except for a few of them, such as the USA and the UK.
Number of Simultaneous Connections
We bought a basic VPN subscription with no additional features and we were surprised at how modest UltraVPN is when it comes to simultaneous connections – only 3 of them!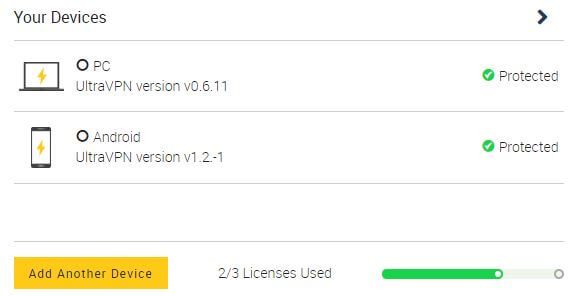 If you want an unlimited number of connections, you need to pay for it or just get Surfshark and enjoy it to the maximum.
What Do Other Users Say About UltraVPN?
Is UltraVPN a respectable provider online? Not exactly. Let's check a review about UltraVPN on Reddit and then, we'll move on to other relevant platforms:
This user is extremely dissatisfied with the service he got. After buying his subscription, UltraVPN removed South Africa from the country list, and he couldn't use it anymore because of that. After this happened, they refused to give him a refund, because of which they're thieves in his eyes.

The Apple Store review about UltraVPN is also a pretty negative one. This uses claims that UltraVPN blocks his Wi-Fi signal because he can't use it as soon as he connects to a VPN. He ends its review by not recommending it. On the Google Play Store, the situation isn't better either:

Once again, the user complains about connectivity, as well as buggy apps on PC and mobile. He also mentions that support is based on bots, but we disagree with that. As for connection issues, we didn't have them, but judging from how many users complain about this, we're sure that it's a real problem.

Finally, this feedback from Trustpilot is a bit more positive, as it's a 3-star one. However, the review itself is negative, talking about slow speeds and – guess what – connectivity issues!
Conclusion: Should You Take It?
UltraVPN did its best to present the service in the best light. Its site looks good, live chat support is here, and you get a feeling that you're using a premium VPN's site. But, once you start using it, you realize that this isn't a very good provider.
We must admit that its streaming performance is outstanding and its support great, but apart from that, nothing else will impress you. Its shady logging practices, slow speeds, and the small server network are only some of the reasons you should avoid it.
In short, you shouldn't buy UltraVPN. It's not worth even this cheap price.
You'll be much better off with ExpressVPN that offers a 49% discount and 3-months free for an annual subscription plan.