Being an Asian country, Vietnam is known for its harsh internet access laws, even receiving status as the Enemy of the Internet. Whether you're an activist or just an ordinary user, the government will not hesitate to punish you even for the slightest mistakes. Because of that, using a VPN is compulsory in Vietnam. Today, we're going to give you a couple of great providers that will keep you safe and secure online.

Why You Should Use a VPN in Vietnam?
We could expand this section into a whole new article, as there are lots of reasons to use this service here. However, let's talk about the most important reasons:
Avoiding Government Surveillance
Vietnam is, without a doubt, one of the harshest places to live. Not only do the government conducts surveillance but they also brought a new cybersecurity law to the table. This law requests that all tech-related companies in the country open physical offices and store personal data of the customers there.
As expected, this law will demolish freedom of speech in Vietnam. These companies will be forced to hand over the data they have, compromising the privacy of thousands of users. In 2021, the law should already start taking an effect. If you're from this country, we wish you luck avoiding these issues without protection.
But, if you're keen on staying secure, we recommend using the best VPN possible in Vietnam. It will obfuscate your IP address, rendering you invisible to the prying eyes of the government. Without it, you can pretty much forget about the internet in this country.
And who wants to live without the internet? Yup, that's what we thought!
Bypassing Censorship
What about censorship? Well, the situation is pretty bad. Journalists and activists suffer the most but so can you, especially if you post something related to "forbidden" stuff. It can be religion, porn, gambling, social media sites, human rights, and so forth.
Speaking of social media, the Vietnamese government commonly restricts access to Instagram and Facebook. Furthermore, the government arrested less than 40 activists and bloggers in 2016, of which some of them got a 13-year jail sentence!
Of more than 700 media companies in the country, all of them are controlled by the Communist Party. It means that the info you get is heavily censored, giving you a false picture of what's happening in the country.
Accessing Geo-Restricted Sites
Accessing Netflix, Hulu, HBO Go or Disney+ from this country can only be a dream. Given how the government behaves when it comes to internet access, we wouldn't play the game we cannot win. All the sites we mentioned aren't accessible outside of the USA.
But, a VPN that is working properly in Vietnam will let you change your IP address to one in the USA, making it seem like you're from that country.
This allows you to access the site effortlessly from anywhere in the world. The same applies to the opposite case, where you want to access Vietnamese local content from abroad.
Speaking of that…
Best VPNs with Servers in Vietnam
… you can do it easily with this service. Not many VPN providers have servers located in Vietnam but we managed to dig out 3 best choices in 2021. Take a look:
ExpressVPN: ExpressVPN is THE best solution for streaming purposes. Given that it has servers in this country, you can easily stream your favorite local TV shows and movies when you're abroad.

NordVPN: NordVPN has 5,500+ servers in 61 countries, of which 15 servers are in this country. These are high-speed servers capable of delivering great performance for enjoying local content from abroad.
CyberGhost: CyberGhost is the largest provider on the market that has 19 servers in Ho Chi Minh City. It's fast, secure, and reliable, which is all that Vietnamese residents need.
To get the provider you want, visit its website, subscribe, download the apps, and enjoy your privacy and security.
Best VPNs for Vietnam
If you're a resident of this country and you don't travel a lot, you just need a quality provider for all purposes. Here are the best VPNs for Vietnam in 2021:
ExpressVPN
NordVPN
CyberGhost
Let's review them and see why they're awesome.
1. ExpressVPN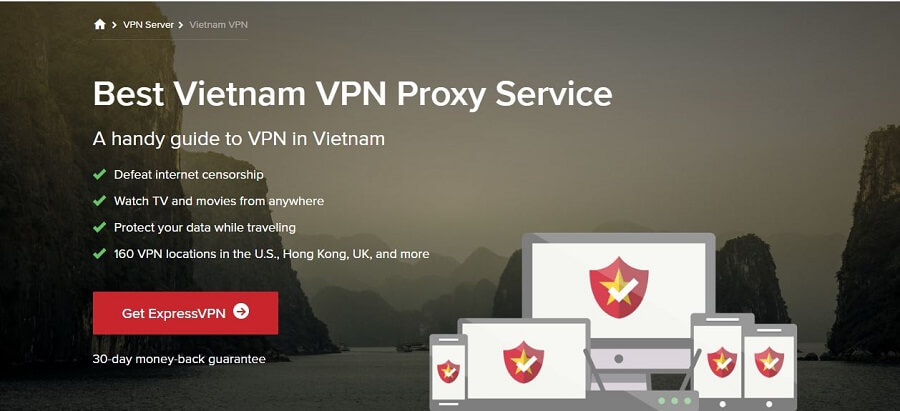 ExpressVPN comes with 3,000+ servers in 94 countries worldwide, offering high speeds and unseen reliability. It is our top provider for a reason, or better said, for numerous reasons! Aside from its speed, it offers rock-solid security.
Its BVI jurisdiction allows it to guarantee a no-log policy, as well as military-grade encryption and kill switch. ExpressVPN is a fantastic solution for Netflix and Hulu, as well as other popular streaming platforms.
Vietnamese people should choose this provider for its all-round characteristics and no-compromise experience. In case you want to buy it, the provider offers a 49% discount and 3 months free for a 1-year subscription plan. That's a great chance to get it!
Bypass Vietnamese Surveillance With ExpressVPN >
2. NordVPN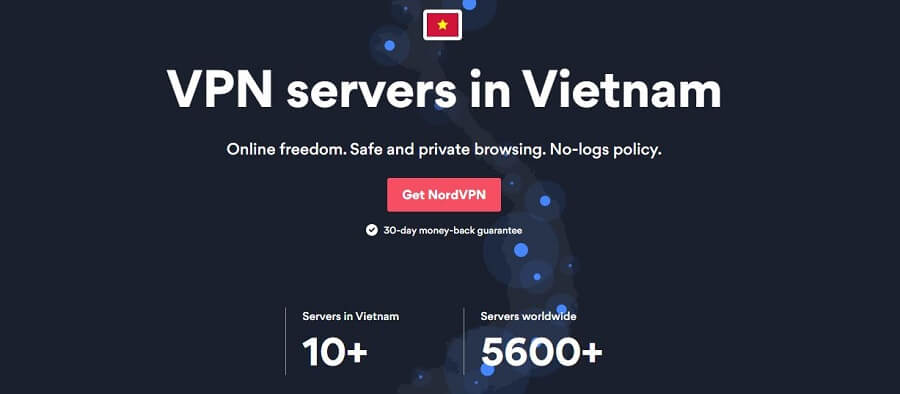 NordVPN is one of the best VPN providers in 2021, especially if you are in Vietnam. Not only does it work in Vietnam but it's also working fine in China. Furthermore, it offers obfuscated servers that will mask your VPN usage, allowing you to bypass DPI easily.
For this country, NordVPN offers tons of features. CyberSec, Tor Over VPN, Double VPN, 256-bit encryption, and kill switch are only some of them. We like the addition of CyberSec, as it's a reliable ad-blocker.
Speed-wise, the provider is very fast, giving you lots of space for torrenting, streaming, and even gaming. The best thing is that it's very cheap, so you don't need to break the bank to get it. If you're ready for a discount, click the button below.
Enjoy Free Internet Access in Vietnam With NordVPN >
3. CyberGhost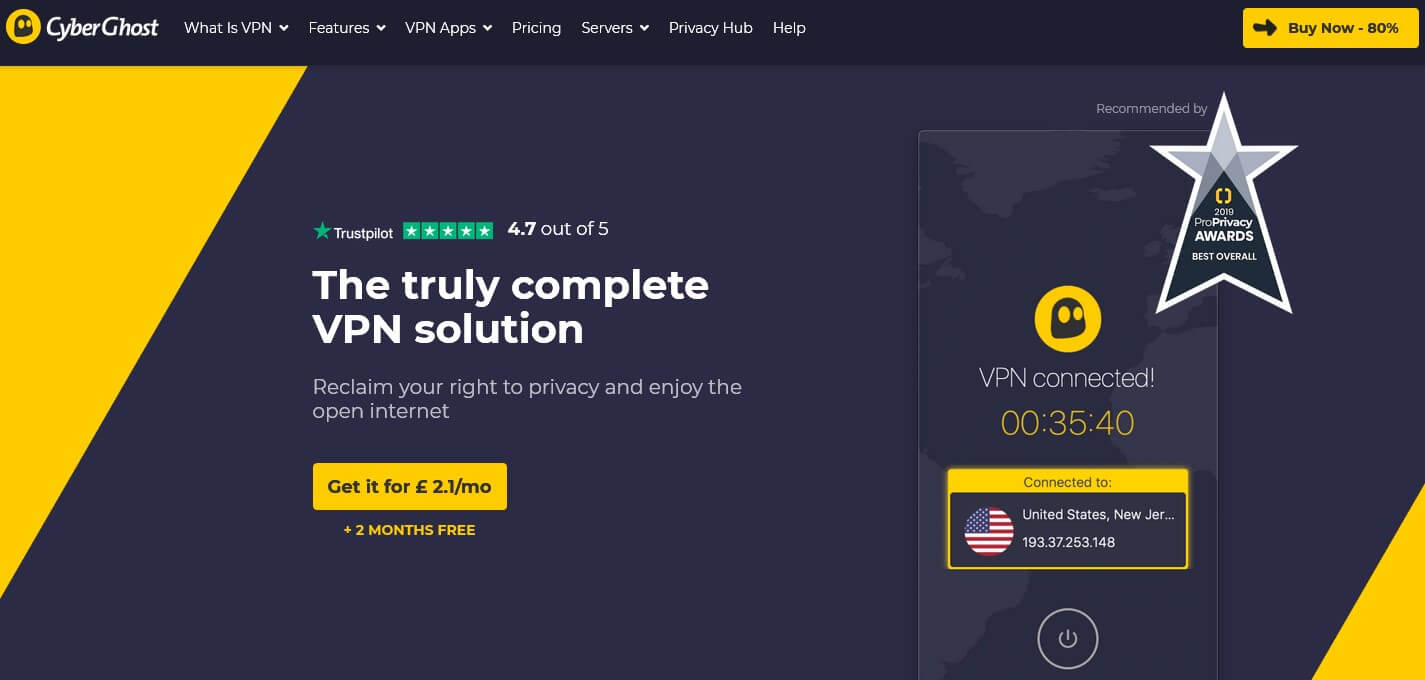 Romanian provider such as CyberGhost is always a good solution. This country is one of the best territories for VPNs, and as such, the provider took advantage of that. With 6,200+ servers worldwide, you'll never run out of options!
Most of them are dedicated servers for streaming and torrenting, which will enhance your experience with these activities. In terms of security, CyberGhost is a no-log provider, offering DNS and IP leak protection and 256-bit AES encryption.
Although it doesn't always work in China, it's a stellar VPN solution for Vietnam. And because you can connect it to your router, you can protect up to 16 or 32 devices in your house simultaneously. Beautiful isn't it?!
Why You Should Avoid Free VPNs?
Let us tell you something. For Vietnam, you should NEVER user free VPN providers. The main reason for that lies in security. Free providers lack one or more security features and many of them don't have a no-log policy.
This means that they can sell your data to third parties, compromising your anonymity online. Not to mention that they come with slow speeds, limited bandwidth, and sometimes, add-riddled interface.
We don't like being limited in any way, so we always use the premium VPNs. Of course, we advise you to avoid free providers and do the same as we did – buy a premium one!
Summary
As we learned, Vietnam is a beautiful, yet harsh country for internet lovers. If you're planning to enjoy the internet the same as before here, you MUST get a VPN. Our recommendation is ExpressVPN, our number one provider in 2021.
Although it's not dead-cheap, it's cheap enough to justify the quality and reliability you get here. Do you like fast speeds, impenetrable security, and the ability to bypass geo-restrictions? If so, overthinking will just waste your time – ExpressVPN is the best choice for Vietnam.