If you check Reddit and other relevant VPN-related sites, you'll see that TorGuard has quite a reputation. People online use it for different purposes and given its large server count, the provider looks very promising at a first glance. But, as always, we take nothing for granted and because of that, we'll test the provider and give you our honest opinion about it. After reading this TorGuard review for 2021, you'll know exactly whether or not the provider is worth your time and money. With that in mind, let's proceed.
What is TorGuard?
Before reviewing the provider, we need to talk more about what it is. Obviously, it's a VPN provider with lots of servers worldwide. What's not obvious is its location – the United States. As some of you know, this country is a part of the 5 Eyes and its data-retention laws that plague all of those 5 countries.
However, TorGuard still managed to amass a huge number of users, implying that, at first, it can be trusted.
You'll see that our reviewing system is quite in-depth, so we're to put everything you've read about TorGuard to the test. We'll also see if its jurisdiction has to do anything with its privacy, as well as check its speeds for different purposes online.
Compatible Devices and Ease of Use
Many users worldwide don't limit themselves to one or two platforms. Usually, if you buy a subscription, you want to use your VPN on all devices you can. Will TorGuard allow you to do that? Well, it surely will. Here are the supported devices: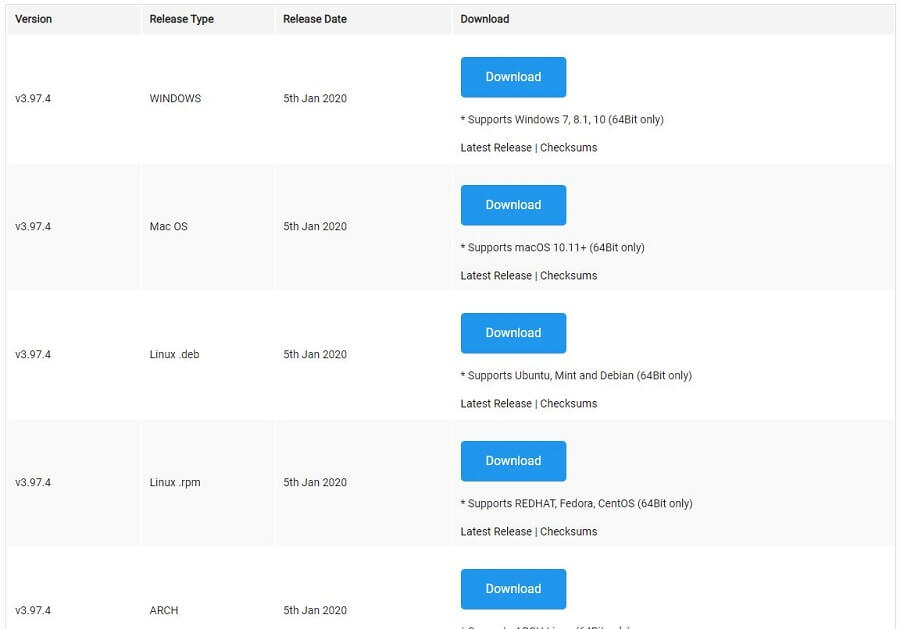 Since TorGuard didn't list its devices next to each other, here's a part two of the devices they support: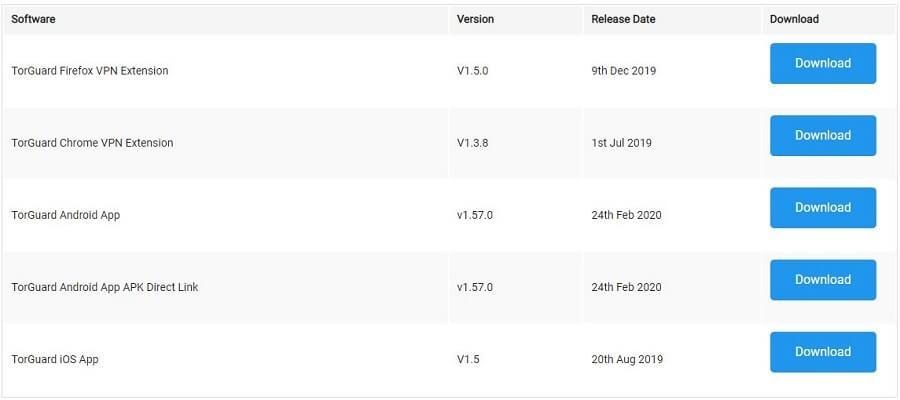 In short, there's Windows, Mac, Linux, iOS, Android, as well as a Chrome extension, and Firefox extension. We like that it has an app available on any Apple device but also on other major platforms. Also, it is possible to use its service on your router but as always, we'll talk more about it in a minute.
Computers
The great thing we discovered during our review is that TorGuard supports all the major PC platforms. Since we use a Windows 10 PC, we'll show you the installation process and the app, to determine the ease of use. When you buy a subscription, you get to download the setup file. Download it, open it, and you'll get this screen: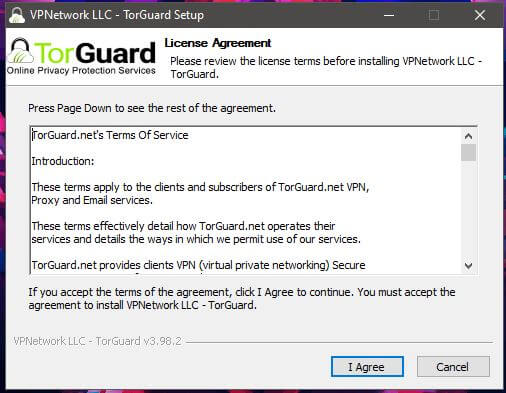 These are the company's terms of service which you need to agree on, so click on I Agree.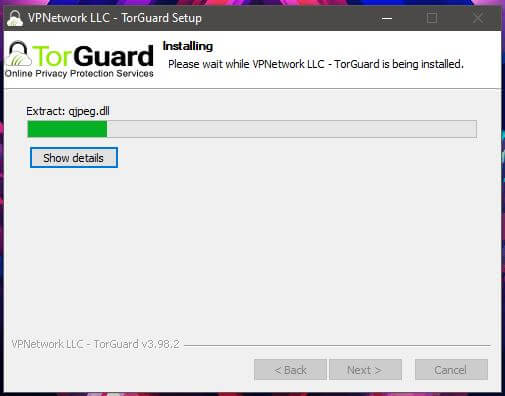 After that, you'll be prompted to choose to install or reinstall the TAP network driver and choose the location where you want to install the app. Do that, and you'll see the installation screen above. The installation lasts no more than 10 seconds, which is very fast.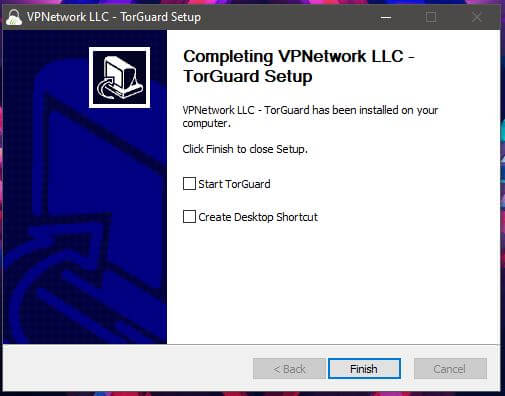 Finally, choose the options you want on the image above and you're ready to go. For easier access, we recommend leaving the desktop shortcut unless you're using Rainmeter and you don't want these "ordinary" icons.
Let's run the app now: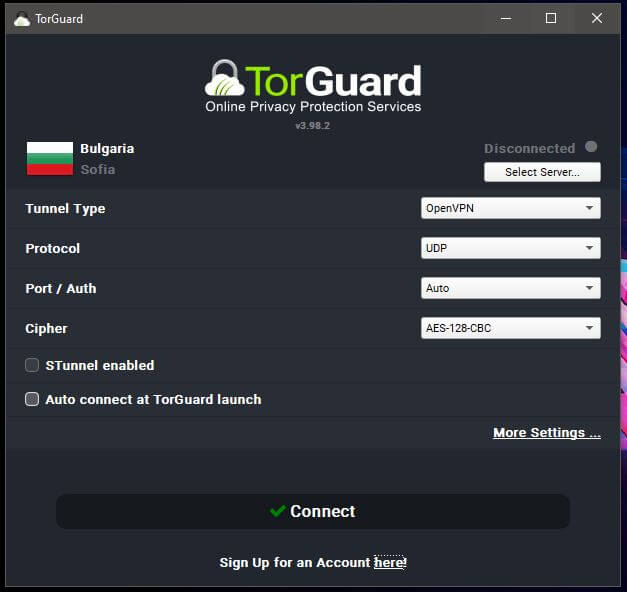 This is the initial screen. No logging in, no agreeing to the terms – nothing! To select the server you want, click on Select Server…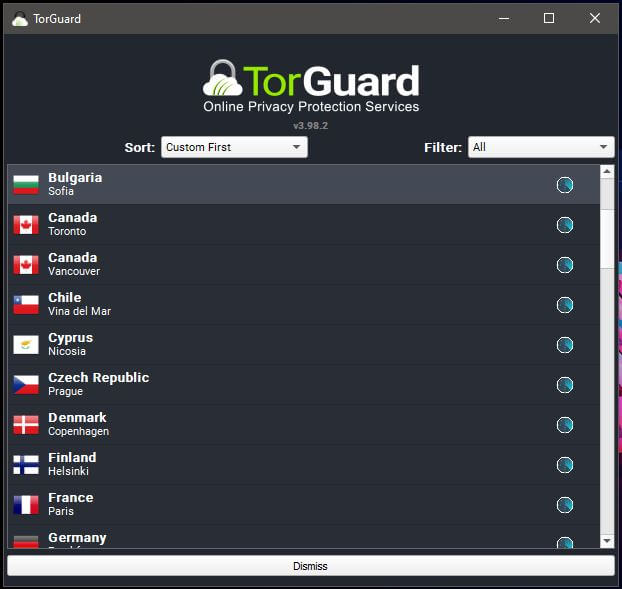 The server list will open and here, you need to click on the server you want. We scrolled down and chose the US server for the purpose of this test. Of course, you can use the one you want. When you choose it and try to connect, then, you'll see the login screen: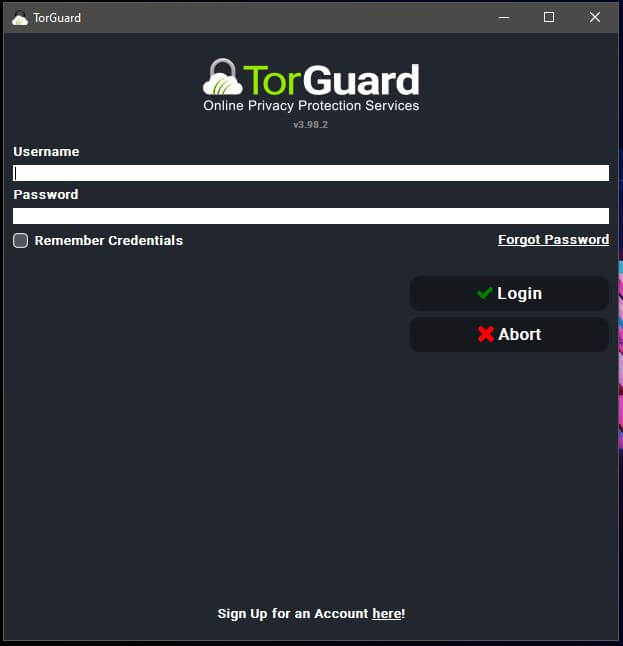 Type in the credentials and click Login. Now, you can click Connect and establish a connection. Here's how the app looks at that point: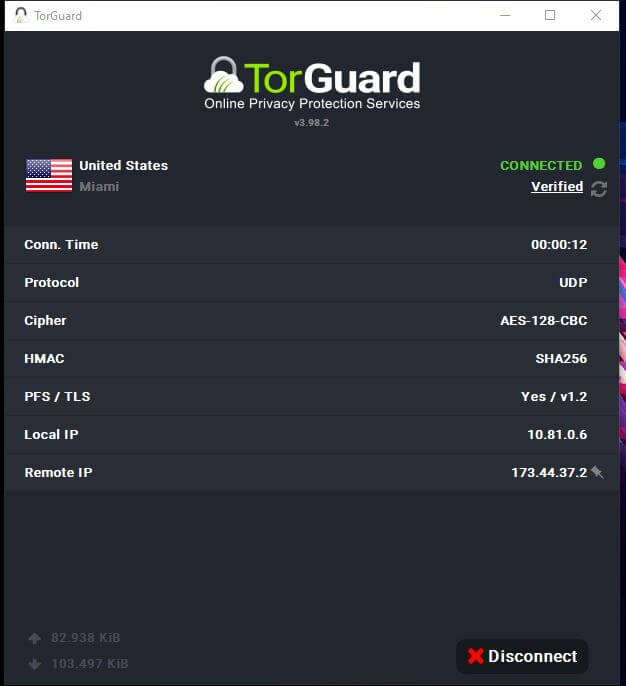 You can see our remote IP which we used in our IP leak test below, as well as for testing streaming platforms. In terms of ease of use, TorGuard could've done better. It's not that the app is complex but it lacks some freshness, as it looks like it's made in the 2000s or so.
Smartphones and Tablets
The provider supports both major mobile platforms – iOS and Android. That is great because no user will feel left out. Since we prefer Android, we'll use our Android phone to see how the app works in this part of our TorGuard review.
Rest assured, the installation process and the app is almost identical on both platforms.
The first step is to download the app from the Google Play Store. You can see how that looks in image 1.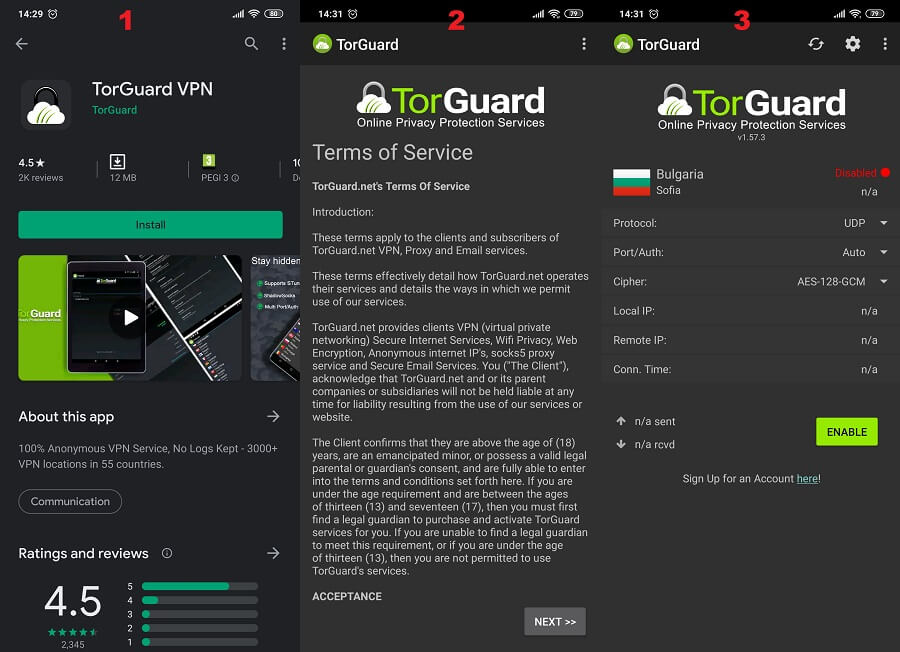 Upon downloading it, open the app, and you'll see the screen in image 2. Once again, these are the terms of service you need to accept to use it. In image 3, you see the initial home page. To change the location, click on the country and the server list in image 4 will open: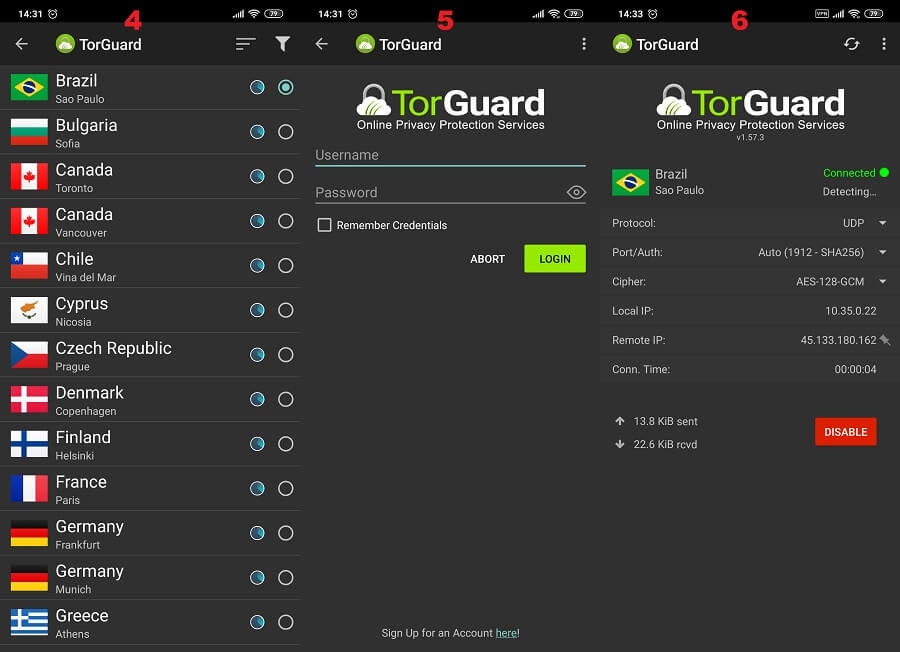 We chose Brazil (because why not?) and again, the login page appeared, as shown in image 5. Type in your credentials, log in, and you'll be able to establish a connection. Tap Enable, and in image 6, you see how the app looks when you connect to the VPN.
The ease of use is great but we'd like a bit more imagination when it comes to the app design.
Other Devices
The provider supports routers aside from its classic roster of platforms. However, only two firmware are supported:

As you can see, DD-WRT and Asus Merlin routers are here. This screenshot is from the page that contains tutorials on how to install this Virtual Private Network on your router. Just for the reference, while using it on your router, you can protect up to 16 or 32 devices simultaneously.
Oh, there's also a special tutorial on how to install the OpenVPN protocol on your router. Unfortunately, the Android app doesn't support OpenVPN, at least not on the Brazilian server. If you want to access it, you'll need to download the OpenVPN app directly.
How Fast is TorGuard? We Checked Its Speed!
Who doesn't like some fast VPNs? If you're one of them, get outta here! Just kidding, you don't want to miss this review. TorGuard has been a popular choice in the past few years, so it's interesting to see how well it fares in this compartment.
One thing to mention is that all providers reduce your internet speed to some extent. Some do it by 10% and some do it by 80%, which is quite a difference. The speed also depends on many factors such as the quality of the network, server distance, server load, and so forth. With all these variables into play, it's crucial to see how we did our tests.
We did 3 tests in the morning, 3 in the mid-day, and 3 in the evening, for 3 different locations. Furthermore, we kept the best result and used the best location when the option was possible. Our physical location is in the USA (non-VPN test) and we used these 3 testing locations:
The United States
The United Kingdom
Australia
Without using TorGuard protection, our internet speeds are:
Ping: 11 ms
Download Speed: 211.88 Mb/s
Upload Speed: 202.20 Mb/s
Now, when using TorGuard, our ping, download, and upload speeds respectively, for 3 testing locations, are:
US Server: 58 ms / 157.33 Mbps / 129.62 Mbps

UK Server: 119 ms / 114.07 Mbps / 108.56 Mbps

Australian Server: 275 ms / 45.81 Mbps / 39.87 Mbps

Surprisingly, the speeds are faster than we expected, although they're not on the ExpressVPN level. In the USA, we got a 58 ms ping and solid download/upload speeds. When using the UK server, the situation is slightly worse, albeit, we could still enjoy the internet normally.
In Australia, the results are always the worst but since we're far from that country, it's understandable. A ping of 275 ms is to be expected, unlike sub-400 ms we usually get when using SaferVPN or VPNhub.
Long story short, TorGuard has solid speeds but don't expect anything more than that. It won't blow you away and it definitely won't impress you, especially if you're an experienced user.
How Good is TorGuard for Streaming?
Speeds and streaming capabilities are very important for a Virtual Private Network service. Since we learned just before in this review that TorGuard speeds are okay, streaming shouldn't be a problem – in theory. However, in real life, you'll encounter one problem right away if you bought a standard subscription.
You won't be able to access Netflix. Why? Well, because gentlemen from this company want you to pay for a special dedicated IP for that purpose. We usually show the prices in our price section but we must do it this time: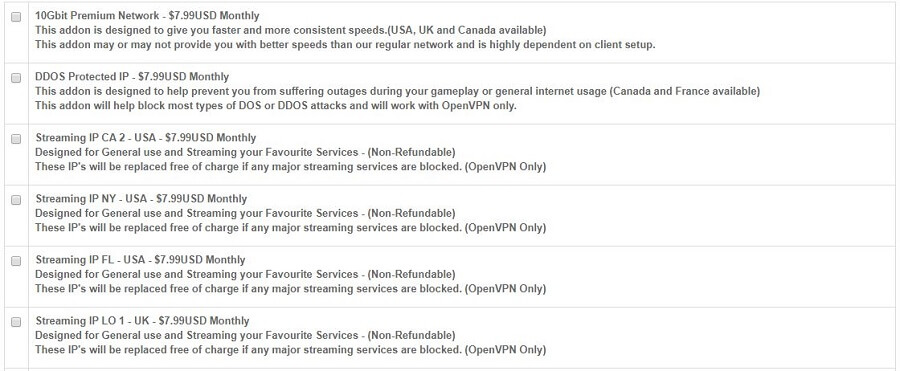 Just look at this – $7.99 monthly for a dedicated streaming IP plus the subscription? Really, TorGuard? We didn't want to pay for a dedicated IP because the price would go above $15 a month for a VPN, which is unacceptable.
Simply put, Netflix won't work without this addition and even if you buy it, don't always expect it to work. What about other platforms? Let's start with HBO GO: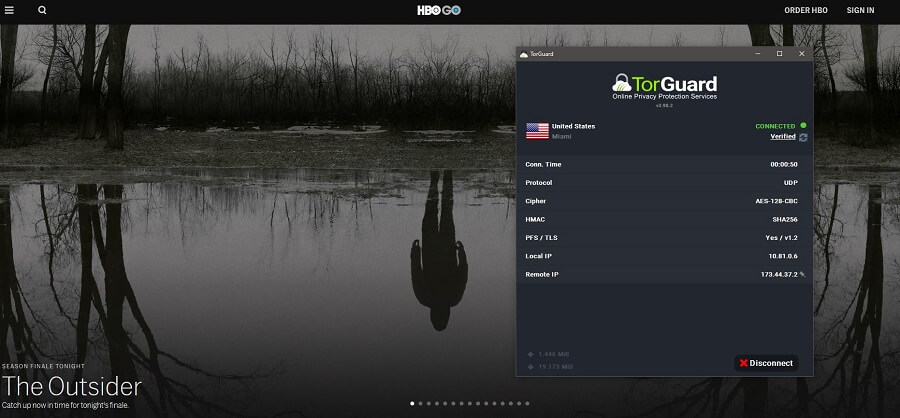 As you can see, HBO GO works flawlessly. We tried to unblock Disney+ and here's what we got: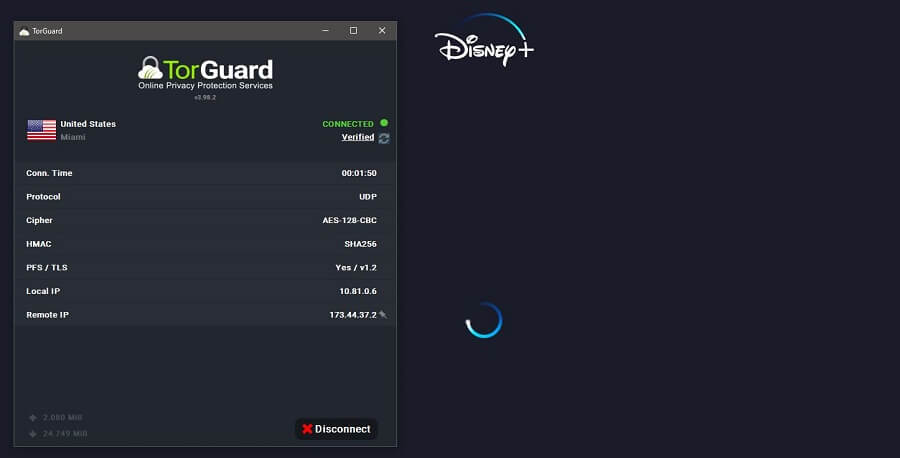 Disney+ didn't work, as we arrived at the infinite loading login screen. Let's check BBC iPlayer now: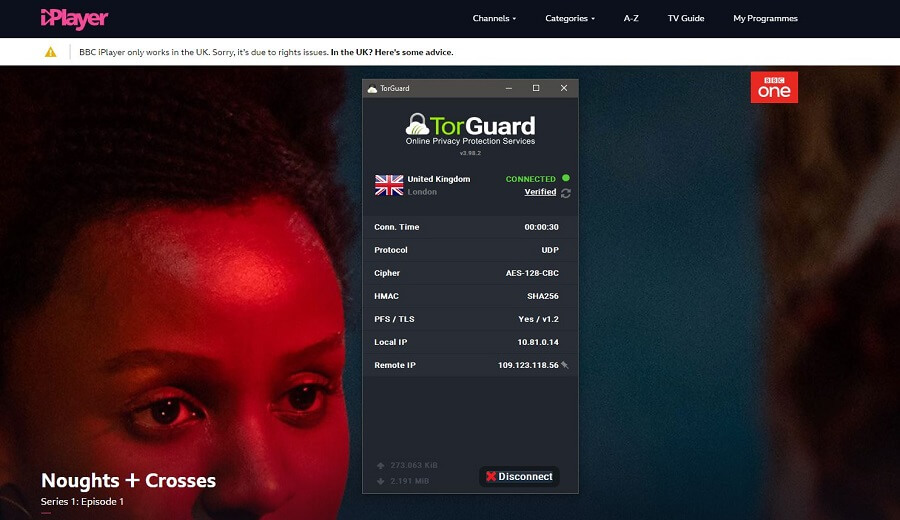 Obviously, it doesn't work. It shows that we're not in the UK while we're using the UK-based server.
Finally, there's DAZN, a platform that represents a fierce challenge for many VPNs: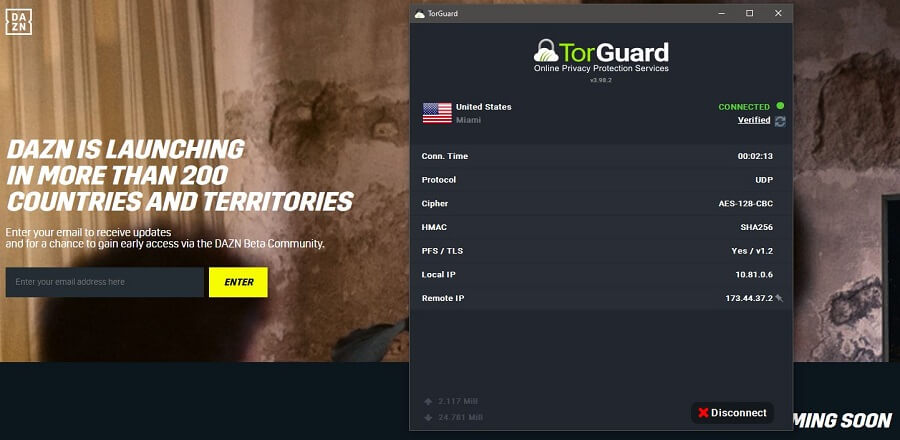 As expected, DAZN doesn't work. So, what does TorGuard leave you with? Not much. If you buy a dedicated streaming IP, it unblocks Netflix. If not, which many of you will do, it will unblock HBO GO and… well, that's it!
Sure, you can unblock some local content, online betting sites, and similar but Netflix, Hulu, BBC iPlayer, DAZN, and Disney+ can't be unblocked. In conclusion, it's bad for streaming.
Confidentiality, Security & Logs
Being from the United States, it took a lot of effort for the company to build its reputation. You know that we don't exactly like the VPNs from this country and we're always aware of the risk it poses. Some providers managed to squeeze out of the nasty claws of the 14 Eyes – is this provider one of them?
Let's check its privacy policy: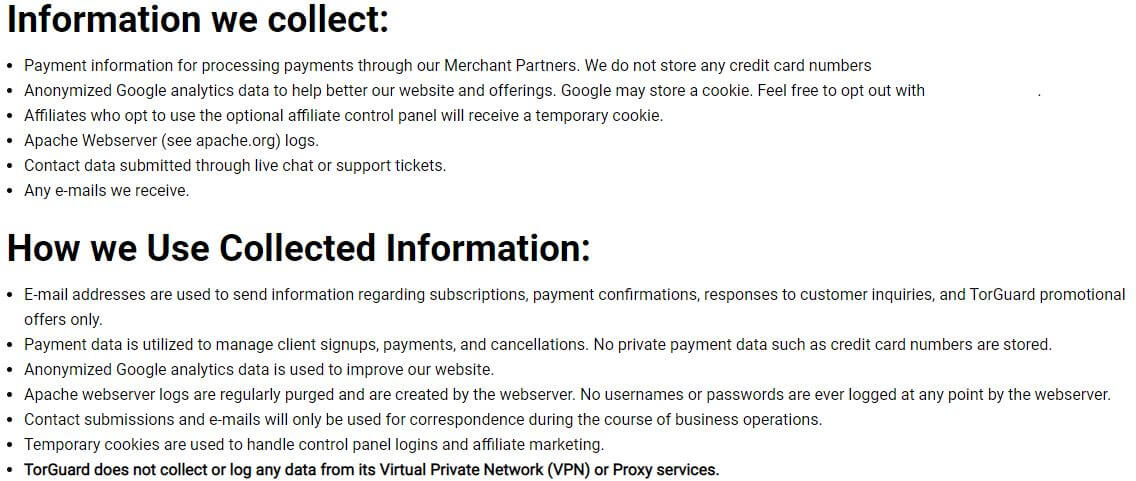 As seen from the image, they collect only payment information, anonymized Google analytics data (you can opt-out of this), and contact data from which they receive support tickets. In the bottom paragraph, you can see that they don't use this data for anything malicious.
This is the whole zero-log policy – short and to the point, as we like. We can only say 'bravissimo' to TorGuard for making it very transparent and genuine, even though they're from the US. The only thing left to check is if we encountered any IP and DNS leaks during our use. Here are the results: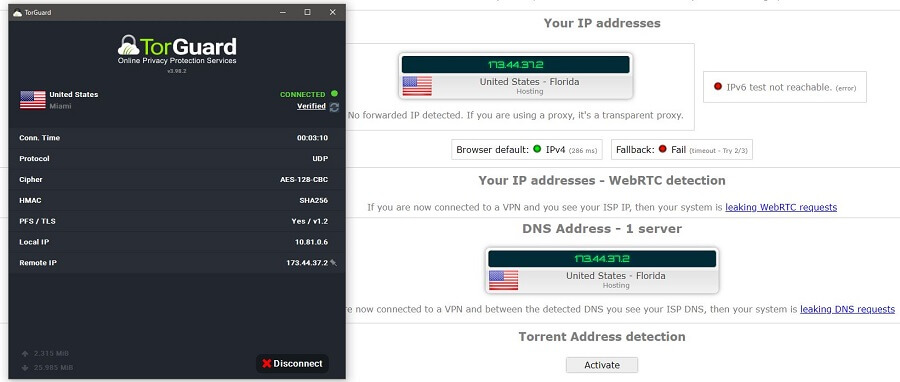 As seen from the image, we encountered no IP and DNS leaks during our review of TorGuard service. Even this DNS address is the same as our IP address above. This implies that the provider uses physical servers, instead of the virtual ones, at least in the USA.
In terms of safety and security, TorGuard is definitely a good VPN.
Can I Do Torrenting Safely with TorGuard?
Do you know what the provider's name means? Its 'Tor' part stands for torrenting, meaning that it should be an integral part of the service. And may we add – it actually is! Some servers accept P2P file sharing and these servers work great.
As always, we accessed the 1337x torrent site to try to download something:

Aside from the IP, that's the same as the one from above, we downloaded the game successfully and haven't received any copyright warnings. Many users online recommend this provider as being the safest for torrenting, which we may not necessarily agree with.
But, for torrenting, it's definitely a decent choice. You even get port forwarding here, which can dramatically improve your download/upload speeds.
Can I Use TorGuard to Bypass Censorship?
The US providers aren't exactly known to bypass censorship efficiently. With the impenetrable power of the Great Firewall of China, many VPNs are struggling to work in this country. China actively blocks almost every provider on the planet, leaving you with only a couple of them that will always work.
So, how does this boy fare? Pretty well. It has a stealth VPN feature that the company calls STunnel, made for bypassing DPI (Deep Packet Inspections), effectively hiding the fact that you're using a Virtual Private Network.

This feature works great for bypassing China's firewall and so does the OpenConnect protocol, which the provider recommends for this purpose. If you live in China or you're planning to travel there, this is a good choice.
Pricing and Plan Options
Even if the provider offers the whole planet, some users won't buy it if it's very expensive. Let's see if TorGuard will break your bank in case you buy it:

Let's start from the right this time. The plan on the right is the longest one. It's an annual plan at $59.99 a year or ~$5 a month. Next, we have a semi-annual plan at $29.99 every six months, which translates also to ~5 a month. The quarterly plan costs $19.99 or ~$6.63 a month and finally, a monthly plan is $9.99 a month.
These prices are quite hefty, especially if you buy a dedicated IP for $7.99 a month. The worst thing is that the annual plan cots five bucks a month, which is just too much for what you get. Do you want to hear about two much better deals for about the same price?
Surfshark and CyberGhost both cost $5.99 a month for an annual plan and they're far better than TorGuard. Their 2-year and 3-year plans respectively are dirt-cheap, representing one of the best offers for the money!
Nonetheless, here are the payment methods:

You'll notice that there isn't PayPal, which is okay for keeping things secure. Cryptocurrencies are there, which is always welcome. In case you want a refund, here's how you can ask for it: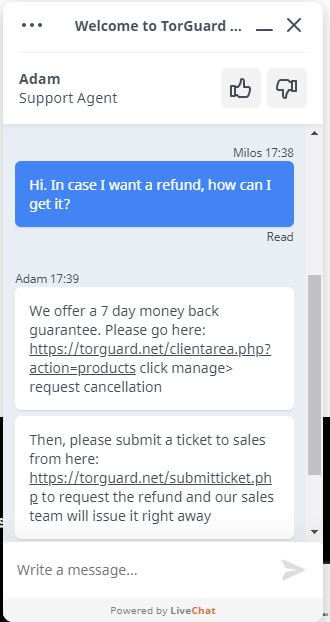 That's the answer we like – straight to the point, with no BS. There's a 7-day money-back guarantee, like Adam, a guy from the support team says, and he even explained how to get it.
How Can I Contact TorGuard?
There are two methods of contacting the provider. Here's an image that explains that: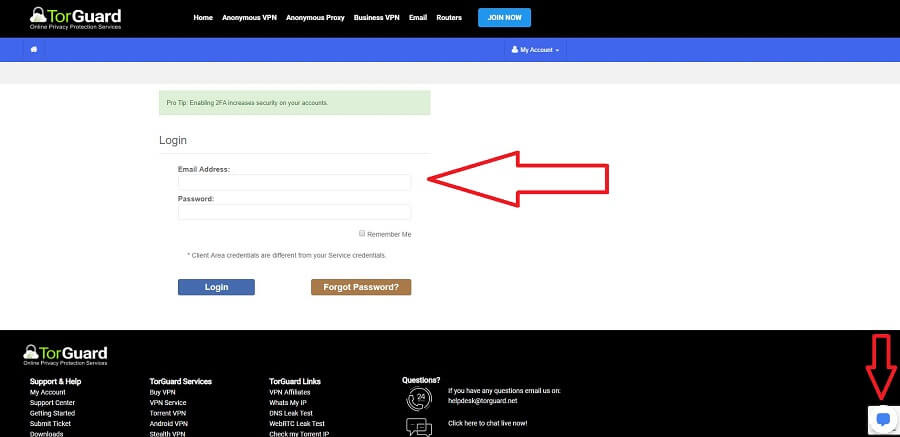 You can use the live chat in the bottom-right corner. This option is the best since it offers you solutions for your issues in less than half a minute. Support members don't take too long to respond, which is always a plus.
On the left side, you can see a small login screen. When you log in, you can access the ticketing system, submit the ticket, and wait for a response. In this case, they'll respond to you in a few hours.
The Special Functionalities
At this price point, we expected at least one special functionality from the provider. Luckily, we found out during this review that TorGuard has two of them:
STunnel
This is the feature that we already mentioned in the review. It's basically a Stealth VPN feature that allows you to bypass censorship in censored countries, and even in China.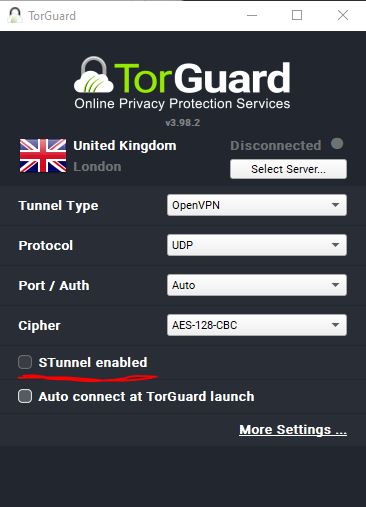 You can enable it from the home screen by ticking the box in the image above. Although it will slow your connection a bit, it will, in most cases, bypass DPIs that the Great Firewall of China has.
Ad-Blocker
You'd never say that this feature is here. That's because TorGuard has quite an overwhelming interface that's out-dated at the same time. And as expected, this feature is buried deep into the app's settings. Just take a look at this: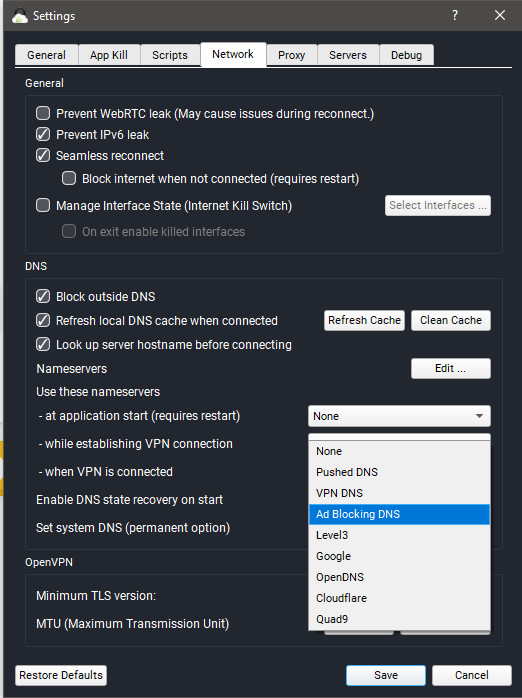 How long did it take you to read and grasp all the info from this tab? Probably a lot. In case you're planning to use this Virtual Private Network, here's how to enable the ad-blocker.
Other Things You Should Know
Before concluding our review, you still need to know a few more things about TorGuard. Here's what else you should know:
Number of Servers
A while ago, we said that the provider has an imposing server network. Well, here's a screenshot that proves this claim.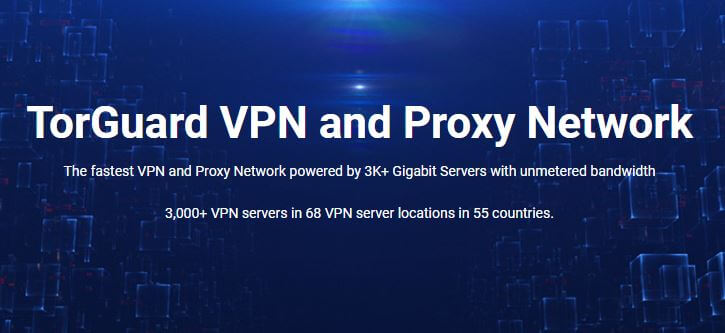 TorGuard has 3,000+ servers worldwide, which is definitely an impressive number. For comparison, ExpressVPN also has 3,000+ of them and this is our top provider.
Number of Countries
The provider is relatively generous when it comes to the countries. You get 55 countries and 68 locations here. Interestingly, there aren't servers in Russia, which is great because of Russian data-retention laws.
Number of Simultaneous Connections
Finally, the provider offers 8 simultaneous connections for any subscription plan.

Not to forget that it also supports routers, so you can ramp it up to 16 or 32.
What Do Other Users Say About TorGuard?
To make our analysis of the provider complete, we need to glance over to our friends on the internet and see what they say about TorGuard. Let's start with Reddit:

This user says that he experienced a month in which all of the dedicated IPs were blocked by Japanese Netflix. Needless to say, that's a big issue, especially for those who pay for these IPs, given that the company doesn't refund you that part of the purchase.
Let's check the Google Play Store now:

The user complains about the app on the Android platform, which we also mentioned. However, since the last update, as he claims, the app started becoming unresponsive, rendering it useless. Is the iOS/Mac app better? Let's see:

The Apple Store user left quite an interesting review about TorGuard. Allegedly, the provider leaked his IP address, making the ads and Google recommendations appear for the user's location. Although we didn't expect IP or DNS leaks, we believe that it is possible. Finally, there's a review from Trustpilot:

Long story short, this user is very satisfied with the provider. He mentions a fair price (for him), great customer service, and reliability. Also, TorGuard has some pretty nice reviews on Trustpilot overall.
Conclusion: Should You Take It?
TorGuard seems like a very decent provider, which makes its huge popularity justifiable. It allows torrenting, has okay speeds and zero-log policy, and even boasts a huge server network. While this is certainly the truth, it's simply not good enough for the price.
We can get over the price of the basic subscription but when it comes to dedicated IP addresses for streaming, that's what we can't swallow – sorry. Given how expensive these addresses are and you NEED them for accessing Netflix, you get a very expensive monthly bill to pay.
This, coupled with an outdated interface and its inability to unblock a majority of popular streaming platforms makes TorGuard not worth your money. You'll be better off with ExpressVPN or NordVPN, as these are our top VPNs in 2021.