Germany is a highly influential country in Europe. Its TV shows might not be the most popular but sports leagues like Bundesliga definitely are. And what's a better way to access this popular local content than being a German or having its IP address? Today, we're going to show you how to get an IP from this country and enjoy its local content with ease.
Use a VPN to Change Your IP
A Virtual Private Network is a versatile tool that can help you in many ways. It can be used to save money when buying flight tickets, bypassing geo-restricted content, staying safe, and so forth. But, this time, you want to change your IP to another country.
This software, of course, can do it. When you enable it, your internet connection is automatically encrypted with a "tunnel" that goes from your location to the site you want to visit. This concept is shown in in the image below:

When your traffic goes through the tunnel, no one can see it, except for you and the site you're trying to access. The site will, however, see your fake IP and not the real one, keeping you anonymous online.
By using military-grade encryption, this software keeps you safe and secure all the time, letting you use different IP addresses securely.
How to Get a German IP Address from Anywhere in the World?
Becoming a German resident online is easier than ever. Your traffic will only travel through the VPN tunnel and not the autobahn! Here's how to get a German IP very quickly:
Get a Subscription
If you're thinking about which provider to go for, let us recommend our best choice – ExpressVPN. Getting a subscription here is very easy and this time, it's very cheap. It offers a 49% discount and 3 months free for a 12-month subscription plan.
Download and Install the Apps
Next, you'll need to download and install the respective apps. Whether you're on PC or your smartphone, all of the platforms are supported, including routers.
Connect to a German Server
Finally, it's time to connect to a German server in order to get a new IP. Log in with your credentials and you'll see the app's home screen. Click on the country under the power button, choose Germany from the list, and click on the power button to connect.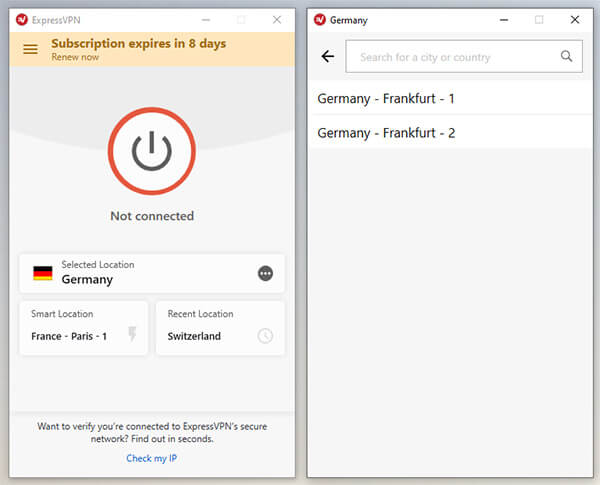 Enjoy German Local Content
Now that you've established a connection, you can access geo-restricted websites from this country. Easy, isn't it? Well, if you do this next time, it's even easier, as you just have to do the previous step!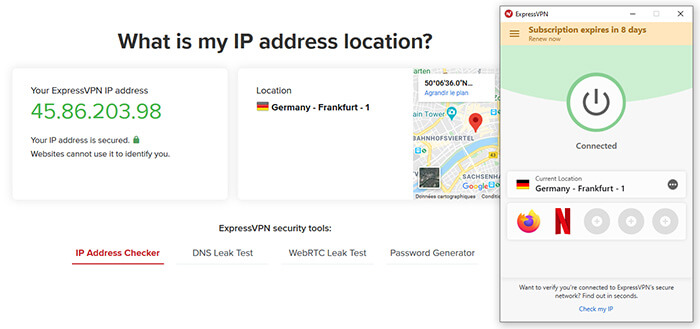 What are the Benefits of Getting a German IP Address?
While you can't drink pure German beer or eat sausages online, there are still benefits of being a resident of this country in terms of your IP address. Let's talk more about them:
Accessing Your Bank Account
If you're a resident of this country abroad, you can't access your Commerzbank or Deutsche Bank account with a foreign IP. Your bank account will be under lockdown and you'll need to travel back to your homeland to fix the issue. Luckily, if you use an IP from this country, it will be a breeze!
Watching Local Television
Are you tired of missing content on Das Erste or ZDF? You can also fix that with this service, given that it's a quality one. More about quality services in just a few seconds!
Preserving Your Privacy
Preserving your privacy should be a top priority. Germany is a part of the 14 Eyes but there are many countries that conduct surveillance worldwide. By obfuscating your IP, you fly low under the radar, preventing anyone from seeing your online presence.
Enjoying Netflix Germany
Last but not least, you might wanna watch some German TV shows and movies on Netflix. No problem, buddy! This country has a huge catalog here, making it easy to enjoy your lazy afternoons.
Just connect to a VPN server based in Germany in order to change your IP (and your location, virtually).
Top 3 VPNs to Get a German IP Address
To digress, let's see what are the best VPNs for getting an IP address from Deutschland:
1. ExpressVPN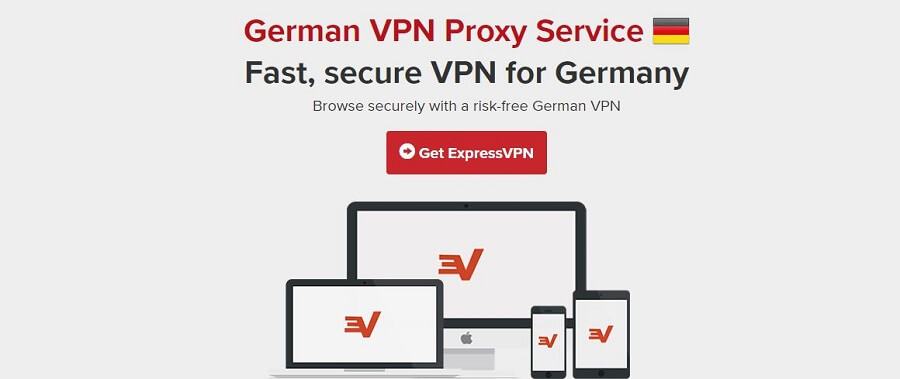 ExpressVPN offers 3,000+ servers worldwide and lots of them in Frankfurt and Nuremberg. This is the fastest provider on the market, offering some blazing-fast speeds. But, this isn't its only highlight. You also get rock-solid security and an incredible ability to bypass geo-restrictions.
For that reason, ExpressVPN represents an excellent choice for Germans abroad or for people who just want to change their online location to this country. Aside from the no-log policy, you get 256-bit encryption, split tunneling, and kill switch.
The provider offers 24/7 customer support and up to 5 simultaneous connections. You can even use it with the router where this number will increase dramatically.
Get Any IP Easily With ExpressVPN >
2. NordVPN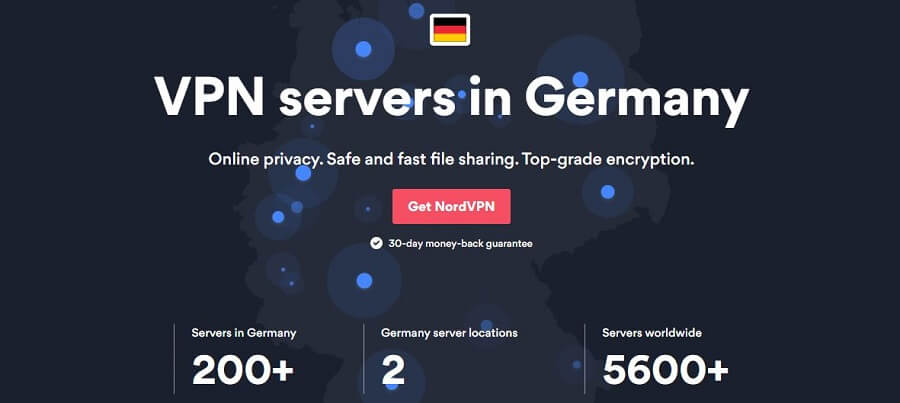 With more than 200 servers located in Germany, NordVPN offers you a galore of options. You can now enjoy popular Netflix series such as 13 Reasons Why or Dogs of Berlin, as well as local sports channels.
Given how secure NordVPN is, you'll have no issues with IP and DNS leaks. Furthermore, you get Tor Over VPN which allows you to use Tor with a VPN, for added security. We also like the addition of CyberSec, an ad-blocker, making your browsing experience pure enjoyment.
Offering more than 5,500 servers worldwide, NordVPN will give you multiple choices for years to come. And speaking of years, its 3-year plan is very cheap and worth checking!
Easily Get Your German IP With NordVPN >
3. CyberGhost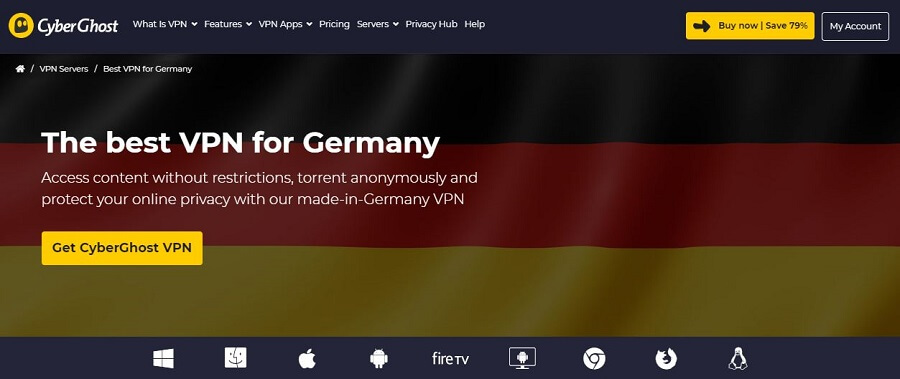 CyberGhost is from Romania, a country that's very close to Germany. It boasts 6,200+ servers worldwide of which 660 of them are in Dusseldorf, Berlin, and Frankfurt. All of them offer tons of IPs, letting you easily get one for your needs.
The provider has solid speeds, which is a plus if you're all about streaming and torrenting. Torrenting is illegal in this country but with a Virtual Private Network, your ISP won't be able to see what you're doing.
You also get dedicated servers for streaming and torrenting, where CyberGhost offers a special Netflix Germany server for you. As you can assume, this is top of the line service at some affordable prices. As with NordVPN, CyberGhost offers a cheap 3-year plan that includes all the premium features.