Did you know that every time you access content on the internet ISPs, websites or streaming services can tell your exact location from it? Well, it is true. This means they can censor what you can and cannot see online. For instance, if you are a resident of the US but go to the UK for a vacation or you relocate, you cannot stream US Netflix any longer. This is just one of the reasons why you might be wondering how to get a US (American) IP address easily.  
If you want to alter your address, you can use a Virtual Private Network and we are going to show you how. There are many reasons why you might want to do this. For example, with a VPN, you can stream Netflix; it will help you get access to HBO, ABC, Fox and much more, with just a single click.
Use a VPN to change your IP
Every device has its own unique address and each country has a specific range of IPs.

Once you go outside of the United States your device address changes to reflect the country in which you are visiting.
Therefore, when you visit a website or streaming service it knows exactly where in the world you are currently.
With a VPN, you can easily modify your device's address and make your ISP, a website or streaming service believe you are still within the United States.
Few steps to get a US IP address from ANYWHERE in the world
Now let us take a look at how to get a US (American) IP address easily and we will go through this step-by-step.
Step 1 – choosing a provider and a plan
The first step is to decide which Virtual Private Network provider.
We are going to talk about what we think are the best providers below in more detail, but they are ExpressVPN, NordVPN and CyberGhost.
In this example, we chose leading provider ExpressVPN and went for the biggest savings of 49% on the yearly plan.
Step 2 – choose apps to download
Your next choice is what apps to download. Each of these providers offer a range of apps for different devices.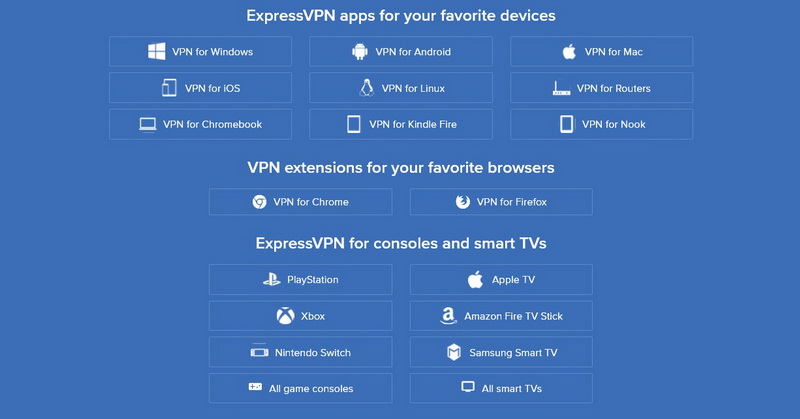 For example, you can download a Windows application for PCs and laptops, one for MacOS, and get apps from Google PlayStore for Android devices and Apple App Store for iOS devices. Many other devices are also supported.
Step 3 – install and launch the app
Next, go ahead and install the chosen app or apps. Providers do not limit you to how many apps you can download and install.
You can also use a plan on simultaneous devices, up to a limit.
The apps are easy and fast to install and once the installation has taken place, you can click on the icon to launch the app.
Step 4 – Choose a server from America and sign in
When the app opens up the first time, you will have to sign in using the credentials made and type in your activation code. On following launches, you will just have to sign in or tick for automatic sign in.
You will see a dashboard open up and this is where you can choose a server.
Click on the name of the server. In the example below, we chose ExpressVPN but other providers will offer similar dashboards.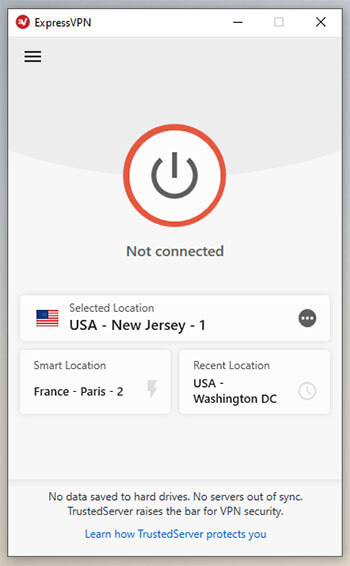 Choose a US-based server from the list and then click on the connect button.
Your own address is now masked and you change it to one from America so it looks like that is where you are located.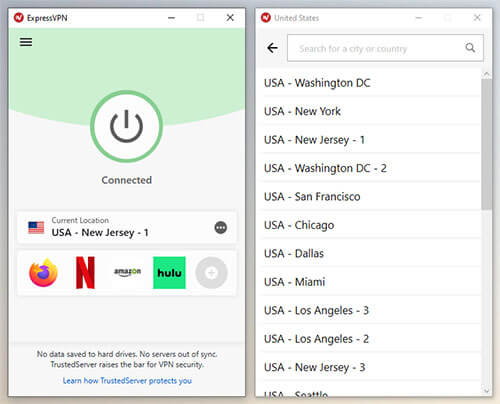 What will be the benefits of getting an American IP address?
There are numerous benefits to learning how to get a US IP address and we will talk about some of them below.
1. Beating geo-restrictions to stream
As mentioned above when going outside of the United States you cannot access the entire range of Netflix content. Instead, you are limited to the version for the country you visit or cannot access it at all.
With a Virtual Private Network, you modify the address of your device to bypass the geo-restrictions.
2. Remain secure online
When behind a VPN you are behind an encrypted tunnel. This means any information you send over the internet cannot be read.
As it cannot be read, hackers, cybercriminals and even your ISP cannot see your personal information so you remain secure online.
3. Torrent without your ISP finding
If you like to torrent, you run the risk of your ISP finding out. With encryption in place, the ISP you are using does not know what you are downloading. Hence you can avoid possible sanctions from your government.
4. Overcome censorship
If you are visiting a country such as China, you are faced with high censorship. This means thousands of websites cannot be accessed.
You can use a Virtual Private Network to overcome censorship but you have to choose a provider carefully as not all can beat the Great Firewall of China. The best one in this particular case is ExpressVPN.
Top 3 best VPN to get anAmerican IP address
Here are our three choices of the best Virtual Private Networks to get a US IP address.
1. ExpressVPN

ExpressVPN is the leading provider and highly recommended to change your address if you want to use streaming services abroad.
The provider offers a huge number of US-based servers to alter your device address to make it look as though you are still in the states. Servers are blazing-fast and reliable so it is the best VPN in the US for us to stream in HD.
It also offers military-grade encryption to help you remain secure and anonymous online. Which is always a good news!
2.NordVPN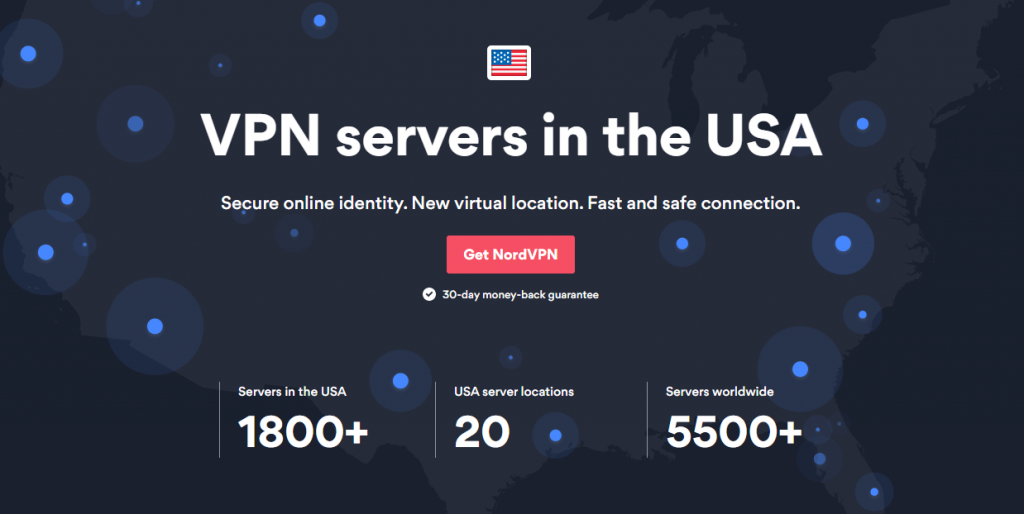 NordVPN offers thousands of servers in the states alone, along with thousands more.
All are suitable for beating censorship, geo-restrictions and keeping you safe and secure online wherever you are in the world.
3. CyberGhost

CyberGhost is another good choice for streaming in HD, torrenting without the ISP finding out and beating censorship in high censorship countries.
The provider offers thousands of servers, so you can easily modify your IP address to make it look as though you are in the US. If you want more infos about CyberGhost offer, you can click on the button below 😉