Here, on Monkeyprivacy, we try to review as many providers as we can and give you an in-depth analysis of each. However, many users opt for cheaper VPNs, hoping that they can save some cash. At first, Trust.Zone looks like a great money-saving option, which makes it an interesting contender for a review. But, is this option viable for ambitions VPN users? Will demanding users love it for its features and speeds? We'll find that out in just a second. Stay here to find out if it's worth your hard-earned cash.
What is Trust.Zone?
Trust.Zone is a Virtual Private Network provider founded in 2014 and owned by Trusted Solutions, LLC. The great thing about the provider is that it's located in Seychelles, a country with no data-retention laws and minimal surveillance.
In theory, this should mean that we're talking about a safe and secure provider that should justify your expectations. However, we did multiple tests to determine if that's the case and you'll see the results in a few minutes. Also, you should keep in mind that we're talking about a cheap provider, so don't have your expectations sky-high.
With all that out of the way, it's time to proceed to our comprehensive review of Trust.Zone. Those who would like to buy it right away can use the button below to get some hefty discounts.
Compatible Devices and Ease of Use
Right from the get-go, it's time to see which devices Trust.Zone supports. The more devices we get, the better it is. Here's a screenshot directly from the provider's website:

With only five thumbnails here, the choice is quite limited. We have iOS, Android, Linux, Windows, and Mac. After buying a subscription, though, we saw that the provider supports a couple more devices. We'll talk about them in the "Other Devices" section of the article.
Computers
Using a VPN on your computer is a pretty common thing. We all love enjoying Netflix on a 20+ inch screen rather than smaller screens on mobile devices, for instance. If you just found yourself in the previous sentence, you'll be happy to know that the provider is available for Windows, Mac, and Linux.
To show you how the app installs and works, we'll use our reliable Windows 10 computer with the latest version of the operating system. Upon buying a subscription, we downloaded the setup file, clicked on it, and got this screen: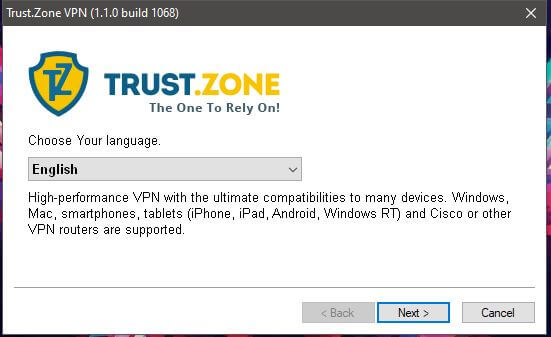 Choose the language you want and click Next. The setup will ask you where to install the app, take care of that, click Install, and you'll see this screen: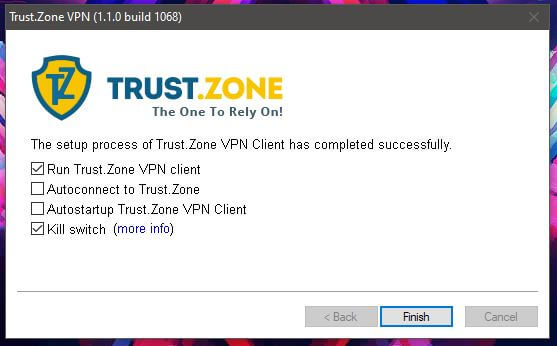 We selected to run Trust.Zone immediately and enabled the kill switch. Choose your desired preferences and click Finish. The app will now instantly open: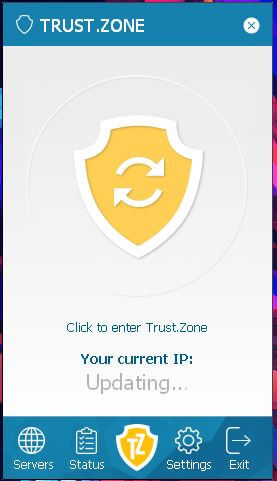 Since we enabled a kill switch, our internet didn't work until we connected to the VPN, which is why you can't see our real IP. Also, you don't need to log in, which we like very much. You just download the app when you sign in and it will automatically log you into your account. Thumbs up for that!
Here's how the server list look. By the way, you can open it if you click on Servers: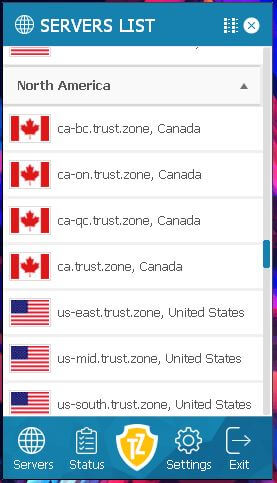 We chose the American server and clicked on the yellow logo down below. Here's how the app looks when you establish a connection: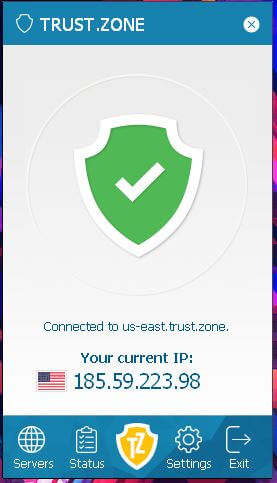 The app is very easy to install and use, hence it gets the highest grade from our team. You can even connect in a single click if you just click on "Click to enter Trust.Zone", as it will connect you to the best location.
Smartphones and Tablets
If you still prefer using smartphones and tablets over your PC, that's great because Trust.Zone offers an app for Android but doesn't have an app for iOS. Instead, there's just a guide on how to connect to it.
As we always do during our reviews, we'll use our Android device to show you the installation process and the app offered by Trust.Zone.
In this scenario, the first thing to do is to download the app from the Google Play Store, shown in picture 1.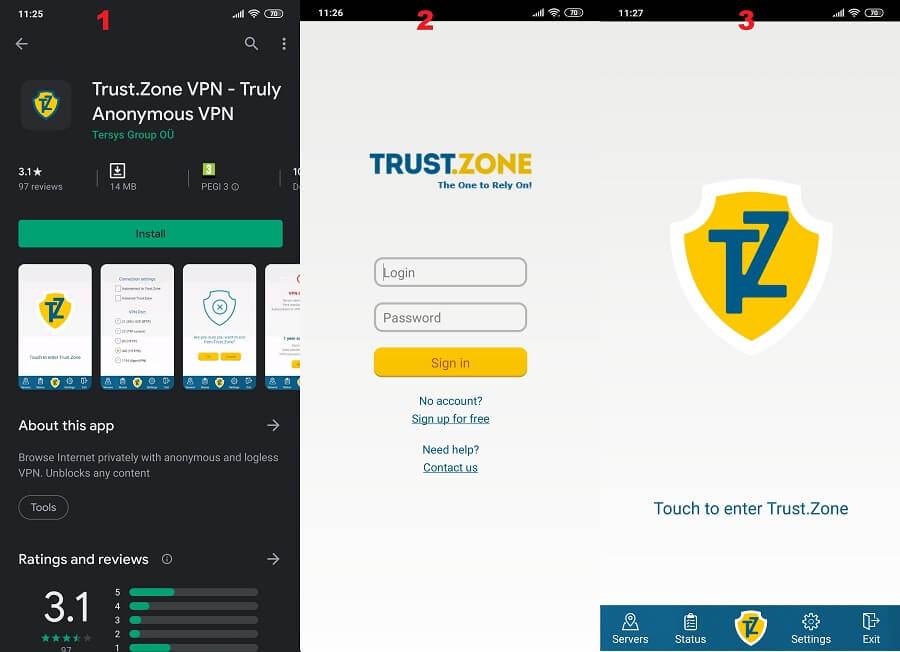 Interestingly, this app has 3.1 stars on Google Store, which isn't very good news. Nevertheless, when you install the app and open it, a login screen will appear, shown in picture 2. Finally, when you log in, the app's home screen looks like in picture 3. So far, so good!
Now, the only thing left to do is to connect. Click on Servers and the server list in picture 4 will open.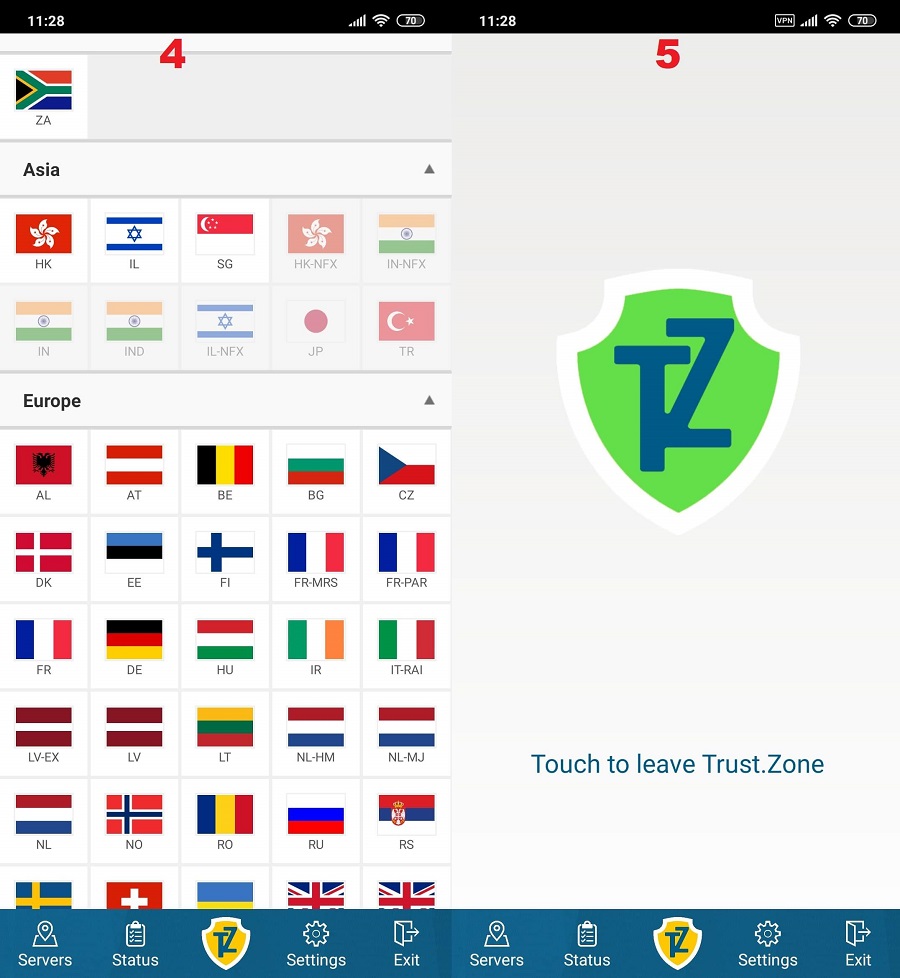 We chose the German server, which you can't see in picture 5 because the app doesn't display IP addresses. You'll have to take our word for granted today – sorry!
In short, the Android app works flawlessly and is very simple to use.
Other Devices
Up until recently, the provider's device support was modest. But, with some incremental upgrades in the past few years, Trust.Zone now supports these devices: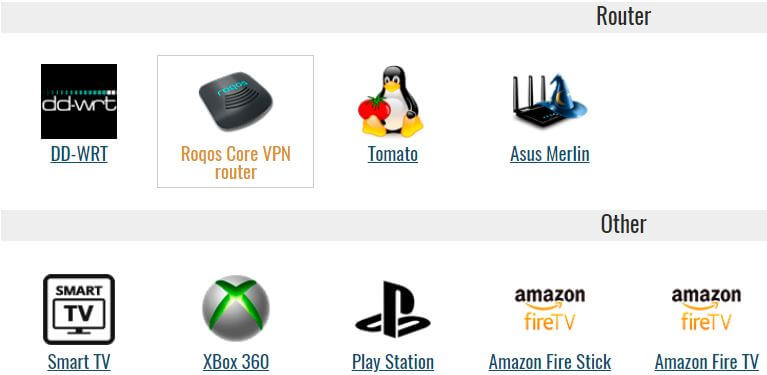 Aside from those we mentioned, there are routers, which is great for supporting the devices in the bottom row. The provider says that there's a way to install its app on Fire Stick TV, so you don't have to necessarily use a router.
Still, because the provider doesn't support many simultaneous connections, we'd gladly user it on a router. Just for the reference, using a router will allow you to protect 16 to 32 devices simultaneously.
How Fast is Trust.Zone? We Checked Its Speed!
Since this provider is far from the best VPNs, it's interesting to see how well it compares in terms of speed. Before we do that, we need to get something out of the way. All providers will decrease your internet speed to some extent.
But, difference between 10% and 90% is pretty humongous, if you ask us. If a provider slightly reduces your speed, that's considered fast, and on the other case, that's considered very slow. The speed reduction depends on the server location, level of encryption, quality of the network, and so on.
Because of this unpredictability, it's important to see how we did our tests regarding Trust.Zone. We did 3 tests in the morning, 3 in the mid-day, and 3 in the evening, for 3 different locations. Also, we kept the best score and used the best location when the option was available. Our physical location (non-VPN test) is in the USA and we used these 3 locations for testing:
The United States
The United Kingdom
Australia
Without a VPN, our internet speeds are:
Ping: 11 ms
Download Speed: 211.88 Mb/s
Upload Speed: 202.20 Mb/s
Now, when using Trust.Zone during this review, our ping, download, and upload speeds respectively, for 3 testing locations, are:
US Server: 64 ms / 142.08 Mbps / 157.41 Mbps

UK Server: 101 ms / 57.22 Mbps / 40.89 Mbps

Australian Server: 283 ms / 18.54 Mbps / 26.13 Mbps

The speeds are straight-up very slow, let's be honest. Even the US server didn't show impressive results, let alone the Australian server that disappointed us the most. Our download speed, in that case, was 18.54 Mbps – that's insanely…bad!
Luckily for us, we have fairly fast internet, so we could still operate online somehow. What about those with slower internet? Well, you'll have to enjoy the speed of the dial-up internet, just like we did in the 2000s.
Long story short, Trust.Zone is among the slowest providers we've ever used!
How Good is Trust.Zone for Streaming?
Since this VPN has very slow speeds, don't expect your streaming to be buttery-smooth. If you plan on watching 1080p movies and TV shows, you'll probably get along, as soon as you don't use a very distant server. On Netflix, our 4K TV show barely managed to boot up when using a server in Europe.
Speaking of Netflix, this provider unblocks it easily, so you'll be able to enjoy it, even through a US server. As we said, though, don't expect a fantastic streaming experience. What about other platforms? Let's start with our warm-up contender – HBO Go: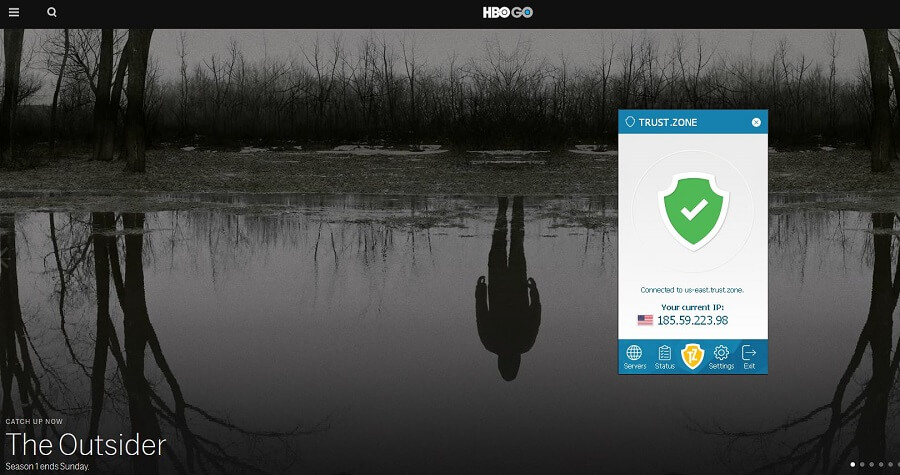 HBO Go works flawlessly, not too shabby! The next platforms on our list are Disney+ and DAZN. Let's see the first:
Disney+ doesn't work, as we got this infinite loading screen when we tried to access the login screen.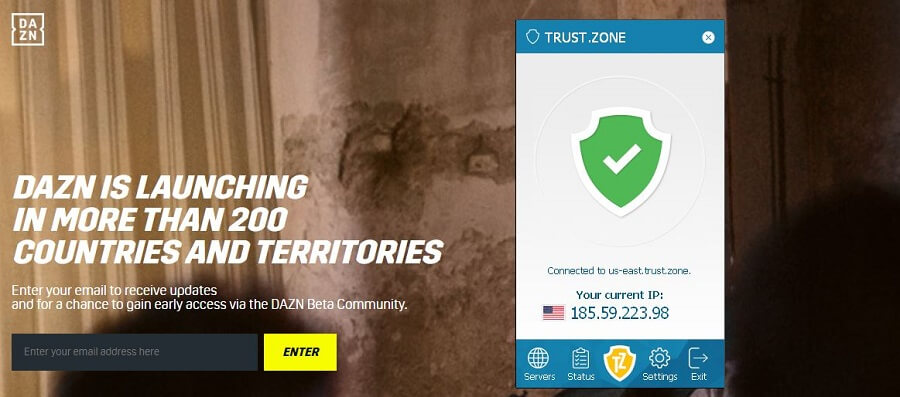 DAZN also didn't work, which is strange, since the platform is fully supported in the USA. But, due to the lower quality of this provider, things like this can happen. Finally, let's see if the BBC iPlayer works: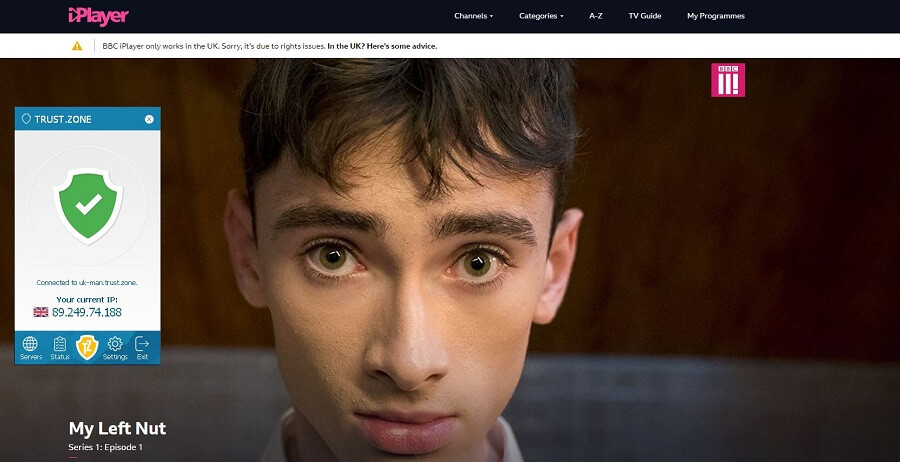 BBC iPlayer doesn't work, which you can see from the look of the face in the image. Either he's sorry because it didn't work or he squashed his left nut – we don't know!
So, can you use Trust.Zone to unblock certain Australian TV channels or access Netflix, Hulu, and HBO GO? Yes and no. Sure, unblocking Netflix and HBO Go is easy with Trust.Zone but aside from these, no other platform worked during our test and review.
That brings us to the conclusion of this section – the provider isn't good for streaming due to its slow speeds and inability to unblock many streaming sites.
Confidentiality, Security & Logs
If you've read some of our previous reviews, you know how important for us this section is. When a Virtual Private Network isn't safe, we tend to discard it right away. Let's glance over to the provider's no-log policy and see if that will be the case.

The privacy policy of Trust.Zone is very short, yet crystal-clear, which is just how we would want it to be in every review we do. As you can see, the provider collects only your email address for non-malicious purposes. In the bottom paragraph, you also see that they don't store any log files, keeping your privacy intact.
We also noticed that the provider needs to re-read the English grammar once again. Just take a look at the end of the first row above.
Now, take a look at this:

Basically, they say that they don't store connection logs, so they can't track you down for copyright violation, even if "legally compelled to do so." At the beginning of the paragraph, though, they say that you'll need to agree that you will not perform illegal fire sharing, illegal activities, etc.
That's understandable since they can't publicly say that they support such activities. With a transparent zero-log policy, Trust.Zone can be trusted. But, what about the IP leak test? Here are the results: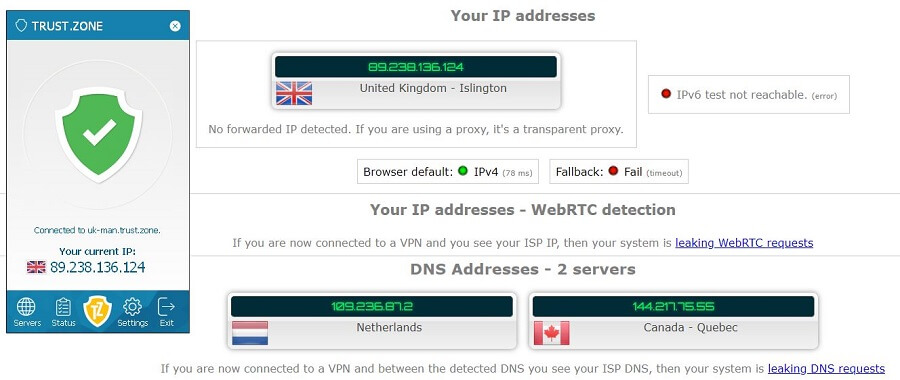 If you compare the IP on the left with the IP on the right, you'll see that they're the same. This means that our IP isn't leaking and with that, we can conclude that Trust.Zone is safe, answering the question from the beginning of the review.
Can I Do Torrenting Safely with Trust.Zone?
Torrenting is a form of P2P file-sharing activity that's deemed illegal in some countries. This is why the provider said that you need to agree on not performing illegal activities. We tried to access 1337x, a torrent site, and see if we can download a torrent safely. Here's what we got:

As you can see, this is the same UK IP from above. The best thing is that Trust.Zone will allow you to download in P2P on all servers, so you can do it without any limitations. That being said, the provider supports torrenting with one not so small caveat – speeds.
Speeds are very slow here, so don't expect to download big files in an hour or two. A big game of nearly 100 GB in size will surely take some time!
Can I Use Trust.Zone to Bypass Censorship?
In short, no.
There are dozens of countries with harsh censorship, such as China, Turkmenistan, Russia, the UAE, and many more. Since China has its powerful weapon – The Great Firewall of China, it's the one that this VPN needs to bypass.
Unfortunately, Trust.Zone isn't working in 2021 and even in 2019, it had tons of problems when we did a first review. China is actively blocking VPNs around the globe, so only a handful of them work properly. All things considered, Trust.Zone can't bypass censorship.
If you're from this country, you'd better get ExpressVPN, which is a far better solution!
Pricing and Plan Options
Let's do some business now. When it comes to prices, everyone's willing to hear what we have to say. It's like a German shepherd having his ears up when you say "walk." Here are the plans and their pricing: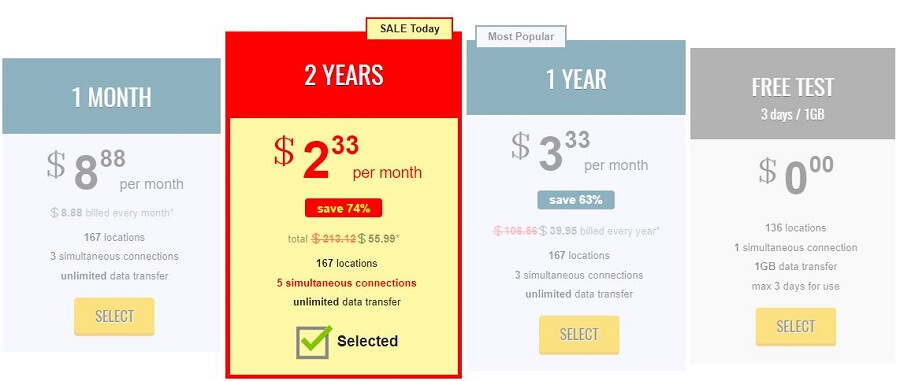 Do you see that flashy plan, the second from the left? Well, that's the cheapest one. It's a 2-year plan at $2.33 a month or $55.99 every two years. Here, you also get 5 simultaneous connections and 167 locations.
The plan right next to it is an annual plan at $3.33 a month or $39.95 a year but it offers 3 simultaneous connections. On the far left, you have a monthly plan at $8.88 a month, also with 3 simultaneous connections.
And finally, there's a 3-day free trial with 1 GB data, only one connection, and 136 locations. There are even additional features like dedicated IPs and additional simultaneous connections: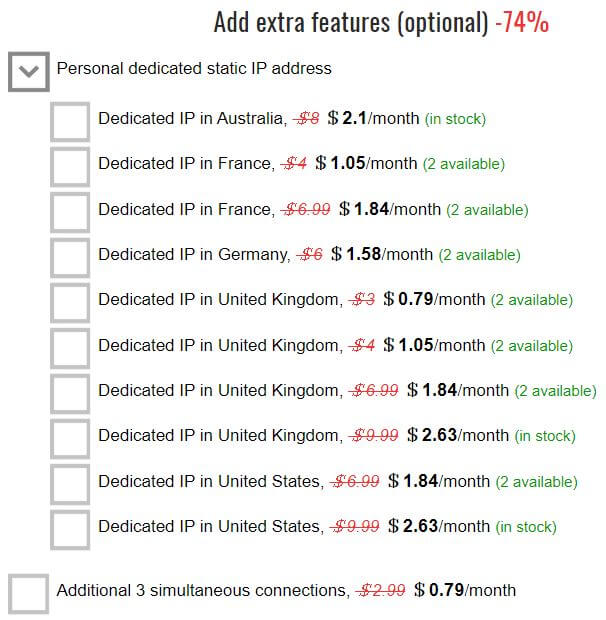 If you buy some of them, the monthly price is too high for our taste. Nonetheless, if you're gonna buy it, you probably want to know more about the payment methods, so here you are:

Just look at all of these – even Bitcoin is here!
Are there cheaper VPNs that offer more for the price? Yes, there are. For instance, Surfshark. It costs $1.99 a month for a 2-year plan and offers faster speeds and unlimited simultaneous connections.
This makes Trust.Zone obsolete – and that's just being generous! In case you want a refund, you can request it within the first 10 days of purchase. Here's the refund policy:

Take a good look at the policy. You can get a refund in the first 10 days but ONLY if you didn't consume more than 1 GB of data. How to request a refund? More about that in the next section of this Trust.Zone review.
How Can I Contact Trust.Zone?
As you might've guessed, Trust.Zone doesn't have a live chat feature. Otherwise, we would've mentioned it in the previous section. Here's how to contact it in case you want a refund or just some help with a potential issue: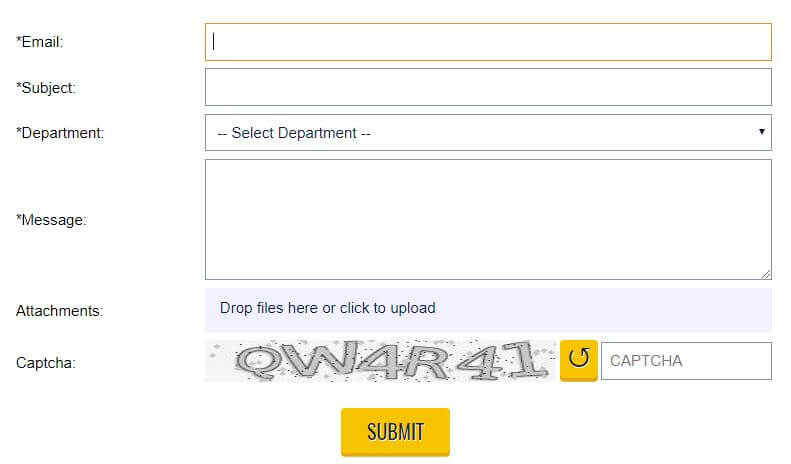 This is the only way of contacting the provider, which leaves a lot of room for improvement. We aren't satisfied with customer support because they usually don't respond very quickly. Theoretically, you'll get your answer within 24 hours. In our case, it was two or three hours which isn't very slow but it's still slow for this type of support.
So, to digress, if you want a refund, you'll need to submit a ticket, as shown in the picture above. If you think you can solve the problem without any help from a human operator, you can access the Blog or the FAQ section of the site.
The Special Functionalities
Special functionalities are great if done properly. They will enhance your basic VPN experience and give it some new freshness. Many providers have at least one special functionality, which made us wonder if Trust.Zone has anything interesting to offer. Take a look at this screenshot and tell us if you see something special: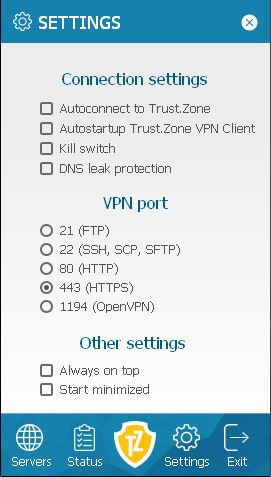 Exactly – none of them are here. Such a shame because they could've added at least split tunneling or some sort of ad-blocker. These features are present on many cheap providers and not here, making recommending Trust.Zone even harder in the frame of this review.
Other Things You Should Know
Before we wrap up our review of Trust.Zone, there are still a couple of things you need to know about this VPN.
Number of Servers
Another reason why the provider didn't meet our expectations is in the image below.

Only 167 servers worldwide? That's not good. This server network is one of the smallest we've seen, so you'll not have many choices if the servers are under heavy load. Even Surfshark, a cheaper, yet better provider, has 1,040+ servers, which is ~9 times more.
Number of Countries
As shown in the image above, the provider offers servers in 91 zones over the world. And they even displayed it on the map: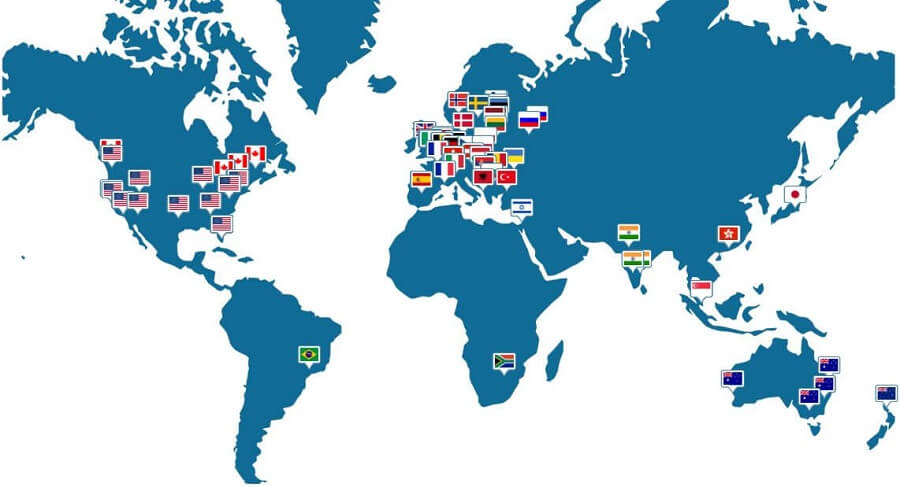 These so-called "zones" aren't countries. Under the map, there are supported countries and there definitely aren't 91 of them – more like 35 or so. Furthermore, there are servers in Russia, which may be a reason for concern.
As some of you know, Russia blocked all the VPNs that don't want to accept their terms. ExpressVPN and NordVPN don't have servers there because they didn't accept the data-retention laws of the country. Trust.Zone, on the other hand, operates there.
Did they accept Russian conditions for operating in the country? Maybe – who knows?
Number of Simultaneous Connections
If you scroll back to the Pricing and Plan Options, you'll see that the provider offers 1-5 simultaneous connections. One simultaneous connection is for a free trial, 3 of them are for monthly and annual plans, and 5 of them are for a two-year plan.
Connecting a Virtual Private Network to the router will increase this number significantly.
What Do Other Users Say About Trust.Zone?
Trust.Zone isn't the most popular provider on the market, so it's not easy to find some opinions online. However, we managed to dig out some reviews about Trust.Zone from relevant sites. To prove what we just said, we'll start with Trustpilot: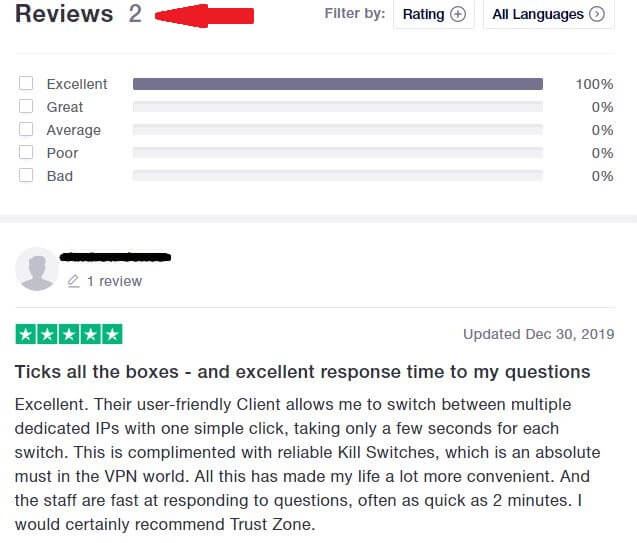 Do you see the red arrow above pointing at two reviews? After 6 years of existence, Trust.Zone definitely didn't amass a huge user base. Nevertheless, this review is quite positive. We're not biased or anything but does this review sound like a bit of advertising to you?
It's written too "professional" and not like a random user wrote it. For example, the line where he said that it "made his life a lot more convenient." Comments like this are almost never genuine, implying that it might be a fake review.
Here's a genuine review about Trust.Zone from Reddit, though:

This user says that he received a copyright notice while using µTorrent with this VPN. Allegedly, the copyright owner managed to identify his IP address, which is why he received the warning from his ISP.
Finally, we have a review from the Google Play Store:

The user says that the service is unreliable and that it keeps disconnecting. In his words, he can't find an option to unsubscribe, so he bought a couple of apps from the Play Store to prevent the provider from taking money from him.
As we also mentioned, the provider has 3.1 stars on Google Play, meaning that it's not very reliable for Android users.
Conclusion: Should You Take It?
Now that you're here, it's time to conclude our Trust.Zone review in an ordinary fashion. Should you buy Trust.Zone? No, you shouldn't. As always, there are multiple reasons for that.
Slow speeds, small server network, lack of an app for iOS, no live chat, and no special functionalities. Sure, it can unblock Netflix, has a transparent no-log policy, and allows torrenting but for the money, it's simply a very bad deal.
Instead, you should buy CyberGhost for a lower price of $2.75 a month for a 3-year plan. Alternatively, if you're willing to pay a bit more, you can get the best provider on the market – ExpressVPN.
All of our top 10 options are much better than Trust.Zone, giving us no reason to recommend you to buy it.