Whether you're traveling to Chile or living there, you'll need to secure your internet connection. As far as surveillance and censorship are concerned, this isn't a country that isn't using these methods. In fact, the country has some harsh surveillance laws that will often jeopardize your privacy. For these reasons, we've come up with a special list of top VPNs for Chile. Scroll down to find our top 3 choices for Chileans and Chileans living abroad.
Why You Should Use a VPN in Chile?
Regardless of your geographical location, we always recommend encrypting your online connection. In this country, it's almost obligatory and you'll see why in just a second:
Avoiding Government Surveillance
In the past couple of years, Chile has been hell-bent on gathering info on its residents. The government allows private companies to collect personal data and even SELL it to third-party companies. On the brighter side, in June 2018, a new data-protection law emerged, which should mitigate the existing issue.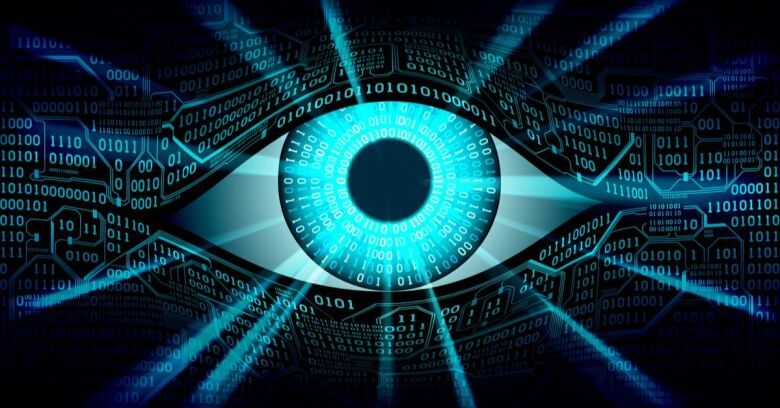 However, that hasn't been the case. The government still forces all ISPs to collect data, which will compromise your privacy and security. Furthermore, in March 2018, the Chilean police were suspected to spy on reporters as a part of the intelligence operation.
As reliable sources said, they targeted and intercepted phone calls, Telegram, and WhatsApp messages between journalists. That being said, despite the new laws, you still aren't quite safe in this country. Because of that, it's always a good idea to fly low under the government's radar with a VPN, if you're in Chile or somewhere else 😉
Bypassing Geo-Restrictions
If you want to bypass geo-restrictions, this is the only solution that will always work. Chileans aren't so blessed with a huge Netflix catalog, access to Hulu, HBO Go, Disney+ or DAZN. Fortunately for our friends from Chile, we have a solution : a VPN.
This service will not only encrypt your connection but also allow you to change your online location. For instance, if you're from this country and you want to access US Netflix, you can change your location to the USA.
Needless to say, if you want to access Chilean local content from abroad, you can do it, too. We'll see which providers are best for this purpose in just a minute.
Avoiding Cybercrime
Cybercrime often happens in countries with less-developed internet infrastructure. The same case is here. In June 2018, hackers managed to steal $10 million from Banco de Chile, which is one of the country's biggest banks.
This is just an example of a very big cybercrime but what about the "tiny" crimes? For example, when using public Wi-Fi networks. Well, that's also very risky here. You never know what lurks behind the corner and if you're sitting in a crowded city cafe, chances are that someone is snooping around.
While the US signed an agreement to help Chile in fighting against cybercrime, we still wouldn't feel so safe.
Best VPNs With Servers in Chile
Do you want to access Mega, La Red, Telecanal or Canal 13 from abroad? No problem, here are the best VPN providers with servers located in Chile:
ExpressVPN: Of all the providers on the market, ExpressVPN is our top choice. Luckily, it has some high-speed servers in this country, allowing you to enjoy local television or any type of content.
NordVPN: NordVPN has 5,500+ servers worldwide and 11 servers in this country. They're highly-secure and even support P2P, making your possibilities endless!
CyberGhost: CyberGhost, with its 10 servers in Santiago, represents a solid solution for those who want to stream local content. It's even usable with Kodi player and offers solid performance for the money.
Installing a VPN of your choice is very easy. Click on the provider you want, subscribe, get the apps, and enjoy your online time as intended.
Top 3 Best VPN for Chile
What if you're a resident of this country and you don't go abroad often? Well, some decent choices are waiting for you below – scroll down!
ExpressVPN
NordVPN
CyberGhost
Here are brief reviews of each provider:
1. ExpressVPN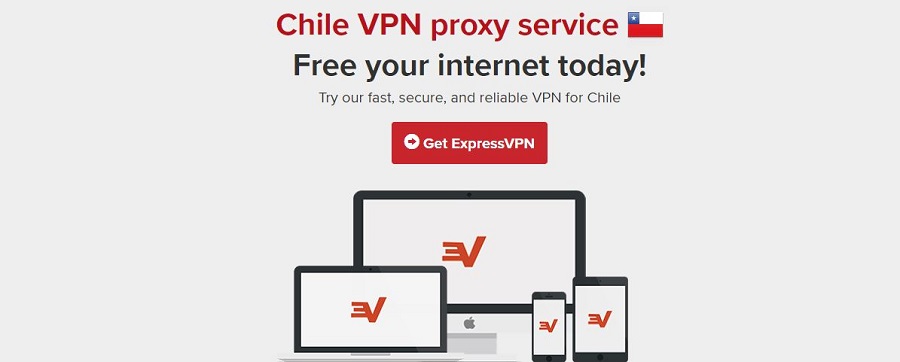 ExpressVPN is a provider that values its customers as no other provider does. It offers 3,000+ servers in 94 countries, and as such, it's one of the best VPN choices on the market, especially in Chile. We like its speed, security, and ease of use, which results in fascinating user experience.
In terms of security, you can expect it to be armed to the teeth. There's 256-bit encryption, no-log policy, kill switch, and DNS and IP leak protection. Plus, there's split tunneling for routing your traffic through two different VPN servers.
With its 24/7 customer support and unmatched speeds, this is the best choice for this country. Plus, ExpressVPN offers a 49% discount and 3 months free for a 12-month plan, so it's a perfect time for getting it.
Feel ExpressVPN's Blazing-Fast Speeds >
2. NordVPN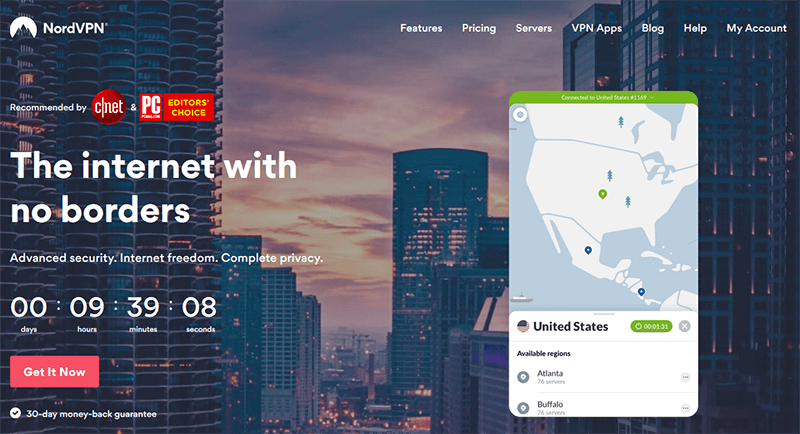 NordVPN will give you a top-notch experience without breaking the bank. Aside from its full-fledged apps, it's also usable on Chrome and on Firefox, as an extension. Its huge server network will be enough even for the most demanding users, and given how fast these servers are, you won't have any problems streaming, torrenting or browsing the internet.
Netflix works flawlessly, as well as Hulu, HBO Go, and BBC iPlayer. For those who value safety, NordVPN offers Bitcoin payments, so they can remain anonymous throughout the whole process. Security-wise, you'll get 256-bit encryption, CyberSec, Tor Over VPN, Double VPN, and other standard features.
With all these features at your disposal, NordVPN will be your loyal companion for years to come. And speaking of years, its 3-year plan is dead-cheap!
3. CyberGhost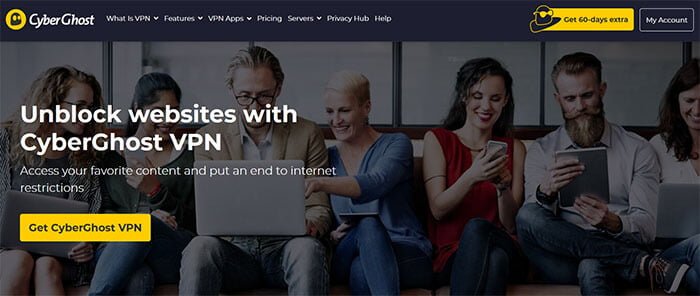 Are you up for saving some cash? Great because CyberGhost is waiting on you. It's a Romanian provider with 6,200+ servers in 91 countries that has the largest server network in 2021. The provider doesn't waste any time introducing you to its enticing features.
From the get-go, you get dedicated servers that Chileans will adore. You can stream or torrent with them safely and anonymously. To make things better, the Romanian company offers a transparent no-log policy, so you'll never compromise your privacy and anonymity online.
CyberGhost also offers 24/7 customer support and even supports routers, further expanding its possibilities. If you decide to buy it, we recommend its 3-year plan, which is at a huge discount at the moment.
Why You Should Avoid Free VPNs?
We do not advise on using a free solution in Chile. And, of course, there are multiple reasons for that. You'll get very slow speeds that won't allow you to stream or torrent properly. Given the bandwidth limitations that many free providers have, you'll enjoy from 500 MB to 10 GB of the internet a month. If it sounds modest to you, it certainly is.
Not to mention their lack of zero-log policy, which will easily break your anonymity. Some providers even sell the collected data to third parties, earning solid revenue. As we said, using a free VPN in Chile is all but a wise thing to do.
Get a premium provider and forget about all the potential issues.
Summary
Remaining safe and secure online in Chile has become a pretty hard task in 2021. With the ever-growing surveillance and inability to bypass geo-restrictions, using a quality VPN is compulsory. The best solution for this country in 2021 is ExpressVPN.
This provider blows away other companies in every department. It's fast, secure, gives a no-log policy, and has decent customer support. CyberGhost and NordVPN are both great but these are slightly inferior options.