Betternet is one of the most popular free VPNs on the market, aside from Windscribe. You know that we never recommend free options but this provider claims to do things "differently" than other free providers. In its words, you can expect it to protect your online identity and preserve privacy, which is to us, a very bold statement. But, as always, we're here to put that to the test and see if the rumors and claims are true. Let's start our in-depth review of Betternet for 2021.
What is Betternet?
Obviously, Betternet is a VPN provider that promises to take care of your privacy better than other free providers. Being a free provider AND from the United States, our expectations are quite low.
The 5 Eyes jurisdiction is at the full swing in the US, and for those who don't know, countries from under this jurisdiction are known for extensive government surveillance.
With all of this in mind, we have a perfect recipe for disaster – free provider and the 5 Eyes jurisdiction. But, we aren't here to judge before testing it out. You know our opinion about free VPNs is not great at all, so we have some suspicions about it.
Nevertheless, let's review Betternet and see if you should buy it or run for the hills.
Compatible Devices and Ease of Use
As always in our reviews, let's start with the supported devices by Betternet. You know how it goes – the more devices a VPN supports, the better it is in this regard. Since we're talking about a free provider, you shouldn't expect anything more than some basic platforms and of course, that's what you'll get: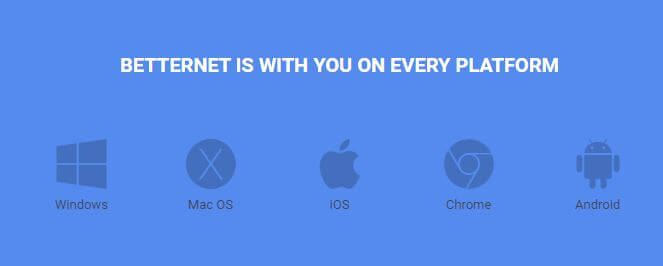 We have Windows, macOS, iOS, Chrome, and Android. No routers, Apple TV, Amazon Fire Stick or gaming consoles on the list. Sometimes, though, it's not about how many devices it supports but HOW it supports these devices. For that reason, let's talk more about that.
Computers
If you're going to use Betternet on your computer, expect it to work on two platforms – Windows and macOS. Did you notice that something is missing? If you did, you're probably a Linux user! No Linux here – sorry.
Since we use a Windows PC, let's install the app and see how it performs. Download the app from the provider's website and open the setup file. You'll get this screen: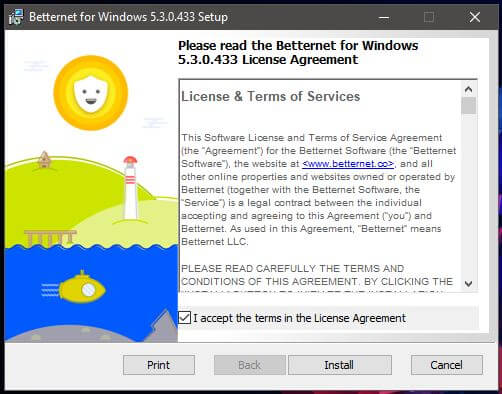 If you wish to install, accept the terms and conditions and click Install. The following installation screen will appear: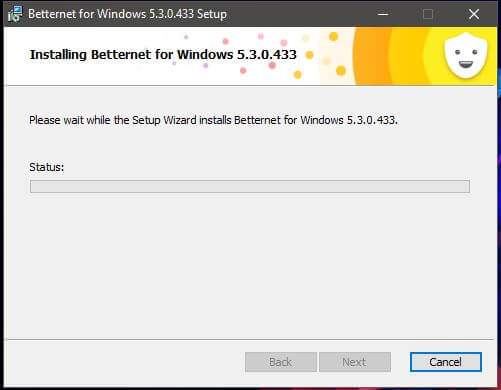 Wait for a few seconds and it will be installed. The app will automatically open and it looks quite minimalistic, akin to its offerings – minimal!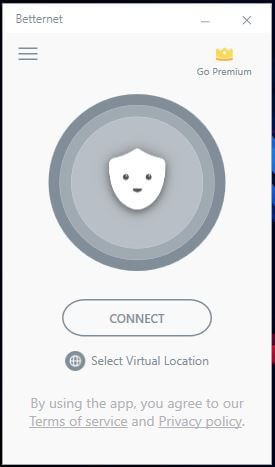 This is your home page. The great thing is that you don't need an account but the not-so-great thing is that they probably know what your email is and you'll see why later. For now, let's see how to connect to a server from Betternet. If you click on Select Virtual Location, you'll open a server list: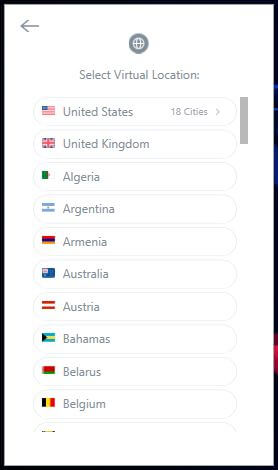 Unfortunately, this server list is useless because you can't access any location if you aren't a premium user. So, your best bet is just to click Connect and let the provider do that for you. Here's how it looks: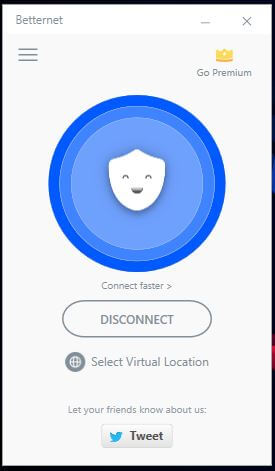 When we checked later in the IP leak test, we found out that we're connected to the USA server, which is great for our streaming test. Stay tuned for that! As for the ease of use, we have nothing to complain about in-app.
But, if you don't have an ad-blocker, prepare for some serious pop-ups and ads. It's very annoying and will hinder your browsing experience. That's how free VPNs make money – either ads or selling your data or BOTH.
So, all in all, the ease of use isn't the best we've seen. In-app, it's okay but when browsing, it's atrocious.
Smartphones and Tablets
What about smartphones and tablets? Well, both iOS and Android users will be able to enjoy it but we'll see how much will that enjoyment last. Let us guess, until the first ads show up?!
Visit the Google Play Store and download the app, as shown in image 1.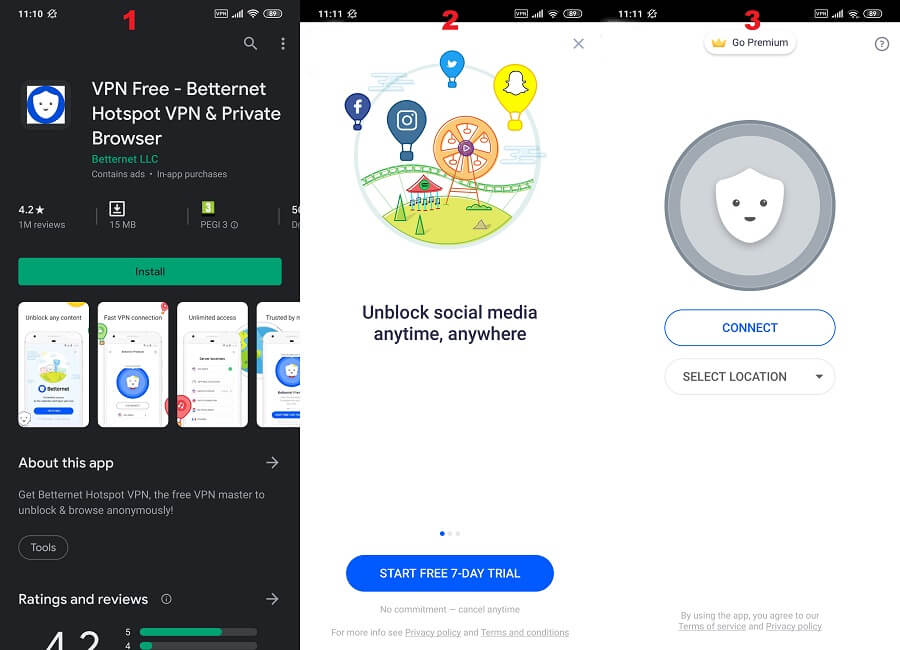 Install the app and open it. The home screen will look like the one in image 2. Don't click the blue button below for the free trial. Instead, click on the X at the top right corner. This is because this free trial actually requires your credit card info. Now, in image 3, you'll see how the home screen looks.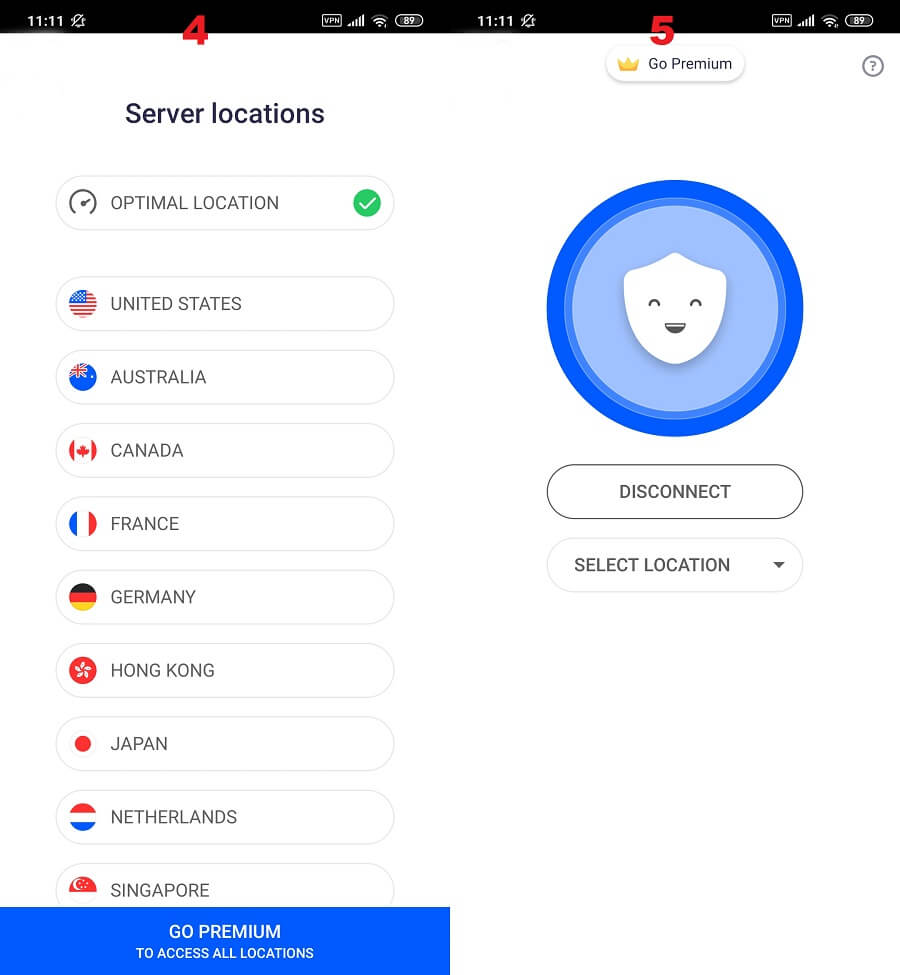 To open the server list, click on Server Location, and you'll see the server list in image 4. As is the case with the PC, you can't use any server until you're premium. So, we clicked Connect on the home screen and our connection was established. In image 5, you see how that looks.
Just before you connect, the app will force you to enable Data Usage in Settings. In other words, you must allow them to track your data usage for advertising purposes, which is a gigantic red flag. Once again, the app is easy to use and set up but the browsing experience is ad-laden, so you won't enjoy it in the slightest.
Other Devices
Betternet doesn't support any bonus devices except these we mentioned above in our review. Sure, there's a Chrome extension but that's for PC, so it doesn't count. We don't recommend this extension because it isn't even a VPN. It's more like a proxy that will not help you achieve the privacy and security you want.
It's not that Betternet will, too…
How Fast is Betternet? We Checked Its Speed!
Premium providers like ExpressVPN and NordVPN offer supreme speeds and should be your top choices if you want the best browsing and streaming experience. On the other hand, free providers aren't exactly known for this trend. Due to the lower quality of their networks, their speeds are often very slow.
Usually, a premium provider will slightly reduce your speed, whereas the free one will go up to 80%, which is quite a lot. Since the speeds depend on many factors, such as server load, level of encryption, and so forth, it's important to see how we did our tests.
Given that Betternet allowed us to connect only to two servers, we changed our test and review routine a bit. We did 3 tests in the morning, 3 in the mid-day, and 3 in the evening, for TWO different servers this time. Also, we kept the best score and used the "best location" since this is the only option.
Our physical location is in the USA (non-VPN test) and we used these two testing locations:
The USA – New Jersey
The USA – New York
Unfortunately, the provider altered our connection only between these two. Our speeds without using a VPN are:
Ping: 11 ms
Download Speed: 211.88 Mbps
Upload Speed: 202.20 Mbps
Now, when using Betternet for this review, our ping, download, and upload speeds respectively, for 2 testing locations, were:
New Jersey Server: 76 ms / 101.24 Mbps / 46.77 Mbps

New York Server: 85 ms / 47.23 Mbps / 38.20 Mbps

As you can see, the provider showed very bad results, even though our physical and our virtual locations are the same – the United States. With the speeds, this slow, streaming, torrenting or gaming online was a chore.
Betternet is definitely one of the slowest providers we tested and we're not surprised, given how much it costs – $0,00.
How Good is Betternet for Streaming?
In terms of speed, the provider is already dead on arrival. How are you going to stream movies or watch UEFA Champions League if your speeds are slower than a turtle? Exactly – you won't! But, since we're connected to the US server, we can at least test some platforms from this country.
Let's start with Netflix, you have two seconds to guess if we managed to unblock it. We didn't, of course. Forget about Netflix with Betternet. Now, it's time for our warm-up round and HBO GO test: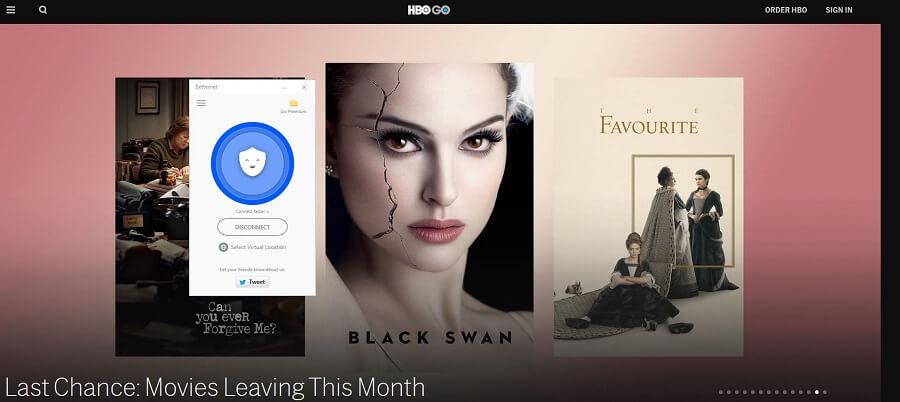 Much to our surprise, HBO GO works…okay. Now, we're going to put it to another test – Disney+: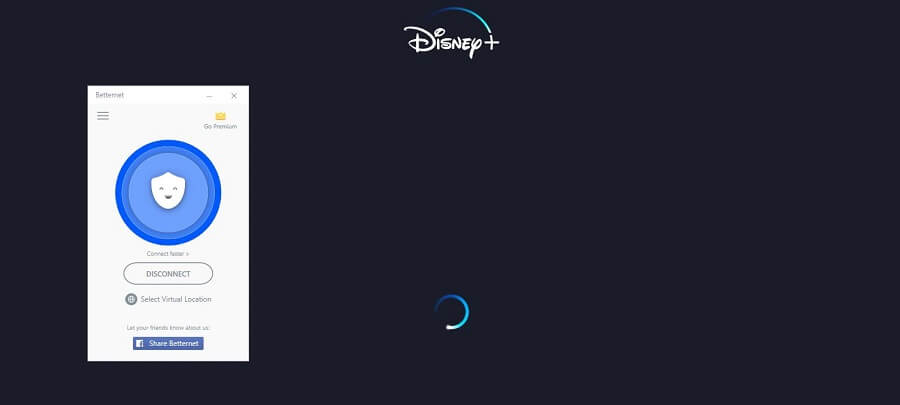 As expected, Disney+ doesn't work. Let's check DAZN:

DAZN also didn't work. We tested BBC iPlayer although we know it's foolish, knowing that we're using the US server. But, for those who still want to see it, here you go: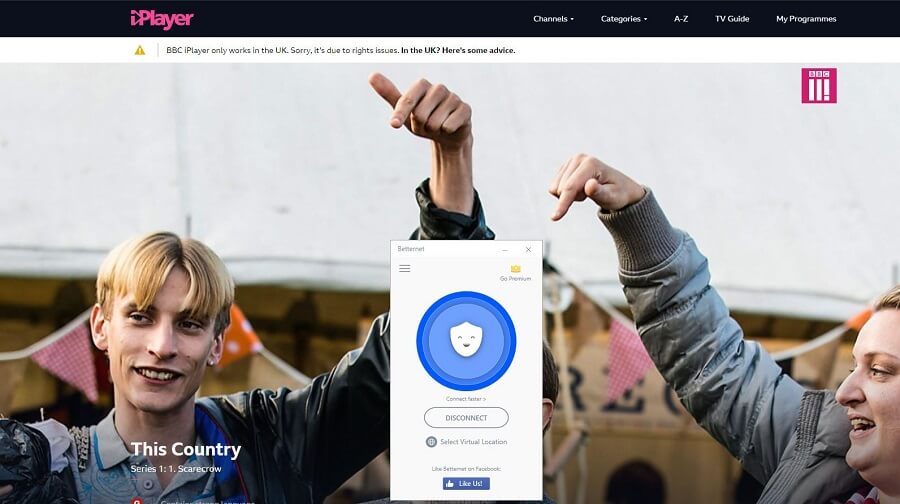 They're like "this VPN doesn't work, look!"
Betternet managed to unblock HBO GO during our review but we can't say that we admire it for that. It has very slow speeds and can't unblock any other streaming platform – not even Amazon Prime Video or Hulu. With that in mind, Betternet is very bad for streaming.
If you want the best VPN for streaming, you should buy ExpressVPN. It's very fast and unblocks every streaming platform.
Confidentiality, Security & Logs
Have you ever eaten a roasted turkey? Well, you'll see how to roast a VPN now. Prepare for what you're going to see because you're not gonna like it. Let's start with the privacy policy. You know how much we like digging through it!
The first thing we detected during our review of Betternet is this:

Okay, so, as you can see, they "may" (read: will) allow their business partners to place tracking technologies in their services. So, whenever you're using this VPN, you're being tracked. Let's see what else they say:

They track you to be able to collect certain info and what do they do with it? Well, you can see above – they transfer your personal data to other countries, so everyone in the world can know how many times a day you watch porn or visit certain sites. Wonderful, isn't it? And now, take a look at this:

Here, they openly admit that they SELL your data to third parties. It's funny how they go into damage-control mode. They don't "sell" your personal info except "in the context of some free version of our products." Wanna translation? They sell your info whenever you're using the free version of their Virtual Private Network.
You can at least opt-out of it but then, will the average user know this? Probably not. Let's check another part:

If you're interested in which info they sell, here you go. Internet activity, approximate geo-location information, and identifiers. Scary stuff, to be honest. And that's not all, you're going to stay with us and ride it out until the end!

It's good that they log only this, right? Metadata, session durations, and bandwidth used. If you read the paragraph, you'll see that they actually don't store your internet activity, so they can't share it with the government, and so forth. To be honest, we think this is a lie. You know why? Here's why:

Take a look at the image above and you'll see what they collect. It's downright spooky! We won't paraphrase everything but they do collect info about your device, network information, signal strength, timestamps, referring URLs, approximate location, and so forth.
We have nothing more to say about Betternet except one piece of advice – DO NOT USE IT.
Betternet stores too much for comfort and will compromise your privacy in a blink of an eye. This is the prime example of why we don't recommend free providers, so here you go. Next time your friend asks about free VPNs, just send him this review.
Can I Do Torrenting Safely With Betternet?
If you read the previous section carefully, do you really think you can enjoy torrenting with this provider? Our honest opinion is that you can't.
Now, the trick is that the servers allow P2P and you can freely use BitTorrent to download stuff. However, not only will the speeds be painfully slow but you'll also get a DMCA notice in case you violate copyright.
Since they share your data with third parties, this is highly likely to happen when you're torrenting. So, to digress, you can torrent but you can't torrent safely with Betternet.
We didn't even bother trying it because it's just too risky, given everything we said about it.
Can I Use Betternet to Bypass Censorship?
Bypassing censorship is getting harder these days, even for the premium providers such as CyberGhost, for example. But, it would be great if a free provider such as Betternet can do it, right?
Unfortunately, Betternet can't bypass censorship.
By censorship, we mean mostly the Great Firewall of China or censorship in Russia and the UAE. These countries have some of the strongest anti-VPN measures that will quickly shoot down almost any VPN.
For that reason, only a couple of VPNs on the market can really bypass censorship and let you browse the internet freely. As expected, Betternet won't do that for you. as we were able to confirm that during our review and tests.
Pricing and Plan Options
But wait – isn't Betternet a free provider? Oh, sure! Aside from selling your data to third parties, they offer you a premium mode in which they promise that they won't do it. Let's see how much will it cost you: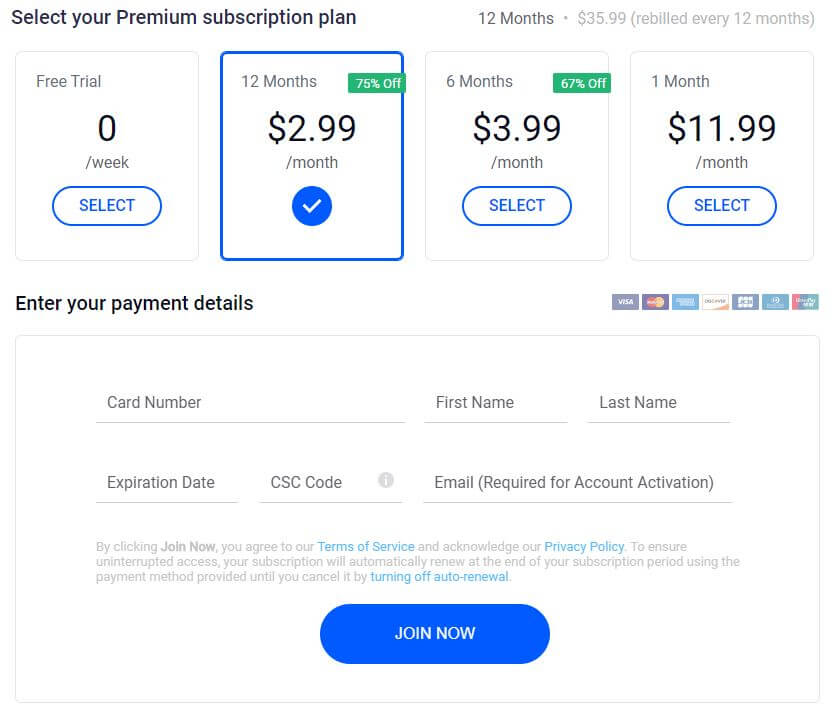 There's a free trial on the left and it's different than a free version. You get a premium service here but only for a week and you need to enter your credit card number, which is a trap. DO NOT DO IT. We've heard that they'll start charging your credit card even if you cancel the plan, with support refusing to do anything about it by not responding at all.
The next plan is an annual plan at $2.99 a month, then, we have a 6-month plan at $3.99 a month, and a monthly plan at $11.99 a month, which is very expensive. Even though it's much cheaper for a 12-month plan than many providers, we can't recommend it.
For this price, you can buy CyberGhost that offers its 3-year plan at $2.75 on a monthly basis, which is cheaper and you get a lot more. You can also see the payment methods in the image above and there's no Bitcoin and PayPal.
Finally, if you want a refund, here's what Betternet says:
You can get it in the first 45 days from the purchase, which sounds generous but it actually isn't because they don't respond to emails…
How Can I Contact Betternet?
Speaking of emails, let's see how to contact Betternet. First, you'll have a really hard time finding the option to contact them. To do that, scroll all the way down and find Help Center. Click on it and open any random topic.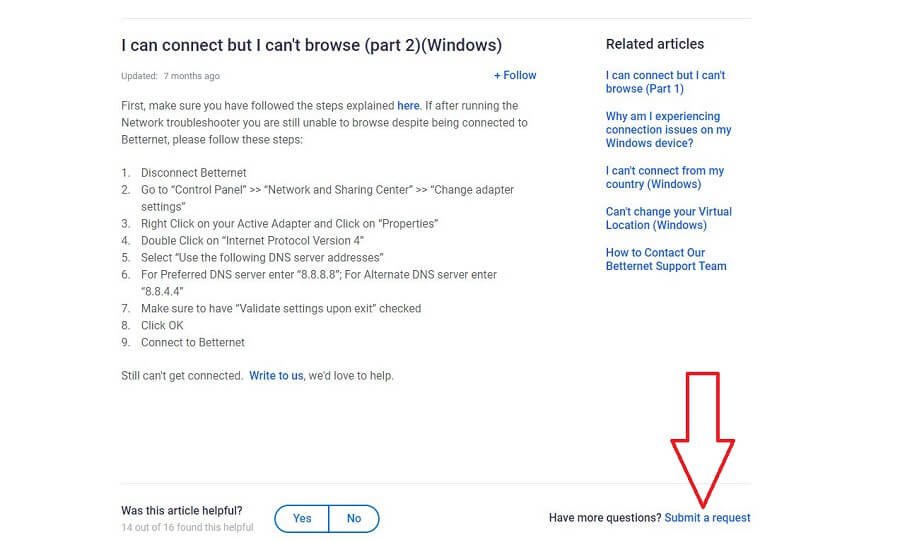 Once you do that, you can see the 'Submit a request' link below. We placed an arrow to show you. Click on it, and finally, the ticketing system will appear:

It's like they're hiding it from their users and don't want to accept any responsibility for what happens when you use the VPN. Oh, and about the refunds and cancellation, you can forget about it in most cases.
Users have reported that they refuse to answer any emails related to canceling the subscription and stopping automated payments. In some cases, they will but once they milk your credit card enough – for a few weeks or months.
That's why we say to avoid buying it.
The Special Functionalities
Free providers can't even do basic functionalities well and asking for bonus features is like asking your Toyota Corolla to fly. But, Betternet has one – sort of split tunneling: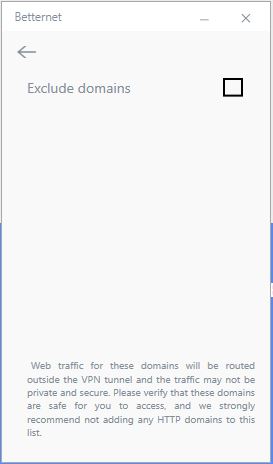 While split tunneling allows you to allow or disallow certain apps and sites from using a VPN, this feature lets you just exclude certain domains. Basically, it's a 50% split tunneling feature, if we can call it like that.
You can see the description of this feature in the image. If you want to use your bank account or PayPal, for example, you can prevent these domains from using a Virtual Private Network. All other sites will use it in this case.
Definitely, a useful feature and we're glad that it's here. Albeit, it doesn't make this provider any better.
Other Things You Should Know about Betternet
Let's talk about a few more things you should know about the provider:
Number of Servers
The provider, as expected, chooses to stay vague about its server number. We found this question answered by the support team:

No mentioning of any server numbers, and so forth, which is the dead giveaway that it's very small.
Number of Countries
As for the number of countries, you'll have to check this page. These are virtual locations offered by Betternet. If you look at this, you'll see a much higher list than the one we showed in the previous section.
There are tons of countries here and of course, to use them, you need to have a premium account.
Number of Simultaneous Connections
Finally, let's touch on simultaneous connections. Betternet claims to give you a total of 6 simultaneous connections on a premium account:

As for the free version, you can connect as many as you want since it doesn't require an account.
What Do Other People Say About Betternet?
Before we wrap up this in-depth review, let's see what other people have to say about Betternet, starting with Reddit:

This user mentions the facts about this provider. Selling data, injecting malware, and so forth. Although, we must admit that we scanned our computer using Malwarebytes and found nothing. Let's check the Apple Store now: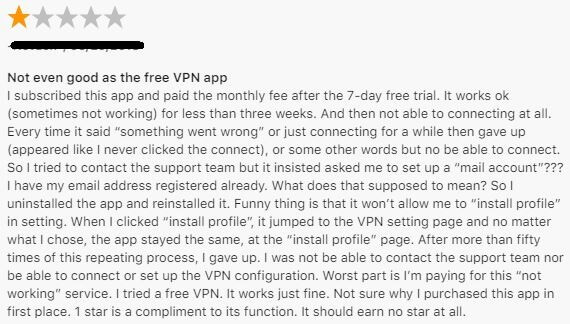 The Apple Store user made a crucial mistake by paying for this VPN. As you can see, the VPN suddenly stopped working and although he contacted support, they said to him to set up a mail account which made no sense.
You can read the whole review above but in short, he couldn't contact the support team anymore nor set up the connection, which made him give a 1-star review to Betternet. Let's check the Google Play Store review now:

As we said, you'll get plenty of ads when using Betternet. This user just proved it by saying that they're getting out of hand. Unfortunately, the support team couldn't help him because this is how the app is and how they mostly earn money. Finally, let's check Trustpilot:
Remember what we said about refunds and cancellations before? Well, here's proof. This user couldn't cancel the subscription, so he had to cancel the credit card because support didn't respond to him.
Conclusion: Should You Take It?
From what you've seen during this complete review, it's clear that you shouldn't buy Betternet.
There's literally not a single good thing about it except for being free. Everything is else is subpar, especially its privacy and security, which is the worst we've ever seen. Furthermore, the VPN is downright scammy.
Its support is bad, refuses to answer questions, and doesn't let you cancel your subscription properly, so they can take your money. Talking extensively about why it's bad and not recommended is just wasting of time.
Long story short, if you really value your privacy and you want the best VPN experience, go for ExpressVPN and avoid Betternet AT ALL COSTS.
ExpressVPN currently offers a 49% discount and 3 months free for a 12-month subscription plan and it's a great deal in 2021.