Canada is a country that has a lot to offer. Whether you are just visiting or you have decided to live there, we absolutely support your decision. However, you should keep in mind that, while staying in Canada, you will not be able to access US TV channels and platform libraries. The main reason for this is the common geo-blockades that have taken place over the past few years. 
We are not undermining the quality of Canadian television. However, we understand that there are more than a few of you who would be happy to still stream their favorite content from American TV Channels for free and without restrictions.
For this purpose, we will do our best to briefly explain the issue, as well as highlight the best possible solution. Let's get right to it!
Why can't I watch US TV in Canada?
As we have mentioned above, the main reason for this is because you are located outside of the US. You may know that most TV channels are licensed and thus restricted to a specific country.
This means that, if you are trying to connect from a location that is the United States, you will probably encounter a streaming error. How does the algorithm know that you don't meet the geo-requirement, though?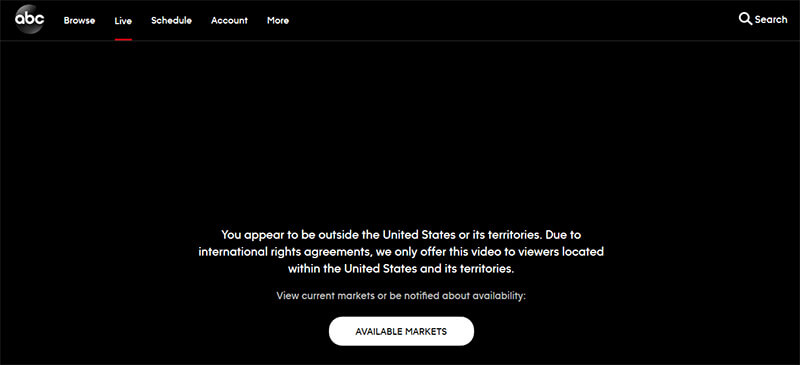 It tracks your IP address and determines whether you are eligible to enjoy American TV channels or not. Perhaps you were based in the US when you first subscribed to the platform, and maybe you are even paying a cable operator there. Unfortunately, it doesn't matter as long as your current location is in Canada.
This can be quite frustrating, considering the fact that you may miss out on important news, sports streams, or your favorite TV shows. Luckily, there is an effective solution, and it comes in the form of a Virtual Private Network (VPN).
Solution – Use a VPN
What is a Virtual Private Network, you might ask? It is a service that will allow you to hide your original IP address and connect from an alternative location.
Thus, if you are currently based in Ontario or Toronto (or anywhere in Canada), a VPN is going to tunnel your connection over to New York or any US-based server. This will allow you to enjoy US TV channels for free and without any restriction.
Of course, not every VPN is able to ensure effective and reliable internet encryption. What you need to look for is a service that offers a sizable server park, fast and stable connection, and effective customer support.
Apart from being able to unblock censored sites, some people even use their VPN in order to watch porn anonymously.
The VPN market is quite versatile. This is why we did our best to consider the aforementioned factors and help you by highlighting a couple of reliable options.
To summarize, in order to bypass the geo-restriction imposed by all of the American channels, you will only have to start your VPN in order to connect to a server located in the United States, as you can see here: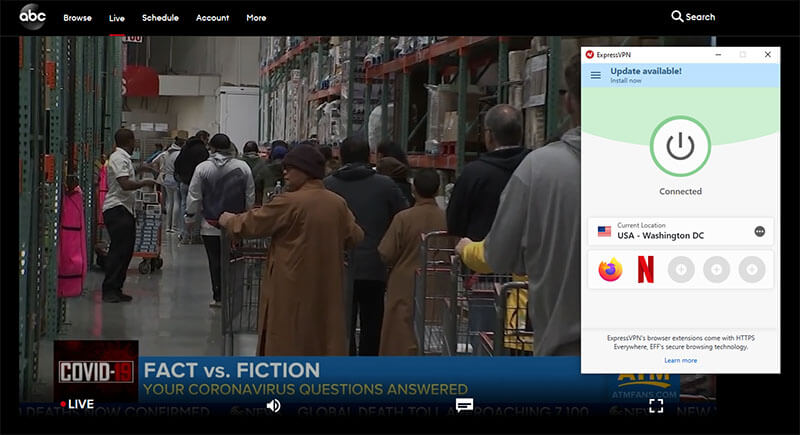 VPN to Choose to Watch US TV in Canada
Again, choosing between the different VPNs should be done by focusing on aspects such as speed, stability, security, and privacy. Also, you should consider the price that a VPN comes at.
ExpressVPN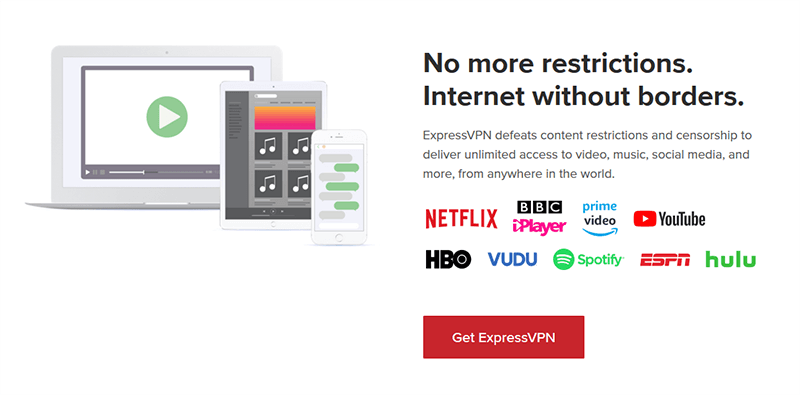 ExpressVPN is based in the British Virgin Islands and offers privacy-friendly jurisdiction. The main highlight of this VPN is that it offers incredible speeds, as the connection drop you should expect is not higher than 15%.
When testing ExpressVPN, we also found that the stability is very good, as we didn't have a ping that was higher than 100ms. This was true even when using the West Coast server. Much like NordVPN and CyberGhost, it offers thousands of servers, which effectively makes it a global provider.
The security and privacy aspect that it offers is top-notch and justifies the somewhat higher price. We can say with confidence that subscribing to ExpressVPN from Canada is something that you will not regret.
NordVPN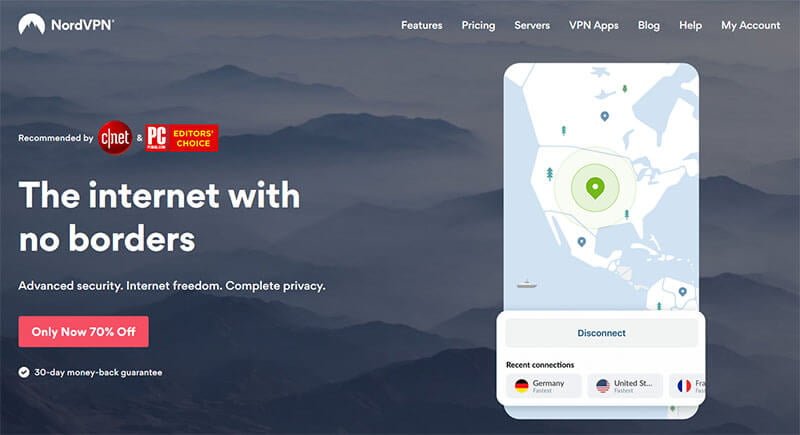 Our second choice is NordVPN, which comes with a number of innovative features. It also offers reliable and effective unblocking ability. It is based in Panama and, as such, offers privacy-friendly jurisdiction.
When it comes to what you can do with it, this VPN allows you to unblock more than 150 streaming platforms from Canada. This includes Netflix, Hulu, HBO GO, Amazon Prime, etc. There are more than a hundred US servers you can choose from. Therefore, you shouldn't have any issue with unblocking content restricted to American citizens only.
The encryption that comes with NordVPN is military-grade and comes in the form of 256-bit AES. As for leak protection, you are looking at a couple of effective instruments, including CyberSec and a kill switch.
The price is quite affordable, with the 3-year plan being set at just above $100. Grab this VPN at an amazing price here:
CyberGhost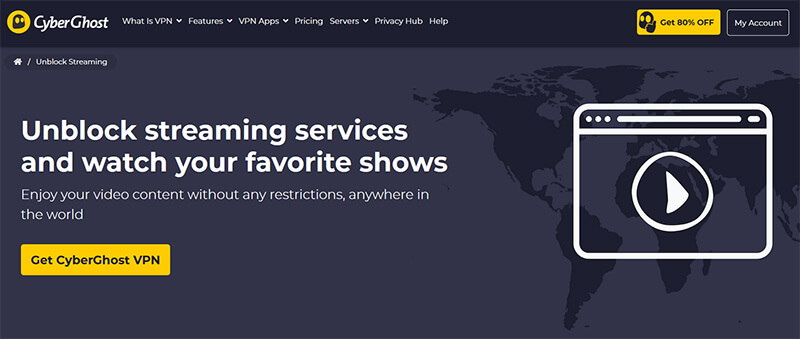 The second option that we consider to be effective for streaming US Television outside of the country is CyberGhost.
Firstly, it offers compatibility, which means you can install it on almost any device. This includes iOS, macOS, Linux, Windows, Android, smart TVs, gaming consoles, and routers.
It has more than 7,000 different servers in over 90 countries, a good percentage of which is based in the US. When it comes to unblocking ability, you should have success when it comes to both TV channels and popular streaming platforms.
In terms of how reliable it is when it comes to encryption, CyberGhost offers 256-bit AES, much like NordVPN. Plus, it provides 100% leak protection. Also, CyberGhost has reliable customer support, which is incredibly important when using a VPN in Canada.
Wrap Up
All of the aforementioned providers offer effective, safe, and secure VPN services that will help you access and watch any American TV Channel or content in Canada. The truth is, the difference between ExpressVPN, NordVPN, and CyberGhost is ever so slight.
Thus, you will not go wrong by choosing any of the three. If you find yourself on a limited budget that doesn't allow you to pay a monthly subscription, we still have a solution for you. A great free option would be Windscribe and you can read our review right here.
So choose the option that works best for you and enjoy your favorite US content while in Canada… and wherever you go. Good luck!