Many Brits like to catch up on favourite TV shows online by streaming through BBC iPlayer, ITV Hub or any of the other streaming services in the UK. However, people are left disappointed when travelling outside of the country. While Ireland is not millions of miles away, the streaming services are still restricted and blocks are put into place. Thankfully, we know a trick to unblock and watch British TV in Ireland and it is working in 2021.
Using our trick, you can get access to numerous TV channels from Britain and we are going to show you step-by-step how to do just that. By the time you have read this, you will be able to access free UK TV channels and bypass the blocks wherever you travel.
How restrictions are enforced?
TV programs shown on such as ITV, BBC, Channel 4 and Channel 5 are only licensed for showing within the United Kingdom.
Outside of the country if you try to visit the website you see a notice telling you that you cannot access the content and it is blocked.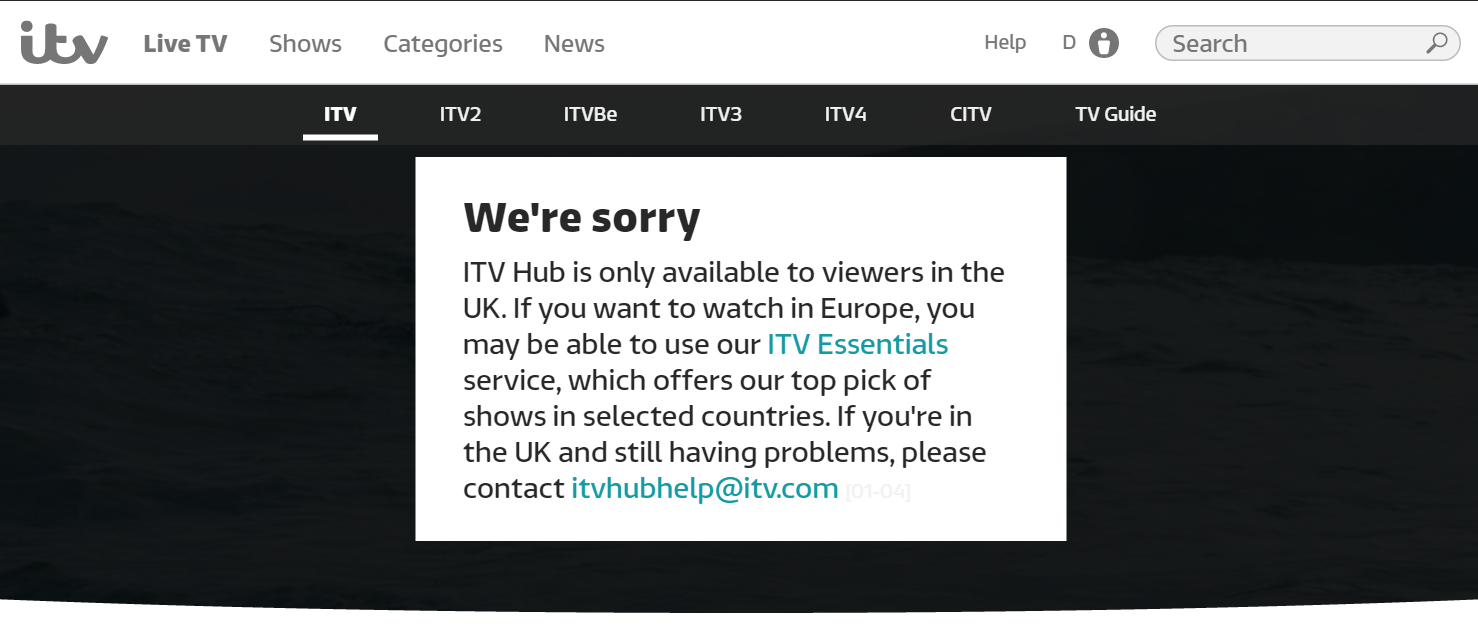 The IP address of the device you use to connect to the internet gives away your location. Just as your postcode gives away your home address, and tells people where you are located in the UK, the same applies to your devices IP address.
When you visit the streaming service from Ireland, it picks up your location and blocks you from accessing it.
How a VPN gets around the restrictions?
If you can change the IP address of your device to one from the range in the United Kingdom, you fool the streaming service/TV Channel into thinking that is where you are located.
Change your IP with ExpressVPN >
However, you cannot change the IP address of your device on your own in the settings of the device as it comes from the ISP provider you use to connect to the internet.
The good news is there is a trick to unblock and watch British TV in Ireland. This is by hiding and changing your IP using a VPN.
A Virtual Private Network offers apps that you can install on a device and through the app; you can connect to a server offered by the provider. If you connect to a server in the United Kingdom, you mask your own IP address. This is replaced by an IP from the United Kingdom and fool the streaming service into thinking you are located there.
Steps to stream and watch British TV while in Ireland
We are going to clarify things now by providing you with a guide that shows you in easy to follow steps how you can unblock and access TV from the United Kingdom free of charge.
1. Choosing a VPN provider
The first thing you need to do is choose a VPN provider. We recommend ExpressVPN, NordVPN or CyberGhost, which is top 3 in our ranking.
ExpressVPN is the fastest, with reliable servers in the UK suitable for accessing TV from the United Kingdom. Along with this, it has thousands more spread out around the world.

The provider offers 256-bit military-grade encryption along with using the OpenVPN protocol and a range of others. This ensures no one can see what you do online, including your ISP. A Kill Switch and leak protection is also included in plans.
This, plus more, ensures the provider is an excellent choice for beating geo-restrictions.
2. Decide which plan you want
Next, you have to choose a plan and ExpressVPN offers a choice of three. All come with the same benefits; the only difference is the commitment you make to the provider.
The one-year plan comes with the biggest savings of 49% and the provider offers three-free months. Therefore, you get a total of 15-months.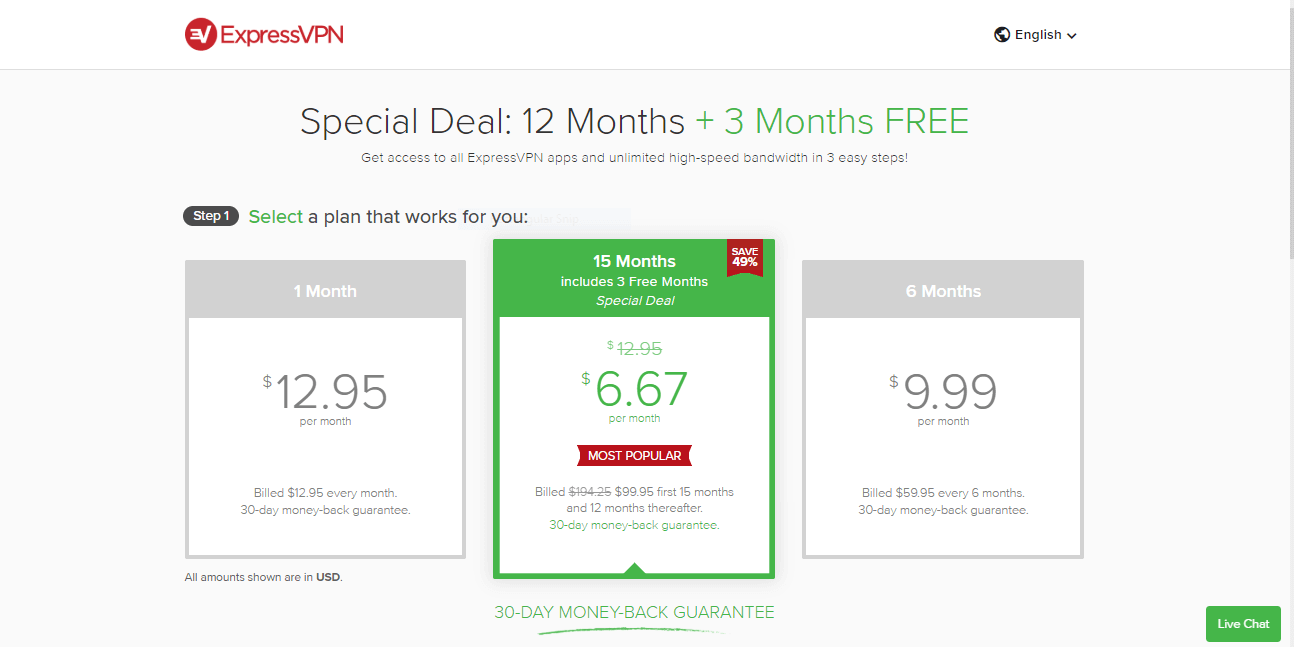 The provider also has a 6-month plan along with the option of being able to pay month-by-month.
3. Download and install apps
Once you have signed up for a plan, you should head to the download page. This is where you can choose apps to download for such as Windows, MacOS, Android and iOS devices and many more.
Providers support numerous devices via standalone apps. For devices not supported by apps, ExpressVPN offers manual installation on compatible routers. This means you can use the VPN on any device that connects to the internet through the router. This includes such as gaming consoles and Smart TVs.
4. Install and sign into the app
Once you have downloaded the app or apps of your choice go ahead and install them onto the device you want to use.
Click on the icon and the first time you sign in you will have to enter the username and password along with the activation code given to you.
Once you have done this, a dashboard will open up, which is where you will choose a server.
5. Find a UK server and click on connect
If you have chosen ExpressVPN as your provider, you can click on the three dots to the right of the server name. Choose a server from the United Kingdom and then click on the button to make a connection.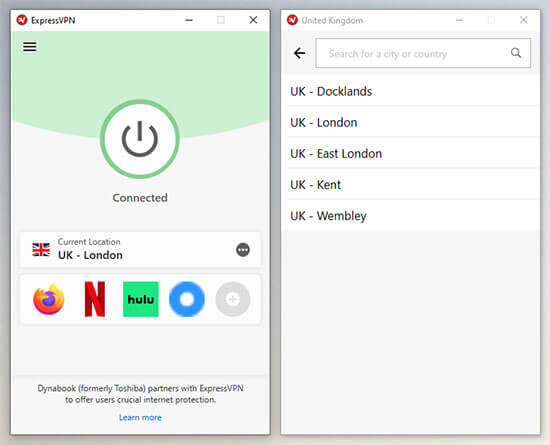 Your own IP address is then masked and instead you have one from the server you connected to, which makes it look as though you are located in that country.
Along with this, you benefit from military-grade encryption. This means no one can read any information you send over the internet.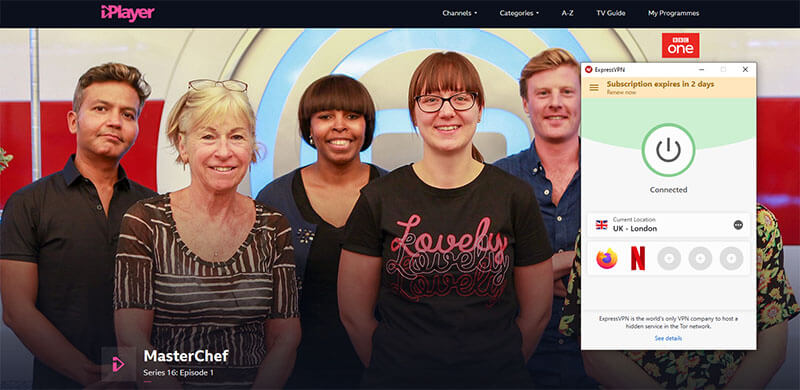 In summary
The steps above are the trick to unblock and watch British TV in Ireland or any other country you might decide to visit.
You can bypass blocks and watch any content/show by changing your IP address and fooling the service into thinking you are in the United Kingdom. In addition, you benefit from encryption, which gives anonymity and security.