A Virtual Private Network is a perfect tool for hiding your IP and remaining anonymous online. IP addresses, obviously, play a huge role in preserving or exposing your privacy. With thousands of IP addresses that many providers offer, you might want a unique one that's just for you. In that case, you can get a VPN provider that gives a dedicated IP. Not many providers offer this functionality, so bear with us as we give you our top picks.
What is a Dedicated IP Address?
Before we give you our top VPNs for this purpose, we need to explain what a dedicated IP is. As the name implies, it's a type of address that the provider dedicates to certain users. When using this software, it will always have a dynamic addressing system.
This means that you won't get the same address when you connect each time. For example, you connect to the same server three times, and each time, you get a different IP. Not to mention that connecting to other servers also gives you a different address.
A dedicated address is a type of static IP, but the difference is that it allows only one user/account to use it. A typical static address is almost always shared, meaning that other users get to connect to it and use it for online purposes.
Here, though, it's only for you, making you in control of online activities. The caveat is that it's a premium feature that costs on top of your premium subscription. So, if you need it, make sure you're ready to pay an average of $5 extra for it, on a monthly basis.
What are the Benefits of a Dedicated IP Address?
The fact that this feature is so expensive already tells us that it has a lot of benefits. As they say – if you don't know what's good, ask what's expensive. Below are the benefits you can get by purchasing this extra feature:
Safer Online Banking
Banks spin millions of dollars each day, and wherever the money spins, that's where the most security is needed. Making your bank account allows you to manipulate your funds online. But, in many cases, if you access your account with a different IP, it will lock you out, making it impossible to access it for some time.
That's why installing a VPN with a dedicated IP is a good thing. Even when you're abroad, you just connect to this address and enjoy your paying online. The trick is that your bank sees the IP you've used to access your account through, and you'll have no problems using your account.
Accessing Online Streaming Accounts
Let's make something clear. Dedicated IPs won't reinvent the wheel when it comes to unblocking streaming platforms. If a streaming platform like Netflix or Hulu bans your address, you're pretty much done for. The silver lining is that, if that doesn't happen, you can always access your account and enjoy your favorite shows.
Netflix and many other platforms can easily detect that you're accessing the account from a different address. In that case, they'll block access, which will drag you into more and more problems.
When you have the same IP and you use it for accessing your streaming accounts, that's another story. Just make sure that you're using a provider that's good for this purpose, like NordVPN is, for instance.
Avoiding Captchas
By using a VPN with shared IPs, you will very often have to complete captchas to do searchs on Google, access a site, etc. This can be explained by the fact that a large number of users use these IPs to do more or less dubious things. As a result, it is possible that certain IPs are associated with "robot" or "malicious" type activities.
Fortunately, by choosing to buy a dedicated IP from your VPN provider, you will be able to avoid this. Only you can use your IP and you will therefore no longer have to undergo constant captchas because of possible suspicious activities.
Best VPNs to Get a Dedicated IP
If you're having a hard time finding a dedicated IP VPN, we're here to put you out of your misery… not literally, obviously. Scroll down to see our top 3 picks that will allow you to take advantage of this very interesting feature:
1. NordVPN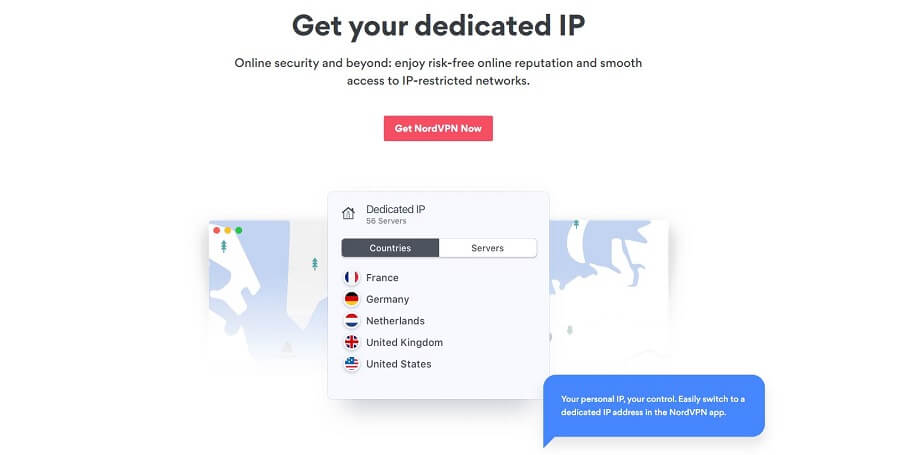 The best VPN in the US, and abroad, that offers a dedicated IP, is NordVPN. This provider sounds so resounding, that you can't forget about its name once you hear it. The reason being is because it's one of the most significant brands in this industry. With 5,600+ servers in 60 countries, you'll get plenty of options for bypassing geo-blocks and enjoying anonymous web browsing.
Among thousands of servers, NordVPN has dedicated IP addresses that you can get if you pay additionally aside from subscription. The provider doesn't offer many countries but some of the most "popular" countries are on the list:
US
UK
The Netherlands
Germany
France
NordVPN will charge you $70 per year for this feature, so if we divide $70 by 12, we get around $5.8 per month. That's a bit more expensive but you have to keep in mind that it's NordVPN, a premium brand. There are tons of features that this provider offers, some of them being 256-bit encryption, an automatic kill switch, and obfuscated servers.
We like the addition of Double VPN, as well as NordLynx, a freshly-baked WireGuard protocol. NordVPN also has 24/7 customer support ready for fixing potential issues or answering to VPN-related questions, including the one about dedicated IPs and how they work.
Lastly, you get up to 6 simultaneous connections, allowing you to protect multiple devices at the same time.
Get Your Dedicated IP With NordVPN >
2. CyberGhost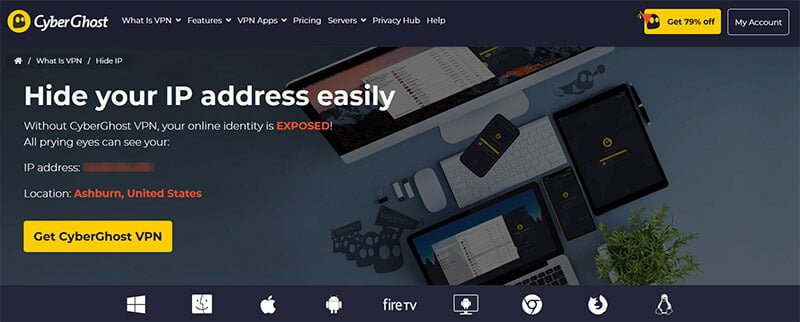 CyberGhost is for those who love decent performance but don't want to overpay. It's hard to overpay when a provider costs like a pocket change per month, right? This provider is known for its focus on privacy and security, and its Romanian jurisdiction helps a lot in that endeavor.
Since it's from Romania, it doesn't store logs, and it won't do it, given that it's outside the 14 Eyes. Moreover, CyberGhost offers dedicated IP addresses that are a bit cheaper than those offered by NordVPN. Should you decide to get one, it will be $5 per address a month, which is $60 a year.
CyberGhost packs 7,000+ servers worldwide, in 90 countries. This means that bypassing geo-restricitons will be a breeze, especially thanks to its dedicated servers. There are servers for streaming and torrenting that you can easily utilize in day-to-day activities.
For streaming, CyberGhost is one of the best choices. You can unblock Netflix, Hulu, and HBO GO, for example, while its speeds will give you an amazing streaming experience. This low price is accompanied by 7 simultaneous connections, which is more than enough, even for demanding users.
Surfshark offers unlimited connections but hey, it doesn't offer a dedicated IP, unlike CyberGhost!
Enjoy a Dedicated IP With CyberGhost >
3. Trust.Zone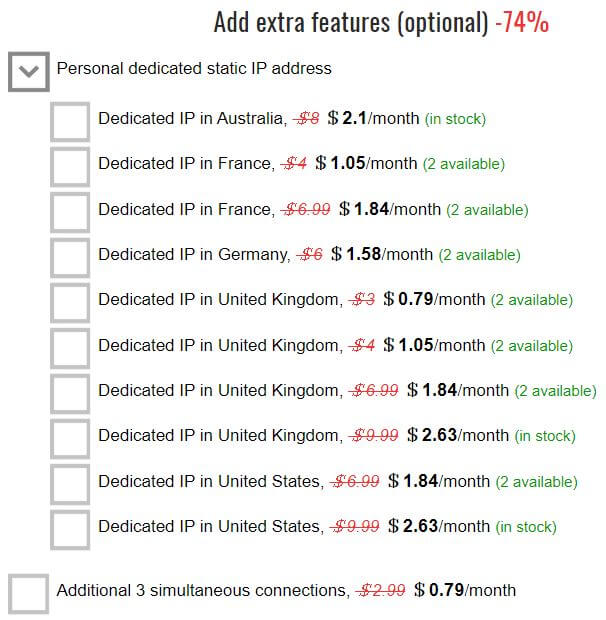 It's quite interesting that Trust.Zone made it on this list, despite many better providers on the market. Sometimes, you have to have what others don't have, and that's a dedicated IP. We're talking about a very cheap VPN, even cheaper than Surfshark.
However, its speeds aren't very impressive and it isn't the most capable provider when it comes to unblocking platforms. If you want a dedicated IP, though, you can pay as little as $1.05 a month to get it, which is dirt-cheap! Basically, you get this feature for as little as $12.6 a YEAR!
The countries that Trust.Zone covers are Australia, Canada, Estonia, France, Germany, the UK, and the US. That's already more than NordVPN. Plus, there's 256-bit AES encryption and an automatic kill switch. If you don't like it, there's a 10-day money-back guarantee and a 3-day trial with 1GB of data.
Overall, we'd say that Trust.Zone nailed it in this regard. Despite that, we recommend it only as a money-saving option since it's not better than CyberGhost or NordVPN.
Save Money on a Dedicated IP With Trust.Zone >
Can I Find a Dedicated IP in Free VPNs?
No, you can't. As we said, this is a premium feature that means a lot and costs a lot in some cases. NordVPN charges you for it, CyberGhost does the same, and so does Trust.Zone.
In this section, we also want to stress out how important it is to use premium VPNs and not the free ones. They won't give you a dedicated IP but that's just a fraction of what you won't get. You won't get fast speeds, rock-solid security, or privacy.
These providers are known for selling your personal data to third parties, which jeopardizes your privacy and online identity. Not only that, but they can't unblock sites efficiently and often offer unlimited bandwidth.
Our recommendation for this purpose is NordVPN, despite being a bit more expensive. NordVPN's service is one of the best in the game, slightly behind ExpressVPN. Given that ExpressVPN doesn't offer this functionality, NordVPN should be your go-to option.
If you're going to buy it, know that you'll get a HUGE discount on a 3-year plan with us. We'll automatically apply a discount code and you'll get to browse the web safely – a win-win situation!