With hundreds of affordable VPNs on the market, it's pretty hard to get the provider that will really give you a proper bang for your buck. However, a few cheap providers caught our attention these days. One of them is CactusVPN, which is very affordable and claims to be a no-log provider. Needless to say, it sparked our interest and made us decide to do this review. Is this affordable provider any good, despite its price? Let's determine that in our CactusVPN review.
What is CactusVPN?
CactusVPN isn't a very popular option on the market. In fact, not many VPN enthusiasts have used it or know about it. But, as soon as you visit its website, you can see that it's a serious provider. The company CactusVPN Ltd. is based in Moldova, which is a very good place for this kind of service.
It's a country that respects the privacy and is far from the 14 Eyes, laying a good base for the provider. Furthermore, the provider claims to have a zero-log policy, making sure that your privacy is never jeopardized. CactusVPN is definitely an interesting contender for our in-depth review, as it seemingly offers a lot for the price.
We'll analyze CactusVPN comprehensively and determine if it's worth a shot in our review below.
Compatible Devices and Ease of Use
Let's start with the devices, as we always do. The more devices the particular VPN support, the better it is – at least in this regard. It is possible to use your VPN for enhancing your gaming experience, as well, so it's always good when it supports gaming consoles.
While this one doesn't, it still has an impressive roster of supported devices – check this out:

The upper row encapsulates all the basic platforms – Windows, macOS, iOS, and Android. However, in the bottom portion, we have platforms like Android TV, Fire TV, Chrome, and Firefox. Apps, or better said, extensions for Chrome and Firefox are completely free and you can download them right away.
As we can see, CactusVPN didn't disappoint when it comes to device compatibility. We'd love to see routers on this list, but hey, you get what you pay for… in some cases.
Computers
If you love streaming, you probably use your Virtual Private Network on a computer. After all, enjoying such content is much better on a bigger screen. This provider supports Mac and Windows, and while it's not the best VPN for Mac, its app is solid on Windows. We'll use the latter platform for testing.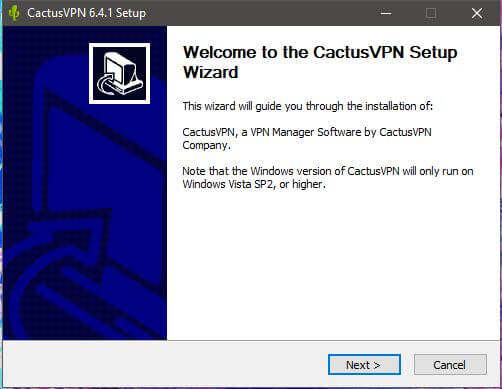 Upon downloading the setup file, double-click on it, and the initial installation screen will show up. Click Next to proceed to the next step: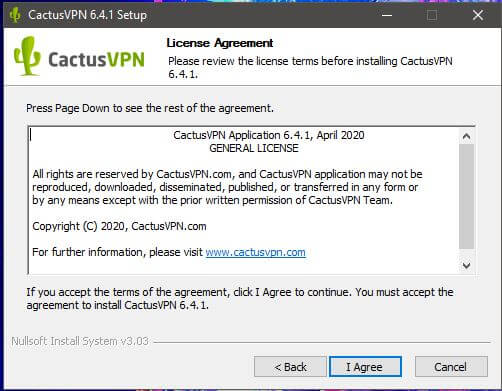 If you wish to read terms of the agreement, you can do so, but who the heck reads it anyway? Click on 'I Agree', choose where you want to install it, and the setup will begin shortly.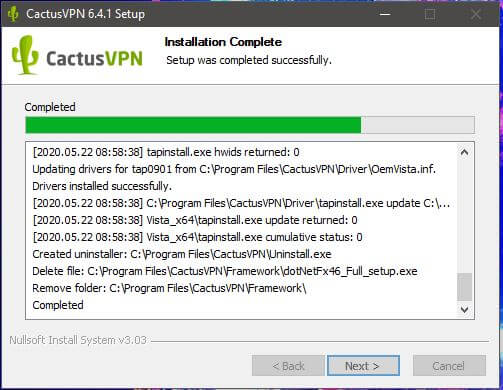 Oh, and just one thing, before installing, choose to install the TAP driver. This installation process lasts no more than five seconds, and after that, you're free to run the app. Huh, that was easy, wasn't it?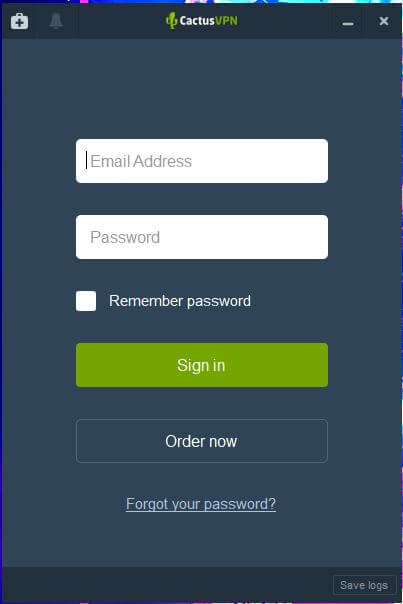 Judging from the login screen, the app offered by CactusVPN looks quite… well, outdated. But we still decided to enter our credentials and sign in to pursue our review.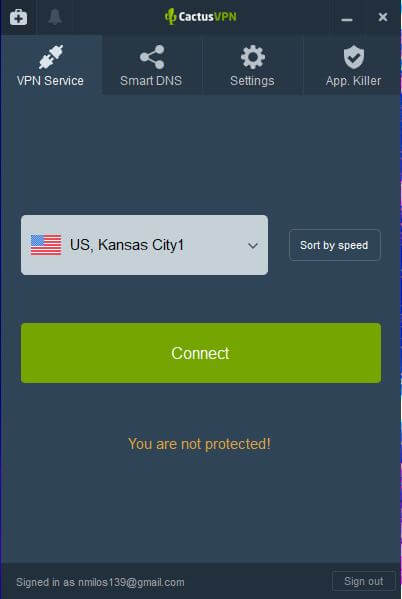 This is how the app looks. It's very simple, which is actually pretty good, even for experienced users like us. In the upper portion, you have the features and settings, and below, you can open the server list and connect to the server you want. Let's do it: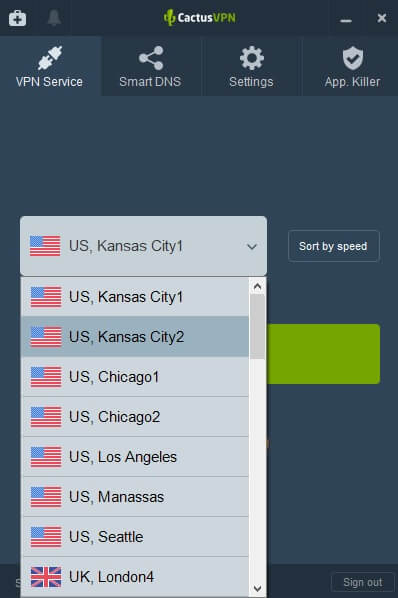 You can also sort the servers by speed. We did that, and as you can see, the US servers were first. Click on the one you want and use the green connection button to connect: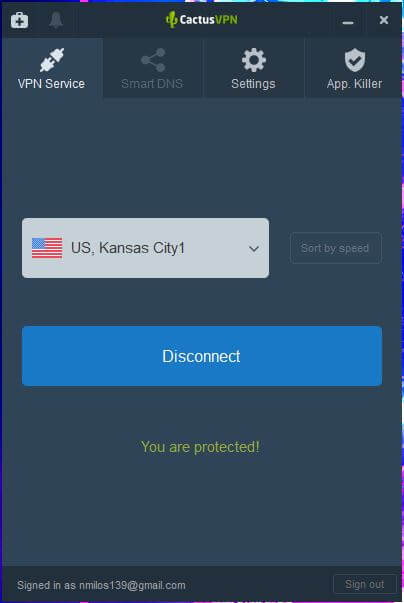 Very simple and precise. Although it's not the best-looking app like ExpressVPN or NordVPN, we still appreciate the simplicity and straightforwardness.
Smartphones & Tablets
Is it the same on mobile platforms? Sure, CactusVPN did an amazing job of making its apps as simple as possible. We mentioned it before in our review, but lets' do it again – CactusVPN supports both Android and iOS, so if you buy a new iPhone or Samsung, you can use it easily.
We use an Android phone for testing, so we visited the Google Play Store to download it, as you can see in image 1.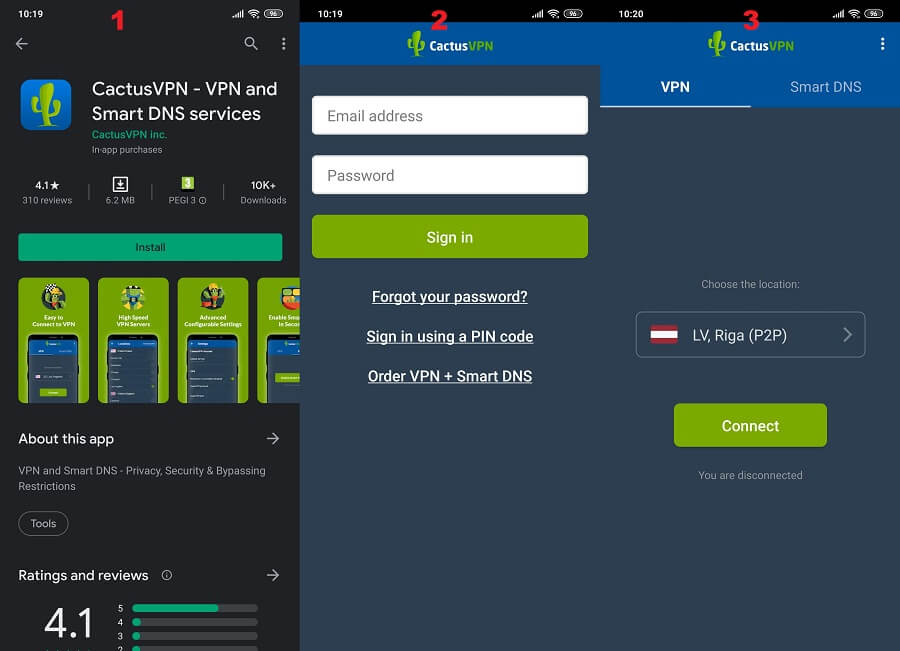 Install the app and open it. In image 2, we can see how the login screen looks. Enter your credentials and tap 'Sign In' to access the app's home screen. We can now see that the app looks basically the same as on the PC (image 3).
From here, you can open the server list by tapping on the arrow pointing to the right, next to Riga (P2P).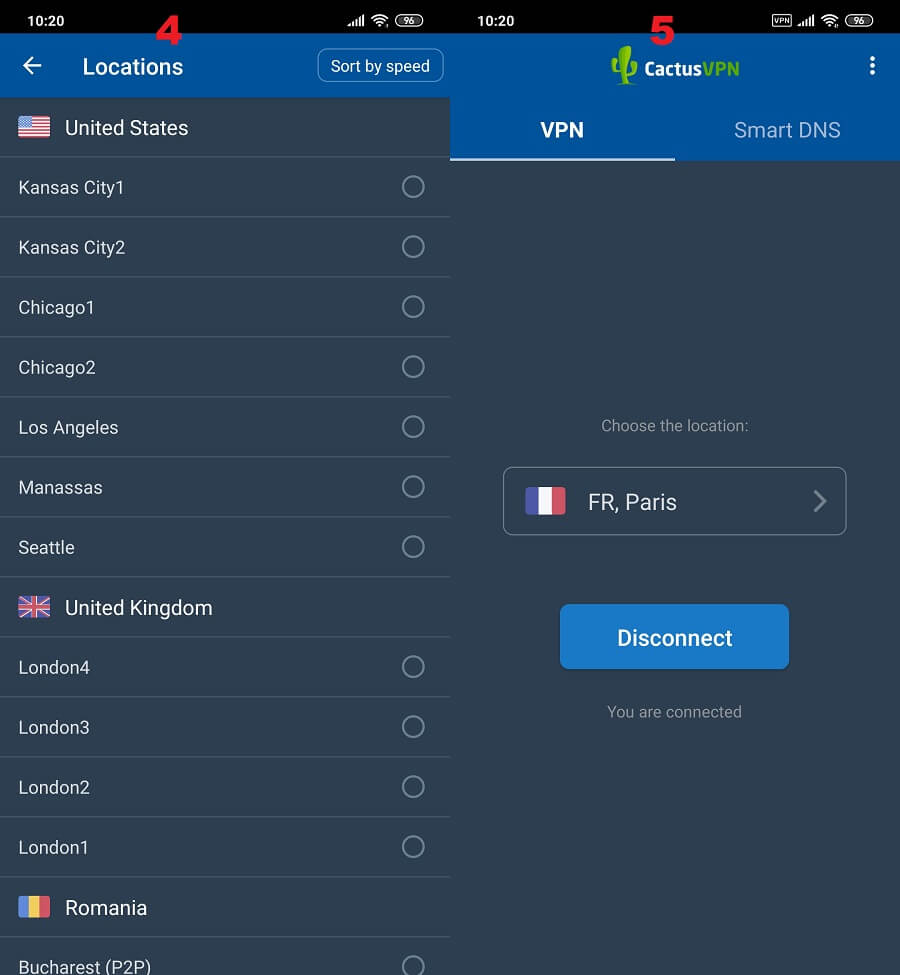 The server list in image 4 looks quite good. We like how the servers are separated into countries, so you can easily decide which country you want to connect to. Our choice was Paris, France, and as we see in image 5, we successfully connected to the server.
CactusVPN's Android app is simple and easy to use. We like it a lot, despite its outdated visuals.
Other Devices
If we exclude Chrome and Firefox extensions, CactusVPN basically supports two "special" devices – Fire TV and Android TV. The second one is basically Android, as Android TV is like a smartphone, but it's a TV and has Android OS installed. Nevertheless, it's useful for people with this device.
A more interesting addition is the app for Fire TV. Surprisingly, it's a full-fledged app for this platform, allowing you to enhance your streaming and unblock different TV channels. Given how small the VPN is, that's quite impressive.
No router support here, which is digestible, as we still get to enjoy Fire TV.
How Fast is CactusVPN? We Checked Its Speed!
So far in this 2021 review, CactusVPN made a good impression. It entered through the big doors and we don't know if it's going to continue to go through the hall of the best VPNs out there. Our speed test is the most exhausting one, but also one of the most important tests in our review.
Before we move on to it, we need to mention one thing. ALL providers will reduce your speeds to some extent. Some will do it by 10%, while others will crank it up to 80%. A good VPN provider will never reduce your speed by a huge margin, thus making your browsing experience almost the same.
We did 3 speed tests in the morning, 3 in the mid-day, and 3 in the evening, for 3 different testing locations. Our physical location is in the US (non-VPN test) and we kept the best score during our tests. Here are the servers we used for testing:
The United States
The United Kingdom
Australia
Without using a Virtual Private Network, our native internet speeds are:
Ping: 11 ms
Download Speed: 211.88 Mb/s
Upload Speed: 202.20 Mb/s
Now, when using CactusVPN for htis complete review, our ping, download, and upload speeds respectively, for 3 testing locations, were:
US Server: 67 ms / 76.88 Mbps / 82.90 Mbps

UK Server: 162 ms / 32.41 Mbps / 56.89 Mbps

Australian Server: 349 ms / 12.23 Mbps / 7.55 Mbps

Right from the start, we can see that CactusVPN isn't the fastest provider out there. While the US server was usable, we were baffled at how slow the provider is. From more than 200 MB/s of speed to around 80 Mb/s – that's a heavy hit, to be honest.
Not to mention the UK server or the Australian one, which was practically unusable. This server reminded us of how it was when we had Dial-Up Internet – we're not kidding! Wasting a second more on commenting on CactusVPN's speed is pointless.
It's VERY slow and won't be of much use on distant servers.
How Good is CactusVPN for Streaming?
In our tests, there are two main conditions that contribute to a proper streaming experience. One is the speed, which CatusVPN doesn't have, and the other one is the ability to unblock streaming platforms.
Let's, at least, see if the provider is capable of unblocking some of the most popular platforms, starting with Netflix.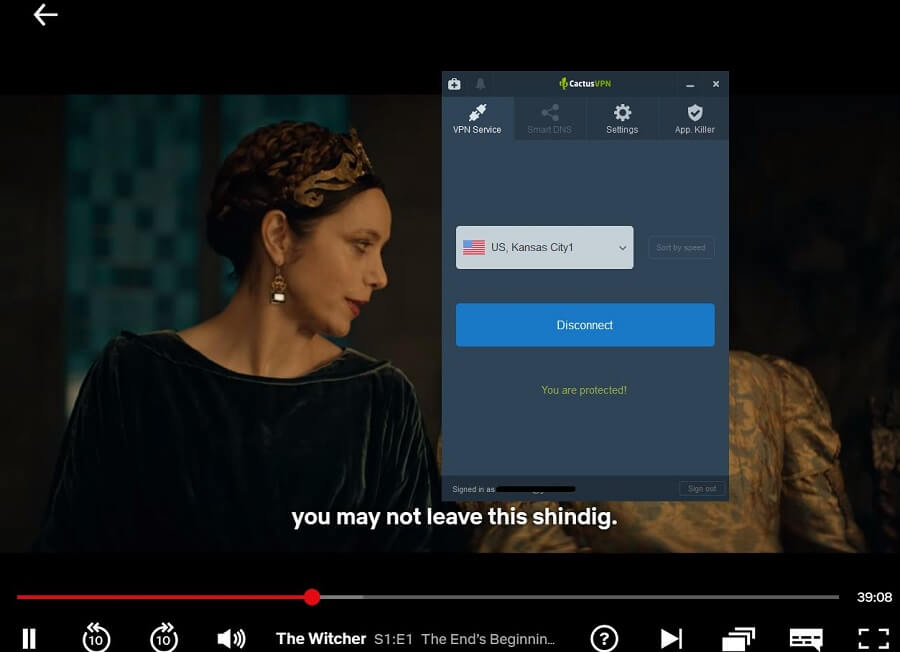 Hooray, The Witcher works great – good news, heh? Not exactly. A show that's available only in the US is called 'Parks and Recreations'. We searched for it but didn't find it even with the US server, meaning that CactusVPN can't unblock Netflix US.
The next platform for us to review is Hulu and it's a brutal one.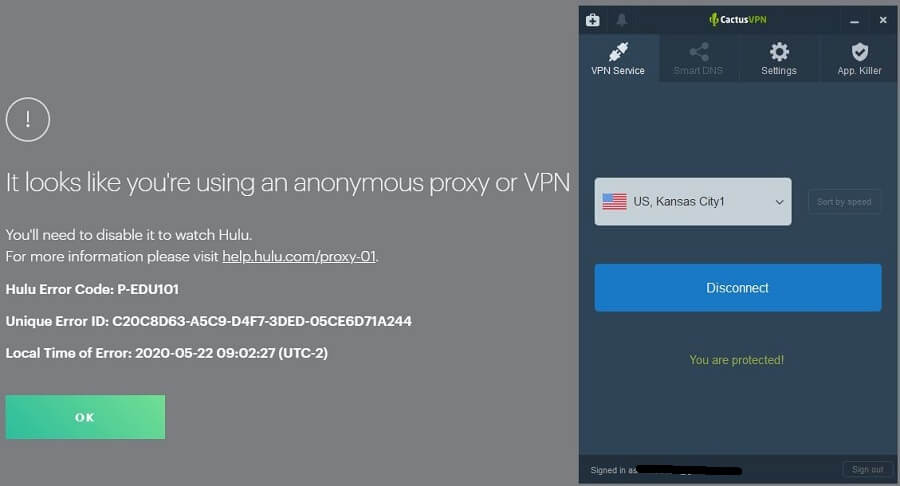 You can see why it's brutal now. It mowed down CactusVPN like a Maxim Machine Gun. As soon as we tried to watch a show, this message popped up. To translate, it means " We see what you're trying to do – STOP IT!"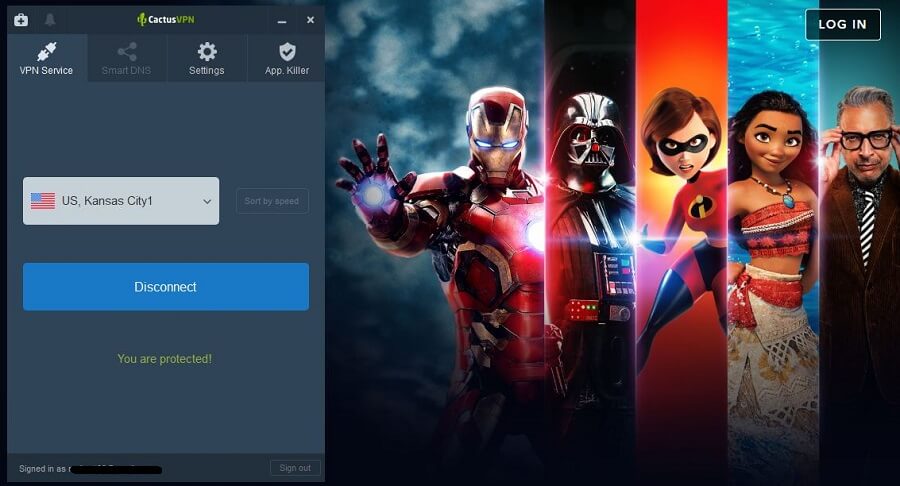 The same applies to Disney+. We couldn't log in, as the login button doesn't work – such a shame. On the brighter side, DAZN works, which is quite surprising!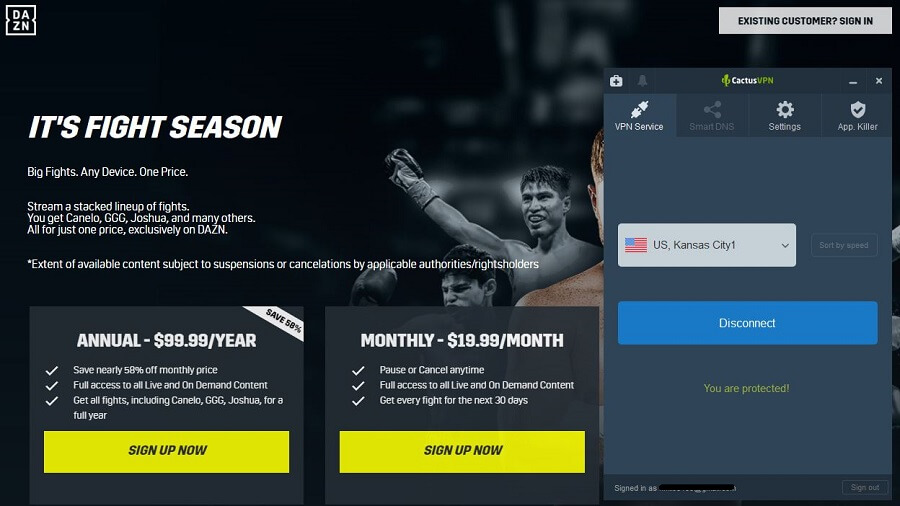 Do you know what else works with CactusVPN protection on? HBO GO.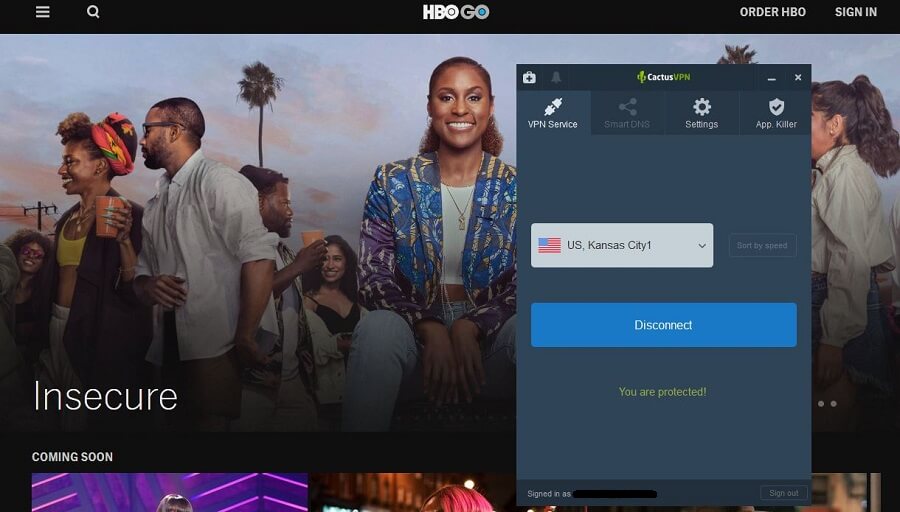 HBO GO isn't very hard to unblock, so we aren't surprised. The very opposite is Amazon Prime Video, which didn't work. It immediately detected that we're using a VPN.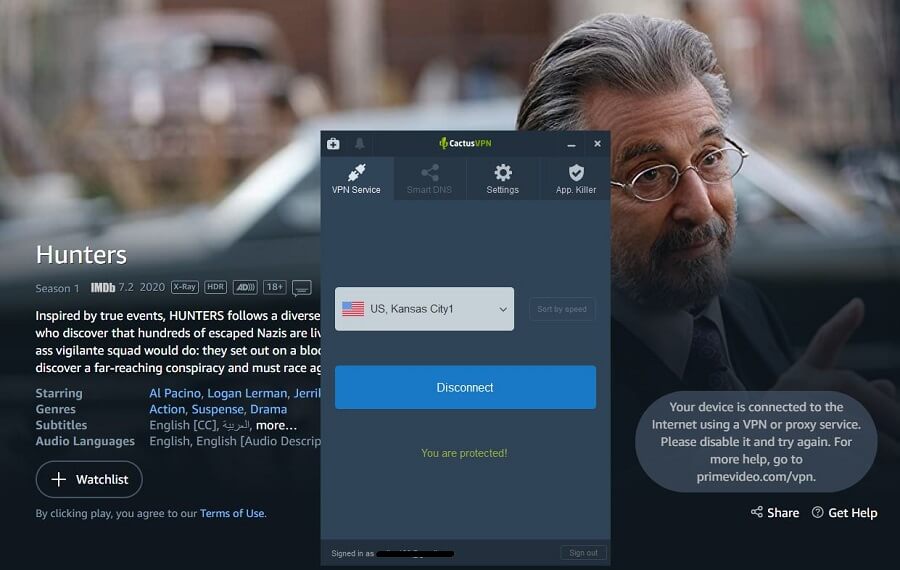 Finally to conclude this part of our review and analysis, we have BBC iPlayer, a UK-based platform that also mowed down CactusVPN.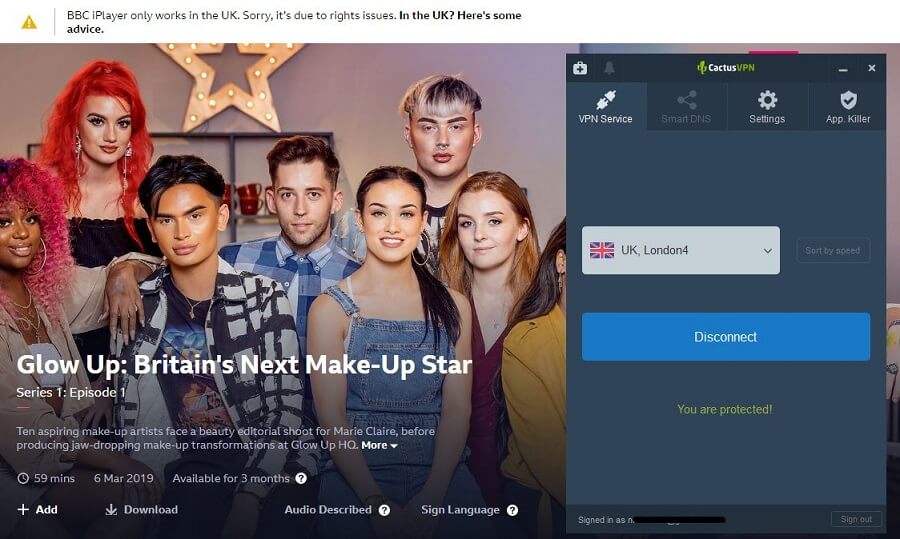 Even TurboVPN, a crappy free provider, managed to unblock BBC iPlayer!
CactusVPN will still have to work on its streaming capabilities a LOT. Its inability to unblock Netflix US and BBC iPlayer is simply unforgivable. Even for the money, you'll have to do much more than that.
All in all, the provider is bad for streaming.
Confidentiality, Security & Logs
Whereas speed is one of the most important tests, this test is THE most important one. A Virtual Private Network should be, after all, a PRIVATE network, and not the one that will compromise your privacy in a blink of an eye.
The first destination to visit for every provider is the privacy policy. At first, we struggled to find it here, after which we realized that it's under the Terms & Conditions. And might we say – this is the shortest privacy policy we've ever seen:

That's literally it. The provider mentions that it doesn't store any data related to your online activities, nor it monitors it for its own purposes. One thing we like is this guarantee that not a single bit of information will end up in third parties' hands.
Finally, CactusVPN tells that it doesn't store any IP addresses, timestamps, traffic logs, and bandwidth, making it one of the best privacy policies we encountered so far. Some providers need to learn from it.
You don't need to bury us with information to prove that you're safe and secure.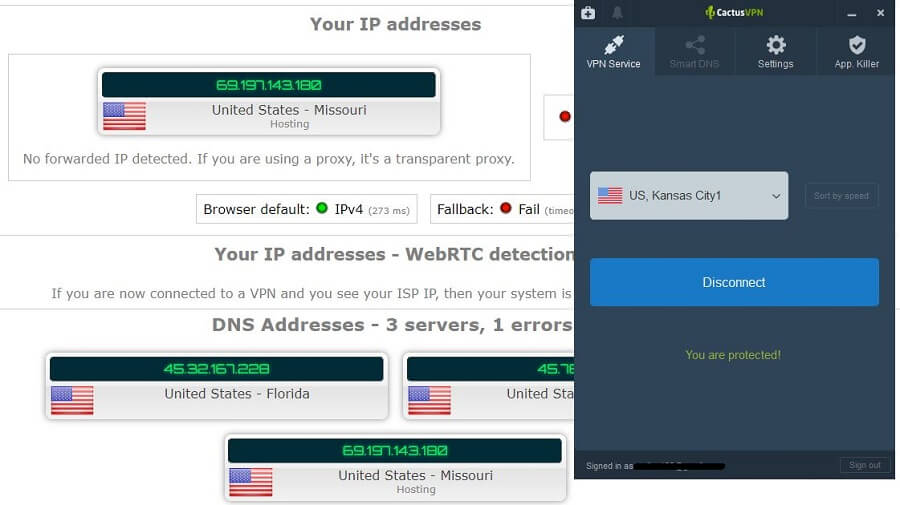 This test also includes an IP Leak test, which CactusVPN passed with flying colors. In terms of overall security, the provider will not disappoint you. It has quite a lot of options for that. Apart from Smart DNS, there are IKEv2, OpenVPN, SSTP, L2TP, and PPTP protocols, DNS leak protection, and a kill switch.
With that in mind, we can conclude this section of our review by saying that CactusVPN is safe and secure.
Can I Do Torrenting Safely With CactusVPN?
Being a zero-log provider, CactusVPN is a great candidate for safe and secure torrenting. If we look at it from the security perspective, it surely is. We tested it out on the 1337x torrent site by downloading some Ricky and Morty episodes – a great show, by the way.

We can see that our UK virtual location is active, meaning that CactusVPN successfully obfuscated our IP address. But, there's another perspective – what about speeds? Well, the speeds are atrocious, in one word.
Our 640 MB episode took much longer to download, instead of less than a minute, considering how fast our internet speed is. We also tried torrents with more seeders and leechers, but the speeds were practically the same.
It's definitely safe for torrenting, but not as fast as we'd like it to be.
Can I Use CactusVPN to Bypass Censorship?
These days, bypassing censorship is getting bloody hard! Not only are the governments clenching their claws around the internet, but the VPNs are getting torn down by firewalls. One of them is the Great Firewall of China, the greatest mean of censorship deployed in China.
This firewall is a fierce nemesis of many VPNs out there, and today, only a few of them can really bypass it. CactusVPN isn't one of them, as it can't bypass censorship in China. Even with its Smart DNS feature, our Chinese testers didn't manage to unblock any website.
Due to its inability to avoid censorship on the internet, we also don't recommend it for countries such as the UAE and Russia. If you want a good VPN to bypass censorship, it's better to check ExpressVPN.
Pricing and Plan Options
At the beginning of our review, we mentioned that CactusVPN is very affordable. The word 'affordable' is a relative one. For some, ExpressVPN is affordable, and for some, it's very expensive. Let's see how expensive CactusVPN is:

When you look at the monthly plan, you quickly realize how cheap this provider truly is. The monthly plan at $4.89 is simply the cheapest you can find. Then, we have 3 months at $12.59, one year at $38.49 a year, and two years at $66.49 every two years.
This annual plan is approximately $3.2 a month, while the 2-year one is $2.7 a month. Compared to some of the best VPNs, it's very affordable. However, at this price, we can't help but recommend Surfshark, which offers a 2-year plan at $1.99/month.
Also, CyberGhost has a 3-year plan at $2.75 a month, which is also very cheap. Not to mention that these two providers are miles ahead of CactusVPN! Still, if you want to buy it, be our guest! Here are the payment methods you can use:

Quite a lot of them, right? Even cryptocurrencies are here, accompanied by Alipay, Yandex Money, Boleto Bancario, Qiwi, and PayPal. The provider offers a 30-day money-back guarantee, as well!

To get it, here's what you have to do: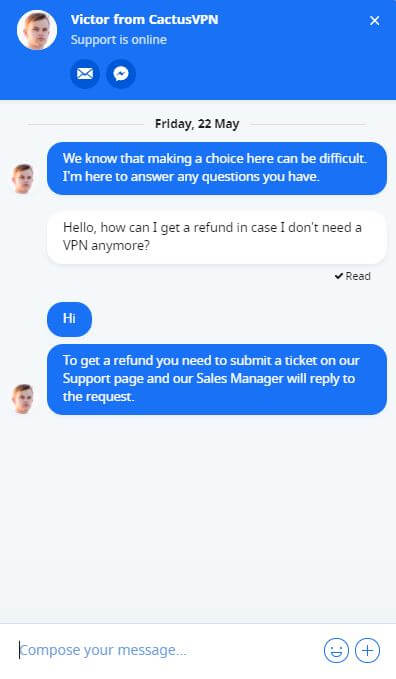 You can't get it through live chat. Instead, you have to submit a ticket and wait for the response. It's always good to know how to get a refund, especially if the provider isn't very good.
How Can I Contact CactusVPN
There's one trend we noticed in the VPN world. Usually, the cheapest and the least quality providers don't offer almost any kind of customer support. We saw that TurboVPN doesn't even have support, to begin with, and Malwarebytes VPN, which was quite expensive, didn't have live chat.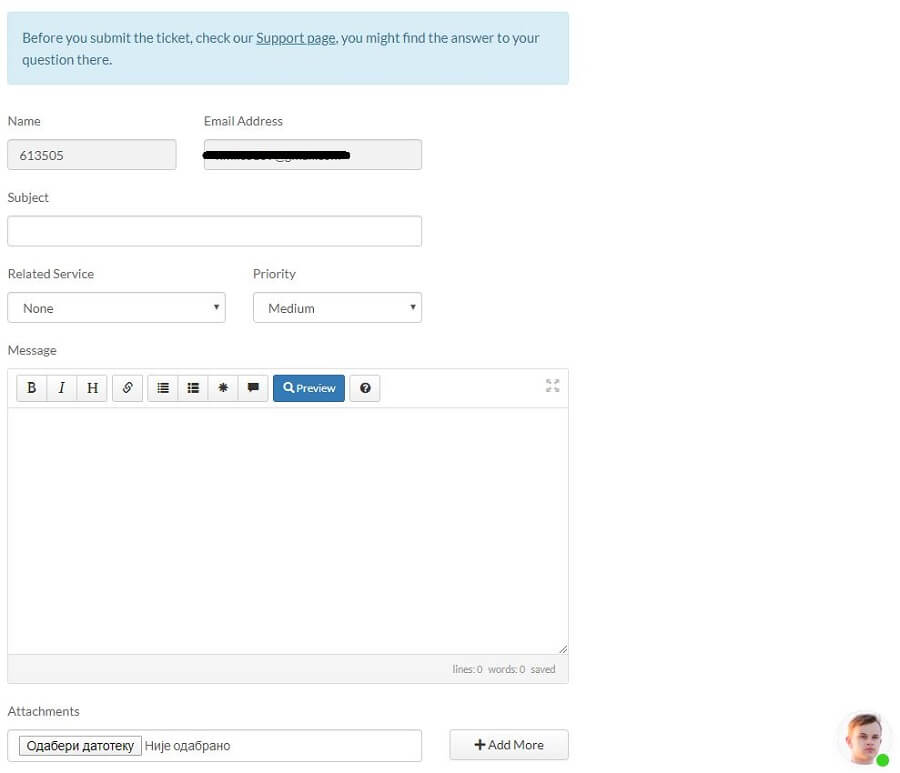 Luckily we saw during our review that CactusVPN has it. You can use the live chat functionality in the bottom-right corner or submit a ticket – your choice. The provider even has a FAQ section that works great. It has almost all the questions answered, which will definitely help you fix the potential problems.
As for live chat, support is pretty quick to respond. We had to wait, on average, 45 seconds. It's not the fastest, but still very functional.
The Special Functionalities
Those who read our past reviews know how much we appreciate the special functionalities of VPN apps. CactusVPN ticked even this box, providing a few special features that many VPN enthusiasts will like. Let's check them out:
Smart DNS
Smart DNS might not be a feature familiar to new users. It doesn't function like a Virtual Private Network. While it obfuscates your IP address, it doesn't change it. You use the same IP, but it's masked, allowing you to access geo-restricted websites, such as Hulu, HBO GO, Netflix, and so forth.
That is definitely a great addition, but for us, it didn't make any difference. During our review, we still couldn't unblock Netflix US and Disney+ didn't work. Maybe that was the isolated case, but we have to be honest in our analysis of CactusVPN.
Users for which this feature works will definitely be happy to use it.
App Killer
What the heck is App Killer? Is it going to kill your apps? Well, sort of. It's a fancy name for a kill switch, but not a full-fledged one. App Killer functions only for the apps and if the VPN connection drops, it's going to close the app that uses the connection.
Our tests showed that it works well, and since it applies only for the apps, you'll need to add them separately, which can be a bit frustrating. For example, Chrome, uTorrent, some games, and so forth.
Other Things You Should Know
This review wouldn't be in-depth if we hadn't talked about all the things you should know about CactusVPN. Let's go over them now:
Number of Servers
CactusVPN isn't very generous when it comes to the number of servers, but then again, you get what you pay for… in some cases.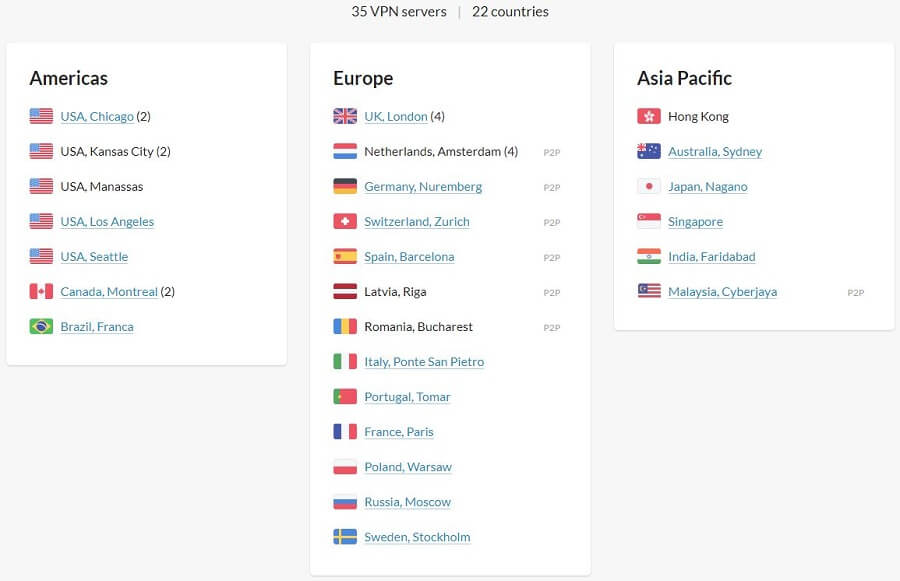 As we can see, the provider offers only 35 servers, which is really not that good. A smaller network of a few hundred servers is okay, but only 35, not so much.
Number of Countries
In the image above, we can see that 22 countries are available, of which the most servers are concentrated in the US, UK, Canada, and the Netherlands.
Number of Simultaneous Connections
If you wish to protect multiple devices on the same account, the provider allows you to do so.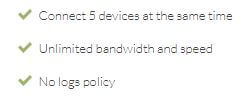 Up to 5 simultaneous connections are allowed, which isn't bad, considering that ExpressVPN offers the same.
What Do Other Users Say About CactusVPN?
Before wrapping up our review, we need to see if CactusVPN has a decent reputation among the users online. We'll start with Reddit first:

The most recent post we managed to find on Reddit about this provider is "just" 4 years old. This user complains about the provider logging data, saying that it's far from good. Nowadays, though, that's not the case. The point here is that CactusVPN isn't very popular, so it's hard to find any recent comments on Reddit.
On the brighter side, this Apple Store user is quite satisfied with the provider. Albeit, he mentions that it doesn't have many servers. Other than that, the bandwidth is decent on all servers, and for him, Smart DNS works great. We'd like to tell you the same, but…

The review from April 2021 about CactusVPN is quite negative. It's short but straight to the point. CactusVPN isn't as safe and secure for this Android user, as he still sees his ISP carrier and location.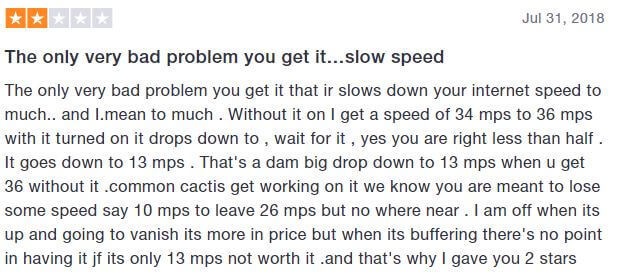 On Trustpilot, we managed to dig out a feedback from 2018. And as we mentioned in the review, the speeds with CactusVPN are atrocious. This user obviously agrees and we won't go deeper into his feedback, as he is ranting at this point. One thing is certain – he is not satisfied.
Conclusion: Should You Take It?
With everything we said in the review, CactusVPN can be summed up in two words – a mixed bag.
Why?
Because it impresses in some departments, just to fall flat on its face the next minute. An example of that is impressive device support and decent customer support, while on the other side, we have snail-like speeds. Also, while being dirt-cheap, it still isn't the best value for the price.
We can confidently say that CactusVPN isn't worth a buy and you shouldn't take it.
But, we can offer a much better option – ExpressVPN. This is the best provider on the market, offering a 49% discount and 3 months FREE for a 12-month subscription plan. It's a unique chance to get the best VPN out there and enjoy browsing the web anonymously and safely.