F-Secure Freedome is among the largest companies in the world of cybersecurity. Apart from their VPN service, they offer a bundle of different security-oriented software for all devices. It's quite similar to Bitdefender, but on a slightly smaller scale. Today, we are going to review F-Secure Freedome VPN and see if it's worth buying. Remember, this is a free provider that offers some premium plans. So, should you buy them? Well, you're going to find the answer below.
What is F-Secure Freedome VPN?
F-Secure Freedome VPN is a Finnish provider established in 1998. At that time, the company was called Data Fellows, and its location in Helsinki remained the same. Now, Finland is known for its strict privacy laws, so it's, theoretically, a very good country for this type of service.
This means that you're almost always granted security and privacy, so you can explore the internet anonymously. Well, that's not exactly the case here. The provider won't blow you away with its services, despite its not-so-affordable prices.
Without further spoiling our review, we think that you should read it thoroughly and see what we think about F-Secure Freedome VPN. We're just going to say that it's far from the best we've tested. That place still belongs to ExpressVPN.
Compatible Devices and Ease of Use
Let's start with fundamentals. Every Virtual Private Network is capable of protecting multiple devices. Sure, you might use it only on your PC, but this service protects even your smartphone and tablet. Is F-Secure Freedome VPN capable of doing that? It is capable, but don't expect miracles from it:

As you can see, this provider isn't for the most demanding users. With its support for only four platforms, you can forget about routers, Apple TV, Roku, and other internet-capable devices.
Computers
Most of you are probably going to use a VPN on your computer, so let's start with them. If you're going to use it on a big screen, two platforms are supported – Windows and Mac, although they say PC, knowing that Mac is also a PC.
Since the provider offers a free trial of its premium service, you can download it right then and there and start installing it. Speaking of installation, here's how it looks: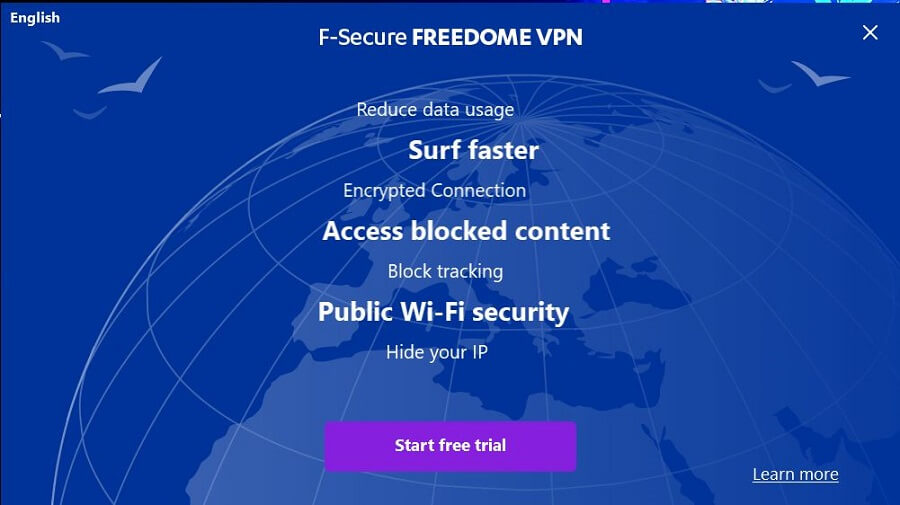 This is the initial installation screen of F-Secure Freedome VPN. Click on "Start free trial" to move to the next screen: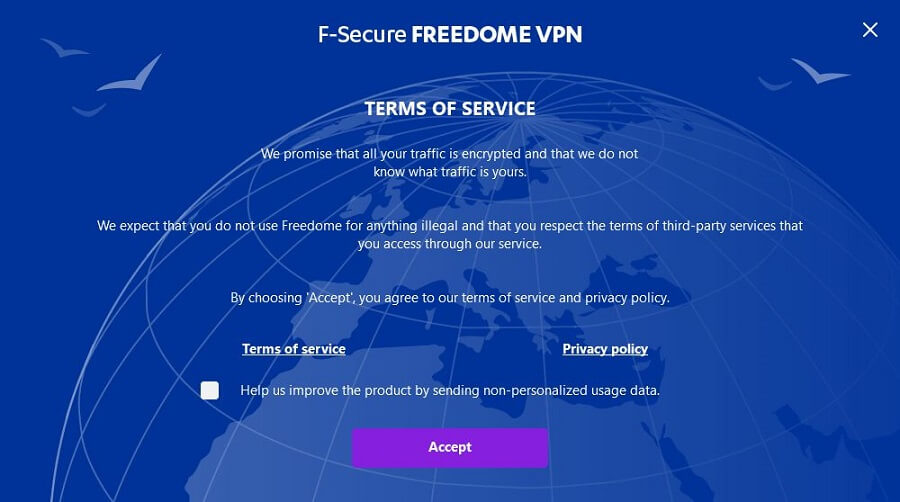 Here, you'll get the chance to read their privacy policy and terms of service, which we advise you to do, for the reasons we'll see later in our review. For now, just click Accept to initiate the installation process: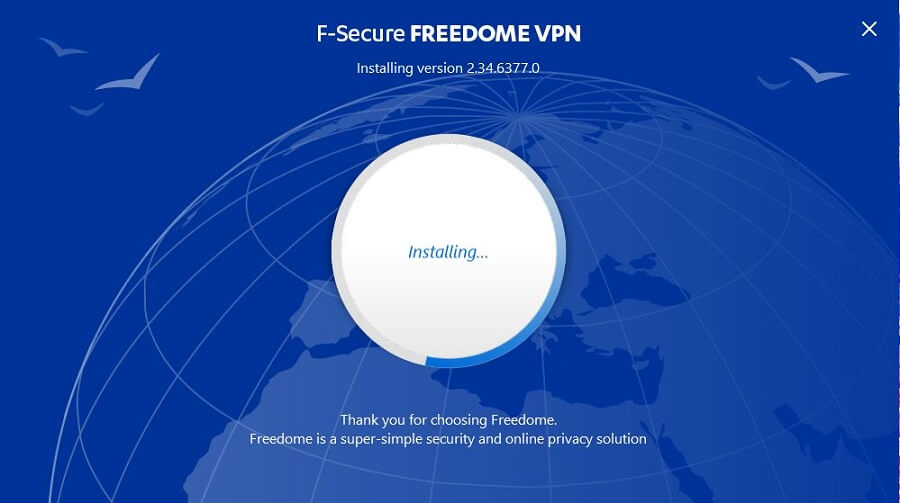 The installation will last for merely a few seconds and after that, the app will launch itself: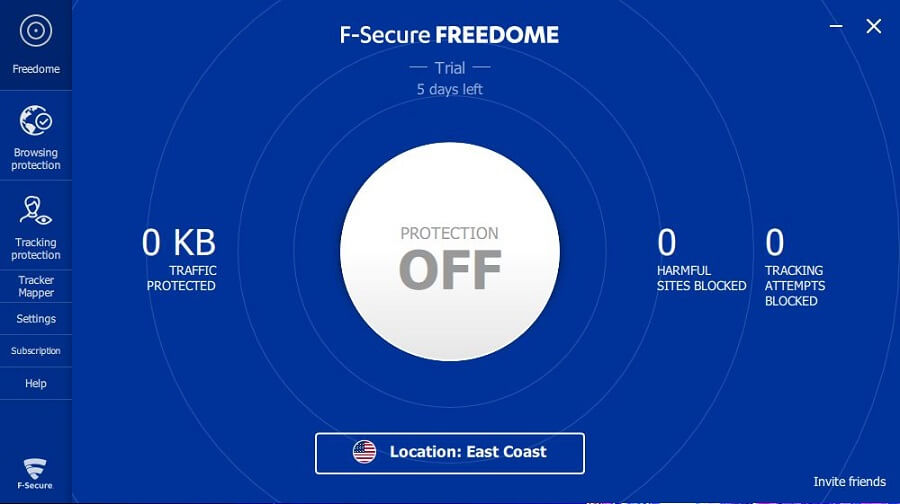 Here's how it looks. We must admit that it looks quite good. We're fans of these simplistic, yet good-looking interfaces. To choose the server you want, click on the location under the connection button: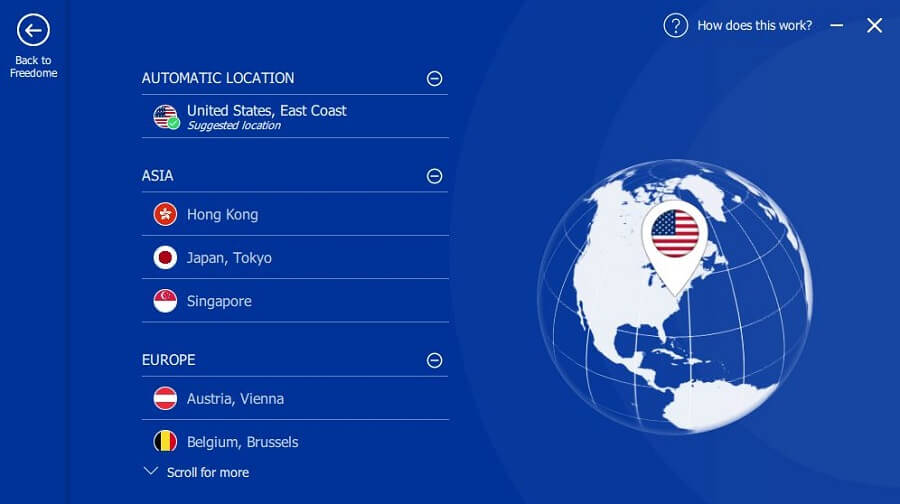 The server list looks quite good. Depending on the country you choose, it will automatically be displayed on the globe on the connection button: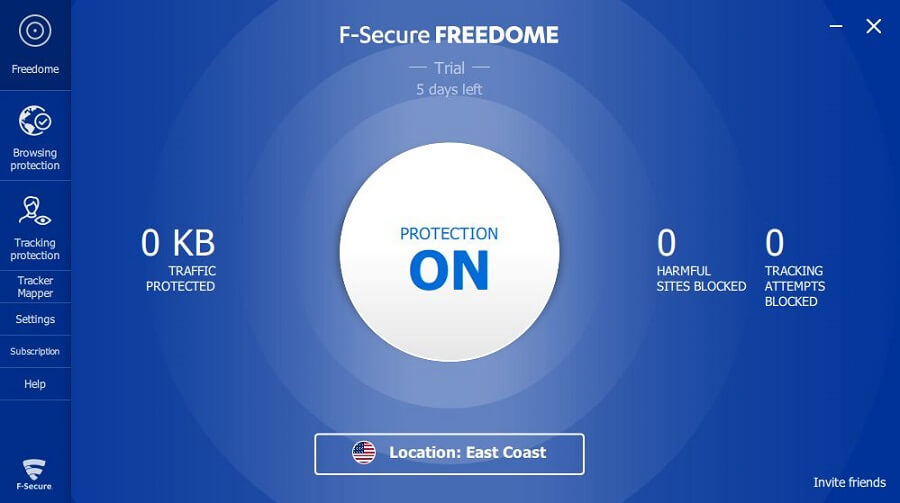 All in all, the app looks pretty good and is easy to use. It displays how much bandwidth you used, how many sites, and tracking attempts the app blocks. You get all the info your need on a home screen – thumbs up!
Smartphones and Tablets
Mobile devices also get their share of F-Secure Freedome VPN. You can use it on both your iOS and Android device and the apps look, more or less, the same. We're going to show you how the app looks on our Android smartphone, to see if it's easy to use and install.
First, you're going to need to download it from the Google Play Store, as shown in image 1: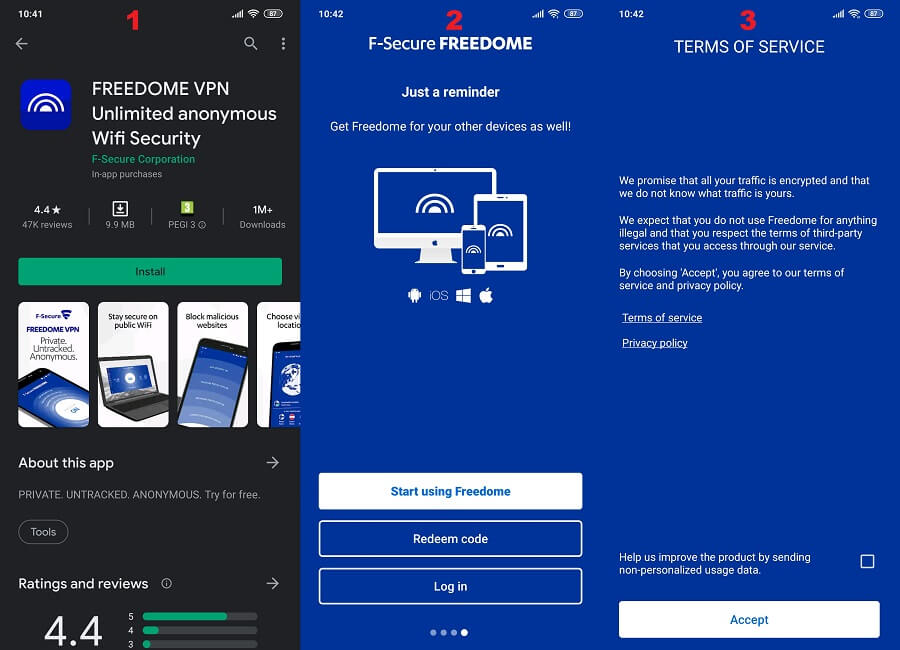 Open the app and it'll offer you to sign in, redeem the code, or start using it right away, as seen in image 2. Choose the first option, and in image 3, you'll just need to accept the terms of service to get to the app's home screen.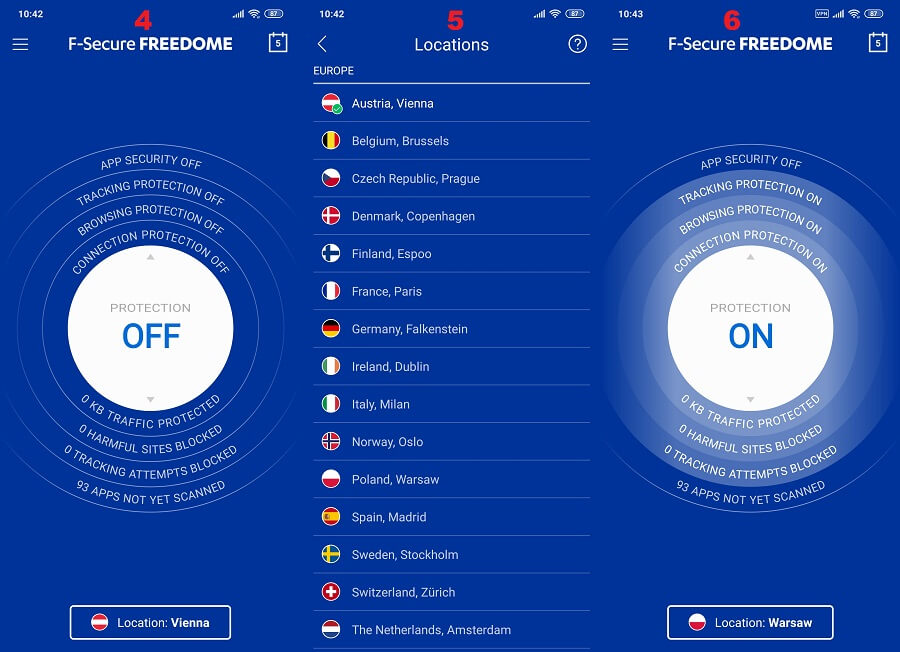 In image 4, we can see that the app looks similar to the one on the PC. To access the server list, tap the location in the bottom part of the screen and you'll see the server list as in image 5. Now, you need to tap on the server you want and once again, return to the home screen, tap the connection button, and establish a connection.
You see how that looks in image 6. The app is definitely easy to use, although we'd like to be able to connect in a single tap, and not needing to press the connection button always.
Other Devices
Is it possible to use this VPN on a router? As we said, it's not possible. F-Secure Freedome VPN supports only four basic platforms – Windows, iOS, Android, and Mac. All the other platforms are not available, making this provider quite limited.
We expected at least Linux but it's not on the list. That's quite odd for a cybersecurity company this large and this old.
How Fast is F-Secure Freedome VPN? We Checked Its Speed!
Given the company's experience in this field, it's highly likely that they've made a pretty decent service in terms of speed, right? We're going to reveal our speed test results, but before we do that, we have a few things to explain.
First of all, all VPNs will reduce your native internet speed. Some will do it by 10% and some low-quality providers will even go up to 80%. This depends on the quality of the server network, server load, server distance, level of encryption, etc. Since many factors are into play, it's important to see how we did our tests.
We did 3 tests in the morning, 3 in the mid-day, and 3 in the evening, for 3 testing locations. We also kept the best score and used the best location when that was possible. Our physical location is in the USA (non-VPN test) and we used these 3 locations for testing:
The United States
The United Kingdom
Australia
Without using a VPN, our native internet speeds are:
Ping: 11 ms
Download Speed: 211.88 Mb/s
Upload Speed: 202.20 Mb/s
Now, when using F-Secure Freedome VPN for this review, our ping, download, and upload speeds respectively, for 3 testing locations, are:
US Server: 59 ms / 98.63 Mbps / 109.55 Mbps

UK Server: 146 ms / 67.50 Mbps / 39.68 Mbps

Australian Server: 296 ms / 12.22 Mbps / 18.74 Mbps

F-Secure Freedome VPN showed lackluster results from the get-go. Our US server speeds were very slow compared to our native internet speeds. Sure, it's usable but when you're paying for the internet, you want to use as much as you can, and not use twice as less because of a VPN.
Where things started taking a turn for the worse is the UK server, and then, the Australian server made our online experience a chore. These speeds are barely enough for watching 1080p videos on YouTube, let alone play some 4K Netflix shows.
The only thing you can do is gamble on your favorite website even when abroad, and that's practically all. Forget about gaming and enjoying hi-res streaming.
How Good is F-Secure Freedome VPN for Streaming?
Wait, we just criticized the provider for its slow speeds. Does it make it bad for streaming? Well, it doesn't need to be like that. We said that you can forget about streaming in high resolutions but can you unblock streaming sites? That's a good question! Let's start this part of our review with Netflix US: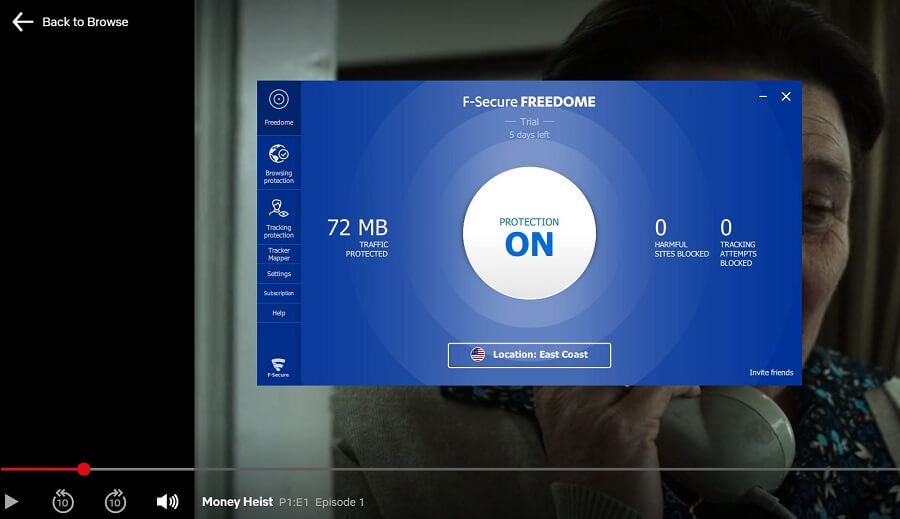 F-Secure Freedome VPN managed to unblock Netflix US and as you can see, we watched a bit of Money Heist. Since the US server is in our country, we got decent speeds on this platform, but if you're in Europe or Asia, you'll get a far worse experience.
Nevertheless, let's see how HBO GO will do: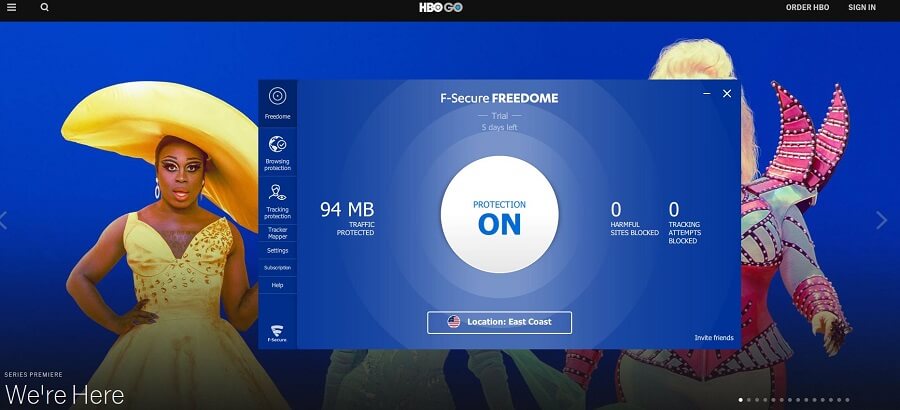 We unblocked HBO GO with it, which is expected. Now, let's check if DAZN will be a successful mission: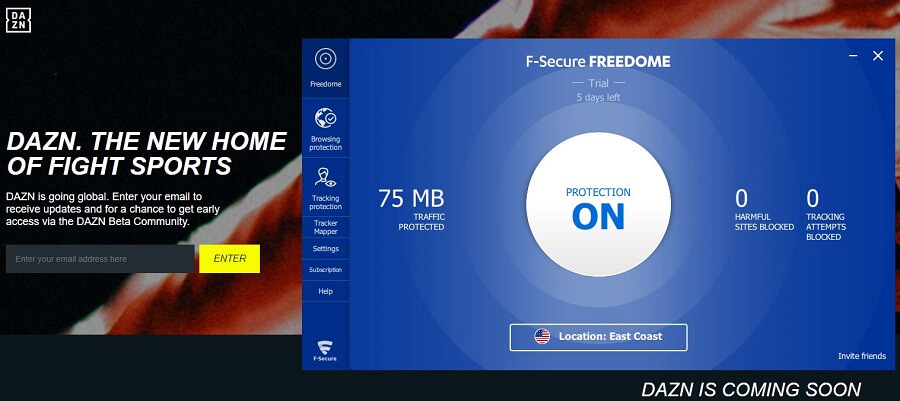 DAZN doesn't work. Next, we have Hulu on the menu: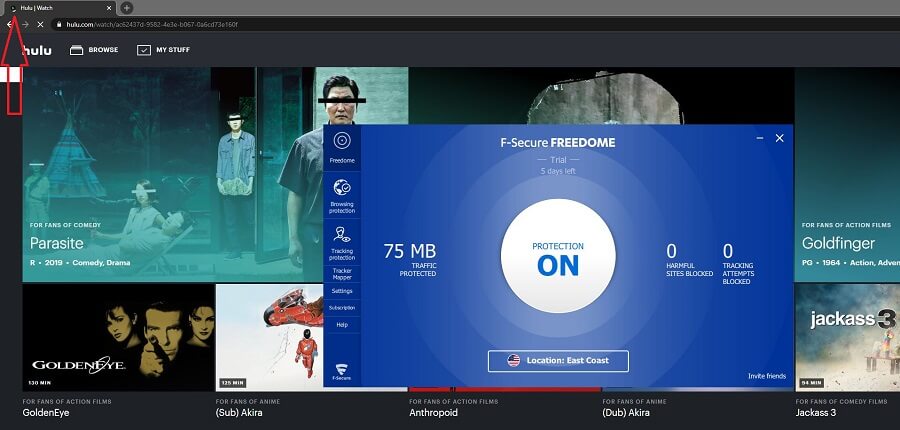 Now, Hulu seems to work but it doesn't. The page completely freezes and we have this infinite loading in the upper-left corner. So, F-Secure Freedome VPN doesn't unblock Hulu.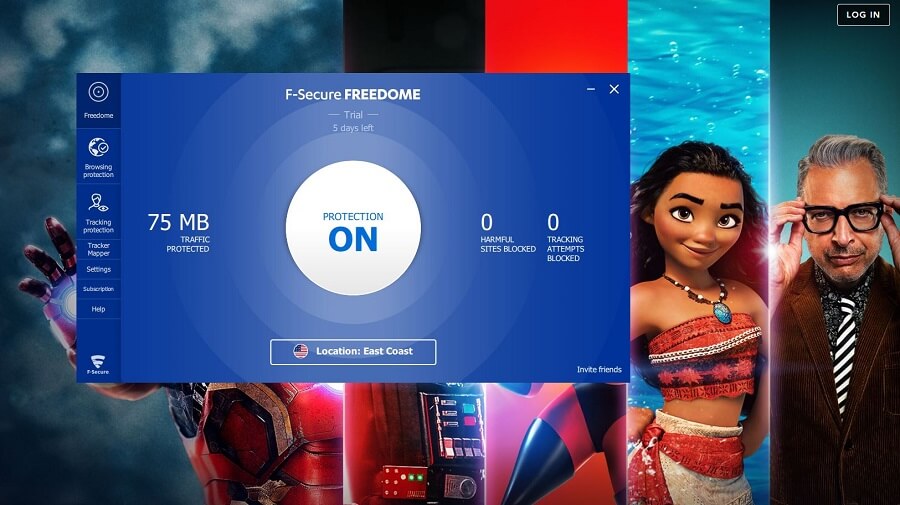 Disney+ also doesn't work, as we can't access the login screen, so it's time to check how will BBC iPlayer behave: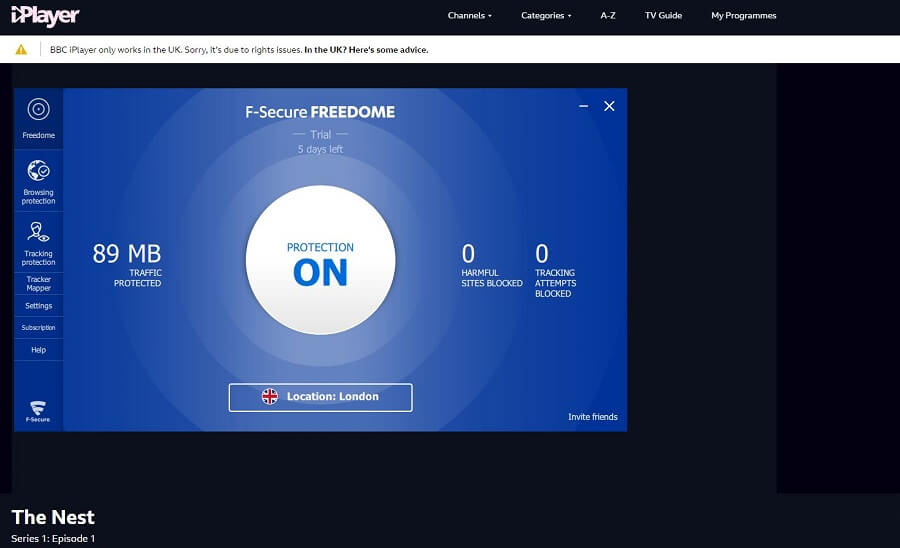 As expected, BBC iPlayer doesn't work.
So, not only does it have slow speeds but it also isn't good in unblocking streaming sites. Sure, F-Secure Freedome VPN unblocks Netflix US and HBO GO, but that's all you can get.
If that's enough for you, that's great. But, you can get a much better VPN for streaming, such as ExpressVPN. It will unblock every streaming platform and give you the fastest speeds on the market.
Confidentiality, Security & Logs
Being from Finland brings lots of perks with itself. Not only are you going to be safe and secure online, but you'll also be able to access any website with zero censorship. This company is based exactly in this country, which will bring smiles to many faces.
But, let's pull a handbrake for a second and think about it. Do you think that F-Secure Freedome VPN is as secure and safe as it says? If so, you should read its privacy policy. Here's a glimpse of it: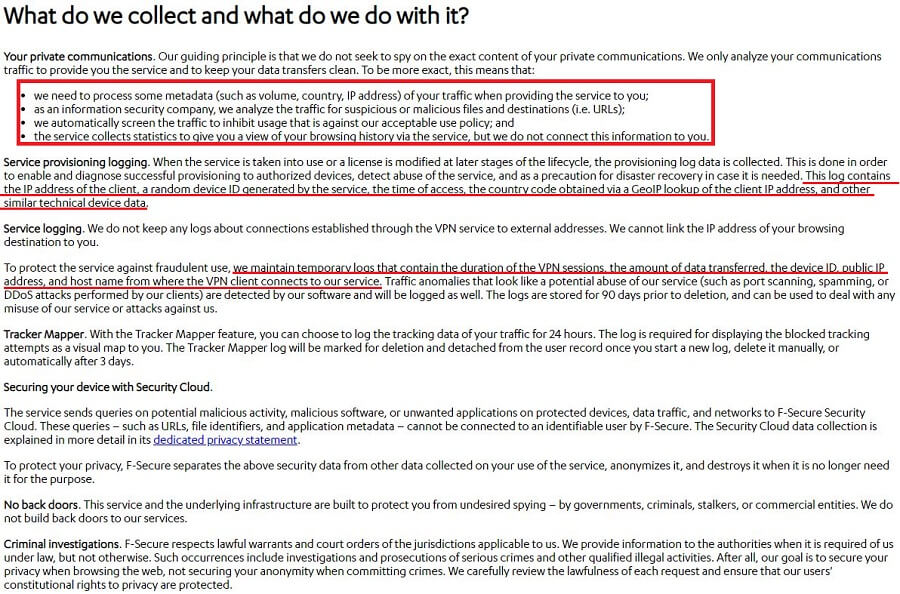 Right from the start, things aren't as good as some of you thought they'll be. The company stores way too much data about you. Your country, IP address, traffic, URLs, and they screen the traffic to prevent using their VPN in a "wrong way."
Interestingly, they say that they protect your privacy when browsing the internet, but not when you commit "crimes." Here's a translation – we'll protect you as long as you use the internet the way WE want it, so here's a middle finger to your freedom online. This means that they monitor your traffic and see what sites are you visiting, what you're doing on them, and so forth.
They even admit that in the privacy policy!
Scrolling down, we can see more info being collected. Timestamps, country code, duration of your VPN sessions, amount of data you used, public IP, and so forth. We aren't going to bother with the privacy policy anymore because this is already enough red flags for us.
We're going to say this right away – steer clear of this provider if you want privacy and anonymity online. Before we wrap up this section of our F-Secure Freedome VPN review, let's check our IP leak test results: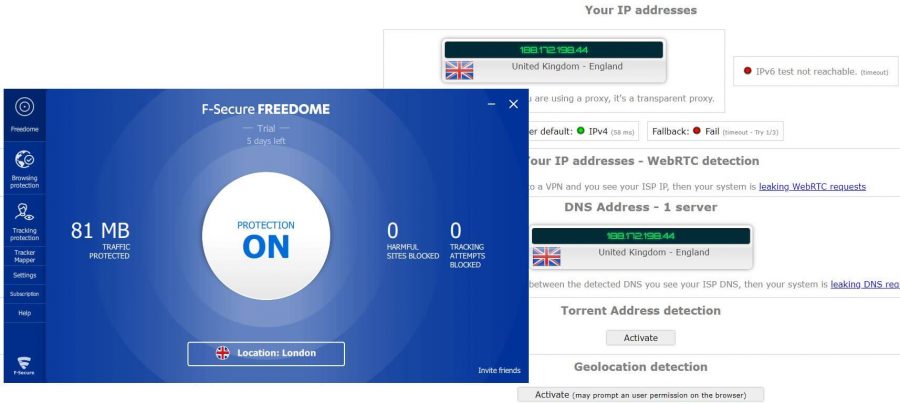 At least, there are no IP leaks here. And for added security, there's an automatic kill switch and 256-bit encryption. That's all.
Is the provider safe? No, it isn't. Is it secure? It surely is.
Can I Do Torrenting Safely With F-Secure Freedome VPN?
Many people around the world use a VPN for torrenting. That's okay, given that this service gives you complete anonymity, so no one can track you. But, F-Secure Freedome VPN is a different ballpark. It stores plenty of info about you and is far from being a safe and anonymous provider.
We didn't even bother testing it for torrenting because we don't want to get a DMCA notice. And to further prove our worries, here's the screenshot from the provider's site:

They clearly state that they don't support BitTorrent or any other P2P file-sharing applications. So, if you want to avoid potential legal issues, DO NOT download torrents with F-Secure Freedome VPN. Instead, get ExpressVPN, as it's a much better solution for torrenting.
Can I Use F-Secure Freedome VPN to Bypass Censorship?
F-Secure Freedome isn't a great option for bypassing censorship.
Why? Well, it doesn't work in China and is immediately blocked by its strong firewall. Now, China isn't the only country with censorship. There are Russia, the UAE, Iran, Iraq, and Belarus. All of these countries have strong firewalls that don't allow even some much better providers to work reliably.
Bypassing censorship with this provider is impossible and given its logging practices, we don't recommend trying to use it in censored countries.
Pricing and Plan Options
With all that we said up until this moment of our review, it's hard to guess the price of F-Secure Freedome VPN. This is because many providers over-value themselves on the market and want you to pay big money for lackluster services. Let's see if this provider is on the more affordable side of the spectrum:

The prices here are in Euros but we'll convert them for you. There are two 1-year plans and one 2-year plan. On the left, a one-year plan for 7 devices costs $75.65 a year, which is around $6.3 a month. In the middle, we have a one-year plan for 3 devices, costing $43.18 a year or around $3.6 a month. Finally, a two-year plan for 7 devices costs $97.3 per two years or around $4 a month.
Given that it's a bad provider overall, these prices are simply too high, especially for the plan on the far left. At this price, you can get Surfshark for $5.99 and get unlimited simultaneous connections, instead of just 7. Of course, Surfshark is overall, a far better provider than this one.
And if you want to pay just $0.67 more, you can get ExpressVPN, the best VPN on the market, and enjoy far more than this one. Nonetheless, if you still wanna buy it, here are the payment methods:

The standard payment methods are here, with no cryptocurrencies. And should you want a refund, the provider claims that you can get it in 30 days:

To get a refund, you'll need to contact the support team. More about that in the next section.
How Can I Contact F-Secure Freedome VPN?
Let's see how you can contact the support team if you have questions or potential issues:

This is basically their whole support section and from the looks of it, it's quite big. On the left, we have a FAQ section, and right next to it, there are help forums. It's a basic forum where you can open a new topic and discuss it with other users and members of the VPN's team.
Interestingly, the chat forum is also here. It's, simply put, live chat. You just need to enter your info accompanied by your question and wait for a response. We also like that they included several phone numbers that are available in about a dozen countries.
Although phone support isn't available 24/7, it's a welcome addition that not many VPNs have.
The Special Functionalities
Being an all-around cybersecurity company, F-Secure Freedom made sure to spice up its VPN with some special features. But, these come at a cost of increased data logging, as they mentioned in their privacy policy. Here's what you can expect:
Browsing Protection
The first feature is called Browsing Protection and it's exactly what it sounds like.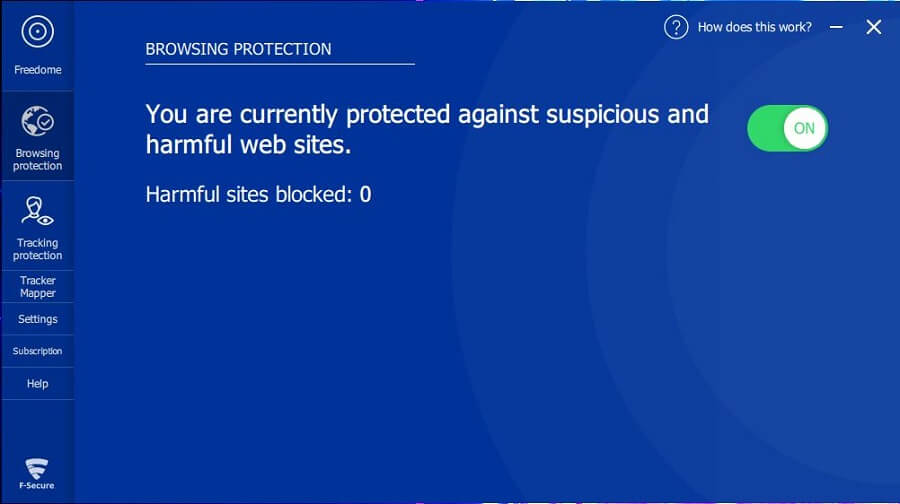 It's here to protect you against suspicious and harmful sites, similarly to Surfshark's CleanWeb. However, this VPN shows you how many harmful sites it blocked during your internet browsing, so it's clear that it tracks your online activity.
Tracking Protection
This is quite an interesting feature. As you know, the internet is filled with trackers that advertisers use to better target their audience. Well, this feature is here to show you how many tracking attempts it blocked: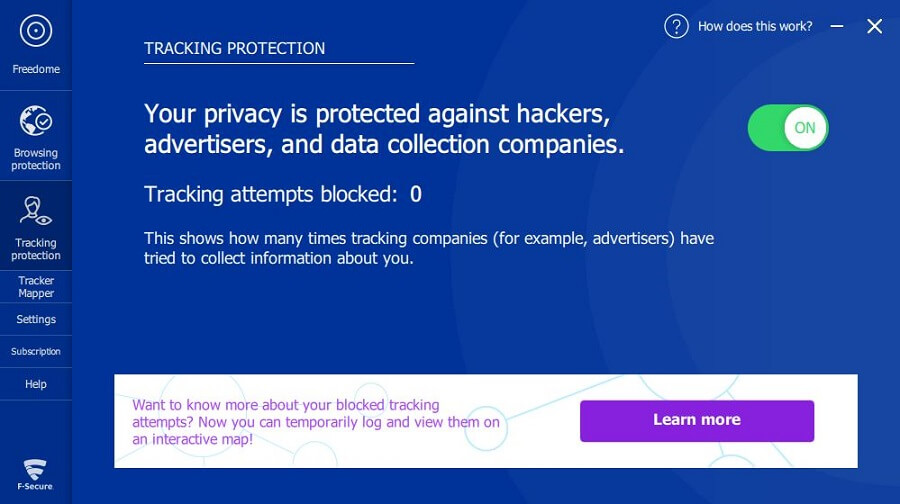 We used it a little bit and as you can see, it didn't detect anything. Either it's not working well or we simply didn't visit the "right" sites.
Tracker Mapper
Finally, there's the Tracker Mapper feature, and it's also an interesting addition to F-Secure Freedome protection.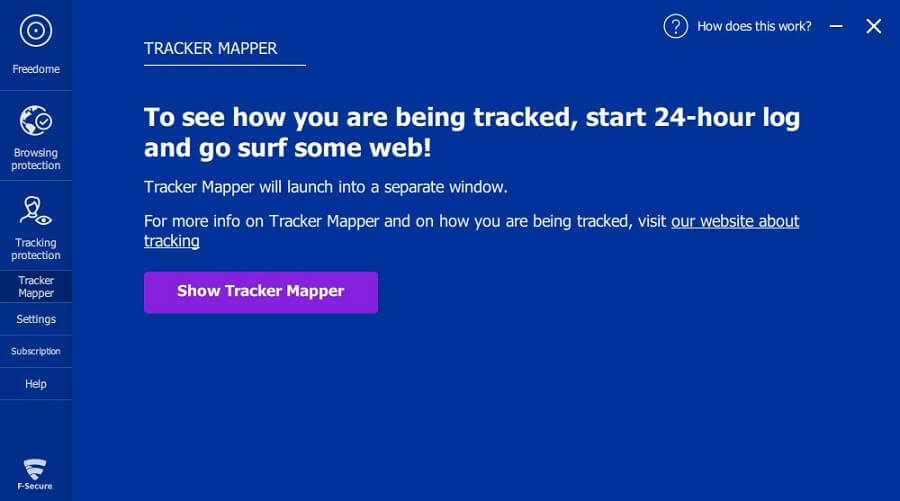 Basically, you can see how you're being tracked online in a map that shows you from where are the certain websites tracking you. It's a very useful feature but again, even F-Secure Freedome VPN isn't safe, yet they preach safety online with these features.
Do you want to know who tracks you when using this VPN? Well, F-Secure Freedome VPN, obviously!
Other Things You Should Know
There are a few more things we haven't talked about in our review of F-Secure Freedome VPN, so let's cover them quickly:
Number of Servers
Since the provider doesn't explicitly shows its server network, we had to count them down using the app. We found that the F-Secure Freedome VPN has 29 servers worldwide, which is a very small number, especially for the price.
Number of Countries
The number of countries is even smaller – 23. You get 5 servers in the USA, 3 in Canada, with all other countries having just one server.
Number of Simultaneous Connections
We kinda mentioned this but we'll do it again. The provider offers up to 3 or 7 simultaneous connections, depending on your subscription.
What Do Other Users Say About F-Secure Freedome VPN?
Before ending our review, it's time to see if other users like F-Secure Freedome VPN and what they have to say about it. Let's start with Reddit: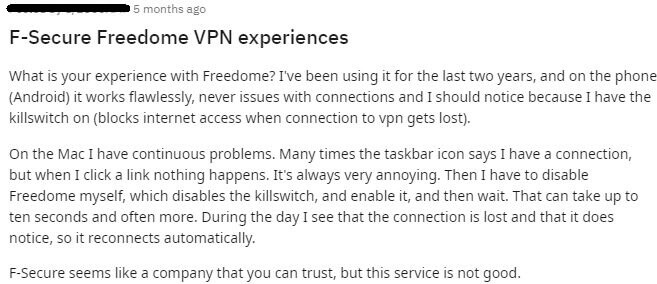 This user describes his experience with F-Secure Freedome VPN. He says that his experience on an Android phone is decent, while on the Mac, he has lots of problems. Long story short, the app has connection problems and it constantly drops connections and reconnects, which is annoying for him. You can read his full review but overall, it's not very good.
Now, let's check the Google Play Store:

This Android user complains about not being able to watch UK TV channels. To make matters worse, the customer support team doesn't respond to his complaints, forcing him to use another provider instead. It's time to visit the Apple Store now: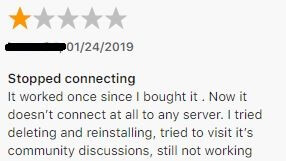 Same situation here. The user complains about connection problems but here, it's more severe. In his words, the VPN won't connect to any server and any of his solutions won't work. Finally, we have a Trustpilot review: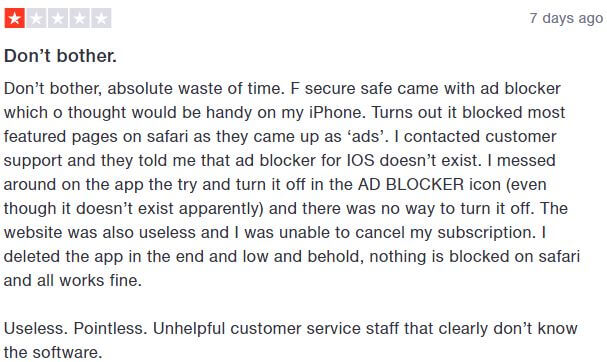 This interesting review mentions F-Secure Freedome VPN's ad-blocker which blocked the user's featured pages on Safari. But, when he contacted the support team, they told him that ad-blocker for iOS doesn't exist, although this user managed to tweak round it in the app.
The moment he deleted the app and canceled his subscription, Safari started working normally. Logically, he left a one-star review on Trustpilot.
Conclusion: Should You Take It?
If you've read our in-depth review about F-Secure Freedome VPN carefully, you already know the answer.
F-Secure Freedome VPN offers subpar performance, even when compared to other less-popular providers on the market. It has very slow speeds, isn't great for streaming, stores quite a lot of info about you, and has an unhelpful customer support team.
Not to mention its prices that are genuinely high for what it offers. So, in short, F-Secure Freedome VPN is not worth buying and you should NOT take it.
Instead, buy ExpressVPN, which is currently the best option on the market.