You know how people say – size doesn't matter. The truth be told, it's true, especially when we talk about Surfshark, which isn't the biggest provider. But, we aren't going to talk about this provider. Instead, we have an interesting provider called ibVPN that many of you probably haven't heard of. Being less popular, this company is confident that it can bring a full-fledged VPN experience for an affordable price. As always, our task is to put that to the test and see if it's worth your hard-earned money. Let's find out in this complete ibVPN review.

What is ibVPN?
ibVPN is a Romanian VPN provider with almost a decade of experience in this field. You'll say that this isn't a lot, which is true, depending on how you look at it. Given how small its server count is, we would say that the provider is here for merely a couple of years.
Nevertheless, we chose to review ibVPN because of its jurisdiction. Another Virtual Private Network, CyberGhost, is also from this country. However, CyberGhost is one of our top choices overall, whereas this provider didn't earn its spot on our list.
The question is – why? Well, that's what you're going to find out in our in-depth review of this provider. Grab your beverage, sit back, relax, and let's delve deeper into the review and test.
Compatible Devices and Ease of Use
We like it when the provider goes out of its way to support every major and minor platform on the market. ibVPN, as we said, isn't very popular but it made sure that its apps are fully functional on all of the platforms. Here's an image from the provider's website to prove what we said:

From left to right, we have Windows, iOS, Mac, Linux, Android, iOS, Chrome, and Opera. Of course, the last two are extensions for Chrome and Opera, and there's even an extension for Mozilla. As you can see, the provider made sure to cover all the necessary platforms.
What about routers?
We'll talk about that in a minute. For now, let's cover the most used platforms.
Computers
Computers support 3 major operating systems – macOS, Windows, and Linux. ibVPN supports each of them but as we always do, we'll use our Windows computer to test out the provider. After buying a subscription, you'll be prompted to download the setup file. Click on it and you'll be greeted by the first installation screen: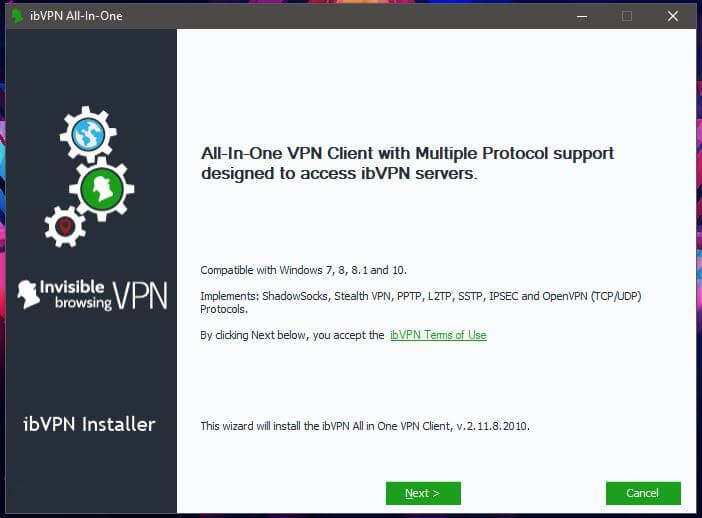 If you don't want to read the terms of use, click Next. After that, you'll only need to choose where to install it and the app will install in less than five seconds. When that finishes, you'll get this screen before accessing the app itself.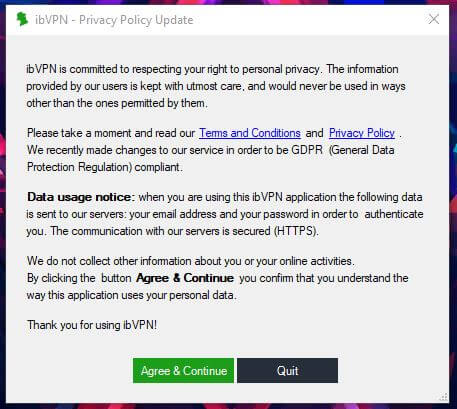 It's quite an interesting message. The company changed its privacy policy to be compliant with GDPR and as such, they'll store your email and password on their servers for authentication purposes only. Since communication with the servers is secured, we don't see reasons to worry. If you agree with this, the app will finally open: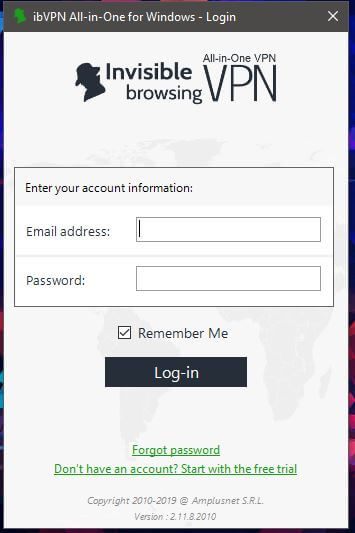 Type in your email and password and click Log-in.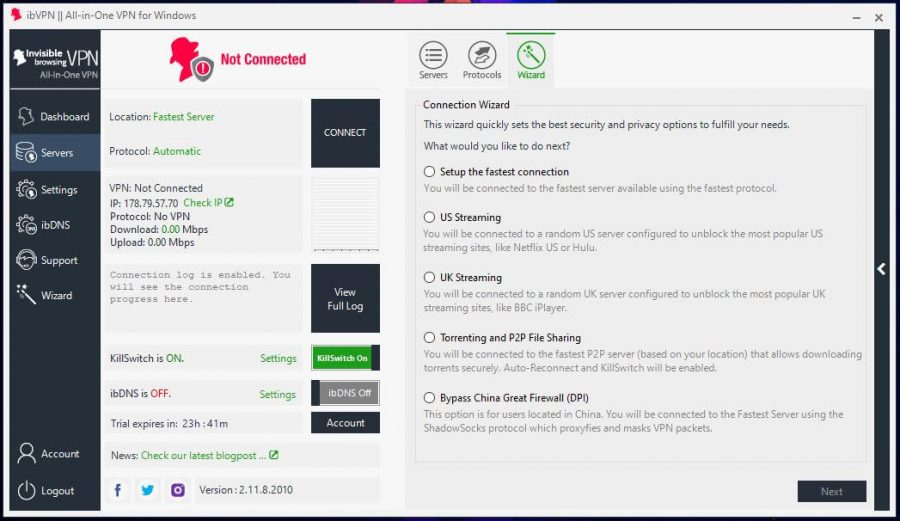 This is the app's home screen. On the right, there's a connection wizard for connecting you to a dedicated server of your choice. More about that later. We clicked on Servers to open the server list: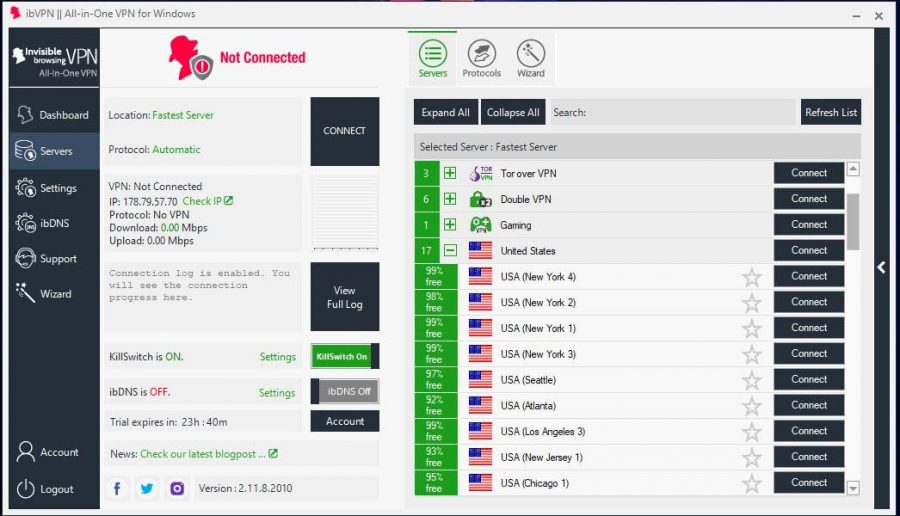 After some experimenting, we choose the US streaming server that the wizard recommended us, to see if we can unblock certain streaming platforms. You'll see the results very soon. For now, here's how the app looks when connected: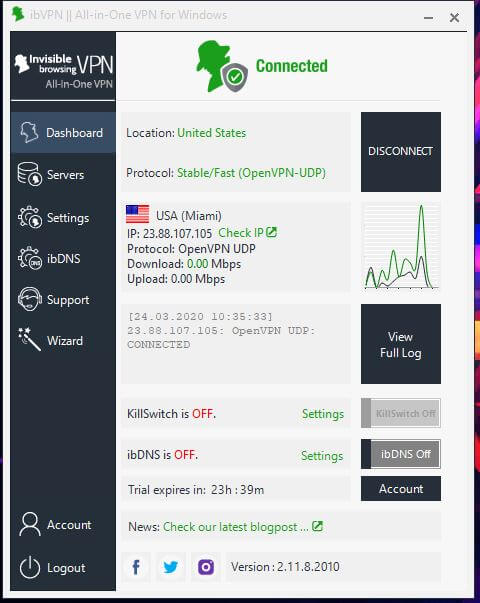 All in all, the ibVPN app is relatively easy to use. Since we have a lot of experience, that's quite logical.
However, if a newbie starts using ibVPN, we think that he'll need some time to get used to it. The interface looks kinda dated and a bit overwhelming at first. Luckily, the important buttons and functions are accentuated enough.
Smartphones and Tablets
Smartphones and tablets are on the menu of our ibVPN review now. We have iOS and Android support and both systems have dedicated apps. Let's use our Android phone to show you how the app works. Rest assured, it's the same as on iOS.
First, download the app from the Google Play Store, as shown in image 1.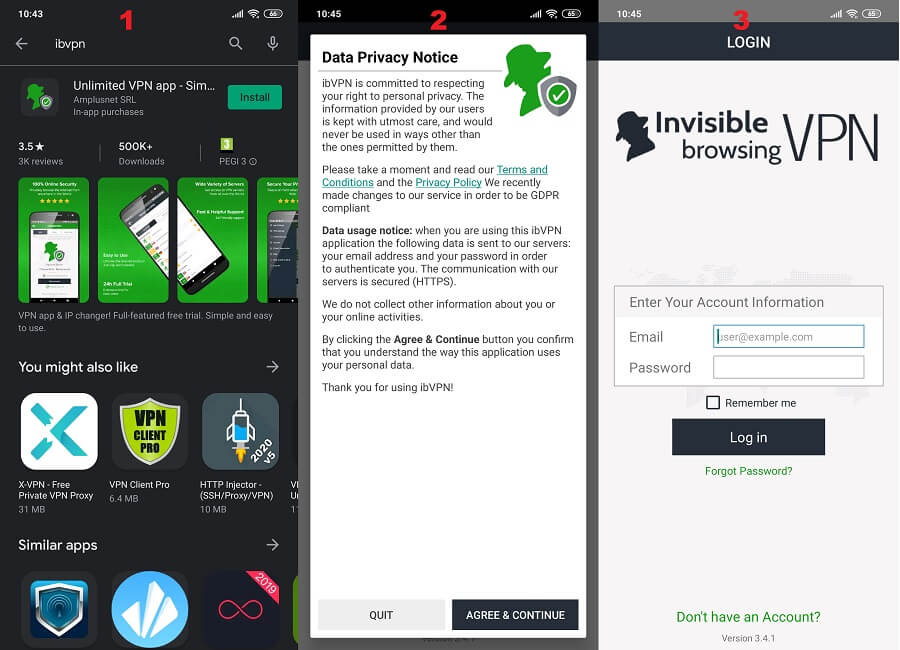 Once again, as soon as we opened the app, we got the same data privacy notice in image 2. We value things like this. The provider politely warned us about its policy changes, which is great. Finally, when you agree and continue, you'll get to the login screen, as shown in image 3.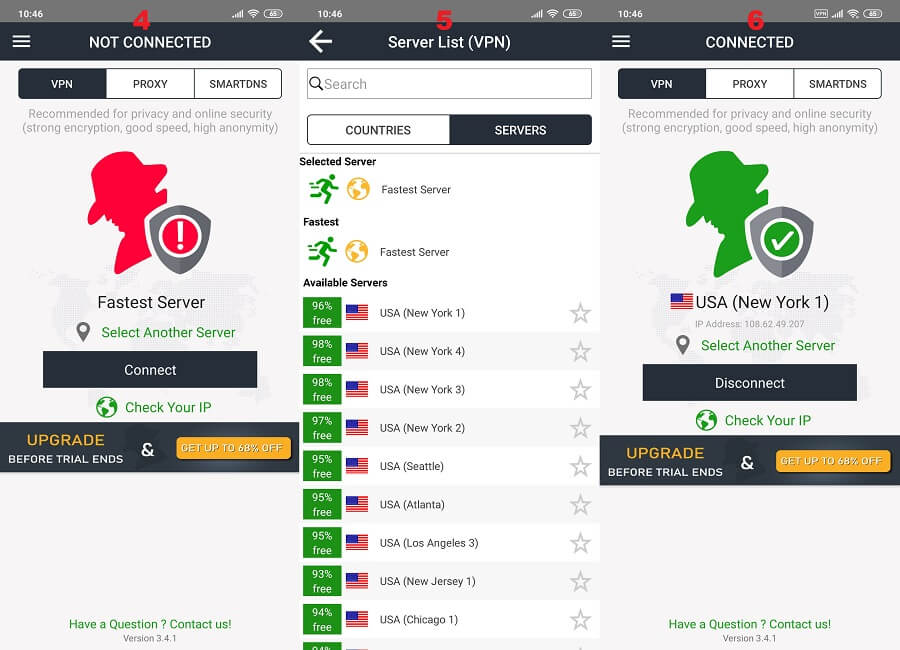 In image 4, we can see how the home screen looks. It's rather simplistic when compared to the Windows app. To select a server, click on Select Another Server and the server list in image 5 will open. We can see that the servers are relatively empty. Only a few of them are heavily loaded.
Nevertheless, we used a US server and established a connection in a few seconds. You can see how that looks in image 6. The smartphone app is definitely easier to use and looks a lot better.
Other Devices
We mentioned routers some time ago – or did we? Oh, we sure did! Well, ibVPN supports them and even dedicates a special page to routers.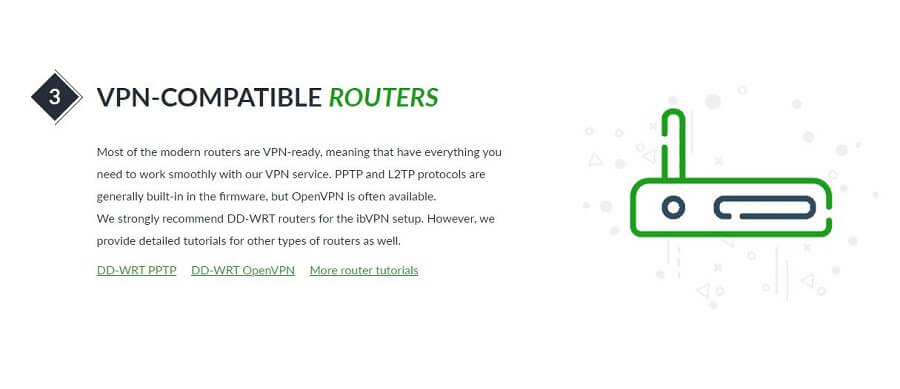 We can see that they support DD-WRT firmware but they offer numerous tutorials for this, and the other supported firmware. Furthermore, there's a possibility to buy a pre-installed router, so you can just follow the tutorial and install a VPN without flashing your firmware.
With this support in place, you can practically cover the entirety of your home. Whether it's Apple TV, Chromecast, PlayStation 4 or Xbox One, you can do it. Albeit, it's not very good for Roku because of its streaming capabilities. More about that later.
How Fast is ibVPN? We Checked Its Speed!
If there's one thing that separates good providers from bad, it's the speed. Our top picks all have solid speeds for streaming, torrenting, and gaming. We have to keep in mind one thing and that is that all VPNs reduce your internet speed to some extent.
There's a BIG difference between 10% and 80% reduction, which you can see in some low-quality or free providers. Since ibVPN's servers aren't very loaded, we expected it to be very fast. Remember – the speed depends on that factor, as well as server distance, quality of the network, and level of encryption.
Also, it's important to see how we tested it. We did 3 tests in the morning, 3 in the mid-day, and 3 in the evening, for 3 different locations. We kept the best score and used the best location when that option was possible.
Our physical location is in the USA (non-VPN test) and we used these 3 testing locations:
The United States
The United Kingdom
Australia
Without using a VPN, our internet speeds are:
Ping: 11 ms
Download Speed: 211.88 Mb/s
Upload Speed: 202.20 Mb/s
Now, when using ibVPN during this review, our ping download, and upload speeds respectively, for 3 different testing locations, were:
US Server: 58 ms / 105.21 Mbps / 79.36 Mbps

UK Server: 114 ms / 47.62 Mbps / 57.85 Mbps

Australian Server: 305 ms / 24.36 Mbps / 28.19 Mbps

Right from the get-go, the provider shows us that we shouldn't expect too much from it. The US server, although being in our country, gave us slow speeds. Our download speed was reduced in half, while the upload speed was about 2.5 times slower, which is unacceptable for a server in our country.
Not to mention the Australian server, which simply made our browsing experience janky and stuttery. Our download/upload speeds reduced almost 10 times, leaving us unable to enjoy Netflix or play video games smoothly.
To digress, ibVPN has very slow speeds, probably among the slowest we've seen so far.
How Good is ibVPN for Streaming?
Since we touched on Netflix, it's time to do our streaming test. When using the server we mentioned, the US one, we unblocked Netflix. However, when using other American servers, we got mixed results. We've taken a look online to see if it's an issue on our end and we had a lot to see.
ibVPN doesn't always work with this platform. In fact, it rarely works. You'll need to be lucky to stream it properly and even if you do, there's a chance that Netflix will detect that you're using a VPN and lock you out. That happens very often with providers like this!
With Netflix out of the way, it's time to check HBO GO: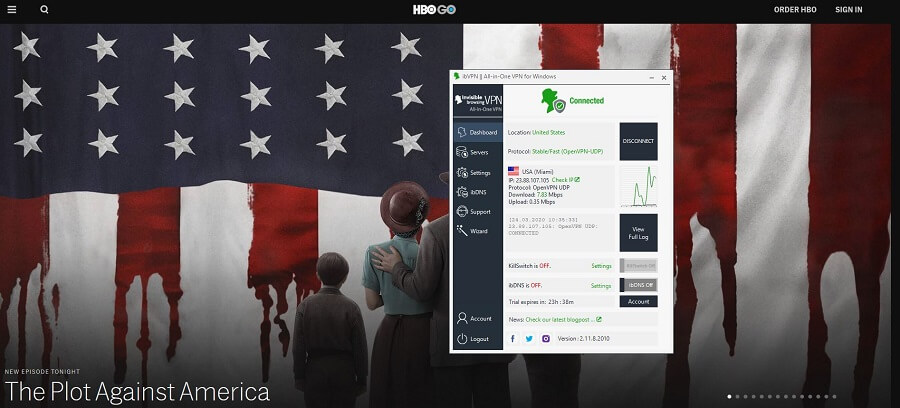 As we expected, HBO GO worked flawlessly. It's time for Disney+:
Disney+ didn't work during our in-depth review of ibVPN, as we got an infinite loading screen. Remember – we're using a dedicated streaming server! Let's see if we can unblock DAZN: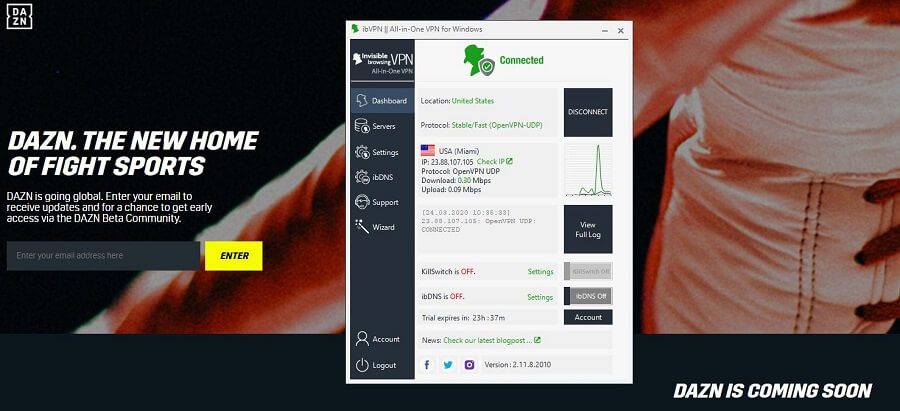 DAZN also didn't work, which is what we anticipated. And now, will the BBC iPlayer work with a UK streaming server? You have one second to answer…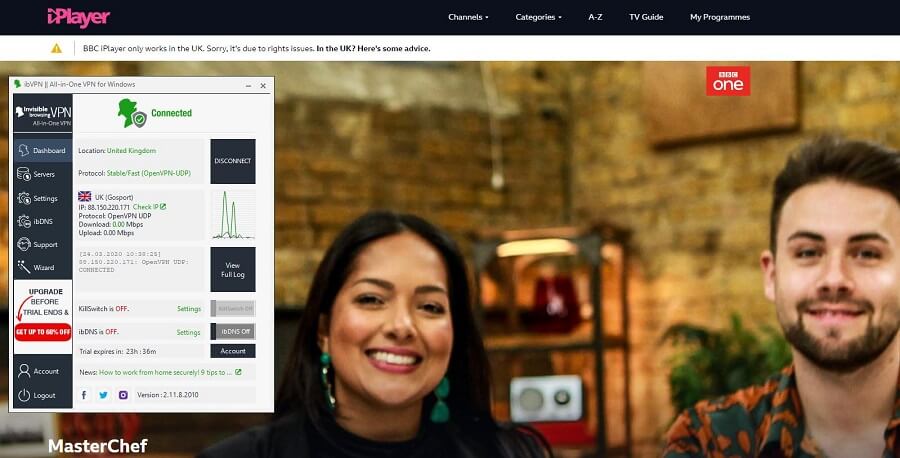 … of course – it won't work! So, let's see what the provider managed to unblock. In rare cases, it managed to unblock Netflix, while HBO GO works fine every time. The platforms that it can't unblock are BBC iPlayer, DAZN, Disney+, Hulu, and Amazon Prime Video, which we tested additionally.
That, accompanied by slow speeds, bring us to the conclusion – ibVPN is not good for streaming.
Confidentiality, Security & Logs
Romania is one of the most VPN-friendly countries on the planet. CyberGhost is stationed there and this provider has some of the best security and safety on the market. Let's see if this provider will repeat the success. Here's a part of its privacy policy:

ibVPN doesn't store any logs. They don't store traffic, online activities, IP addresses, and so forth. The only thing they store is your email and password, which isn't mentioned here but it can be seen in the message that appears when you open the app for the first time.
We scrolled down and we saw this:
That's EXACTLY what we wanted to see. Basically, if the government presses the company to give the information of a certain user, they won't have anything to hand over since they don't store any logs. Bravo!
Let's check the IP leak test now, to see if your IP isn't going to accidentally leak: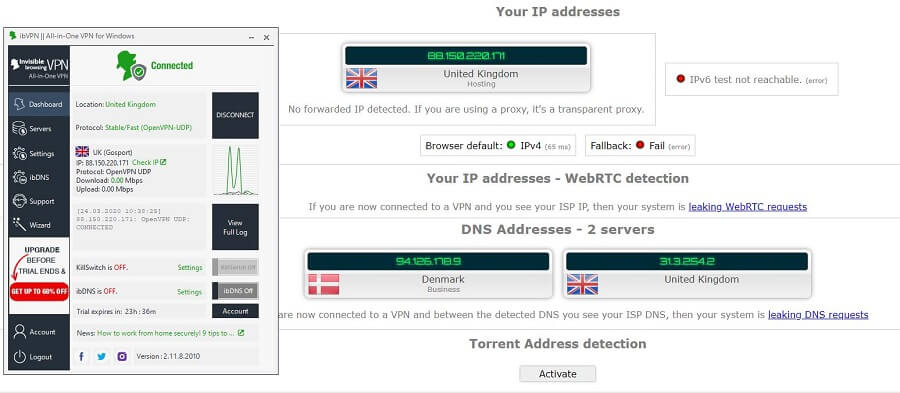 No IP or DNS leaks here – great! Aside from what we mentioned, the provider offers a lot of security-oriented features. We have 256-bit encryption, WebRTC leak protection, kill switch, Double VPN, and even Tor Over VPN feature.
When it comes to protocols, there's OpenVPN support, accompanied by PPTP, SSTP, L2TP, IPSec, and bonus protocols like Stealth VPN and ShadowSocks.
Long story short, ibVPN is safe and secure, just as we expected from a Romanian provider.
Can I Do Torrenting Safely With ibVPN?
Governments around the world are becoming more and more agitated by torrenting. In the USA, you can get a DMCA complaint about violating copyright. On the other side, countries from the EU don't have DMCA but residents who download copyrighted material can get hefty fines, ranging from $1,000 to $5,000.
So, will ibVPN conceal you when engaging in P2P activities? Of course. It's far away from the 14 Eyes jurisdiction, so you can expect total privacy. We visited the 1337x website to download something and it showed our IP from above:

Not only we're secure but we can also download torrents freely. The provider even has dedicated P2P servers, further encouraging users to enjoy their favorite activity. With that said, the provider is great for torrenting from that perspective. But, if we take into account slow speeds, we wouldn't be hell-bent on recommending it.
Can I Use ibVPN to Bypass Censorship?
Bypassing censorship is getting harder these days. Usually, when we talk about this issue, we can't go without mentioning China, a country well-known for this problem. The Great Firewall of China is still at its peak, blocking a vast majority of VPNs around the globe.
This leaves us with very few of them that will reliably work in 2021. What about ibVPN – is it working in China? Surprisingly, it does, thanks to its ShadowSocks protocol.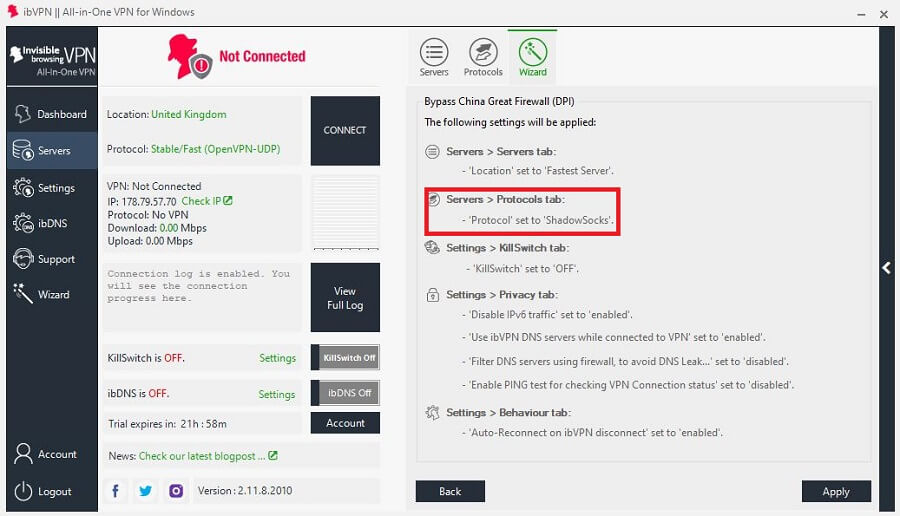 When we choose the option to bypass DPI (Deep Packet Inspections) in the connection wizard, we get this notice. As you can see, the app automatically switches a ShadowSocks protocol to bypass censorship.
This is a great way to bypass the Great Firewall of China but it's not great for security and anonymity since it doesn't encrypt your connection. Simply put, it's more like a proxy connection, rather than a VPN one.
For bypassing censorship, you can also use a Stealth protocol, which will encrypt your connection and allow you to bypass the Great Firewall of China easily.
Pricing and Plan Options
As always, the price will determine if the provider is worth the money. Unfortunately, the ibVPN's pricing page is a bit messed up. Take a look:
The prices are actually in days, so you get plans for as low as $0.10 a day or as high as $0.16 a day. Every plan, except the green one, costs $4.95 when billed monthly, whereas the Ultimate (green) plan costs $10.95 a month, once again, when billed monthly.
If you want an annual plan, which is the longest you can get, you get separate prices for that. Every plan costs $36.95 a year annually, while the Ultimate plan costs $58.06 annually, which is about $4.89 a month.
Let's see what you get based on the plan you've chosen: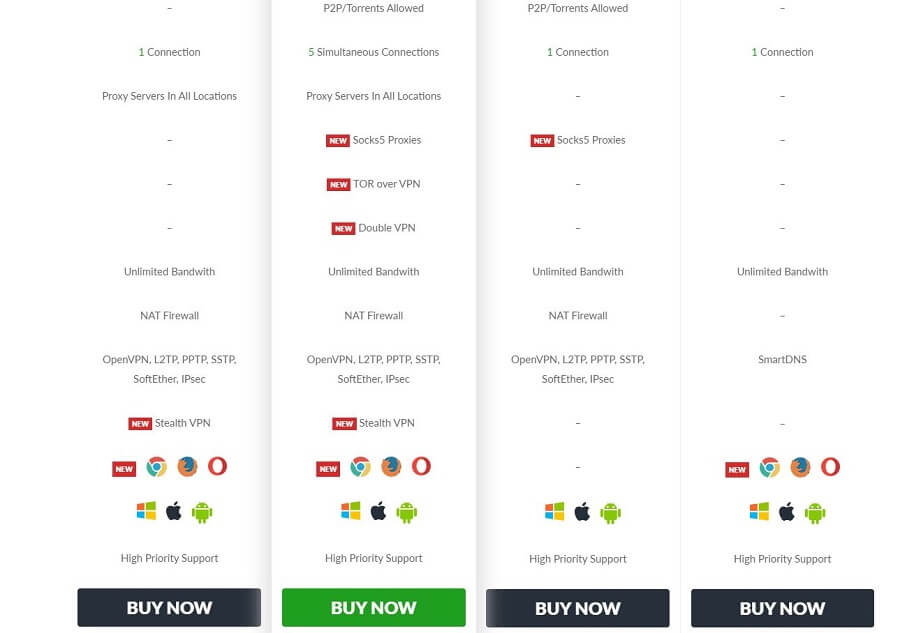 The standard plan is practically worthless here, except for the fact that it gives you Stealth VPN. The P2P plan gives you a P2P allowance and the last one gives you Smart DNS. Let's not forget that the Standard plan DOES NOT support P2P, so you can't even enjoy torrenting.
You can see from the image what you can expect and it's not good. To get a full-fledged experience, you'll need the Ultimate plan, which is very pricey, even on an annual basis. For that price, you'll be better off with Surfshark, CyberGhost or ExpressVPN.
The first two providers give you much cheaper two-year plans, and CyberGhost even gives you a 3-year plan for a much cheaper price. Although ExpressVPN costs a bit more, it would wipe the floor with ibVPN in every aspect.
Let's briefly mention the payment methods:

The cryptocurrencies are there, including Bitcoin, Ripple, Litecoin, and others. If you want a refund, you can get it within the first 15 days of your purchase. We found no weird stuff in the refund policy, so you can use as much data as you can in these ~2 weeks. Here's how to get a refund: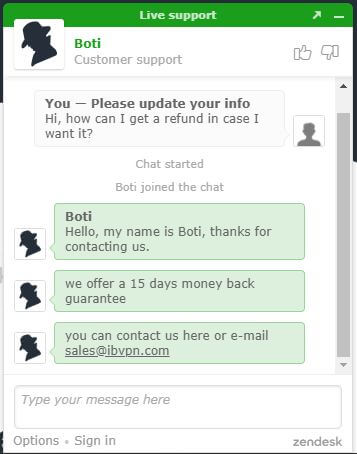 We have nothing to complain about when it comes to refunds. But, for the prices, they could definitely trim them down a little.
How Can I Contact ibVPN?
In the previous image, you saw that we used the live chat feature. We're quite impressed with the support. As soon as we asked them about refunds, they responded – literally in less than 3 seconds. That's definitely something to praise in this review of ibVPN.
Contacting ibVPN is very easy and this image shows you how to do it: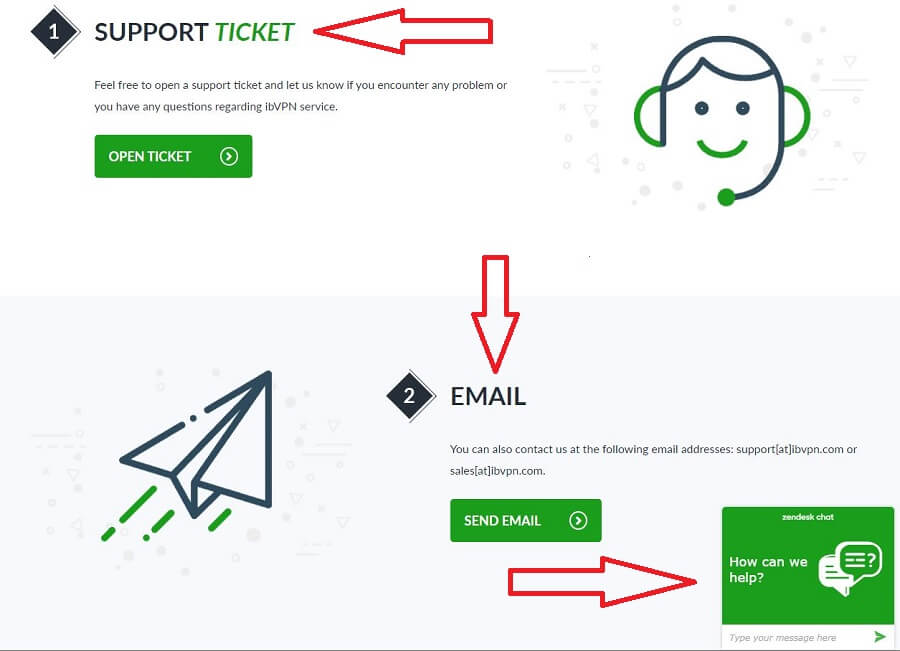 You can submit a support ticket, send a direct email or use the live chat. For a less popular provider, we're quite surprised to get all of these features.
The Special Functionalities
The special functionalities are here to enhance the basic VPN experience. ibVPN, thankfully, has a couple of tricks up its sleeve. Let's see them:
Special Protocols (Stealth & ShadowSocks)
We like the addition of special protocols we mentioned above.
Both of these are here to help you bypass DPI and censorship in general, hence they're great for China, Russia, and other similar countries.
Connection Wizard
Connection wizard is a very practical feature that will help you get the server you need in a matter of seconds.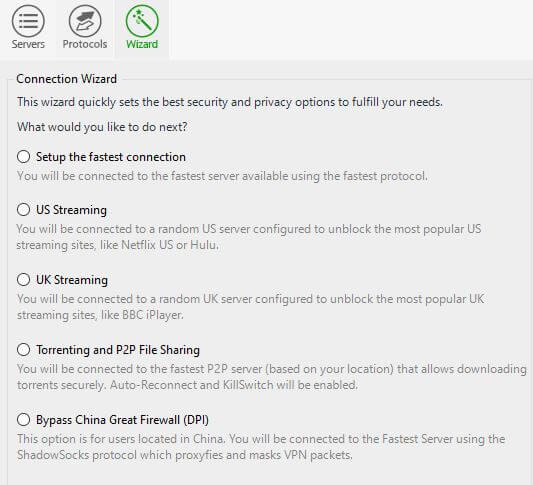 When you choose what you need from this list, the app informs you what it will do to make it possible. As you saw earlier, it informed us that it will change your protocol to ShadowSocks, allowing us to bypass the Great Firewall of China.
It's probably one of the highlights of this provider.
Dedicated Servers
Last but not least, there are dedicated servers, clearly displayed at the top of the server list: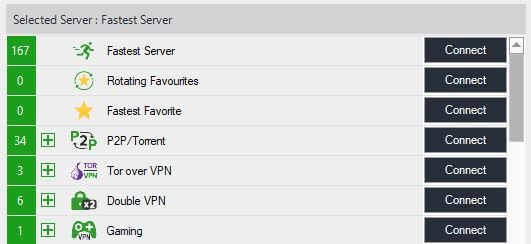 There are Tor Over VPN, Double VPN, Gaming, P2P, and other servers to choose from. Props to ibVPN for that, it is definitely a great point of this review!
Other Things You Should Know
With all that we just said, there are still a few more things worth mentioning.
Number of Servers
ibVPN chooses to stay vague about its number of servers. When you visit its Server page, it shows you a complete list, with how many users are using each server. That's okay and wonderful – but why don't you tell us about your server network right away?!
Luckily, we managed to find out that they have around 180 servers worldwide. We had to actually count them down… yep, thanks to ibVPN for making our job "easier!"
Number of Countries
The provider covers 50+ countries, which isn't very bad if we take the server count into consideration. They also have servers in Russia and that's okay as long as you don't use them. For those who don't know, Russia has certain data-retention laws that aren't exactly going to be good for your privacy.
Number of Simultaneous Connections
If you go back to our Pricing section, you'll see that the provider offers 1 or 5 simultaneous connections, depending on the plan. All plans except the Ultimate one get 1 connection, while the Ultimate plan gest 5 simultaneous connections.
What Do Other Users Say About ibVPN?
Let's venture online to see what people around the internet have to say about ibVPN.
Starting with Reddit, we have one satisfied user: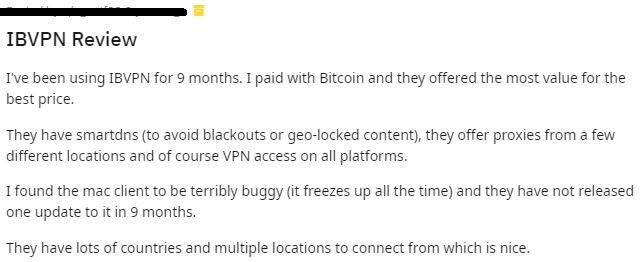 The user says that the provider offers good value for the money. He praises SmartDNS but says that the macOS client is buggy. In the end, he says that the provider has lots of countries and locations to connect to. Let's check the Google Play Store:

We can see that this user is dissatisfied. On his Android 9 phone, the VPN app suffers from random disconnects, which hinders his online experience. Interestingly, his phone starts getting hot once he starts using the app. It's gonna get roasted like a turkey on a Christmas day!
Jokes aside, this Android user doesn't like ibVPN, even mentioning that it removed some countries from the list. What about its iOS counterpart?

The iOS user complains about the low quality of customer support, even saying that they didn't respond to his 2-month old email. Furthermore, he encounters constant error messages, which we assume are related to connections. The developer, at least, responded directly.
Finally, we have a review about ibVPN from Trustpilot: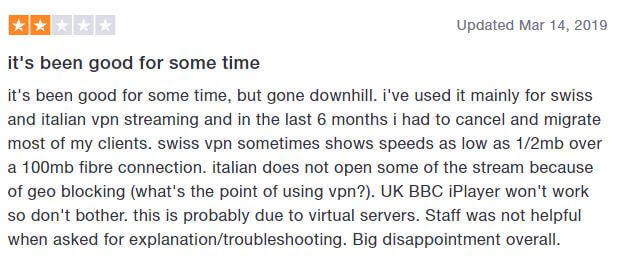 Another dissatisfied user. This one complains about its slow speeds and the inability to stream on some of the popular platforms. He ends the review by complaining about the support team, saying how they aren't helpful. Strangely, we encountered very helpful support, which is probably improved from the day he wrote the review.
Conclusion: Should You Take It?
So, do we recommend buying ibVPN?
No, we do not recommend buying it!
For a VPN that costs as low as $4.89 for an annual plan, we expected it to work with at least half of our tested streaming platforms. Also, the speeds are very bad, so if you use a distant server, you'll encounter high pings and video buffering all the time. Not to mention the small server network, which probably won't be enough for many demanding users.
We also didn't like the subscription plans. It would be much better if they offered a complete experience with every plan, and just divided it into 1/12/24 months, for instance. On the flip side, this is a Romanian provider, so you can expect maximum security, P2P support, and other security-oriented features.
Long story short, we recommend ExpressVPN instead of ibVPN. It offers a 49% discount and 3 months free for a 12-month plan, making it a great choice.