In this article, we will be discussing Ivacy VPN, which has been on the market since 2007. Let's see what the service has to offer and what are the downsides of it. After that, we will present to you some of the best alternatives to Ivacy VPN in 2021. Because you will see, it is not a very good service.
What is Ivacy VPN?
You might be wondering why Ivacy VPN has been available for more than a decade but is still not among the most popular services. The answer to this question is quite simple.
Firstly, the company behind this provider, PMG Private Limited, didn't invest a lot in advertising. Additionally, the service simply is not good enough to sell on its own.
Believe it or not, it is the developing team of Ivacy VPN that actually came up with the concept of split tunneling. This is now considered to be one of the most desirable features in a VPN, but it doesn't make up for the issues that we found with their overall service.
Before we get to the downsides, we want to emphasize that Ivacy VPN features a sizable server park. It has 1,000 servers that cover just above 50 countries. Additionally, there is a set of tunneling protocols, as well as industry-standard encryption.
Also, it seems that this provider does a good job of keeping true to its proclaimed no-log policy. However, that is about it when it comes to the pros of subscribing to Ivacy VPN. You will now understand why you should look at better alternatives 😉
Downsides of Ivacy VPN
For anyone who wants to find out more about how this service works, follow this link https://monkeyprivacy.com/ivacy-vpn-review/. This article offers a great insight into the interface of Ivacy VPN, as well as the basic features that it offers.
We, on the other hand, will do our best to go through what is wrong and what can be improved with this service before talking about the best alternatives to Ivacy.
Singapore Jurisdiction
Singapore is a rich and beautiful country. Ivacy VPN having its headquarters there seems like a great thing since it is not a part of the 5/9/14-Eyes alliances.
However, the issue here is that Singapore still cooperates with the allied countries, although it's not an official member. Thus, your private info or browsed data can be handed over to the relevant governments or authorities.
For anyone familiar with the concept of a Virtual Private Network, this certainly is not the best solution. In fact, it is quite the opposite. Luckily, the potential damage is not that high, as the provider maintains a strict no-log policy.
Still, it is important that you stay aware of the relevant jurisdiction. You never know how the future political landscape may affect this VPN.
Terrible Refund Policy
Among the most important aspects of any VPN is that you are able to get your money back if you are not satisfied. This is, of course, done within a limited time period, which is usually 30 days.
This is the case with Ivacy VPN, as well. However, their refund policy has more than a couple of limitations. The main issue that we have with this is that their reimbursement conditions are nowhere near transparent.
We needed to do some serious research just to find out when you are eligible to get your money back. The first condition is that you request a reimbursement within 30 days for the long-term plans and 7 days for the single-month option.
In order for the refund to be possible, you can't exceed 500MB of data transfer. The alternative condition is that you haven't logged in for more than 30 sessions.
Lastly, if you have made payments with BitPay, PaymentWall, or BitCoin, you will not be eligible for the refund.
Not Compatible with TOR
Ivacy VPN is highlighted by fair overall compatibility. It works with Android, iOS, Linux, Windows, macOS, smart TVs, and consoles. However, it doesn't offer an added layer of security.
Thus, if you were hoping to improve your anonymity by using the TOR browser or connecting to an additional proxy, that is not possible. Were you in this case ? If yes, check out the next section of this article to find out about the best alternatives to Ivacy.
Blocked Netflix
Lastly, we tested the unblocking ability of this VPN, and we weren't satisfied with the results. We had no success unblocking Netflix with the six servers that we tested.
We encountered a streaming error trying to access the local content in the US (West and East Coast), Canada, the UK, Germany, and France. It is safe to say that, for this purpose, you will need to look elsewhere.
Our Favorite Alternatives to Ivacy VPN
As you can see, Ivacy VPN is not reliable for a couple of reasons. Firstly, the fact that they don't offer reasonable refund conditions. Secondly, you can't unblock Netflix with it.
Hence, we decided to move on and find a couple of relevant and appropriate alternative options to Ivacy.
1) ExpressVPN
ExpressVPN stands as a great choice, given its big server park with over 3,000 servers and fantastic speed.
One of the main reasons why we consider it to be a leading provider is because this VPN unblocks content in China. The ability to bypass the Great Chinese Firewall is not common for most VPNs.
This is due to the reliable Hong Kong server, as well as a couple of mainland servers that it offers.
Additionally, you will not have to worry about the reliability of the internet connection. Lastly, this provider offers a no-log policy (while being based in British Virgin Islands), a set of tunneling protocols, and great customer service to handle any possible issues.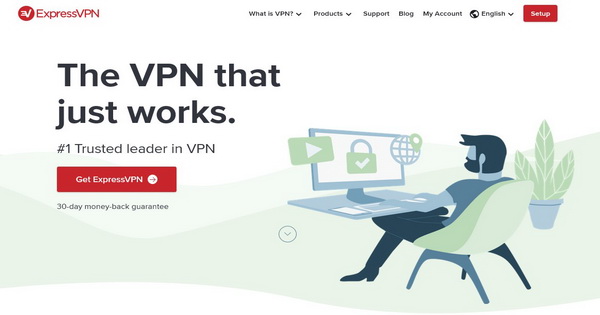 Why choose ExpressVPN over Ivacy?
ExpressVPN is considered to be premium mostly for its ability to keep your internet connection quite fast. The most important thing is that you will stay anonymous, and there is no leak or malware risk during your browsing activity.
Why is ExpressVPN better than Ivacy VPN?
You are sure to enjoy faster overall performance, and it runs almost perfectly with any given device. Additionally, the overall usability of their service is user-friendly. Plus, you shouldn't have any issues related to installation or server choice.
ExpressVPN is clearly, for us, the best alternative to Ivacy.
Get a subscription at ExpressVPN.com >
2) NordVPN
As one of the leading names in the industry, NordVPN offers over 5,500 different servers in more than 50 countries. Additionally, because it is Panama-based, there is nothing to worry about in terms of your privacy.
There is a myriad of reasons why this provider has been at the top of the list for years but also a great alternative to Ivacy. This includes the fact that it offers optimal security, reliable server performance, and effective customer service.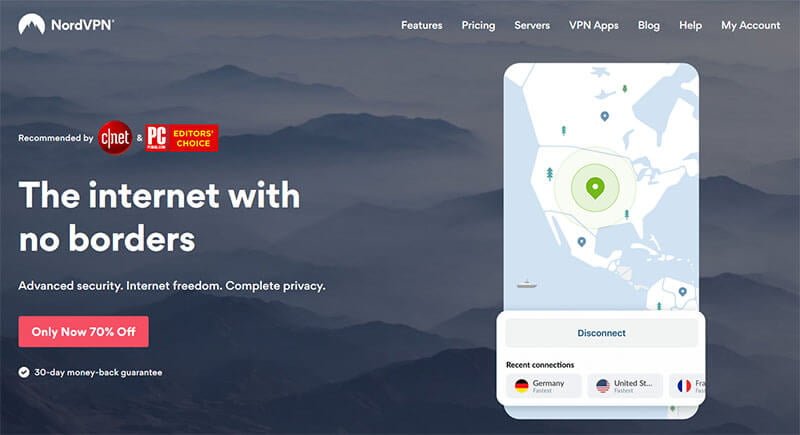 Why choose NordVPN over Ivacy?
Looking at the flaws mentioned above, we can say with confidence that NordVPN has all of those taken care of.
Firstly, you will not have any issues trying to unblock streaming platforms. This VPN does a great job with more than 150 sites worldwide. Of course you will be able to access and watch any catalogs of Netflix.
Why is NordVPN better than Ivacy VPN?
NordVPN ensures you are completely protected with a couple of instruments, including CyberSec and a Kill Switch.
Additionally, with its no-log policy and jurisdiction outside of the 5-Eyes alliance, you have nothing to worry about.
Get a subscription at NordVPN.com >
3) CyberGhost
Based in Romania, CyberGhost has a splendid server park of more than 6,000 servers you can connect to. Also, it offers good device compatibility. You can install it on any popular device, as well as smart TVs, gaming consoles, and routers.
Lastly, it is highlighted by a superb live chat that is running 24/7, and it is operated by professional and friendly staff members.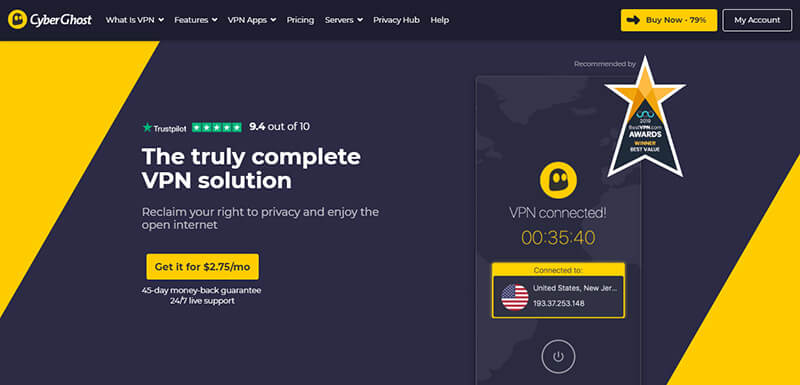 Why choose CyberGhost over Ivacy?
The fact that CyberGhost offers a 1 day free trial means that you will get to try all the features of their spectacular VPN for 24 hours at no charge. Offering thousands of locations and excellent overall connectivity, CyberGhost is a much better choice than Ivacy VPN.
Whether you want to watch some TV shows when abroad, download torrents, or simply stay safe online.
Why is CyberGhost better than Ivacy VPN?
Firstly, you will get to enjoy more versatile VPN features and not have to worry about leaks or malware risks. Additionally, accessing content worldwide is going to be much more straightforward, given the vast server park.
Not to mention, the live chat is there to settle any issues quickly and efficiently. At the same time, the overall usability of this service is hard to compete with.
Get a subscription at CyberGhost.com >
The Best Free Alternative to Ivacy VPN
Most reliable alternatives to Ivacy VPN, including the aforementioned three, require you to pay for them. However, Windscribe is a free option that is worth mentioning.
Windscribe
This provider basically saves the day for anyone who is on a sensitive budget and still wants to experience the benefits of a VPN.
It does have a limit of 10GB of data transfer per month. Also, you can only use 14 out of the 500 servers that are available with the free plan.
Still, given the fact that you are not paying anything, the overall performance is great.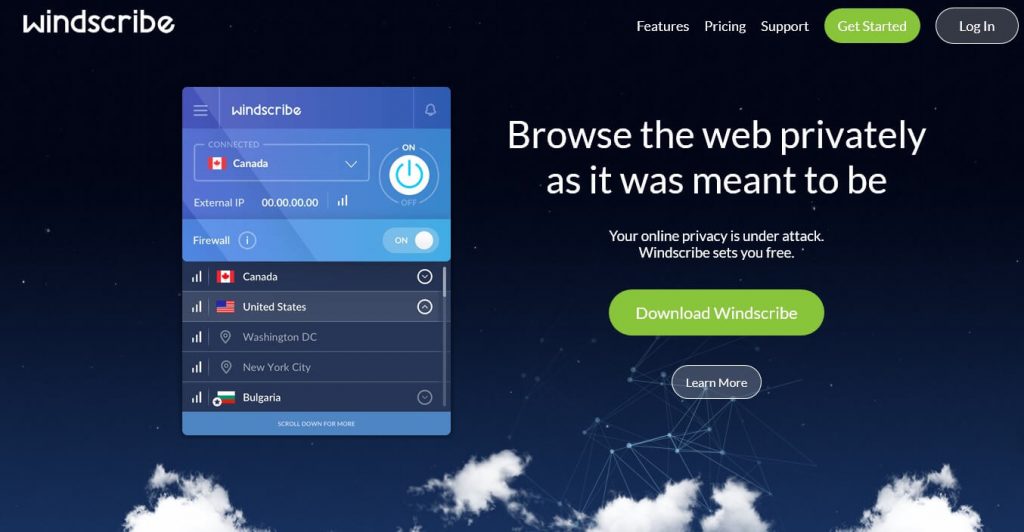 Why choose this VPN over Ivacy VPN?
You will be able to settle any issues quickly thanks to the fair customer service.
Why is Windscribe better than Ivacy VPN?
You are not paying anything, and Windscribe still offers TOR compatibility and anonymous browsing.
Wrap Up
We think that Ivacy VPN could have done much better if they focused more on unblocking ability and a friendly refund policy. Unfortunately, for these reasons, we do not recommend it as a top option.
However, NordVPN, ExpressVPN, and CyberGhost is a trio of alternatives that you can't go wrong with when it comes to security, privacy, and overall performance.