The recent rise in the popularity of Virtual Private Networks is primarily due to how easy it has become for cybercriminals to get hold of and exploit your sensitive information when online. You are particularly susceptible to cybercrimes and information theft when connected to an unsecured network. This is why we have put together a list of the best VPNs that you should consider using instead of Mullvad. Let's take a look at what we found regarding these alternatives but also the cons of the Swedish provider.
What Is Mullvad VPN?
Mullvad is a well-known VPN provider and is free and open-source. The company is based in Sweden and was launched in March of 2009. It operated using the OpenVPN and WireGuard protocols and accepts bitcoin for their subscriptions.
Mullvad claims to help you evade trackers and hackers using the highest encryption standards possible, even if you are connected to a public network. They also state that they do not record any activity logs, nor ask for personal information.
When you use Mullvad VPN, your IP address is replaced with one of theirs, which is meant to ensure you are not linked to your device's internet activity. Their app is also simple and easy to use and does not require a registration process consisting of multiple steps.
But this is where we started coming unstuck. There are a few cons to using this service and this is why we will present to you some great alternatives to Mullvad later on.
Downsides of Mullvad VPN
We recently tested Mullvad VPN which is still a good provider, but there are several disadvantages to using this service. Here are some of the most prominent issues.
Sketchy Customer Support
The most frustrating downside is their customer support. Mullvad claims to be a stable service but contacting their customer support service when you have an inquiry can be difficult. Not only do they take a long time to reply, they give generic answers.
Doesn't Work With All Netflix Catalogs
Most people want to be able to use a VPN with their favorite streaming services, such as Netflix. Unfortunately, Mullvad is only able to reliably unblock the US catalog of Netflix.
The company does not have specialized streaming servers for international sites, meaning that you will need to test your favorite streaming services yourself. If you're looking at a better alternative for streaming purposes, you can definitely consider CyberGhost whos offering specialized servers for BBC iPlayer, Netflix, Amazon Prime and many more.
No Native Mobile Client
Mullvad does provide custom app clients for Windows, Mac, and Linux, but lacks native mobile counterparts. This means that you will need to configure your mobile devices manually with OpenVPN software.
This can become extremely frustrating for folks who are after a simple VPN solution. Mullvad claims that Android and iOS applications are being developed, but they will not be released anytime soon.
We recommend you to read this article https://monkeyprivacy.com/best-vpn-iphone/ if you want the ideal VPN for your iPhone.
Our Favorite Alternatives to Mullvad
So we have taken a look at why Mullvad VPN may not be ideal. So, now let's look at some of the greatest alternatives that offer reliability, speed and much more.
1) ExpressVPN
ExpressVPN provides far more than pure internet privacy and comes packed with features. It is one of the only VPNs that is truly comprehensive which is why it is for us, the greatest alternative to Mullvad. It boasts an impressive network of servers, as well as some excellent features that are not available from other services.
While ExpressVPN does not offer a free version of its services, the asking price for its subscription is much lower than other VPNs of its standard. For the sheer number of features that you receive, it is well worth the money.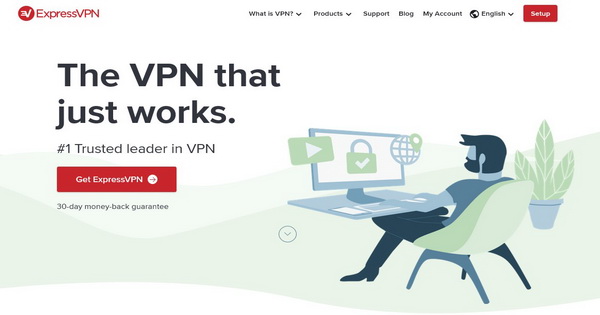 Why choose ExpressVPN over Mullvad?
ExpressVPN and Mullvad each possess features that could be considered better than the other, as long as they are used correctly. Both provide access to different countries, a kill switch, major OS compatibility, and various Netflix catalogs.
However, ExpressVPN emerges victorious when it comes to mobile device compatibility, as it provides apps for both iOS and Android. As we mentioned previously, the mobile versions of the Mullvad clients are on their way, but may not be available soon.
Why is ExpressVPN better than Mullvad?
Choosing between Express and Mullvad VPN can be quite a challenging decision, as they both provide various similar features. However, when it comes to pricing, ease of use, and customer support, ExpressVPN has Mullvad totally beat.
ExpressVPN also has over 3,000 servers in 94 countries – one of the most extensive network on the market.
Get a subscription at ExpressVPN.com >
2) NordVPN
NordVPN is one of the best VPNs for streaming but also a great alternative to Mullvad.
In fact, it is actually one of the best VPNs for those who are looking to bypass the new strict detection measures that Netflix has in place.
The company also does everything they can to ensure that you are getting the best, hassle-free streaming experience possible. Their website's FAQ section provides instructions and suggestions for the best servers to stream on Netflix, as well as other popular streaming services like BBC iPlayer and Hulu.
NordVPN is capable of working with several Netflix versions, including those in the US, Canada, UK, Japan, France, and Brazil, giving it an advantage over many other services on the market. Other VPNs are usually only capable of accessing a couple of regional Netflix catalogs, and often encounter problems while doing so.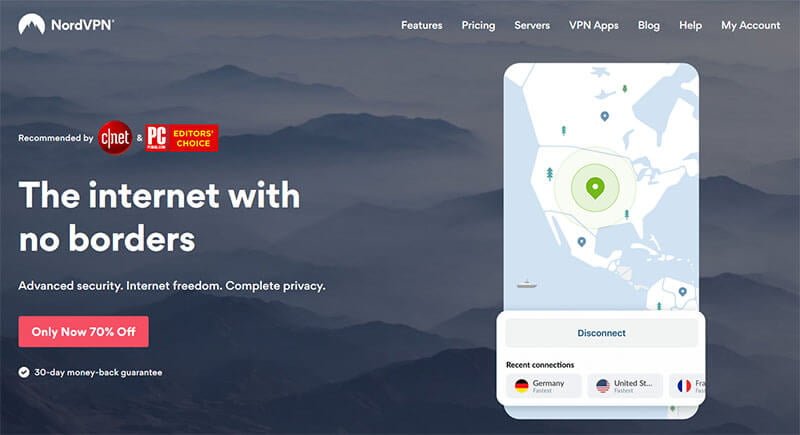 Why choose NordVPN over Mullvad?
Most folks interact with their VPNs through their desktop apps, and while bad apps are not necessarily unusable, more comfortable to use apps are generally better. The Windows version of the NordVPN app lets you use an interactive map to connect to the location you want.
While Mullvad has recently updated its app, the map it provides is still not interactive, and the app overall does not match the great mix of power and simplicity that NordVPNs provides.
As we mentioned above, NordVPN is really the best VPN when it comes to streaming, thanks to its dedicated streaming servers and helpful FAQ section on their website. Mullvad users are able to connect to Netflix on occasion, but this is more due to luck than anything else. You better understand why NordVPN is a great alternative to Mullvad?
Why is NordVPN better than Mullvad?
NordVPN boasts an impressive range of over 5,500 servers across more than 50 countries, all capable of torrenting. While another apparent reason is NordVPN's superior fleet of servers, they also offer some other benefits as well.
NordVPN also provides far better customer support than Mullvad, which comes in handy when you need an inquiry answered quickly.
Get a subscription at NordVPN.com >
3) CyberGhost
CyberGhost is a less popular VPN but features a Windows app client that provides unmatched power. It comes packed with numerous helpful features while still maintaining an easy to use and straightforward feel. While its mobile apps are much more average, they are just as powerful.
CyberGhost also offers custom clients for Mac, Windows, Android, iOS, and more. It provides a number of extra features along with standard VPN functionality. The automated HTTPS redirection offers the user with an extremely secure connection, regardless of the website you visit or the network you connect to.
The company is based in Romania and provides over ten million users with comprehensive VPN functionality. They boast a whopping 6,000 servers across 90 countries, with the majority of them allowing torrents.
With CyberGhost, you can connect up to 7 devices simultaneously on one account, which is above the general average of 5. This is a big plus in comparison to Mullvad, and one of the reason why it's a good alternative.
While CyberGhost provides the user with a vast array of functions, having so many activities at the same time can cause your browser to slow down. This is an issue that can be quickly resolved, as you have the option of choosing which functions to activate if any.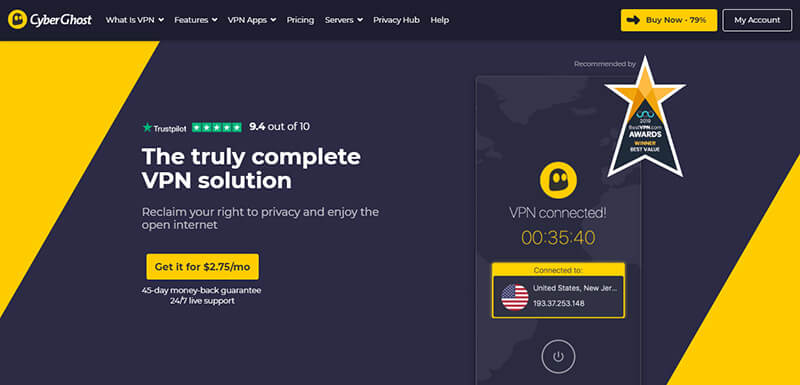 Why choose CyberGhost over Mullvad?
Comparing these two VPNs can be quite a challenge, as they both offer different things. Mullvad is all about being as private and anonymous as possible, while CyberGhost is packed with features.
However, CyberGhost does have a much more extensive network of servers, which, in combination with its numerous features, makes it a much more powerful VPN. They also provide a 24 hour free trial and a 45-day money-back guarantee on subscriptions over 6 months, so you can rest assured when using this service.
Why is CyberGhost better than Mullvad?
CyberGhost has a vast range of server locations all around the world, providing you with many options to choose from. They also do not record any logs whatsoever.
On the other hand, Mullvad does record some of your session logs. Even though this is not considered sensitive information, it would be nicer if it did not record any logs at all.
Get a subscription at CyberGhost.com >
The Best Free Alternative to Mullvad VPN
Some of us don't want to spend money on a VPN, which is fine! Luckily, we have a decent free alternative to Mullvad to keep you safe.
Windscribe
While Windscribe does have some paid plan options to their service, their most popular choice among users is their 100% free plan. With this free plan, you receive a decent 10GB of bandwidth per month. This is usually enough for the average user who wants basic online protection.
Windscribe also offers some features to obscure and protect your online identity as much as possible. These include features like deleting the cookies of your VPN session and changing your browser timezone to match that of Windscribe.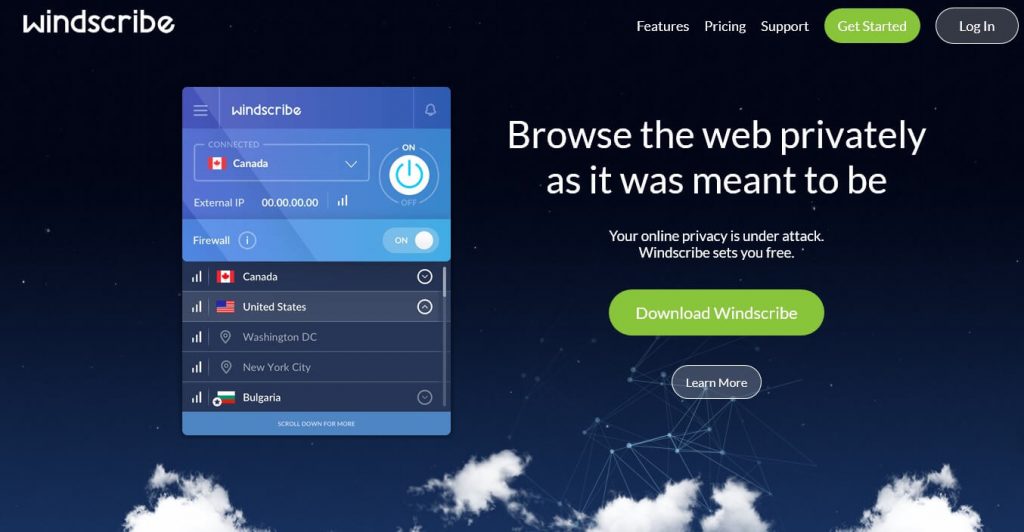 Why choose Windscribe over Mullvad?
Windscribe has some of the most robust encryption that a free VPN can buy, and this can even be upgraded by subscribing to one of their paid plans. It has also been proven to never leak any user information, which is uncommon with free VPNs.
Windscribe's free plan is one of the best out there and is definitely a better option than Mullvad's.
Why is Windscribe better than Mullvad?
Apart from being vastly safer than Mullvad VPN, Windscribe also boasts a much larger network of servers, which allow you to connect to anywhere in the world. The Windscribe app is also much easier to use that the Mullvad counterpart and comes with many more features.
You are limited to five simultaneous connections when using Mullvad, while Windscribe allows for an unlimited number of simultaneous connections. This is another feature that is very rarely found in free VPN services and it's a good reason to consider it as an alternative.
Wrap Up
At a surface level, it may seem that all VPNs are the same, given that they all provide the same core service of privacy and security. However, as with most things in life, different VPNs are capable of different things, and choosing the right one for you can be quite challenging.
We hope that this guide about the best alternatives to Mullvad in 2021 has made that task a little bit easier for you.