With hundreds of VPNs on the market, being unique and offering something new is quite difficult. However, Mullvad is a provider that tried to do so, and for many users, it succeeded. Since we heard a lot of good stuff about it, we decided to test it for ourselves and see if what they say is true. Is this provider worth your cash? Well, stay with us to find out. This is going to be an in-depth review of Mullvad VPN, so strap yourselves, and let's go!
What is Mullvad?
Obviously, Mullvad is a Virtual Private Network provider that seemingly has a lot to offer. It's known for its unique approach to anonymity, offering numbered accounts, without needing to sign up with your email. Despite knowing this, the fact that the provider is based in Sweden isn't making us very happy.
As some of you know, Sweden is a part of the 14 Eyes jurisdiction, meaning that there's government surveillance. However, since they offer some great security features and even a WireGuard security protocol, it's interesting to see how safe and secure the provider is. If you want to buy Mullvad right away, we suggest that you read our complete review first.
Without further ado, this is our comprehensive review of Mullvad. Set sails and let's jump right into it.
Compatible Devices and Ease of Use
Right from the start, we always check the provider's device compatibility. The more devices it supports, the better it is. So, let's see where this Swedish provider stands:

From left to right, we have Windows, macOS, Linux, iOS, Android, and Routers. In theory, that's great. However, we need to mention that the provider didn't have a dedicated Android app up until recently.
For example, the iOS app doesn't exist, so you must install the OpenVPN app on your iPhone to use it. This is a lengthy process to go through, so we don't recommend the provider for this platform right away.
On the brighter side, there's a beta version of the Android app, as well as apps for macOS, Linux, and Windows.
Computers
Let's start with computers. Regarding this platform, we have Windows, Linux, and macOS, which is the best possible scenario. We'll use our Windows 10 computer to show you the installation process and the app, to see if it's easy to use and install.
Upon buying a subscription, you can download the app. Once you download the setup file, click on it, and you'll immediately start the installation: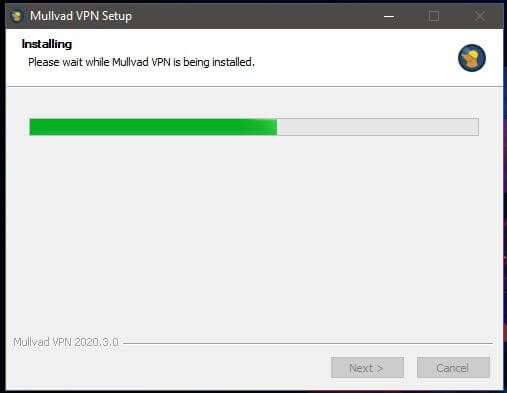 Some will like it and some will not. We think that you should be able to at least choose where you want to install any kind of software. If you're so busy that even two seconds will matter to you, then okay, whatever floats your boat! When the installation finishes, you get this screen: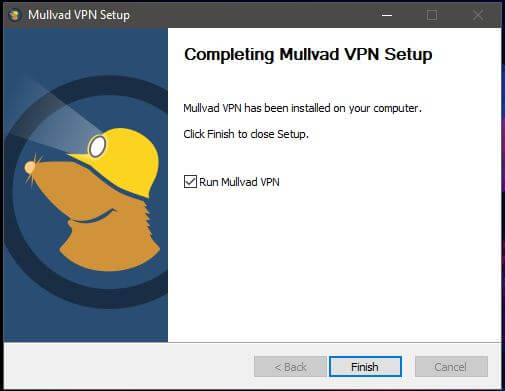 Click Finish and run the app. Here's how it looks initially: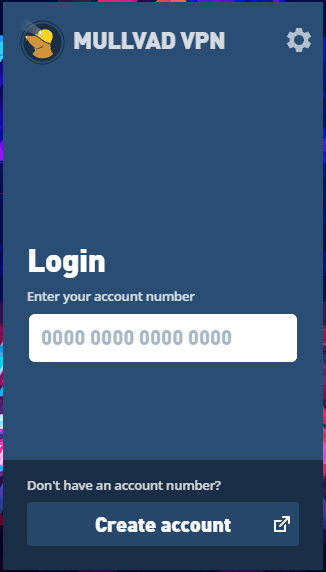 Since Mullvad doesn't use your email, you'll need to enter the number of your account. Be sure not to lose it because it's very hard to recover it afterward. When you do that, press Enter and you'll be redirected to the home screen: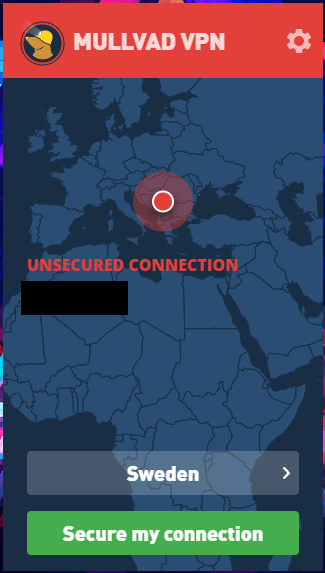 To connect to the server you want, click on Sweden and the server list will open: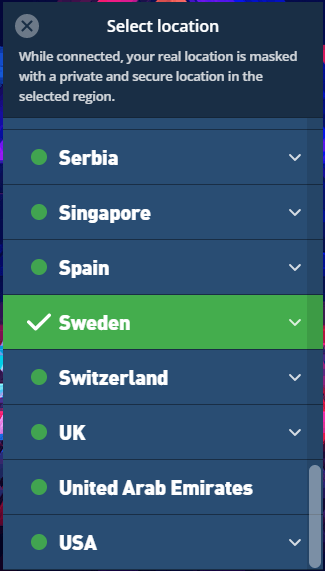 Instead of Sweden, we used the US server for testing purposes during our review of Mullvad VPN. When you click on your choice, the connection establishes in a few seconds, and your home screen looks like this: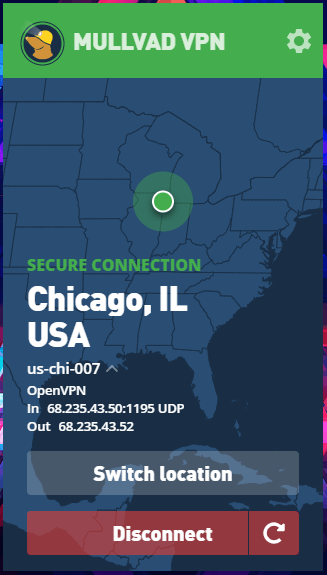 One thing we noticed nearly infuriated us. When the app is opened and you click anywhere else outside the app, it immediately disappears. For example, we wanted to use the Snipping Tool to take a screenshot. We couldn't do it because the app would close immediately, so instead, we had to use Print Screen, paste the image to Paint, and crop it.
It's just a minor thing and wouldn't bother ordinary users, especially those who don't review VPNs. The worst thing is that there's no option to change it in the Settings, so yeah… you'll have to ride it out! Aside from that, the app is easy to install and use – approved!
Smartphones and Tablets
As we said, Mullvad VPN doesn't support iOS, so you only have the Android app. That's great because we use our Android phone for testing and doing part of this review, meaning that we gained access to the app easily. To do it, you need to download the app from the provider's website and not from the Google Play Store since it isn't available there.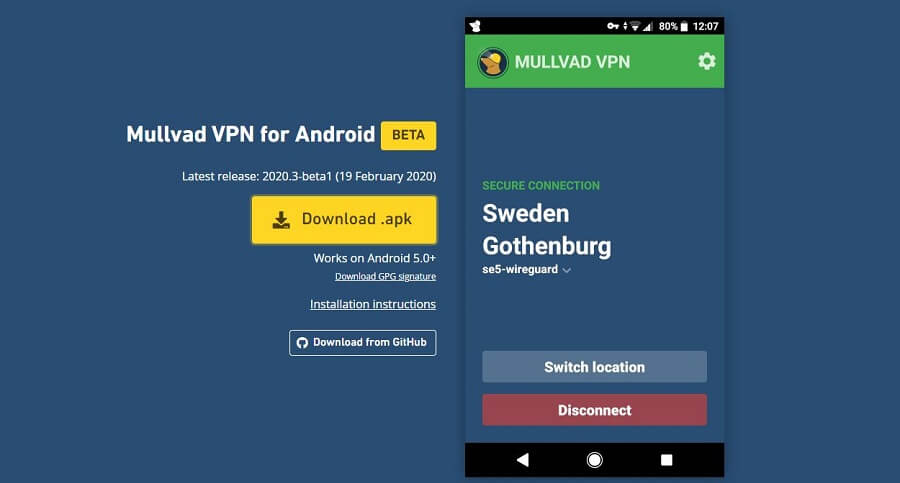 If you're using a PC, use your USB to transfer it to your phone and install it. When the installation is done, the first thing you're gonna see is the screen shown in image 1.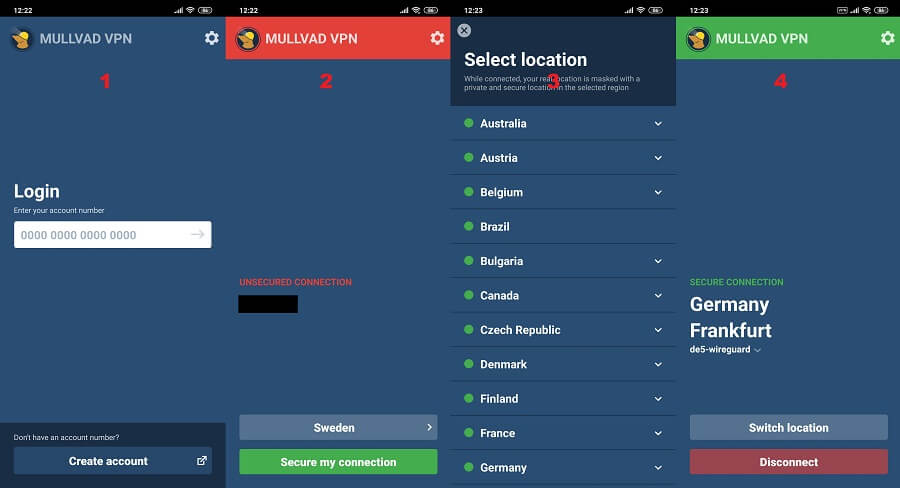 As with the Windows version, type in your account number, tap the arrow pointing to the right, and you'll get to the home screen in image 2. Tap Sweden and the server list in image 3 will open. Choose the country you want and connect to it. We used Germany, which you can see in image 4 when our connection was established.
For a beta version, this app works pretty well. We didn't have any problems in terms of stability, so for now, it works flawlessly on this platform.
Other Devices
Mullvad won't blow you away with its device support. However, since it supports routers, it's more than enough to secure other devices in your household.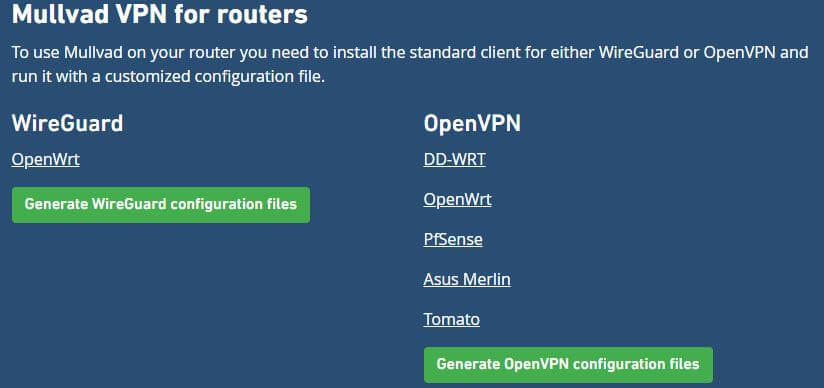 These are the guides on how to use both WireGuard and OpenVPN protocols on your router. You can also see which firmware is supported. For WireGuard, you only get OpenWrt, whereas, for OpenVPN, the choices are more abundant.
How Fast is Mullvad? We Checked Its Speed!
For a VPN to be good, one of the most important factors is the speed. If the provider is slow, probably no one's going to like it since users mostly value smooth browsing and streaming experience. But, to make everything clear, we need to start from the fact that every VPN reduces your internet speed to a certain extent.
Even the fastest provider we tested, ExpressVPN, also does that! Albeit, this provider very slightly reduces your speed, making it very fast. What about cheaper, less-quality providers? Well, they tend to do worse in this department because of the lower network quality, high server load, and other factors.
Speaking of factors, a bunch of them can influence the speed, so here's how we tested it. We did 3 tests in the morning, 3 in the mid-day, and 3 in the evening, for 3 different locations. Also, we kept the best score and used the best location when that was possible. Our physical location is in the USA (non-VPN test) and we used these 3 locations:
The United States
The United Kingdom
Australia
Our speeds without using a Virtual Private Network are:
Ping: 11 ms
Download Speed: 211.88 Mb/s
Upload Speed: 202.20 Mb/s
Now, when using Mullvad during our complete review, our ping, download, and upload speeds respectively, for 3 testing locations, are:
US Server: 37 ms / 172.15 Mbps / 142.77 Mbps

UK Server: 109 ms / 75.24 Mbps / 53.68 Mbps

Australian Server: 293 ms / 32.59 Mbps / 27.03 Mbps

Mullvad isn't very slow, much to our surprise. We managed to get some pretty good speeds when using the US server. Although the UK server is much slower, with a ping of 109 ms, we still enjoyed our browsing and streaming to a certain extent.
The Australian server, as expected, showed the worst results. Still, we've seen much worse results than this, so we can say that the provider has 'okay' speeds. It's not blazing-fast nor very slow. Simply put, it's average.
How Good is Mullvad for Streaming?
With the speeds we mentioned above, you'll definitely enjoy some quality streaming. Of course, if the provider manages to unblock the main streaming platforms. So, how does it do with Netflix? Pretty bad. We can confidently say that for us, Mullvad can't unblock Netflix.
The US servers don't work and we also tried Canadian, Australian, and the UK server with no avail. We've heard that some users unblock Netflix with this provider from time to time but for us, it didn't work – sorry.
Let's check our warm-up contender, HBO GO: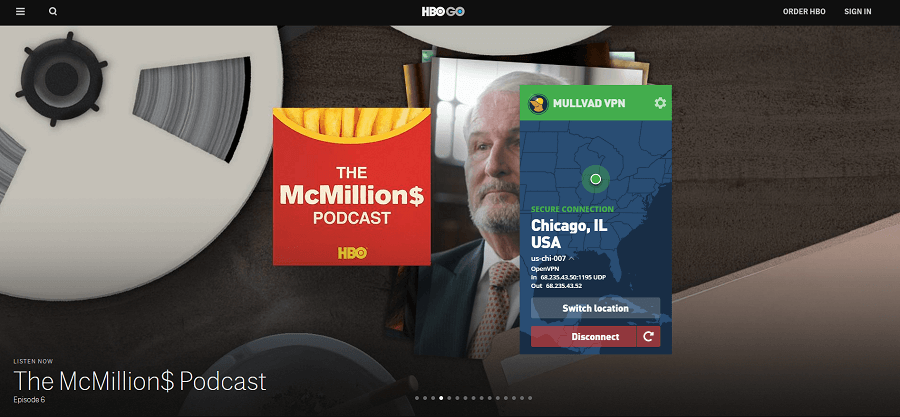 HBO GO works, which we expected because only in rare cases, a VPN can't unblock it. But, what about Disney+?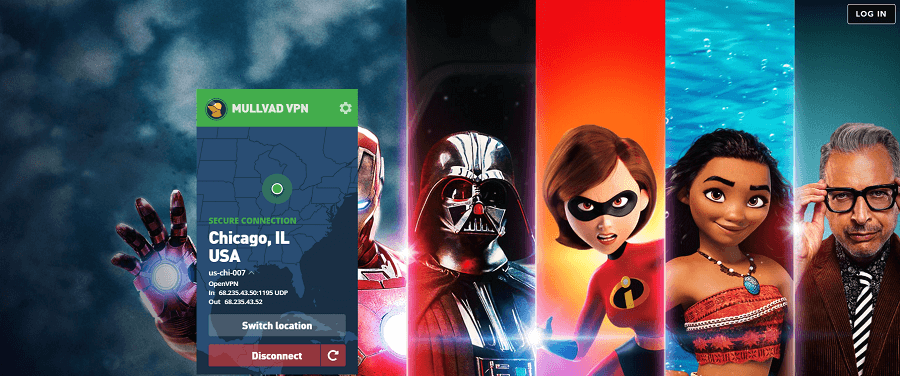 Disney+ doesn't work. When we click on the login button, nothing happens, and when we try to access the login screen with a direct link, we get the infinite loading screen. Let's see DAZN now: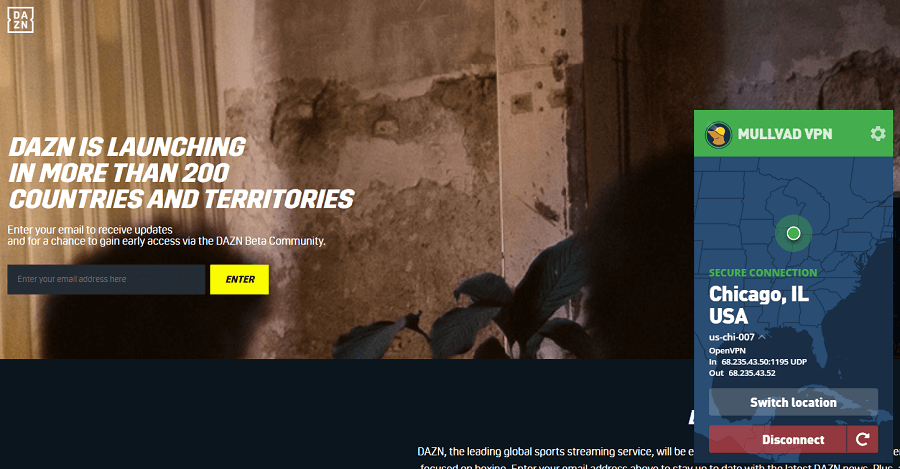 Once again, as expected, DAZN doesn't work. Finally, we need to check the BBC iPlayer. You have two seconds to guess the results: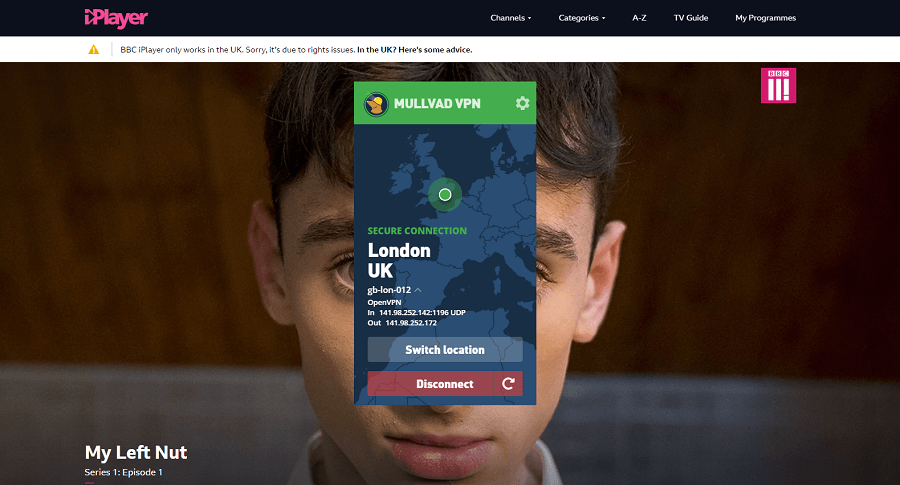 BBC iPlayer doesn't work. Did you guess it? If so, you can share a banana with our Monkey.
To make it clearer, Mullvad unblocks only HBO GO when we talk about major streaming platforms. It can't unblock Netflix, BBC iPlayer, DAZN, Disney+, and it's not the best to watch Hulu abroad since it can't unblock it, too.
To conclude this part of our review, Mullvad is bad for streaming, unless you only want to watch HBO GO but even then, almost every provider can unblock it, so you might as well get better providers instead.
Confidentiality, Security & Logs
Mullvad VPN is a very good solution to stay completely anonymous online, and in this section, we'll see why. Let's start by explaining its numbered accounts first. Here's a screenshot from the provider's website:

As it says, Mullvad does everything in its power to keep you anonymous online. They don't request your email address, password, location, and so on. Instead, you get a random account number, which is your identifier for accessing your account. That's it. Now, here's their privacy policy:

From the image above, you can see that they basically don't keep any logs. No IP addresses, no DNS requests, bandwidth, traffic, and so forth. They only use a fraction of data for keeping the service running properly:
There is a number of VPN connections you're using as well as the total bandwidth used by the server. Underneath that, the provider explains why it's necessary to save this data. With that out of the way, let's do the IP leak test: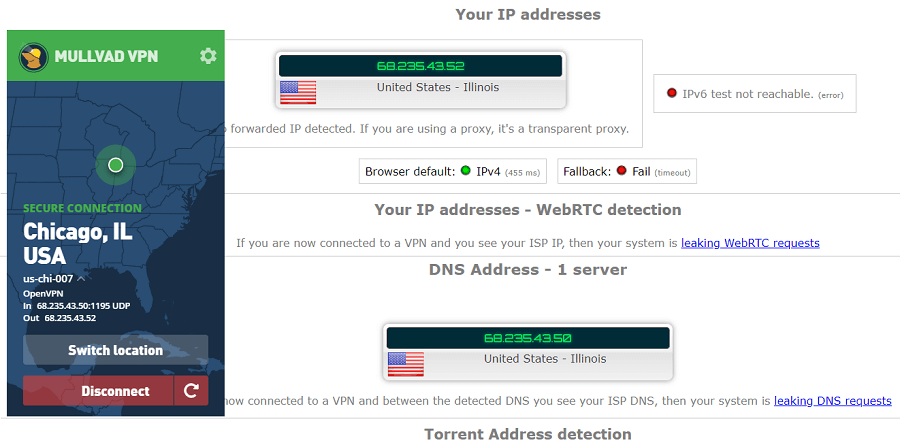 The IP address shown in the app and the IP on the right are exactly the same. This means that there aren't any IP and DNS leaks. Aside from that, the provider uses 256-bit AES encryption and SOCKS5 proxy to protect your data.
With everything we said in mind, Mullvad is a safe and secure provider.
Can I Do Torrenting Safely With Mullvad?
Given how safe the provider is, it's logical to think that it allows torrenting. While sometimes logic doesn't play a role, this time, it does. The provider is perfectly fine with torrenting and even provides guides on its website for safe torrenting. As always, we used the 1337x site to download something:

This is our fake IP from above. We had no problems downloading this big game. No copyright warnings, no emails from the provider (because it doesn't collect it), and no issues at all. Mullvad is great for P2P file sharing.
Can I Use Mullvad to Bypass Censorship?
Bypassing censorship is a pretty big deal or people in China, Russia, the UAE or similar countries. For people in China, it's very important to bypass its rock-solid firewall that many call the Great Firewall of China. Since the government actively blocks VPNs, only a few of them will really work.
Mullvad uses a few types of servers:

You see the Bridges tab on the right? Well, these are the special servers that act as a bridge between you and regular OpenVPN and WireGuard servers. Your traffic goes through the bridges via the SSH protocol, in which it gets an additional layer of encryption, which is enough to bypass DPI thus piercing through the Chinese firewall.
After that, the provider routes your traffic through a regular VPN server like it normally would. For those unfamiliar with this, the provider offers an extensive guide on how to connect to the Bridges. But, all in all, Mullvad can bypass censorship successfully.
Pricing and Plan Options
The provider is keeping things simple even when it comes to pricing. Reading its terms of service, we noticed this paragraph:

It's €5 per month, regardless of the plan you choose. There's a monthly plan at €5, 2-month plan at €10 every two months, 3-month plan at €15 every three months, 6-month plan at €30 every six months, and an annual plan at €60 every year.
For the reference, €5 equals to $5.67, so you can do the math. To be honest, the pricing isn't exactly the cheapest but on the flip side, you get to cancel the subscription whenever you want. For the price, there are definitely better options on the market.
CyberGhost and Surfshark both cost $5.99 a month for an annual plan, and these two are much better options. Nevertheless, let's check the payment methods:

You get a lot of them, and even Bitcoin, which gives you a 10% discount. In case you want a refund, the provider gives a 30-day money-back guarantee:

Furthermore, there's a refund guide on the site, which shows you how to request a refund for every payment method. You can read it here.
How Can I Contact Mullvad?
To request a refund, you obviously have to contact customer support. Unfortunately, there isn't a live chat option, so you must send an email. To do that, click on Help on the home page and scroll all the way down until you see this option:

We don't like that there's not even a ticketing system, so you must do it directly as you would email your friend. The support isn't very good, to be honest. While doing this review of Mullvad, we noted that they take more than one hour to respond and sometimes, you can wait for a few hours.
The Special Functionalities
The special functionalities are here to enhance your basic VPN experience and add a breath of fresh air. Mullvad isn't very generous with its special features but you at least get something as we found out during our in-depth review. Here's what you can expect:
WireGuard
WireGuard is, in our opinion, the next big thing in the VPN world. It's basically a new, crypto-based protocol that promises up to 5 times faster speeds and connections, with no connection delays.
However, the feature is still in development and isn't at its finished phase yet. For now, the provider offers it for Linux, Android, and Windows, where beta versions are used for the latter two.
To use WireGuard, you'll need to generate config files from the provider's website. Just choose your platform and you'll do it in a few seconds. As always, Mullvad has a guide on how to do that and it's very easy. After that, you'll gain access to WireGuard serves and be able to use them effortlessly.
Bridge Servers
Bridge servers are something we already mentioned. They're here to bridge your connection with the SSH protocol, allowing you to efficiently bypass censorship. As with WireGuard, you need to generate config files to use it.
Other Things You Should Know
We talked about a lot of features of this provider already but there are still a few things left to mention. Below are the other things you should know:
Number of Servers
Mullvad doesn't have the largest server network out there. Here's what to expect:

With only 557 servers, you won't have much to choose from. Given how popular the provider is, many of those servers will often be under heavier load, making the speeds drastically decrease. But, it's not the end of the world. We used VPNs with fewer servers, such as PrivateVPN.
Number of Countries
As seen from the image above, you get 36 countries and 58 cities, which is solid for the size of the server network. We like that the provider doesn't have servers in Russia. This country is among the fiercest enemies of VPNs, blocking every provider who doesn't comply with its data-retention laws.
Number of Simultaneous Connections
Finally, Mullvad offers up to 5 simultaneous connections, which you can see below:

Since it supports routers, you can expand this to up to 16 or 32 devices in your household. Remember that this only applies to devices connected to your router, so don't expect to have a VPN connection established outside of your house.
What Do Other Users Say About Mullvad?
Before we conclude our review of Mullvad VPN, it's important to see what other users say about the provider. Mullvad doesn't have apps for iOS and Android, so you can't find the reviews on the Google Play Store or on the Apple Store.
But, that didn't prevent us from searching for other people's opinions online. Let's start with Reddit:

This user is fairly satisfied with the provider. He mentions great speeds for torrenting that are even better with WireGuard, ending the review by recommending it. As you'll see on the internet, it is pretty well received on Reddit. But, what about Trustpilot?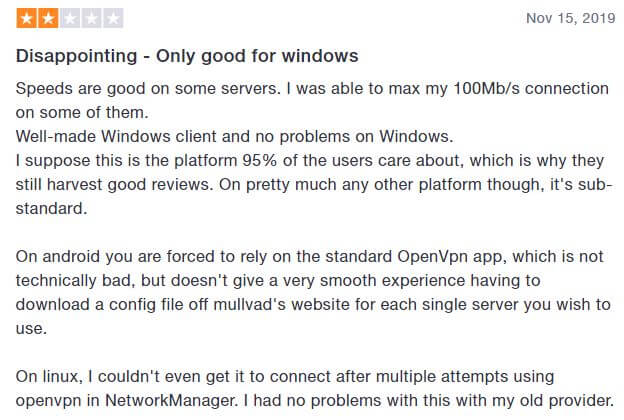 The Trustpilot user says that the speeds are decent, as well as the Windows app. However, he implies that apps on other platforms aren't good. In this case, he had problems with Android and Linux, hence he gave it a three-star review.
Finally, we have short feedback on Twitter: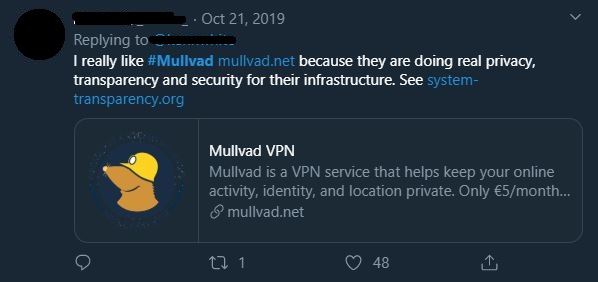 This user is very concise and goes straight to the point. He praises Mullvad's privacy and security, which is indeed one of, if not THE strongest point of the provider.
Conclusion: Should You Take It?
Mullvad is, in 2021, definitely an interesting provider. It doesn't have a lot of bad stuff in particular. We would like it to be a bit faster, to unblock Netflix and Hulu, and to have a live chat feature. Furthermore, its small server count isn't doing it justice and the device support could be better.
But, on the brighter side, you're completely anonymous while using it, you can enjoy torrenting and even bypass censorship. Our final opinion might surprise you but we don't recommend buying Mullvad. The reason being is that it's simply not worth the price.
Sure, you get rock-solid security but a VPN that can't unblock Netflix and doesn't have 24/7 customer support can't cost 5 Euros. CyberGhost, NordVPN, and ExpressVPN are better options for that matter.
They cost approximately the same, yet give you far better speeds and overall performance.