Being a French resident abroad is sometimes excruciating. You miss all of your favorite local shows and you can't access your bank account with a foreign IP – draconian times! However, it's time to put an end to this. Did you know that you can get a French IP from anywhere in the world? If you didn't know, it's time to learn more about it. Spoiler alert: it's very simple.
Use a VPN to Change Your IP
In every scenario like this, the solution is always a Virtual Private Network. Now, how it's possible that a tool that costs merely a few dollars a month can be so powerful? Well, that's because it can change your IP in 5 to 10 seconds, giving you tons of benefits.
As many of you know, a VPN allows you to change your online location, providing you with access to foreign sites. Furthermore, it encrypts your connection with a so-called tunnel, in which the traffic flows from your location to the site you want to visit. This principle is shown below:

Logically, it allows you to bypass geo-restrictions and fly low under the government's or ISP's radar. It's very important that you're safe and secure online, hence this solution is much better than proxy servers.
How to Get a French IP Address from Anywhere in the World?
Getting an IP of your choice is very easy. You just need to complete a few short steps, and after that, you can do it in a single click. Sounds too good to be true but this time, it's true. If you don't believe us, scroll down to the steps:
1. Buy a Subscription
Obviously, you want to buy a subscription from the provider of your choice. Our recommended choice is ExpressVPN, a VPN that is working well in France. Given its 49% discount and 3 months free for a 12-month plan, it's a great offer in 2021.
2. Download/Install the App
When you subscribe, you'll be prompted to download the apps. We used the Windows app here but you can do it on your smartphone, as steps are exactly the same. Log in, and you'll see the home screen.
3. Connect to a French Server
Here, click on the country below the power button, choose France, and then, click on the power button. The connection will now be established, making you ready to go.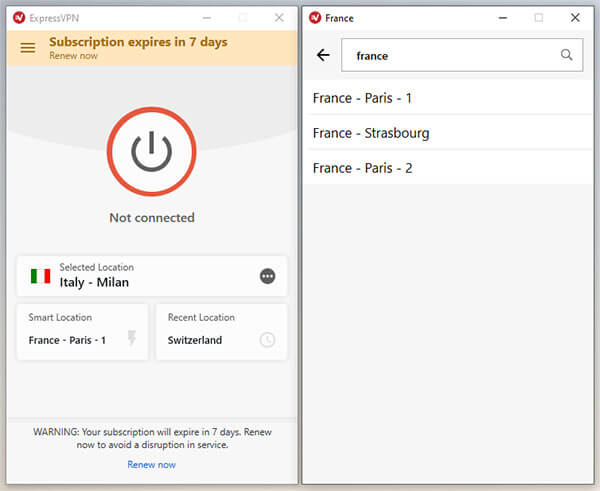 4. Enjoy French Local Content
Finally, you're free to enjoy your local content abroad. Or, if you're not from this country, you can browse what it has to offer online as if you were the resident.
What are the Benefits of Getting a French IP Address?
Those of you who never did this will probably ask – why should I change my IP to this country? And to be honest, there are tons of benefits. Alas, we'll talk about the most important ones. Here's what you can expect:
Enjoy French Local TV and Netflix
France is a great country not only because of croissants and French fries but also because it has lots of quality TV channels. If you know about TF1, France 2, M6, Arte or Canal+, you'll be happy to know that you can access them with a French IP.
Furthermore, you can watch this country's shows and movies on Netflix from abroad. While it doesn't have the largest catalog, you can at least enjoy content on your language.
Access Your Bank Account from Abroad
Many banks will lock you out if they detect that you're using a foreign IP. If you stashed your money in a bank in this country, it might be a good idea to use its IP when abroad. Otherwise, you'll get into lots of trouble recovering your account.
Stay Safe and Secure Online
Needless to say, any type of VPN connection will keep you safe and secure. As soon as you click Connect, your connection is encrypted and you're away from the watchful eyes of your ISP and the government.
Top 3 VPNs to Get a French IP Address
We can give you dozens of providers with servers in this country. However, we're perfectionists, so we'll give you only the best options in 2021. Take a look:
1. ExpressVPN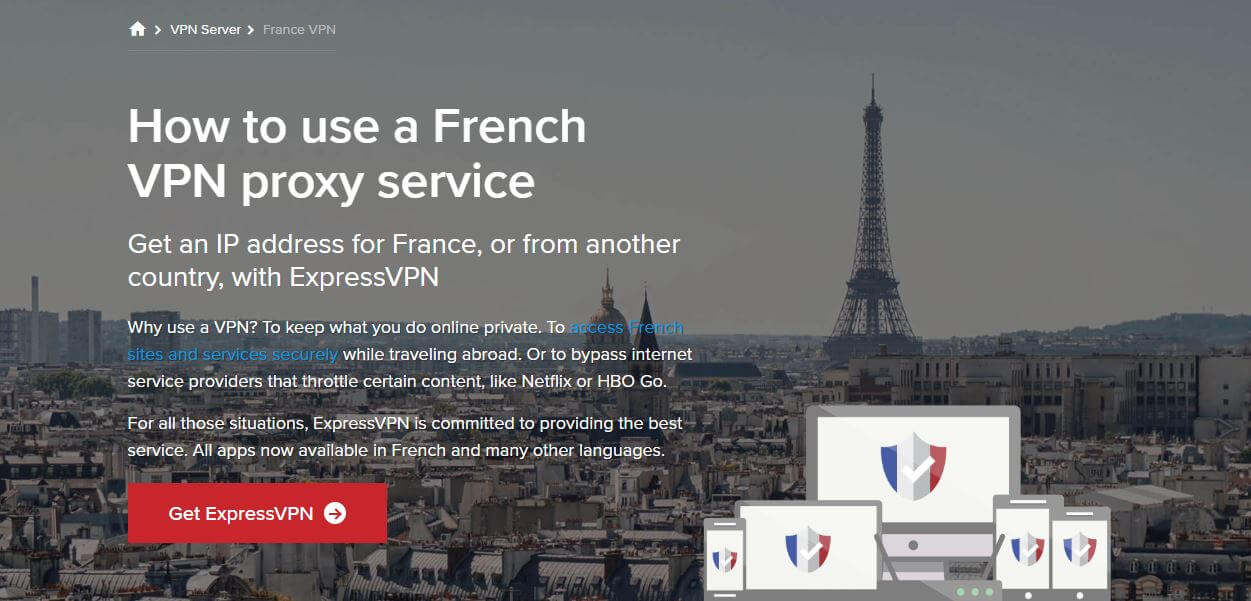 ExpressVPN is an absolute winner in every category, especially when you're trying to get a French IP. It easily unblocks geo-restrictions, giving you unlimited access to Netflix France and local television. Since it's the fastest provider on the market, streaming, torrenting, gaming, and browsing will be smooth as butter.
You get a couple of locations in this country and lots of servers, so you can get an IP in a matter of seconds. Furthermore, it supports every major platform, even including routers, which can help you protect up to 16 or 32 devices simultaneously.
With military-grade encryption, zero-log policy, and 24/7 live chat support, ExpressVPN is the best option on the market. If you don't like it, you can use its 30-day money-back period but you probably won't need it.
Enjoy Fast Speeds With ExpressVPN >
2. NordVPN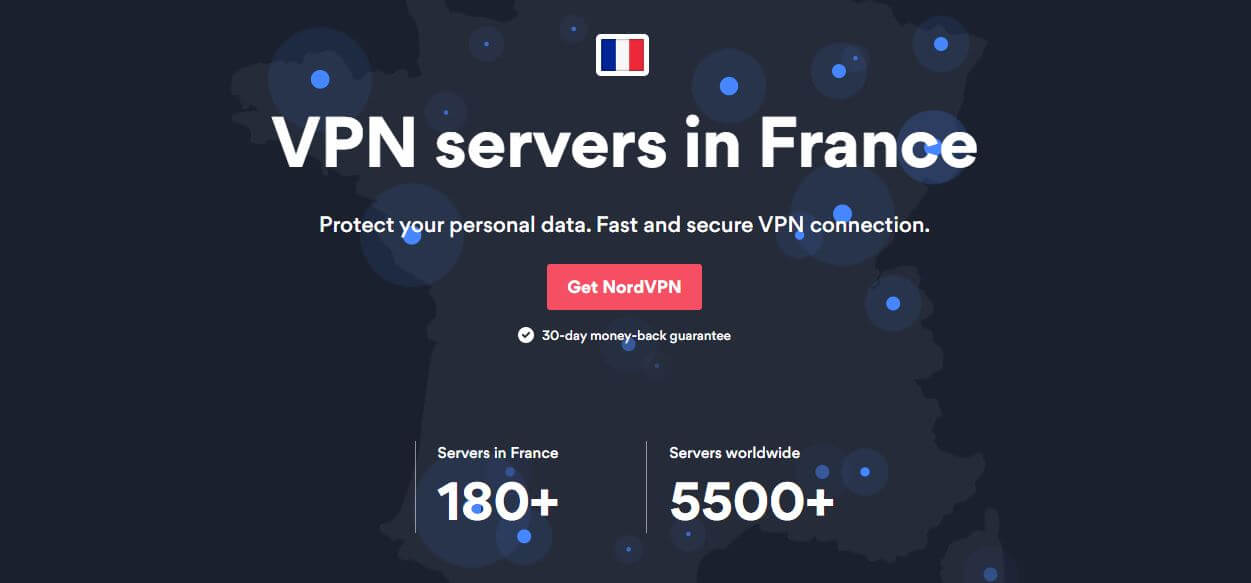 NordVPN is one of the best providers for quite a long time. Judging by its services, it will be here for years to come. The provider has 5,500+ servers in 61 countries, giving you a huge server network. Getting a French IP with it is fairly easy, as it has 180+ servers here.
Speed-wise, NordVPN is a beast and coupled with some neat security features, you get great service that will not break the bank. Some of the security features include zero-log policy, CyberSec, Double VPN, Onion Over VPN, and so forth.
Unblocking streaming platforms is also easy, so you can enjoy your lazy Sunday afternoons.
Use NordVPN to Get a French IP >
3. CyberGhost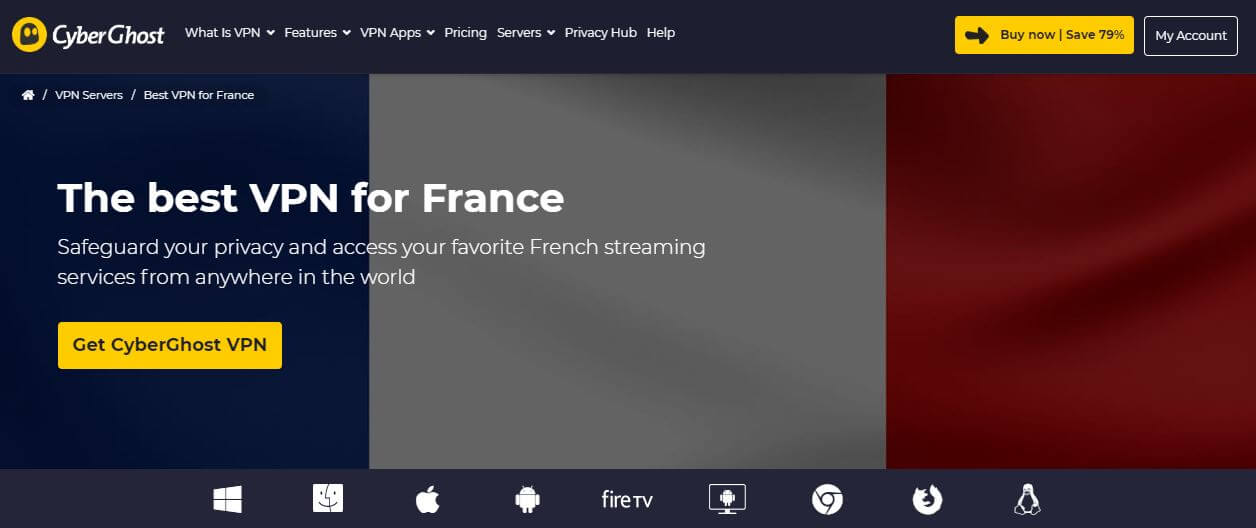 CyberGhost is the largest provider on the market with its 6,200+ servers around the globe. Yup, you've read that well. And to make things better, getting an IP of your choice is easier than ever. With servers in Strasbourg and Paris, you can become an online French resident within seconds!
It offers dedicated servers for streaming and torrenting, so you can enjoy both of these activities. Since it maintains a transparent zero-log policy, you have no worries that your data will ever slip into the wrong hands. Accompanied by DNS and IP leak protection and an automatic kill switch, you get rock-solid security.
Those who buy a 3-year plan will get a 45-day money-back guarantee, which shows how generous the provider is.