Aside from the beautiful kangaroos and colorful landscapes, Australia has a lot to offer in terms of online content. Do you want to access your bank account from abroad? Do you want to watch 10Play easily from anywhere in the world? Well, in that case, you'll need to get an Australian IP. Let's see how to do it.
Use a VPN to Change Your IP
The best tool for changing your IP is a VPN. Many people use proxy servers which are, in our opinion, not as secure as this service as they lack encryption. However, a Virtual Private Network is a whole another story.
It works by encryption your connection, rendering you invisible and anonymous online. The way it does this is by creating a tunnel between your real location and the website you're trying to visit. This process is shown in the image below:

And since it allows you to change your online location, you can easily access Australian local content.
Thanks to military-grade encryption and IP and DNS leak protection that VPNs have, you'll be safe and secure while doing so. Of course, security depends on the provider you choose. But, in this guide, we'll give you the 3 best options for this purpose at the end of the article.
How to Get an Australian IP Address from Anywhere in the World?
How do I get an Australian IP address, then? We used ExpressVPN to show you how to do it, as it's one of the best VPNs that is working properly in Australia. Here are the steps:
Get a Subscription
Getting a subscription is one of the easiest things to do. Visit ExpressVPN's site here and get a subscription you want. We suggest an annual plan since it's at a 49% discount and you get 3 months free.
Download and Install the Apps
Download and install the apps you need. It will take less than a few minutes to install and log in. Whether you're on Mac, Windows, Android or iOS, ExpressVPN supports all of these platforms.
Connect to an Australian Server
Now, click on the country under the power button and find Australia on the server list. Click on it and then click the power button on the home screen. The connection will be established in a few seconds.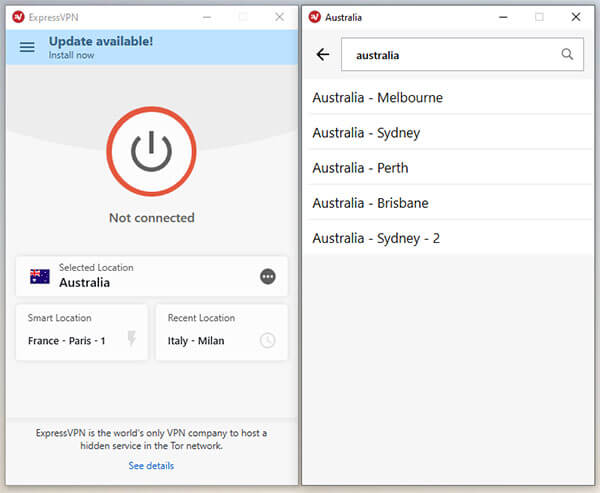 Enjoy All of the Benefits
You can now enjoy Australian local content or streaming sites from abroad – congrats! And what about other benefits? Scroll down to find out!

What are the Benefits of Getting an Australian IP Address?
Changing your IP surely has a lot of benefits regarding safety and the ability to stream content. Here are all the benefits you'll get:
Accessing Australian Local Content
This country has some great local TV shows that are broadcasted on ABC Comedy, 7flix or 9Life. However, these channels are accessible only in the country and not outside of it. By using the IP from this country, you can access it as if you were its resident.
Staying Anonymous Online
Whatever IP you're using, as long as it's fake, you'll be anonymous online. Since no one will know your true location, no one will be able to track you. Not even Google, your ISP or the government! This is great if you're torrenting or gambling, although we don't condone doing illegal stuff online, even while using a VPN.
Enjoy Australian Netflix
You might want to enjoy Australian Netflix in your free time. Despite not being the largest, this Netflix catalog is still very big. Australians can now get their share of their favorite shows from abroad, and so can you if you use this service.
Top 3 VPNs to get an Australian IP Address
As an icing on the cake, let's see what are the best Virtual Private Networks in 2021 for this purpose.:
1. ExpressVPN

As mentioned above, ExpressVPN is the king of VPNs on the market. It's the best provider you can get, especially if we count in its 3,000+ servers, speed, and security. For those far from this country, the speed like this will come in handy, to compensate for the distance.
Needless to say, it's capable of unblocking every geo-restricted platform – even Netflix or 10Play. Security-wise, it offers a no-log policy and military-grade encryption, so you can hide from the 14 Eyes jurisdiction in this country.
With 24/7 customer support and router compatibility, ExpressVPN is simply the best in the cybersecurity business. Its discounts are still at large, though, making 2021 your money-saving year!
Easily Get an Australian IP With ExpressVPN >
2. NordVPN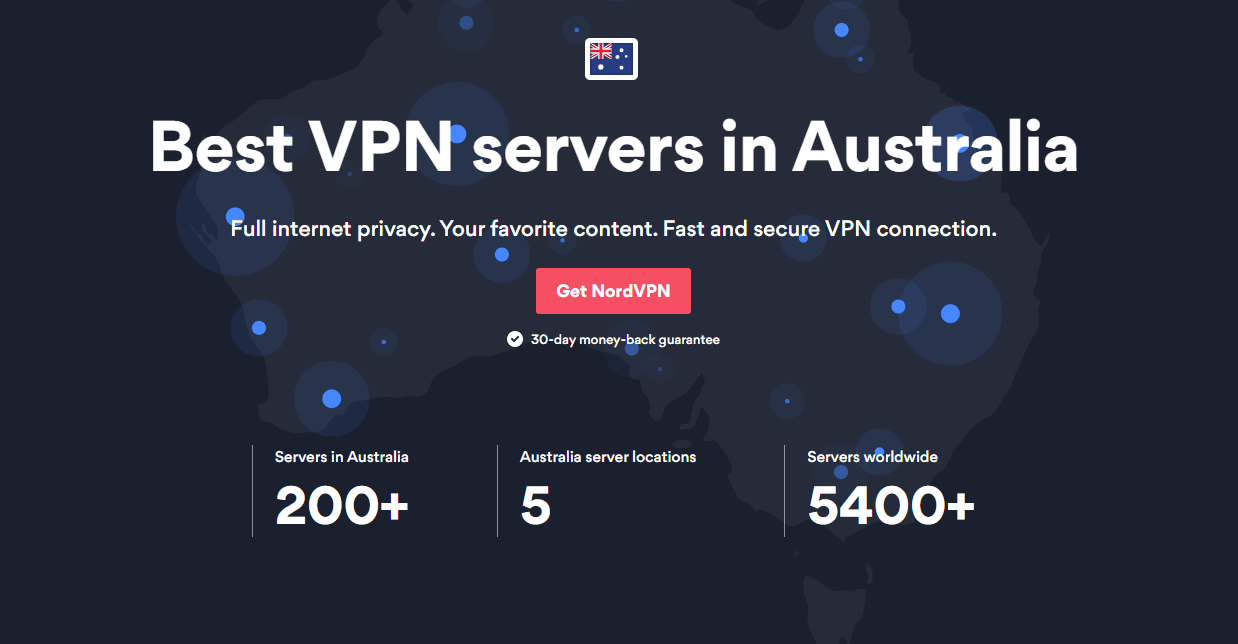 If you like high server counts, you'll be glad to hear that NordVPN has 5,500+ servers in 61 countries. In this country, the provider has 200+ servers, allowing you to take tons of different IP addresses. Performance-wise, NordVPN is an amazing option for every purpose.
It's very fast, it can stream 10Play and local TV channels, and you can even do torrenting and gaming with it. There's also a no-log policy, support for routers, 24/7 live chat support, and a couple of bonus features. These include CyberSec, Double VPN, Onion Over VPN, and obfuscated servers.
The long-term plans here are dead-cheap, so you can buy them if you need this service for an extended period. Overall, NordVPN is one of the best providers for all purposes.
Enjoy NordVPN's Security & Speeds >
3. CyberGhost

CyberGhost is also a great choice for this country. Its 6,200+ servers are speedy, secure, and some of them are dedicated to streaming and torrenting. With its largest server network, the provider will never leave you out of options.
For this purpose, CyberGhost shows some serious speeds and security. Being from Romania, they don't store logs, making you completely anonymous online. It will easily unblock Netflix catalogs from around the world, so you can finally enjoy lazy afternoons with your girlfriend or a cat/dog.
Furthermore, the provider offers some great plans at discounted prices. CyberGhost's 3-year plan is very cheap and it's our recommended option for this purpose. You'll find it more useful than just using an Australian IP address.
Why do we even tell you this? Go ahead and get a Virtual Private Network. Once you feel its benefits, you'll never want to go back.