Due to the geo-restrictions that plague the internet, we sometimes need to change our IP addresses to access the content we want. If you want to access Irish content from abroad, you must do this. Otherwise, you'll end up with a message saying that the site you're trying to access isn't available in your location. So, how do you get an Irish IP address? Read our in-depth guide to find out!
Use a VPN to Change Your IP
A Virtual Private Network is a perfect tool for this purpose. Various proxy servers will give you slow speeds and they aren't secure in terms of protecting your data from hackers. But, since they're often free, people use them.
Our recommendation is to use a VPN. It will allow you to change your online location to Ireland, rendering you as a resident of that country online. This will grant you access to local television, Irish bank account or even Irish Netflix and local online betting sites.
As your internet traffic travels through the tunnel set by this service, between you and the site you want to visit, your data will only be visible to you.
With military-grade encryption and other security measures, this software is perfect for staying safe and anonymous online. You will fly low under the government's radar, making it impossible to be under surveillance.
How to get an Irish IP Address from Anywhere in the World?
So, how to watch Irish TV even if you're abroad? Or perhaps, enjoy everything that this beautiful country has to offer online? Here are the steps:
Get a Subscription
Subscribe to the provider of your choice but make sure that it has servers in this country. Our top choice is ExpressVPN, as it's the best provider on the market in 2021. It currently offers a 49% and 3 months free for a 12-month plan, making it a great choice.
Download and Install the Apps
Upon subscribing, download and install the apps you need. You can download apps for Android, iOS, Windows, macOS, Linux or even set it up on your router.
Connect to an Irish Server
Open the app, log in, and click on the country below the power button. Scroll down until you find Ireland. Click on it and then, click on the power button. You'll establish a connection in a few seconds and now, you're ready to rock!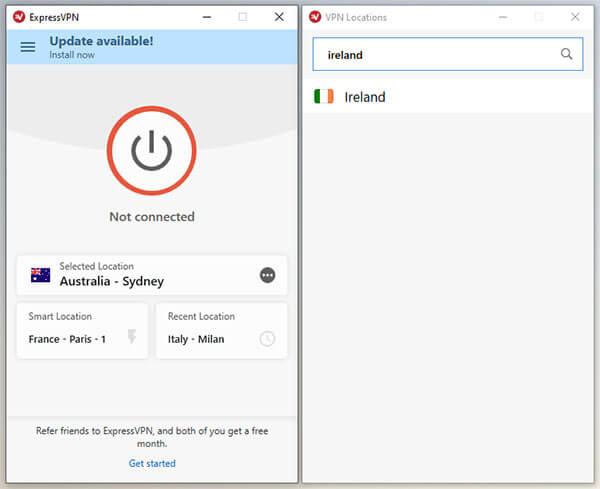 Enjoy All the Benefits
With your connection set, you can enjoy all the benefits this connection allows you. Next time you want to connect, you can just use the previous step – very easy, might we add!

What are the Benefits of Getting an Irish IP Address?
There are numerous benefits of having an Irish IP address. However, let's talk about the most important ones:
Accessing Local TV Channels
Do you want to watch TG4, RTE News Now or BBC TNI? If so, you can do it from abroad with a Virtual Private Network. If you're a resident of this country traveling abroad, this is the only way to do it. Spoofing your IP is easy and can be done in a single click, yet gives you this fantastic possibility.
Staying Anonymous Online
Whenever you establish a connection with this service, you're automatically anonymous online. This way, your ISP or the government can't see you, so they can't track your online activity.
Enjoying Online Casinos in Ireland
Online casinos are a pretty big thing in this country. You can access Magic Red, Mansion, JackpotCity or Spin Casino easily with an IP address located in Ireland. With the possibility to place bets from abroad, you can enjoy online casinos from the comfort of your home.
Streaming Irish Netflix
Netflix Ireland offers some dope TV shows and movies. Whether you enjoy Handsome Devil, Brain on Fire or Cured, you'll be able to access them with ease.
Top 3 VPNs to Get an Irish IP address
Now, let's see what are the best choices for getting this country's IP in 2021:
1. ExpressVPN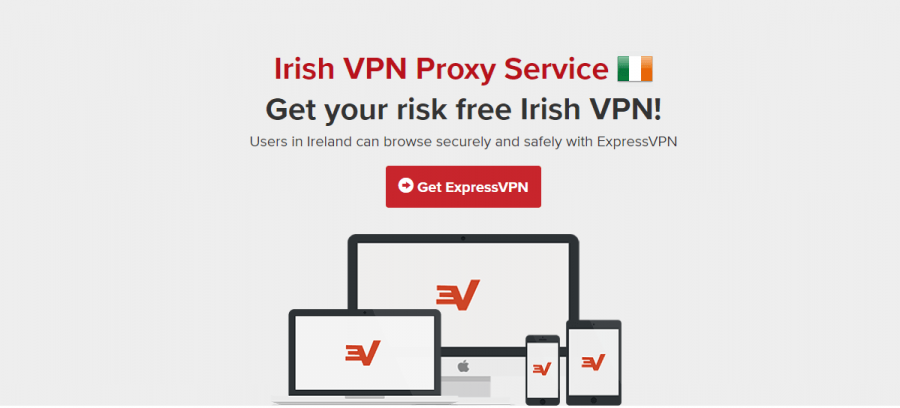 ExpressVPN comes from the BVI and has 3,000+ servers in 94 countries worldwide. A decent portion of these servers is in this country, making it ideal for this purpose. Given how fast it is, you can easily stream 4K content, do some gaming, and enjoy torrenting to your heart's contempt.
Security-wise, ExpressVPN gives you a zero-log policy, 256-bit encryption, kill switch, and DNS and IP leak protection. There's even split tunneling, which is great for splitting your traffic through VPN and non-VPN IP address.
To top it all up, it has 24/7 live chat support and supports routers. With all these features, after buying this provider, you'll never look back!
2. NordVPN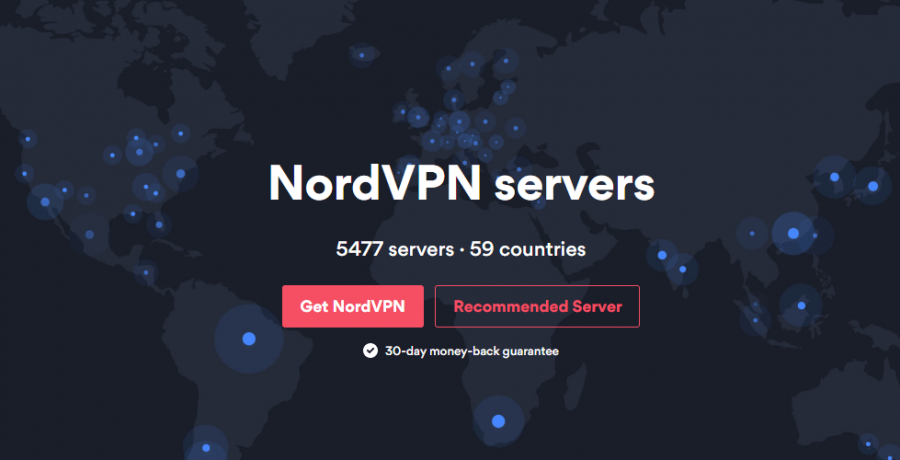 NordVPN comes with 5,500+ servers in 61 countries and as such, it's one of the largest providers. However, its strength doesn't lie only in size. You get rock-solid security that will keep you anonymous and safe all the time
With 60 servers in Ireland, it allows you to easily get an Irish IP address. And with that, you can enjoy all that this country can offer online. Some Netflix shows in high quality, play some online casinos or enjoy competitive gaming with low pings.
Having a no-log policy, your data will remain safe and secure, as NordVPN doesn't store any of it. This is very important, and so is Onion Over VPN, which allows you to use Tor with the provider for added security.
Grab Your Irish IP On NordVPN >
3. CyberGhost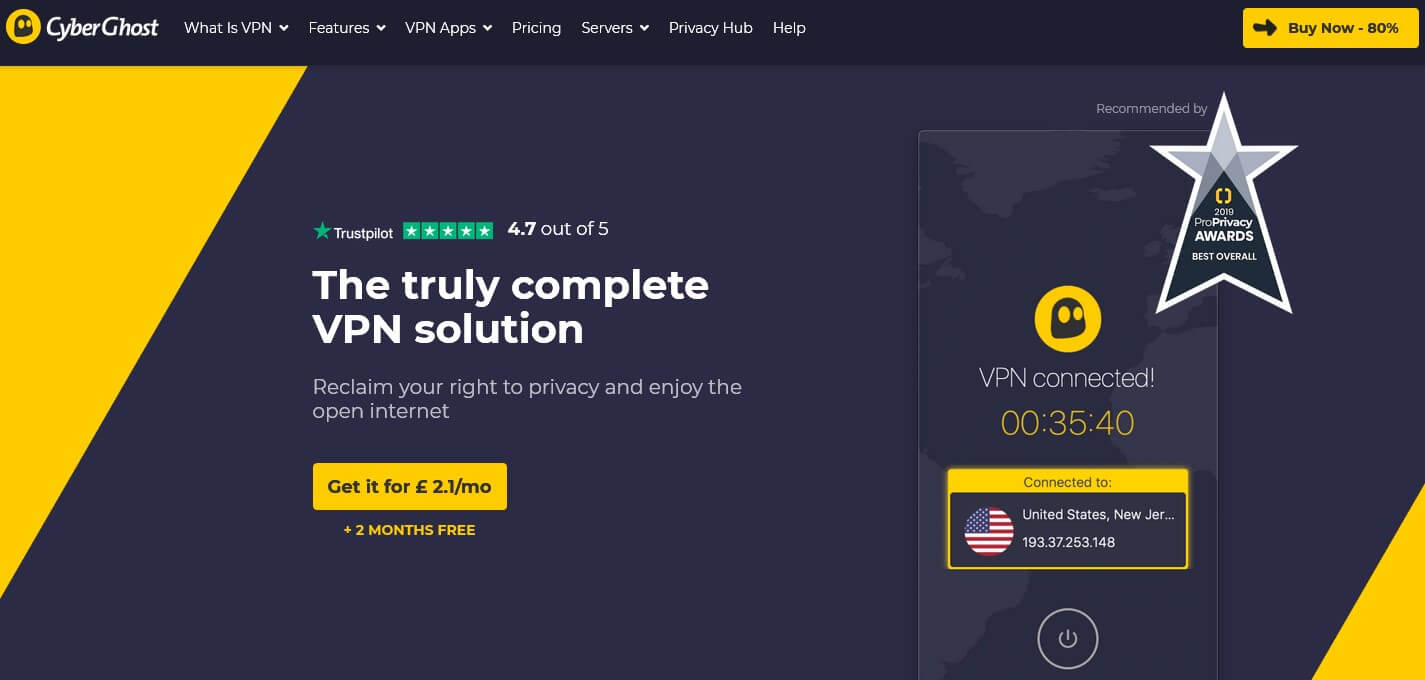 CyberGhost represents a great money-saving option in 2021. Boasting 6,200+ servers worldwide, we're talking about an ever-growing provider. Still, the only thing that didn't grow is pricing. This is still a very cheap, yet great provider for both newbies and experienced users.
It allows you to bypass geo-restrictions and modify your IP address easily. Furthermore, it has 256-bit encryption for keeping your data intact. And since it's from Romania, the provider doesn't store any logs, making you even safer.
This is among our favorite providers, mainly because it offers all the important features for affordable prices. We know how important it is to save some cash, and so does CyberGhost. Take a look at what it has to offer and see for yourself.