Namecheap VPN comes with a pretty unique name that doesn't contain security or privacy in it. The main selling point should be the word "cheap." Truly, we're talking about a very affordable Virtual Private Network that many budget-oriented users will take into consideration. But, is it any good? Can a product this cheap provide decent performance? Well, let's find that out in our Namecheap VPN review for 2021.
What is Namecheap VPN?
If you're into domain registrars and web hosting, you've probably heard about this company. Namecheap made its name in this game and while it's not the most popular option, it still has its user base. Near the end of 2018, the company decided to expand its business model to a whole different area – cybersecurity.
Since then, Namecheap VPN exists and is using Stackpath's servers, which is a company that owns StrongVPN and IPVanish. We need to mention that Namecheap is from Arizona, USA, so it might not be the best privacy-oriented Virtual Private Network.
All in all, our expectations of this provider aren't very high. In the following review, we'll see if it's still going to disappoint us or make us recommend it. Let's do this!
Compatible Devices and Ease of Use
Before we talk more about Namecheap VPN in the review, we need to cover some basic stuff – supported devices. Namecheap VPN, as we said, is a very cheap provider, hence it won't support many devices. At least in theory. But, some surprises are here and we have a bit more advanced device support than your standard mobile and desktop devices.
Here's a screenshot from the provider's website:

Starting from the left, the provider supports Android, Windows, iOS, macOS, and Routers. Yup, you've read that well – the provider lets you connect it to a router! As for other platforms here, the provider offers dedicated apps for each, so you don't have to use the OpenVPN app to make it work.
While device support isn't very impressive, we're glad that routers are on the list. Even more expensive providers fail to provide support for this device, so hey, props to you, Namecheap!
Computers
When doing reviews, we test different providers on two or three platforms, to see how well they perform and look in practice. First, we're going to show you how to install Namecheap VPN on a Windows computer, and in the next section of our review, we're going to take a look at a smartphone.
As stated above, Namecheap VPN supports both Windows and macOS, albeit, we'd like to see Linux on the list, as well. Nevertheless, download the provider's app from the website and double-click on the setup file.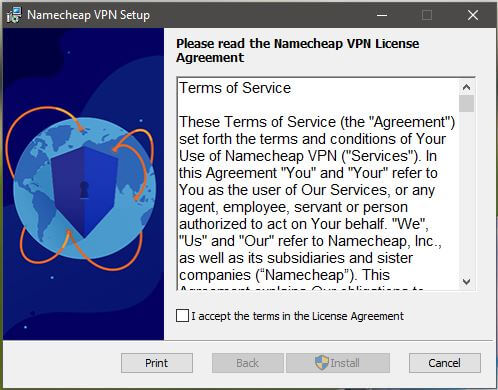 If you don't care about terms of service, we suggest your skip it, tick the box, and click Install.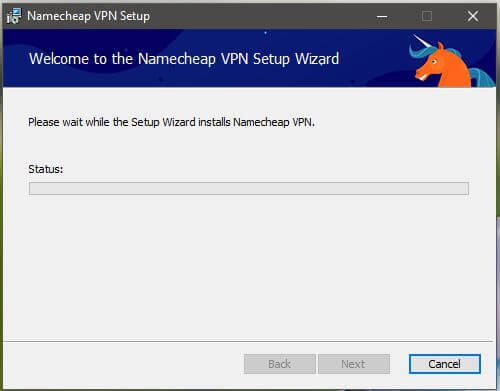 The installation will now begin and it lasts less than a few seconds. After that, the final installation screen looks like this: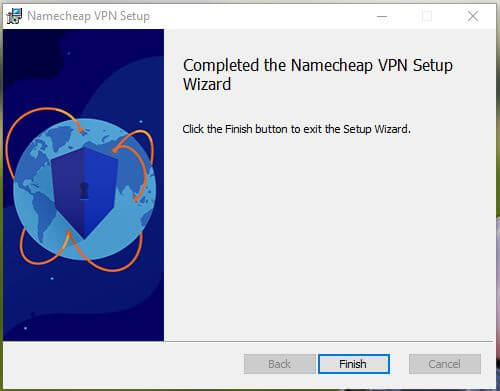 Click Finish here and the app is installed. Pretty easy, wasn't it? Okay. Let's see how the app looks now.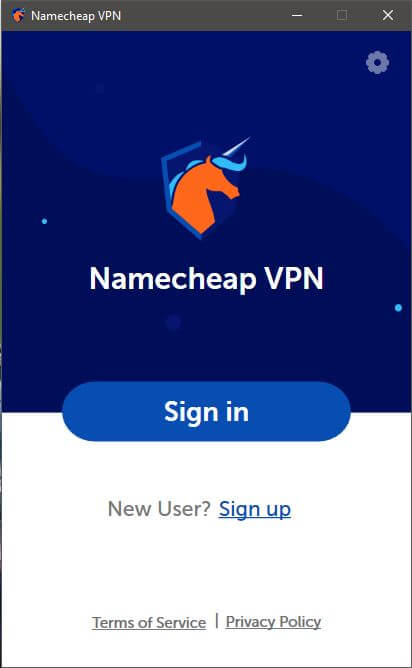 The app's welcome screen is pretty. We see that the company loves unicorns, although it's far from being the one in this industry. Just click on Sign In, type in your credentials, and you'll be at the home screen in a few seconds.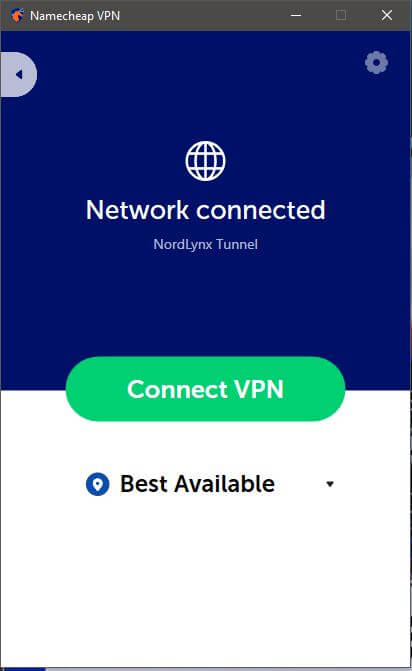 We like that the app follows a simplistic template, with no big changes between the menus and the home screen. How to open the server list now? Just click on the arrow in the top-left corner and the app will expand like this: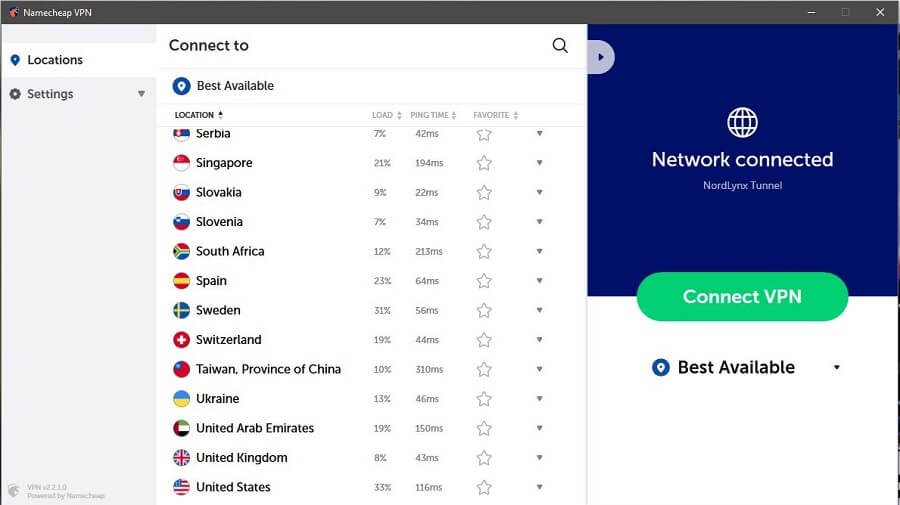 Honestly, we didn't expect this many servers here. Just double-click on the server you want and the connection will be established in a few seconds.
We connected to the US server and the app changed its upper portion to green, indicating that the connection is successful. In short, the app looks decent and is very easy to use.
Smartphones and Tablets
When you see the app on a smartphone, you'll think that someone else made it. Namecheap VPN literally made a better app for smartphones than for desktops, which is kinda… strange?!
Our testing device here is an Android one, so we'll use a smartphone to show you how the app looks on a smaller screen. To get the app, visit the Google Play Store and download it, as shown in image 1.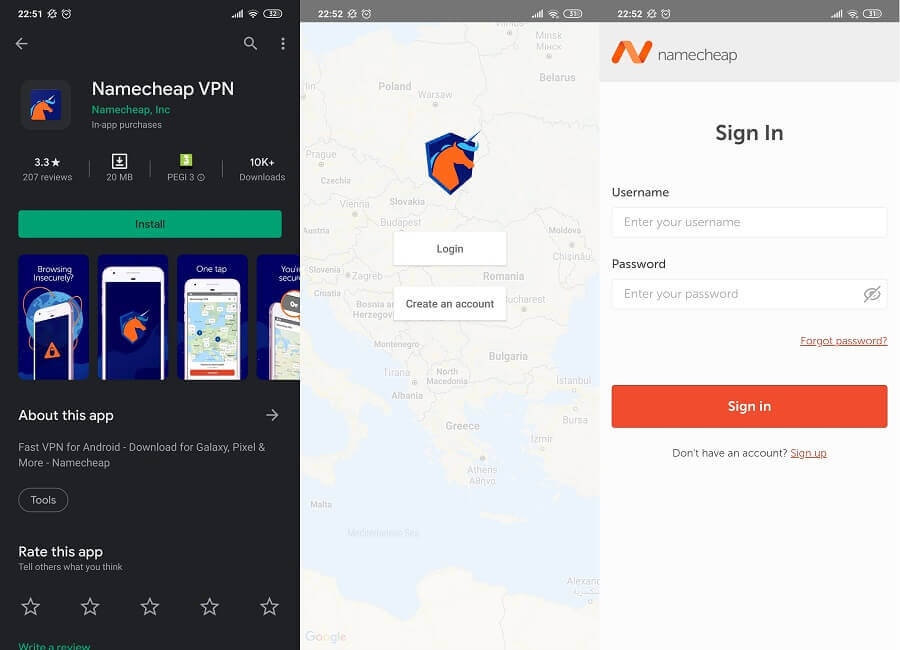 Run the app and the initial screen will appear, as you can see in the image in the middle. Given that we already have an account, we tapped on the Login button to enter our credentials. In the Login screen in image 3, you can see how that looks. Enter your data, tap Sign In, and you'll be at the home screen in a second.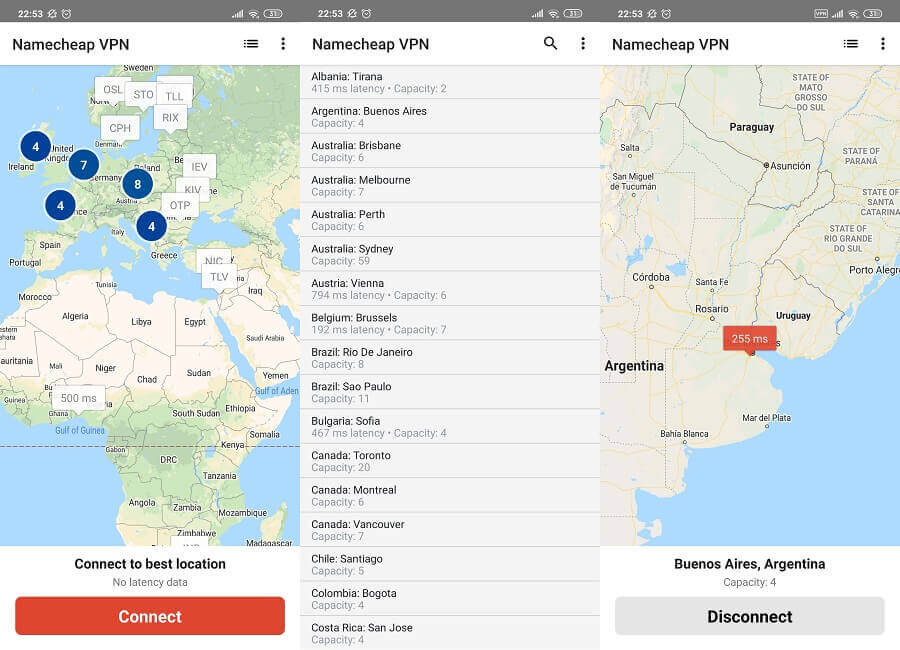 Namecheap VPN even included a world map here, which you can zoom in and out, or pan – such a great addition! Why the PC app isn't like this – we don't have a clue! From here, you can connect either by tapping on the server you want or clicking on three horizontal lines to open the server list – the image in the middle.
The server list even shows you the server capacity and latency, which is yet another nice addition. Choose the server you want and establish a connection immediately. We can see how that looks in image 6.
We're pleasantly surprised by how the good this app is. Namecheap VPN outdid itself this time – bravissimo!
Other Devices
You won't get all the fancy possibilities when using Namecheap VPN. Sure, ExpressVPN will let you manage your VPN on Firefox and all that stuff, but this one is much cheaper, so keep your expectations at bay. One thing where the provider impresses is router support, though.
Once you click on the Routers category, a whole guide opens, explaining how to connect it to the device. We like this approach, as it's very helpful for those who want to do this, yet they've never tried it.
Remember – connecting a VPN to a router lets you protect up to 32 devices simultaneously in your home! Oh, and it also expands this device support a little. Every device that connects to a router can be protected, so it can be your gaming console, Roku, Apple TV, and so forth.
How Fast is Namecheap VPN? We Checked Its Speed!
So far, Namecheap VPN did a great job in our review. With solid device support, you probably reckon that the speeds will be as impressive. Well, before we move on to results, we need to repeat something – this is a CHEAP provider. Cheap providers, as we know, aren't always good when it comes to speeds, with the exception of Surfshark, of course.
Every provider will reduce your speeds to some extent, but there's a huge difference in 10% and 80% reduction. Since the speeds depend on many factors, such as distance to the server, server load, and quality of the network, we need to explain how we did our tests.
For this Namecheap VPN review, we did 3 tests in the morning, 3 in the mid-day, and 3 in the evening, for 3 testing locations. Furthermore, we kept the best score and used the best location when that was possible. Our physical location is the United States (non-VPN test) and we used these 3 testing locations:
The United States
The United Kingdom
Australia
Without using a Virtual Private Network, our native internet speeds are:
Ping: 11 ms
Download Speed: 211.88 Mb/s
Upload Speed: 202.20 Mb/s
When using Namecheap VPN for this test, our ping, download, and upload speeds respectively, for 3 testing locations, were:
US Server: 29 ms / 75.32 Mbps / 82.18 Mbps

UK Server: 148 ms / 26.39 Mbps / 37.02 Mbps

Australian Server: 371 ms / 12.63 Mbps / 20.47 Mbps

As you saw, our native internet speeds are pretty beefy. Yet, Namecheap VPN managed to reduce them by quite a lot – even when using the server in the United States. Unfortunately, this is far from being fast, especially when you look at the two servers outside of where we're located.
The UK server was borderline usable, while the Australian one was, for us, unusable. We couldn't enjoy streaming, torrenting, or even browsing Facebook and Instagram properly. With the speeds this slow, the provider set itself up for a disaster, but let's not give any early prognosis in this in-depth review.
How Good is Namecheap VPN for Streaming?
When you have a slow internet connection, you aren't going to enjoy your time online very much. Pages that take years to load, videos that constantly buffer, and "error 404" are just some of the things you can expect. Namecheap VPN isn't very fast, so don't expect it to be a world-class performer when it comes to streaming.
The question is, though, can it unblock streaming sites? Let's find out by starting with Netflix US, the most popular streaming platform worldwide.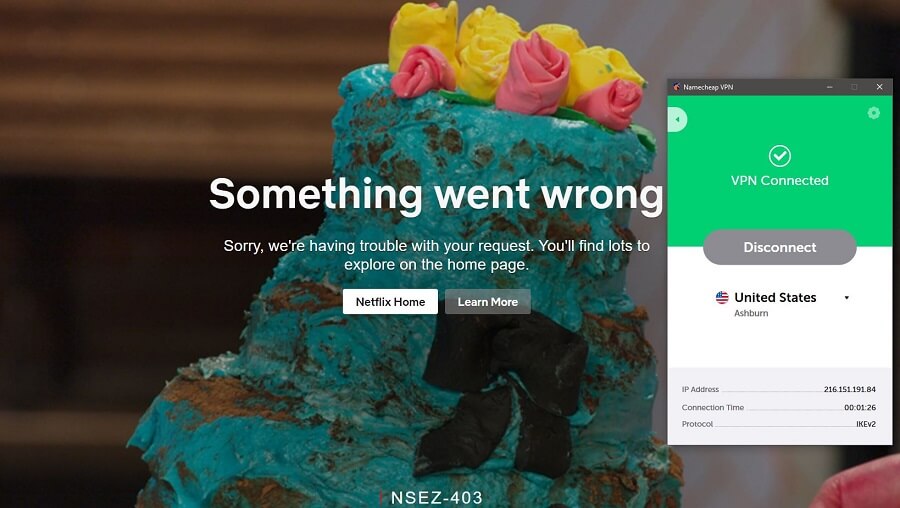 As soon as we tried to sign in to our account, we received this message. Obviously, Netflix detected that we're using a VPN, thus it locked us out of the website. We're certain that this is the case because we tried ExpressVPN afterward and it worked. To conclude, Namecheap VPN can't unblock Netflix – such a shame.

After Netflix, we decided to test Amazon Prime Video. This platform is a pain in the butt for many VPNs, as not many of them can unblock it. Namecheap VPN is just another statistic. Prime Video detected that we're using it and gave us a middle finger – thanks…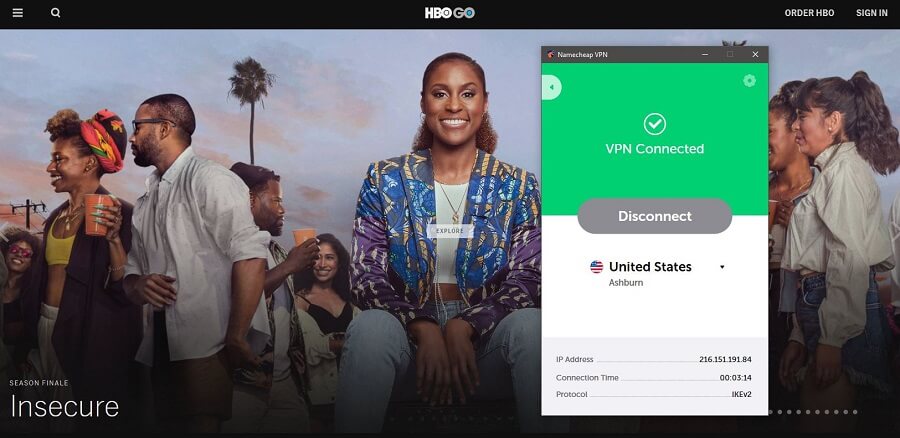 HBO GO, on the brighter side, worked. We expected this, given that even free VPNs manage to unblock it, more or less.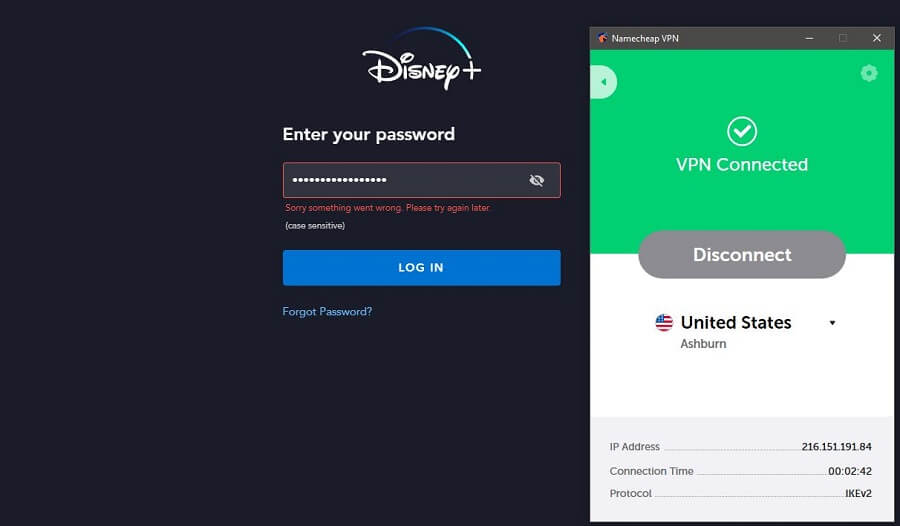 We encountered a very strange situation with Disney+. It was seemingly unblocked, but once we entered our credentials, it didn't want to sign in. We decided to wait for a few hours and try again, but with no avail. Later, we changed the provider and managed to access the site, which shows us who is the culprit.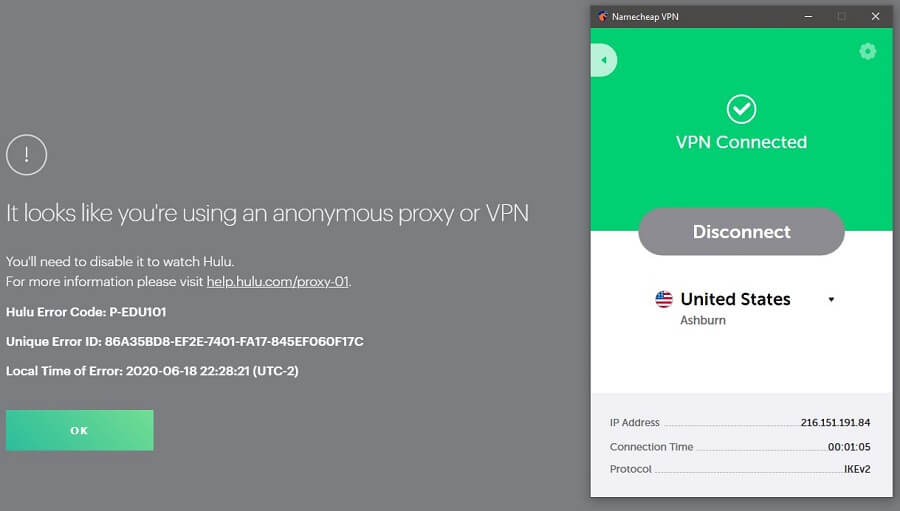 Hulu blocked us straight-up while doing this review of Namecheap. It looks like you're using an anonymous proxy or VPN – well, thanks buddy, we didn't know that!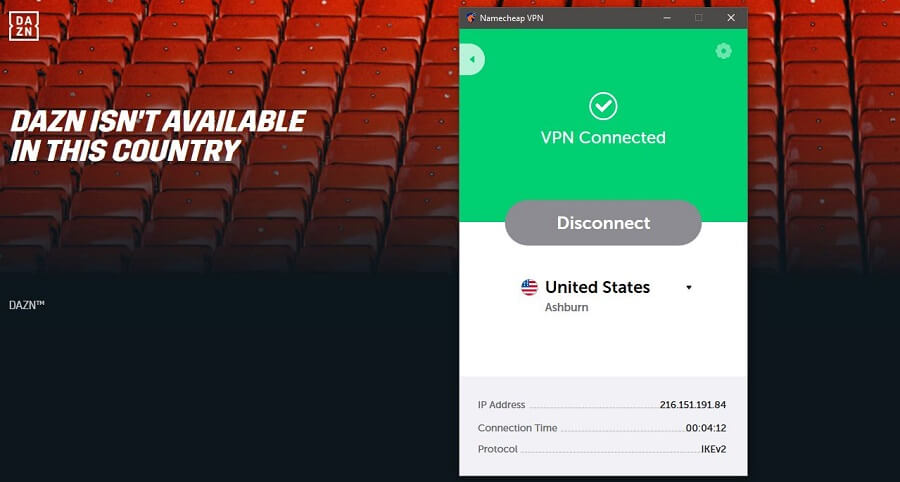 DAZN is available in the US but not when using Namecheap VPN. We tested a Brazilian server, as well, but once again, with no avail.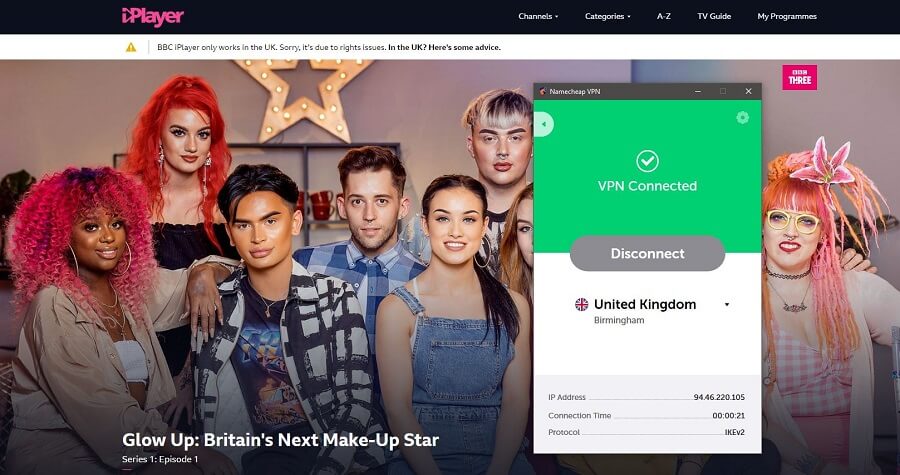 Lastly, we tested BBC iPlayer and it didn't work. We got this standard message that implies that we're not from the UK.
So, let's wrap up this section of the review. Our streaming test exposed the secret behind the provider's low price. You can't get a dirt-cheap VPN and expect it to perform like the premium one. Namecheap VPN unblocked only HBO GO, while all the other platforms were inaccessible, no matter how many times we tried.
For streaming, the best option is ExpressVPN. It has the fastest speeds and unblocks all the tested sites above.
Confidentiality, Security & Logs
A safe and secure provider lets you browse the internet with ease, knowing that you can access torrent sites safely or enjoy the Darkweb. Being from Arizona, a country from the USA, the provider is caught between a rock and a hard place. On one side, it promises to be a zero-log company, and on the other side, the 5 Eyes jurisdiction takes effect.
Let's glance over to the privacy policy and see what the provider has to say.

The provider has two types of information it collects, with the first one being basic information. Here, they collect your name, phone number, email address, but also the IP address, which is never good.

Now, when you use the Namecheap website, they also collect some info, or better said, a substantial amount of info. For the start, information from your devices, such as IP addresses or other data that will help the provider recognize your device. One thing we don't like is the use of third parties for tracking your browsing.
Allegedly, this is only within the website, but we aren't so sure about that. Moreover, they collect your demographic information, for, as they say, "making your browsing and purchasing experience more enjoyable."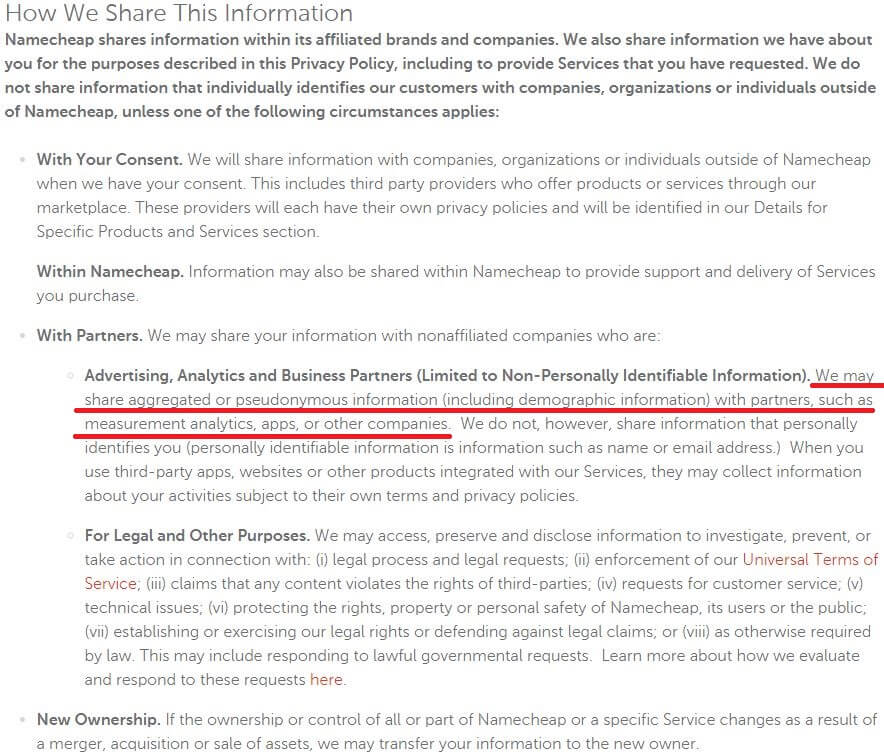 Finally, we can confirm that they share your data with third parties, and this data includes demographic information, as well. To translate, they know where you're located. Take your time and read through the policy. We've already seen enough and what we saw didn't make us happy.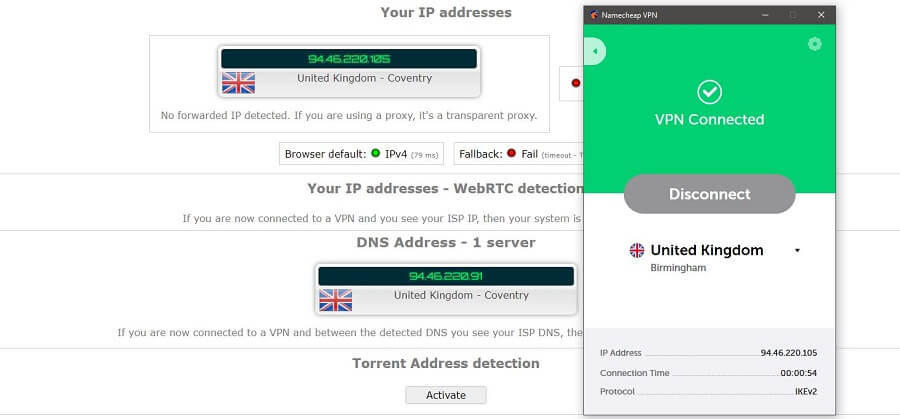 We also did an IP leak test, where Namecheap VPN did a decent job. With no IP or DNS leaks, it passed this test successfully. Other security features include 256-bit AES encryption and even an automatic kill switch, which is quite a surprise at this price point.

In terms of VPN protocols, two main variations are available – OpenVPN and IKEv2.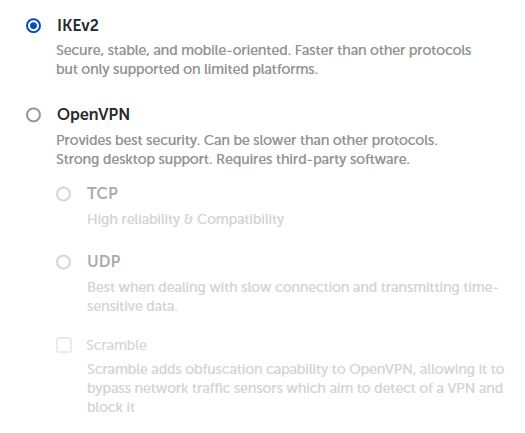 If you choose OpenVPN, you can add an option called Scramble. It adds obfuscation to OpenVPN, which will, in theory, allow you to bypass firewalls. We'll see if that works in just a moment.
Can I Do Torrenting Safely with Namecheap VPN?
The US-based providers rarely allow torrenting due to DMCA that closely cooperates with these companies. However, IPVanish broke the chains a few years ago, allowing and encouraging torrenting when using the provider. Namecheap VPN will have to fulfill two conditions for this – have a no-log policy and very fast speeds.
Unfortunately, the provider doesn't have any, making it unsuitable for torrenting. Despite this, we tested it on 1337x.to.

Our download was successful indeed, but we don't recommend the provider for torrenting. It simply stores a bit too much and its privacy policy isn't as clear as we'd like it to be. It's better to be safe than sorry!
Can I Use Namecheap VPN to Bypass Censorship?
Namecheap VPN decided to go with the route we all like – cram in all the possible features for the price. And honestly, we appreciate that. The inclusion of the Scramble functionality is a welcome one. In theory, it should pass all the firewalls from different countries.
When we talk about censorship, we usually mention the Great Firewall of China. This is the strongest firewall around, blocking dozens of VPNs each day. That being said, we gave our testers in China the app to see if it works reliably there.
As expected, even with the Scramble feature, they couldn't manage to make it work. The Great Firewall constantly blocked internet access, making the provider useless in this country. To summarize, we don't recommend Namecheap VPN for bypassing censorship in China, Iran, Iraq, the UAE, and Russia.
Pricing and Plan Options
The star of the show here is the affordable pricing, which made Namecheap VPN an interesting candidate for a review. Let's see how cheap it truly is: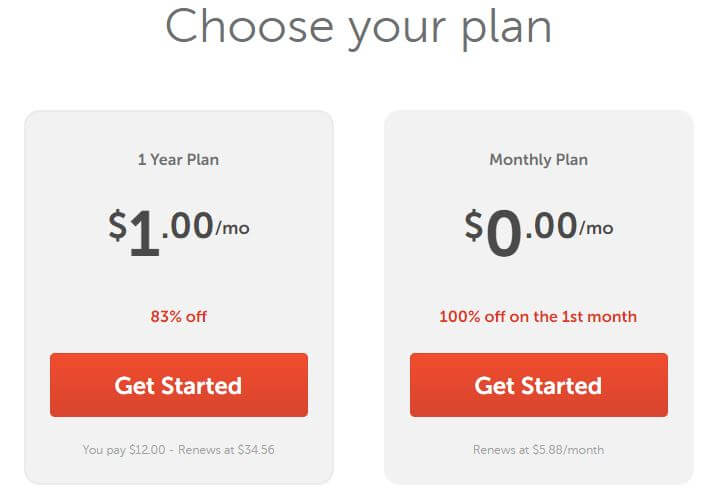 There are two plans available here – the annual and the monthly plan. If you go for a monthly plan, you'll get it for $0.00 for the first month. After that period passes, it renews at $5.88 a month. What about the annual plan? Well, in the first year, it'll cost you just $1 a month, so you'll pay $12 for that.
When that period ends, the subscription continues at $34.56 a year, which is $2.88 a month. We'll be honest as always – Namecheap VPN is truly one of the cheapest providers out there. Even when that "honeymoon" period ends, the subscription isn't very expensive.
Should you decide to buy it, know that you can use PayPal, credit/debit cards, and Crypto to pay for your subscription. And if you don't like it, the provider offers a 30-day money-back guarantee, with no strings attached.

To get a refund, you'll have to contact the support team. Let's see how to do that in the next section of this complete review.
How Can I Contact Namecheap VPN?
Contacting Namecheap VPN is very easy, especially since it offers a plethora of methods for doing so. Here's what you can expect:

For the fastest problem solving, you can use live chat. Here, the support team will respond in less than a minute. You can then ask for a refund or about any other VPN-related problem you're facing. Alternatively, you can submit a ticket, where the support team will take up to 24 hours to respond, depending on how busy it is.
There's another method, too – leaving feedback. If your feedback isn't very good, the company will get in touch with you and try to help you fix the potential issue. The other two methods include status updates and fresh news. You can't contact the company using them but you can get more information about it if you want.
We haven't mentioned that support is available 24/7, which is very important. This means that you can get help at any time of the day or night.
The Special Functionalities
Apart from the security features we mentioned in the review, Namecheap VPN doesn't offer anything out of the ordinary. Sure, kill switch is there and the ability to add obfuscation, but that's all. We'd like to see split tunneling here, for example, or in the future, a WireGuard-based solution if possible. For now, don't expect the provider to give you anything more than a basic VPN experience.
Other Things You Should Know
Some things are still left unsaid and to make this review comprehensive, we need to mention them.
Number of Servers
Surprisingly, Namecheap VPN packs quite a lot of servers for the price – 1,000+ of them!

This server count is on the level of Surfshark, yet the provider is much cheaper.
Number of Countries
In the image above, we see that these servers are scattered throughout 75+ locations around the globe. Once again, an impressive number. StackPath's servers are perhaps one of the best and the most abundant out there.
Number of Simultaneous Connections
Namecheap VPN is similar to Surfshark again, offering unlimited simultaneous connections on a single account.

If we couple that with router support, we get impressive connectivity abilities from the provider.
What Do Other Users Say About Namecheap VPN?
Namecheap VPN isn't a very popular option on the market and finding a bit more info about it wasn't easy. We managed to dig out something from Reddit, Google Play, and Apple Store, though. Let's start with Reddit.

The user isn't satisfied with customer relations. He didn't buy a VPN but a website domain, but nevertheless, the review shows that the company isn't trustworthy. As he says, they took his domain down 15 days earlier than they promised, which isn't a fair business if you ask us.

Another user from Google Play isn't very satisfied. When connecting to Hong Kong, the app shows that he's in Australia. That's the proof that something isn't working well on Android, although we didn't have these issues.

Since we couldn't find any Namecheap VPN reviews on Trustpilot, this is the last one. Despite giving a one-star review, this uses says that you get what you pay for, but with a caveat. In his words, the app was crashing so badly, that it crashed during his website creation, which made him lost 2 hours of work. He ends the review by saying that he's canceling the subscription.
Conclusion: Should You Take It?
Let's conclude our review of Namecheap VPN now. We've said everything about the provider that you need to know, so it's time to digress on it and see if Namecheap VPN is worth a shot.
Having in mind that it costs just $2.88 a month for an annual plan, we can't expect much from the provider. We liked its Android app, automatic kill switch, and relatively big server network. But, despite its low price, we still expected more from it in terms of streaming, speeds, and safety. Its privacy policy isn't zero-log, making it inferior to the likes of Surfshark and CyberGhost.
If the provider was zero-log, we'd gladly recommend it. However, knowing that it stores more data than some of its cheap competition, we don't recommend buying Namecheap VPN. A perfect alternative would be ExpressVPN, which is the best provider on the market at the moment.