Looking at the VPN market, you are likely to find hundreds of different providers claiming to offer undisputable anonymous performance. However, the fact is that many are nowhere near as secure and reliable as you would expect. Considering this, NordVPN stands as one of the leading names in the industry. It is global, versatile, user-friendly, secure, and affordable.
Still, much like any other product, this provider is not able to offer flawless performance in all aspects. For this reason, we have decided to go through its main features and discuss what could be done better. Also, we have prepared a list of the best alternatives, including a couple of paid options, as well as a single free option. Let's get right to it!
What Is NordVPN?
A Virtual Private Network's main purpose is to ensure optimal security features and allow you to access content that is usually blocked in your location. Additionally, a strict no-log policy would be offered by a provider that is looking to offer the best service.
Before you can understand the aspects in which NordVPN can improve (hence you might me looking at alternatives), you should be familiar with what it offers in the first place. As we have mentioned above, it is among the most reliable options when it comes to security and anonymity.
This is because of the fact that its parent company is set in Panama. This country is not subject to any data retention laws and is not a part of the 5-9-14-Eyes alliance.
Furthermore, their service is highlighted by an array of security instruments, including a kill switch, CyberSec, and 256-bit AES encryption. Also, it features OpenVPN, IPSec, and IKEv2 as the main tunneling protocols, allowing good overall compatibility.
Most importantly, NordVPN comes with more than 5,000 different servers that are set in just below 60 countries. This means that you will be able to enjoy censored content from North and South America, Europe, Africa, Asia, and Australia.
Also, the pricing options are quite friendly, which makes NordVPN a great long term investment. You will pay just $3.49 per month for the 3-year subscription option.
However, NordVPN is not flawless, as there are a few elements that could be made better, and that is why we will be looking at the best alternative right after.
Downsides of NordVPN
There is no sugarcoating the fact that NordVPN is currently one of the most famous providers on the market. This is mostly due to the fact that it offers great security and privacy, and it comes with the ability to easily access 150 streaming platforms.
Not to mention, the huge server park is a part of the package you will be getting if you decide to become a NordVPN subscriber. While NordVPN's great quality is apparent, we still have two major concerns.
Average Server Speeds
We would all like to enjoy both anonymity and fabulous internet speed. Unfortunately, in most cases, that is not an option.
When it comes to this Panama-based provider, we found that the server speed and connectivity were just above average. Firstly, we tried their EU servers, considering the fact that we are located in the UK.
We experienced a 30% drop in both download and upload speed when connected to the German server. The same was true with the locations in France and the Netherlands.
While that performance is fair, it is nowhere close to what ExpressVPN and CyberGhost offer. The best results were with the server in London, where we had a 15% speed drop and a ping of 40ms.
Talking about NordVPN, everyone knows that it usually works great for unblocking Netflix. However, if you are logging on to a US server and your internet connection is not reliable right off the bat, you are going to have issues.
After a couple of servers tested, we found that the ping was set between 160-170ms. Also, in most cases, the upload and download speed were decreased by 40%.
Once again, while not dramatic, this simply is not something you would expect out of a top-rated provider.
Lastly, we connected to Australian and Asian servers in Sydney and Tokyo. Unfortunately, the ping was quite high at 300ms, and the speed results were much like the ones that we got with the US locations.
Unreliable Refund Policy
We always emphasize the importance of a money-back guarantee, as well as effective customer service. While the latter in this case is indisputable, given their live chat feature, we are concerned with the reimbursement policy.
While NordVPN offers a 30-day refund window, there are a couple of conditions that come with it. You will be able to ask for your money back if you have paid with PayPal or a debit/credit card.
However, anyone who paid through Amazon, BestBuy, StackSocial, or with a gift card/prepaid card will not be eligible for a refund.
Also, if you made the purchase through the Apple/iTunes store, you will have to contact their customer support and not NordVPN.
Our Favorite Alternatives to NordVPN
Given the aforementioned aspects, as a user, you may want a service with a better refund policy and faster performance. Here are a few substitutes to consider:
ExpressVPN
Firstly, it is hard to look at the best alternatives to NordVPN without mentioning one of the best providers on the market. ExpressVPN is highlighted by exquisite speeds, as well as a large server park that offers reliable performance across the globe.
If you are not familiar with ExpressVPN, you might also be interested in this article : https://monkeyprivacy.com/expressvpn-review/. Based in the British Virgin Islands, it offers one of the best security and privacy aspects of all the providers.
Thus, you will not have to worry about logging or potential leaks.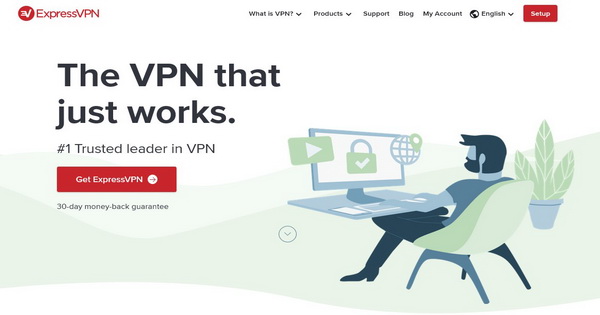 Why Choose This VPN Over NordVPN?
The answer is quite clear – for the incredible server speeds that it offers. As we have mentioned above, no matter your location, you are sure to enjoy great performance.
We experienced just a 15% drop when connected to the servers in the UK and a 20% drop for Australia and Hong Kong. Additionally, the servers in the EU worked flawlessly, with less than a 5% speed decrease for numerous locations.
Also, the ping never exceeded 150ms.
Why Is ExpressVPN Better Than NordVPN?
It all depends on what you are looking to get. ExpressVPN is more expensive than NordVPN. However, the speed and reliable refund policy that it offers justifies the premium service that it claims.
Get a subscription at ExpressVPN.com >
CyberGhost
You have probably heard or read about this provider as being one of the most affordable options out there. The fact that it will only cost you around $2.75 per month for the 3-year option makes it friendly for those on a budget.
This service is based in Romania and has been claiming great security and performance for years. What we can say is that it is one of the best options in terms of usability and compatibility. Its VPN for iPad is particularly appreciated for its ease of use.
Not only that, but it also has the ability to unblock censored content in China thanks to its Hong Kong server. This service offers reliable performance with more than 7,000 server locations around the globe.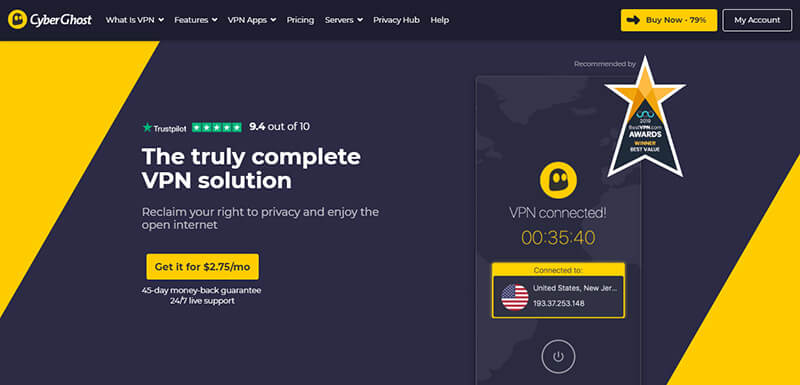 Why Choose This VPN Over NordVPN?
The main reason for this is because of its refund policy. Unlike NordVPN, CyberGhost doesn't pose any conditions that you need to comply with in order to be eligible for full reimbursement.
They offer a 45-day refund window for all long-term subscriptions, as well as a 14-day window for the 30-day and 6-month plan.
The best thing about it is that the customer service of this provider is indisputable and is sure to get your issue settled within minutes.
Why Is CyberGhost Better Than NordVPN?
The answer depends on what you are looking for out of a Virtual Private Network. In overall usability and compatibility, CyberGhost has NordVPN beat.
Firstly, you can connect with up to 7 devices at a time. Additionally, using a VPN from any of the potential devices and operating systems is incredibly easy.
Lastly, the price that this service comes at is even more affordable than the one offered by NordVPN makes it definitely a very good alternative!
Get a subscription at CyberGhost.com >
Surfshark
Lastly, Surfshark may not be as fast as ExpressVPN or as easy to use as CyberGhost, but it still offers a tremendous performance.
We are happy to say that it covers more than 60 countries and offers around 1,000 servers that offer good speed and connectivity.
Whether you are looking for a VPN to unblock content or hide your torrenting activity, this service has got you covered.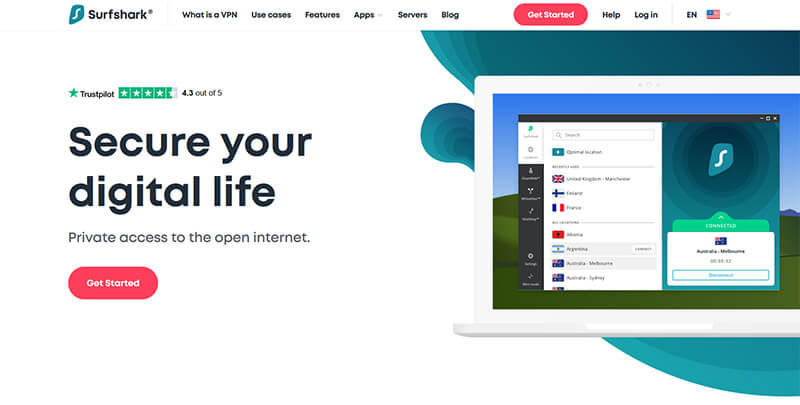 Why Choose This VPN Over NordVPN?
Firstly, Surfshark is more affordable, as you will be paying just $1.99 per month if you decide to go for a three-year plan. Additionally, you are looking at a 30-day refund policy that is extremely easy to fulfill.
Why Is Surfshark Better Than NordVPN?
This VPN is quite similar to NordVPN when it comes to overall usability and security. It features a kill-switch and CyberSec for protection.
The server speed is somewhat better, though, with the average drop set between 15-20%.
Get a subscription at Surfshark.com >
The Best Free Alternative
There are many users who are looking for a free VPN, so we did our research and found Windscribe to be the best option/alternative available.
Windscribe
While it offers a paid plan, Windscribe's free option is highlighted by a fair performance. You are looking at 14 different locations and a 10GB per month limit, but for an average user, this should be acceptable.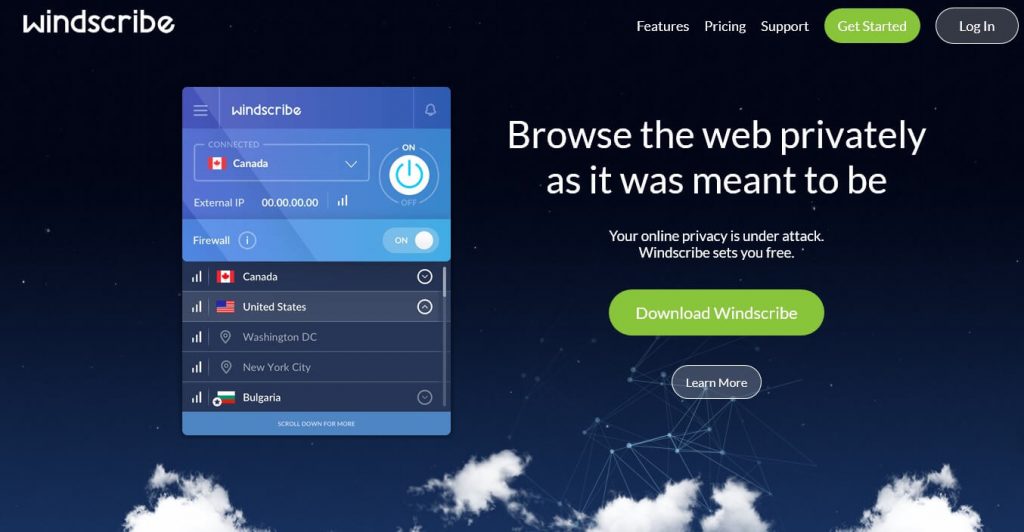 Why Choose Windscribe Over NordVPN?
No one can deny that NordVPN is the best option for unblocking streaming content and offering great security. However, Windscribe does quite a good job when it comes to accessing Hulu. Plus, it doesn't require you to pay a single dollar.
Additionally, you will not have to experience all the stress related to the refund policy since it is not a paid option.
Why Is This VPN Better Than NordVPN?
Windscribe can't compete when it comes to security, privacy, and overall performance. However, it certainly offers good speeds, considering the fact that you are not paying anything.
Wrap Up
You can certainly count on NordVPN if you are looking for an anonymous browsing experience. Still, ExpressVPN, CyberGhost, and Surfshark are very good alternatives and in some aspect, better solutions.
Thus, your choice depends on what you are looking to get out of a Virtual Private Network. Now, you can make an educated decision and enjoy a global and anonymous internet experience!