Proxy Master VPN is a provider that aims to raise your expectations from the get-go. It claims to have "ultra-fast" speed, superb privacy, and a huge user base that exceeds 150,000,000 users. Admittedly, this is far from being the lmost popular provider, which begs one question. If it's so good, why it's not on the level of ExpressVPN or NordVPN? Well, we intend to find that out in our in-depth review of Proxy Master VPN.
What is Proxy Master VPN?
Before we delve deeper into our review, we need to talk a bit more about Proxy Master VPN in general. Proxy Master VPN is based in Singapore, which is a member of the 14 Eyes. Countries from 14 Eyes aren't going to respect your privacy that much, due to excessive government surveillance.
Theoretically, it means that the provider will be obligated to hand over information, should the government request so. In that case, it will jeopardize your privacy, leaving you exposed to the prying eyes.
Moreover, we found that the provider isn't very refined or polished, as is the case with the top VPNs on the market. And on top of that, it lacks behind the competition by quite a large margin, despite being on the market for quite some time.
We don't want to spoil the review of Proxy Master VPN too much but point out that you should not have extremely high expectations. Now that you know the level of performance and quality you can expect, let's analyze the provider in-depth and talk about its strengths and weaknesses.
Compatible Devices and Ease of Use
The first thing we're going to talk about is device support. This is a very important factor that directly impacts your VPN usability. If there's only a VPN app for Windows, users will be quite limited, especially those who use Apple's ecosystem.
On the other hand, if a provider offers decent support for both mobile and desktop platforms, it makes it easier to connect multiple devices on the same account. Proxy Master VPN was first intended to be a smartphone provider, hence desktop support is lackluster.
Just take a look at the devices it supports, or better said – platforms:

We have macOS on the left, followed by Windows, iOS, Google Play, and Chrome Beta. The last one is an extension for Chrome, although it's in the Beta phase, so it's not a finished product. The other apps are full-fledged versions, but they're available only for basic platforms, so to say.
Linux is not on the list, which isn't something we appreciate. Not to mention routers, gaming consoles, Roku, Apple TV, etc, etc.
Computers
In the ideal case, you'll want to use Proxy Master VPN on your computer. Simply put, this is the best app that the provider offers. Our testing rig uses a Windows operating system, so we'll use it to install the app, test how it works, and show you how to use it.
After buying a subscription for Proxy Master VPN, download the setup file and run it.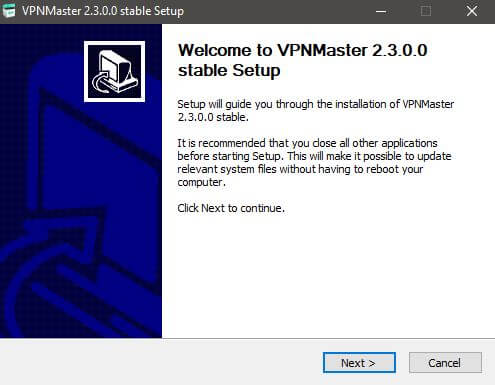 The initial setup screen looks like this. Click Next to continue.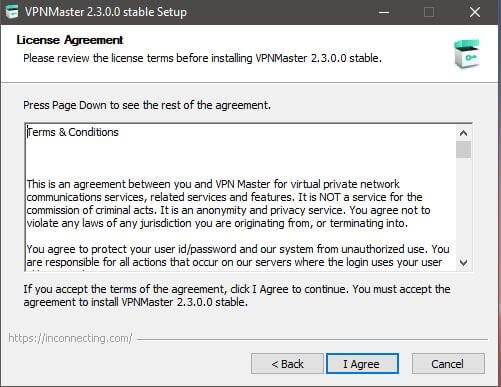 We like that provider offers you terms and conditions right away. You can read them, or if you don't care, just click on I Agree.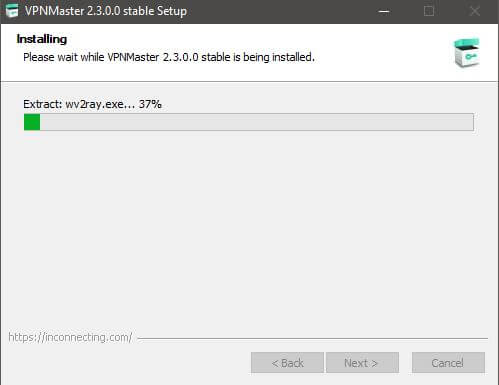 After choosing where to install the app, just click Install and the setup will start. On our SSD, the installation lasts merely five seconds, after which you'll get the final screen: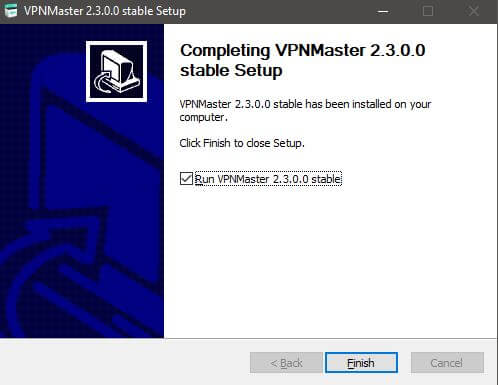 If you want to run the app right away, tick the required box and click Finish.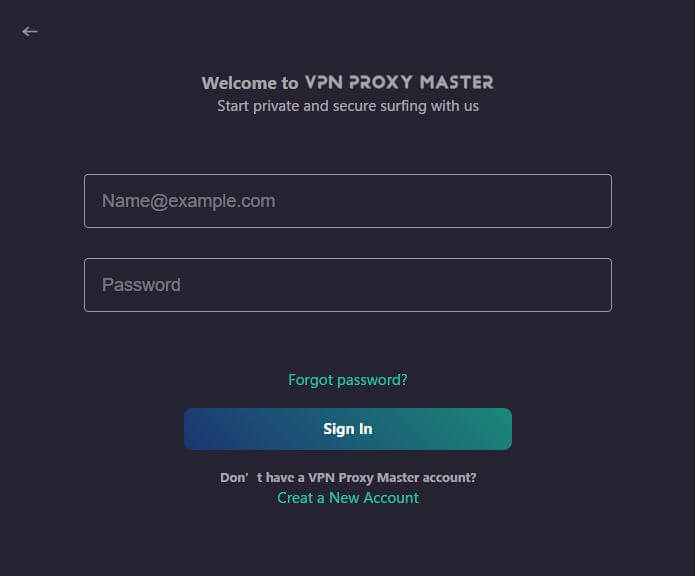 The app is very simple, which can be seen as soon as you open it. We can see that Proxy Master VPN requires you to sign in right away. Since we've already bought it, we entered our credentials and proceeded to the home screen.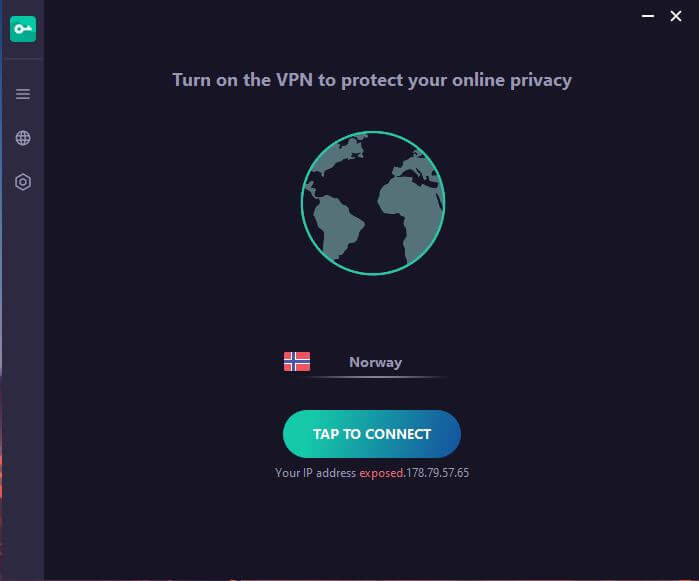 This is how the app looks. It's very simple, with a little side menu on the left side and a connection button clearly visible. To open the server list, click on the country displayed above the connection button.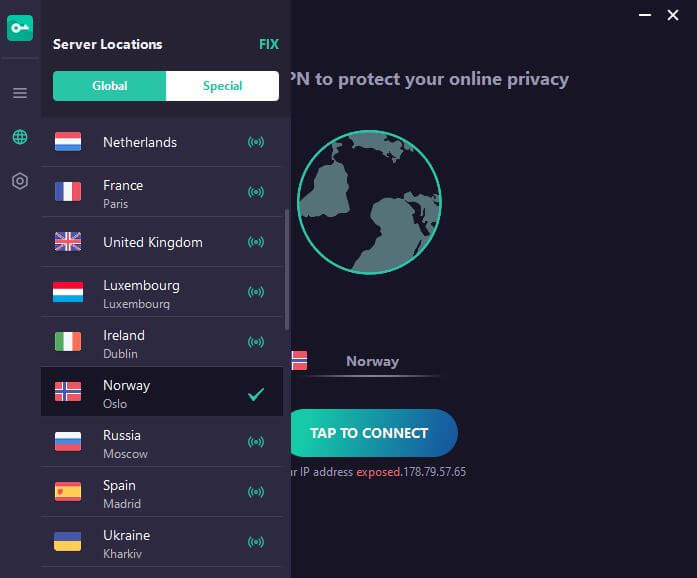 We've chosen Norway as our location, just for the test, after which we clicked on the connection button to connect.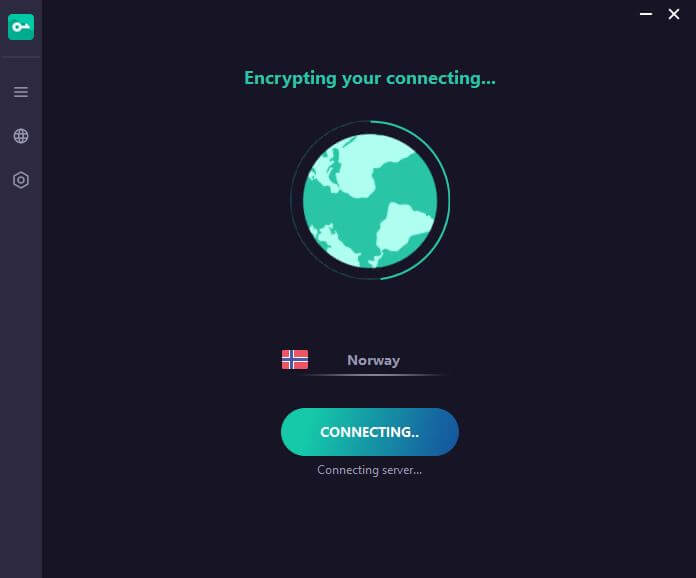 And when you see this message "Encrypting your connecting…", you can't help but think if that's intentional or not. Proxy Master VPN will definitely need an English teacher to make things more polished, at least in this grammatical sense.
Smartphones and Tablets
Nowadays, people use their smartphones more than they use computers. If you're one of them, you're probably interested in how well the provider functions on a mobile phone. For this review of Proxy Master VPN, our testing device is an Android phone, where we're going to show you how the app looks and functions.
Rest assured, the app on the opposite side i.e. iOS, is practically the same. The first step here is to download the app from the Google Play Store, which you can see in image 1.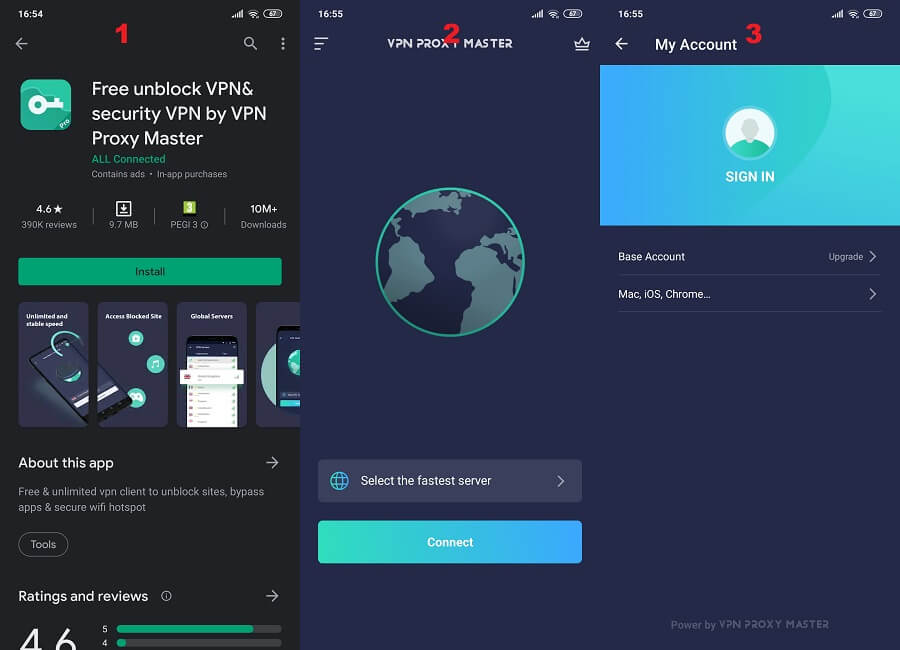 The app has 10M+ downloads and 4.6 stars – that's quite interesting! Once downloaded, you can now open it and you'll be greeted by the home screen shown in image 2. To sign in, tap on the three vertical lines in the upper-left corner, and the new sign-in menu will open (image 3).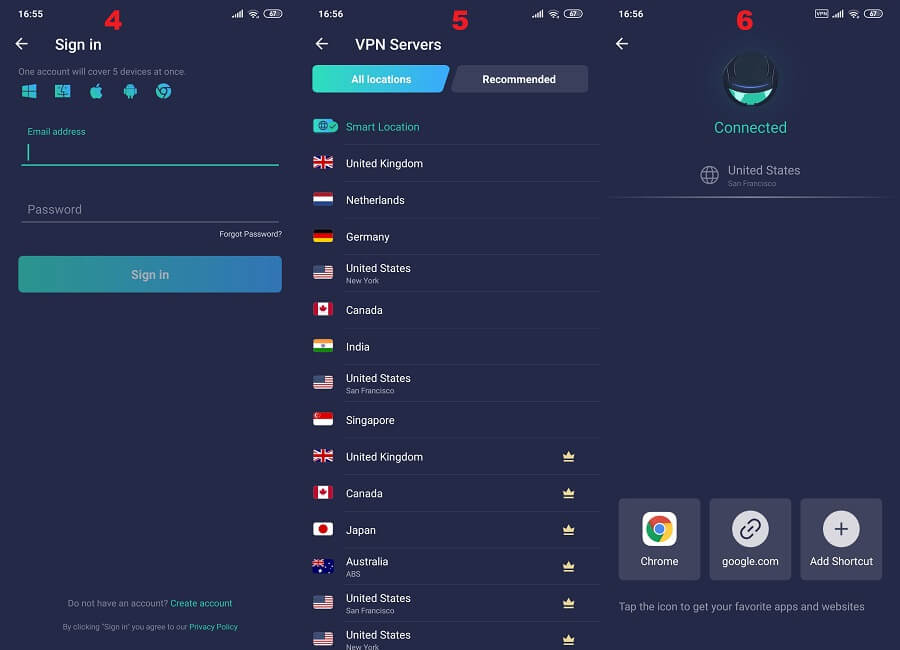 Choose the "Sign In" option after which you'll get the chance to enter your credentials, as shown in image 4. After doing so, the app will return you to the home screen, where you need to tap on the button above the connection button. This will open the server list shown in image 5.
Tap on the server you want and the app will automatically connect for you. You can see how that looks in image 6.
We can say that the Android app is pretty simple and straightforward, so even if you're a newbie, you'll get used to it pretty quickly.
Other Devices
Sadly, the provider doesn't support any other devices. You can't connect it to your router, Roku, Chromecast, Fire TV, and similar devices. If you want a VPN that will allow you to do so, we recommend ExpressVPN.
It's at its cheapest now and supports pretty much every internet-capable device.
How Fast is Proxy Master VPN? We Checked Its Speed!
Proxy Master VPN already had a bad start – we won't lie. However, the speed test is of the utmost importance, and maybe… only maybe, it could change something. On the market, usually, the best VPNs are the fastest, such as ExpressVPN, NordVPN, and CyberGhost.
This provider is far from being the best, so it's interesting to see how well it fares in our streaming test. Before talking more about it, it's relevant to mention that all VPNs will decrease your native internet speed to some extent.
This is a small price you have to pay for extreme security and privacy. Sometimes, this "price" isn't very small, ending up in disastrous connection speeds and stability. We did 3 tests in the morning, 3 in the mid-day, and 3 in the evening, for 3 testing locations.
Also, we kept the best possible score and used the best location when that option was available. Our physical location is the United States (non-VPN test) and we used these 3 locations for testing:
The United States
The United Kingdom
Australia
Without using a VPN, our native internet speeds are:
Ping: 11 ms
Download Speed: 211.88 Mb/s
Upload Speed: 202.20 Mb/s
Now, when using Proxy Master VPN for this review, our ping, download, and upload speeds respectively, for 3 testing locations, were:
US Server: 82 ms / 47.23 Mbps / 39.60 Mbps

UK Server: 177 ms / 21.37 Mbps / 17.86 Mbps

Australian Server: 358 ms / 9.01 Mbps / 7.54 Mbps

The results we got are self-explanatory. If you look at our native speeds, you can see a huge reduction even when using the server in our country. While the US server was borderline usable, the other two servers gave us very bad browsing and streaming experience.
Proxy Master VPN isn't "there" yet. Its speeds are way below the other premium providers, which in practice looks worse than it sounds.
How Good is Proxy Master VPN for Streaming?
What about streaming? Will the provider allow you to watch Amazon Prime Video outside the US? Or perhaps stream different Netflix libraries? For a provider to be a good option for streaming, it must fulfill two conditions – unblock many streaming platforms and have decent speeds.
The latter option is out of the way already, which leaves us to investigate the first one. Let's start our experiment with Netflix US.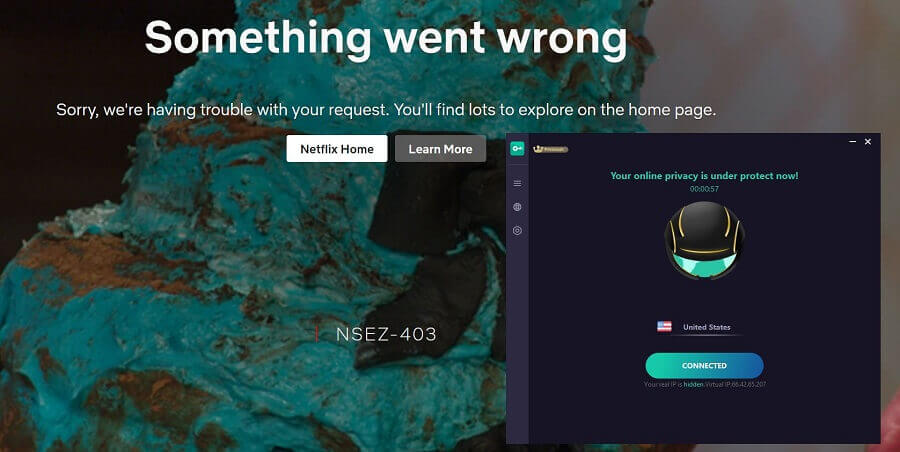 Netflix US locked us out immediately when using Proxy Master VPN. Even though we're from the US, we couldn't access our own country's catalog! When we turned off the provider, the site worked normally, implying that it can't unblock Netflix.

Another site we tested for this review of Proxy Master VPN is Amazon Prime Video. As you can see, it detected that we're using a Virtual Private Network, preventing us from watching Carnival Row.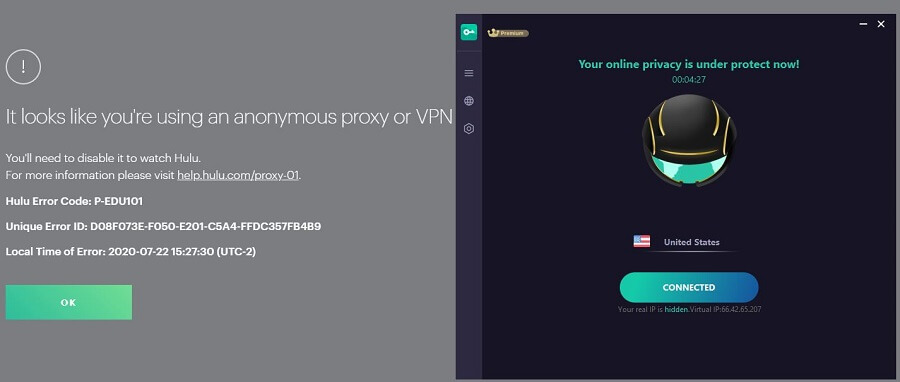 Hulu speaks the same story – it detects that we're using this service, hence it blocks access to the site.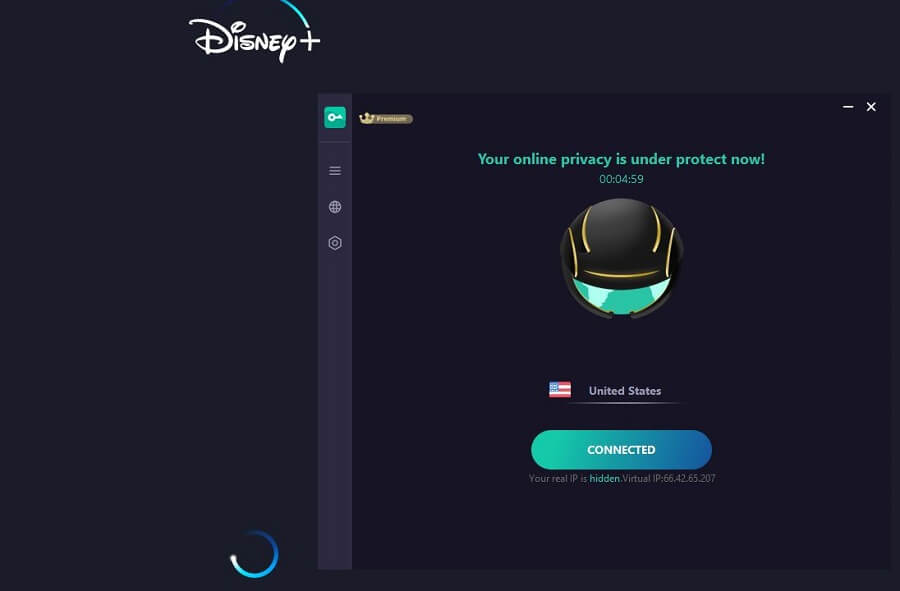 Another one bites the dust, and this time, it's Disney+. We accessed the site successfully but when trying to sign in, we got an infinite loading screen – it doesn't work.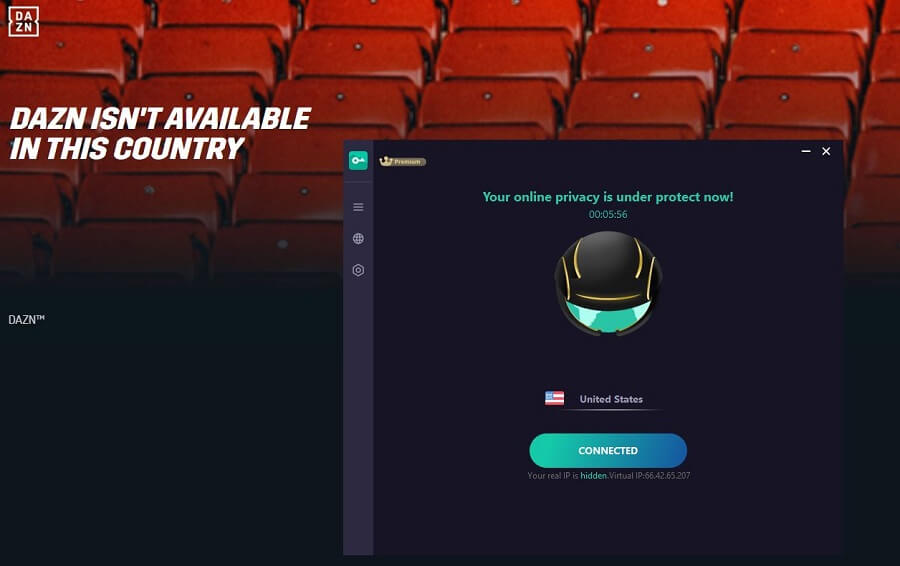 DAZN, a popular sports-streaming platform, doesn't work. It says that the service isn't available in the country, despite DAZN actually being available in the US.
We were surprised that HBO GO didn't work, as well! This platform is one of the easiest to unblock and since Proxy Master VPN can't unblock it, it's highly unlikely that it'll ever have a chance for redemption.
The final nail in the coffin is BBC iPlayer, which the provider couldn't unblock.
In our streaming test, Proxy Master VPN could not unblock a single streaming platform, making it a very bad option for this purpose. Our suggestion is ExpressVPN, which successfully passed our test with flying colors.
Confidentiality, Security & Logs
Being from Singapore, Proxy Master VPN is already in the grey area when it comes to privacy. That's why we felt obligated to read its privacy policy in its entirety and see if there are any shady details.

The first part of the privacy policy is okay – if we can call it like that. They collect some of your personal info, which is, in the end, mandatory for the service to work. If you scroll down, we can see that Proxy Master VPN collects a bit of data here and there.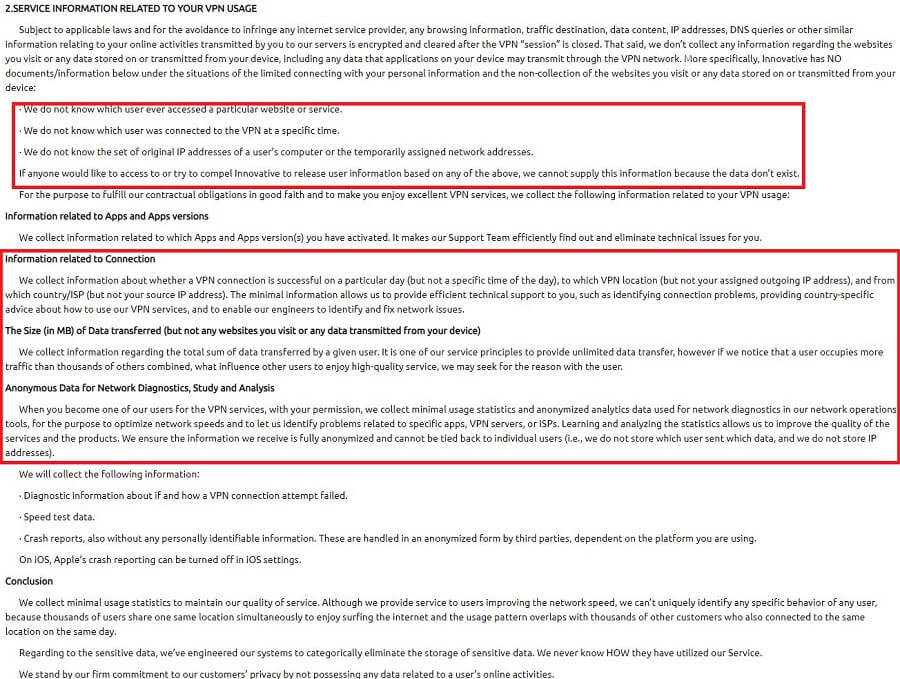 First, they say that they don't know your IP or the specific time you've established a connection. Because of that, they can't give out this information to any regulatory body, even if they request it.
However, there's a pretty big list of what the provider collects related to your VPN usage. They collect information about the success of a VPN connection, the location you've connected to (and from), and a few other bits of info in the image above.
What we didn't like is that they collect info about your ISP, allegedly used for network diagnostics and analysis.

Lastly, they "may" transfer your personal information to other countries, which is a big red flag for us. Not every country has the same privacy laws, making it easy for your personal info to slip into the wrong hands.

The privacy policy isn't exactly the most trustworthy, especially since it didn't pass our Copyscape test. It shows, Proxy Master VPN copied some sentences from ExpressVPN's privacy policy, which isn't something you want or CAN do.
Nevertheless, we did an IP leak test after that, which the provider passed successfully. Albeit, we can see that they're using virtual servers since our DNS address was in Finland.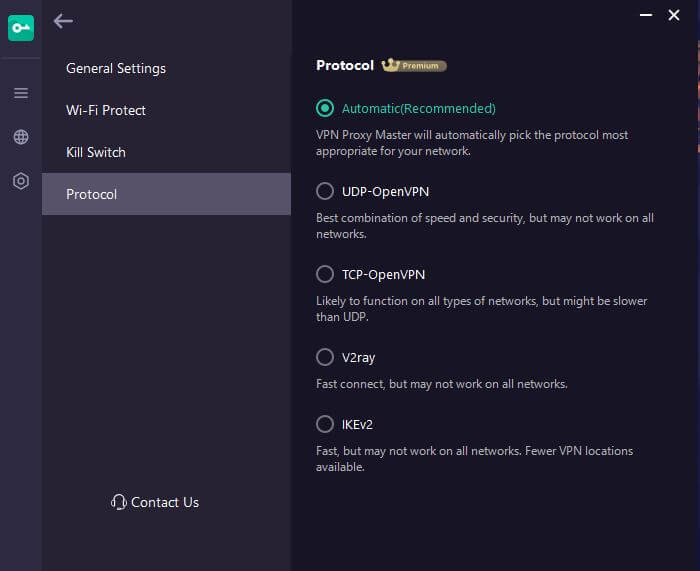 Other security features include 256-bit AES encryption, an automatic kill switch, and an array of protocols, including OpenVPN, IKEv2, and V2ray. V2ray is here to enhance your privacy and allow you to bypass DPI inspections, all while preserving performance.
Can I Do Torrenting Safely with Proxy Master VPN?
Torrenting is one of the most popular activities that require you to use a VPN. Even torrent sites themselves recommend it. We connected to the VPN server using this provider and visited 1337x.to to see if we could download a movie.
Our download was successful, with one BIG caveat – extremely slow speeds. What if we told you that downloading an 800MB movie took more than 20 minutes? We aren't in an era of the dial-up internet anymore, so these results are unacceptable.
As for safety while torrenting, we didn't have any problems, although we technically could have, given that the provider stores some logs. You can torrent safely with Proxy Master VPN but it's not our recommended option.
Can I Use Proxy Master VPN to Bypass Censorship?
The provider offers a V2ray protocol which we don't see often. This protocol should help you bypass censorship in countries like China, but in our tests, it didn't work. OpenVPN and IKEv2 protocols are sometimes useful as well, but the Great Firewall constantly blocked internet access for our testers in this country.
This is far from being the best VPN in China or any censored country for that matter. We don't recommend using it in countries like Iran, Iraq, Russia, Turkmenistan, or the UAE.
Given its lack of privacy, you'd be better off with a provider like ExpressVPN or NordVPN.
Pricing and Plan Options
Believe it or not, Proxy Master VPN is a PREMIUM provider. According to what we saw so far in the review, it sounded like we're talking about a free VPN. Unfortunately, that's not the case. Here's how much it will cost you:

To clarify things right away, the prices you see above are really expensive, regardless of the quality you get. Sure, ExpressVPN is priced similarly, but it's miles ahead of this provider, hence it's justified.
The provider will cost you exactly $11.99 a month for a monthly plan, and if you want a 6-month plan, you'll have to pay $5.83 a month or $34.99 every 6 months. If you want to lower the price, you'll have to go for an annual plan that costs $5.83 a month or $69.99 a year.
That's VERY expensive! For a much cheaper price, you can get Surfshark, which will provide much better performance. You can read our in-depth review of Surfshark here.
Now, if you want a refund, there's no mention of it on the site. It's like they want to reel you in, and if you're not satisfied – who cares? Right?

Well, not exactly. The provider indeed gives a refund, but you'll have to dig deeper into the T&C page to find information about it. There's a 7-day money-back guarantee with no strings attached.
Bear in mind that they'll want to fix the issues if you have them, and if they don't succeed in that, they'll give you your money back.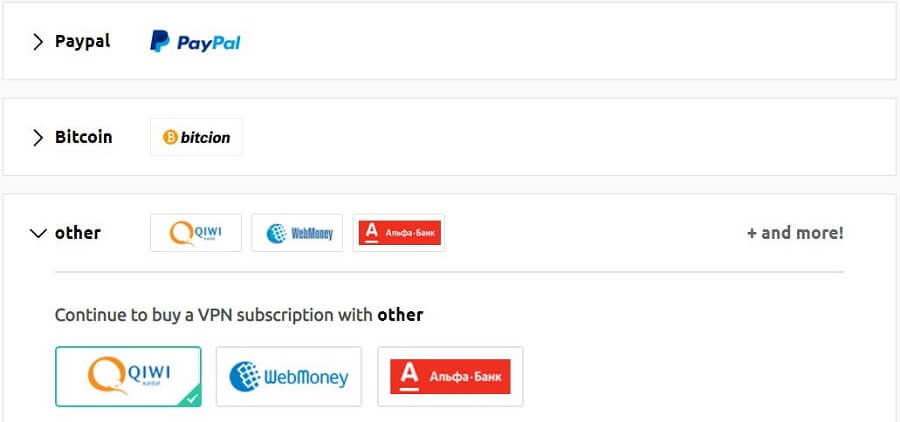 On the brighter side, Proxy Master VPN offers several payment methods, including PayPal, Bitcoin, Qiwi, and WebMoney. The credit/debit card option isn't here, which is quite strange, to be honest.
We don't get why they've excluded it from the payment method roster.
How Can I Contact Proxy Master VPN?

Contacting Proxy Master VPN is, thankfully, very easy. You have a standard option like email, where the support team takes some time to answer. Theoretically, you should get an answer in around 24 hours, given that the support team is available 24/7.
A much faster option is live chat, but in our experience, it wasn't very fast. When we tried to use it, we typed in our question, only for the site to say that we can get an answer via email.
You can then leave your contact information and wait for a response. In other words, it's not a live chat in a traditional way. For instance, when you contact support on NordVPN, they respond in 30 seconds, give or take.
Here, it's not very responsive and that's its main fault. If you don't want to contact the company for whatever reason, there's an extensive FAQ section where you can be your own troubleshooter.
Support could be better in terms of responsiveness but given how "good" Proxy Master VPN is, this is even more than we expected.
The Special Functionalities
Proxy Master VPN isn't a very feature-rich provider. The addition of the V2ray protocol is definitely a good one, albeit, we didn't notice any significant improvements to overall performance. In terms of security, the provider has an automatic kill switch, which, once again, isn't a special feature.
It's a basic feature that every provider should have.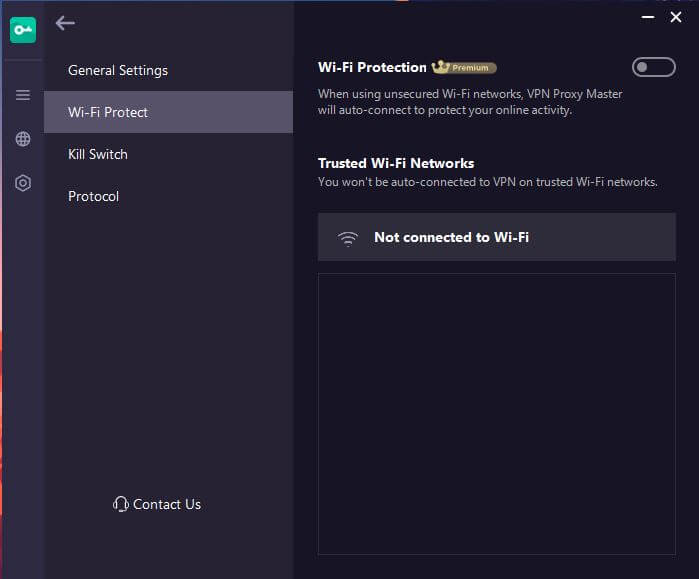 What we found interesting is this Wi-Fi protection feature. We can say it's a special functionality, although more than a few providers have it. If you enable it, Proxy Master VPN will protect you when you're using an unsecured Wi-Fi network.
You have the option to add all the trusted networks on the list, which will filter out those untrusted. In case you connect to a trusted Wi-Fi network, the provider will not turn itself automatically.
But, if you use a network outside the list, it will automatically encrypt your connection. It's a useful feature, but we didn't use it much, to be honest. This is, by the way, the only special functionality of the app.
Other Things You Should Know
There are still a few other things we haven't touched on in this review about Proxy Master VPN. Let's talk about them now:
Number of Servers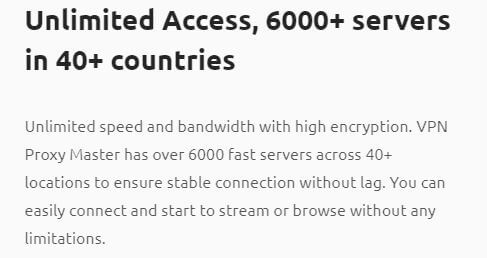 Proxy Master VPN promises a whole lot of servers. As you can see, 6,000+ servers in 40+ countries worldwide. This is a pretty imposing number that surpasses even NordVPN if it's genuine.
When we asked the support team, their response confirmed that the provider indeed has 6,000+ servers around the globe. Needless to say, this will be more than enough even for demanding users.
Number of Countries
The provider offers servers scattered throughout 40 countries. NordVPN, a provider with a similar number of servers, offers 60 countries in total, for comparison. Proxy Master VPN still isn't bad in this regard but it could've added a bit more countries to the list.
Number of Simultaneous Connections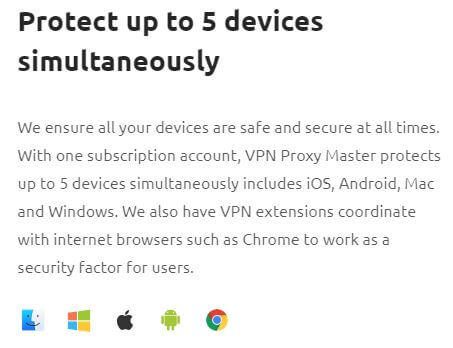 Lastly, you get up to 5 simultaneous connections on the same account with Proxy Master VPN. This is an industry-standard nowadays, although Surfshark, a cheaper option, offers unlimited simultaneous connections.
What Do Other Users Say About Proxy Master VPN?
A review, for us, is just an opinion based on a particular experience. Our experience with Proxy Master VPN wasn't all shiny and glimmering. Because of that, we're willing to take a look online and see what other users have to say about it.
Our first stop is always Reddit. However, since it's not very popular, we haven't managed to find out any opinions there. Google Play has a galore of reviews regarding the provider, so let's see how satisfied Android users are:

This user on Google Play left a pretty negative review and it's a new one, written in 2021. He says that the VPN is very difficult to use, with multiple retries before the connection is established. All in all, he complains about the connection problems, saying that it wasted his time and that he hates the app for the reason shown in the image.

On the Apple Store, the user claims that the provider ripped him off by taking his money, despite the subscription being canceled. In his words, the provider holds his devices captive and charges him $35 for a subscription that he canceled on time.
Trustpilot also didn't register Proxy Master VPN, so we can't find any reviews of it there. Do you now believe that 150,000,000 users use this provider?
We neither!
Conclusion: Should You Take It?
Proxy Master VPN does a great job of representing itself. At first, it's a fantastic provider, offering seemingly everything that a true privacy lover could dream of. But, as soon as you start using it, you realize that things aren't as they seem.
The good thing about the provider is that it offers intuitive apps and that's all. We found speeds to be very slow, for example, while it can't unblock any streaming site we tested. In short, Proxy Master VPN has a long way to go before becoming a better option on the market.
We don't recommend buying it, but we recommend ExpressVPN. It's the best provider on the market, offering a 49% discount and 3 months free for a 12-month subscription plan.