TurboVPN was, up until recently, a mobile-only Virtual Private Network. Not long ago, the provider released its apps for computer platforms, extending its field of effect drastically. However, this is a free VPN, and if you know a thing or two about free solutions, you know that they aren't the best out there. Today, our task is to review TurboVPN and see if it separates from the pack in some way. We suggest reading our review carefully before thinking about using it.
What is TurboVPN?
When talking about VPNs for Android,  TurboVPN will probably take the crown as the most popular one. Believe it or not, this provider has over 100 million downloads on the Google Play Store, which is drastically higher than ExpressVPN and NordVPN combined.
Furthermore, with its rating of 4.6 stars on Google Play, it sounds like a pretty good free solution for mobile phones. Being a free provider, yet so highly-rated, TurboVPN definitely leaves other providers behind, at least when it comes to the mobile market.
So, if you ask us what exactly is this provider, our answer would be this – the most popular Virtual Private Network for Android. Another question is – how good is it? Or perhaps, is it ANY good? We've yet to see that in our comprehensive review of TurboVPN.
Compatible Devices and Ease of Use
As always, we'll start with compatible devices. Device compatibility is very important, as it allows you to protect many devices with only a single provider. Our criteria here is pretty high. The provider should support four basic mobile and desktop platforms, as well as some bonus platforms along the way.
We visited TurboVPN's website and made this screenshot:

At first, we were quite surprised by the choice we have here. Given that it costs nothing, it's impressive that the provider supports macOS, Windows, iOS, and Android. Sure, these are the basic platforms, but in our past reviews, not all free providers gave us this commotion.
Interestingly, TurboVPN promises support for Amazon Fire TV and Chrome in the future. As soon as these come to life, we'll update our review of TurboVPN and talk more about them.
Computers
If you're using a VPN for streaming or gaming, chances are that you're going to use it on your computer. Thankfully, the provider supports Windows and macOS, while Linux isn't on the list, which is never a good thing.
To analyze the app and its ease of use, we'll use our Windows computer for testing. Since this is a free provider, you don't have to pay. Just click on the Windows icon from above and the setup file will download. Double-click on it and you'll get this screen: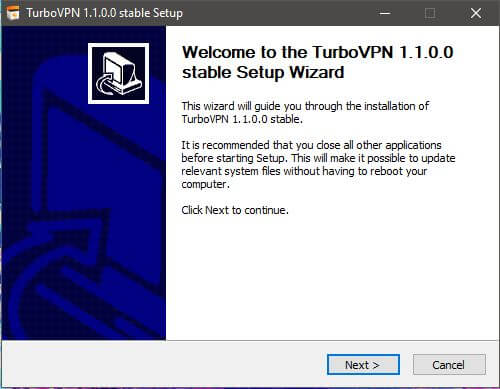 The setup looks quite old-school like you're installing software from 10 or 20 years ago. Click Next to proceed to the next step: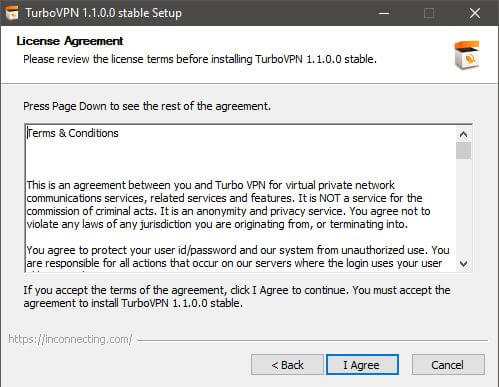 If you don't care about terms & conditions, click I Agree. If you do, however, we suggest reading it, especially the privacy policy part. As a free provider, it won't be the best option for privacy and security, or to unblock Prime Video and other streaming platforms.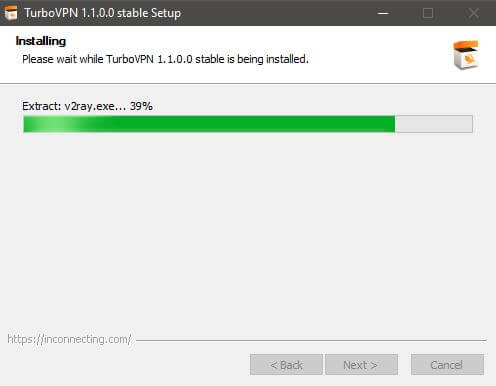 Finally, the app will start installing and this process lasts less than a few seconds. After that, just run the app and you'll immediately get to the home screen, without the need to log in.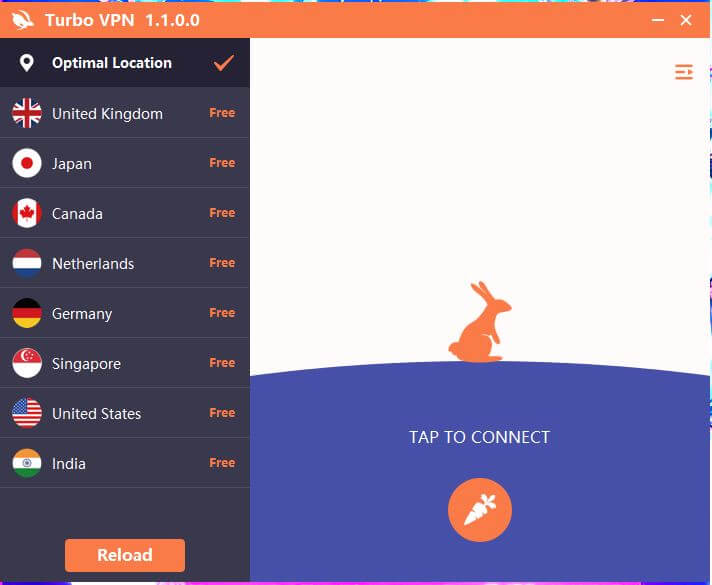 As you can see, the app is rather simple. On the left, you have the server list, which is quite modest, and on the right, there's the connection button and the Settings button. The provider puts 'FREE' next to each server that implies that there's a premium version of the app.
However, you can't buy it anywhere inside the app. We found out that it's available only for smartphones, though. To connect to the server you want, simply click on it and use the connection button: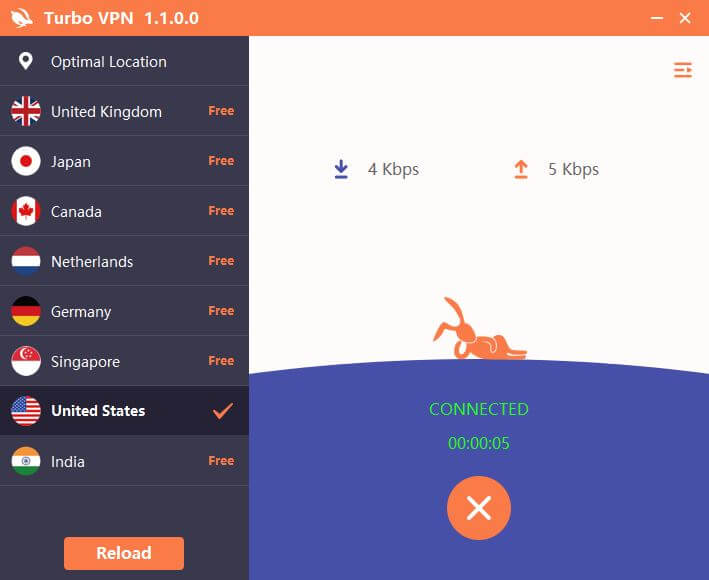 You can see how that looks. We don't like that you don't see your new IP address, for example. On the other hand, you see your speeds when using TurboVPN, which is rather useless in our opinion. You can always do a speed test and see how fast it is.
In terms of ease of use and functionality, the app is excellent, but only for beginners. Those who want more settings will be disappointed greatly. More about that near the end of our review and test of TurboVPN.
Smartphones and Tablets
TurboVPN is mainly a mobile Virtual Private Network. As such, we have a bit higher expectations when it comes to the mobile app. Despite being available on both iOS and Android, we'll use our Android phone to do the testing.
Rest assured, both apps are quite similar and offer basically the same functionalities. First, visit the Google Play Store and download the app, as shown in image 1.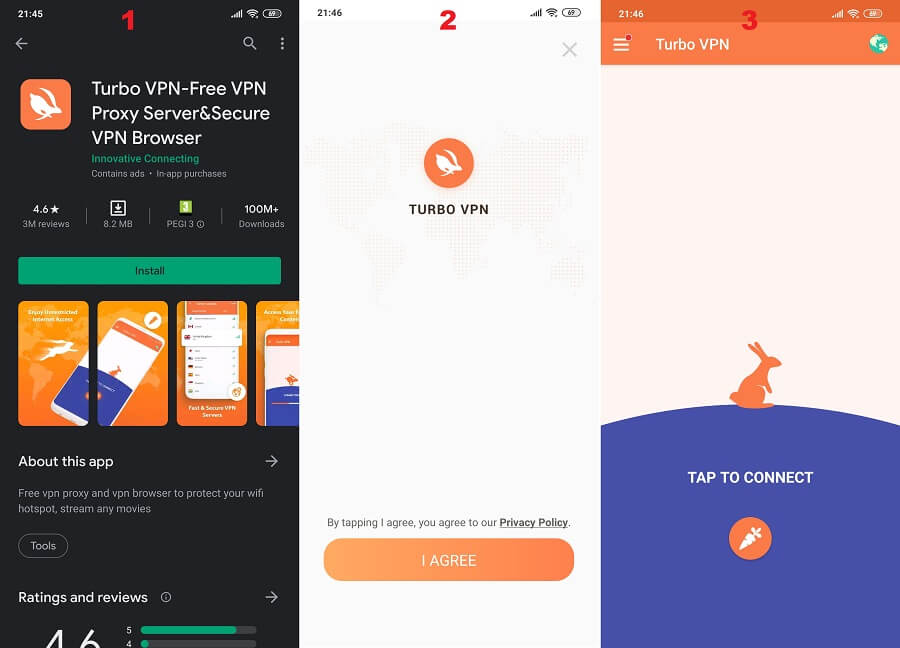 We can see that it truly has 100M+ downloads, which is baffling, to be honest. Nevertheless, download it and run the app. You'll now get the chance to read the provider's privacy policy, as shown in image 2. To avoid wasting your time, we broke down this policy below, so if you're interested, you can skip to that part.
Finally, you'll get to the home screen. Someone in TurboVPN obviously likes minimalism, which is by no means a bad thing (image 3). To open the servers list in image 4, tap the planet icon in the top-right corner of the screen: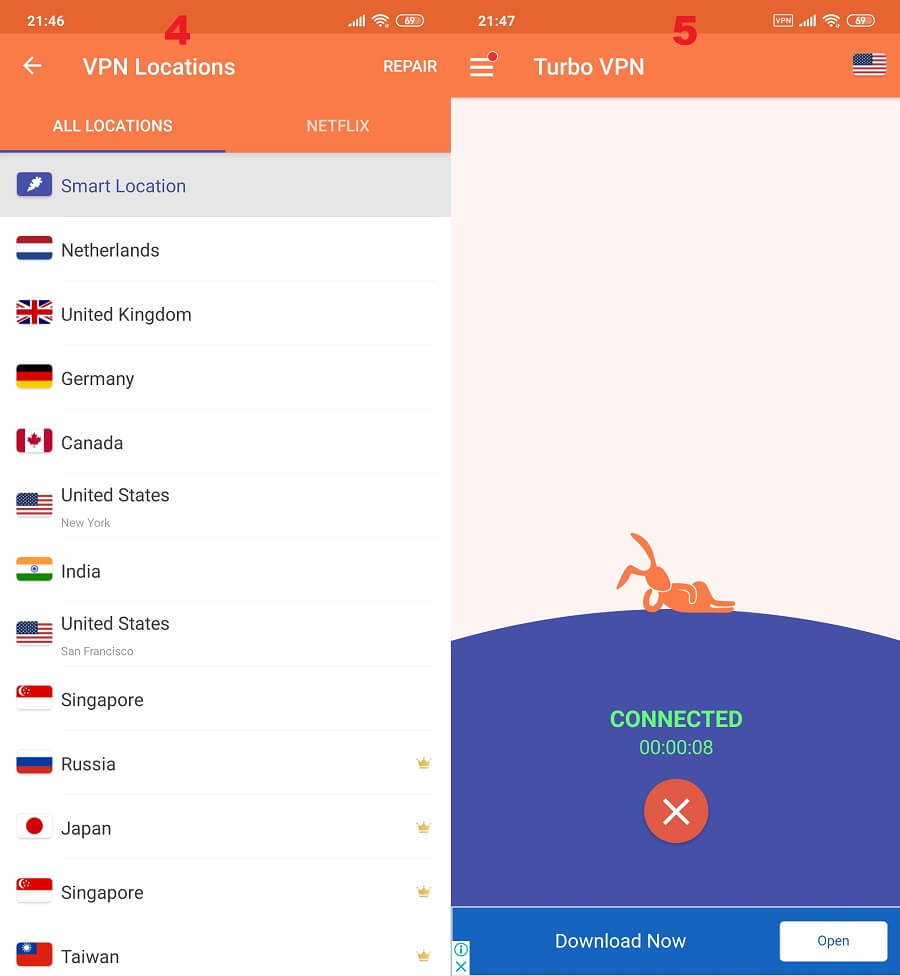 We can see that the provider offers a bit more in its mobile app. More serves are here, and even dedicated servers for Netflix. But, these servers are locked behind the premium version, so you can't use it for free.
To connect, just tap on the server you want and the connection will be established. You can see how that looks in image 5. And you can also see the ad at the bottom of the screen. When the product is free, you're the product – as many say.
Other Devices
Apart from computers, smartphones, and tablets, TurboVPN promises to bring support for Amazon Fire TV and Chrome as we stated earlier in our review. Whether or not that's going to happen, we don't know. The provider doesn't update its website frequently and from the looks of it, this VPN is abandoned.
We'll provide more evidence about that later on, and for now, you'll have to trust us. TurboVPN doesn't support other devices at this moment, so we have nothing more to talk about in this section. Except for the service in general. You can check our in-depth definition about VPN here and learn more about it.
How Fast is TurboVPN? We Checked Its Speed!
Did you notice one trend? The best providers on the market usually have blazing-fast speeds. That's not a coincidence. It just tells us how important that factor is. On the other hand, free providers are known for their debilitating speeds that won't let you even watch YouTube videos properly.
Speed depends on multiple factors – the quality of the network, server load, distance to the server, and so forth. The main thing is that all providers reduce your speed and that's a small price to pay for supreme security.
Our speed test is quite exhausting, but it provides accurate info that we can use for this review of TurboVPN. We did 3 tests in the morning, 3 in the mid-day, and 3 in the evening, for 3 different locations. Also, we kept the best score and used the best location when that was possible.
It's important to note that we're located in the USA (non-VPN test) and our 3 testing locations are:
The United States
The United Kingdom
Australia
Our native internet speeds, without using any VPN, are:
Ping: 11 ms
Download Speed: 211.88 Mb/s
Upload Speed: 202.20 Mb/s
Now, when using TurboVPN, our ping, download, and upload speeds respectively, for 3 testing locations, were:
US Server: 34 ms / 102.44 Mbps / 67.13 Mbps

UK Server: 145 ms / 32.10 Mbsps / 19.76 Mbps

Australian Server: 375 ms / 9.09 Mbps / 10.62 Mbps

Before saying that the US Server results are usable, take a look at our native speeds. TurboVPN slams them down and reduces them twice. Just imagine paying for certain internet speed and getting half as much. That's definitely not righteous.
As you can see, TurboVPN has one of the slowest speeds we've ever seen. From over 200 Mb/s to barely 10 Mb/s, that's simply unacceptable, even for a free Virtual Private Network. Windscribe, another free provider, has drastically faster speeds, for instance.
How Good is TurboVPN for Streaming?
If you want to use a certain provider for streaming, two conditions need to be fulfilled – the ability to unblock streaming platforms and solid speeds. We already saw that TurboVPN isn't the speed champ. Comparing it to ExpressVPN, the fastest provider on the market, it's like comparing a bicycle to a Formula 1 vehicle.
But, can TurboVPN actually unblock some of the platforms? Let's check Netflix first:

At first, it seems like it's working. However, that's The Witcher, a TV show available practically worldwide. We tested the US version, and when we do that, we usually use Parks & Recreation, a show exclusive to the USA. This show wasn't available during our test, meaning that the provider can't unblock Netflix US.
Next up for this part of our review, we have Hulu, and as expected, it works like a Swiss clock. Just kidding, it doesn't.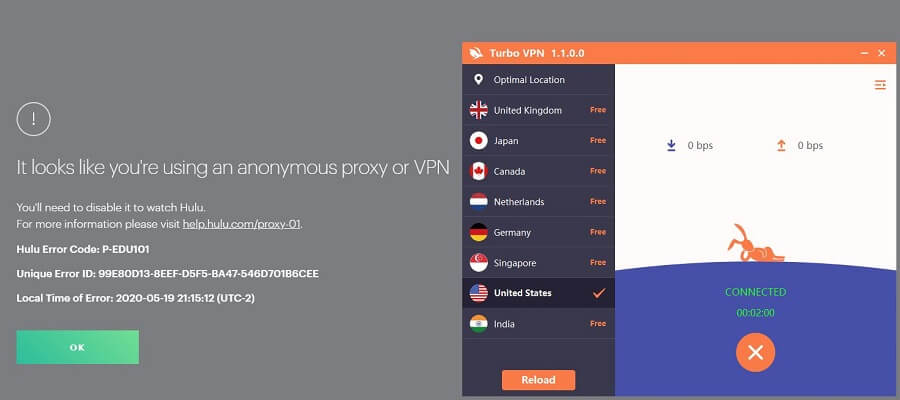 Will, at least Disney+ work as intended? Not really.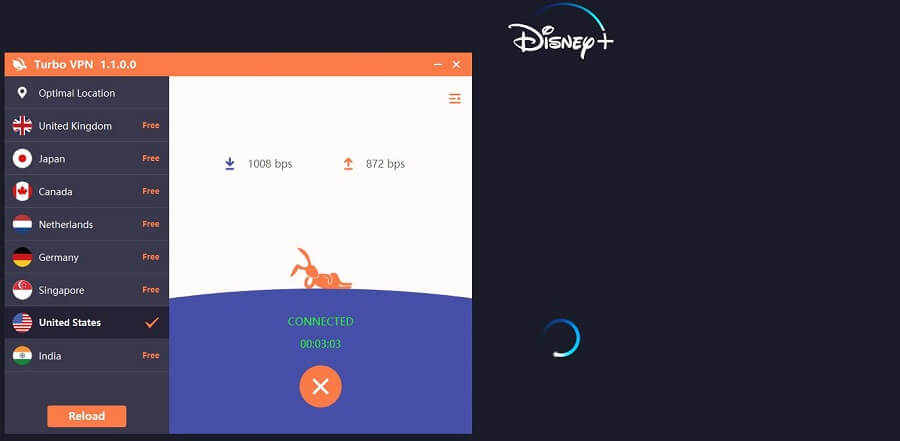 We got an infinite loading screen and the platform didn't allow us to log in successfully. One interesting thing is that TurboVPN unblocked DAZN: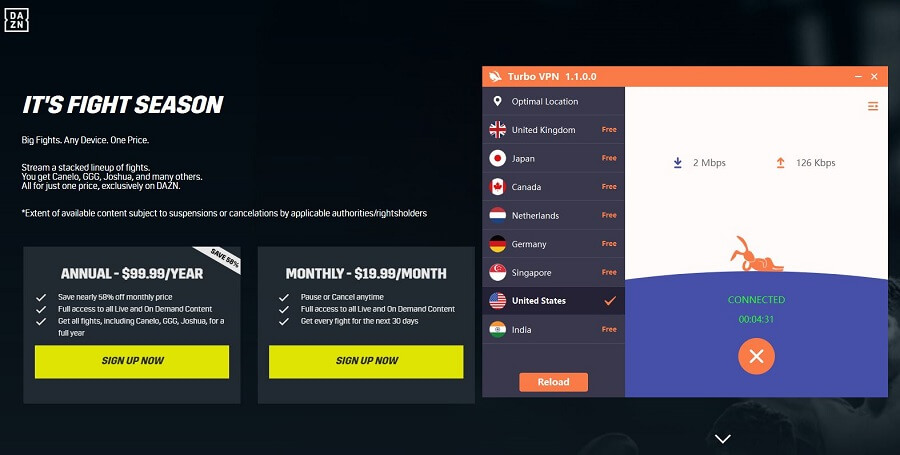 A platform that even top VPNs can't unblock is unblocked by TurboVPN – what a time to be alive! We also tested HBO GO and it works decently: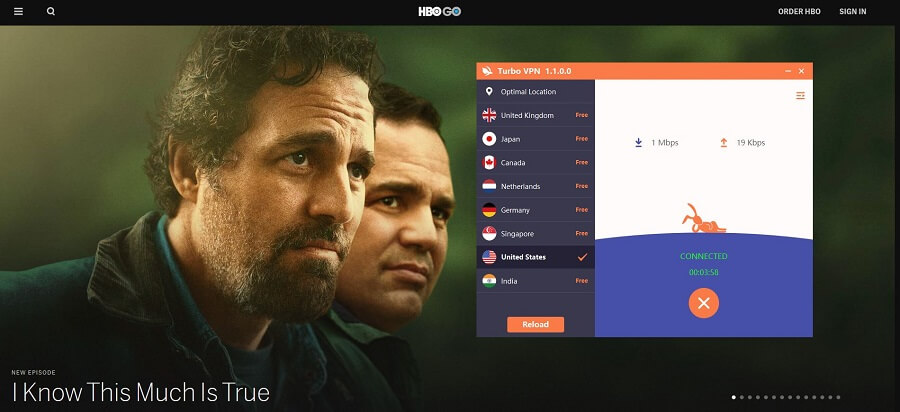 The last test includes BBC iPlayer and it works… sort of.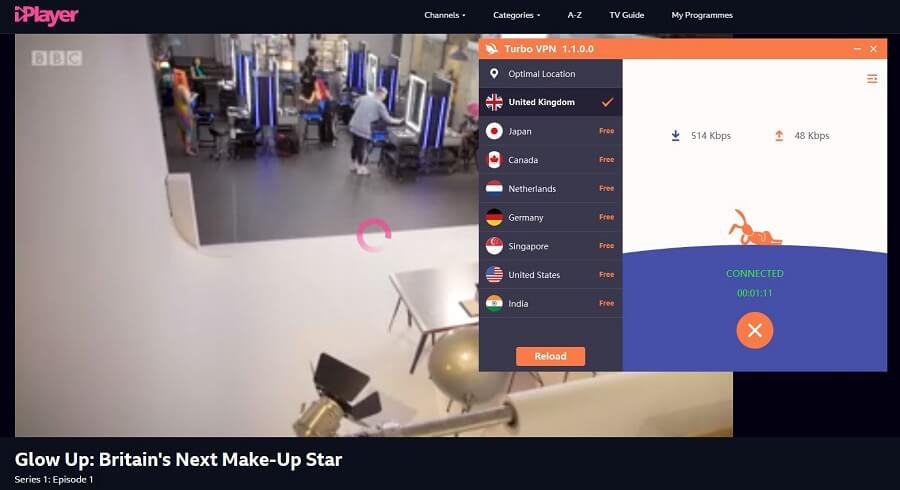 Do you see that pink circle in the middle? You'll see that A LOT when streaming. It's buffering and it takes ages to start up the video. We literally had to wait 20+ minutes for the show to start, just to make this screenshot.
The UK server was extremely slow, and while it unblocked BBC iPlayer, the streaming experience was atrocious.
So, how good TurboVPN is for streaming? It's not very good. Honestly, it's a very bad option for streaming. ExpressVPN, with its fast speeds, is a much better solution in our opinion.
Confidentiality, Security & Logs
Free VPNs and security go together like a cat and a mouse – not very well. TurboVPN claims to be a zero-log provider, blah, blah… But, as we're soon going to see, that's not going to be the case. Without further ado, let's check the first part of the privacy policy, which isn't as alarming: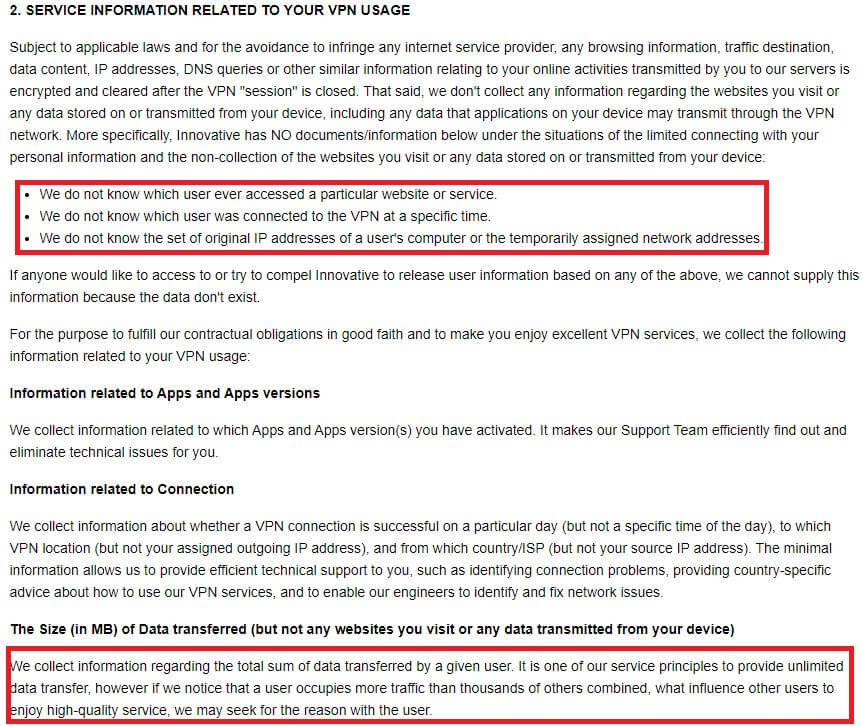 The first part shows us that the provider doesn't store browsing history, user data, and the original IP address of the computer using the service. The last part of this image, however, is a bit strange. They collect the info about the amount of bandwidth you used, and if they notice that you're occupying more traffic than "thousands of servers combined", they'll ask you about it.
First of all, how can one user occupy so much traffic? Are they talking in metaphors here? That's quite odd if you ask us!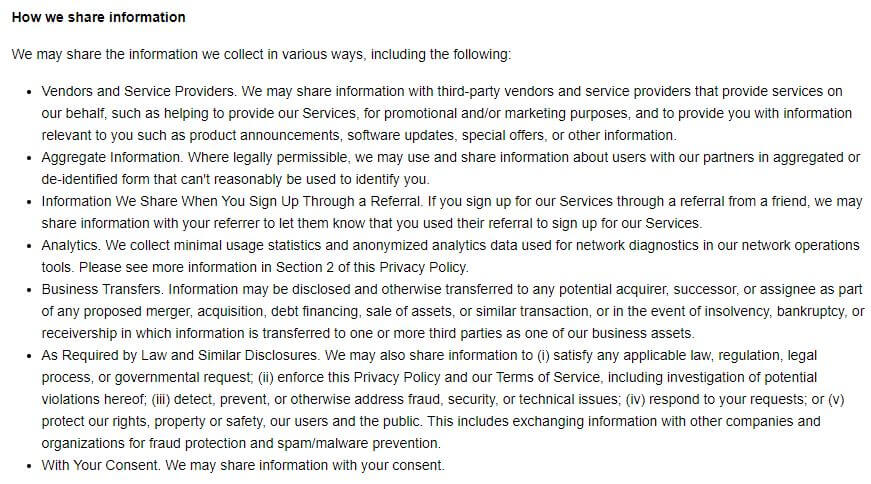 Did you think that was all? Oh, it surely isn't. Just look at who TurboVPN is sharing your info with. Third-party companies are here, and we see the mention of marketing purposes, which is always a red flag. When used for marketing purposes, your data will always include a part of your browsing history.
The last sentence mentions your consent. What consent? How can we consent to something if your support is non-existent?!

The final nail in the coffin is that they transfer your information to other countries. China, a country where TurboVPN resides, isn't exactly the best place for a VPN company. And as we found out, it cooperates with quite a lot of countries worldwide, including some countries from Europe and the US.
Do you really think that a Chinese VPN can keep something to itself? Pfft, bullshit. This is definitely a really bad point in this review.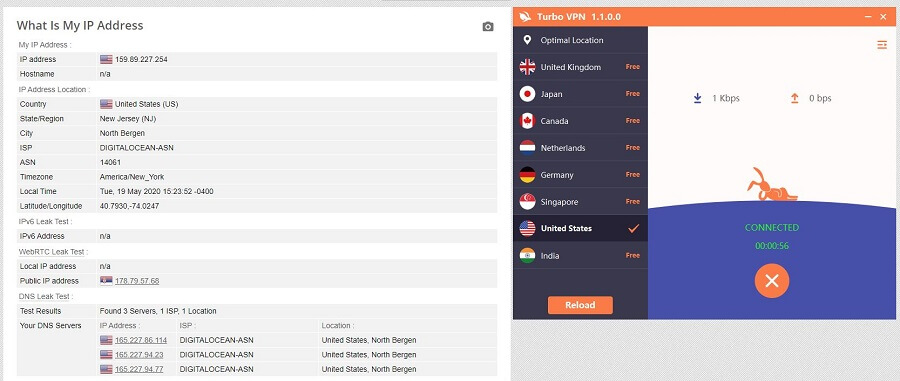 At least, we didn't encounter any IP leaks. And security-wise, the provider offers literally NOTHING. No kill switch, no other protocols than OpenVPN, and so forth. Coupled with its "privacy" policy, TurboVPN is an untrustworthy provider that you should NEVER touch – not even with a 2-foot pole!
Can I Do Torrenting Safely With TurboVPN?
Okay. Enough ranting. Will TurboVPN be good for torrenting? No, it won't. On one side, we have snail-slow speeds that won't allow you to enjoy high-speed downloads. And on the other… well, the provider itself.
We tested it using the 1337x torrent site but with no avail. Torrenting simply doesn't work and we can't download a movie or a music album. We thought that it was an error on our end, but as soon as we saw the word GDPR in the privacy policy, everything was clear.
Also, do you remember this "occupying of the bandwidth" statement? That's what the provider meant by it. If they detect that you're using large chunks of bandwidth, they'll see what you're doing and intervene.
Can I Use TurboVPN to Bypass Censorship?
As of recently, CyberGhost, one of the top choices, doesn't work reliably in China. We were baffled when we tested it and found out that it's not the best option to bypass censorship in this country. Censorship doesn't always have to be in China, but also in countries like Russia and the UAE.
These countries have strong anti-VPN measures that prevent providers worldwide from functioning properly there. Our testers tried out TurboVPN in China, and despite numerous attempts, they simply couldn't get it to work.
We can confidently say that TurboVPN isn't the best option to bypass censorship and will not be able to bypass the Great Firewall of China. A free provider is rarely good for bypassing censorship and here's the proof.
For bypassing censorship, a much better option is ExpressVPN.
Pricing and Plan Options
Previously in the review, we saw that TurboVPN is a subpar provider. Being a free solution, it's kinda understandable. But once again, Windscribe is also free, yet offers far better performance and features.
TurboVPN won't cost you a single penny, as it's a free provider. That's good if you want to save cash and spend literally zero dollars. The dark side of the medal, however, is that you're the product here. Maintaining VPN servers is quite expensive, so why would they do anything for free?
How do you think they're earning money, by the way? It's clear that they sell or distribute your info to third parties for revenue. Who knows how else they earn? Later in the review, you'll see that TurboVPN isn't as user-friendly as it appears to be.
That's what happens when you don't want to spend any money on a Virtual Private Network.
How Can I Contact TurboVPN?
If you've read the review carefully, you saw that we mentioned TurboVPN non-existent support. We didn't lie. You can't find any means of contacting the provider on the website.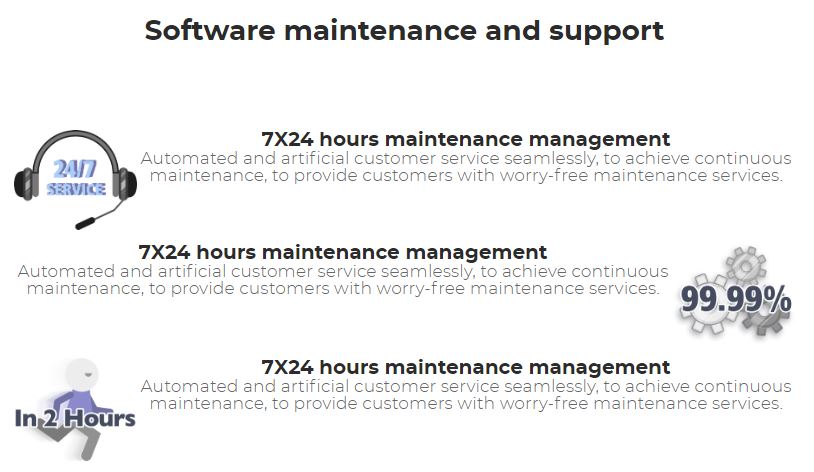 When you click on Services up top, you get a very confusing page. Apparently, they provide other services… what? Like VPN app development services, mobile network acceleration services, and so forth. At the bottom, you can see the image above.
Just look at the irony. They offer you automated, artificial customer service that works 24/7 but they don't have any customer support on their website. What a lame joke that is!
Did you notice something else here? These three paragraphs are exactly the same, with just 3 different images. Now, tell us something – would you ever trust a provider with no customer support and poorly-done website? We neither!
The Special Functionalities
The special functionalities are here to enhance your basic VPN experience. In our review, we value them a lot, as they can mean a big difference between a good and a bad provider. TurboVPN is already a bad provider and no amount of special features can pull it out.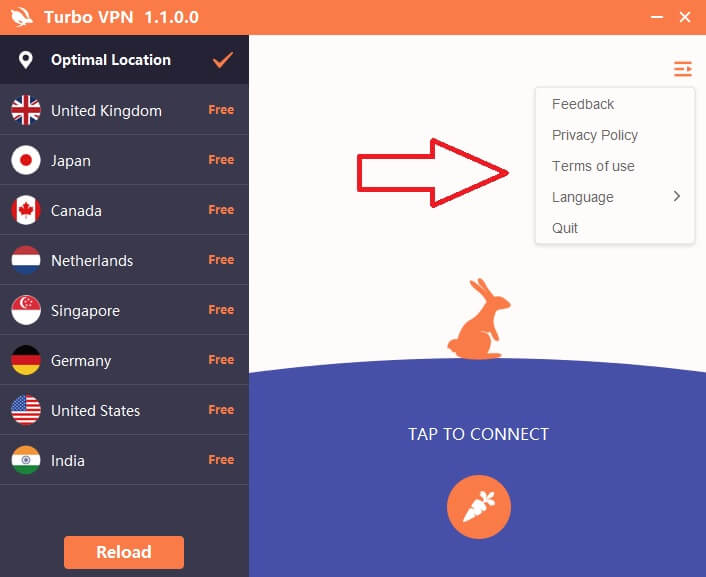 We noticed during our review that not a single special feature is here. You can't change the protocol you're using, you can't use a kill switch because it's not available, and so forth. This is a bare-bones app that even a beginner will get tired of pretty quickly.
Thankfully, they won't charge you a single penny. Just imagine this being a premium VPN, that would be ludicrous!
Other Things You Should Know
Our in-depth review won't be in-depth without some crucial information about TurboVPN. So, let's talk more about these things you should know about the provider:
Number of Servers
If we take into account providers like CyberGhost and NordVPN, they're really the largest in terms of server count. CyberGhost has 7,000+ servers, while NordVPN has 5,700+ of them. Now, TurboVPN is allegedly even bigger!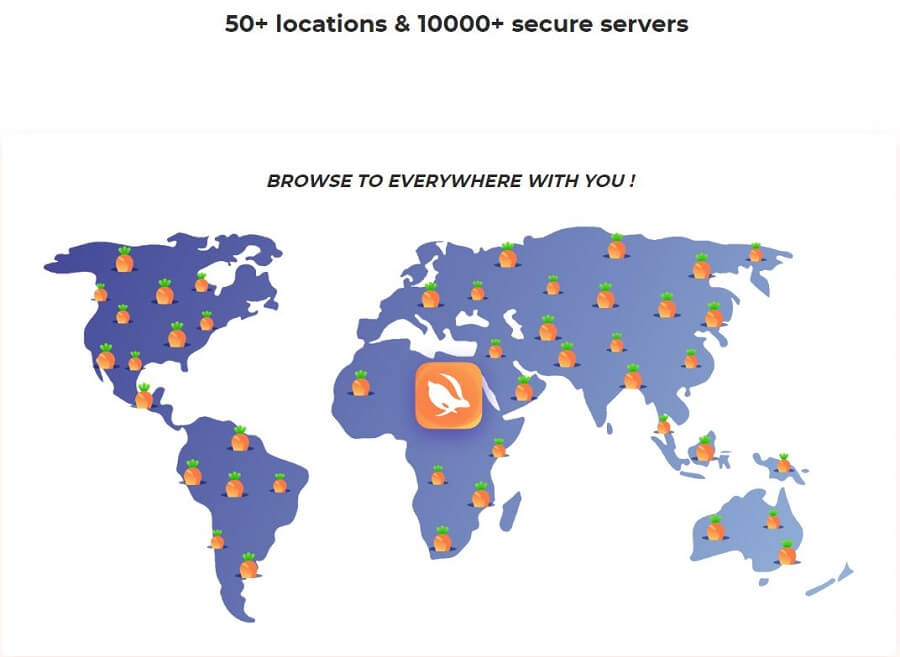 10,000 servers in 50+ locations? More like 8 servers and not 10,000 of them. TurboVPN is the definition of delusional.
Number of Countries
TurboVPN spans across 8 countries in total, that's right, not 50 of them. If they're adjusting this data to their premium version of the service, that might be the case. But, their main app is a free one, and in this version, they offer just 8 locations.
Number of Simultaneous Connections
Look at this:

They mention 5 simultaneous connections, but they also make two mistakes here. One is a typing mistake in the second line of the paragraph, and the other one is that it doesn't work on PC. Hold on, how did we manage to take the screenshots from above, huh?
As we mentioned earlier in this review for 2021, TurboVPN is clearly abandoned. It's toasted. Done. Dead. They didn't even bother to update their FAQ section. How lazy do you have to be?
What Do Other Users Say About TurboVPN?
We decided to venture into several different websites on the internet to see what other people think about the provider. Guess what – they don't think very positively about it. Here's what people on Reddit have to say:

This user issued a warning that the provider might be using your smartphone as a Bitcoin miner in the background. The worst thing is that it works in the background and drains your battery a lot, in his words. We immediately sensed something suspicious about this company and here it is!

Another day, another dissatisfied Apple Store user. He clearly used the premium version and as you can see, he didn't mention a single good thing about it. Furthermore, he mentions that he isn't sure if the VPN connection is even real. That's justifiable, as the provider doesn't show you your new IP address.
The Android user busted TurboVPN for its fake VPN connection. As we can see in its review, despite connecting to the service, he still gets his real IP address. Simply unreliable! Finally, we have a bit more positive review from Trustpilot:

Look at how strange this review is. The user praises for offering "stability and quality" for an affordable price but says that the installation was a little difficult. How can the installation be difficult, please enlighten us?
We can bet that this is a fake review about TurboVPN.
Conclusion: Should You Take It?
If you're still thinking about using TurboVPN, be our guest. Just don't complain about slow speeds, no customer support, and unreliable VPN connections. This provider is one of the worst available on the market and we suggest NEVER touching it.
Our recommendation is a premium provider – ExpressVPN. It's the best solution out there. Buy it and you'll see what a quality Virtual Private Network looks like and works like.