The United States is known to have some of the best streaming platforms in the world. There's Netflix, there's Hulu, HBO GO, Disney+, ABC, and many more. However, we have BBC iPlayer from the UK, a platform that provides equally fun and quality shows and movies to enjoy. Unfortunately, accessing it from abroad is impossible, unless you have a VPN. Today, we're going to teach you how to unblock it and give you our recommended picks for this platform.
Why Do You Need a VPN for BBC iPlayer?
If you're outside of the United Kingdom, accessing BBC iPlaye will be impossible for you. We understand your excitement for binging your favorite shows but sometimes, geo-restrictions stand in our way. Those who are outside of the UK will always see this message at the top of the screen:

At the end of the error message, they offer you advice which of course, doesn't mention the use of VPNs. This doesn't mean that Virtual Private Networks are illegal – it's quite the opposite. It's clear why you can't access this platform from abroad. However, let's explain geo-restrictions and the reasons behind their existence.
Geo-restrictions are forms of restrictions based on your location. For instance, Hulu is a platform available strictly in the USA. If you're abroad, you can't access it. The same applies to 10Play from Australia or RTBF from Belgium.
The reason they exist is the copyright, which you can see in the message above. BBC iPlayer isn't available "due to rights issues." Simply put, the platform is licensed in the UK and as such, it can only broadcast shows and movies in the country.
Sure, you can access it from abroad but you can't watch anything for that particular reason. To make matters worse, not every provider can unblock it. If you've read our reviews, you saw that very few of them can. We tested numerous providers of which a single-digit number of them can unblock it!
We'll give you our list of top 3 VPNs for BBC iPlayer in just a minute. For now, let's see how to unblock it in order to benefit from all the content when abroad.
How to Unblock BBC iPlayer from Anywhere in the World?
The great thing about Virtual Private Networks is that they allow you to unblock geo-restricted content from anywhere in the world. In this case, you need an IP based in the UK, which honestly, every provider has.
However, our recommended option is ExpressVPN, so we'll use it as an example. Needless to say, these steps apply to all the other providers you use and when you see them, you'll see how simple they are.
1. Buy a Subscription
The first thing to do is to buy ExpressVPN's subscription. Click here to visit the provider's website. If you decide to buy it, you'll get a 49% discount and 3 months free for a 12-month subscription plan. This is a great time to get it for a cheap price, so don't miss it.
2. Install the Apps
Now, it's time to download and install the apps. The provider supports an array of platforms, so choose the one you use the most. We chose the Windows platform, installed the app, logged in, and got to the home screen.
3. Connect to the UK Server
It's time to connect to the UK sever. Click on the country below the power button, choose the server from the United Kingdom, and click on the power button to connect.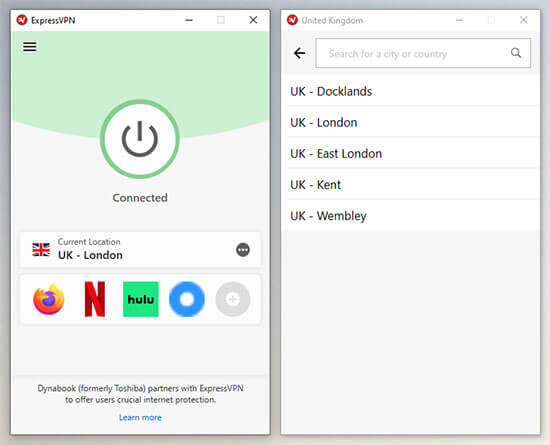 In the image above, you can see how the app looks when you connect.
4. Enjoy BBC iPlayer Effortlessly
With all that finished, you can now access your favorite streaming platform. Since this provider unblocks it always, you'll have zero issues binging stuff.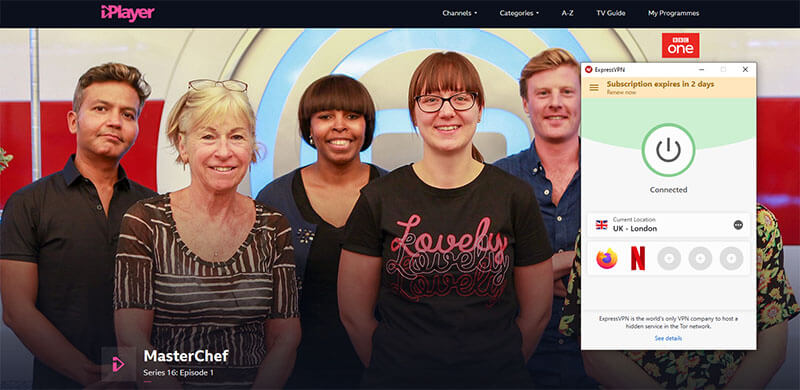 Best VPNs for Unblocking and Accessing BBC iPlayer
We already recommended ExpressVPN for this purpose but this isn't the only quality provider on the market. You'll agree that the market is flooded with low-quality providers but we've chosen the best ones for you. Here are the best choices:
1. ExpressVPN

Of course, we'll start with this provider as it is the best VPN in 2021. Everyone knows ExpressVPN as being a very influential company in this business.
Its blazing-fast speeds are here to give you the best experience possible. Whether you're streaming, gaming, gambling or torrenting, you'll get unrelenting speeds, making everything buttery-smooth.
But, it's not all about speed here, right? Well, ExpressVPN is also very secure. It's like Alcatraz on steroids. You get a no-log policy since the provider is from the BVI, and it's a transparent one. To avoid being detected while you're using this service, there's IP leak protection and 256-bit encryption.
In terms of bypassing geo-restrictions, the provider is a champ. Every geo-restricted platform you can imagine can be unblocked with it. Even US Netflix works flawlessly, as well as Hulu and DAZN, which are three of the worst anti-VPN platforms.
ExpressVPN is here to help you in times of need by providing you with great 24/7 customer support. You have a live chat feature here and they respond in a matter of seconds. Finally, there's router compatibility, so you can protect your whole house with a single subscription.
Enjoy Streaming on BBC iPlayer With ExpressVPN >
2. NordVPN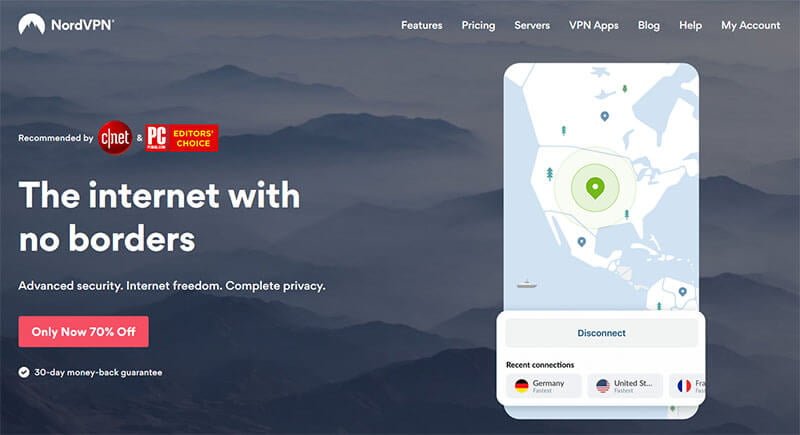 What about NordVPN? Even if you don't use any provider, you've probably heard about it. All those tech-related YouTube channels talk about it and you even get ads on certain sites. So, it must be good, right? Of course. Why would we recommend it if it was bad?!
NordVPN comes from Panama or better said, it doesn't come, it stays there. Jokes aside, it offers 5,600+ servers in 61 countries worldwide, which is a huge roster of high-speed servers. Speaking of speed, yes, the provider is very fast. It's #2 on our list of top 10 providers and in terms of speed, it's just a tad slower than ExpressVPN.
Nevertheless, it's speed is more than enough to enjoy even 4K content on Netflix. Now that you can see every hair follicle on Henry Cavill in The Witcher, you'll never want to go back! As you've guessed, BBC iPlayer works flawlessly with NordVPN, especially when you are abroad.
Furthermore, the provider offers a SmartPlay feature that combines the safety of a VPN and Smart DNS. It's here to enhance your streaming experience, coupled with CyberSec, which serves as an ad-blocker. Other security features include military-grade encryption, kill switch, Tor Over VPN and Double VPN.
For the price, NordVPN is a great provider, especially its long-term plans that are dead-cheap in 2021.
Easily Unblock BBC iPlayer With NordVPN >
3. CyberGhost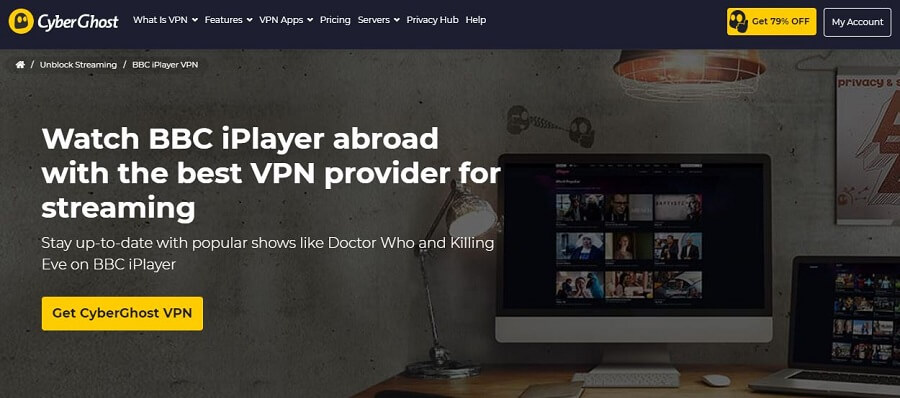 CyberGhost is all about impressing you with its galore of servers. You get 7,000+ servers in 91 countries around the globe. Don't say you aren't impressed! Being the largest provider on earth, it manages to cover almost the entirety of it. The best thing is that you get dedicated servers.
These servers are for streaming and torrenting. Even better, there are a couple of dedicated servers for BBC iPlayer that work flawlessly! CyberGhost even offers servers for Netflix, Hulu, and HBO GO. For those who love streaming, the provider will probably be one of the top choices.
Since it's from Romania, you get all the most important security features, including NoSpy servers. NoSpy servers are here to protect you from the watchful eyes of your ISP or the government. There's a no-log policy, too, so the provider doesn't store any of your personal info.
Your connection is protected by 256-bit AES encryption and you get an automatic kill switch on every platform. With the live chat feature and 24/7 customer support, CyberGhost offers a hell of a service. And on top of that, it's one of the cheapest providers on the market.
For newbies and those willing to save some cash, this is a bloody good option!
Enjoy BBC iPlayer With CyberGhost >
Can Free VPNs Unblock BBC iPlayer?
Using free VPNs is pretty common nowadays. We know some people that are using them for watching porn occasionally, which is okay. However, if you want to enjoy limitless streaming without buffering, then this will be a very bad choice.
First of all, free providers offer limited bandwidth. You can get 500 MB, for example, in the case of TunnelBear. Windscribe, another free provider, gives you 10 GB a month, which is a lot better but still not enough.
Now, Windscribe is a great VPN, no doubts, but for watching BBC iPlayer outside the UK, it isn't since it can't unblock it. You also get some slow speeds, which will hinder your streaming experience, especially in Full HD resolutions and above.
A free provider will NEVER be faster than the paid ones. And finally, we need to talk about security. Free providers often store logs or partial logs. Their privacy policies are far from being zero-log, which is a huge minus.
We found out that some of them even sell your data for revenue! For us, that's unacceptable. We would never compromise our security online for saving a few dollars a month. With that in mind, we don't recommend using free providers for BBC iPlayer. Buy a premium one and save yourself some headaches.
FAQ
To finish our guide on how to unblock, access and watch BBC iPlayer, let's answer some of the most commonly asked questions.
If I Already Have an Account on BBC iPlayer, Can I Access It from Abroad?
The interesting thing is that you can make an account on this platform even from abroad. We're located in the US and we tried it. Of course, we had no problems making an account. However, when you try to watch a certain show, you can't do it because you're not in the UK.
If you ask us, that's pointless. Even people who truly live in the UK won't be able to access their favorite shows when abroad. For that reason, using this service is compulsory even for UK residents in foreign countries.
Is BBC iPlayer Free to Use?
Yes, this platform is free to use. Although its quality isn't on Netflix's or Hulu's level, BBC iPlayer still has some decent shows. But, everything comes at a price. More quality platforms are often paid, while these with less-popular shows are either very cheap or free.
Why My VPN isn't Working With BBC iPlayer?
Because it isn't good enough for unblocking this service – simply put. If you're using a free provider, you got your answer a few minutes ago. Although it's a free service, it has very strong anti-VPN protection, blocking almost every provider on the market.
Also, proxy servers won't work, too. In fact, it's easier to detect a proxy server than this service. If you stick with our guide above, you'll have nothing to worry about unblocking this platform.
Will a VPN Have an Impact on My Internet Speed?
Yes – to some extent. The providers we mentioned above are verified by us and you'll enjoy their speeds. But, some providers simply offer slow speeds that won't be even serviceable for streaming or any other purpose.
For that reason, we suggest using ExpressVPN, as it's the fastest one, despite its strong encryption and rock-solid security.