Singapore is a great country to live in. It has amazing food, one of the best health care systems, and an educational system that produces fantastic results. However in Singapore, similar to many other countries, it does not have access to US TV. The following article will go over how to overcome this limitation and unblock your favorite American TV channels, whether you are a tourist or a local.
Why Can't I Watch US TV in Singapore?
Whether you live in Singapore or you are just visiting, you will be blocked from watching some great content.
Content produced by entertainment companies in the US and any major streaming services, such as AMC, ESPN, NBC, Netflix, Amazon, Hulu, or HBO, are not accessible. Whether you are trying to access these US TV providers from a laptop or a phone, the result will be the same.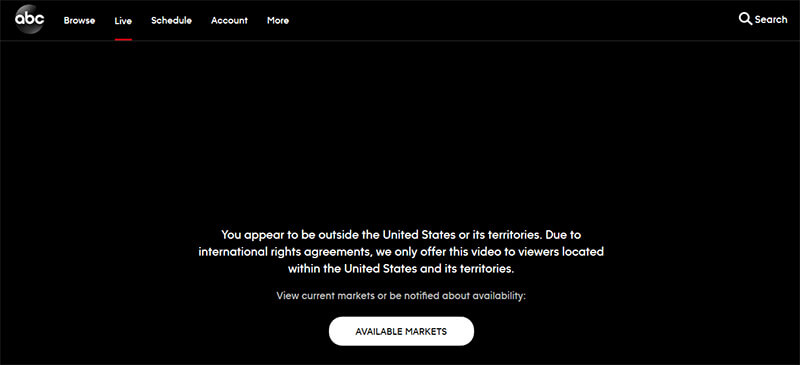 Watching US TV in Singapore is difficult because of the way television networks and movie studios handle their licensing. Most of them prefer to keep their content within the physical borders of the United States of America.
Because of this, people in Singapore have a hard time accessing US TV channels and cannot stream their favorite shows and movies.
This does not mean it is impossible for you to enjoy your favorite shows, though. Where there is a will, there is a way! Some people choose to download their shows via torrents, but this approach leaves traces of files in your device even after deleting them.
There is a better, safer, and more private solution to this problem – Virtual Private Networks.
Solution – Use a VPN
The fastest and easiest way to start watching US TV is by using a VPN. A virtual private network, or VPN, works by changing the internet address of the person using it.
A person using a VPN in Singapore receives a new internet address, also known as an IP, which allows them to access any region on the planet. This way, the provider of US TV programming receives data that states you are trying to watch from within the borders of the US.
Installing a VPN is very easy. Search the internet for your desired VPN provider, download the app, and press install. After that, you will just need to connect to an American Server in order to change your IP. Within seconds, your connection will be activated and your restrictions lifted.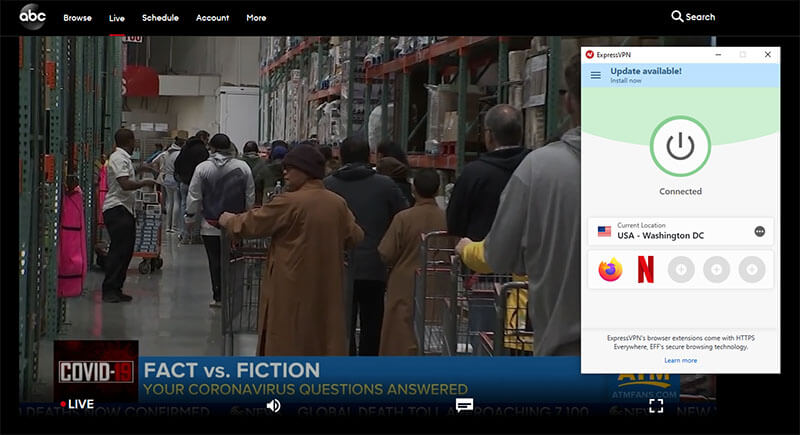 VPN to Choose to Watch US TV in Singapore
Choosing the correct VPN is the first step to getting access to American TV channels and programs. The market is full of undependable VPNs that will be a waste of your time. Out of all the options available, we advise you to avoid using VPNs that market themselves as free.
These kinds of VPNs tend to be filled with spyware and other malicious software.  For the best possible user experience and safety, we recommend using one of the following three providers.
ExpressVPN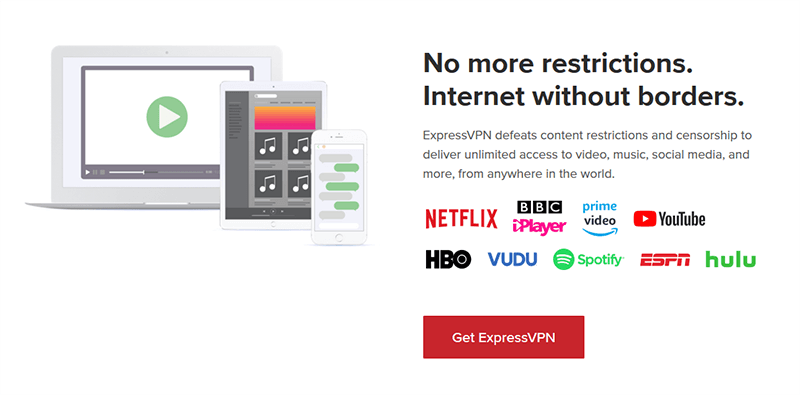 ExpressVPN is our top choice to watch US TV if you're in Singapore for several reasons. It offers very fast speeds, solid security, exceptional multi-platform support, and up to 5 simultaneous connections per account.
On top of that, ExpressVPN is very easy to install and use. You can visit their website for more info or go there to find the best VPN for Mac.
Out of the three VPNs, ExpressVPN is the fastest, but it also comes at a higher cost. If you want to watch your content with HD quality, this VPN is the ideal choice. There will be no loading times, and you will definitely get your money's worth, especially if you're looking at a way to unblock Netflix, Hulu, ABC, NBC…
ExpresVPN is based in the British Virgin Islands. Because of this, we consider it to be an extremely private and friendly service.
Much like NordVPN, it comes with tunneling protocols, great encryption, and a strict no-log policy. Consider this VPN if you want to keep your data private and don't mind paying a little extra for the service it provides.
Enjoy 49% discount at ExpressVPN >
NordVPN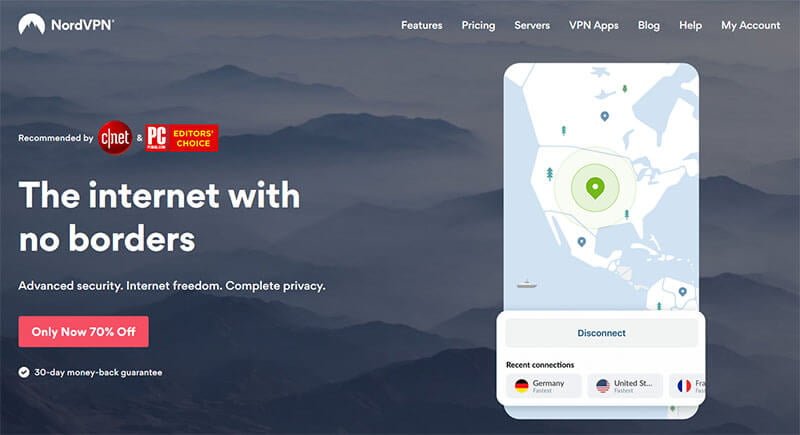 Much like ExpressVPN, NordVPN is based in a country that makes it easy to keep your data private. Panama offers a no-log policy, which makes this virtual private network a great option for watching content in Singapore. Many long-term users consider this service to be the most reliable on the market.
NordVPN uses many protocols, such as OpenVPN, L2TP, and PPTP. All of that is topped off with the ultimate protection of a 256-bit AES encryption, a kill switch, and CyberSec.
As far as price goes, NordVPN is midrange. It does not cost as much as the first VPN on our list, but it provides very similar services. Currently, it hosts more than 5,500 servers, with most of them being in the United States of America. This makes it an ideal VPN if you are only interested in viewing US television programming.
If your favorite TV shows come from Netflix, Hulu, Amazon Prime, or HBO GO, then NordVPN is for sure a really good VPN for you. The above-mentioned networks are all well-known for their efforts to combat VPNs, and NordVPN is the best in bypassing all of their restrictions.
With a competitive price, this is the all-in-one VPN for all of your digital needs.
Unblock any channel with NordVPN >
CyberGhost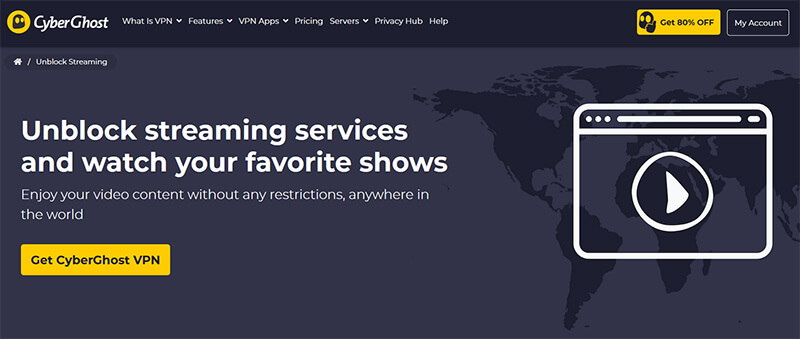 Last on our list, we have CyberGhost, the VPN with amazingly high general usability and device compatibility at an affordable price. The only downside is the speed of the connection.
It is just as stable as NordVPN and ExpressVPN, but certainly not as fast. Don't worry though, you will still be able to unblock and access your favorites shows… and even watch them in High Definition.
CyberGhost may have a smaller bandwidth compared to the other two VPNs, but what it lacks in power, it makes up for in numbers. Currently, this VPN has 7,000 servers spanning the globe. This high number of servers makes CyberGhost fantastic when it comes to accessing US TV programming in Singapore.
As far as privacy is concerned, CyberGhost has some of the best technologies on the market. It is just as safe and private as ExpressVPN and NordVPN, but it also has a few unique features. This VPN uses unique pre-protection features, further securing the connection it makes between servers.
Benefit from servers optimized for streaming >
Wrap Up
If you want to beat geo-restrictions in order to watch all your favorite American shows and TV programs, regardless if you are in Singapore or anywhere else, VPNs are the best solution. They offer unrestricted access to blocked services and do so with great care to protect all your private data.
Out of the 3 VPNs we have recommended, if cost is not a factor, we would go for ExpressVPN in a heartbeat. It offers you the possibility to watch your shows in HD with minimum or no waiting time at all. In fact, we can guarantee that using one of the best VPNs for the United States will help for sure!