The internet is a dangerous place and you'll often find yourself searching for solutions to stay anonymous. However, while using your ordinary web browser, that's not possible. For that reason, the Tor browser exists. This browser gives you complete anonymity but not rock-solid security, as a VPN can do. When you combine these two, you get an ultimate combo of the two most important factors for safe browsing. Today, we present you with the top 5 VPN providers for Tor, so stay tuned.
Why It's Important That You Use a VPN With Tor?
As many of you know, Tor allows you to surf anonymously on the Darkweb. On the surface, it's basically the same as your Google Chrome or Mozilla browser. However, rather than immediately connecting you to the internet, your traffic first passes through the Tor network.
From there, the traffic is randomly "bounced" off the server relays before finally arriving at its destination e.g. the site you want to visit. This helps to protect your identity and location but aside from that, you don't get any kind of security.
You see, when you use Tor, you have entry and exit nodes. The entry node is the first server relay, and logically, the exit node is the last relay after which your data ends up at the final destination. While your ISP can't see what you're doing between these nodes, it can see where your traffic enters and exit the Tor servers.

Better said, it can monitor IP and with that, your entry and exit nodes. When your Internet Service Provider sees that, it can block your traffic or intercept it, allowing it to see what you're doing. For instance, you can access an illegal site on the Darkweb and get caught.
But, if you use a Virtual Private Network, that can't happen. The reason being is because it hides your IP address, rendering you invisible to the prying eyes of ISPs or the government. You've probably heard about a Tor Over VPN feature, which is very important.
It lets you connect to a VPN first, and then, connect to Tor. Alternatively, there's VPN Over Tor, which we don't recommend using. Needless to say, every provider below has the first feature, making it suitable for this purpose.
Top 5 VPNs for Tor Browser in 2021
Are you ready to leave the matrix and browse the internet privately? Here are the best choices for maximum privacy and security in 2021:
1. ExpressVPN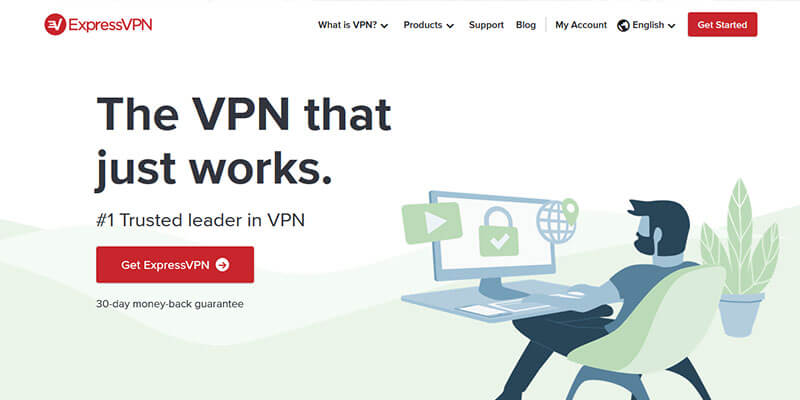 ExpressVPN is the best VPN usable on Tor right now. Not only it is blazing-fast but it also offers some cool security features. One of them, of course, being Onion (Tor) Over VPN. Although this browser slows down your internet speed to some extent, with this provider's speeds, that won't have to be the case.
Furthermore, ExpressVPN lets you unblock any geo-restricted site. Netflix, Hulu, HBO GO, Disney+ or DAZN – just say the name! This is great for accessing the Darkweb and deep web, in case you're very curious.
Since it keeps no logs, you can browse the internet to your heart's contempt, torrent or even gamble on online casinos. We like the addition of split tunneling, which is very easy to use. Also, you get 24/7 customer support with the 24/7 live chat feature.
ExpressVPN supports routers, so if you decide to cover up the entire household, you can do it in a few steps. Did we mention discounts – no? Well, you get a 49% discount and 3 months free for a 12-month plan. If you don't like it, you have a 30-day money-back guarantee.
Use Tor Safely With ExpressVPN >
2. CyberGhost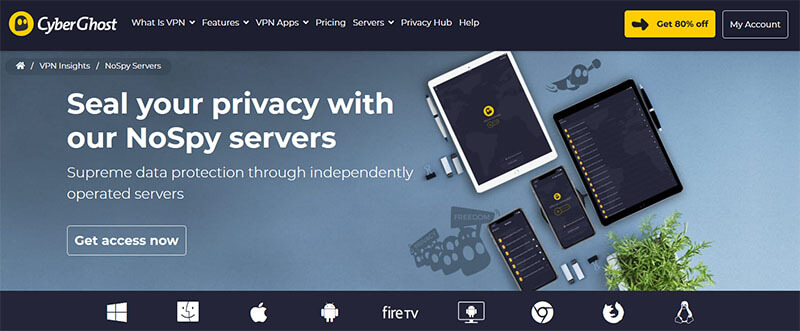 CyberGhost is a Romanian provider that uses its country for some great security perks. Being outside of the 14 Eyes is one of the best things for privacy. You don't have any surveillance and you're free to do whatever you want – hell yeah!
Here, you get a transparent no-log policy for protecting your personal info. Even better, there's 256-bit AES encryption for keeping your connection encrypted all the time. If you wish, you can use the OpenVPN protocol for maximum security but also other security protocols that CyberGhost offers.
The great thing about the provider is that it offers 6,200+ servers in 91 countries – that's quite a LOT. Some of these servers are dedicated to streaming or torrenting, too. So, when you couple it with the almighty Tor browser, you get an unbeatable combination of speed, security, and anonymity.
CyberGhost has NoSpy servers that offer even faster speeds and stronger encryption for jaw-dropping performance. And you know what? You'll fall in love with its 3-year plan. It's super-cheap and offers every cutting-edge feature in the provider's sleeve.
With a 45-day money-back period, live chat support, and router compatibility, this is a force to be reckoned with.
Stay Anonymous With CyberGhost >
3. NordVPN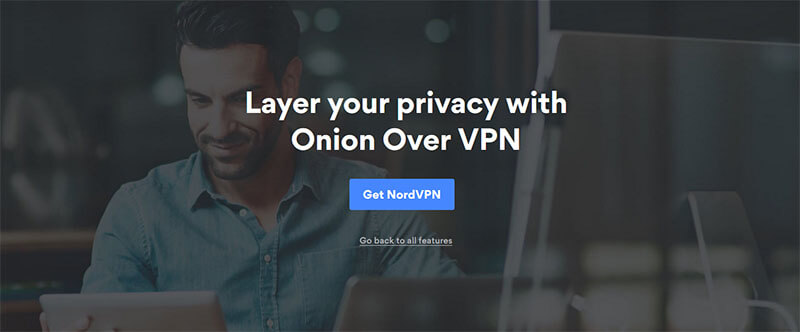 NordVPN is one of the few providers that offer the Tor Over VPN feature that works fine. Because of that, it's one of our top choices. Being from Panama, once again, it's far from the 14 Eyes, leaving the company with no surveillance or other data-compromising measures.
You get a zero-log policy, as well as numerous security features. There are obfuscated servers for bypassing censorship, CyberSec for blocking ads, and Double VPN for splitting traffic through two different servers.
Since it's armed to the teeth, you also get solid speeds. This is enough for enjoying your favorite Netflix shows or playing online games. And if you want, you can even watch porn in 4K, albeit, you'll need a premium account for that – sorry!
NordVPN has 5,600+ servers in 61 countries and gives you complete privacy. Furthermore, there's great customer support and the ability to use it on your router. What more to ask for? Get a subscription for a heavily discounted price below.
Enjoy Tor Browser With NordVPN >
4. Surfshark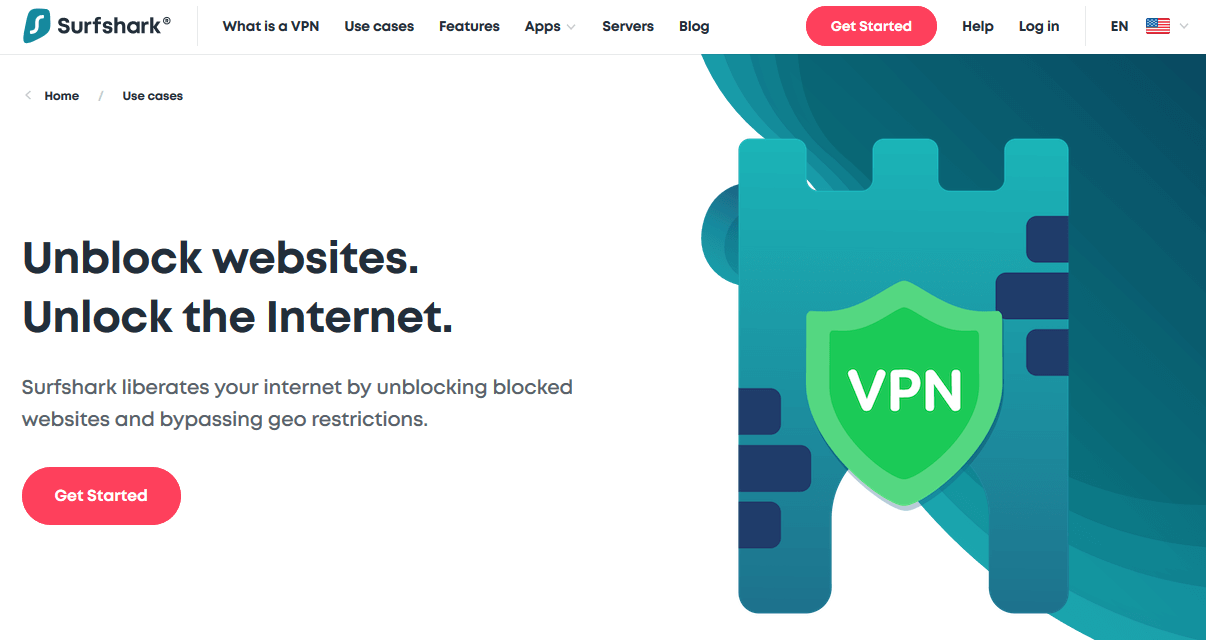 Surfshark is a reliable provider with lots of features at your disposal. The provider offers unlimited simultaneous connections, which is its highlight. Just to make sure you understand, it allows you to use an unlimited number of devices on a single subscription, which is just fantastic.
Other than that, Surfshark is a hallmark of quality, security, and safety. It's located in the BVI, and from there, it governs 1,040+ servers in 61 countries worldwide. While the server count isn't impressive, the performance definitely is.
We like the addition of the NoBorders mode, which is great for bypassing censorship. It can also allow you to download the Tor browser if it's forbidden in your country. Surfshark offers MultiHop and Camouflage modes, all giving you thicker layers of security.
The standard features like 256-bit encryption and IP leak protection are here, and it's great to know that it can unblock Netflix easily. Being this cheap, you'll be surprised by how much you can get for a pocket change. That is if you buy a 2-year plan.
There's even a 30-day money guarantee on all plans – no questions asked. Try it and see it for yourself but for us, this is a must-buy for money-saving fanatics.
5. IPVanish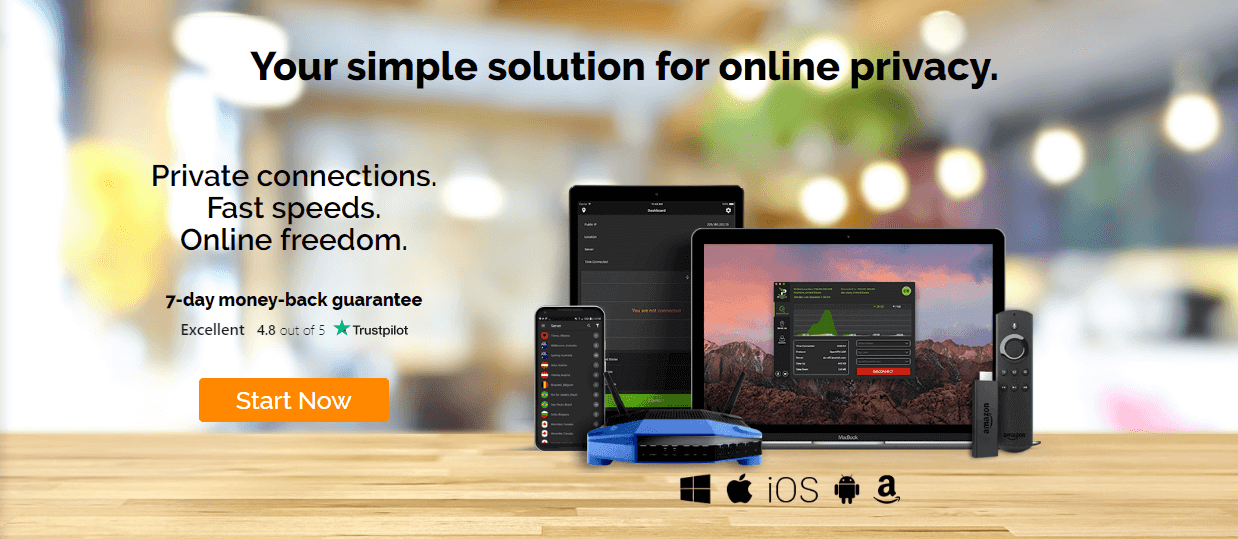 IPVanish is on our top-ten list and as such, it's a decent all-around choice. While it's not always our go-to option, we must admit that it works pretty well with the Tor browser. The provider is located in the USA, a country under the 14 Eyes jurisdiction, though. But, that shouldn't concern you too much as it has a no-log policy.
Like NordVPN, IPVanish also uses obfuscated servers for adding a layer of security. It allows you to bypass censorship since your ISP won't see that you're using a VPN. With 1,300+ servers in 75+ locations, the provider has a stellar server network. You'll be able to unblock some streaming platforms and engage in P2P activities if you want.
When it comes to simultaneous connections, you get 10 of them, which is enough for most people. This will allow you to protect even your phones and tablets. Speed-wise, IPVanish isn't the greatest but for this purpose, it's serviceable.
Despite a modest 7-day money-back period, this provider is still a decent option in 2021. It's not too expensive and not too cheap, so we can call it a golden middle of the market.
Enhance Your Privacy With IPVanish >
How to Use a VPN with Tor Browser?
Before proceeding to the FAQ section, we need to go through a short how-to guide on how to use a VPN with your Tor Browser. The steps are below:
1. Get a Subscription
We gave you our top 5 picks above. Now, all you need to do is to choose the one you want and get a subscription. Our recommendation is ExpressVPN since it's the fastest, the most secure, and the most reliable provider in 2021.
2. Install the App
Download the app(s) after you subscribe. It can be Windows, Android or any other platform. Below is a screenshot of the Windows app. To successfully launch it, log in with your credentials.
3. Connect to a Foreign Server
Now, on the home screen, click on the country below the power button to open the server list.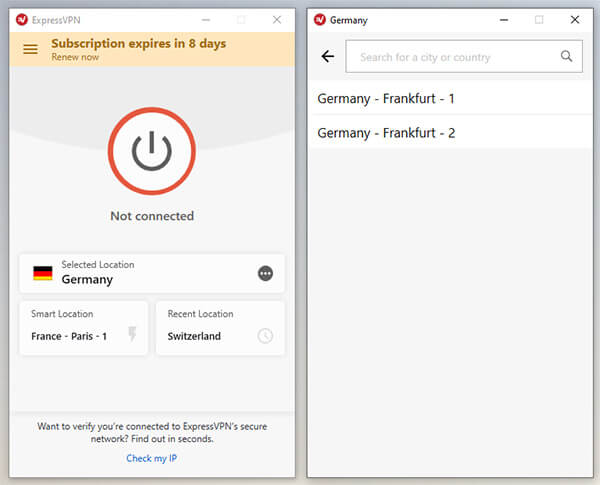 Choose the server you want and then, click on the power button again to establish a connection.
4. Enjoy Secure and Anonymous Web Browsing
Now that you're connected, you're ready to set sails and enjoy your Tor experience to the fullest.
FAQ
Let's answer the commonly asked questions, so you can get full info on the topic.
Is Using Tor Considered Illegal?
No, it isn't. If you use it for browsing the internet regularly, you'll be good to go. On the other hand, if your goal is hiding some sort of illegal activity, you can get into legal issues.
Why is VPN More Secure than Tor?
Because it hides your IP address with a VPN tunnel. Tor, on the other hand, uses your native IP for browsing the internet.
Is Tor Over VPN Better than VPN Over Tor?
Yes, it is and it's much easier to use, too. We explained how to use it above. As for the other method, you'll need to use Tor first, and then, connect to the Virtual Private Network, which poses a certain risk for your security.
The best way to do it is the way we already explained in our short guide.