In our tests, you usually see VPNs from either some off-shore countries, US or main European countries. However, this time, we decided to go a bit more to the east of Europe to find out if one VPN, in particular, is worth your money. Of course, we're talking about VPNArea, a seemingly great, yet affordable provider. Are you interested in it? Do you have it on your "wishlist?" If so, we recommend staying with us throughout our whole VPNArea review. It will be an interesting read and you'll know whether to buy it or not.
What is VPNArea?
VPNArea is a very small Virtual Private Network provider from Eastern Europe. It's located in Bulgaria and was founded in 2012. So, at the moment of writing this review, we're looking at merely 8 years of existence, which isn't very much.
Although it's stationed in Bulgaria, a company by the name of Offshore Security EOOD actually owns the provider. As its name implies, it's an off-shore company and given the provider's location, which is outside of the 14 Eyes jurisdiction, you can, in theory, expect maximum privacy and security.
Furthermore, the provider has a beautifully designed website and presentation. We hope that it's not just a make-up that masks bad service and subpar performance. After all, let's just dive deeper into the review and see if VPNArea delivers on its promises.
Compatible Devices and Ease of Use
As always, we'll start with the device compatibility. We're very harsh here and we subtract points if the providers don't support all the major platforms, including routers. How does this provider stand? Well, impressive – at least, for now:

From left to right, we have Windows, Mac, Android, iOS, Linux, Routers, and even Smart TV. That's a great roster, especially because of the last two entries on the list. We don't like it when a provider doesn't support routers and we usually deem it incomplete. Here, though, that's not the case!
Let's test the apps on different platforms and see how good they are.
Computers
We'll start this review of VPNArea with computers. Here, you can expect virtually every platform – Windows, Mac, and Linux. That's great for every PC user who wants to get into this world without hassle. Since we use a Windows-based PC, we'll test it on Windows 10 and see how easy it is to use.
When you buy a subscription, you'll need to download the app. Double-click on the app will lead you to the initial setup screen: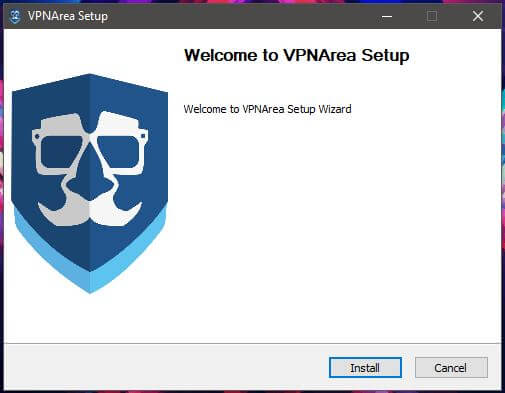 Click Install and the app will install immediately, which is great: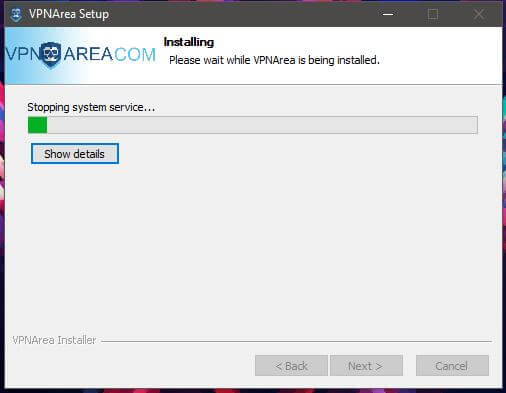 The installation lasted about five seconds on our SSD, which is blazing-fast. We just hope that its speeds later will be as fast! Nonetheless, when the app installs, you can run it right away and if you do, you'll get this screen: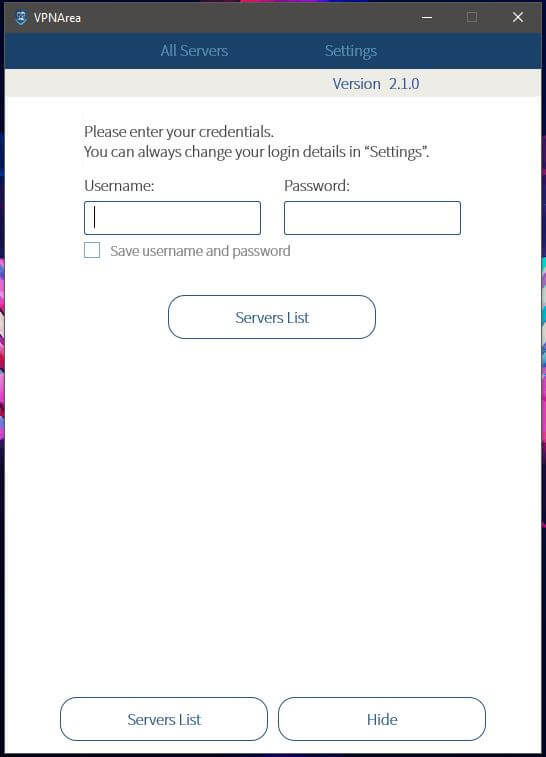 Interestingly, you can immediately click on the server list and even when you're not logged in, it will work. However, to connect to a server, you must be logged in. So, first things first. Type in your credentials, press Enter, and then, click on the Servers List: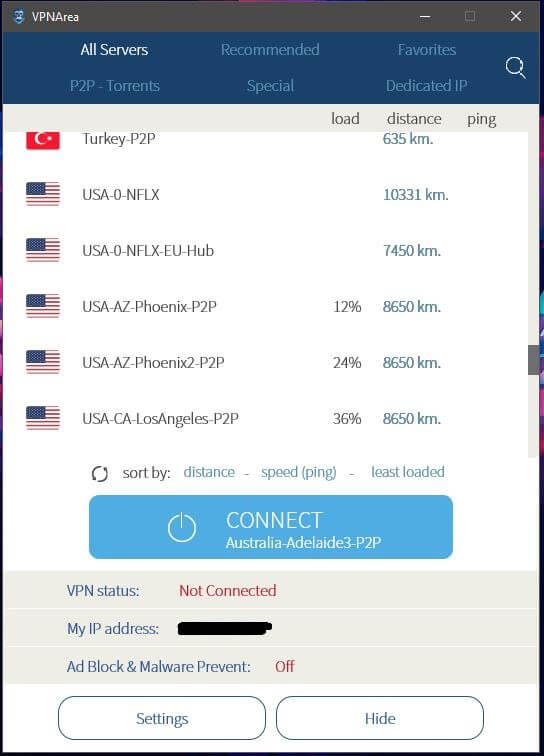 We chose the USA-0-NFLX server, as this server is recommended for accessing Netflix and other platforms. More on that later. When you connect, the home screen looks like this: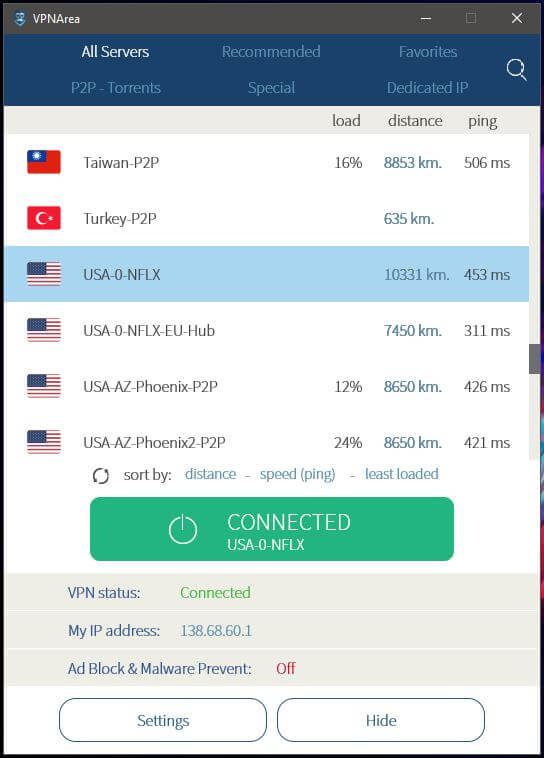 Although the interface looks a bit dated and cluttered, the app isn't very hard to use. If you're a beginner, you'll probably struggle to understand all the settings they offer but we'll delve deeper into some of them later in the article.
All in all, VPNArea is easy to use and install, which is always great.
Smartphones and Tablets
Now, what about our beloved mobile devices? Not many of you probably use tablets since our smartphones are getting brick-like with their ~7 inches in size. Still, an iPad is a great device and we believe that many people use it. Whether you're on iOS or Android, regardless of device, you'll want to install a VPN.
We'll show you the installation process on our Android phone but rest assured, it's the same on mobile devices. The first step is to visit the Google Play Store and download the app, as shown in image 1.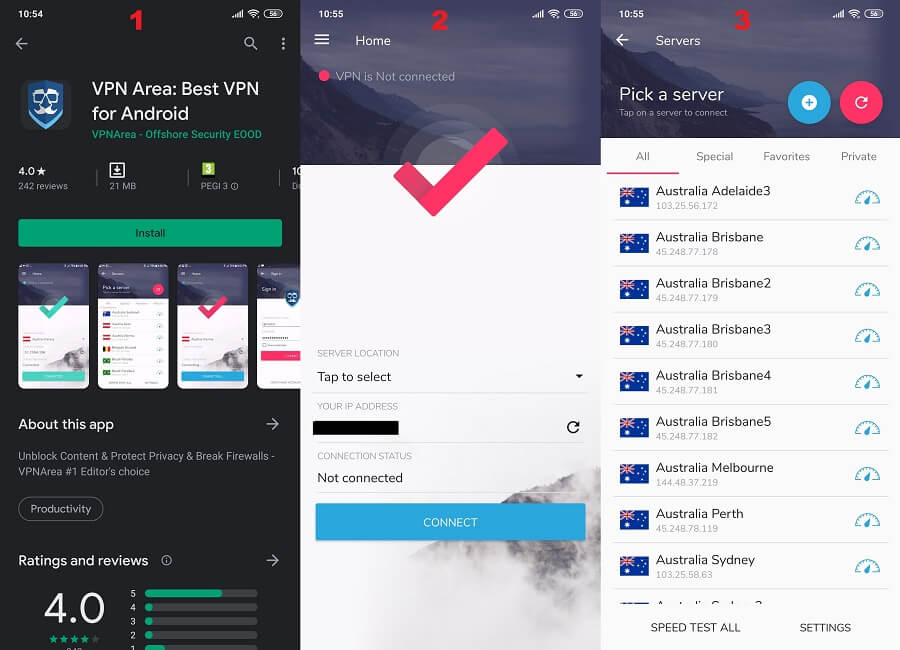 When you install it, open the app and you'll see the home screen in image 2. Strangely, this app looks way better than the PC app – just saying. Once again, there's no login screen… okay, then. We opened the server list in image 3 to see which server to choose. We randomly chose a Portuguese server and when we tried to connect…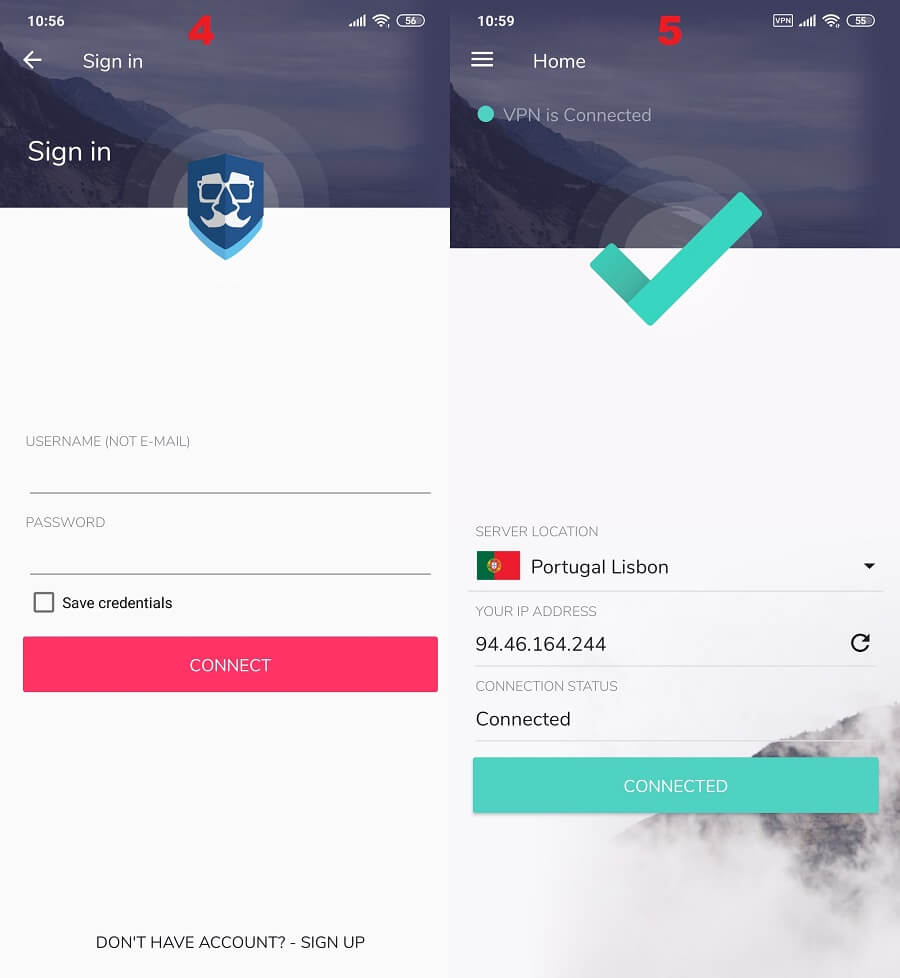 … the login screen popped up (image 4). Type your credentials and tap Connect. In image 5, you can see that our connection is established, as well as our new IP address. The app is very easy to use and it looks fine aesthetically. So far, so good.
Other Devices
You've already seen that the provider supports routers. Without messing it up even further, here's a screenshot to prove that: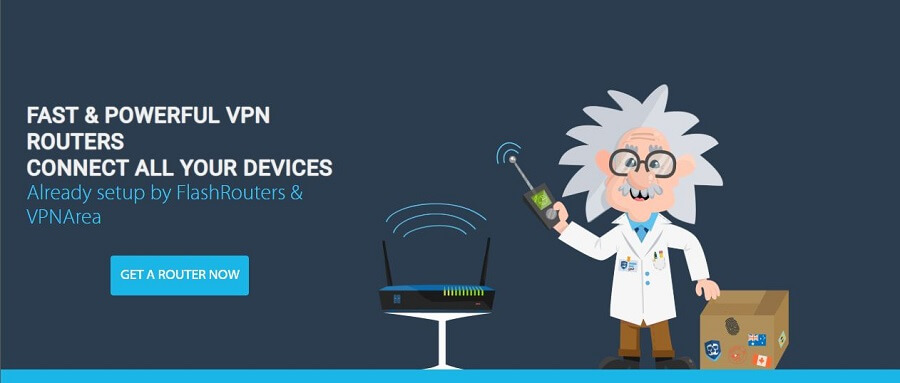 The provider even gives you an option to buy pre-installed routers, so you can immediately use VPNArea on them. Luckily, these routers aren't going to cost you a fortune. You'll find some of them at under $100.
Even better, the provider offers numerous guides on how to install a VPN on a router, so you won't have any problems, even if you're a newbie. Just for the reference, a router allows up to 16 or 32 connections and connected to a Virtual Private Network, it can protect all of them simultaneously.
How Fast is VPNArea? We Checked Its Speed!
Did you notice that our top providers are always the fastest ones? That's how important the speed is! However, only a handful of providers are capable of delivering speeds that we like. Don't tell us we didn't warn you about our high criteria!
Nevertheless, every provider will decrease your internet speed to some extent. Some will do it by 20% and some will do it by 80%, which is a huge difference. The speed depends on the quality of the network, server distance, internet speed, level of encryption, and so forth.
That's why it's important that we clarify how we did our tests and what are our non-VPN speeds. For the start, we did 3 tests in the morning, 3 in the mid-day, and 3 in the evening, for 3 different locations. We kept the best score and used the best location when the option was possible. Our physical location is in the USA (non-VPN test) and we used these 3 testing locations:
The United States
The United Kingdom
Australia
Without using a Virtual Private Network, our speeds are:
Ping: 11 ms
Download Speed: 211.88 Mb/s
Upload Speed: 202.20 Mb/s
Now, when using VPNArea, our ping, download, and upload speeds respectively, for 3 testing locations, are:
US Server: 29 ms / 156.27 Mbps / 139.48 Mbps

UK Server: 93 ms / 74.06 Mbps / 55.22 Mbps

Australian Server: 318 ms / 36.93 Mbps / 27.45 Mbps

You can see the results above. When using the US server, we didn't have any issues and the speeds were okay – not too fast, not too slow. However, UK and Australian servers didn't show any great results.
A ping of 318 ms made our connection painfully slow and with much slower speeds, we couldn't enjoy even 1080p streaming without buffering. Furthermore, we noticed that it takes much longer to connect to some servers.
For example, we waited for about 15 seconds to connect to the Australian server. Long story short, VPNArea doesn't have great speeds, especially because of its slow connections. Albeit, we've seen much worse.
How Good is VPNArea for Streaming?
If you live near some of the countries we mentioned above, you should have no problems enjoying 1080p streaming. Since most of the streaming platforms come from the USA, living close to that country is always a good thing because you'll get higher speeds, as we saw.
Still, streaming isn't only about speeds. It's about being able to unblock different streaming platforms. Here's what VPNArea suggests:

You can see that not every sever unblocks Netflix, BBC iPlayer, and so forth. When using the servers mentioned above, we managed to achieve great results. For example, we unblocked Netflix easily on the recommended server, while it didn't work on other US servers.
Let's check other platforms, starting with HBO GO as our warm-up contender: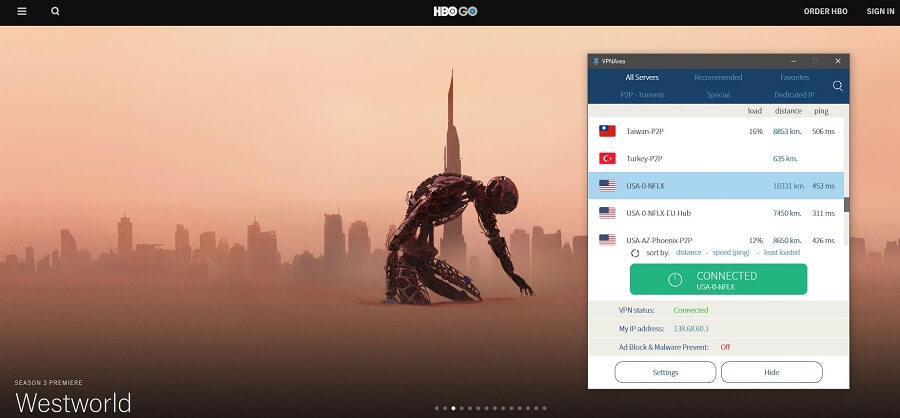 As expected, HBO GO works flawlessly. Now, let's see what Disney+ will say: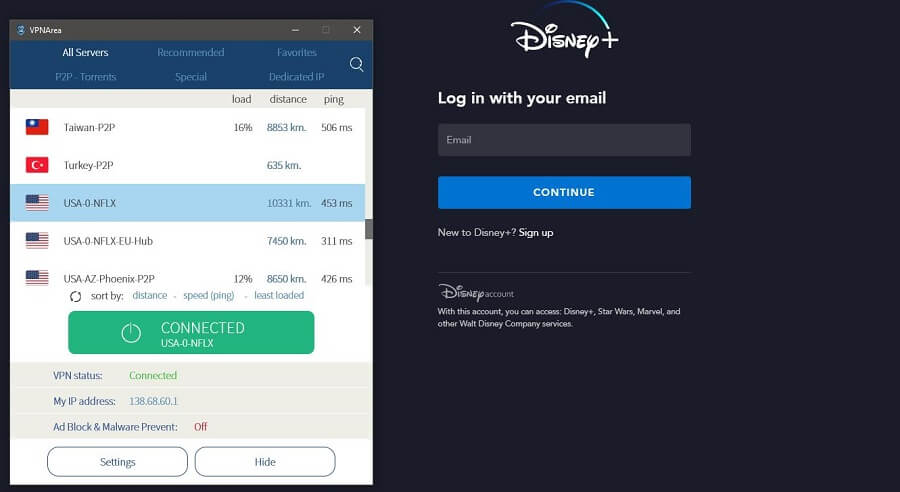 VPNArea unblocks Disney+ with ease as we've been able to confirm during our complete review. Of course, when using the server that the provider recommends. The next test really surprised us:
Oh, man – what a refreshment! Finally, a VPN that can unblock DAZN. The only platform left to check out is BBC iPlayer, so let's do it: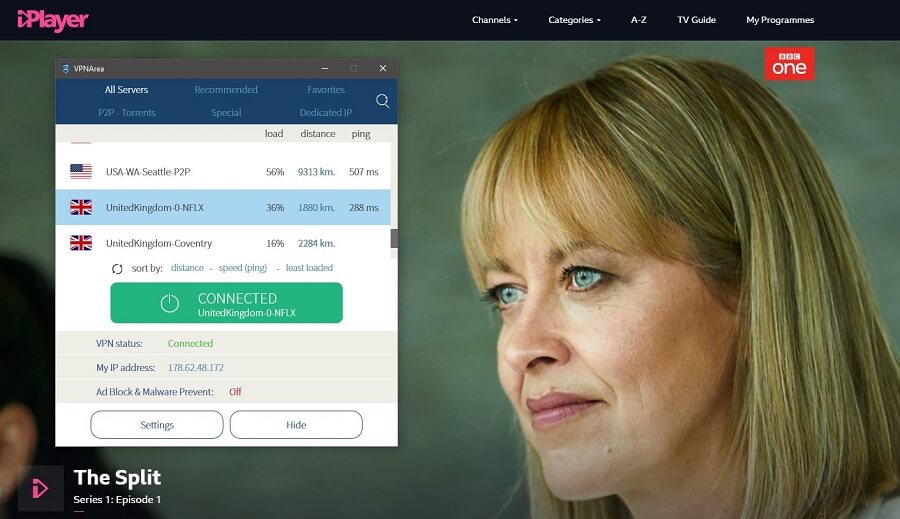 Needless to say, the provider passed our streaming tests with flying colors. It unblocked every platform during our test and aside from that, it can unblock Hulu, Amazon Prime Video, and Sky Go. If you manage to achieve some decent speeds when using US or UK servers, you'll get a flawless streaming experience.
All in all, VPNArea is great for streaming BUT only when using the recommended servers. We tested the other US and UK servers and couldn't unblock Netflix/BBC iPlayer every time.
Confidentiality, Security & Logs
You'll agree that Bulgaria isn't the most developed country. Countries like BVI, Malaysia, and Panama also aren't the most developed. However, these countries have something in common – security and privacy laws.
This is why these countries, accompanied by Romania, represent the best locations for VPN services. How does VPNArea fare in this territory? Well, pretty good. Its privacy policy isn't very long, yet goes straight to the point. Take a look at this:

They simply give you a straightforward answer, which we always like. For those who can't read it properly, they say that they don't store any online activity, including timestamps, IP addresses, login dates, DNS requests, etc.
That's how you do a transparent zero-log policy. Some providers can definitely learn a thing or two! Let's check our IP leak test and see if the provider is as good: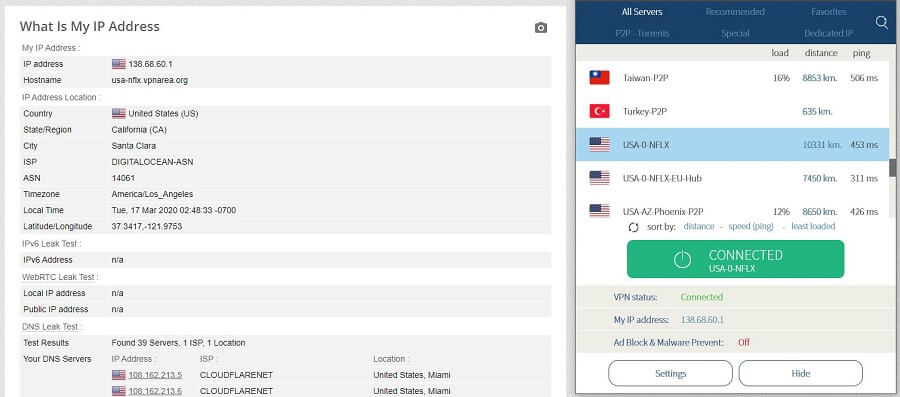 Laser-precise. The IP on the right is the same as the IP on the left, which shows that there aren't any IP and DNS leaks. Security-wise, the provider offers a kill switch, DNS and IP leak protection, 256-bit encryption, and a malware-blocker.
With that in mind, VPNArea is safe, secure, and represents a great option for anonymity.
Can I Do Torrenting Safely With VPNArea?
In the image above, you can see that the provider has some P2P servers. The great thing is that there are a lot of these servers, meaning that torrenting is allowed. Since the provider is from Bulgaria, they aren't obligated to share your data with the government, so you can't end up with copyright infringement.
To be honest, the laws in this country aren't very strict, so many people engage in P2P activities there without any kind of protection. We tested the American server from above using the 1337x torrent site:

It shows our fake IP, hence we began downloading the game. Needless to say, it was effortless and we didn't get any copyright claims. Not only will you be safe while torrenting but also safe while visiting torrent sites, regardless of your location.
Can I Use VPNArea to Bypass Censorship?
Countries that apply an excessive amount of censorship include China, the UAE, Russia, Turkmenistan, Iraq, and dozens more. However, China is a country well-known for these practices. Even worse, it has the Great Firewall of China, which is a nemesis of VPNs on the market.
This firewall is so strong, that it successfully repels almost every provider. In 2021, only a handful of them really work in China. To do that, providers use special features that will mask that you're using a Virtual Private Network. It then allows you to bypass DPI (Deep Packet Inspections) and use the internet normally.
VPNArea has special X-Stunnel servers: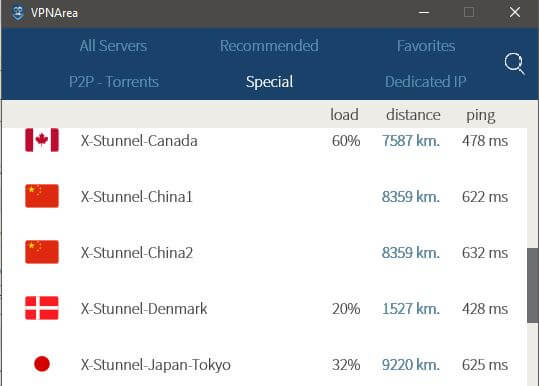 These servers, in theory, should allow you to use the provider in this country. But, it wasn't working in China during our tests. The company needs to improve this feature and with future updates, we hope that it will, more or less, work reliably.
Simply put for this part of our review, VPNArea can't bypass censorship.
Pricing and Plan Options
Even though this service costs a few dollars a month, people often want to save as much money as possible. That's understandable since many users buy long-term plans, and in this case, you can indeed save some cash.
Let's see how much VPNArea will cost you: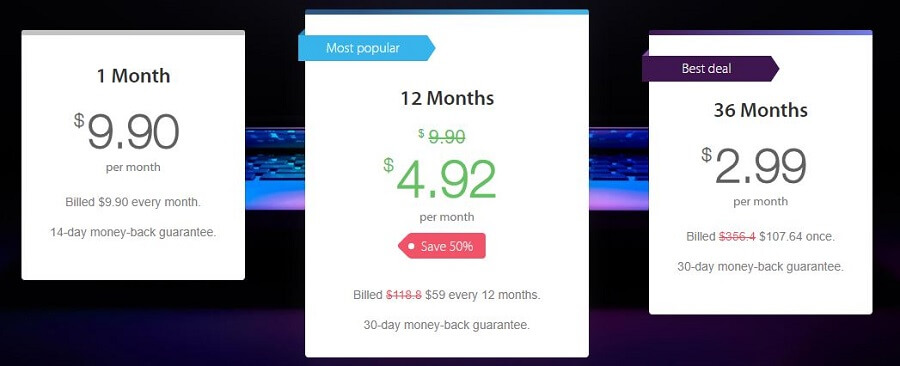 This time, let's start from the right. On the right, there's a 3-year plan at $2.99 a month or $107.64 every 3 years. In the middle, there's an annual plan at $4.92 a month or $59 every 12 months. Finally, a monthly plan costs $9.90, which isn't very expensive. The provider also offers dedicated IP addresses: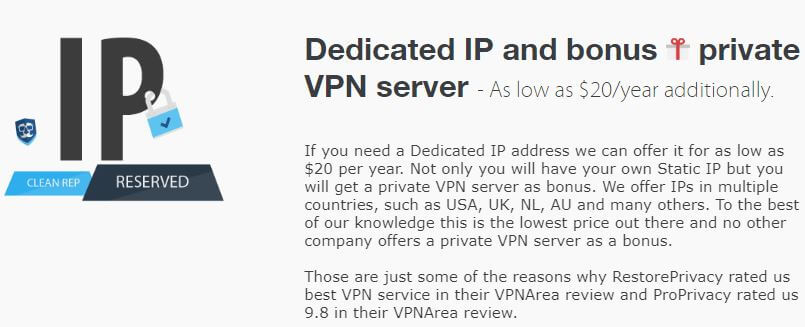 The lowest price is $20 per year, which is cheap, compared to TorGuard, which gives you a dedicated IP for $7.99 a MONTH.
So, are there better options at this price? Yes, there are. If you want a 3-year plan, we suggest CyberGhost, which costs $2.75 a month and you get 2 months free. For a one-year plan, there aren't many options at this price. If you want to pay slightly more, you can get Surfshark for $5.99 a month for an annual plan.
The payment methods are below: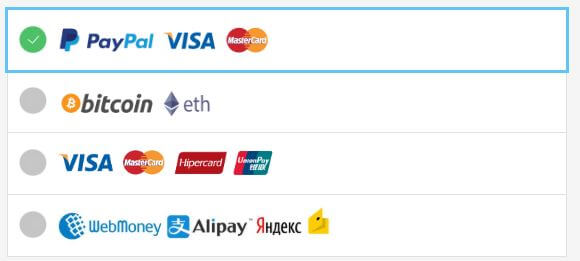 Bitcoin and Ethereum are there, sou you can pay anonymously. As for the refunds, they offer a 14-day and 30-day money-back period for monthly and long-term plans respectively. The refund policy is pretty clear, so there's nothing confusing or malevolent:

Since there's live chat, you can contact the company for a refund easily. Much to our surprise, we got a very fast answer during our review of VPNArea, in like 5 to 10 seconds – seriously!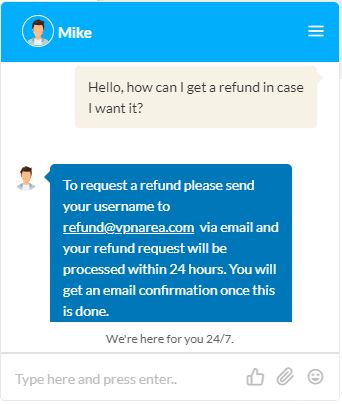 We won't paraphrase what Mike told us. In short, you can request a refund by sending an email to [email protected].
How Can I Contact VPNArea?
Since we touched on one of the contact methods, it's important to see how else you can contact the provider. This image below will give you a clear picture:
On the left, there are three contact methods. You can contact them via email, via ticket, and via live chat, which is also located in the bottom-right corner. We like it when a provider offers various methods for contact. Also, we value that live chat support is very fast to respond.
As always, whenever there's a live chat feature, we give a thumbs-up.
The Special Functionalities
There's nothing better than some special functionalities to spice things up. We value them a lot and when the provider is more expensive than some of our top providers, we have high expectations. Luckily, VPNArea comes with three special functionalities:
Dedicated Servers
Dedicated servers are great for making your streaming and P2P activities more enjoyable. We've seen this feature in CyberGhost, ZenMate, and many other providers. Although this provider has a smaller server network, you still get a substantial amount of these servers.

In the image above, you can see that switching from different types of servers is easy. There's even a Dedicated IP tab but since we didn't buy it, we couldn't use it.
X-Stunnel
You've already seen this feature in our section about bypassing censorship. After we tested it, we found out that some users use X-Stunnel servers for months in China, without any problems. Unfortunately, it didn't work for us.
Still, we must give credit where credit is due. And for those users that use it in China successfully, this feature is definitely a God-given addition.
Ad and Malware Blocker
VPNArea offers an ad-blocker that can also block malware and trackers.

It doesn't always work reliably but in most cases, it manages to block a majority of ads and pop-ups.
Other Things You Should Know
Although we talked already a lot about VPNArea in this review, there are still some things you need to know. Let's cover them up in a traditional manner:
Number of Servers
The provider, similarly to Goose VPN, stays relatively vague about its number of servers. On its site, you can find this image: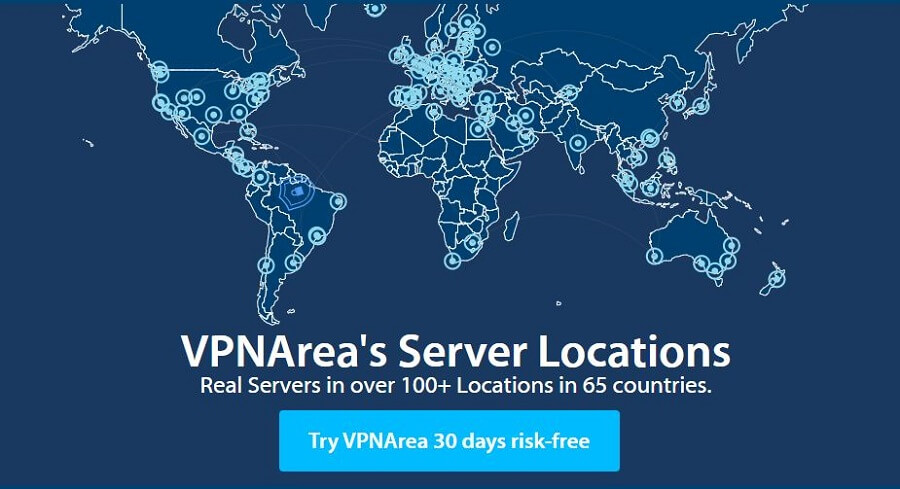 Do you see the exact server number? We neither. However, we asked the support and they told us that it has 210+ servers worldwide. That's not a very big number and for this price, we expected a lot more.
Number of Locations
As you can see from the image above, the provider offers 65 countries and 100+ locations. We also found out that the provider has servers in Russia, which isn't something we like very much. For those who don't know, Russia has data-retention laws and doesn't allow VPNs to work there unless they comply with these laws.
VPNArea still operates in the country, though.
Number of Simultaneous Connections
The provider allows up to 6 simultaneous connections on a single account.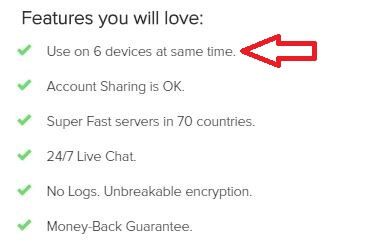 Remember that you can also use it on your router and protect up to 16 or 32 devices in your household simultaneously.
What Do Other Users Say About VPNArea?
Before the conclusion of our in-depth review, we need to see what users online think about VPNArea. Let's start with Reddit:

There isn't a lot of info about the provider on Reddit. However, this user put VPNArea in the same ballpark as ExpressVPN and IPVanish, branding them as quality. We don't agree with that but that's the only opinion we managed to dig out about this VPN here, as it's not very popular.
Now, let's visit the Google Play Store:

Again, not many reviews here. This user said that the provider is extremely slow and that he's going to use Private Internet Access instead. On the Apple side, things are very similar:

The iOS app is very buggy, as the user said. Plus, when he tries to download the app, it's allegedly not available in his regions, which is the United States. This isn't the first case of reporting bugs on the iOS app, so we hope that the provider will fix it soon.
Finally, a review from Trustpilot:

This review of VPNArea is very positive, stating that it's one of the best VPNs on the market. The user says that he's satisfied speeds and application, as well as with the number of servers, which is a bit suspicious. How can someone be satisfied with 200 servers?
It can be an affiliate user or perhaps a really modest one – who knows?!
Conclusion: Should You Take It?
VPNArea offers solid performance for the price. It unblocks every streaming platform, it allows torrenting, has a strict no-log policy, supports routers, and even has the live chat feature. However, the problem is that it's "solid" and not great for the price.
At almost three bucks, we expected a bit more reliability, faster connections, and the ability to work in China. Once again, CyberGhost costs $2.75 for a 3-year plan, whereas VPNArea costs $2.99. CyberGhost is a MUCH better choice overall, so it's pointless recommending this VPN.
That brings us to the conclusion – should you give money for it? No, you should not buy VPNArea. If you want a similarly-priced provider, you can buy the one we mentioned above. However, if you want a no-compromise experience, our suggestion is ExpressVPN, the best provider on the market.
It offers a 49% discount and 3 months free for a 12-month plan – such a great offer!