India has some of the greatest streaming platforms in the world. Just think about Hotstar. If you're not from this country, however, your chances of accessing it are slim to none – and slim just died. Do you have trouble accessing other Indian services, as well as your bank account from abroad? If so, you'll need to change your IP and get an Indian one, so you can access them from anywhere in the world. See how to do it below!
Use a VPN to Change Your IP
We can agree on something – we all hate geo-restrictions. Why can't we just access any site on the world with our native IP addresses, for God's sake?! But, as always, we have solutions for your problem regarding these issues.
A Virtual Private Network can help you bypass these geo-restrictions, regardless of your country. It lets you change your online location so that the site you're trying to visit sees you as if you were from that fake location.
Furthermore, it encrypts your connection with a virtual tunnel that spans from you to the website you want to visit. Take a look:

You can see that the government and ISPs can't access your traffic that's flowing through the tunnel. This means that you're safe and secure, and on top of that, you can access Indian content. Two birds with one stone, heh.
How to Get an Indian IP Address from Anywhere in the World?
Now that our quick lecture is over, you want to find out how to get an Indian IP from anywhere in the world. Follow the steps below:
1. Get ExpressVPN's Subscription
Why ExpressVPN – you may ask. The reason is simple – it's the best provider in 2021. Although this is our recommended choice, we'll still give you two more down below that will surely work for this purpose.
ExpressVPN also offers a 49% discount and 3 months free for a 12-month plan, so it's a very good deal, knowing how decent it is.
2. Download and Install the Apps
Upon purchase, download and install the apps you need. Both computers and mobile phones are supported, so feel free to secure them all!
3. Connect to an Indian Server
Finally, it's time to connect to the server of your choice, in this case, an Indian one. Click on the country below the power button. The server list will open and from there, choose India. Click on the power button now, and you'll establish a connection in a few seconds.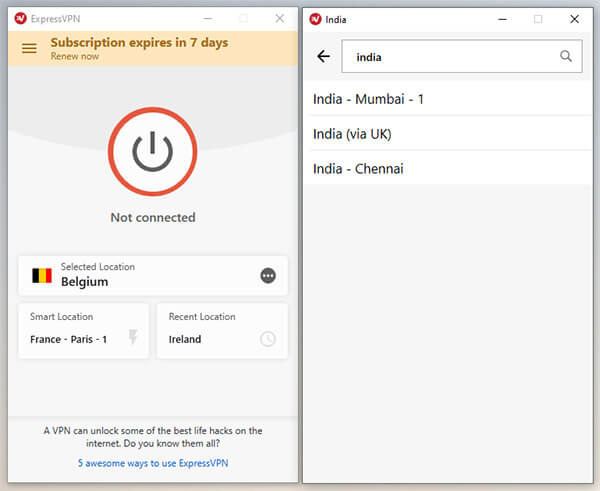 4. Enjoy Streaming and Other Benefits
Congrats, you're now an Indian resident, so act like it – at least, in the online world.

What are the Benefits of Getting an Indian IP Address?
If you think that you get no special benefits for using an Indian IP address, you're dead wrong. Here's what you get when you change your Internet Protocol address:
Access to Hotstar and Netflix India
Who doesn't like Hotstar and Netflix?! Or perhaps, Star Sports, for some Indian sports coverage. All of these websites can easily be accessed with a VPN. Remember that Netflix India is one of the largest movies and TV shows catalog on Netflix, so you can enjoy almost all the shows you get on the US version.
Simply change your IP, connect to the site you want, and voila – it will work flawlessly.
Using Indian Bank Account from Abroad
Are you having trouble withdrawing or depositing cash on your bank account from abroad? Our solution works for that scenario pretty well. Indian banks will lock you out if they see a foreign IP, so you'll have to fix these issues in person.
To avoid this inconvenience, get a provider of your choice, and forget about all the hassle.
Keeping Your Identity Anonymous
Some of you like to brag about all the stuff you've achieved but in our opinion, it's better to be anonymous sometimes. As soon as you connect to a VPN server, it will obfuscate your IP, making you invisible to the prying eyes of the government and your ISP.
Top 3 VPNs to Get an Indian IP Address
Let's end our guide on a good note by giving you our top 3 picks for this purpose. Don't be lazy, scroll down, and see our brief reviews of each provider:
1. ExpressVPN

ExpressVPN is your best choice for getting an IP address in this country. It has 3,000+ servers in 94 countries worldwide, giving you a palette of possibilities. Aside from its fast speeds, the provider is known for its rock-solid security.
Being from the BVI, it stores no logs, so even if it's compromised, hackers can't get to your data. For enjoying Hotstar or other Indian TV channels, ExpressVPN is simply the best in the game. Heck, you can even watch 4K content with it!
We like the addition of split tunneling, which will help you access your PayPal or bank account from your real IP if needed. And with 24/7 customer support and router compatibility, you can't help but love it.
Use ExpressVPN's Servers in India >
2. NordVPN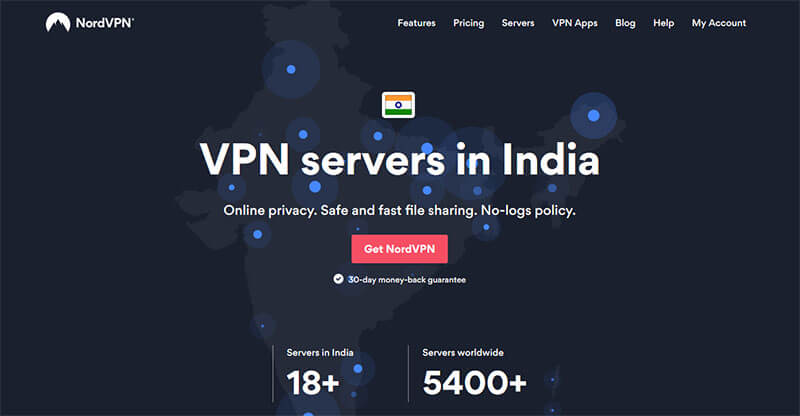 When it comes to providers for this country, NordVPN is one of the best for India. This Panamanian provider comes with 5,500+ servers in 61 countries, making it among the largest companies in this industry. Its servers aren't only abundant but very fast.
To make things better, security is one of the strongest parts of the provider. CyberSec, an ad-blocker, is here, accompanied by almighty Double VPN and Onion Over VPN for using Tor with the provider. The addition of obfuscated servers is ingenious because you can use it even in China.
Simply put, NordVPN will not disappoint you, as it didn't disappoint us, too.
3. CyberGhost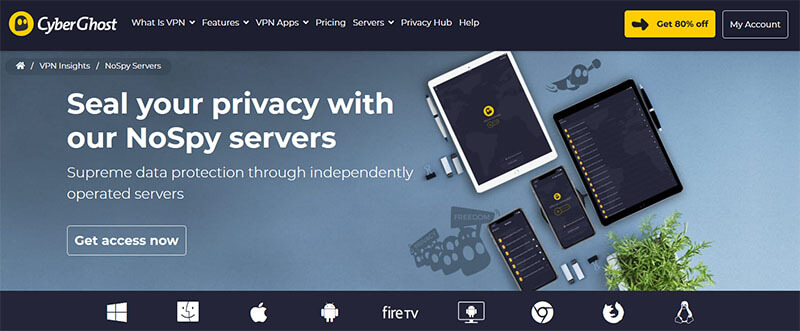 CyberGhost is a very cheap solution that works… well, as a much more expensive solution. It offers 6,200+ servers in 91 countries, as well as a galore of Indian servers. You'll have no problem using an Indian IP and accessing Hotstar or enjoy local news on television.
Dedicated servers are probably the highlight of CyberGhost. They're meant for torrenting and streaming, enhancing your experience with these two activities. Being from Romania, they're far from the 14 Eyes, so they don't store any logs.
For a price this low, CyberGhost is simply an offer you'll find hard to refuse.