When choosing a Virtual Private Network, many people turn to more popular options on the market. Sure, ExpressVPN and NordVPN lead the way but there are often less-known providers that aren't that bad. Today, on our menu is the review of Goose VPN, a provider that not many of you have heard of. And to be honest, we haven't either, up until recently when we tested a few other providers. It has, seemingly, some interesting features and user-friendly interface that we decided to test. Without further ado, let's begin.
What is Goose VPN?
Goose VPN is a provider from the Netherlands, a country you don't often see in this industry – for a reason. The Netherlands is a part of the 9 Eyes Alliance, which isn't exactly the best scenario for a service like this.
Those who don't know, this is very bad for privacy, as countries from the 9 Eyes conduct surveillance and share personal info between themselves.
Furthermore, the provider isn't very popular on the market. Last time we checked, it had approximately 85,000 users worldwide, which is very little compared to ExpressVPN that has millions of users.
But, churning out facts won't do you any favor. Instead, we'll test the provider and see if it's worth your hard-earned cash. Below is our comprehensive review of Goose VPN, so sit back, relax, and enjoy.
Compatible Devices and Ease of Use
One of the hallmarks of a good Virtual Private Network is its device support. A decent provider should always support all the major platforms, including routers. Here's a screenshot from Goose VPN's website which shows all the devices that they support:

So far, so good. We have Windows, Mac, iOS, Android, Router, and Linux (other). The great thing is that they offer dedicated apps for platforms like iOS, macOS, and Android, so you don't have to download third-party software to connect.
Computers
Starting with computers, you can expect all of the three major platforms – Windows, Mac, and Linux. As always, we'll use our Windows computer to show you the installation process and the app, to determine its ease of use and functionality.
After buying a subscription, you'll be prompted to download the app. Download the setup file, run it, and you'll get this screen:
Click Next and then, accept the terms of service to continue the installation: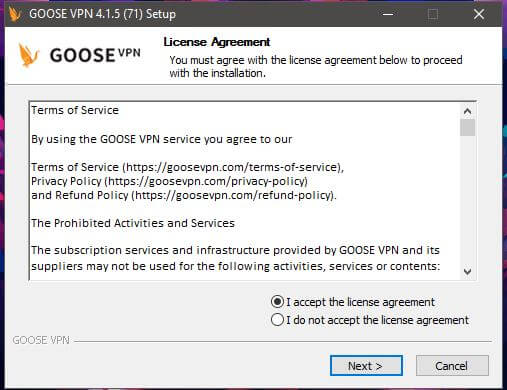 After that, choose where you want to install the app, place the shortcut on your desktop if you want, and the installation will begin: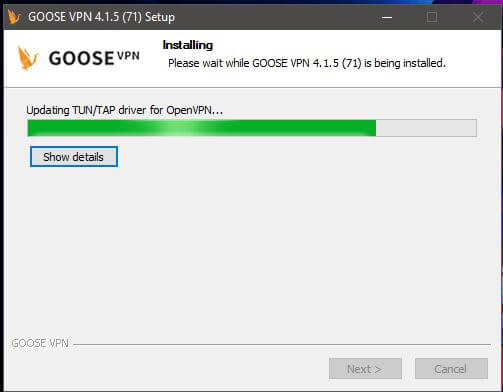 The installation lasted about 5 seconds, which is very fast, and you don't need to restart your PC, which is great. After it's finished, run the app, and you'll see the initial screen that looks like this: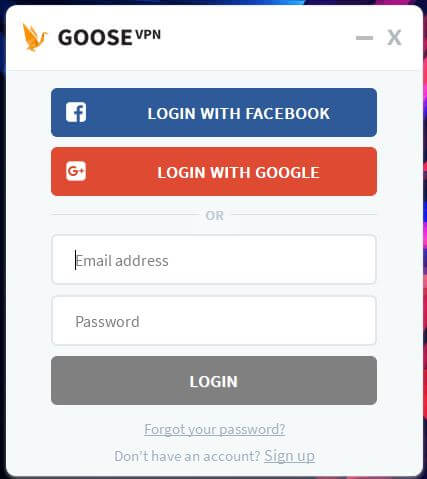 It's a login screen where you can log in using Google or Facebook or simply by using your email. Type in your credentials, click LOGIN, and the next app's home screen will open: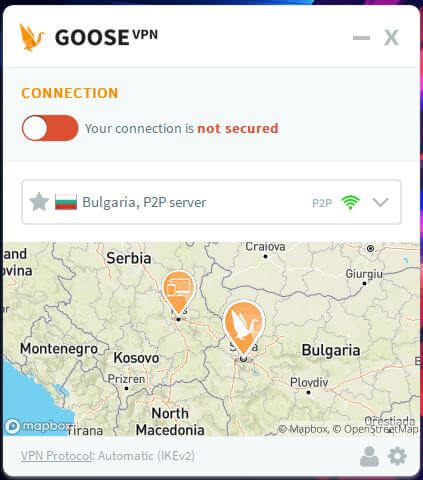 To open the server list, click on the arrow pointing down to open the drop-down menu: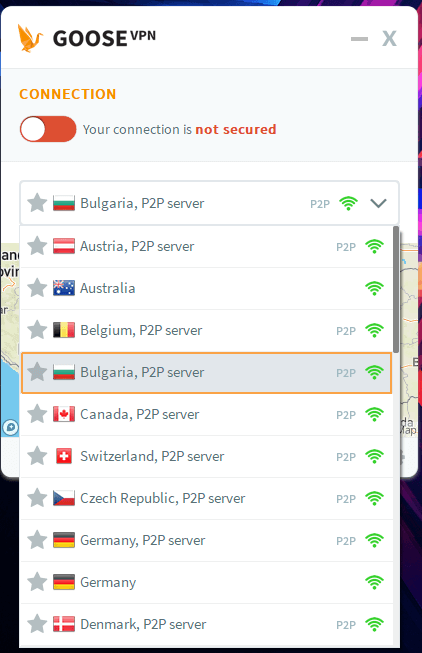 We scrolled down and chose the US server. After clicking on it, it will automatically connect and you're good to go: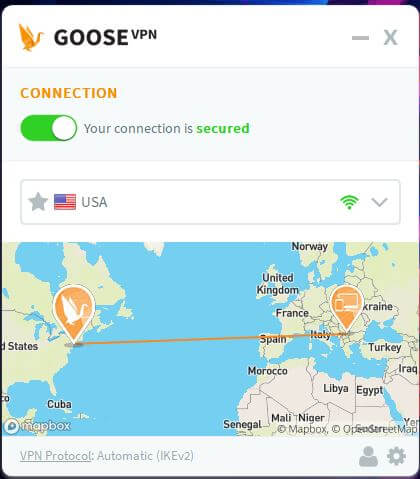 Just for the reference, we used the USA server for other tests, except for the BBC iPlayer test. We'll let you guess if BBC iPlayer worked but we think you already know the answer. Nevertheless, Goose VPN has an intuitive interface, it's easy to install, and even easier to use – approved!
Smartphones and Tablets
What about your best friend called a smartphone? Smartphones and tablets share the same platforms, so you get either iOS or Android. We used our Android phone to show you how to install it and use it, to determine if it's as simple as on the PC.
Download the app from the Google Play Store, as shown in image 1.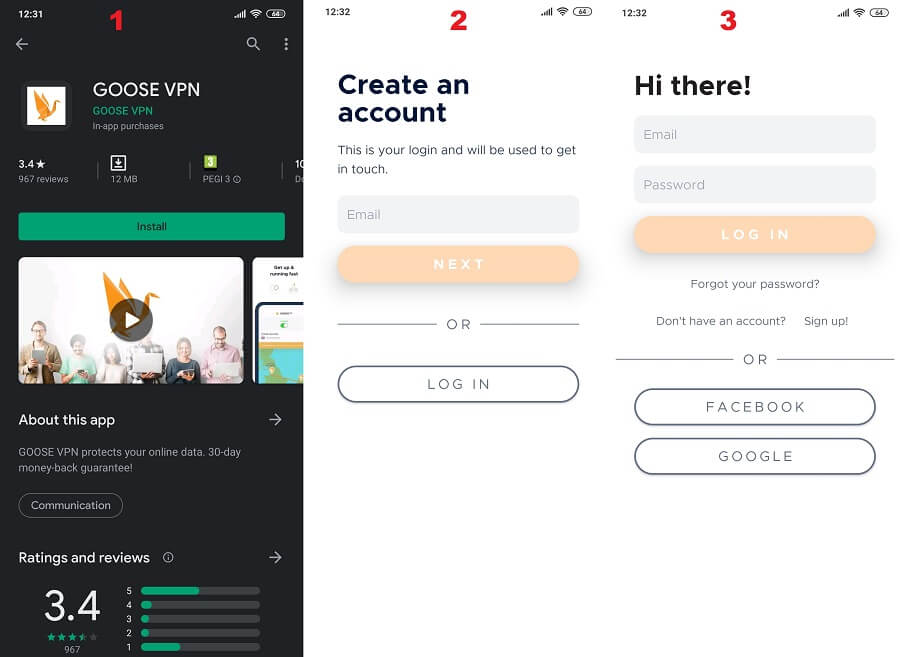 In image 2, you'll see the first screen that will appear after you run the app for the first time. Click on 'log in' and in image 3, you can see the login screen. Type in your credentials and access your account.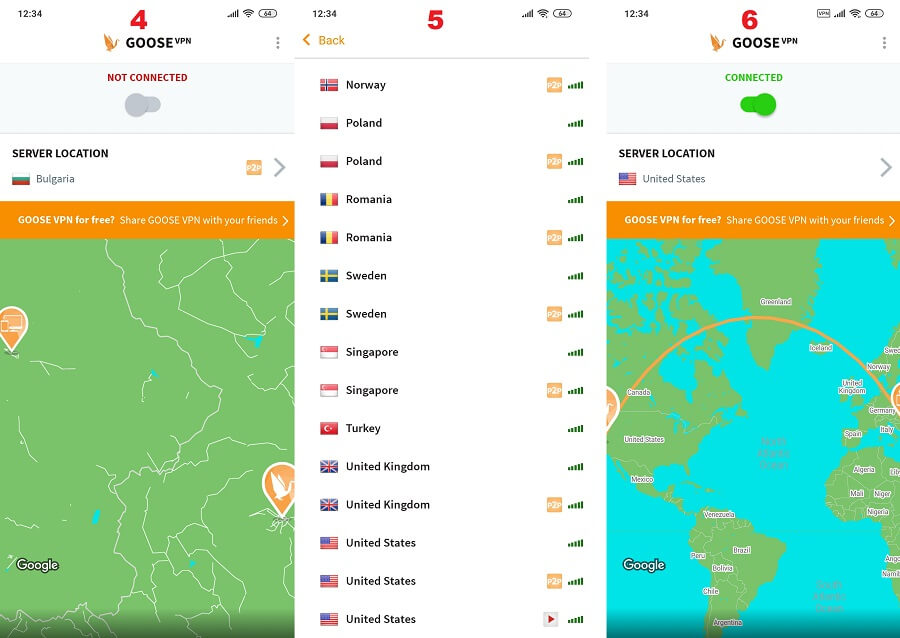 The home screen with a world map will now open, which you can see in image 4. To open the server list, click on the arrow pointing right, next to Bulgaria. Choose the server from the list shown in image 5, and when you connect, image 6 shows you how the home screen looks.
We like how well the app looks on a smartphone. Not many VPNs use this kind of graphical interface, except for TunnelBear and a few more. As for the ease of use, it's very simple, works fluidly, and even newbies will be able to get to it easily.
Other Devices
If you've seen the first screenshot in this section, you know that Goose VPN supports other platforms aside from these we mentioned. The important thing, however, is that it supports routers.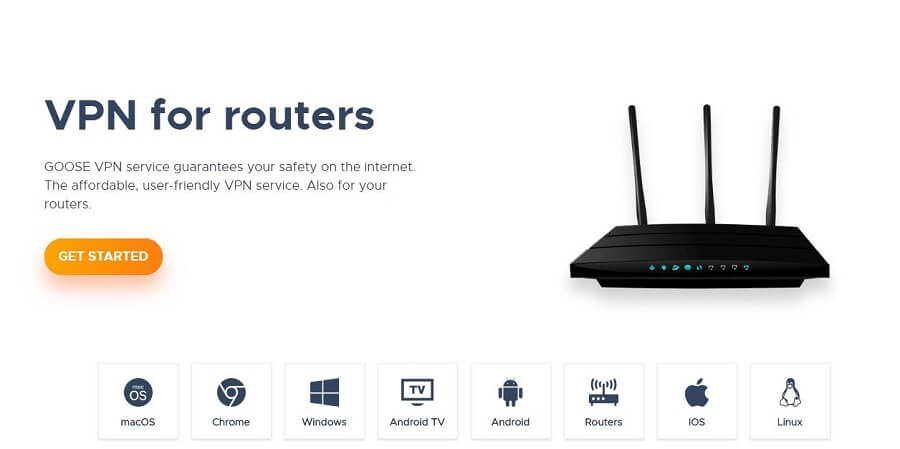 Furthermore, the provider supports Android TV, which is great if you watch a lot of movies and TV shows on Netflix, using your TV. To remind you, connecting a VPN on a router lets you protect up to 16 or 32 devices simultaneously.
For a low-caliber service like this, we appreciate the router support very much.
How Fast is Goose VPN? We Checked Its Speed!
Out of dozens of VPNs on the market, not many of them are known for blazing-fast speeds. The truth be told, our criteria is very hight and we're pretty hard to impress. Nevertheless, our speed test is compulsory and without it, our reviews would simply be incomplete.
Before talking about the test, it's important to mention that all providers reduce your internet speed to some extent. Some do it by a huge margin while some are so fast, that you won't notice that you're using them.
This depends on numerous factors, such as server distance, quality of the network, server load, etc. With so many variables, it's important to see how we did our tests for this Goose VPN review. We did 3 tests in the morning, 3 in the mid-day, and 3 in the evening, for 3 different locations. We also kept the best score and used the best location when that was possible.
Our physical location is in the USA (non-VPN test) and we used these 3 locations:
The United States
The United Kingdom
Australia
Without using a Virtual Private Network, our internet speeds are:
Ping: 11 ms
Download Speed: 211.88 Mb/s
Upload Speed: 202.20 Mb/s
Now, when using Goose VPN, our ping, download, and upload speeds respectively, for 3 testing locations, are:
US Server: 28 ms / 142.37 Mbps / 146.52 Mbps

UK Server: 99 ms / 45.44 Mbps / 69.80 Mbps

Australian Server: 325 ms / 20.58 Mbps / 19.36 Mbps

As you can see, speeds are all but impressive. When using the US server, we at least got a very low ping, allowing us to play some video games online. However, when using the UK server, the high ping hindered our browsing experience, drastically making it worse.
Needless to say, the Australian server was so bad, that we even struggled to watch 720p videos at some point. While the US server showed decent results, we struggled to repeat them on other servers. All in all, Goose VPN has very slow speeds, so it's not for those speed-hungry users.
How Good is Goose VPN for Streaming?
We know how much our readers love streaming shows and movies. All those platforms out there for you, yet you can't access them if you're not from particular countries. Well, with a Virtual Private Network, that should be fixed. As always, we start with Netflix, the most popular streaming service.
Surprisingly,we found out during our complete review that Goose VPN unblocks Netflix when using the US, UK, Canadian, and Australian servers. That's quite good and honestly, not expected. Nevertheless, let's move on to HBO GO, our warm-up round of testing: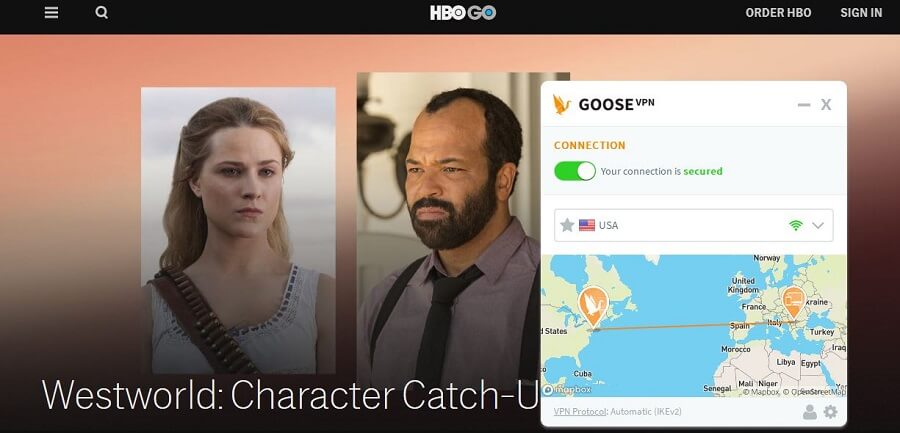 HBO GO works flawlessly, which is something we anticipated, given that almost every VPN can unblock it. Now, what about Disney+?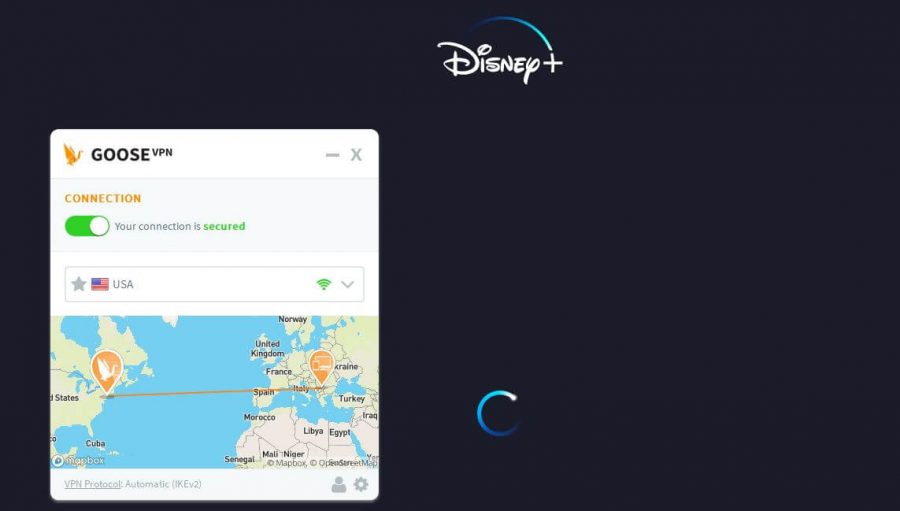 Once again, we got the infamous infinite loading screen, making Disney+ inaccessible with this provider. DAZN, as expected, also didn't work: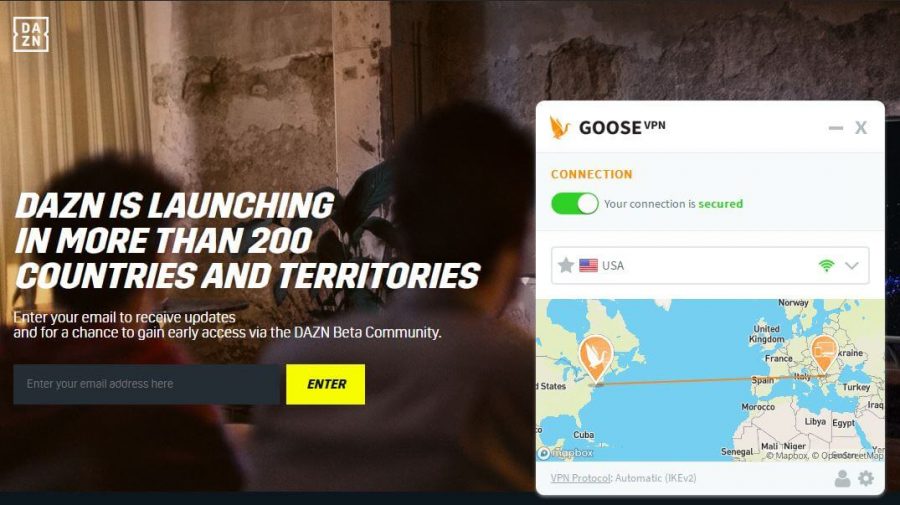 Finally, we have BBC iPlayer, a platform that's bloody hard to unblock. Let's see what the provider did here: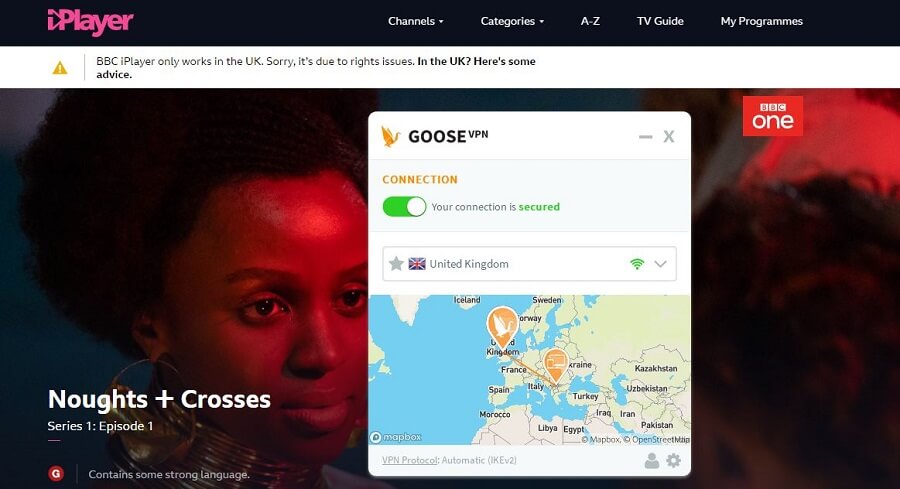 Well, it did nothing. Since BBC iPlayer, DAZN, and Disney+ didn't work, we would lie if we told you that we recommend this provider for streaming. Albeit, we need to give the credit where the credit is due.
Netflix worked flawlessly but other streaming platforms didn't. If we couple that with some slow speeds, we can see that Goose VPN isn't exactly the best for streaming. Sure, we've seen much worse but for the money, it's definitely bad for streaming.
Confidentiality, Security & Logs
Being from the Netherlands, the provider is seemingly DoA (Dead on Arrival) when it comes to safety and security. But, let's not make assumptions before we test it. We opened the privacy policy and started scrolling through it.
It's quite a lengthy policy, might we add. However, we managed to extract some crucial info from it in order to expose them to you in this Goose VPN review. Let's take a look:

Here, they claim that they don't sell, rent or trade your personal data with third parties. As they say, your personal data will be kept just enough to fulfill the purposes described in the privacy policy. To find out more about them, click here to read the full policy.
Scrolling down, we finally found something concrete:

They say here that they don't keep your emails, usernames, passwords, search history, etc. However, they collect information about your bandwidth usage, which isn't very good but won't compromise your privacy. In our opinion, Goose VPN is safe enough, at least when it comes to privacy.
What about security? Let's check our IP leak test: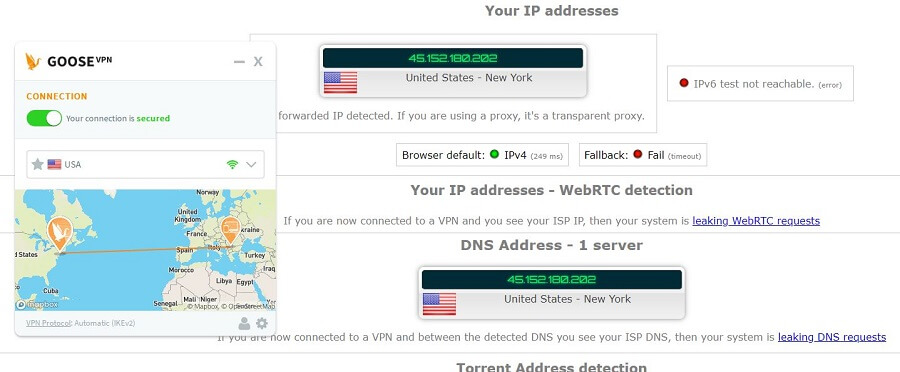 We didn't encounter any IP and DNS leaks in our test, making Goose VPN safe and secure. They also offer a kill switch, 256-bit AES encryption, and even the OpenVPN protocol.
Can I Do Torrenting Safely With Goose VPN?
Given its safety and security, the provider should allow you to torrent anonymously. If you scroll back up, you can see that the provider offers a decent amount of P2P servers. Not all servers support it but most of them do. We visited the 1337x site to download a game, and here's what we got:

We used the IP from the Netherlands because it's one of the P2P-supported servers. When we downloaded what we wanted, we didn't receive any copyright complaint nor the provider warned us about it.
Goose VPN does allow torrenting, which is great to know.
Can I Use Goose VPN to Bypass Censorship?
Bypassing censorship is getting harder these days. Although there are at least 20 censored countries worldwide, one country, in particular, has the strongest firewall – China. The Great Firewall of China is definitely the number one enemy for VPNs, actively blocking almost every provider.
In 2021, only a handful of them work in China, so it's hard to find a decent provider for this purpose. Goose VPN doesn't have any special feature that would allow it to bypass this firewall. Sure, there are a few security protocols but not a single one will work.
That leads us to the conclusion of this section of our review: Goose VPN can't bypass censorship!
Pricing and Plan Options
Although this is a less-known provider, it doesn't necessarily mean that you'll get low prices. Sure, this isn't the most expensive provider we've seen but its pricing isn't exactly on the cheaper side. Take a look: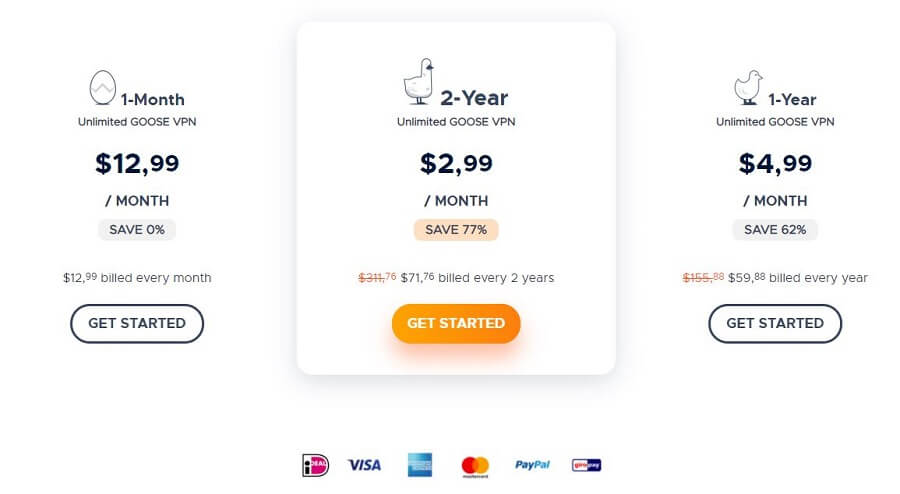 The plan in the middle is a 2-year plan, costing $2.99 a month or $71.76 every two years. On the right, we have an annual plan at $4.99 a month or $59.88 every year. Finally, the monthly plan is blood expensive and costs $12.99. Obviously, we don't recommend this plan.
We must agree that this 2-year plan is very cheap. However, given the provider's not so great performance, you can look for other options at this price. If you want a 2-year plan, Surfshark offers its plan for $1.99 a month, which is $47.76 every 2 years. These are some BIG savings when compared to Goose VPN, yet you get far better performance.
And if a one-year plan fits your needs, CyberGhost costs $5.99 in this case, which is a bit more expensive but offers more for the price. In the image above, you can see the payment methods they offer. Obviously, there isn't Bitcoin, which is a shame since you can't be anonymous when buying it.
As for the refunds, the provider is a sneaky little b******. On the site, they claim that you get a 30-day money-back guarantee. However, when reading its terms of use, we found this:

They'll give your refund only if you consume less than 100 MB of data, which is just ludicrous. Also, the provider claims that it gives a 30-day free trial for everyone, which isn't the case. You must make a payment first, and then, your first 30 days are free.
How Can I Contact Goose VPN?
Now, how can you ask for a refund in case things go south? Well, there's no live chat, which is a big minus. On the other hand, you can contact the support via email or use the ticketing system, which is basically the same.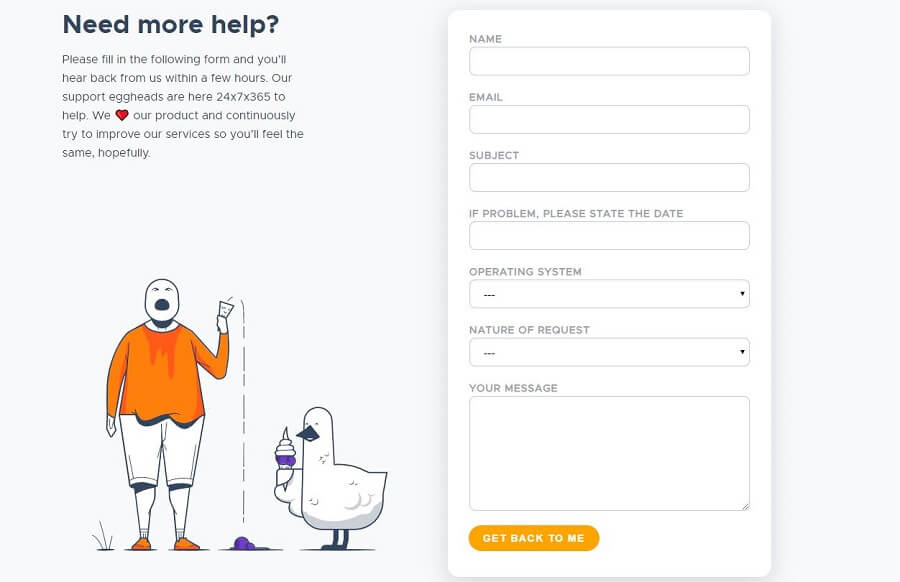 We contacted the support on Saturday and surprisingly, they gave us a quick response. Goose VPN even gave us a 30-day free trial for reviewing purposes, which they don't do normally. Other than that, support isn't the best since there's no live chat.
The Special Functionalities
The special functionalities are here to enrich the basic VPN experience. We pretty much value these functionalities, as long as they work great. Usually, we expect something like split tunneling, ad-blocker, and similar features.
Goose VPN didn't give us any of that. Here is the screenshot from the app: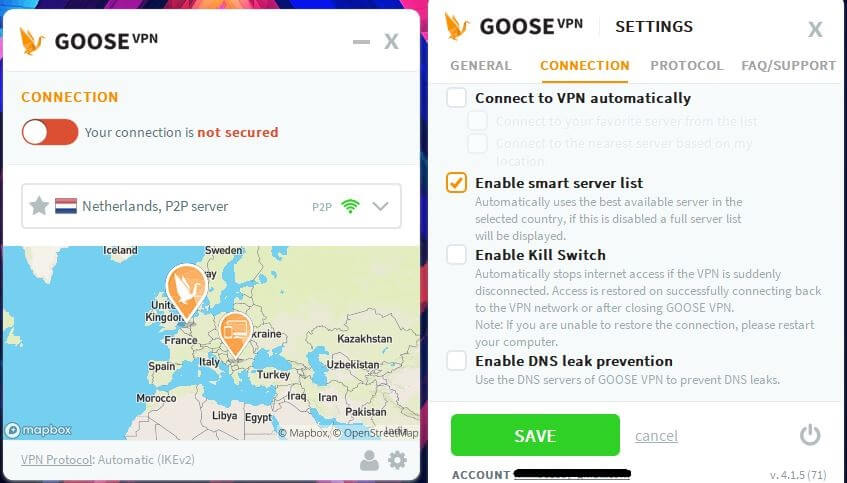 You could say that this smart server list is a special feature but it isn't. It just uses the best possible server in the country you selected. Furthermore, there's an automatic kill switch, which the provider didn't have as of recently, which is definitely appreciated.
The dedicated servers they have here aren't clearly shown. There are icons next to each server, which let you know if the server is for streaming, torrenting or nothing from it. However, there's only one streaming server based in the USA and most of them are just P2P servers, which is pointless.
CyberGhost did it way better, which is why it's a much better option.
Interestingly, DNS leak protection wasn't turned on by default, so we enabled it ourselves. Other than what we mentioned now, the provider doesn't offer anything that we could call special. For the cheapest price of $2.99, we expected at least split tunneling, which isn't here.
Other Things You Should Know
This wouldn't be an in-depth review if we didn't talk about all the things you should know regarding Goose VPN service. Before wrapping it up, let's talk about other things that you, as a potential buyer, should know.
Number of Servers
Goose VPN is, once again, vague about its servers. We explored the site for at least half an hour to find the exact server count. After that, we Googled it and found a question from the FAQ section. Here's how the provider handled the response:

Even after asking for a number of servers or server locations, the provider chooses to stay ambiguous. And if you click on the link in this answer, you get this: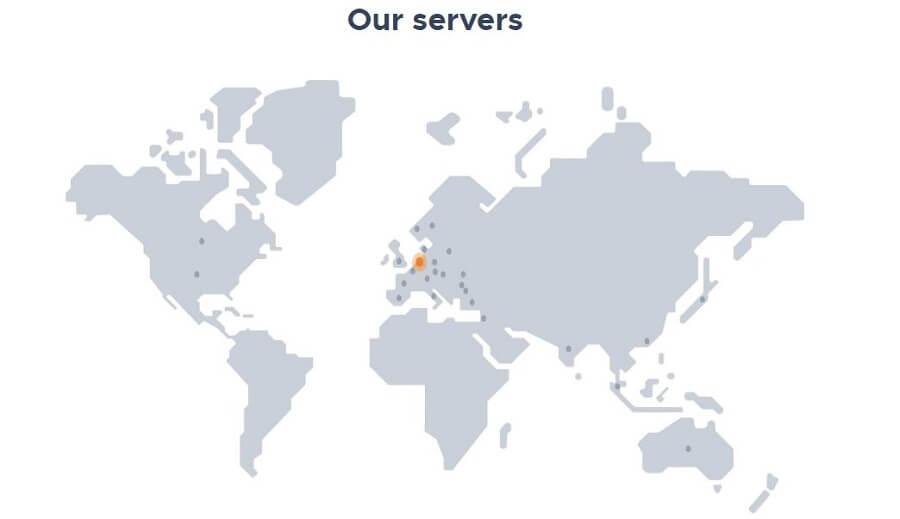 We don't know if you have a geography Ph.D. but this map is quite pointless without the number of servers. Luckily, we managed to find out the number of servers, which is about 60 in total. This is one of the smallest server networks we've ever seen, even smaller than that of Private VPN.
Needless to say, we were quite disappointed, especially given its price.
Number of Countries
The provider isn't very generous when it comes to countries, either. You get 31 countries, which is approximately 2 servers per country on average. Of course, it isn't like that. You get the most servers in the USA and the UK, while pretty much every country has only one server.
Fortunately, the provider doesn't have servers in Russia, meaning that they didn't comply with the Russian data-retention laws. Still, this number of countries combined with disappointing server count isn't going to impress anyone.
Number of Simultaneous Connections
What about simultaneous connections? We never mentioned that in this review. Here's what Goose VPN has to say:

As you can see, you can connect an unlimited number of devices when using a single subscription. That's definitely great!
What Do Other Users Say About Goose VPN?
Before moving on to the conclusion, we need to see what other users online think about this provider. As always, we'll start from Reddit, although we couldn't find any kind of review or feedback about Goose VPN: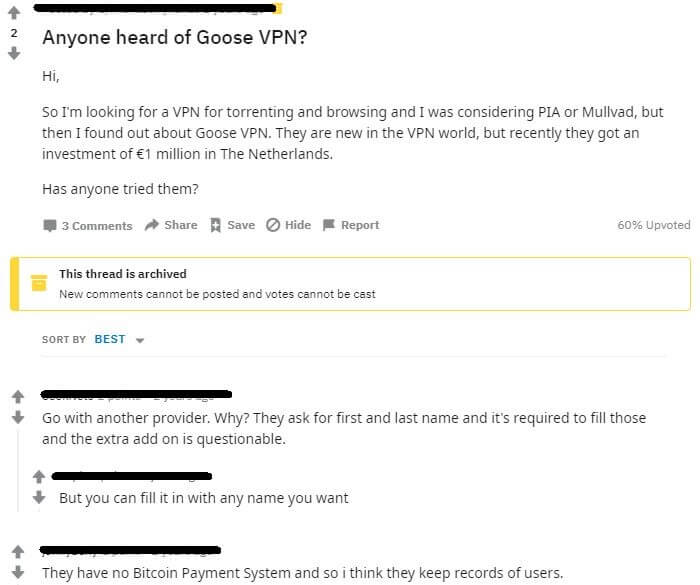 The user asks if the provider is good for torrenting and browsing, only for another user to tell him that he better get another provider. Another user also mentions the lack of Bitcoin payments, which we confirmed. You can clearly see that this isn't the most popular provider, hence why there aren't many opinions online.
Let's see what users on the Google Play Store have to say:

Interestingly, this user complains about IPv6 leaks which the provider, allegedly, refuses to fix for months. The review is written in February 2021, so it's a new one. The user on the Apple Store had to say this:

He says that Netflix won't work with the VPN and when asking the provider to fix it, it didn't bother doing that. He finishes by praising its connection time and speeds. Finally, let's see what people on Trustpilot have to say:

This user says that the provider is user-friendly but unstable since many streaming servers don't work or are not available. Our US server worked fine, although we'd like a few more streaming servers.
Conclusion: Should You Take It?
Let's wrap our in-depth review of Goose VPN. On the paper, the provider seems decent for the price. You get a no-log policy, you can unblock Netflix, and there's even P2P support.
On the other side, the provider has some slow speeds, doesn't unblock other popular streaming services, doesn't work in China, has no live chat, and no special functionalities.
At almost 3 bucks a month for a 2-year plan, Goose VPN isn't worth buying. This applies to short-term plans, too, as they're more expensive.
If you want a much better provider that costs slightly more, we recommend getting ExpressVPN. It offers a 49% discount and 3 months free for a 12-month subscription plan.