The United Kingdom is a country with a plethora of quality content. We all known British TV comedy series as well as some seriously-good movies from this country. However, a majority of these local shows are limited strictly to the United Kingdom, so you can't watch them from abroad. What should you do? Is there a solution? Yes, there is! In this article, we'll teach you how to  unblock and watch any local TV channel from the UK… from anywhere in the world.
Why are British TV Channels Inaccessible Abroad?
Let's say you're a UK resident. You pack your stuff, go to the airport, and go to a foreign country. Now, you open up your laptop, open BBC iPlayer and boom – you get this message:

What the heck is that? Well, exactly what it looks like! You're not from the UK, hence you can't access BBC iPlayer live or any other streaming variant. Just to clarify, you also won't be able to access Channel 4, BBC Two, ITV, BBC One, Film4, ITV2, E4, and UK Netflix.
This happens because of geo-restrictions. Simply put, these are forms of restrictions based on your geographical location. For example, Hulu is locked strictly to the USA, so if you don't live there, you can't access it. The exact same principle applies here.
We know that you love your British comedy shows but hey – there's something called a license. These channels are a property of the UK and they have licenses to operate strictly in that country. Violating the license will lead to a loss of millions of pounds, which these companies can't afford.
Luckily, these channels can easily be accessed from abroad. And before you ask – that's completely legal! Do you know what else is legal? A VPN.
How Can a VPN Help?
So, how can this few-dollar-a-month software help you in order to watch any UK TV Channels?
For the start, this is an abbreviation for Virtual Private Network and it's here to encrypt your connection, making you safe and secure online. Furthermore, it lets you change your online location, allowing you to bypass geo-restrictions easily.
Woah, wait a minute! Is that really possible for a few dollars a month? Yes, it is.
If you're not from the UK, you can connect to a VPN server in that country and access Channel 4 or BBC iPlayer as if you were a British resident. With military-grade encryption and a kill switch, your ISP and the streaming platform will never see what you're doing, leaving to enjoy favorite content from the homeland.
How to Unblock British TV Channels from Anywhere in the World?
Before we give you our top picks for this purpose, it's time to see how to use a Virtual Private Network to access British TV channels from abroad. Pay close attention to what we said below:
1. Subscribe to a Provider of Your Choice
The first thing to do, obviously, is to get a subscription. Our recommendation is ExpressVPN, a provider that has high-speed servers in the UK and easily bypasses geo-blocks. Currently, it has a 49% discount and 3 months free for a 12-month subscription plan.
2. Download and Install the Apps
Upon subscribing, it's time to download the required apps. The provider supports every major platform, so choose the ones you'll use. Our screenshot below is from the computer app but the interface on the smartphone is, more or less, the same.
3. Connect to the UK Server
When you install the app, log in with your credentials and click on the country right below the button for connection.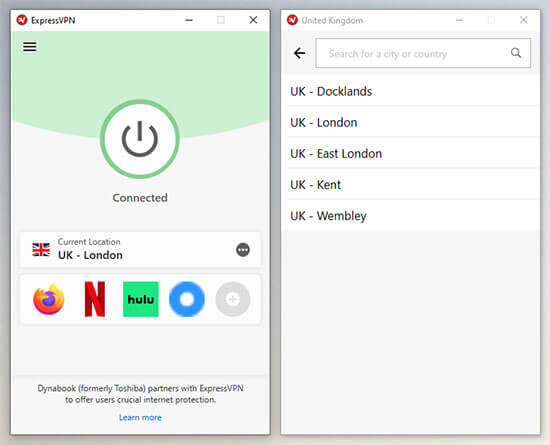 Choose the server you want from the server list opened on the right side and click on the power button. You'll establish a connection in a few seconds, which makes a path to the next step.
4. Enjoy BBC iPlayer, Channel 4, BBC One, and Others!
You know what? Enjoy 😉
You deserved it. Having a UK IP allows you to do much more than watching local TV channels. And if you want to do it again, just use the third step. Open your app, choose the server, and connect. Easy as a bird's feather!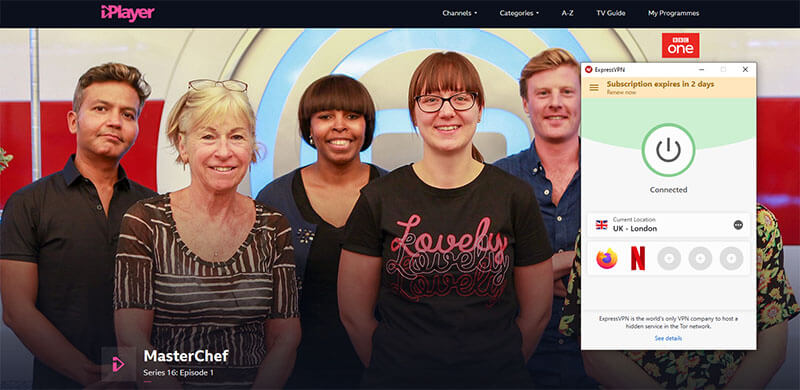 Best VPNs for Watching the UK TV Channels from Abroad
Every provider has at least one server in this country. Albeit, not every provider is great for bypassing geo-blocks, which is a crucial thing here, especially when we talk about BBC iPlayer. For that reason, we prepared 3 tested & verified providers that will work in 2021:
1. ExpressVPN

ExpressVPN is the best VPN to use if you're looking for a UK server. With the speed of lightning, you'll have no issues enjoying favorite shows on Channel 4, allowing you to spend lazy Sunday nights as you would in the UK.
We like the addition of split tunneling, which is ExpressVPN's magnum opus. With it, you can route a part of your traffic through a VPN server, while the other part uses your native IP address. The important thing is that the provider has a zero-log policy, meaning that they don't keep any of your personal info.
It's also one of the rare providers that proved it! Security-wise, you get 256-bit encryption, DNS and IP leak protection, and an automatic kill switch. There's 24/7 live chat support, 3,000+ servers worldwide, and router compatibility, for added convenience.
Have we mentioned a 49% discount yet? Oh, we did. You know what to do – here's a button for buying it!
Have British TV at Your Hand's Reach With ExpressVPN >
2. NordVPN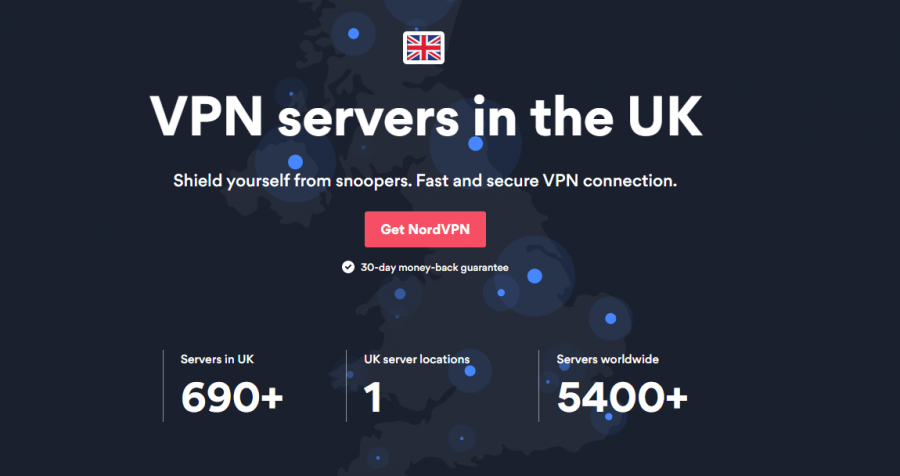 NordVPN is no stranger when it comes to providing staggering performance and speeds. Although it's a tad slower than ExpressVPN, it's still VERY fast. It offers 5,600+ servers in 61 countries, of which 690+ of them are in the UK.
Sounds good? Well, what if we told you that it can unblock every British channel? It can also unblock UK Netflix, so you can watch some British-accented TV shows like a boss! In terms of security, you can expect it to behave like a German Tiger Tank.
It has impenetrable 256-bit encryption, Double VPN, and Onion Over VPN, for those who use Tor often. To top it all up, the provider has an ad-blocker called CyberSec, which works great for blocking these annoying pop-ups, ads, and trackers.
For this price, NordVPN is jam-packed with features, from the floor to the ceiling – that's how we like it!
Grab NordVPN to unblock and watch British TV >
3. CyberGhost

CyberGhost has a roster of high-speed servers that cover almost the entirety of the planet. In the United Kingdom, it has 480 servers – 56 in Berkshire, 244 in London, and 180 in Manchester. Without a doubt, unblocking all of the British TV channels will be a breeze, even if you're on another continent!
Speed-wise, CyberGhost is very good. You can stream 4K content, enjoy online gaming or watch porn to your heart's contempt. It has military-grade encryption accompanied by the kill switch, in case you disconnect from the server.
24/7 live chat is here, and they work hard to fix all your potential issues. We like the addition of NoSpy servers that will help you stay secure and anonymous online. Speaking of that, CyberGhost offers a transparent zero-log policy and since it's from Romania, you can be sure that you're always away from the watchful eyes of the government.
Its 3-year plan is insanely cheap, so if you want to save some cash, this is the go-to option.
Find out more details about CyberGhost >
Can You Use Free VPNs to Unblock Local UK TV Channels?
We don't hate free providers here, just so you know. Every VPN has its own place on the market and free providers… well, they don't have a particular place, let's say it like that. This is because they offer you a cut-down experience when compared to premium offerings. Let us explain.
First of all, you get limited bandwidth. It can be either 500 MB or 10 GB, as is the case with Windscribe. Is that enough for watching a season of your favorite show on BBC iPlayer? Probably not. Furthermore, you get very slows speeds, which is going to frustrate you, especially if you're streaming a lot.
The worst thing, however, is that these providers almost always keep logs! These logs are very expensive since they contain valuable personal info. For that reason, these companies often sell your data to third parties or governments and earn revenue. Either that or they use annoying ads, pop-ups, and trackers to track your data covertly.
We strongly recommend avoiding these providers at all costs. With such cheap options like CyberGhost, for example, there are no reasons to use a free VPN.
Summary
The United Kingdom might not be on the same level as the United States when it comes to the quality of local content. However, we're talking about a big country with lots of residents and lots of local TV channels. We live busy lives and after our jobs, we just want to enjoy our favorite local shows.
But, if you're abroad, you'll find that impossible without a VPN. To successfully unblock British TV channels from anywhere in the world, we recommend using ExpressVPN. This provider never left us high and dry, especially when it comes to bypassing geo-restrictions.
If you wish to save more money, you can go for the other two options but beware that these are slightly inferior to ExpressVPN.