All4 is one of the most popular streaming services in the United Kingdom. The channel offers a range of different types of programs, such as comedy, music, documentaries, real-life and many more. You can stream online using 4OD providing you are located in the UK; however, if you venture outside of the country you will find access is blocked. With this in mind, we are going to show you how to unblock and watch Channel 4 outside the UK and this something tested in 2021.
The key to unblocking and streaming Channel 4 abroad is to use a VPN, aka Virtual Private Network. This is not the only British TV channel that you can stream online, plus a plan with a provider offers many more benefits.
So, whether you want to stream MotoGP live while abroad or you want to keep up to date with your favourite show, read on to find out how to do it.
How Channel 4 is blocked outside of the United Kingdom?
The streaming service All4 is only available to people located in the UK, but how are restrictions placed? Well, it is all down to the IP address your device uses to connect to the internet.
Each country is designated a specific range of IP addresses and when you connect to the internet your device is given its own unique IP address. This is how the streaming website knows your exact location and if the IP is outside of the United Kingdom, geo-restrictions are placed.
Get a UK IP address with ExpressVPN >
This means you don't get to view content, instead all you see is an error message that warns you that content is not available in your country.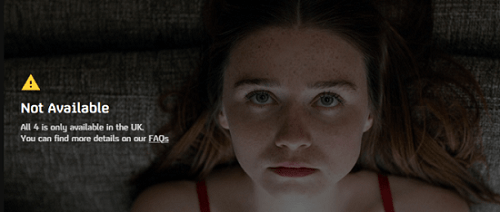 The trick to gain access to Channel Four outside of the UK is to fool the streaming services into thinking you are still in the United Kingdom. You can do this by masking your own IP address with a VPN.
How to unblock and watch Channel 4 outside of the UK
We have the solution to streaming All 4 wherever you are in the world using a Virtual Private Network and we will show you step-by-step how to do it.
One – Choose your provider
The first step is to decide on which provider you are going to go with and we highly recommend ExpressVPN. Alternative options include NordVPN and CyberGhost.
ExpressVPN is the best VPN for the UK as it offers a range of servers in the country. All can easily unblock and access British TV anywhere in the world.
The servers are blazing-fast and reliable. Along with offering servers in the United Kingdom, the provider has 256-bit encryption to help you remain anonymous online. There is a built-in Kill Switch to stop the streaming service or ISP from finding out your true location if the server connection drops as it stops the internet connection.
Two – Pay for a plan
ExpressVPN offers three choices of payment plans based on the commitment you want to make.
The best savings of 49% come with the one-year plan and you get an additional three months free.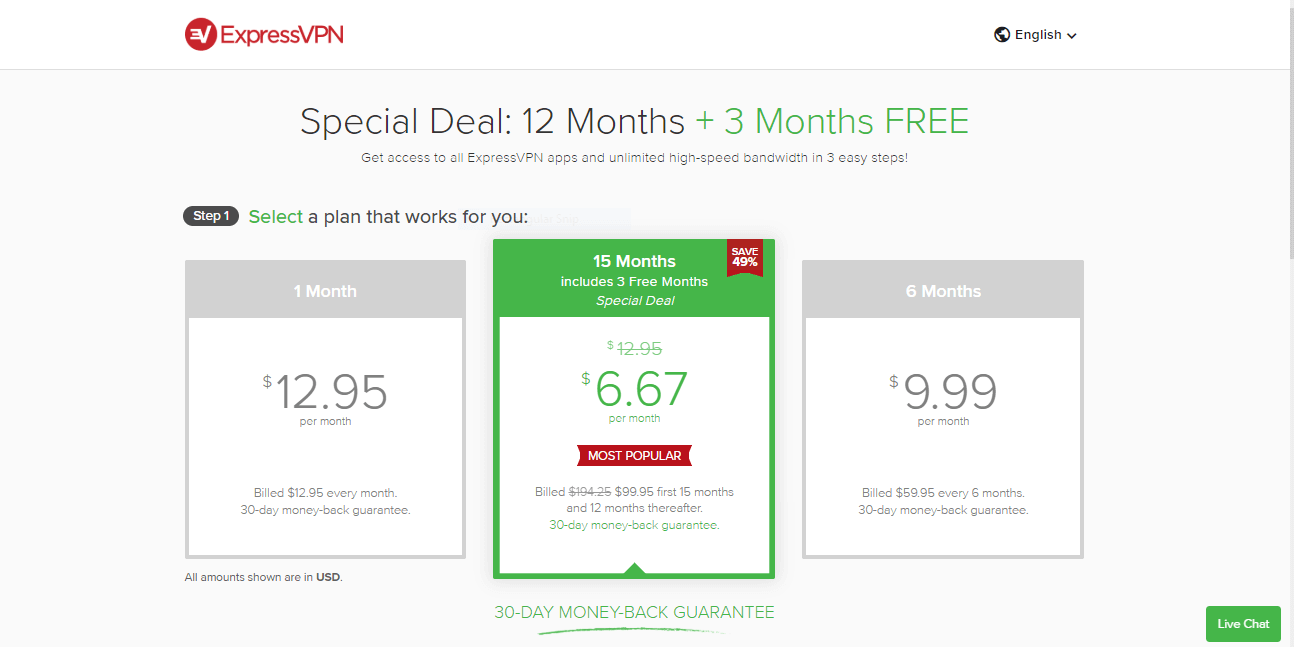 You might also consider the 6-month plan or pay month by month. However, neither come with the savings offered by the one-year commitment.
Three – Download apps for your devices
Providers make it easy for you to avoid error messages when trying to stream Channel 4 abroad by offering apps you can install on your devices.
ExpressVPN, NordVPN and CyberGhost all offer apps for a wide range of devices. Common ones include Windows, MacOS, Android and iOS. You can also install the VPN on a compatible router to cover any device that doesn't have a standalone app. This means you can benefit from it on devices such as your games console or Smart TV.
So, download apps and install them onto your devices and move on to the next step.
Four – Use the dashboard to choose a server
To mask your own IP address, to avoid the blocks and watch your favourite shows when you're outside the UK,  you need to launch the app you installed on your device. You can then use the dashboard to choose a server.
To fool the streaming service you need to choose one from the UK. This allows you to stream your shows outside of the United Kingdom. Along with this it will also allow you to continue betting on bet365 using your account when out of the country.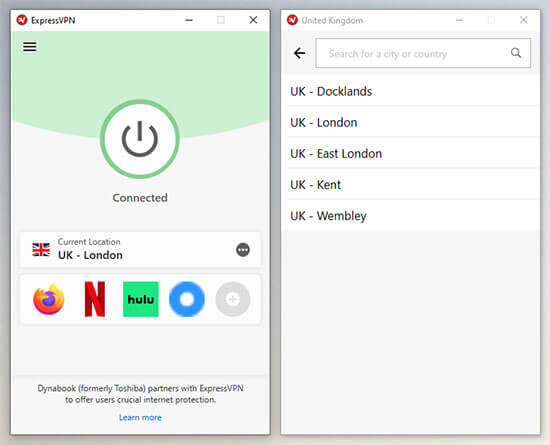 After you have chosen a UK server, do not forget to click on the "Connect" button.
Your own IP address is now masked and you are behind an encrypted tunnel so no one can read any information you send over the internet.
Five – Visit the Channel 4 website and stream
You can now open up your web browser and visit the 4OD website to stream your favourite shows: https://www.channel4.com/now/C4
Stream All 4 abroad using ExpressVPN >
More benefits to a VPN
You now know how to unblock and watch Channel 4 outside of the UK using a VPN but it is also useful in a variety of other ways.
Anonymity online
You can remain anonymous online thanks to a change of IP address and encryption. With a change of IP address, your true location remains hidden away from prying eyes.
Remain secure when browsing the internet
A Virtual Private Network allows you to browse the internet in complete safety. The encrypted tunnel masks your personal information to ensure no one can read it.
This makes sure such as your user names and passwords cannot be read. Nor can the ISP or anyone else looking find out what websites you want to visit.
Torrent anonymously
With a Virtual Private Network, you can torrent anonymously outside of the United Kingdom without the ISP finding out what you are downloading.
Thanks to encryption, the ISP cannot see what files you download. This allows you to avoid getting notices about downloading copyrighted content.
Save money
You can even save money online by connecting to a server in a country or region with a lower cost of living than your own. You can then compare prices for flights or hotel rooms for the best savings.