Nowadays, it seems like every major antivirus company decided to step up their game. Bitdefender, Avast, Avira, and now – Bullguard. While its antivirus software is more than decent, the question is if Bullguard VPN software is as good. The provider promises a lot of quality features for the price, but as always, we have to test it out thoroughly and see if it's worth the cash. Our in-depth Bullguard VPN review is below.
What is Bullguard VPN?
Bullguard VPN is an interesting provider. We tested numerous VPNs from antivirus companies, and so far, not a single one managed to impress us with its features. However, this one promises quite a lot – a zero-log policy, outstanding device compatibility, and lots of simultaneous connections.
The main issue with Bullguard is that it's from the United Kingdom. For antivirus software, that's not much of a problem. But, when we talk about this software, you want complete anonymity and security. Given that the UK is a part of the 5 Eyes alliance, you're highly unlikely to enjoy such things.
Nevertheless, our review will show you how good/bad of a provider Bullguard VPN is, so let's kick things off slowly, without wasting any more time.
Compatible Devices and Ease of Use
Starting off our review, we'll first cover the devices that Bullguard VPN covers. As always, the more devices we have available, the better it is. High-end providers offer routers and platforms like Kodi and Apple TV apart from standard platforms. Here, though, that's not the case. Bullguard VPN supports only 4 basic platforms: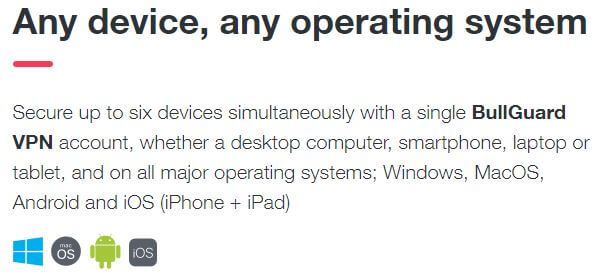 That's actually decent when compared to other antivirus-based providers. For instance, Malwarebytes VPN supports only Windows at this point, whereas, this one supports Windows, macOS, Android, and iOS. We're a bit disappointed with the lack of support for other platforms, but we understand – Bullguard's primary concern is an antivirus and not this kind of software.
Computers
When we talk about computers, Bullguard VPN covers only two platforms – Windows and macOS. Some of you will say that this is enough, but our research tells that lots of people use Linux nowadays. As such, we'd like it if more providers supported it.
We use a Windows computer, so we'll show you the installation process and see how easy the app is to use. Upon buying the provider, you'll be prompted to download the setup file. Do so and double-click on it:

You'll see this small installation screen where the provider installs the necessary software for the VPN to work. After that, the classic installation screen appears:
Choose where you want to install it and just click Install.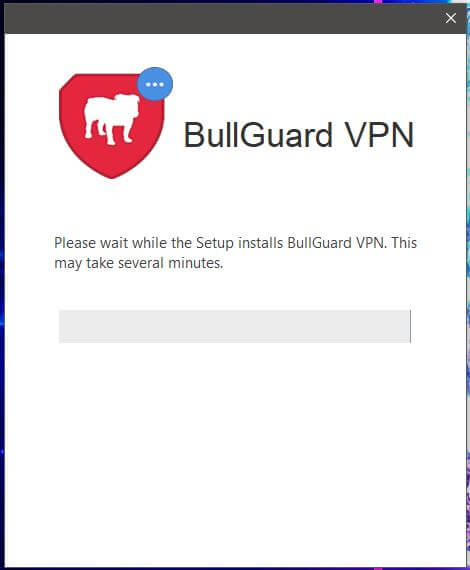 Now, the installation begins and lasts merely a few seconds. Thankfully, this process is very simple, so even if you're a beginner, installing it will be a breeze. After it's done, the app will open itself for you.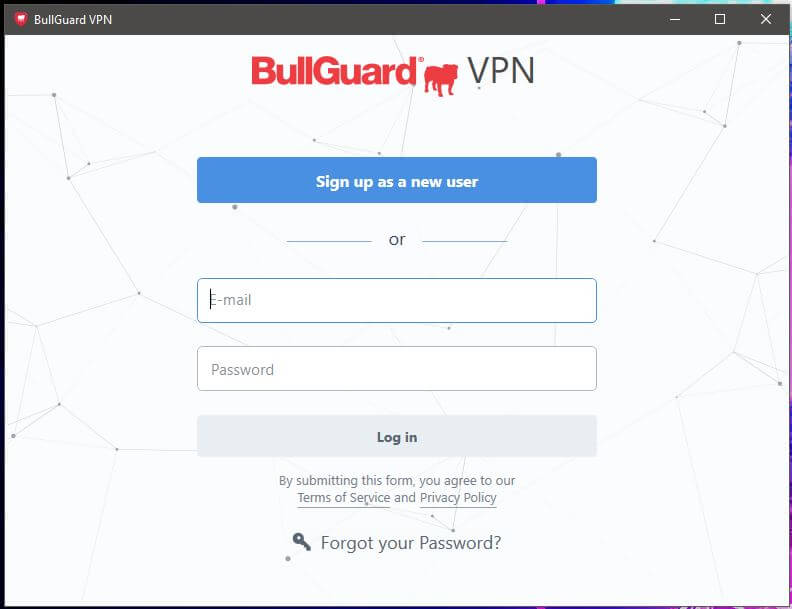 This is the login screen of Bullguard VPN. Given that we've already bought it, we just entered our credentials and signed in.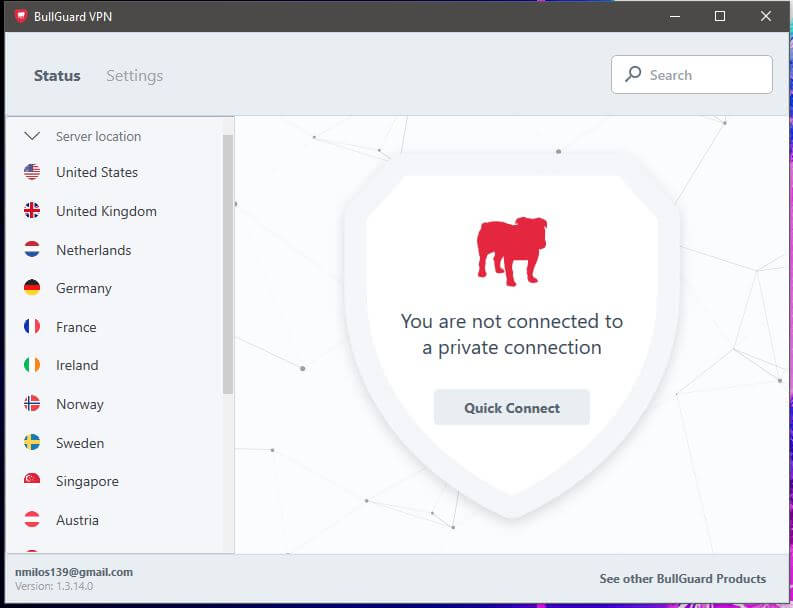 As you can see, the app is really simple and you don't have to go through multiple menus to connect to the server of your choice. All you have to do is to click on the country you want and the app will connect to the server – dead simple.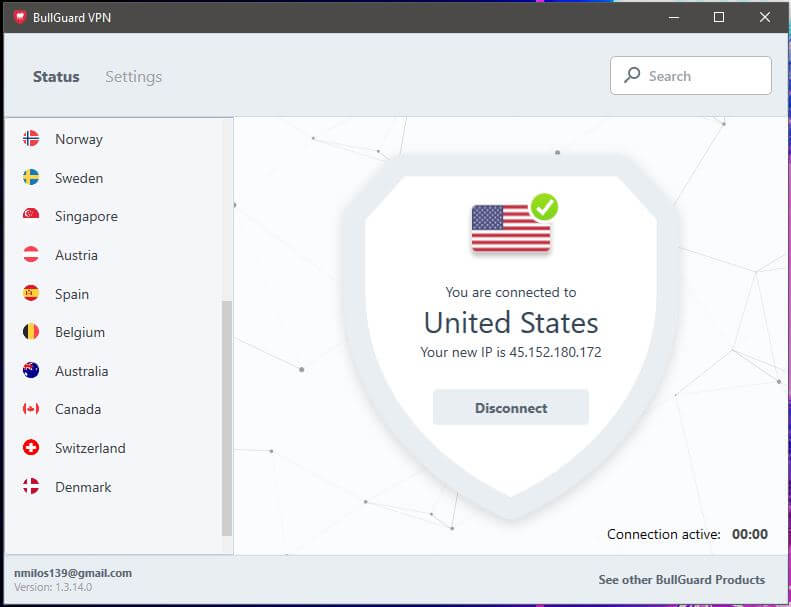 We connected to the US server that we later used for testing it for streaming, and so forth. The good thing is, as we said, that we didn't have any problems with the app. It's polished, looks good, and is easy to use – thumbs up!
Smartphones and Tablets
What about smartphones and tablets? Well, Bullguard VPN did its due diligence, providing apps for both iOS and Android. Both apps are quite good, but we used an Android phone for testing the app. Rest assured, both apps are quite similar, so what you're going to see below is what you're going to get on both platforms.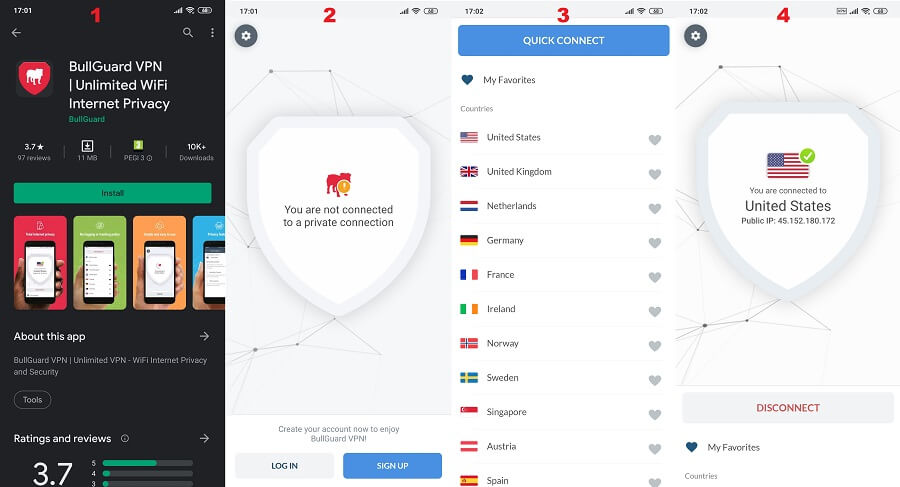 First off, you'll need to download it from the Google Play Store. We can see in image 1 that the app isn't quite popular, counting only 10,000+ downloads and having a 3.7-stars rating. When compared to ExpressVPN with 10+ million downloads, that's quite low.
Now that we touched on ExpressVPN, be sure to check our complete ranking of the best VPNs, where this provider took the highest spot. Back to our review of Bullguard VPN, when you open the app, you'll have the choice to either sign in or sign up, as you can see in image 2.
We signed in and opened the server list by swiping from the bottom, as shown in image 3. Here, just click on the server you want and the app will connect. You can see how that looks in image 4. Since the app looks similar to the one on the computer, we can say the same about it – intuitive and easy to use.
Other Devices
Unfortunately, Bullguard VPN doesn't support any other devices. No routers, Kodi, Apple TV, Android TV, Fire TV, gaming consoles, and other internet-capable devices. That's quite a shame, given that Bullguard VPN is very expensive.
Actually, it's more expensive than our top pick, ExpressVPN. Those complaining about ExpressVPN's price will have to do some research and see that it's pretty cheap for what it offers. For example, it lets you connect it to a router and this one doesn't.
How Fast is Bullguard VPN? We Checked Its Speed!
One thing that separates cheap from expensive and quality VPNs is the speed. If you check our top-ten list of VPNs, you'll see that our top five picks are all relatively fast. This implies how important is the speed, as no one likes browsing at a snail's pace.
Before we move on to the speed test, it's important to mention that all providers reduce your speed to some extent. However, there's a huge difference between 10% and 80% reduction. This reduction depends on multiple factors, such as the quality of the network, server load, distance to the server, etc.
For that reason, it's relevant to see how we did our tests for this part of our Bullguard in-depth review. We did 3 tests in the morning, 3 in the mid-day, and 3 in the evening, for 3 different locations. We also kept the best score and used the best location when that was possible.
Our physical location is in the USA (non-VPN test) and we used these 3 testing locations:
The United States
The United Kingdom
Australia
Without using a VPN, our native internet speeds are:
Ping: 11 ms
Download Speed: 211.88 Mb/s
Upload Speed: 202.20 Mb/s
Now, when using Bullguard VPN, our ping, download, and upload speeds respectively, for 3 testing locations, were:
US Server: 29 ms / 86.33 Mbps / 42.19 Mbps

UK Server: 164 ms / 37.02 Mbps / 46.97 Mbps

Australian Server: 354 ms / 14.20 Mbps / 3.84 Mbps

Let's review the results we got with Bullguard VPN. Even when using the US server, our speeds significantly dropped. Sure, they were serviceable but given that our speeds are 200+ Mb/s, the reduction to sub-90 Mb/s is quite large.
The UK server is even worse, while the Australian server made our browsing and streaming experience a chore, rather than enjoyment. All in all, we're quite disappointed with Bullguard VPN's speeds. For the price, we expected a whole lot.
To make matters worse, even free providers like Windscribe are faster than this one. So, in short, if you came here expecting high speeds, you're in for a disappointment – and so were we!
How Good is Bullguard VPN for Streaming?
We've seen that Bullguard VPN wasn't exactly great in our speed test. Unfortunately, this is a very important factor when it comes to streaming. For a provider to be good at it, it must have solid speeds and the ability to unblock popular streaming platforms.
Despite our lackluster results in the previous test, we'll proceed by trying to unblock a couple of streaming platforms and see how it goes. For the start, we have Netflix US, which worked really well with Bullguard VPN on!

We tried Park and Recreation, as this show is exclusive for the United States. As you can see, it worked flawlessly, without a single proxy error. Can you watch Hulu outside the US with Bullguard VPN, though?

Yes, you can! We managed to unblock Hulu easily, by using the exact same US server throughout the whole test. Moving on, we have HBO GO: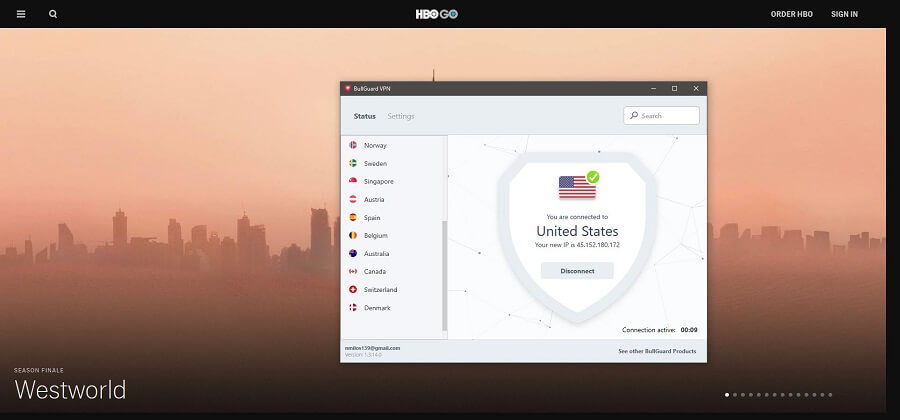 As expected, HBO GO worked just fine. What about Disney+?

We watched a bit of Star Wars: The Rise of Skywalker without any problems (except for slow speeds). DAZN is next on the line: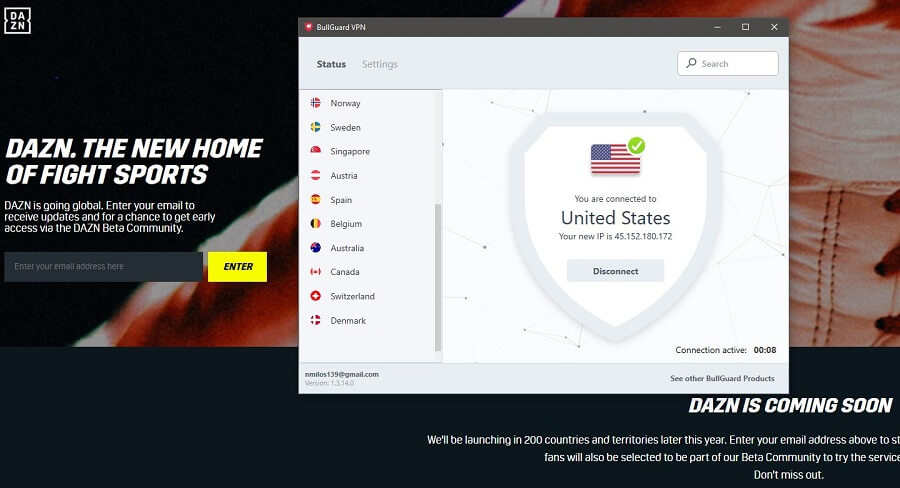 DAZN didn't work when using the US server. We tested it with other supported countries, but with no avail. Finally, BBC iPlayer brought some more positive results: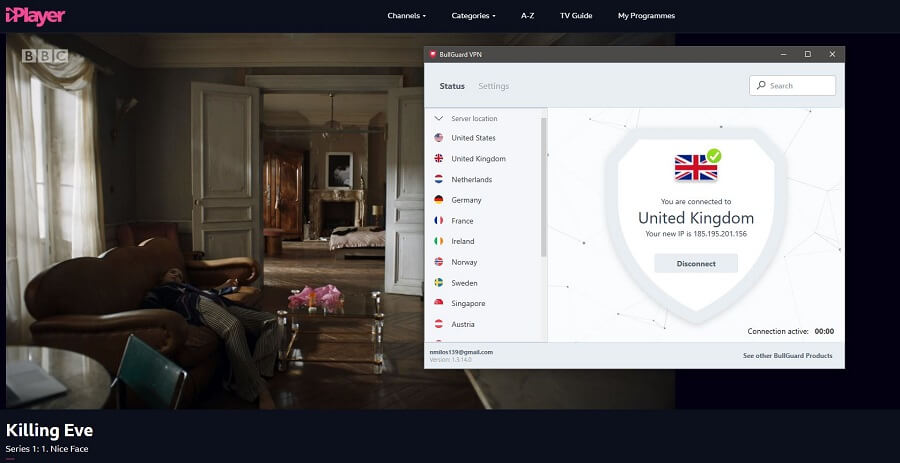 With all the platforms tested, it's time to digress and see what we managed to unblock.
During our complete review, Bullguard VPN unblocked Netflix US, Hulu, Disney+, HBO GO, and BBC iPlayer. The only platform that didn't work was DAZN, so it passed our test pretty much with flying colors. If it weren't for slow speeds, we'd stay that the provider is excellent for streaming.
However, with these speeds, watching anything over 1080p would probably be a chore, especially when using more distant servers. With that in mind, Bullguard VPN isn't very good for streaming.
Confidentiality, Security & Logs
If you've read some of our reviews, you know that this is a breaking point for many VPNs. A provider can be great for streaming, have blazing-fast speeds, and everything, but if it isn't safe and secure, it beats the whole purpose of a Virtual Private Network.
Bullguard VPN has a pretty straightforward privacy policy, making it easy to understand what logs they're keeping. We used only a fraction of that policy for this purpose, as it was more than enough for us to make a judgment.

Here, we highlighted the first paragraph, although we recommend reading everything. We see that they collect your IP, login information, browser type, time zone setting, operating system, platform, and so forth.
That's not all, folks!
The provider collects every single thing you do on the internet, such as full URLs of visited websites, products you searched for, timestamps, and even scrolls, clicks, and mouse-overs – DAMN! Oh, wait, that's not all either.
Third parties are also here, and in the last paragraph, you can see that Bullguard VPN works closely with them. Needless to say, sharing information with third parties here is pretty obvious. And even if it isn't, collecting so much information beats the whole purpose of this service.
Without even thinking, we suggest that you DO NOT buy Bullguard VPN if you care even the slightest about privacy and security. For those still interested in reading the review, we've done an IP Leak test, so here are the results with Bullguard VPN active: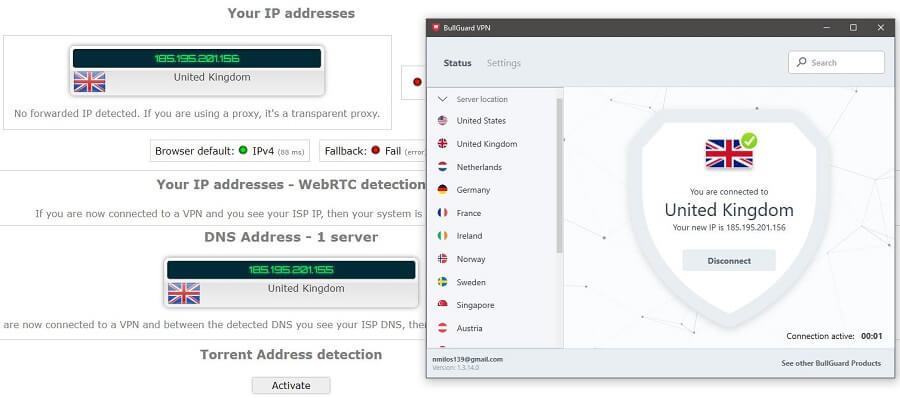 Thankfully, there aren't any IP or DNS leaks, which is a great thing. Furthermore, the provider uses 256-bit encryption and offers an automatic kill switch for both apps and websites.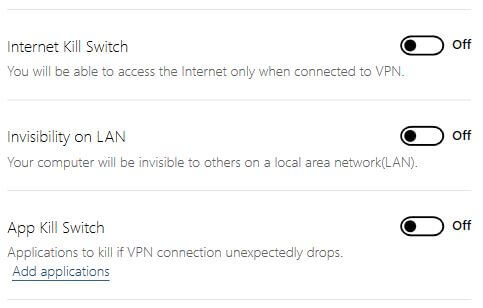 While its security is top-notch, the provider isn't safe to use, making it practically worthless. Instead, you should buy ExpressVPN, which ticks all the boxes.
Can I Do Torrenting Safely with Bullguard VPN?
Despite logging tons of data about its users, Bullguard VPN is surprisingly torrent-friendly. We tried to find the DMCA policy or anything that would imply that torrenting and P2P activities are forbidden. Luckily for us, that didn't happen.
Then, we visited 1337x.to and tried to download a movie:

All worked fine. Our BitTorrent client finished downloading it in a few minutes, with no bandwidth throttling, warnings from the provider, and so forth. The conclusion is that you can torrent safely with Bullguard VPN.
Can I Use Bullguard VPN to Bypass Censorship?
To bypass censorship, VPNs often include some special features and protocols that would help them do that. Bullguard VPN uses only OpenVPN protocol, which in some cases, is enough for this purpose. However, this protocol is easily detected by the Great Firewall of China, for example, so it's not very suitable.
Whereas NordVPN has obfuscated servers and Surfshark has NoBorders, this provider has nothing. Our testers in China tried it, testing each location from the provider's list, and nothing worked. Not only it can't bypass censorship in China, but also in countries like Russia and the UAE, hence we don't recommend it for this purpose.
Pricing and Plan Options
A few moments ago, we mentioned that Bullguard is very expensive. Interestingly, that trend repeats in many antivirus companies such as Bitdefender and Malwarebytes. Both of their VPNs are, more or less, considered expensive for what they truly offer. Let's see how much will this one cost you: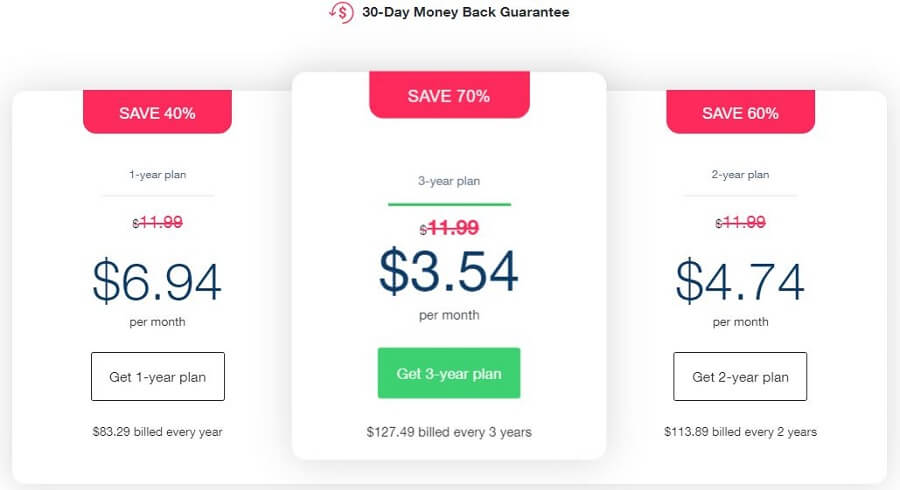 You'll notice one thing here – the provider doesn't offer any monthly plans. This means that you're forced to go long-term, at least one year. Speaking of that, the annual plan costs $6.94 a month, a two-year plan costs $4.74 a month, and a 3-year plan costs $3.54 a month.
This is very expensive, especially since the best VPNs on the market cost significantly less. For instance, ExpressVPN costs $6.67 a month for an annual plan. If you want a 2-year plan, you can get Surfshark for only $1.99, and if you want a 3-year plan, CyberGhost costs just $2.75 plus 2 months free.
Do you see now why Bullguard VPN is expensive? You can get literally the BEST provider on the market for a cheaper price. What about payment methods? If you're going to buy it, here's how you can pay: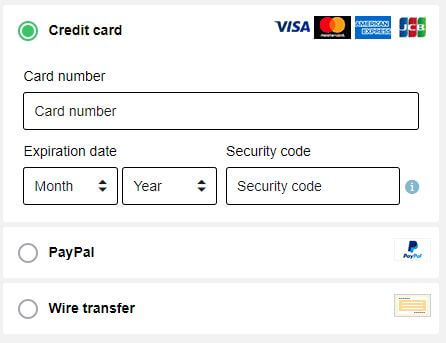 Credit card, PayPal, and Wire transfer – fair enough. No cryptocurrencies here, so you can't buy it anonymously.
In case you want a refund, the provider offers a 30-day money-back guarantee. We contacted the support team to confirm it:
Mihai was very nice, explaining how to get a refund, so take a look at the screenshot of the chat above. The good thing is that there are no strings attached to it, so you can use Bullguard VPN infinitely for 30 days and still get your refund.
How Can I Contact Bullguard VPN?
Customer support is one of the most important factors in premium VPNs. When using them, you want to feel safe and secure, knowing that they guard your back should the problems arise. Unlike many providers from antivirus companies, Bullguard VPN offers live chat, which is phenomenal.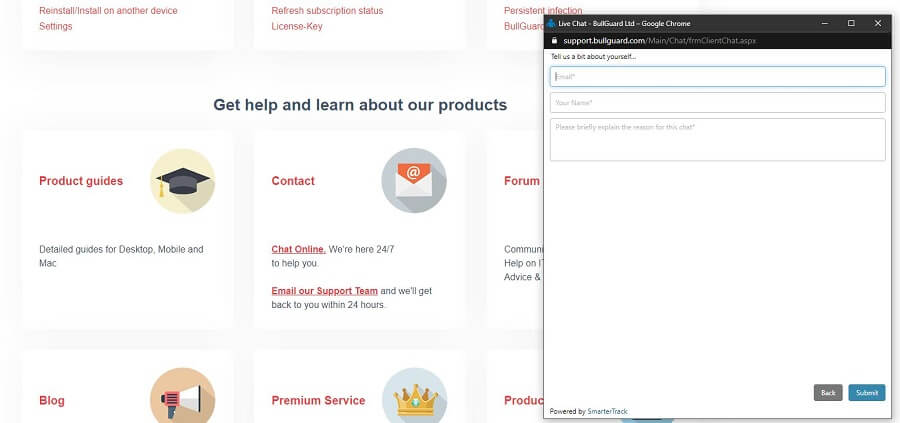 Moreover, the support team is available 24/7, making it convenient to contact them whenever you want. And if you're not in a hurry, you can always use their email, to which they respond in approximately 2 hours.
Of course, the FAQ section is here, in case you want to inform yourself more about the provider and how it works. Our review of customer support is pretty positive, as it's responsive and very helpful!
The Special Functionalities
The special functionalities are here to bring the basic VPN experience to another level. Providers like NordVPN, ExpressVPN, and Surfshark all have something special to offer. NordVPN, for example, has Double VPN, ExpressVPN has split tunneling, and Surfshark has MultiHop.
What does Bullguard VPN have? In one word – nothing. We mentioned its kill switch, but that's a standard feature that every provider should have. You'll say that the kill switch here applies to both apps and the internet.
But, we say that this is actually how a normal kill switch should work! Apart from that, the provider offers nothing similar to what we've mentioned above, significantly lowering its value for the price. Such a shame!
Other Things You Should Know
Our in-depth review wouldn't be in-depth if we didn't talk about all the things about Bullguard VPN. Let's see what other things you should know:
Number of Servers
Bullguard VPN aims to overtake its competition fiercely, offering the largest server network, larger than Malwarebytes, Avast, Norton, or any similar company.

The provider doesn't clearly state its number of servers. Instead, we head to search the FAQ section to find the answer. As you can see, the provider offers 2,000+ servers worldwide, which is a pretty impressive number.
Number of Countries
What's not impressive is the number of countries – 16. Honestly, we started to doubt if it really has 2,000+ servers. On average, it's 125 servers per country, which is quite a lot. If that's true, they could go for a smaller server count, with servers scattered throughout 50+ countries, for example.
Number of Simultaneous Connections
The provider offers a decent number of simultaneous connections: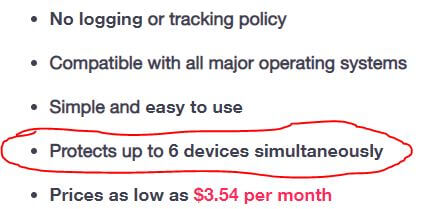 6 devices, which is slightly more than ExpressVPN and slightly less than CyberGhost.
What Do Other Users Say About Bullguard VPN?
Before wrapping up our review, it's time to see what other users online think about Bullguard VPN, starting with Reddit.

About 3 months ago, this user complained about Bullguard VPN not working with Netflix. He's getting a proxy error, implying that Netflix blocked access due to the VPN usage. We didn't have that problem, but as you can see, the provider is obviously not very reliable.
Now, let's see what the Google Play Store reviews look like:

This user says something we already mentioned before – that it's too expensive. He also complains about the fact that the provider doesn't offer anything less than a one-year plan, which is ludicrous in our opinion.
On the Apple Store, the situation is… well, just take a look:
Despite having a 4.8/5 rating, there aren't any written reviews about it. And since only 4 users gave it a rating, it's hard to tell what iOS/macOS users think about it truly. One is sure – Bullguard VPN isn't very popular on the Apple Store.
Finally, we have a review coming from Trustpilot:

The user on Trustpilot is extremely dissatisfied with Bullguard VPN, giving it a one-star review. In his word, the provider has "gone for the sake of his sanity and expensive PC's health." Whatever the case may be, the review is negative and that's all that matters.
Conclusion: Should You Take It?
Bullguard VPN is a true definition of a mixed bag. On one side, we have easy to use apps, solid customer support, and the ability to unblock Netflix, Hulu, and other streaming platforms. However, on the other side, the provider is tainted by its logging habits, which make it far from being safe and secure.
We were willing to squeeze out every positive thing about the provider and we truly did. But, if something's not good, we point it out. If it weren't for very expensive pricing and the fact that it keeps logs, we'd think about recommending it.
As things stand, though, Bullguard VPN is not worth buying and you should not take it.
A much better option is ExpressVPN that offers a 49% discount and 3 months free for a 12-month subscription plan.