In this article, we will be giving you the best alternatives to PureVPN, which has been around for just below 15 years and currently offers more than 2000 servers you can connect to. If you have been disappointed with the services offered by the provider, we advise you to read what will follow carefully.
What is PureVPN?
Founded back in 2006 by a GZ Systems as a parent company, PureVPN first started with just two single servers with one set in the UK and the one in the US. As we have mentioned above, today, it covers more than 180 countries, offering 2000 servers that you can enjoy.
With this in mind, it is safe to say that this VPN is among the few that offer a splendid server park. Not only that, but its overall compatibility is quite good as well.
Thus, you can enjoy this service with Windows, Android, iOS, macOS, Linux as well as gaming consoles, smart TVs, and routers. Not only that, but we are happy to announce that this VPN does offer a split-tunneling system.
Additionally, there is a 256-bit AES encryption to support the robust security features that PureVPN is highlighted by. It also comes with a kill switch that is there to ensure your true IP location won't be revealed to an ISP operator.
PureVPN also does seem to offer unlimited torrenting, and a 50% success rate when it comes to unblocking Netflix, and other popular streaming platforms. These are all great points and advantages you will get to enjoy by subscribing to PureVPN.
However, there is a couple of aspects that PureVPN apparently didn't put enough focus on. Let's take a look at them before talking about the best alternatives to PureVPN.
Downsides of PureVPN
To the surprise of many, this affordable service actually does quite well when it comes to user-friendly privacy because its jurisdiction is outside of the 5-Eyes alliance. Additionally, there is a strict no-log policy to highlight its service.
Still, the overall performance may need some improving, which is why it has a bad reputation on Reddit.
Slow Servers
Among the most important aspects is how well does a VPN perform once connected to a distant location. We first tested the server in the US considered that it is where we are based.
The results were fair with a download and upload speed, both being set at 30%. However, we experienced dramatic changes when running the VPN with British servers. What we got is a 70% drop in the download and a 50% drop in upload speed, and, additionally, a ping of 190ms.
While this can be fine for regular browsing, anything else, including streaming, is not going to be possible. We experienced a similar issue with the Hong Kong server for which we had high hopes.
Thus, with our connection being at just 20% of its initial performance and a ping at a high 300ms, we couldn't really test whether it can unblock China's content or not.
Unreliable Customer Service
Another issue that we have with PureVPN is the fact that it doesn't offer a customer service that you will want. Thus, while there is a live chat, it is not up most of the time.
On the other hand, once we managed to get a hold of an operator, they forwarded us to the email inquiry, and later on, closed the case without solving our issue. Isn't that a good reason to look at a better alternative?
This does stand as a huge problem in case you want to request a refund. You either don't get a relevant response, or you wait for it for a couple of business days only to find out you are not eligible anymore.
Non-working China Servers
We do like to emphasize that not many VPNs can unblock content in China. This is because of the Great Chinese Firewall that is controlled by their government.
While PureVPN makes optimistic claims, we didn't find that any of the servers, including the Hong Kong one, was up and running most of the time. This was justified with a presumed technical issue that they were working to settle asap.
Our Favorite Alternatives to PureVPN
While PureVPN is a service that you can trust for security and protection, it didn't fulfill our expectations for the stable performance.
The fact that it is quite slow, and that it doesn't really offer global unblocking ability made our search for relevant alternatives quite simple.
ExpressVPN
ExpressVPN is highlighted by exquisite speeds, as well as a large server park that offers reliable performance across the globe.
Based in the British Virgin Islands, it offers one of the best security and privacy aspects of all the providers.
Thus, you will not have to worry about logging or potential leaks. Plus, it has a VPN extension for Firefox users, so you can remain safe any time you open your browser.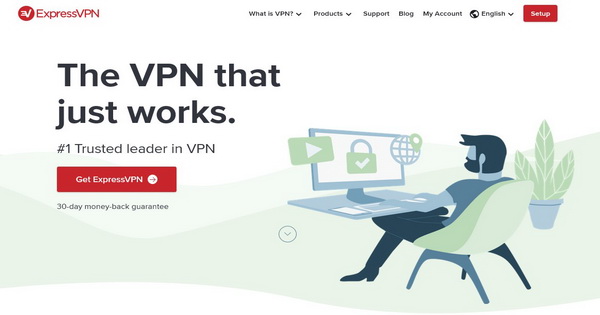 Why Choose This VPN Over PureVPN?
The answer is quite clear – for the incredible server speeds that it offers. As we have mentioned above, no matter your location, you are sure to enjoy excellent performance.
We experienced just a 15% drop when connected to the servers in the UK and a 25% drop for Australia and Hong Kong. Additionally, the servers in the US worked flawlessly, with less than a 5% speed decrease for numerous locations.
Why Is ExpressVPN Better Than PureVPN?
It all depends on what you are looking to get. ExpressVPN is more expensive than PureVPN. However, the speed and reliable refund policy that it offers justifies the premium service that it claims.
Get a subscription at ExpressVPN.com >
NordVPN
When it comes to reliable Virtual Private Networks, NordVPN is on top of the list. Based in Panama, it is not subject to any data retention laws or the Five Eyes alliance.
Additionally, it is highlighted by an array of tunneling protocols and military-grade encryption. It is a global provider that offers services in more than 5,000 locations around the world.
This provider claims to effectively unblock over 150 streaming sites, including Netflix, Hulu, and Amazon Prime. Which is definitely a good reason to choose him as an alternative.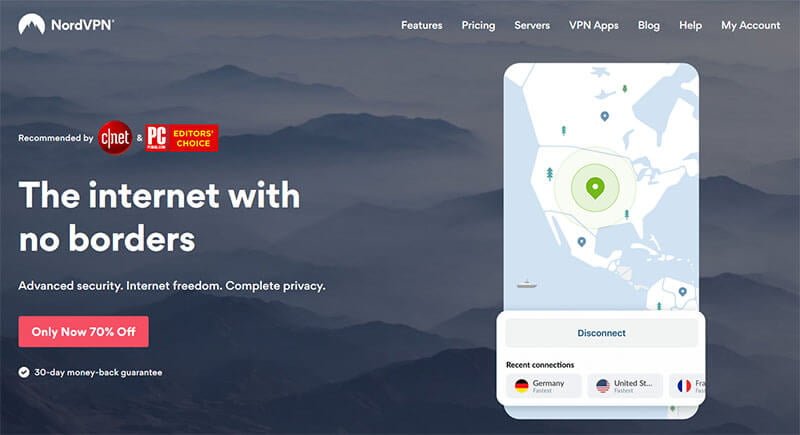 Why Choose This VPN Over PureVPN?
The main reason is because of the aforementioned privacy and security concerns. NordVPN does a great job providing its users with a leak-free, malware-protected, anonymous browsing.
It is highlighted by a kill switch, CyberSec, as well as an innovative feature that will connect you to the safest and best-performing server.
This makes it an offer that you can trust to access the Darknet without taking any risks or compromising your safety.
Why Is NordVPN Better Than PureVPN?
We consider it to be more reliable not only because of the protection but also because of better server speeds.
It also features an indisputable ability to unblock streaming platforms everywhere. This includes the US, Canada, Europe, South America, Australia, Africa, and Asia.
Get a subscription at NordVPN.com >
CyberGhost
When it comes to services that are friendly for those on a sensitive budget, CyberGhost is the way to go. Given its affordable pricing options, one would think that this product doesn't offer good performance.
However, we tested it and found that this Romanian-based service is a really good alternative to PureVPN. The set-up process is extremely fast and easy. Plus, it can unblock Netflix, and it offers all-inclusive connectivity.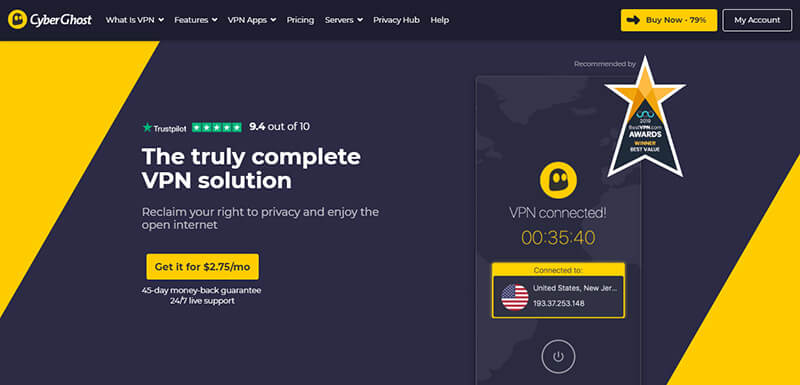 Why Choose This VPN Over PureVPN?
Our first answer would be because of server reliability. We had connection issues with PureVPN.
This is not something that you will encounter with CyberGhost. We performed a couple of test sessions and found it to work great both in the US and Europe.
The same goes for Australia and Asia, where we were able to acquire a stable connection. One of the best things is the fact that we could unblock Netflix in 75% of the locations that we tried.
Why Is CyberGhost Better Than PureVPN?
This service is highlighted by a strict no-log policy, as well as proper encryption.
Also, the pricing options are much more affordable, featuring a $5.99 per month payment for the annual plan. Meanwhile, you would pay only $2.75 per month for the 3-year plan.
Not to mention, they offer a free trial, as well as a great refund policy (45 days).
Get a subscription at CyberGhost.com >
The Best Free Alternative to PureVPN
Bearing in mind that you may not have the money to pay a monthly subscription, we came up with a free of charge substitute to PureVPN.
Windscribe
As a provider that offers both a free and a paid plan, Windscribe is one of the most popular options on the market. Their free service is limited by 10GB of data transfer per month, but it still offers reliable performance for the most part.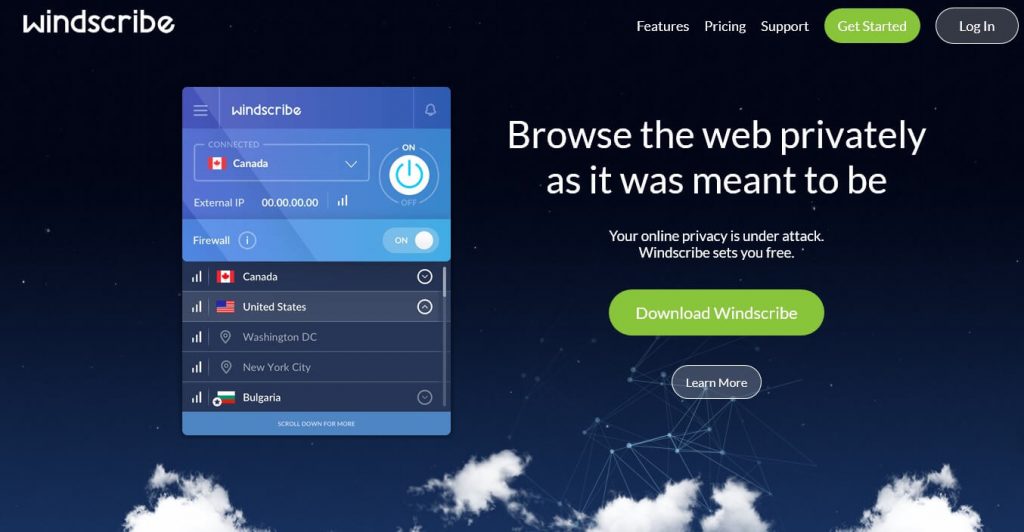 Why Choose This VPN Over PureVPN?
When it comes to speed and versatility of options, Windscribe can't be compared to PureVPN. Keep in mind that it offers only 14 servers for the free plan, while PureVPN has over 2,000.
Why Is Windscribe Better Than PureVPN?
With Windscribe, you have a fair ability to unblock censored sites and platforms while paying absolutely nothing.
Wrap Up
Today, the most popular internet privacy service is the VPN. It has been around as a concept for just about two decades, yet, in the past few years, it became massively discussed and used.
The reason for this? The fact that geo-blocks are not related anymore just to entertainment content and platforms but also to other sites, including social networks. There are a couple of countries, including China, which you can't really access any of the mainstream internet content without the use of a VPN.
While not as good as the aforementioned paid alternatives, PureVPN is suitable for providing anonymous browsing.
Still, it's speed, as well as the fact that customer service can't get your issue settled, is why you are better off with alternatives like ExpressVPN, NordVPN, and CyberGhost!