In this article, we will go through the potential, as well as the downsides, of one of the most popular VPNs on the market – Hotspot Shield. Whether or not it is worth your time and money is something you will find out by reading down below! And at the end, you will find some of the best alternatives to Hotspot Shield you can get in 2021
What is Hotspot Shield?
Founded back in 2005, it is a provider with one of the largest user bases. What you should keep in mind is that the company behind it, AnchorFree, offers both a free and a paid plan.
While the one that is free of charge is more like a proxy, Hotspot Shield Elite comes with an array of handy features. You are looking at a fine server park with more than 3200 servers in just above 80 countries.
Additionally, if you were hoping to stream Netflix and other popular platforms, it is made possible with Hotspot Shield Elite. This is great, considering the fact that many leading names aren't able to ensure this.
This provider also comes with affordable pricing options, as well as a great user interface. Unfortunately, you can't install this VPN on Linux. Still, it does work great with iOS, macOS, Android, and Windows.
It also uses industry-standard encryption, as well as a number of other security features, including a kill switch to keep you safe. Overall, Hotspot Shield offers quite a few features that you will be satisfied with.
However, there still is room for improvement, and that is something we are going to discuss below. Just before presenting the best paid and free alternatives to Hotspot Shield.
Downsides of Hotspot Shield VPN
If you would like to know what Hotspot Shield VPN has to offer in terms of protection, you can find out more here. We tried to briefly run through the most important features that work well and that make it a reliable choice.
Still, there are a few elements that we consider to be seriously lacking, given the high expectations set by Anchor Free.
US Jurisdiction
Firstly, the company is headquartered in the US. This is an issue for a couple of reasons. It is well-known that the United States doesn't have data retention laws that are very privacy-friendly.
Given the fact that you are looking to get optimal protection from a VPN, this can be a serious issue, as your browsing data and private info may be at stake. Any country under the 5-Eyes alliance can request this info from Hotspot Shield VPN.
Since you are not really protected by the provider, engaging in activities, such as torrenting, becomes quite risky. Frankly, US jurisdiction is one of the worst options when it comes to a Virtual Private Network.
Questionable Logging Policy
A problem with most VPNs is the fact that they aren't able to stand up to the claim of a strict no-log policy. Anchor Free has been commonly related to cooperating with third-party websites by selling user browsing data for a profit.
Thus, the claim that is made on the official website of Hotspot Shield is hard to believe. Chances are, both your initial IP address, as well as relevant download files and connection logs, are stored for at least some time.
This both increases the gravity of the aforementioned US jurisdiction and brings up the issue of compromised privacy. You start to understand why you should look at a better alternative to Hotspot Shield?
Slow Customer Support
One of the most important aspects of any VPN is that it offers effective customer service. While that is the case with names such as ExpressVPN and CyberGhost, we didn't find it to be so with Hotspot Shield.
Firstly, there is no live chat feature, which is considered to be the best solution when it comes to customer service. Not only that, but you will not get reliable support from their ticket system, either.
Frankly, we had to wait 2 business days before getting any kind of answer. Needless to say, that was not good enough. If you are looking for a reactive client support, you better search for better alternatives because Hotspot Shield is not reliable AT ALL.
Slow Servers
Lastly, we found that Hotspot Shield Elite doesn't offer the best performance in all parts of the world. While we had a stable connection to their US servers, we had significant issues when it comes to the EU.
Our download and upload speed were decreased by 50%. Additionally, the ping spiked to 180ms. If you were hoping to torrent or stream content in High Definition, this is definitely not the best solution.
Needless to say, Hotspot Shield is not the fastest VPN.
Our Favorite Alternatives to Hotspot Shield
Given the aforementioned flaws that are related to the overall performance of Hotspot Shield, you may be tempted to look for relevant substitutes.
We did that for you and found a couple of reliable options. Let's see what they have on offer for you.
ExpressVPN
ExpressVPN is highlighted by exquisite speeds, as well as a large server park that offers reliable performance across the globe.
If you are not familiar with ExpressVPN, you might also be interested in reading its review. Based in the British Virgin Islands, it offers one of the best security and privacy performances out of all providers. Which is one of the big reason why it is for us the best alternative to Hotspot Shield.
Thus, you will not have to worry about logging or potential leaks.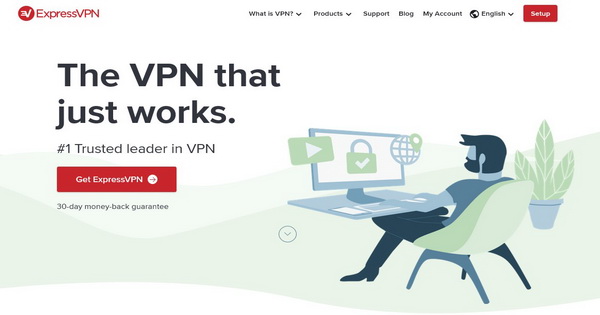 Why Choose ExpressVPN Over Hotspot Shield?
The answer is quite clear – for the incredible server speeds that it offers. As we have mentioned above, no matter your location, you are sure to enjoy excellent performance.
We experienced only small drops when connected to the servers in the US and Europe. Additionally, the servers in Asia worked flawlessly. Needless to say that you will be able to unblock any content from streaming platforms such as Netflix or Amazon Prime Video.
Why Is ExpressVPN Better Than Hotspot Shield?
It all depends on what you are looking to get. ExpressVPN is more expensive than Hotspot Shield. However, the speed and reliable refund policy that it offers justifies the premium service that it claims.
Get a subscription at ExpressVPN.com >
NordVPN
As one of the leading names in the industry, NordVPN offers above 5,500 different servers in more than 50 countries. Additionally, because it is based in Panama, there is nothing to worry about in terms of your privacy. This is the first reason as to why it is a great alternative to Hotspot Shield.
There is a myriad of reasons why this provider has been at the top of the list for years. This includes the fact that it offers optimal security, reliable server performance, and effective customer service.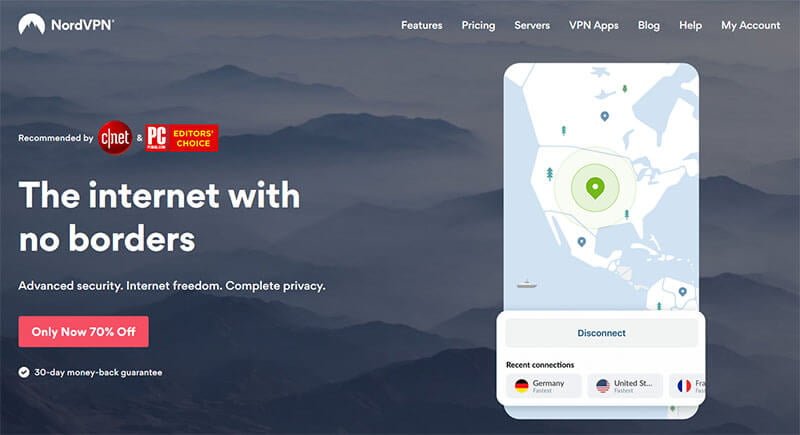 Why choose NordVPN over Hotspot Shield?
Looking at the flaws mentioned above with Hotspot Shield, we can say with confidence that NordVPN has all of those taken care of.
Firstly, you will not have any issues trying to unblock streaming platforms, as this VPN does a great job with more than 150 sites unblocked worldwide.
Also, you will not have to worry about an increased risk of DMCA sanctions.
Why is NordVPN better than Hotspot Shield?
As mentioned above, Hotspot Shield is not the best option if you want to stay anonymous. On the other hand, NordVPN ensures you are completely protected. It uses a couple of instruments to do so, including CyberSec and a kill switch.
Additionally, with its no-log policy and privacy-friendly jurisdiction, you have nothing to worry about.
Get a subscription at NordVPN.com >
CyberGhost
At the end of our paid alternative list to Hotspot Shield comes CyberGhost, which has more than 6,000 servers. It is incredibly effective when it comes to unblocking content across the globe.
What we love is that you can connect with up to 7 devices at a time, as it supports any operating system. This includes gaming consoles and smart TVs.
Additionally, CyberGhost customer service is sure to get any issue settled through the effective live chat feature. And if you would like to test out this service before signing up, you can use the 45-day money-back guarantee to find out.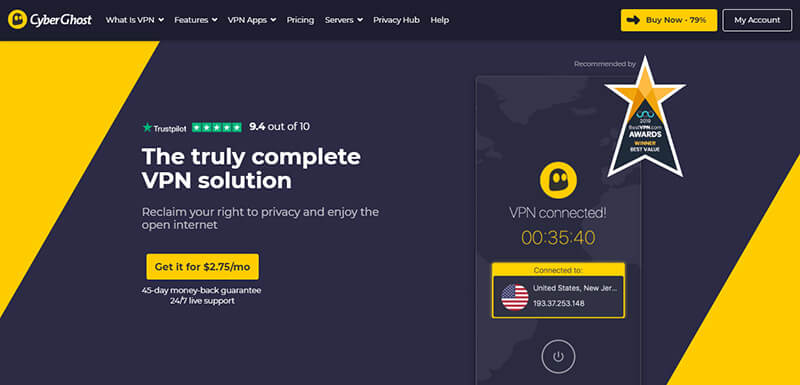 Why choose CyberGhost over Hotspot Shield?
It offers a considerable server park compared to Hotspot Shield, and the overall connectivity and stability are much better.
Why is CyberGhost better than Hotspot Shield?
Apart from the robust ability to unblock content, it is also suitable for its overall usability and compatibility. Unlike with Hotspot Shield, you can actually use CyberGhost with the TOR browser.
Not to mention, the pricing options of CyberGhost are way more affordable, and the refund policy is one you can certainly rely on!
Get a subscription at CyberGhost.com >
The Best Free Alternative to Hotspot Shield
While you can't go wrong with the aforementioned alternatives, all of them require being paid for. For those of you on a sensitive budget, we have an option that might work well.
Windscribe
Based in Canada, this provider has quite a fan base, and that is mostly due to its free plan.
Given the circumstances, the 10GB limit and 14 servers you can connect from are still quite good since you are not paying anything.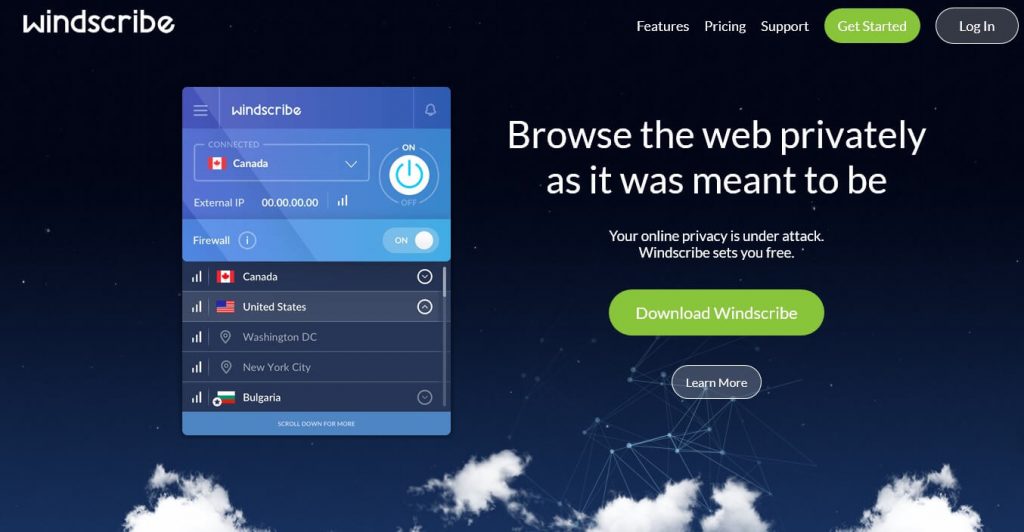 Why choose Windscribe over Hotspot Shield?
Our personal reason is because of the fact that you will get to enjoy a more privacy-friendly experience. Apparently, they do not keep a record of your IP address, which is incredibly important.
Why is Windscribe better than Hotspot Shield?
Its free plan is much better than the one offered by Hotspot both for speed and security. As for the Hotspot Shield Elite paid plan, it may be more versatile, but Windscribe still offers faster US server performance.
Wrap Up
In the end, we can say with confidence that Hotspot Shield is not a service we would recommend over the other alternatives on our list.
The reason is that, for the same price range, you can get more reliable options that offer 100% anonymity and way better performances.