Japan is a country of great culture and history. However, in the past couple of decades, it has been greatly affected by US culture, and millions of people are hoping to enjoy American TV channels. Along with this comes the scenario of US citizens/residents who are currently in Japan and want to enjoy US television. The main issue here is that you will probably encounter geo-blockades.
This doesn't come as a surprise, but it can be quite annoying, as you will need to find a way to bypass these restrictions. Luckily, we are here to help.
The idea of this article is to briefly go through the matter of geo-blockades and highlight the most effective options to access American Television for free from Japan. Without further ado, let's get to it!
Why can't I watch US TV in Japan?
The main reason why you may not be able to unblock your favorite TV show is because of the restrictions in either Japan or the United States. We could go deeper into this matter, but it is simply all a consequence of licensing and calculating what yields a bigger profit.
For this purpose, most channels restrict their content to US locations only. This means that those outside of the US will either not be able to watch it for free or even access the content at all.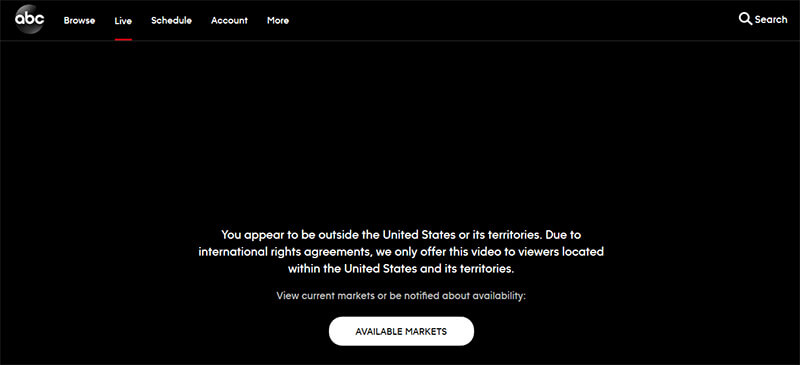 Most people see this as discrimination, but that is how cable operators and channel providers work. Thus, instead of further discussing the issue, it is better to talk about an effective solution that will help you cope with the problem.
It comes in the form of a Virtual Private Network (VPN), and as long as you know how to find the right one, you are sure to reap the benefits!
Solution – A VPN to Unblock all the TV Chanels
If you want to stream your favorite show while in Japan, you will need to install a VPN. That's the best way to unblock a geo-restricted website, including Netflix, Hulu, Amazon Prime, ABC, CNN, HBO…
The way that a Virtual Private Network functions is by hiding your current IP address that is set in Tokyo, Japan, for example. It then switches it for one in the US. This way, you will be able to trick the algorithm into thinking that you are in the relevant location and thus eligible to watch US television.
It is quite simple, and it is similar to a proxy server. However, the VPN differs in the offered protection. You are at a much lower risk of your true IP address being revealed to an ISP operator.
Not only that, but there is also the fact that it provides great encryption and completely anonymous browsing. This will allow you to enjoy torrenting without the common risks, and it is also quite beneficial for online gamers too.
Overall, installing a reliable VPN is a great investment, as long as you choose the right one.
How To Use a VPN?
Now that you know how a VPN works, here is how to use it in order to acces sand watch US TV Channels when you're in Japan:
Sign up for and download your chosen VPN (we recommend ExpressVPN)
Download and install the app on your devices
Sign in using your credentials
Open the servers list and choose one that is located in the US
Click connect and watch your favorite American TV shows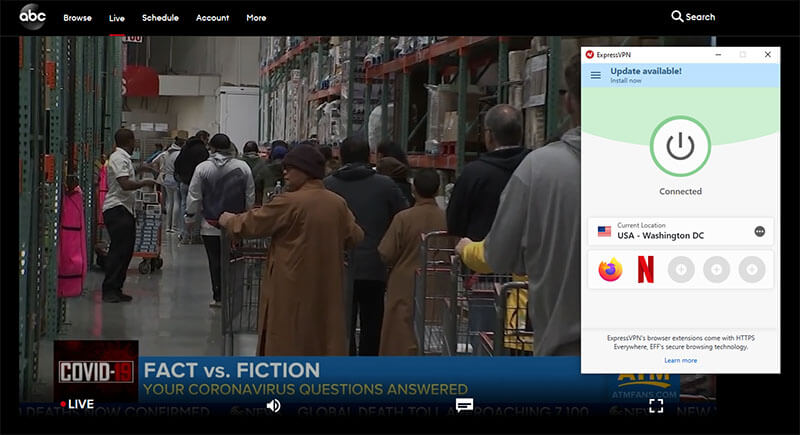 VPN to Choose to Watch US TV in Japan
With hundreds of different VPN providers, you may have trouble distinguishing which one is worth your money. Frankly, we think that focusing on factors such as reliability, speed, connectivity, compatibility, and protection helps a lot.
For example, with a good VPN for iPad, you'll have no trouble watching your favorite TV shows. This is the main reason why you will want to look for one that offers user-friendly apps for different devices.
The same goes for speed and leak protection. Considering these elements, we did our best to come up with a couple of names that we see as great choices.
ExpressVPN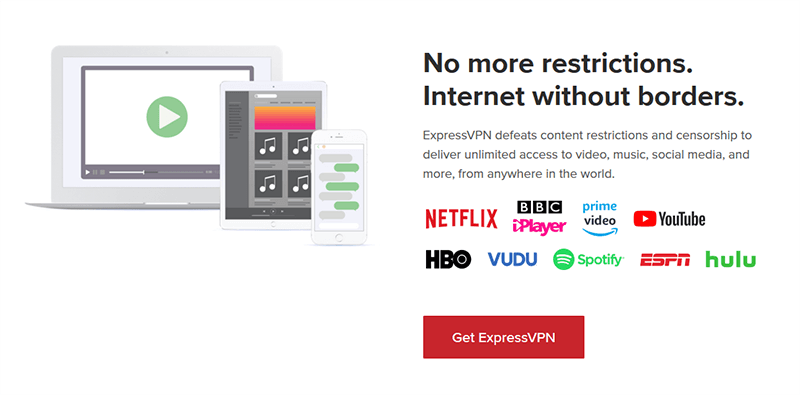 First, we want to highlight a VPN that is considered to be premium both due to its price and performance that it offers. Unlike most other VPNs, ExpressVPN will ensure that your connection stays fast and reliable even when the server is thousands of miles away.
This is incredibly important, especially when you want to stream American TV in HD resolution from Japan. There are a couple of thousand different servers across the globe. Many of these are set on the West and East Coasts of the US.
You are looking at a strict no-log policy due to the British Virgin Islands jurisdiction. Also, ExpressVPN offers reliable encryption and leak protection.
This is all to say that ExpressVPN is an option that is sure to provide you safe, secure, and offers 100% anonymous browsing! So check it out here:
NordVPN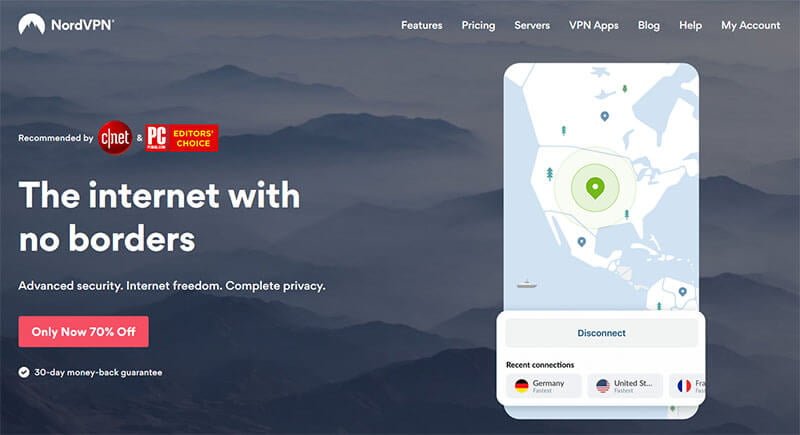 For anyone who wants to enjoy free access to the content that is exclusive for the United States, NordVPN is a superb choice. It offers the ability to unblock more than 150 streaming sites, which is something that most of its competitors can't claim.
Not only this, but you are also looking at superb performance in terms of its large server park. NordVPN offers above 100 locations in the US that you can effectively connect to.
Probably the most important factor is that you will enjoy a strict no-log policy and great leak protection. Also, if you were skeptical about using a VPN for torrenting, there is no reason to be. In fact, NordVPN encourages this activity.
You will not break the bank with this service, as NordVPN offers a number of payment types and subscription options. It is quite affordable at only $3.49 per month for a 3-year plan.
CyberGhost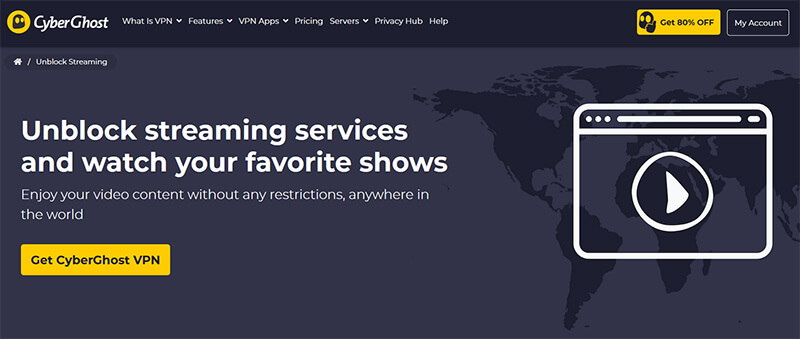 As a Romanian-based provider, CyberGhost is considered to be one the most user-friendly VPN on the market. This is both due to an extremely affordable price, as well as the fact that you can install it within minutes.
Additionally, in case any kind of problem occurs, their live chat will get it settled. Much like NordVPN, you are looking at a global service that is highlighted by 7,000 servers. More than 300 hundred of these are set in the mainland US.
CyberGhost also offers immense connection stability and a set of tunneling protocols to support many different devices.
Wrap Up
We know that geo-blockades are quite irritating. It is for this reason that we did our best to highlight a couple of VPNs that can help you with this issue.
Whether you decide for NordVPN, CyberGhost, or ExpressVPN, you will be happy to experience flawless unblocking ability. What are you waiting for? Subscribe and enjoy US TV show even if you're in Japan!