MTV has been around for nearly forty years and has become a loved TV channel amongst people around the globe. Unfortunately, it is only available in the United States, and can't be viewed by anyone abroad. That's why we've put together this short guide to help you watch MTV live from your part of the world.
What is MTV (Music Television)?
MTV, which was originally an initialism of Music Television, was launched on August 1, 1981, and is a cable channel based in America. Its headquarters are located in New York City, and the channel acts as the iconic property of the ViacomCBS Domestic Media Networks section of ViacomCBS.
The channel first aired music videos that were guided by television personalities called 'video jockeys,' or VJs. In the years following its creation, MTV has significantly reduced its focus on music, to prioritize the creation of original reality TV programs.
Reality shows target teens and young adults, and despite their success, MTV's influence and choice of programming have been controversial over the years. The channel does have various sister channels in the US, as well as channels affiliated internationally.
However, today we're going to focus on how you can view the American version of MTV while being outside the United States.
MTV Popular TV Shows
As we have mentioned above, MTV does offer more than just content related to the modern music industry. Today, there is a plethora of reality shows that won multiple awards and are sure to keep you entertained for hours including Jersey Shore, Teen Mom, Catfish: the Show as well as Teen Wolf and the Real World.
MTV Error Message – Why Does it Appear?
Most people who try to watch the American version of MTV when abroad have encountered this frustrating error message:
"Sorry, this video is unavailable due to rights or restrictions."
Essentially, this means that MTV has not made its content available in your country and it is geo-blocked. You won't be able to access it outside of the US unless you use a VPN.
Let's go over how a VPN can allow you to watch MTV live abroad in more detail.
How Can a VPN Help?
VPN service providers often have a large number of servers in numerous countries that you are able to connect to. When connecting to these servers, the VPN changes your IP address to match the one of the server you're connected to.
Get ExpressVPN and avoid geo-restrictions >
This allows you to access any geo-restricted content from the region the server is located in. Since most VPN service providers have at least a few servers located in the US, you'll be able to access US-exclusive TV shows and streaming catalogs, including MTV.
Plus, in order to enjoy Free MotoGP streaming and torrenting, a VPN will also help you.
How to Unblock MTV Live Outside the US Easily?
As we said, using a Virtual Private Network to unblock and watch MTV abroad (and most other streaming sites) is really simple. Here is what you need to do:
Select one of the top VPNs from our options below and sign up for a subscription package.
Download the applicable app and sign into it using the details you used when signing up.
Open the list of servers and select on that is based in the US, then click connect.
Visit the MTV site, sign in or sign up, and start streaming your favorite content live from abroad.
Top 3 VPNs to Watch MTV live Outside the US
Any VPN worth the money will provide you with safe, secure, and fast servers. Here are our top recommendations when you want to watch MTV from anywhere in the world.
1) ExpressVPN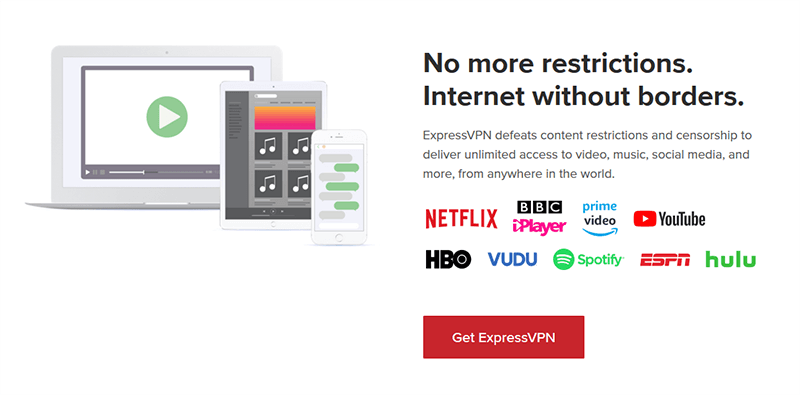 ExpressVPN has reliable, speedy servers located in nearly 24 US cities, which allows you to stream MTV USA from almost anywhere seamlessly. In total, the provider boasts a network of over 3,000 servers, all located across 94 countries.
This makes it more than capable of accessing geo-restricted content from around the globe. It is generally rather difficult to unblock streaming services. However, in addition to MTV Live, ExpressVPN is capable of working with Netflix and Amazon Prime.
The various browser extensions and mobile and desktop apps allow you to use ExpressVPN on a wide range of platforms. 24/7 live chat support is available if you ever have a problem while trying to watch MTV programs from abroad.
ExpressVPN also offers its own smart DNS proxy service known as Media streamer. This service lets you use your VPN with smart TVs and gaming consoles.
The company provides its users with many security features to keep your information safe. When using ExpressVPN, your data is secured using a 256-bit AES encryption, as well as protection from IPv6 and DNS leaks.
It also has split tunneling functionality, and a kill switch in the event your connection dips. They do not record any logs that could be used to identify their users. These logs are things like your browsing history, IP address, and metadata.
Get a 49% discount on ExpressVPN subscription >
2) CyberGhost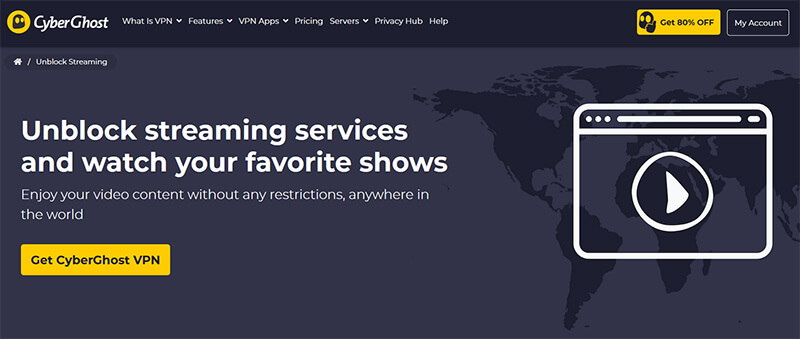 With CyberGhost, you can watch MTV USA at lightning fast speed and with complete security. This VPN has more than 6,000 servers, of which 700 are in the United States.
CyberGhost offers unlimited bandwidth and traffic for an effortless streaming experience. Their connections are also fast enough to allow you to view HD content with little to no buffering. The seven simultaneous connections that it allows for is much more than the majority of VPNs.
CyberGhost is the VPN for beginners, and its straightforward browser extensions and apps are easy to use and manage. The company prides itself on its strong commitment to privacy.
It also uses 256-bit AES encryption, a kill switch, DNS leak protection, as well as a zero-logging policy, to keep your data 100% secure. CyberGhost is unique in that they publish an annual 'Transparency Report.'
This report provides some insight into the number of complaints to the DMCA and the police requests that they receive. CyberGhost also does not log any information that could be used to identify you.
Watch MTV live from abroad with CyberGhost >
3) NordVPN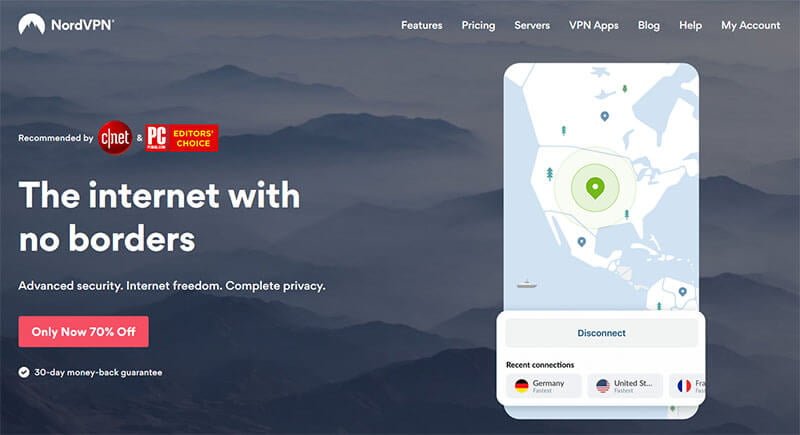 Being one of the most popular VPNs out there, NordVPN is more than capable of unlocking MTVs geo-restrictions when outside the US. This is thanks to its vast network of over 5,500 servers across the globe, with 1,700 hosted in the US alone.
This large server variety allows you to easily find a server with a low load and the best performance for streaming. Other than MTV USA, NordVPN is also capable of accessing the geo-restricted content of other streaming services, such as Netflix and Amazon Prime Video.
NordVPN has been in the business for a very long time, and as such, has developed a range of features that make it one of the most robust VPNs out there. For example, you're able to connect six devices to the same account simultaneously.
They also provide a 24/7 live chat customer support service to assist with any inquiries you may have. NordVPN's security methods are quite standard, with a 256-bit AES encryption, IPv6, DNS, and WebRTC leak protection, as well as an automatic kill switch.
The company also does not record any logs that could be used to identify its users. Read our review of NordVPN if you want to know more, or click this link below:
Get NordVPN to avoid geo-restrictions >
Wrap Up
By now, it should be clear why VPNs are the best way to access geo-blocked content like the ones on MTV when abroad. The multiple servers found across the world let you access any streaming and television catalog, regardless of where you live.
We hope that this guide has provided some clarity on how to unblock and watch this American TV Channel in particular. Happy viewing!