Most providers don't do a great job of ensuring optimal privacy and performance. There are a couple of different elements that you may want to focus on when choosing a VPN. Considering the numerous reviews we have done, we can say with confidence that every VPN comes with flaws. In this article, we will go through the downsides of Private Internet Access VPN, which is seen as one of the most trusted options out there. Additionally, we have prepared a couple of relevant alternatives that you may be comfortable with.

What is Private Internet Access?
PIA is considered to be one of the oldest VPNs out there. Founded in 2010 by London Trust Media Incorporated, it now provides service to thousands of users across the globe.
Much like NordVPN, ExpressVPN, and CyberGhost, it is considered to be a great value deal. This is not only because of its reliable performance but also for the huge server park. Maybe most importantly, it comes at an affordable price, and the interface is made to be user-friendly.
Also, while most providers claim a strict no-log policy, PIA actually delivers on that statement. Thus, you will not have to worry about your browsing data or connection logs ending up in the wrong hands.
Additionally, we love the fact that they provide unlimited ability to use their servers for torrenting and P2P transfers.
That, along with the fact that you are 100% leak-protected, makes this VPN a safe and secure choice.
Still, there are a couple of elements in which it doesn't do as well as you would expect. We will talk about them before presenting to you some of the best alternatives to PIA in 2021.
Downsides of Private Internet Access VPN
If you want to learn more about PIA and its potential to ensure anonymous browsing, keep reading. We can't deny that it is quite effective when it comes to encrypting your activity online.
However, there is a lot of room for improvement in terms of the ability to unblock streaming platforms.
Additionally, their customer service doesn't seem to be at the same level as some other options/alternatives.
US Jurisdiction
First and foremost, the fact that this provider is located inside the Five Eyes alliance jurisdiction is not a good news. Yes, PIA does keep a strict no-log policy, which reduces the gravity of this issue, but it still is not the optimal solution.
Apart from the fact that the US government can potentially get a hold of your private info, the data retention laws in this country aren't privacy-friendly, either.
The perfect example of a VPN outside of the sketchy jurisdiction is ExpressVPN, which is set in the British Virgin Islands. That is one of the reasons why it is THE best alternative to Private Internet Access.
Limited Netflix
As you probably know, most users are hoping to watch unlimited Netflix content by using a VPN. However, this streaming platform has declared war on most providers, and today, just a few are able to bypass its restrictive algorithm.
Much like any other top name, Private Internet Access makes bold claims about its ability to unblock Netflix. That is why we had high expectations. Unfortunately, out of five US servers that we tested, only one gave us access (East Coast).
We didn't have a lot of luck with unblocking catalogs in Germany and France, either. UK servers did show good results, though. Thus, while PIA does have some potential in this aspect, it certainly is not as good as it should be.
Limited Live Chat
One of the most important features of a great value VPN is reliable customer service. It is usually highlighted by an effective live chat and a responsive email ticket system.
While PIA does include a 24/7 live chat option, it doesn't work very well. The first two times that we tried to contact an operator, we didn't have any luck. The third time, we had a couple of questions related to the payment option and were redirected to their customer email support.
Thus, it is safe to say that their live chat feature is useless.
Our Favorite Alternatives to Private Internet Access
We did our best to discuss both the concept that stands behind PIA, as well as highlight a couple of flaws that come with it. While we don't think that you will go wrong by subscribing to their service, the overall performance could certainly be better.
It is for this reason that we did our research and found a couple of great alternatives that we see as optimal solutions.
ExpressVPN
ExpressVPN stands as the best alternative, given its big server park (3,000 servers in 160+ locations) and fantastic speed.
One of the main reasons why we consider it to be a leading provider is because this VPN unblocks content in China. The ability to bypass the Great Chinese Firewall is not common for most VPNs.
This is due to the reliable Hong Kong server, as well as a couple of mainland servers that it offers. Additionally, you will not have to worry about the reliability of the internet connection. In fact, the highest drop that we experienced was set at 15%.
Lastly, ExpressVPN offers a no-log policy, a set of tunneling protocols, and great customer service to handle any possible issue.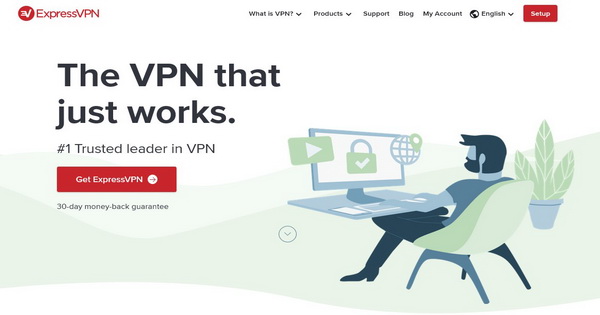 Why choose this VPN over Private Internet Access?
This provider is considered to be premium mostly for its ability to keep your internet connection quite fast. The most important thing is that you stay anonymous and that there is no leak or malware risks during your browsing activity.
Why is ExpressVPN better than Private Internet Access?
You are sure to enjoy faster overall performance, and it runs almost perfectly with any given device.
Additionally, the overall usability of their service is user-friendly. Plus, you shouldn't have any issues related to installation or server choice.
Get a subscription at ExpressVPN.com >
CyberGhost
As the second best paid alternative to PIA, CyberGhost is based in Romania. Much like ExpressVPN, it is highlighted by its global server park with more than 7,000 units.
There are a couple of reasons why we love this service. Its device compatibility and the interface are top-notch.
Not to mention, you don't have anything to worry about in terms of your privacy and online security. This is due to the great leak-protection, as well as zero malware risk.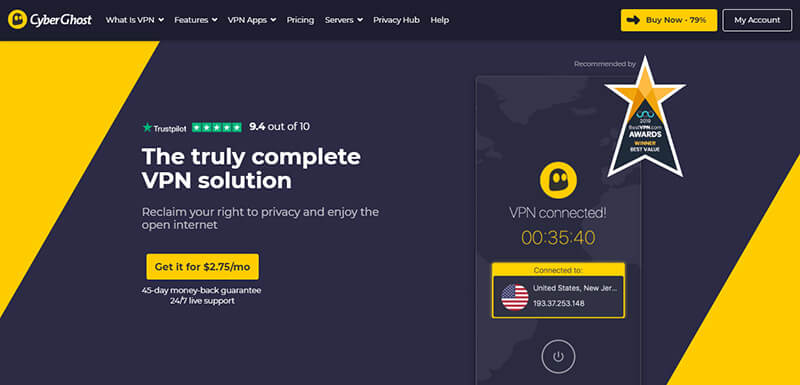 Why choose this VPN over Private Internet Access?
The main reason it is a good choice over PIA is because you will enjoy unlimited streaming and torrenting at a lower price, and with more safety features.
Also, in case any issue occurs, CyberGhost offers an effective 24/7 live chat support that you can rely on.
Why is CyberGhost better than Private Internet Access?
Firstly, it offers a more reliable overall performance, given the bigger server park and better device compatibility.
Also, CyberGhost is highlighted by a jurisdiction that isn't part of the Five Eyes alliance. This ensures a 100% safe and secure browsing experience.
Get a subscription at CyberGhost.com >
NordVPN
Chances are, you will read about NordVPN in almost any review that is related to internet privacy and anonymous browsing. It has been around for more than a couple of years and has stood as a leader since the beginning.
The first highlight of this service is its global coverage that offers 5,600 servers in more than 50 countries. Considering this, you can be sure that NordVPN will allow you to unblock content all across the world.
One of the main reasons NordVPN is so successful is because this VPN can unblock over 150 streaming sites without any issue. This includes Netflix, Hulu, Amazon Prime, BBC iPlayer, as well as a number of other popular names.
Keep in mind that you can benefit from UEFA CL streams for free by subscribing to this provider. Also, there is nothing to worry about in terms of privacy or security, given their no-log policy and great encryption (256-bit AES).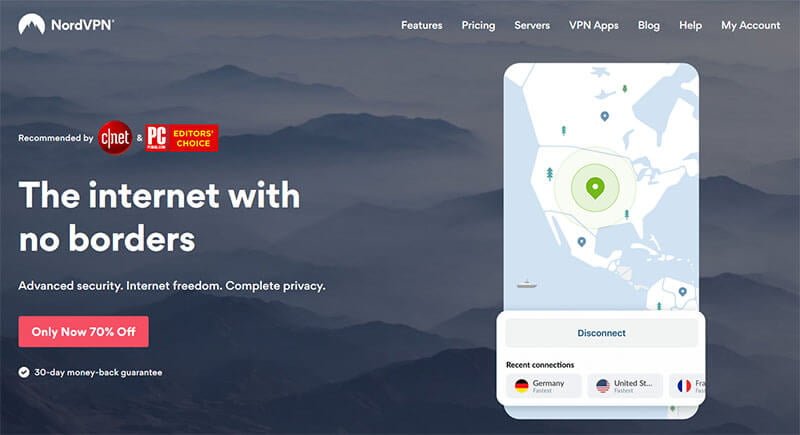 Why choose this VPN over Private Internet Access?
The main reason why NordVPN is a great alternative is because of its great ability to unblock content. We did a couple of tests and found that it works in the US, South America, Canada, Europe, Asia, Middle East and Australia with no issues whatsoever.
Not only this but, unlike PIA, NordVPN is based outside of the 5/9/14-Eyes alliance. With its headquarters set in Panama, you have absolutely nothing to worry about.
Why is NordVPN better than Private Internet Access?
Apart from the aforementioned reasons related to unblocking ability, and jurisdiction, NordVPN also comes at a great price.
Looking at the couple of options offered, we found that $3.49 per month (with the 3-year plan) is quite affordable considering what you are getting!
Get a subscription at NordVPN.com >
The Best Free Alternative to PIA
We understand that there are a number of users looking to use a VPN for free, even when searching at alternatives to Private Internet Access. Note that, with most providers, you may be able to get free service, but it comes in exchange for your data and connection logs.
However, we think that Windscribe is quite safe and privacy-friendly in this matter. That is the reason why we decided to highlight it as a relevant alternative.
Windscribe
This Canada-based provider offers both a paid and free service. It is the latter that we consider to be a fine alternative to PIA in some cases.
Yes, there is a 10GB per month limit and only 10 countries to connect from, but it offers good overall performance.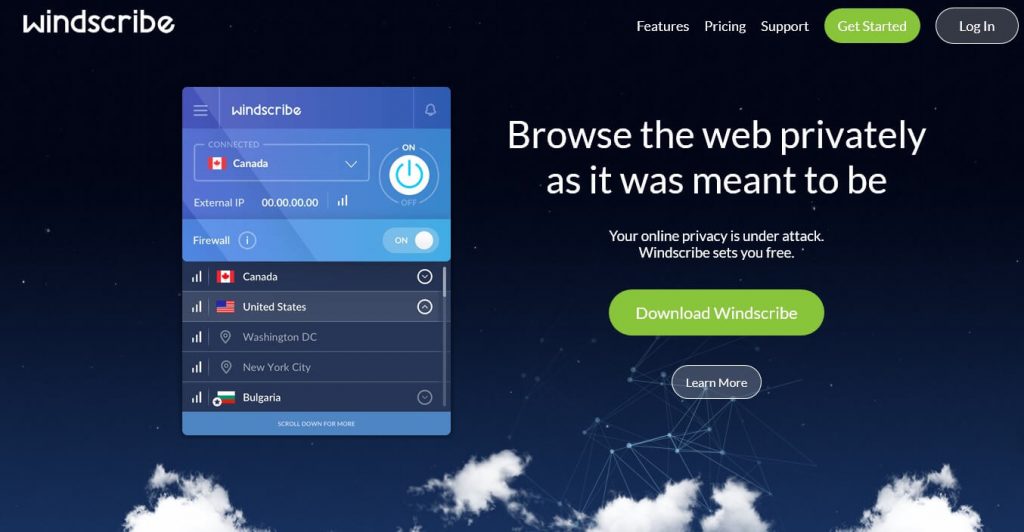 Why choose this VPN over Private Internet Access?
Believe it or not, Windscribe may actually offer a better ability to unblock certain streaming platforms. On top of that, it comes free of charge and apparently doesn't sell your data to third parties.
Why is Windscribe better than Private Internet Access?
We don't consider it to be an option that comes with better overall performance. However, considering the fact that it is free, Windscribe can compete in the matter of unblocking ability.
Also, it comes with more effective customer support, which is quite surprising.
Wrap Up
Private Internet Access is a provider that you can rely on for anonymous browsing and the ability to torrent without the risk of DMCA sanctions.
However, it is not the best for unblocking Netflix and doesn't come with a reliable customer support team.
For this purpose, we think that ExpressVPN, NordVPN, and CyberGhost are all better choices and alternatives, that offer immense value for the given price!