Certain television services and networks are not available outside of the United States, and FuboTV is sadly one of them. The over-the-top American internet TV service is wildly popular both in and outside of the States. Let's look at how you can watch FuboTV live when you're abroad.

What is FuboTV?
FuboTV is a popular, eccentric, over-the-top TV service that is based in the United States. It was launched in January of 2015 as a service for streaming soccer, then branched into a service that broadcast all sports in 2017.
Later in the year, it would transform into a virtual multi-channel video programming distributor, otherwise known as a vMVPD model. FuboTV still presents itself as a sports-focused channel, but its expanded catalog offers a variety of other channels as well.
They also offer OTT features that can be streamed through smart TVs, tablets and mobiles, and the Web. As of 2018, the service is only available in the USA, Canada, and Spain.
Popular FuboTV Shows
FuboTV offers over 100 shows, which is what makes the service so appealing to international audiences. The programming scheme does feature live sports events as well as popular reality shows, and TV series.
Thus, sports enthusiasts can enjoy Premier League Soccer, NFL Now, as well as Football Night in America, and WWE Monday Night Raw.
On the other hand, if you are into high-quality TV shows then you can watch hits such as Friends, Two and a Half Man, the popular sitcom Modern Family and the latest hit, Sherlock.
Lastly, FuboTV also offers full access to Man vs Wild which is one of the most popular survival shows around the world.
FuboTV Error Message
You have probably encountered the following error message when trying to watch FuboTV live from abroad:
"We're sorry, FuboTV content is currently not available in your location."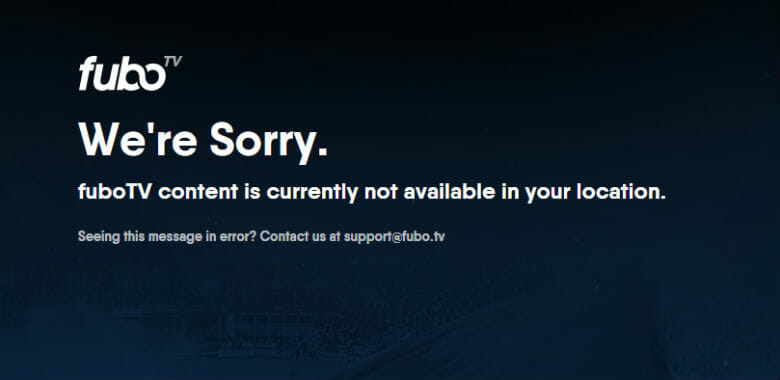 This essentially means that you won't be able to watch FuboTV live outside of its specified regions without using a VPN.
How Can A VPN Help?
One of the unique features that VPNs have is their ability to access region-locked content. This content can range anywhere from streaming service catalogs like Netflix and Hulu to TV Channels like FuboTV. In fact, you can see our selection of 3 VPNs for DAZN here if you are interested.
Since FuboTV is an internet-based TV network, one may assume that it's available anywhere there is an internet connection. Sadly this is not the case, as FuboTV is only available live in a few regions. We already explained that in our article about unblocking Disney+ abroad as it had the same issue.
Many VPNs are able to bypass the 'region wall' put in place by many services, not just FuboTV. This is generally done by connecting your device, whether it's a PC or smartphone, to a server in the country where the service is not blocked (the United States for example).
Sometimes VPN companies even have dedicated servers for streaming region-locked services.
How to Unblock Pluto TV Outside the US Easily?
As we mentioned, FuboTV is not available unless you are in the US, Canada, or Spain. But you can easily gain access to it from abroad by following these steps:
Sign up to and download one of the VPN options below. Our favorite being ExpressVPN.
Sign into the app and open the servers list
Connect to a server based in the US, Canada, or Spain
Visit the FuboTV site, sign in or sign up, and start watching your favorite content abroad.
Best VPNs to Watch FuboTV live from Abroad
Here are our picks for some of the best VPNs to use in order to unblock FuboTV outside of the USA.
1) ExpressVPN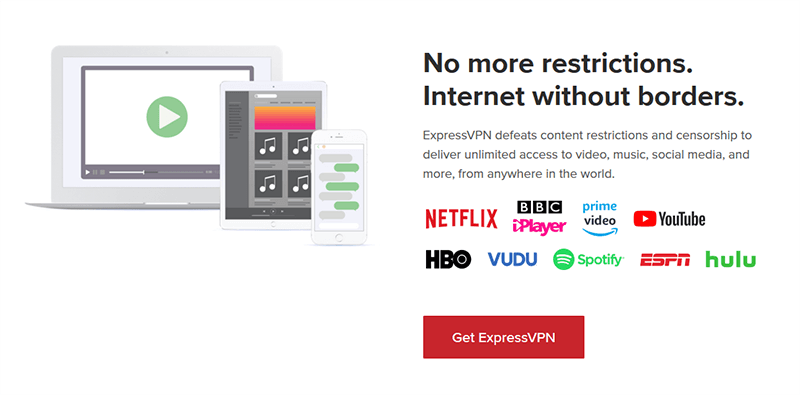 ExpressVPN prides itself on making your overseas streaming experience as easy and convenient as possible. The company is based in the British Virgin Islands and has a network of more than 3,000 servers located in 94 countries.
Thanks to this extensive network of servers, ExpressVPN can not only quickly unblock FuboTV, but Netflix and Amazon Prime Video as well. This VPN also does not throttle your connection, unlike many other VPNs.
ExpressVPN is easy to use and set up. It offers browser extensions and apps that allow for near-instantaneous connection and can be used on five devices at once. They also have a 24/7 live chat and email service for customer support.
They also offer a very secure service, in addition to being able to unblock FuboTV outside the US quickly and effectively. When using this VPN, your data is protected via 256-bit AES encryption, as well as split tunneling and a kill switch.
You also receive protection against IPv6 and DNS leaks. The company does not log any information that could be used to identify their users, like their browsing history or IP address.
2) NordVPN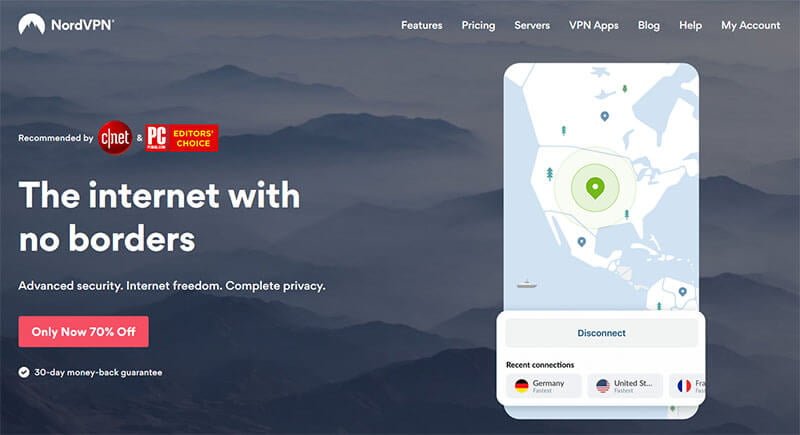 One of the things that draw most people to NordVPN is its extremely large network of servers. The company has more servers than most other VPNs, with over 5,500 servers globally, and around 1,800 in America.
So it should come as no surprise that you'll be able to unblock and watch FuboTV live abroad with no problems. NordVPN is also able to unblock Netflix and HBO Go when outside of the United States.
They have a wide variety of servers that are optimized for P2P sharing, and accessing the internet in regions that have online censorship policies. NordVPN can be used on up to 6 different devices simultaneously.
If you ever need to contact NordVPNs customer support, they have a 24/7 live chat available. What stands out the most about this VPN is its security: they have a strict no-logs policy, as well as a 256-bit AES encryption.
3) CyberGhost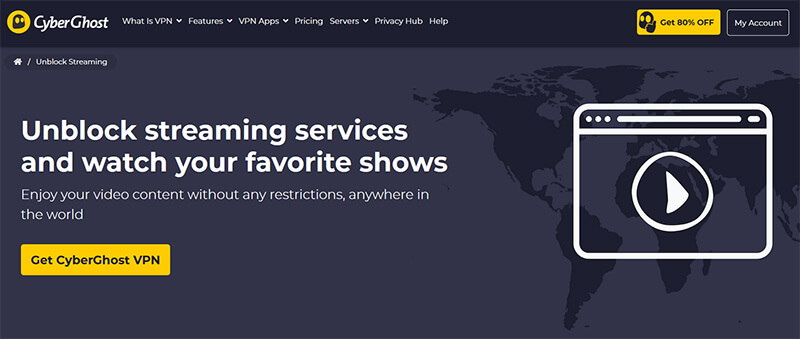 With servers in around 90 countries, including the US, CyberGhost is one of the quickest VPNs out there. Its server network boasts just over 700 units in the US alone, which allows you to access not only FuboTV but the US catalog of Netflix and Hulu as well.
CyberGhost also offers unlimited traffic and bandwidth, which is a great bonus for streaming, as it will prevent any noticeable lag or buffering. Overall CyberGhost provides a seamless streaming experience, regardless of the service you access.
Their customer support is on standby for most of the day via live chat or email if you ever run into a problem. If you plan on sharing your CyberGhost subscription with a few people, you'll appreciate the seven available simultaneous connections.
This VPN is also one of the most beginner-friendly services and provides simple and straightforward apps for various platforms. The company uses 256-bit AES encryption and a strict no-logs policy to keep your data secure and private.
You also receive protection from IP and DNS leaks, an automatic kill switch, and an ad-blocker. The kill switch ends your internet traffic if your connection to the VPN dips. This helps prevent your data from being exposed.
Wrapping Up
VPNs have become the most popular method to bypass geo-restrictions thanks to their ability to hide your true IP address and location. They do this by replacing your real IP with one from the server that you connect to.
This prevents region-locked services like FuboTV from detecting that you are trying to access their content from abroad, thus letting you view the service with ease.