There are two scenarios in which you may have an issue trying to stream US TV. The first one is that you are a US citizen or resident visiting the United Arab Emirates. The second scenario is that you are living in the UAE but are intrigued by what American channels have to offer. In both cases, you will face the issue of geo-restrictions. However, you shouldn't give up just yet, as there is a method to bypass this issue in order to watch whatever show you want, for free.
We will do our best to guide you through the matter, as well as show you what is the most effective way to handle geo-blockades.
Let's dive right into it!
Why can't I watch US TV in the UAE?
Chances are, you have become quite agitated by the fact that you can't watch your favorite TV show while visiting the UAE. You shouldn't blame yourself or the country you are currently in, but rather the restrictions that are imposed by the channel operator.
In modern times, geo-blocks have become very common for TV channels and streaming platforms. We find that this issue is mostly justified by licensing, and it is done by TV operators in order to yield a higher profit.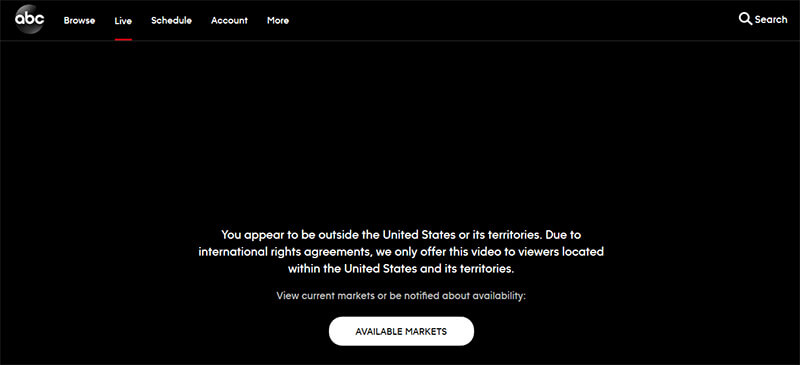 However, those restrictions certainly don't suit customers, especially those who are currently residing outside of the United States. Being able to unblock it will help prevent stress, and it will also save you the money that you would usually pay for streaming channels from the UAE.
The best solution for this is a Virtual Private Network that comes with a number of advantages compared to the common proxy.
Solution – Use a VPN
There are a number of reasons why you might want to install a VPN when outside of the US, and particularly in the United Arab Emirats. This is not only to enjoy American TV channels for free but also because you can unblock other censored sites, including social networks.
A VPN in the UAE will also help you unblock WhatsApp, Skype and other restricted messaging apps. How is this done, though? Any Virtual Private Network uses a set of protocols in order to tunnel your connection to the desired locations.
The way that this service works is by encrypting your communication and hiding your original IP address. A safe and secure VPN provides you with the ability to access censored content. It also provides anonymous browsing that will save you from hijackers and others tracking down your activity.
Considering this, we did our research and found a couple of options that we consider worth your time and money.
How To Use It to Unblock American TV Channels
Now that you know how a VPN works, here is how to use it to watch US Television from the UAE (Dubai, Abu Dhabi…):
Sign up for and download your chosen VPN
Sign in using your credentials
Open the servers list and choose one in the US
Click connect and wait a few seconds
After that, you will just have to browse the website of your favorite TV/Streaming platform!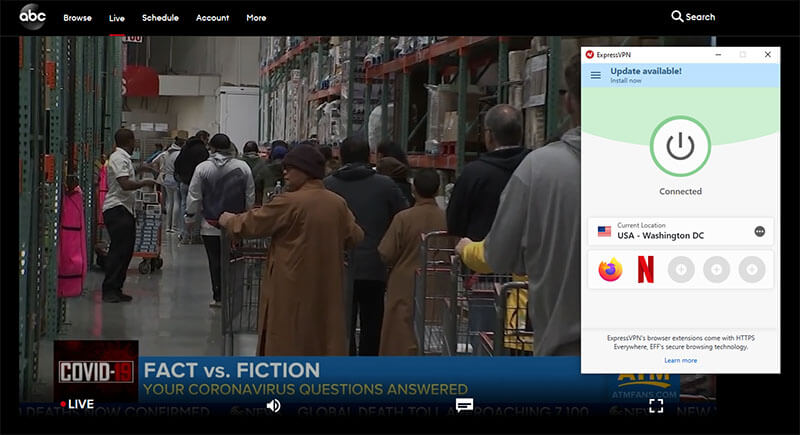 VPN to Choose to Watch US TV in the UAE
There are a couple of different factors that you should keep in mind when choosing a Virtual Private Network. Firstly, you will want it to offer good security that is highlighted by a set of protocols. You will also want good encryption, which usually comes in the form of 256-bit AES.
Additionally, you will want it to offer a large server park, as well as a fast and stable internet connection. Not to mention, a couple of instruments, such as a kill switch and CyberSec, can save you from leak and malware risks.
ExpressVPN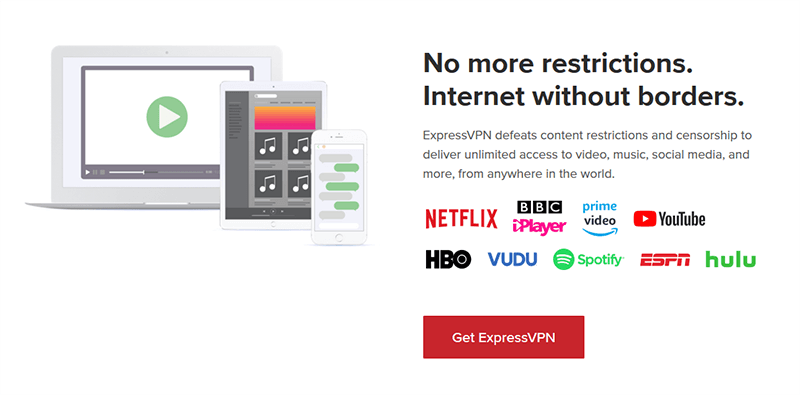 Our very first option is ExpressVPN, which is considered to be a premium choice. It comes with a couple of different advantages. This includes the fact that the server speeds are incredible, which is key for streaming purposes.
When connecting from the UAE to any of the couple of hundred US servers offered, you shouldn't experience a significant speed drop. The same goes for the ping, which remained below 150ms during our tests.
On top of all of that, ExpressVPN offers phenomenal leak protection and encryption. That, plus an array of tunneling protocol options, makes us deem it a worthy choice! Grab this VPN here:
Get a Huge Promotion on ExpressVPN website >
CyberGhost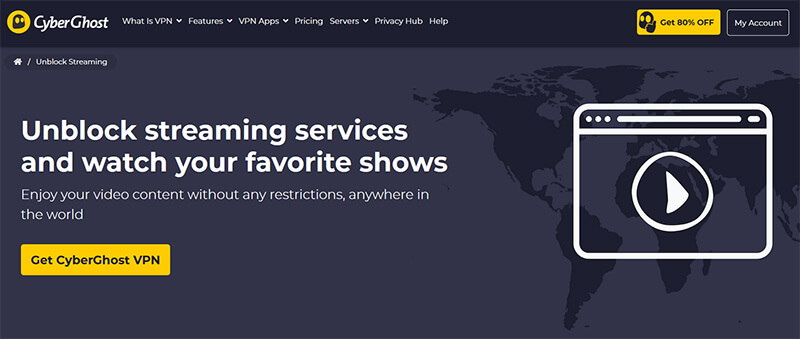 CyberGhost is set in Romania and, as such, doesn't oblige to 5/9/14-Eyes alliance. Plus, it offers a splendid user interface and great device compatibility, making it a provider that you can definitely trust.
One of the reasons why we love CyberGhost is because of its explicit connectivity to its US servers. It has more than 7,000 servers in total, a huge number of which are set in the US. This gives us confidence that it works great for unblocking American TV from the United Arab Emirates.
Additionally, any issue that you may encounter is going to be immediately solved by their effective 24/7 live chat support. Also, it is even more affordable than NordVPN and comes in at below $3 per month if you go for a 3-year plan! Take advantage of this price by clicking below.
Discover the details of CyberGhost's offer >
NordVPN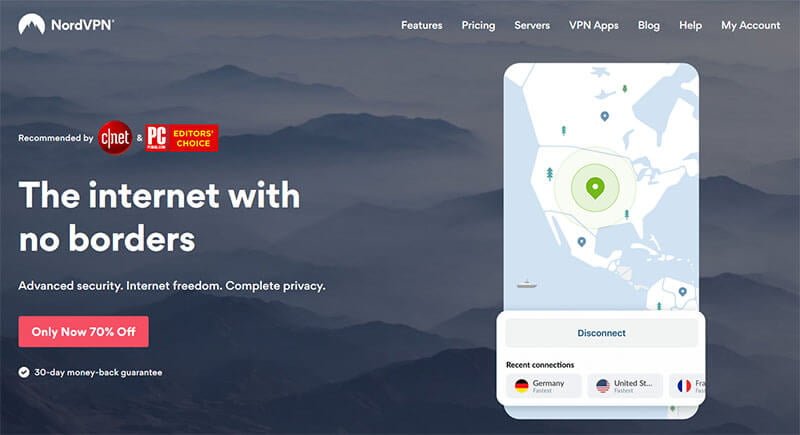 For unblocking censored content in the UAE, NordVPN is among the most reliable, effective options. It has a large server park (more than 1000 servers in the US) and offers a Panama-based jurisdiction.
NordVPN makes bold claims about its ability to unblock streaming platforms, and we found these claims to be true. You will be able to enjoy over 150 different streaming sites from the UAE. This includes American TV channels such as ABC, CBS, Fox, and ESPN.
Also, it does a great job when it comes to tunneling and encrypting your connection to the desired location. Frankly, you have nothing to worry about in terms of whether your true IP address will be revealed or not.
This is all to say that you will not go wrong by investing in this affordable and reliable VPN.
NordVPN: Benefit from a 70% reduction >
Wrap Up
It is a fact that you will benefit from subscribing to any of the aforementioned providers. They are among the best VPNs in the UAE, especially for the purpose of unblocking US Television.
The final choice comes down to your budget, as well as your preference in terms of the jurisdiction. None of these options are set within the 5 Eyes alliance, though.
So now you have all the information you need to make the best choice for your needs. Good luck and enjoy!