Malwarebytes is a company known for its all-around anti-malware suite for computers and smartphones. While this app is very popular for that purpose and effective at removing malware, it's interesting to see if its VPN will be as good. Since Malwarebytes just released this service, it will probably change as the new updates come to life. But, we'll review Malwarebytes VPN at the time of its release and see if it's worth your hard-earned cash.
What is Malwarebytes VPN?
We'll all agree that certain anti-virus or anti-malware companies do a decent job of protecting our computers against dangerous threats. We have Avast, for example, which is, with Kaspersky, the most popular software of this type.
Recently, we wrote an Avast Secureline VPN Review in which we were dissatisfied with the provider's offerings. While Malwarebytes isn't strictly an antivirus program, it's a great tool for eliminating different types of unwanted software from your PC. We're using it – we'll admit.
So, what exactly is Malwarebytes VPN, then? Well, it's a standalone application that needs to be bought separately, and in short, it's a Virtual Private Network like every other. However, there are a few things to consider here.
The first is that the provider is based in the United States – 5 Eyes, might we add. And the second is that this is a NEW offering from the company, so it's prone to change. We'll review the Malwarebytes VPN app as it is now and see how much of a headstart it has, and if it's worth buying.
Compatible Devices and Ease of Use
Malwarebytes VPN doesn't have an impressive start in our device support test. Bitdefender also offers a VPN that we tested and it wasn't impressive in this section either.
So, what devices does the provider support? Unfortunately, only Windows. And in case you need anything except this VPN, the company supports these platforms:

We contacted the support team to ask if there's a Virtual Private Network app for our testing phone and unfortunately, there isn't. However, they say that they're working on the apps for both iOS and Android, so we hope that they'll be available soon in order to review them.
Computers
If you're going to use Malwarebytes VPN on a computer, you're in for a treat, because the setup is relatively simple and you'll get it working in no time. Immediately after purchase, you'll be prompted to download the app. Do so, double-click on the setup file, and begin the installation process: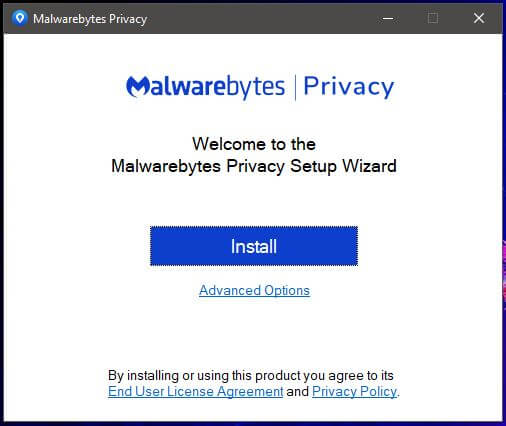 Here, you can start installing the app just by clicking on Install or change some settings in Advanced Options, that's your choice. When you click on Install, the process begins and it lasts less than 5 seconds, which is very fast.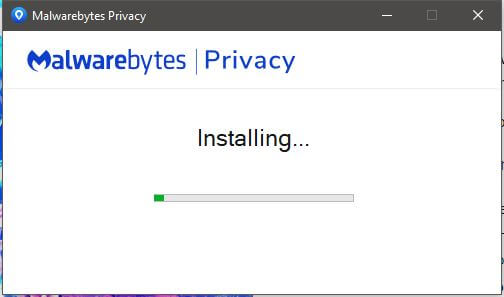 After this, the initial app screen will open, and here, you need to enter the license key you got upon purchasing Malwarebytes VPN.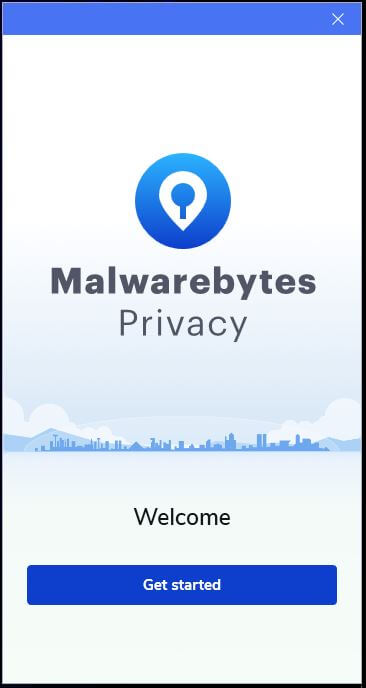 Simply click on Get Started and you'll easily do the rest.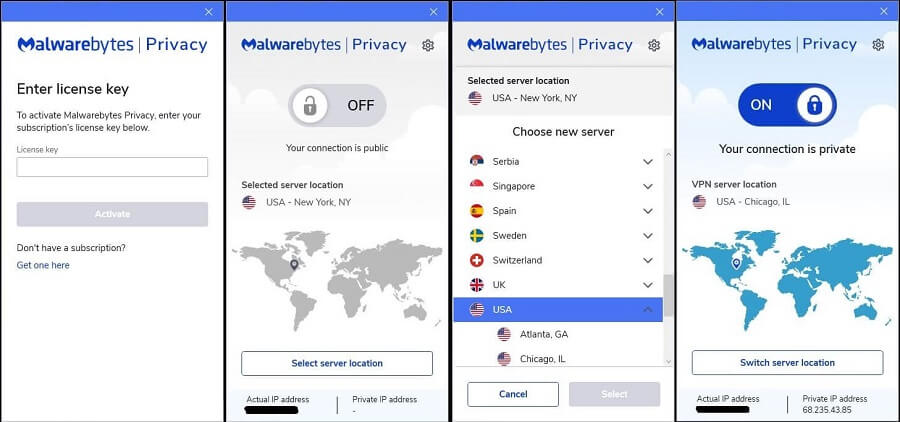 Since the app's interface is vertical and opens in the bottom-right corner of the screen, we decided to present it in a single image. In the first one, just type in the license key, click Activate, and you'll arrive at the home screen.
We've seen during our review and test of Malwarebytes VPN that the interface is pretty simple and the app is easy to use. To change the location, open the server list below and choose the country you want. To connect to the server, just use the power button above and you'll establish a connection in a few seconds.
Now, as we said, the app is simple and the interface is quite minimalist. However, this can be both good and bad. Good for newbies and bad for people who would like to tweak some settings and fiddle around with different parameters.
We'll talk more about that near the end of our Malwarebytes VPN review. For now, we'll say that the app is intuitive and looks quite good for a newly-released VPN.
Smartphones and Tablets
Malwarebytes is a company that effectively protects all of your devices, including smartphones, tablets, and laptops. That's all great and we appreciate the effort, but given that Malwarebytes VPN doesn't support smartphones… well, that's a bit of a bummer.
In our opinion, they should've waited a bit and launched the complete app, rather than rushing it and publishing an unfinished product. But, who are we to judge a company such as Malwarebytes? We expect improvements in this field in the future, and when they happen, we'll update our review that's for sure.
Other Devices
Are there any other devices that can take advantage of Malwarebytes VPN? Not exactly. Expecting a Virtual Private Network like this to support routers, for example, is pointless. The worst thing about all of this is that the provider is pretty expensive – yep.
It's probably because of the brand, but unjustifiably so. If you don't want to break the bank, you can find a cheap VPN here. There are much cheaper options that will support not only routers, but also platforms like Apple TV, Fire TV Stick, Roku, Kodi, and so forth.
How Fast is Malwarebytes VPN? We Checked Its Speed!
Malwarebytes VPN has a lot to make up for, given that we haven't had a decent start in our review. Speed is often one of the most important things about this service. Who loves surfing the web at slow speeds? Or perhaps encounter endless buffering when streaming? That's right – no one on this planet!
We need to get something out of the way. All providers will reduce your speed to some extent. Some will do it by 10%, while low-quality providers will go up to 90%. A small speed reduction is necessary for rock-solid security and if you're using a VPN, you should come to terms with it.
Since speed depends on many factors, it's important to see how we did our tests. We did 3 tests in the morning, 3 in the mid-day, and 3 in the evening, for 3 testing locations. Furthermore, we kept the best score and used the best location when that was possible.
Our physical location is in the USA (non-VPN test) and we used these 3 locations for testing:
The United States
The United Kingdom
Australia
Without using any provider, our native internet speeds are:
Ping: 11 ms
Download Speed: 211.88 Mb/s
Upload Speed: 202.20 Mb/s
Now, when using Malwarebytes VPN for this review, our ping, download, and upload speeds respectively, for 3 testing locations, are:
US Server: 47 ms / 57.55 Mbps / 72.61 Mbps

UK Server: 178 ms / 27.97 Mbps / 35.69 Mbps

Australian Server: 390 ms / 10.34 Mbps / 14.78 Mbps

As we can see, the provider showed all but impressive results. While the US server was definitely usable, we need to take into account this huge speed reduction. And if you're paying a lot for your internet, you'll not be glad to utilize just a fraction of it.
The UK server is where things start to fall apart, only to fall flat on the face when using the Australian server. Here, we couldn't even watch 1080p videos properly, let alone play some games or do other demanding tasks.
In short, Malwarebytes VPN has some of the slowest speeds we've seen, which is what we expected, to be honest.
How Good is Malwarebytes VPN for Streaming?
For a quality streaming experience, you need the ability to bypass geo-restrictions and good speeds. Given that speeds here are slightly faster than a snail, we've yet to see if Malwarebytes VPN will unblock anything in our review.
As always, we like to start with potatoes and meat e.g. basis e.g. Netflix. Immediately after trying to watch Parks and Recreation, which is a US-only show, we got this message:

Netflix shot us down like a plane, telling us that it detected that we're using a proxy or an unblocked. We tested it with several other servers, but with no avail. So, Malwarebytes VPN can't unblock Netflix.
Let's see if Hulu will work:

Hulu basically sends the same message – it detected that we're using an anonymous proxy or a VPN, and locked us out of the site. What about Disney+?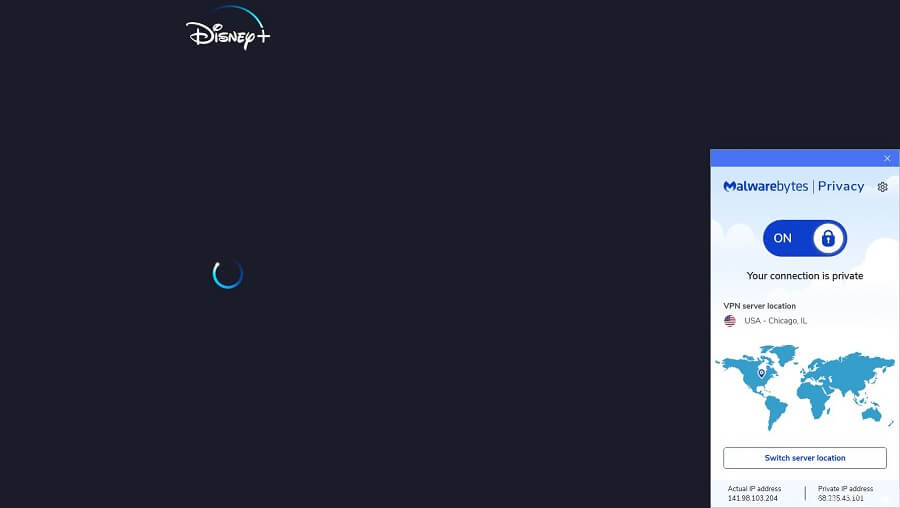 Disney+ didn't work, as we encountered this infinite loading screen. It's like Waiting for Godot and if you read it, you know when will the site load with this provider. Next up, we have DAZN and the results here are quite predictable:

Some good news can be seen on HBO GO though:

The provider unblocks HBO GO – thank God! Lastly, we have BBC iPlayer, and surprisingly, it worked!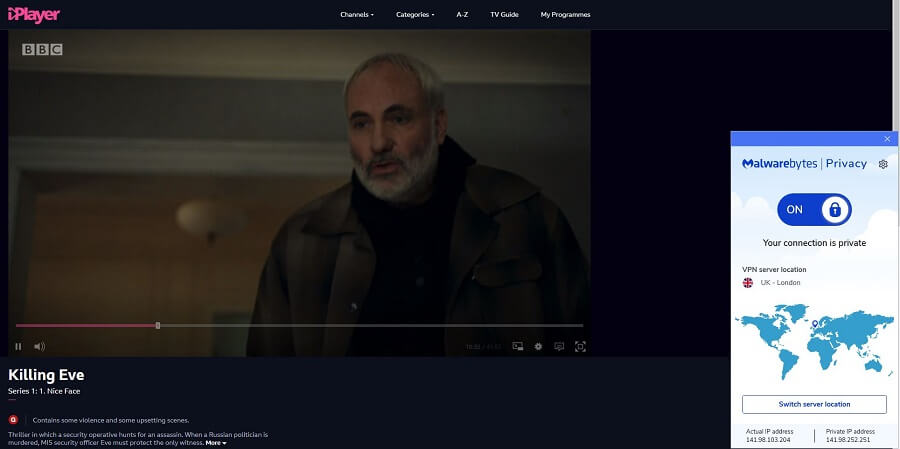 When using Malwarebytes VPN, you'll be able to unblock BBC iPlayer and HBO GO. That's not THAT bad for a new provider, of course, if it wasn't for its price. However, as it doesn't work with Netflix or Hulu, giving it a high score would be unfair to other providers.
With that in mind, the provider isn't very good for streaming. If you want to unblock Netflix, you better go with ExpressVPN.
Confidentiality, Security & Logs
In our Bitdefender and Avast VPN review, we found that both of these providers store some logs, and we discarded them right away. That's simply the case with companies like these two. Malwarebytes isn't far away from them, so it's interesting to check its zero-logs policy for irregularities.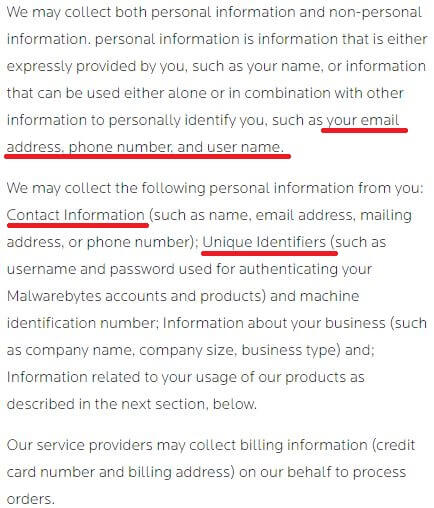 First, they state that they collect personal and non-personal information. Okay. So, as you can see, there's email, phone number, user name, address, contact information, and so forth. Handling them over your address isn't a smart thing to do, but it's necessary, and they'll collect it, just so you know.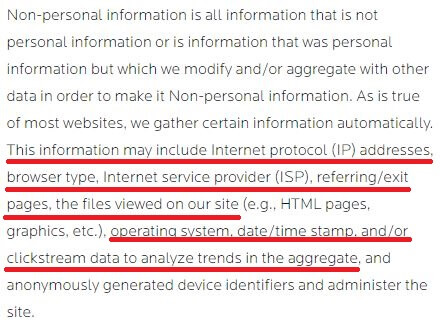 We mentioned non-personal information, and by that, here's what they mean. Your IP address, ISP, browser type, operating system, and so forth. This is already a bad sign, as these non-personal logs will easily give them insight into your personal info.
Furthermore, they use these logs for Malwarebytes, so that they can better remove unwanted software. But, this privacy policy is found on their VPN page, so they probably use it there, as well. Last but not least, Malwarebytes VPN confirms that it stores some of the GeoIP data: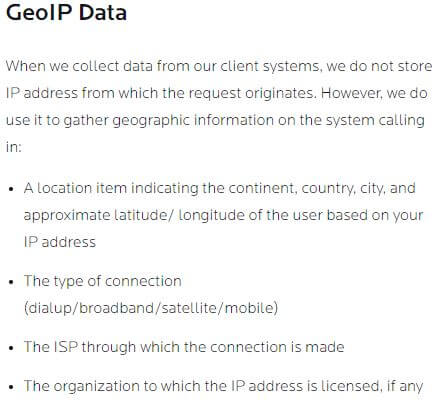 Once again, that's quite a lot, but nothing surprising, given the magnitude at which the company operates. Using a provider like this for anonymity is pointless and will lead you nowhere. With the lack of the zero-logs policy, it's hard to recommend this provider to anyone, so it's better to avoid it at all costs.
Nevertheless, if you're still here, let's do the IP leak test and see if we encountered any leaks while doing this review of Malwarebytes VPN: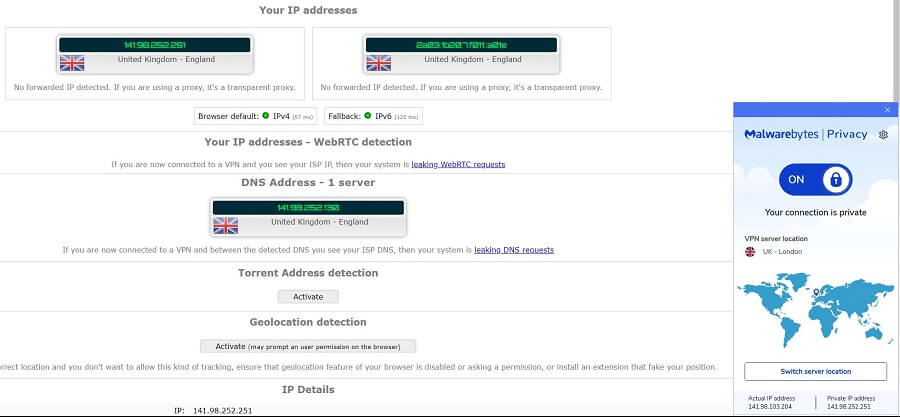 Thankfully, the provider did a good job, as the IP leak test was successful. Apart from that, the provider offers 256-bit encryption, but there's no kill switch in the app, making it a lot less secure than other providers on the market.
In short, you won't get too much privacy and security when using this provider. A much better option is ExpressVPN, offering a kill switch, split tunneling, and even a no-logs policy.
Can I Do Torrenting Safely With Malwarebytes VPN?
The United States and torrenting go very "well" with each other – like a cat and a mouse. Torrenting lovers will not be happy to find out that Malwarebytes is based in California, United States, especially because DMCA lurks around every corner.
Since we're located in this country, we didn't immediately go for the test. Instead, we searched for their DMCA policy or anything that will imply if the torrenting is allowed or not. And before you know it, here's what we found: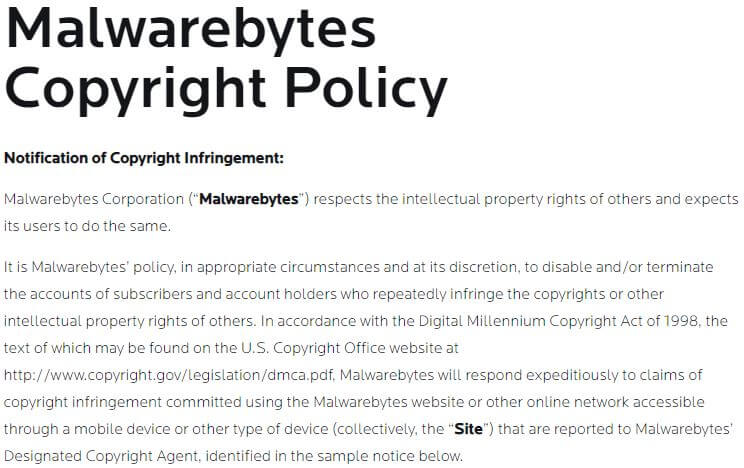 The DMCA policy itself – oh boy! That's some bad news, we're afraid. Whenever you see a copyright policy like this, it's a giveaway that the provider does NOT allow torrenting. Read it and you'll see that they'll report or disable accounts of those who infringe copyrights, which basically means "no torrenting."
Can I Use Malwarebytes VPN to Bypass Censorship?
Being a relatively new provider, we were quite interested if it will be able to bypass censorship in China. The Great Firewall of China is and will be the number-one weapon against VPNs. It successfully shoots down even the most popular providers, such as CyberGhost!
We gladly sent a license key to our testers in China and the results were quite negative. Malwarebytes VPN didn't work in China, making it impossible to bypass censorship. That being said, we don't recommend it for similar countries – the UAE, Russia, or Iran.
Pricing and Plan Options
A few moments ago, we mentioned that Malwarebytes VPN is pretty darn expensive. This term is relative and what's expensive for us, doesn't need to be expensive for you. Here's what we're talking about: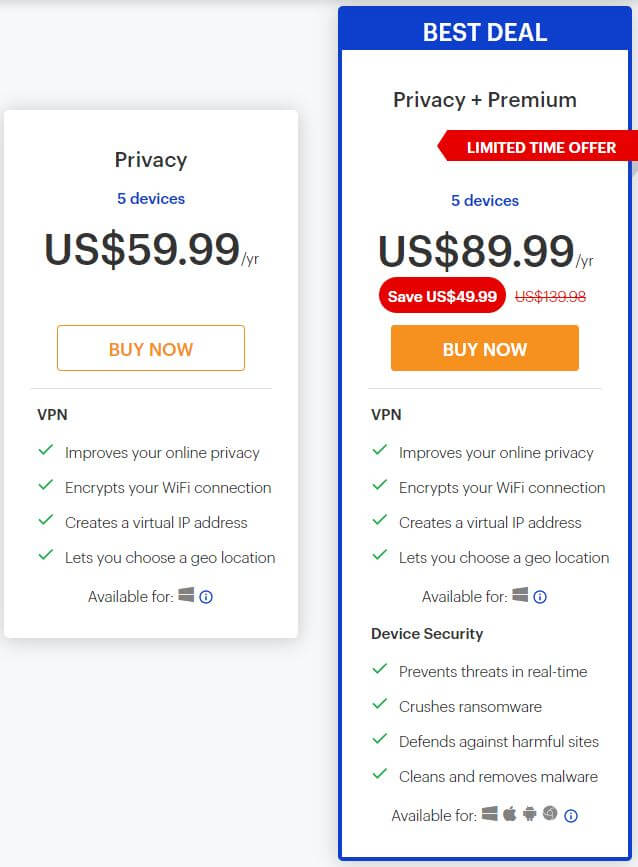 If you want to use just their Virtual Private Network, you'll have to pay the price on the left. It's $59.99 a year, which doesn't sound too expensive. But, if we take into account that it's around $5 per month, that's not exactly cheap.
Why?
Because it's a bare-bones VPN that doesn't justify its price – that's why. Sure, it's a cheap yearly plan, but if you're willing to pay just $0.99 a month more, you can get a one-year plan either on CyberGhost or Surfshark.
These providers significantly beat Malwarebytes VPN in every department. They offer supreme security, can unblock Netflix, and boast some fast speeds. We aren't even going to mention the price on the right! It's a bundle, containing both Malwarebytes basic app and this service, and applies only to 5 devices.
Proof that the company doesn't care about your anonymity is right here:

The only two payment methods you get are credit/debit cards and PayPal. No cryptocurrencies at all! In case you want a refund, the company gives you a 30-day money-back period. Here's the refund policy:

Basically, you get a 30-day money-back guarantee for all of their products, with no strings attached, which is great.
How Can I Contact Malwarebytes VPN?
A company of this scale should have top-notch customer support, right? Wrong! We were unpleasantly surprised at how bare-bones the support section of Malwarebytes VPN is. When you click on the Support tab at the top, you get this FAQ section: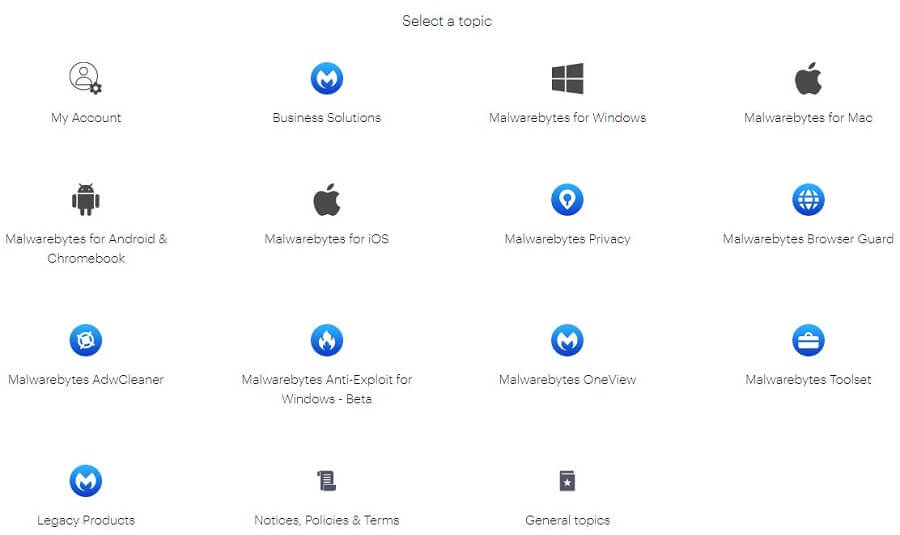 To get in contact with the support team, you'll have to click on Submit a Ticket, located above this FAQ section.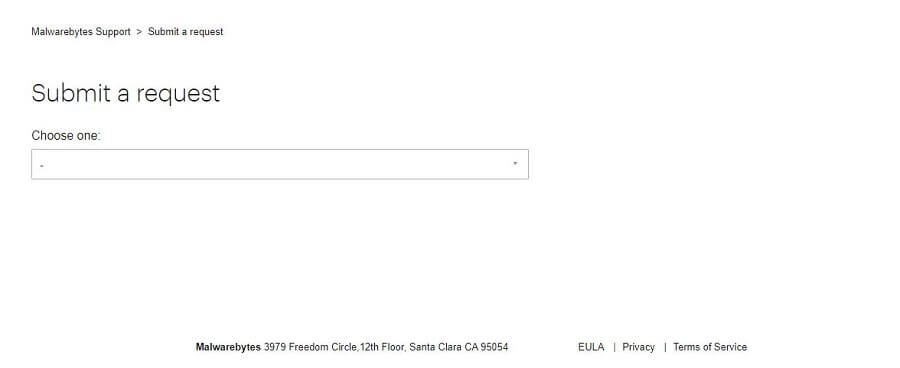 This is a basic contact form, where you need to fill out the topic of your question, your info, and so forth. We did that when we asked them for a free trial for review purposes, and guess what – they didn't give it to us. Not only that, but the response was quite… robotic!
It's like they're using pre-defined answers for every question. Remember, we asked them for a free trial. Look at the response we got: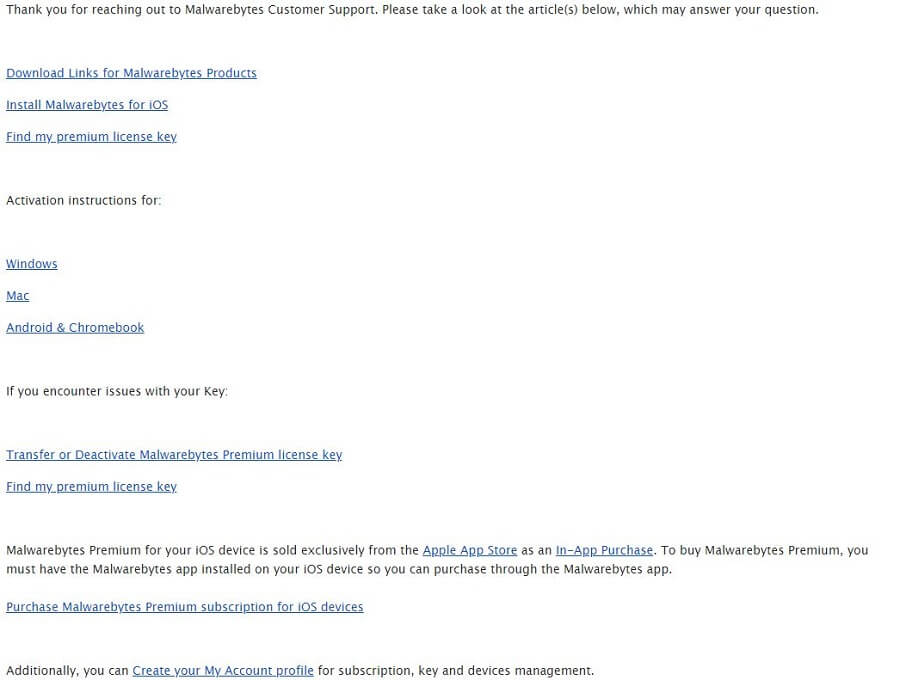 We left the message on 'seen' and bought the service with our money. They're not only slow to respond but also unhelpful. They could've said that our request wasn't possible to fulfill, and not to make fools of us with these types of answers.
The Special Functionalities
The special functionalities are where Malwarebytes VPN shines like a broken lightbulb. It doesn't offer ANYTHING worth mentioning. In fact, its Settings menu is empty like a desert, just take a look at this: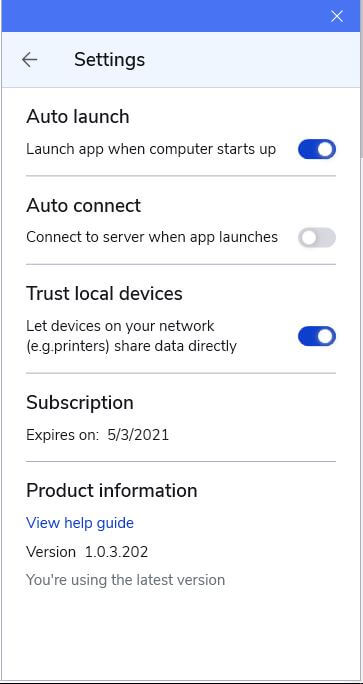 There's literally not a single option for connection. You can choose the Auto-Connect option or this "Trust Local Devices" option, but other than that, you have nothing else to tweak. No ad-blocker, no split tunneling, no ping test, and so forth.
Sorry, but you'll have to do a lot more to impress us. This is just unacceptable at this price point. If you want a provider with the highest number of special features, you should check NordVPN. It has Double VPN, ad-blocker, split tunneling (Android), and many more features.
Other Things You Should Know About
Are there more things you should know about the provider? Sure. We haven't mentioned everything in our Malwarebytes VPN review just yet.
Number of Servers
If you came here looking for a big server network, you're in for a disappointment. Here's what you can expect: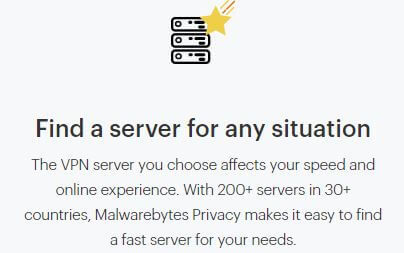 Malwarebytes VPN offers 200+ servers worldwide, which isn't the smallest network we've seen, but it's also far from impressive.
Number of Countries
In the image above, you can also see that the provider cover 30+ countries around the globe. That's okay, considering the smaller server network.
Number of Simultaneous Connections
Lastly, you get up to 5 simultaneous connections here – the same as on ExpressVPN. If you want an unlimited number of simultaneous connections, a good choice is Surfshark. It costs $1.99 for a 2-year plan, which is far cheaper than this provider.
What Do Other Users Say About Malwarebytes VPN?
As we said earlier in the review, Malwarebytes VPN is not available for smartphones, so we can't see what users say about the provider on the Google Play Store and Apple Store. However, people on Reddit are discussing it and we have a small snippet of a discussion: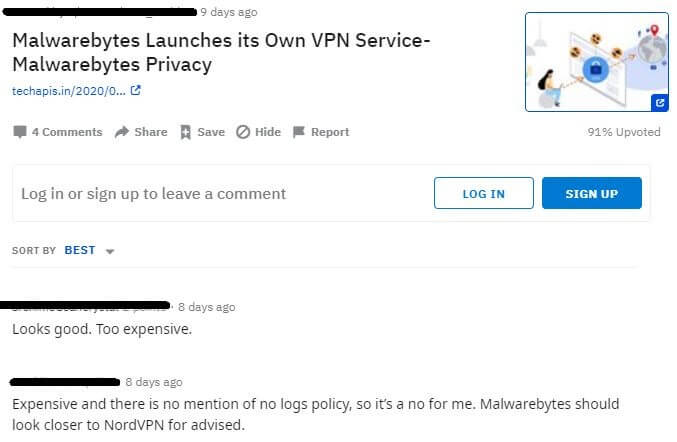 This discussion is just a few days old, so no one left a review yet. But, one user says what we said earlier in the review – that it's too expensive. And the user below this said that the provider should look up to NordVPN, which we agree on, as this is among the best providers on the market.
What about Trustpilot? Well, we managed to dig out one short feedback:

Once again, the user confirms what we said in the review and it has to do with customer support. As he says, the service is atrocious, even going so far as continuing to bill him a few more times, even though he already canceled the subscription.
All in all, users on Trustpilot aren't exactly satisfied with Malwarebytes services.
Conclusion: Should You Take It?
With everything we said, it's clear that Malwarebytes VPN was doomed from the get-go. Poor device support, no special features, very slow speeds, inability to unblock Netflix, and lackluster customer support are only some of the problems with this provider.
We don't see it as a complete product, but rather as a shell of a Virtual Private Network. Malwarebytes will have to work hard on future updates to make it competitive, especially at the expensive price they managed to slap onto it.
So, should you take it? No, you shouldn't.
Our suggestion is ExpressVPN, the best provider on the market.