If you are having issues with geo-restrictions or want to enjoy 100% anonymous browsing, a Virtual Private Network can go a long way. However, you can't trust just any provider. Given the fact that there are hundreds to choose from, you will want to know more about a few important factors. In order to help you, we have prepared a review of Bitdefender VPN, which makes strong claims about its performance. We will discuss a few cons related to this provider, as well as the best alternatives to Bitdefender VPN. Let's get right to it!
What is Bitdefender VPN?
This first thing we need to look at is what Bitdefender is in the first place. So what is this service and what does it offer?
Coming from the same company that created the popular Bitdefender Antivirus, this VPN service has been around for a couple of years now. One of the most important features that it offers is a free package that is limited to 200MB of data transfer a day. This doesn't fall much behind their paid plan.
The provider is quite confident when it comes to the security aspect that their VPN is highlighted by. While there is a lot of room for improvement in this aspect, we have to say that Bitdefender VPN doesn't have a leak risk.
Thus, you will not have to worry about your true location being revealed to an ISP operator. This comes in handy if you want to protect your torrent downloads. But still, that does not mean you don't have to look at a better alternative.
Additionally, the VPN comes with a user-friendly interface, which is always a good thing. Probably the most important feature is that you will not have to worry about logging and anonymity.
This is because Bitdefender VPN is situated in Romania. Thus, it doesn't adhere to the 5/9/14-Eyes alliance. Also, this country doesn't have any data retention laws, which means this service is highlighted by privacy-friendly regulations.
Bitdefender VPN may carry certain potential, but more than a few points need to be improved in order to offer a reliable service. Let's take a look.
Downsides of Bitdefender VPN
If you want to find out more about this service, we suggest you read the article we have linked (https://monkeyprivacy.com/bitdefender-vpn-review/). No one denies that it offers fair performance for activities such as torrenting and enjoying anonymous browsing.
However, to call it a leading name and a VPN that you can trust for a number of purposes, it has to go through a number of improvements. And this is the reason why we will present to you some of the best alternatives to Bitdefender VPN later in this article.
Limited Server Park
First and foremost, the service is incredibly limited when it comes to the locations that it offers. Thus, while it does claim to provide a global service, we found that it only covers 26 different countries.
The total number of servers is somewhere around 40, which is incredibly low compared to alternative providers such as ExpressVPN, NordVPN, and CyberGhost. For this purpose, it would be wrong to call Bitdefender VPN a global service.
If the service that they provide was reliable and fast with the 40 servers offered, then we could let it pass. Unfortunately, it is not.
Incredibly Slow
One of the main factors that determine the overall value of a Virtual Private Network is the stability of the service propvided. Needless to say, Bitdefender VPN doesn't fare well when it comes to this aspect.
We tested a couple of its servers, including the ones set in the US, Europe, and Hong Kong. The results were quite dramatic.
First and foremost, we experienced a huge speed loss when it came to their New York server, with the download and upload speed being decreased by 75%. Also, the ping was set at 180ms, which certainly is not the best if you hope to enjoy streaming and online games.
In our second test, we wanted to see how it performed in the Netherlands and the UK. The results were a bit better than what we got in the US, but still, they were nowhere close to ideal. We experienced a drop of 50% in download and 40% in upload speed. Also, the ping was set at 70ms.
Lastly, we tested the Hong Kong server with high hopes that it could unblock the Great Chinese Firewall. Due to the bad connectivity, a ping of 300ms, and a speed decrease of 80%, that didn't happen.
Unreliable Customer Support
Another sign of a reliable Virtual Private Network is effective customer service. Unfortunately, Bitdefender VPN is not able to provide this unlike some the alternatives we've listed below. Yes, there is a live chat feature, but it is completely unprofessional and, in most cases, will redirect you to their email support.
This would be fine if the email inquiry system was reliable, but it is not. We waited for 36 hours before we got an answer. Even then, we still weren't able to solve our initial payment issue.
From what it seems, you are best off checking out their FAQs page to find an answer. However, it won't do you much good for more complex issues.
Not Standalone
Last but not least is the fact that, in order to enjoy Bitdefender VPN's service, you will need to uninstall your current antivirus program. This is because of the fact that their VPN and malware protection come together.
Thus, for anyone who was hoping to enjoy a simple installation process, Bitdefender VPN is not the greatest choice.
Our Favorite Alternatives to Bitdfender VPN
Luckily, while Bitdefender VPN may not stand as the most reliable service, there are a number of names that we do trust.
ExpressVPN
ExpressVPN is highlighted by exquisite speeds, as well as a large server park that offers reliable performance across the globe. It is the best alternative to Bitdefender VPN in 2021.
If you are not familiar with ExpressVPN, read on. Based in the British Virgin Islands, it offers one of the best security and privacy performances out of all available providers.
Thus, you will not have to worry about logging or potential leaks. Plus, with this Virtual Private Network, you can protect your torrent downloads from prying eyes.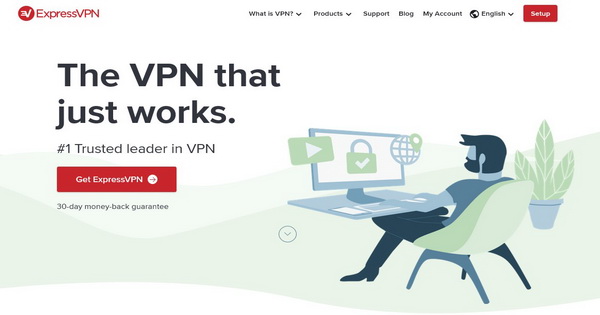 Why Choose This VPN Over Bitdefender VPN?
The answer is quite clear – for the incredible server speeds that it offers. As we have mentioned above, no matter your location, you are sure to enjoy excellent performance.
We experienced just a 10% drop in speed when connected to the servers in the US and a 30% drop for Australia and Hong Kong. Additionally, the servers in the EU worked flawlessly even if we were located in the US during our tests.
Why Is ExpressVPN Better Than Bitdefender VPN?
It all depends on what you are looking to get. ExpressVPN is more expensive than Bitdefender VPN. However, the speed and reliable refund policy that it offers justifies the premium service that it claims.
Get a subscription at ExpressVPN.com >
NordVPN
This Panama-based service is highlighted by a user-friendly interface and an indisputable ability to unblock censored sites.
Much like the aforementioned alternative, NordVPN runs on the OpenVPN tunneling protocol. It also uses military-grade encryption that comes in the form of 256-bit AES.
NordVPN does great when it comes to offering a global service. This VPN has above 5,500 servers that are set in more than 50 countries. This makes NordVPN the best provider for accessing streaming sites.
Additionally, it works great for P2P transfers and torrenting, with no logs collected whatsoever.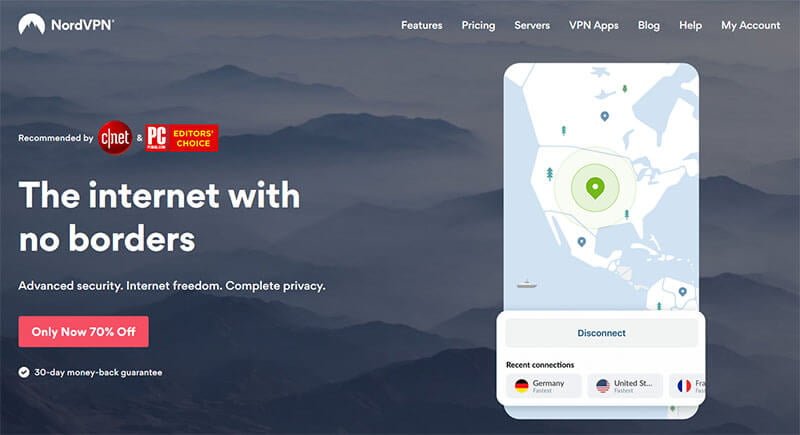 Why Choose This VPN Over BitDefender VPN?
Again, NordVPN is simply one of the best when it comes to unblocking Netflix and other popular streaming platforms. We performed a couple of tests and found that almost 100% of locations in the US were able to offer unlimited Netflix content.
The same goes for the locations set in the UK, and we also had luck with catalogs in France and Germany. Of all the test sessions that we performed on 40 different servers, only one did not work.
We loved the incredible usability that comes with NordVPN, as the installation process consists of three simple steps.
Why Is NordVPN Better Than Bitdefender VPN?
NordVPN works great for unblocking censored content and allowing unlimited P2P transfers. Which is a good reason to choose him as your alternative to Bitdefender VPN. The provider is quite affordable – the 3-year subscription option will set you back a mere $41.88 per year.
Overall, this is an affordable and reliable option that you are sure to enjoy.
Get a subscription at NordVPN.com >
CyberGhost
You have probably heard or read about CyberGhost as being one of the most affordable options out there. The fact that it will only cost you around $2.75 per month for the 3-year option makes it friendly for those on a budget.
CyberGhost is based in Romania and has been claiming great security and performance for years. What we can say is that it is one of the best options in terms of usability and compatibility. Its VPN for iPad is particularly appreciated for its ease of use.
This service offers reliable performance, with more than 6,000 servers around the globe. Isn't that a good reason to be in this ranking of the best alternative to Bitdfender VPN ?!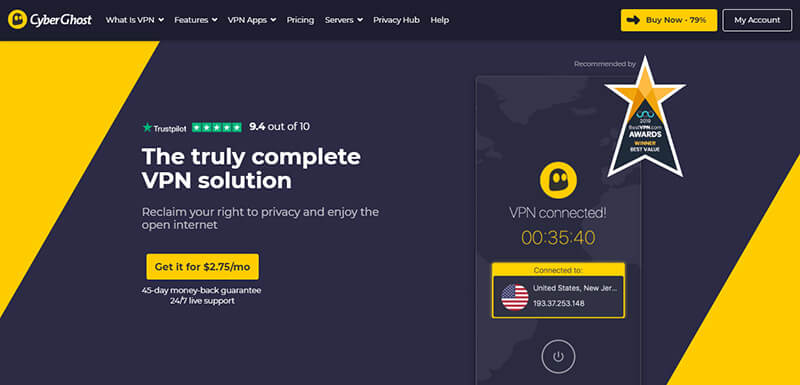 Why Choose This VPN Over Bitdefender VPN?
The main reason is the incredibly effective customer service offered by CyberGhost. Featuring a live chat, you are sure to get a relevant answer within minutes.
They offer a 45-day refund window for all long-term subscriptions, as well as a 14-day window for the 30-day plan. The best thing about CyberGhost is that the customer service is indisputable and is sure to get your issue settled within minutes.
Why Is CyberGhost Better Than Bitdefender VPN?
The answer depends on what you are looking for in a Virtual Private Network. In overall usability and compatibility, CyberGhost has Bitdefender VPN beat.
Firstly, you can connect with up to 7 devices at a time. Additionally, using a VPN from any of the potential devices and operating systems is incredibly easy.
Lastly, the price that CyberGhost comes at is even more affordable than the one offered by Bitdefender VPN. Plus, it comes with a 1 day free trial so you can test out the service without taking any risk.
Get a subscription at CyberGhost.com >
The Best Free Alternative to Bitdefender VPN
While the aforementioned VPNs are great choices and alternatives if you are on a more flexible budget, we understand there are those looking for free service. Windscribe seems quite reliable for this matter.
Windscribe
As one of the most discussed providers, Windscribe's free plan is probably the best one on the market. There is a 10GB data transfer limit and only 14 servers, but this is fair, considering you are not paying anything.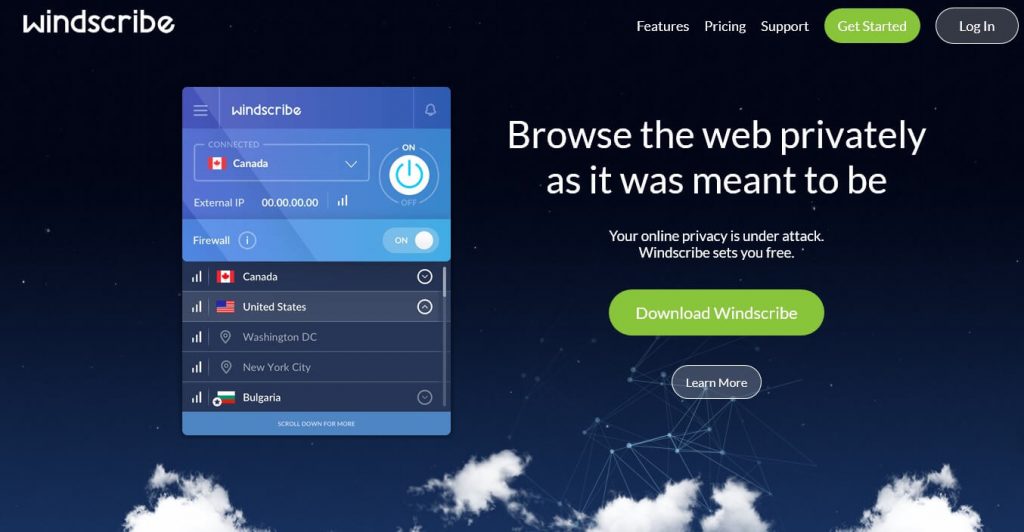 Why Choose This VPN Over Bitdefender VPN?
Our personal reason is because of the fact that you will get to enjoy a more privacy-friendly performance. Apparently, they do not keep a record of your IP address, which is incredibly important.
Why Is Windscribe Better Than Bitdefender VPN?
It offers faster servers and a more reliable ability to unblock certain streaming platforms. But still, you will need to pay a subscription in order to unlock Netflix catalogs.
Wrap Up
Would we recommend Bitdefender VPN? Not at all. It is slow, lacks transparency, and doesn't feature a standalone app.
For this reason, we think that subscribing to alternatives such as NordVPN, ExpressVPN, or CyberGhost is a much better choice. You are sure to experience stress-free anonymous browsing with any of these three