Those of you with experience in antiviruses probably know about Bitdefender. In the antivirus market, this provider is a well-known company that competes head-to-head with Avast and Kaspersky. However, not many of you know that it also offers a premium VPN service. Since the company offers solid antivirus services, are its VPN services as good? Well, it's time to find out in our Bitdefender VPN review for 2021. Beware that we're going to review exclusively this service, and not the package as a whole.
What is Bitdefender?
Bitdefender is a company based in Romania, that focuses primarily on cybersecurity. The whole bundle includes apps like antivirus, ransomware remediation, file protection, anti-spam protection, and so forth. However, our primary focus here is the Virtual Private Network that the provider offers.
First of all – how many of you use this provider? We guess, not many because this surely isn't a number-one choice. It's a smaller provider, with very few servers but on the bright side, its Romanian jurisdiction is a step in the right direction.
Today, we're going to find out if it's good and worth your hard-earned cash, so stay with us until the end of the review of Bitdefender VPN.
Compatible Devices and Ease of Use
A Virtual Private Network is, in theory, a versatile service. As such, we prefer it when it supports all the major and minor platforms, so you can easily take advantage of it and protect as many devices as you can. Since this company is focused more on the "antivirus" side of the business, its VPN service isn't as good in this department.

The provider doesn't clearly state which devices it supports, which is a red flag from the start. Instead, you get this anonymous icon with some text underneath it. And if you read it carefully, you can see that it supports "PC, Mac or mobile devices."
This means that you can use it on the following platforms: Windows, macOS, iOS, and Android. Other devices are not supported, and given how bare-bones this provider is, it's not strange at all. Let's examine the devices that it actually supports and see how the apps look and behave.
Computers
If you're going to use it on the computer, the provider will support Windows and Mac. Unfortunately, it doesn't support Linux, in case you're using this lightweight operating system. Upon buying the subscription, you'll be prompted to download the app for your device. In fact, this is just a small setup file: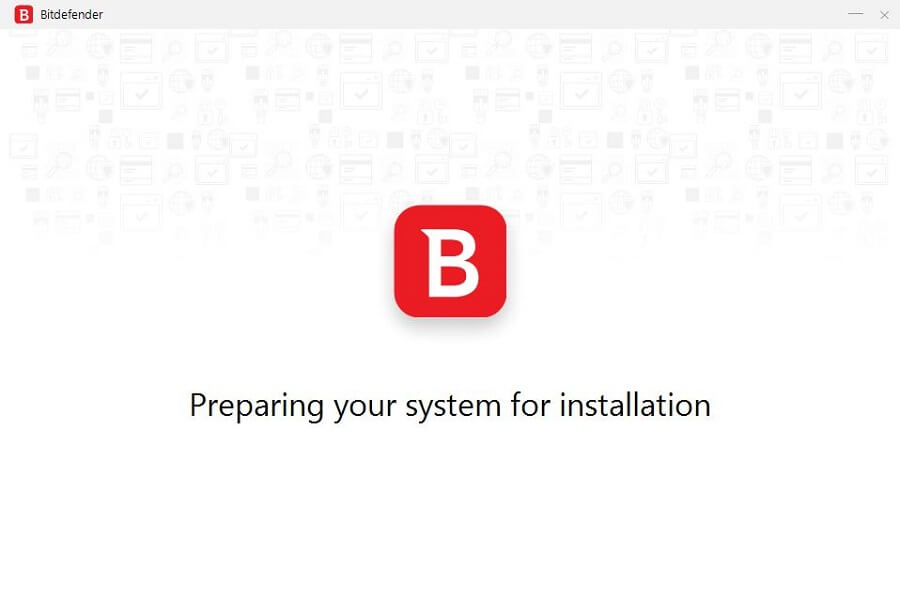 The whole app takes 500+ megabytes!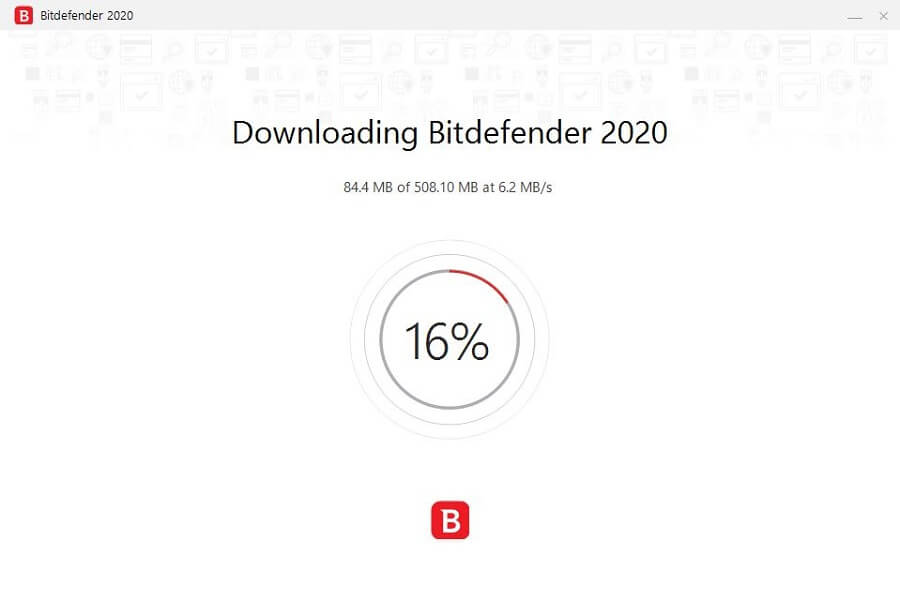 You're wondering why? Well, because Bitdefender crams all of its, quite annoying features into one package, where a Virtual Private Network is just a small part. You're probably asking why annoying – we'll explain in a minute.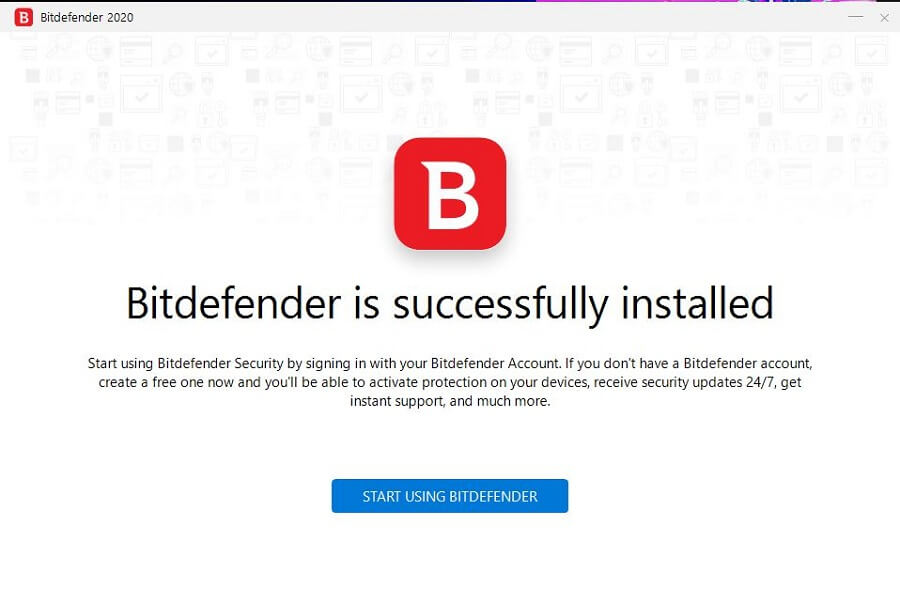 After the setup downloads, wait for it to install, and then, you'll see this screen. This means that the installation of Bitdefender is finished, so you can jump right into the app.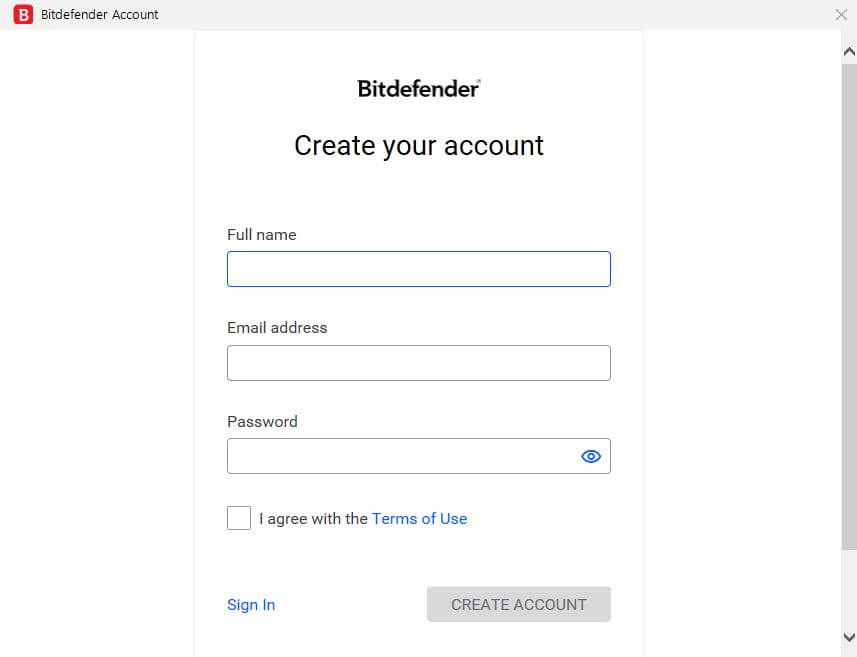 You can create an account here but since we already have a subscription, we clicked on the Sign In button, entered our credentials, and arrived at the home screen: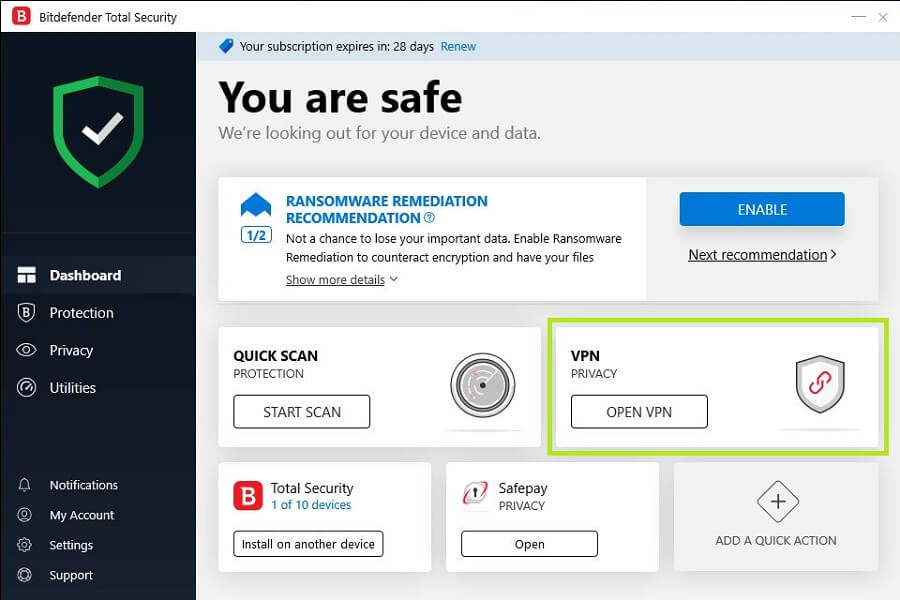 Do you see where you need to click? We've highlighted it in green color. Click on it and finally, the app will open:
If you're seeing what we're seeing, then you can assume that we're not in for some good news. "Powered by Hotspot Shield" is what we think about. We already reviewed Hotspot Shield and it wasn't pretty good. Nevertheless, to open the server list click on the arrow next to Automatic: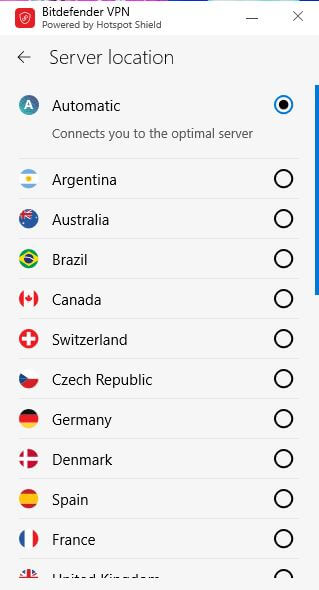 Choose the location you want, click on the Connection button, and you're ready to go: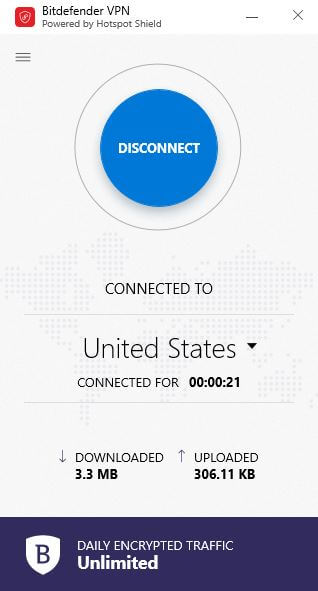 If you made it to here, congrats for the iron nerves. We must admit that its VPN app is VERY easy to use. It's simple and lets you connect in just two clicks. However, the way to get to this app is quite cumbersome.
And to make matters worse, you can't buy just the app but the whole package, which is just ludicrous. Oh, and you know why other features are annoying? Because, if you have them turned on, you'll constantly see pop-ups in the lower-right portion of your screen.
This is blocked, your computer is at danger, blah, blah, blah… shut up! We suggest turning them off if you don't need them, as it will mitigate the problem to some extent. Just know that it will ALWAYS run in the background and you can't disable it in the Task Manager.
Smartphones and Tablets
Let's review our beloved mobile devices now. Or better said, the Bitdefender VPN on the aforementioned devices. Thankfully, it supports both iOS and Android, and there are dedicated apps from the Apple Store and Google Play Store respectively.
We use an Android device and the images below are from it. Rest assured that the installation process and the apps look virtually the same. In image 1, you can see how it looks on the Google Play Store.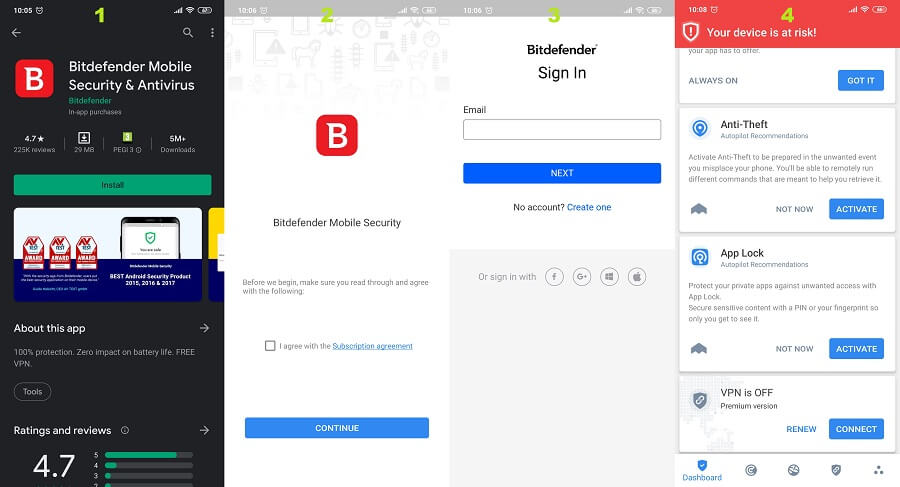 Install the app, run it, and you'll get some sort of a welcome screen in image 2. Just tick the box and tap Continue. In image 3, you can see the login screen, type in your credentials here, and finally, you'll be able to use the Bitdefender VPN app, which is shown in image 4.
The thing is that the VPN service is the last option on the list. Above it, you have at least 4 features and as you can see, the app looks quite bad and cluttered. Alternatively, you can open it by tapping on the fourth option below.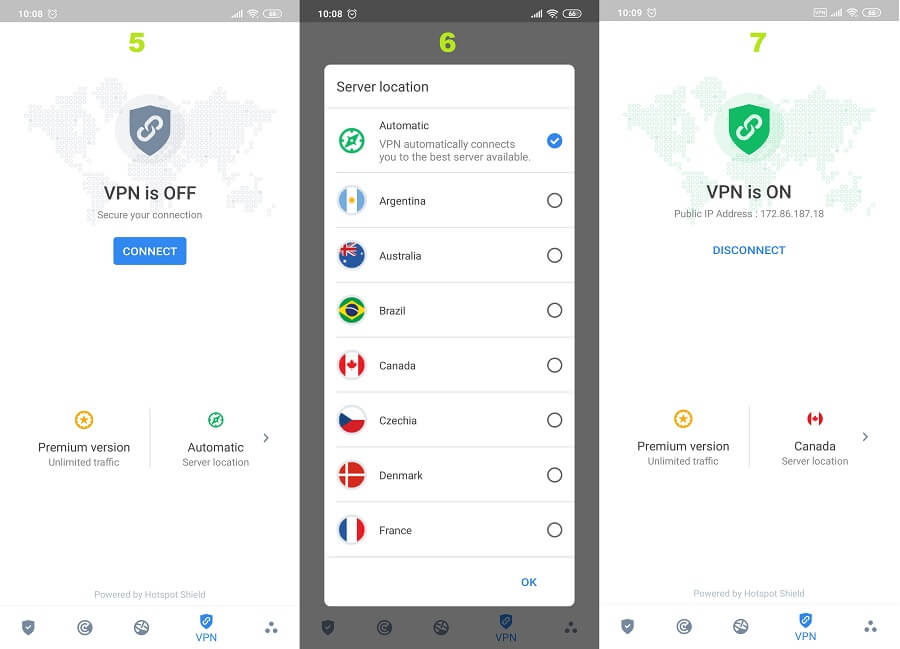 From here, connecting to the server of your choice is easy. In image 5 is the home screen. Click on the arrow right next to Automatic to open the server list in image 6. Choose the server you want and connect to it. You can see how it looks in image 7.
Once again, the app itself is simple enough but those who want strictly Virtual Private Network will not be satisfied that they have to carry loads of features with it.
Other Devices
We said earlier in the review that Bitdefender VPN doesn't support other devices, which also applies to routers. Logically, this is definitely not a good choice for routers but also for other internet-capable devices, apart from the ones mentioned above.
No Linux, Fire TV, PS4 apps…
How Fast is Bitdefender? We Checked Its Speed!
Bitdefender VPN already didn't impress us at the start of this review and test. Let's see if it can make up for its mistakes in our speeds test. Before we do that, it's important to mention that all providers reduce your internet speed to some extent.
Some do it by 10 or 20 percent, while the slower providers can go up to 80-90%. So, while this service reduces your speed, it's just a small price to pay for security and privacy online. Since many factors have an effect on the speed, we needed to do a few tests, multiple times a day.
We did 3 tests in the morning, 3 in the mid-day, and 3 in the evening, for 3 different countries. Furthermore, we kept only the best scores and used the best location when that was possible. Our physical location is in the USA (non-VPN test) and we used these 3 locations for testing:
The United States
The United Kingdom
Australia
Without using Bitdefender, our native internet speeds are:
Ping: 11 ms
Download Speed: 211.88 Mb/s
Upload Speed: 202.20 Mb/s
Now, when using Bitdefender VPN, our ping, download, and upload speeds respectively, for 3 testing locations, were:
US Server: 89 ms / 105.58 Mbps / 79.63 Mbps
UK Server: 112 ms / 57.27 Mbps / 30.93 Mbps
Australian Server: 309 ms / 8.30 Mbps / 6.74 Mbps
Let's quickly analyze our results. When using the server in the US, our speeds already saw a dramatic decrease. With download speed being just a tad above 100 Mb/s, we already saw a 50% reduction, which isn't negligible.
Needless to say, other servers showed much worse results. The Australian server made our life a living hell, trying to just browse the internet or watch HD videos on YouTube. With speeds under 10 Mbps, doing anything on the internet will be a chore, rather than enjoyment.
In short, it has some of the slowest speeds we've ever seen.
How Good is Bitdefender for Streaming?
When it comes to streaming, you need to have two things – the ability to bypass geo-restrictions and fast speeds. We saw that Bitdefender VPN already have very slow speeds, so it won't give you a streaming experience of your life.
Let's see if it can unblock platforms. Those who want to unlock all the Netflix catalogs are in for a disappointment. Since Netflix US is the most content-rich version of the site, we tested it with a US server and we didn't manage to unblock it.

We also tried the UK, Canadian, and Australian severs, with no avail. Albeit, we'd be lying if we said that we didn't see it coming. After all, this is a bare-bone app, so don't expect much. As always, we'll see if the provider can unblock a few more platforms, starting with HBO GO: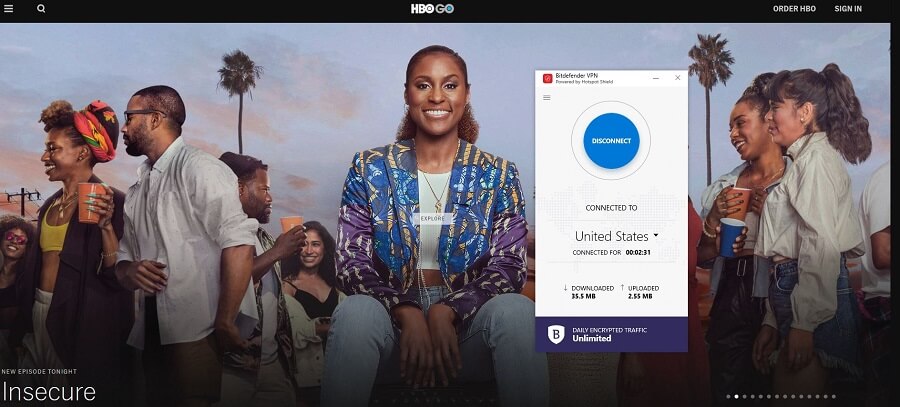 Thankfully, HBO GO works. Let's check Disney+ now: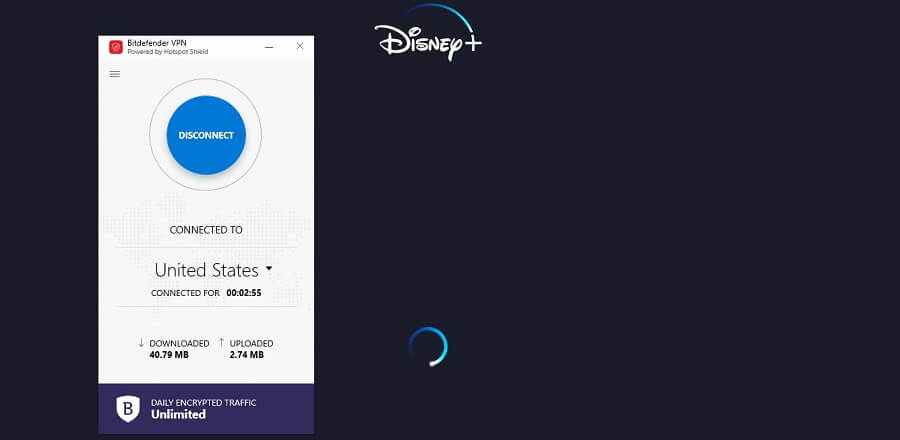 We once again got this infinite loading screen, so we couldn't even access our account. What about DAZN?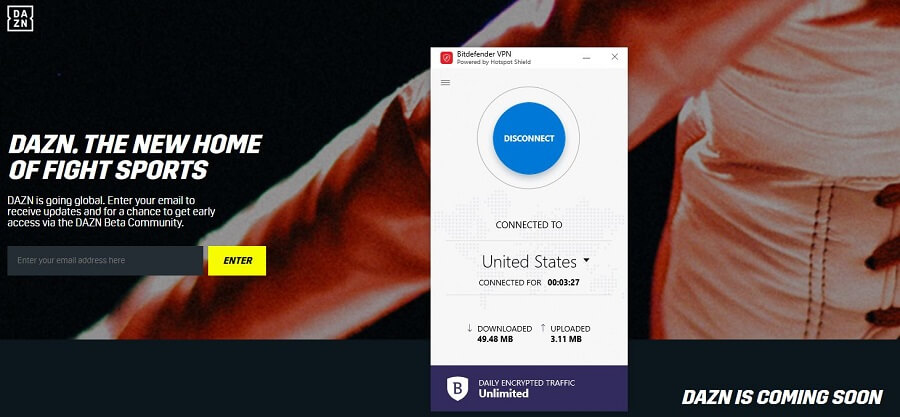 DAZN is the Achilles heel of many VPNs on the market, and as expected, Bitdefender couldn't unblock it. Finally, it's time to see if BBC iPlayer will work: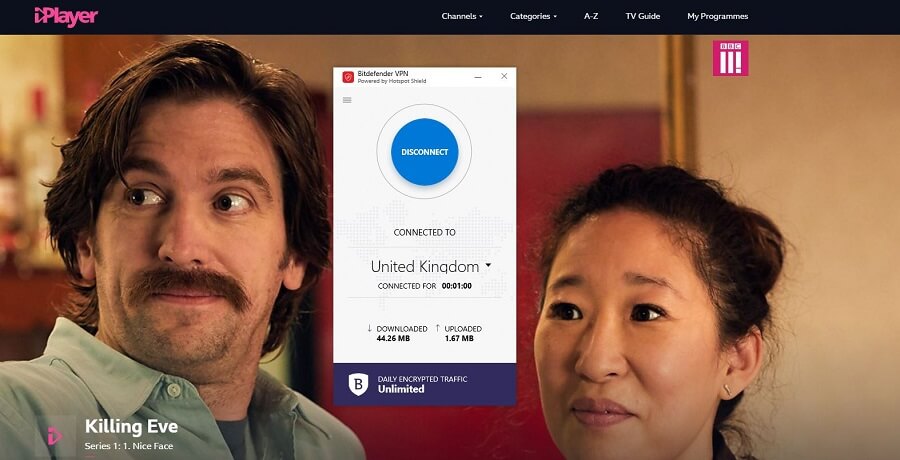 Surprisingly, we unblocked BBC iPlayer with this provider.
To digress this part of our review, Bitdefender VPN isn't very good for streaming, both in terms of speeds and its lackluster ability to unblock geo-restricted platforms. In our test, it managed to unblock only HBO GO and BBC iPlayer. On the other hand, it didn't unblock DAZN, Disney+, Netflix, and Amazon Prime Video.
Confidentiality, Security & Logs
Bitdefender VPN is stationed in Romania, and as we know, this is a very VPN-friendly country. The important thing is that it's outside of the 14 Eyes jurisdiction, so no data-retention laws are in place. A provider from Romania, CyberGhost, is one of the best picks in 2021. But, is this one going to repeat its success in terms of security?
Let's check its privacy policy and see what it says:

While CyberGhost doesn't store logs, this one does, albeit not to a very critical extent. We already highlighted what you need to see. Basically, they collect your IP address, timestamps, and the referral website(s) that brought you to Bitdefender websites.
Although collecting IP addresses is already pretty bad, they don't collect anything except what we mentioned, including your email and name, which is obligatory. However, this last sentence drew our attention. It says that they can keep your data up to 1 year, and that's quite a long period.

Also, they state that they may reveal your personal data to authorities if they request them to hand the data over. While many no-logs providers add that they don't have anything to hand over since they don't store data, this one doesn't do that.
So after all, Bitdefender may store your personal data that might compromise your identity. We're not sure about it since nothing else is mentioned, but we'd definitely be careful. If preserving your online identity is your priority, we suggest buying ExpressVPN instead. This provider has a clear zero-log policy and doesn't store any logs.
Before wrapping up this part of our Bitdefender VPN review, let's check the IP leak test: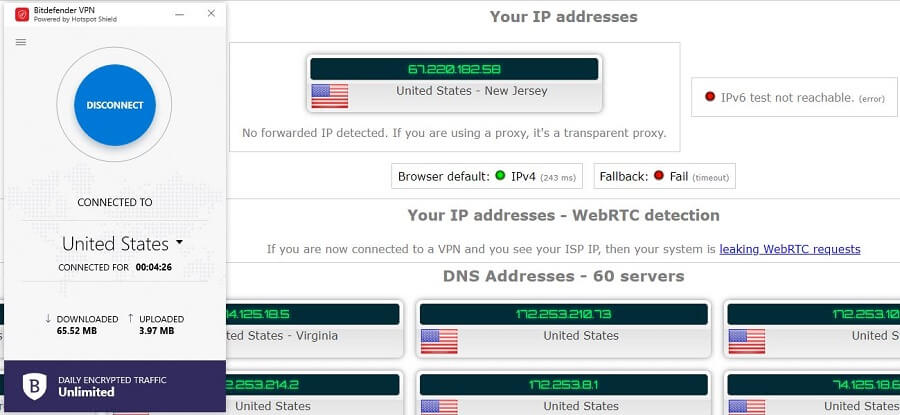 There are no IP or DNS leaks, which is great. Apart from that, the provider doesn't use any specific security feature to make it more secure. Only two security protocols are available – OpenVPN and Catapult Hydra that we saw in Hotspot Shield.
While 256-bit encryption is here, the provider does not include a kill switch, which is a fatal flaw. For that reason, Bitdefender VPN isn't very safe, nor secure.
Can I Do Torrenting Safely With Bitdefender?
The provider doesn't do an exceptional job of hiding your IP and location, as we saw now. If you're in a country where torrenting is forbidden, that can be a problem, especially because there isn't a kill switch to shut off your internet connection if the VPN connection drops.
However, the provider still supports torrenting on every server. We visited the 1337x torrent site and tried to download a movie:

Luckily, we had no problems doing that. Despite supporting P2P, we still can't recommend the provider for this purpose because of all of the things we mentioned – subpar security and slow speeds. If you often download torrents, ExpressVPN is a much better option due to its superb speeds and security.
Can I Use Bitdefender to Bypass Censorship?
Many people online mention that Hotspot Shield is good for bypassing censorship. As we mentioned before in our review, Hotspot Shield powers Bitdefender VPN, so they share some of the features. One of them is the proprietary Hydra protocol that should, in theory, bypass censorship easily.
To avoid any misunderstanding, we're talking mostly about censorship in China, as well as the Chinese firewall. It represents one of the angriest nemesis of VPNs, making only a few of them worth a shot. This provider is nowhere near bypassing the Great Firewall of China, rendering it useless for bypassing censorship.
We don't recommend it if you're living in China, the UAE or Russia. A much better option is NordVPN and its obfuscated servers.
Pricing and Plan Options
With the lackluster performance it showed, Bitdefender VPN should be very cheap, right? Well, not exactly.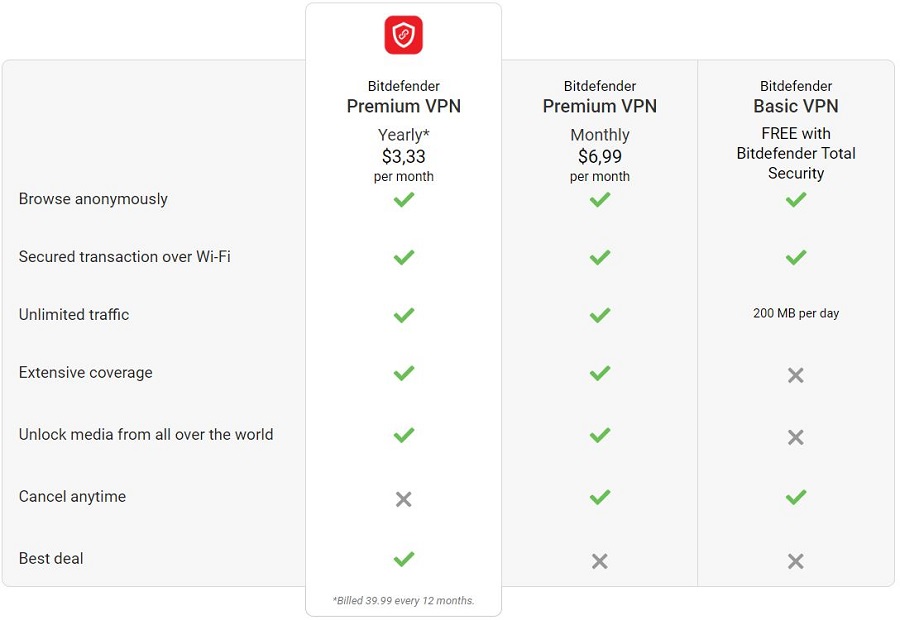 The prices you see here are fairly competitive. They even offer a free solution which lets you use up to 200 MB per day, which translates to 6 GB a month. But, since this option is quite limited, we'll talk more about the premium options.
In the middle, there's a monthly plan at $6.99 a month, which is fairly cheap. There's only one premium plan apart from this one, and it's the annual plan at $3.33 a month. You'll agree that these prices are affordable and they would be if it wasn't for the Bitdefender security solution that you must buy.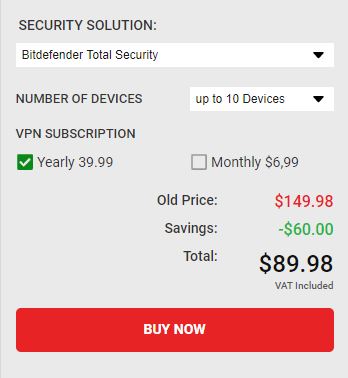 When you add some of these solutions, and you must do it, the price increases significantly. From $39.99 a year, for an annual plan, you get to $89.98 a year just because of the security plan. This makes Bitdefender VPN very expensive and not worth buying, especially if you don't want or need all of these features.
If you want a cheap provider, we suggest buying either Surfshark or CyberGhost. The first one offers a 2-year plan at $1.99 and the second one offers a 3-year plan at $2.75. These providers offer much better performance and are actually cheaper than Bitdefender VPN. If you're still going to buy it, here are the payment methods: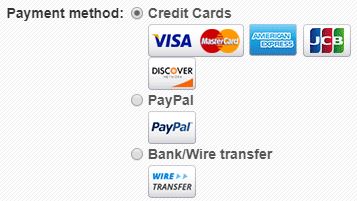 No Bitcoin support here, which is always a bad thing. And should you decide to get a refund, you get a 30-day money-back guarantee:

Thankfully, no strings are attached.
How Can I Contact Bitdefender?
One of the advantages of having a large company like Bitdefender is that you get extensive customer support. This is one of the few providers that included the option to make a call and chat exclusively with the customer support team.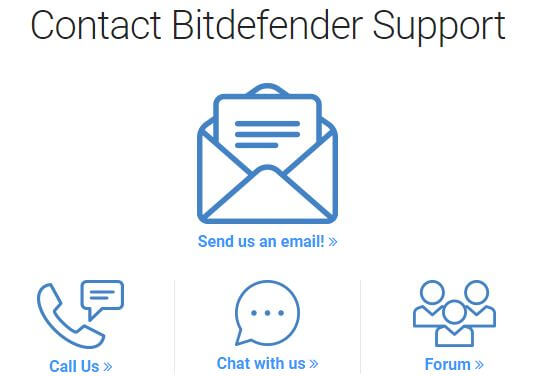 Apart from that option, you can send an email or use the live chat feature. If you want to hear more opinions about your question or problem, you can go to the forum and ask there. We must admit that this is truly extensive customer support, at least when it comes to contact methods.
We tested live chat and waited about 4 minutes to get a response, which is, believe it or not, very slow. VPN providers such as NordVPN and ExpressVPN usually take less than 15 seconds to respond, as a reference.
For a more direct approach, you can always make a call and fix your problems in a matter of minutes. In some countries, they even offer 24/7 service but only in a few of them.
The Special Functionalities
The special functionalities are great for enhancing your basic VPN experience, adding more depth to the apps often times increasing your privacy. Here's what Bitdefender VPN has to offer: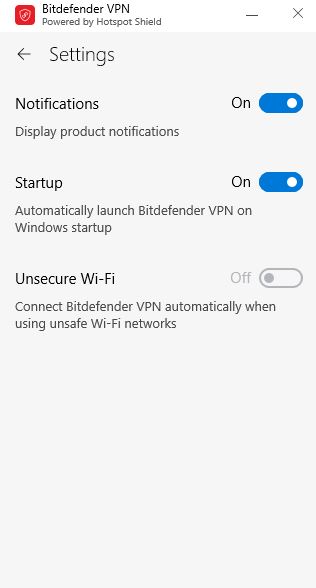 That's all. Do you see any special features here? We neither. The provider mentioned the Hydra protocol, which worked pretty well on Hotspot Shield, but here, we can't find it in the Settings menu. We even tried changing settings in the Bitdefender app, where other features reside, and we couldn't find it either.
The worst thing is that you can't change the protocol you're using. Obviously, they're changing the protocol automatically, depending on the server you're using. Or they change nothing and use only OpenVPN. We don't know.
Other Things You Should Know
Although we talked a lot about Bitdefender VPN in this review, there are still a few more things to know about the provider:
Number of Servers
Bitdefender VPN has a pretty small server count. We managed to count 27 of them in the app, while the provider doesn't state this information anywhere on the site. They must be very "proud" of it, we guess.
Number of Countries
The same applies here – a server per country equals 27 countries in total. That's not bad but not good either, given that they don't have multiple servers per country.
Number of Simultaneous Connections
If you scroll back up to our Pricing section, you'll see that Bitdefender offers up to 10 simultaneous connections. There's an option to go for 5 of them, too.
What Do Other Users Say About Bitdefender?
Before ending our review, let's see what other users say about Bitdefender VPN. Beware that these reviews are mostly about Bitdefender in general and not always about its VPN. But, when you see how bad they are, everything will be clear.
Let's start with Reddit:

This user straight-up doesn't recommend it. He mentions its relationship with Hotspot Shield, a provider that stores a substantial amount of logs, making it generally unsafe. You can read full feedback and now, let's move to the Apple Store:

The iOS user also didn't like Bitdefender VPN. He says that it worked great until a couple of months ago, at the time of writing his review. The app needed reinstalling to work again but then wanted his iPhone password, which he refused to provide. In short, he canceled the subscription in the end.
Going over to the Google Play Store, we saw something similar:

Bitdefender doesn't work at all on the Android device of this user. It locked his Google Docs and the banking app, making it impossible for him to access neither of these two. He states that he won't be purchasing the app after the free trial period.
Lastly, we have a review of Bitdefender from Trustpilot:

Long story short, the user says that the provider is "garbage." He also mentions business banking, which this VPN tramples, due to its constant connection interruptions. As you can see, he's far from recommending it.
Conclusion: Should You Take It?
No, you shouldn't buy Bitdefender VPN.
We think that it is among the worst providers we tested, actually. And there are multiple reasons for that. Slow speeds, unintuitive apps, lackluster streaming performance, and its inability to work in China are only some of the reasons we didn't like it.
Moreover, its privacy policy isn't the clearest we've seen and they didn't include a kill switch on any platform. With that in mind, recommending Bitdefender VPN would be pointless.
Instead, we recommend getting ExpressVPN, which is the best provider on the market according to our top 10 ranking.