For users who don't want to break a bank, purchasing a cheap VPN is often deemed as a success. The market is flooded with cheap providers, yet not many of them manage to impress us. What about ZoogVPN, then? This provider has some of the cheapest prices around, and in general, seems like a very good deal. Whether or not it's worth your money, we're going to debunk in our comprehensive review of ZoogVPN for 2021. We recommend getting a cup of your favorite beverage – this will be a long read!
What is ZoogVPN?
ZoogVPN is a VPN provider founded in 2013 and located in Greece. Being on the market for merely a few years, the provider didn't manage to achieve anything special, compared to Surfsrhark, for example.
However, ZoogVPN has very affordable prices for both long-term and short-term plans, making it, in theory, a good choice for those who don't want to break the bank.
Furthermore, ZoogVPN is from Greece, which is out of the 14 Eyes jurisdiction. With that in mind, the provider should be safe and secure and give you total anonymity. Of course, we're going to test that statement during our complete review and see if ZoogVPN is a good contender for your next purchase.
This is our comprehensive review of this provider, so stay with us to see if it's worth your hard-earned cash.
Compatible Devices and Ease of Use
Let's start with compatible devices. If we take its price into consideration, this provider actually has outstanding device support. We've seen much more expensive providers that don't even support routers, which is an instant red flag. Here's what you can expect from ZoogVPN:

As you can see, all the major platforms are here – Windows, iOS, Android, macOS, BlackBerry, Linux, but also DD-WRT, Tomato, and VILFO routers. The provider really went out of its way in this regard, so we're definitely off to a good start. Now, let's check the most important platforms individually.
Computers
If you're going to use ZoogVPN on your computer, you can install it on Windows, macOS or Linux. Users often praise ZoogVPN for macOS but is it one of the best VPNs for Mac? Well, we don't think so, ExpressVPN is much better. Nevertheless, let's see how this app looks on Windows.
When you subscribe, you'll need to download the setup file. Download it, double-click on it, and the initial setup screen will show up: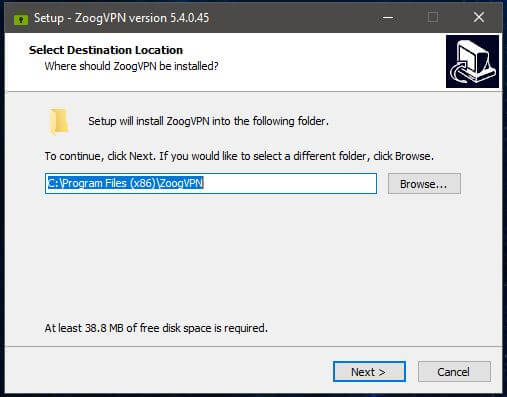 Right from the get-go, you'll need to choose where you want to install it. When you do that, click Next: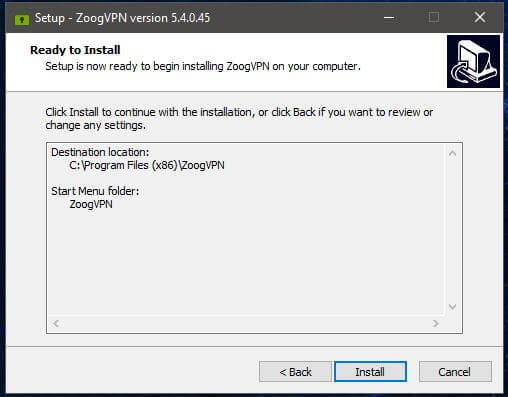 Confirm that you want to install it by pressing Next and the installation will begin: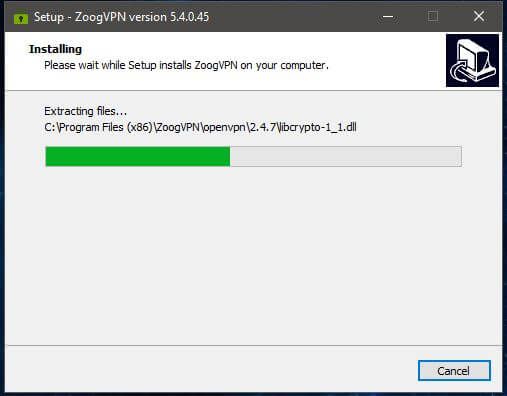 After a few seconds, you'll be ready to launch the app: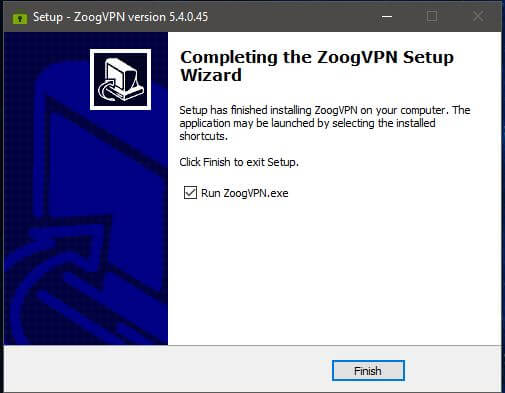 If you wish to do that right after the installation, tick the box in the image above and click Finish. Here's how the initial app screen looks: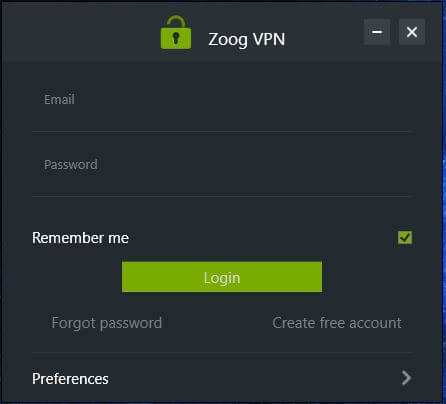 This is the login screen of ZoogVPN, so type in your credentials and log into your account.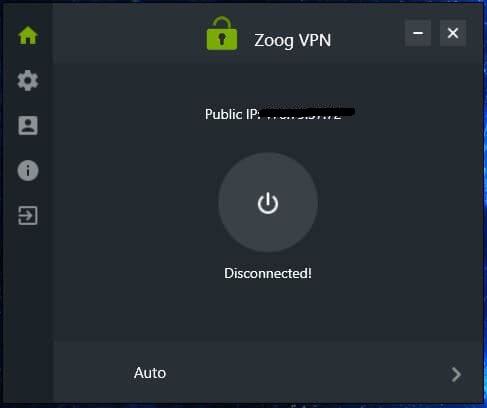 To connect to the server you want, click on the arrow pointing to the right, next to Auto, and the server list will open: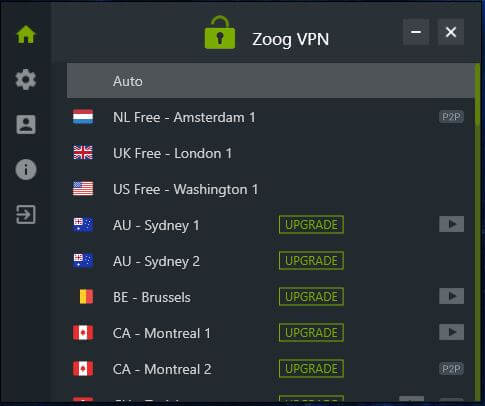 Choose the server you want, click on it, and then, click on the power button on the home screen. Finally, the app will show your new IP address, implying that the connection is successful: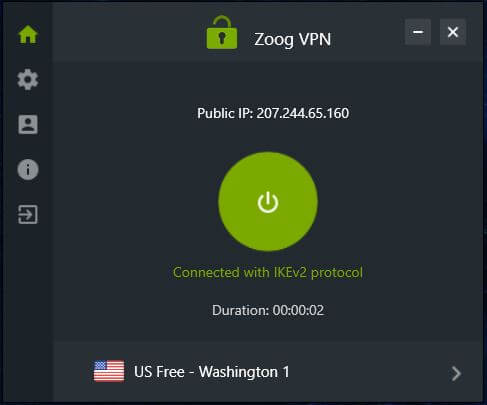 As you can see, the app is very easy to use. It has this tiny screen, doesn't take your whole desktop, and lets you connect in a few clicks. Although, we'd like it if you could connect with a single click on a server, rather than clicking on it and needing to return to the home screen to click the power button.
Other than that, the app is very good.
Smartphones and Tablets
What about smartphones and tablets? Well, we're looking at dedicated apps for both iOS and Android, which you can download from the Apple Store and Google Play Store respectively. As always for our reviews, we'll use our Android device to see how the app looks.
After downloading it from the Google Play Store, as shown in image 1, run the app and you'll get the login screen that you can see in image 2: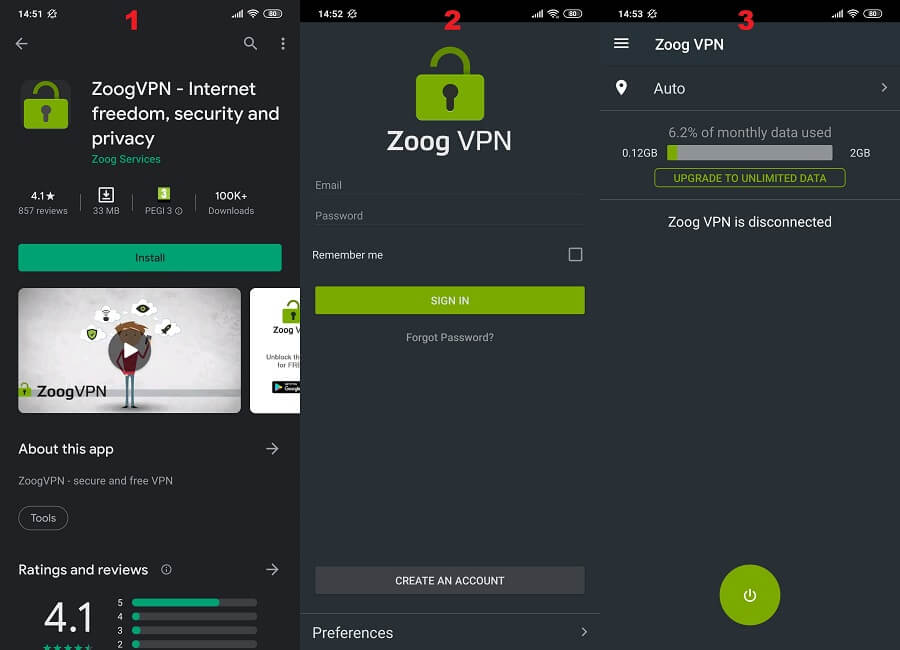 When you log in, the home screen of the app looks quite simplistic, showing you that you're disconnected. Now, to open the server list, click on the arrow pointing to the right, next to Auto, which you can see in image 3. The server list is shown in image 4 and it looks rather the same as on the PC: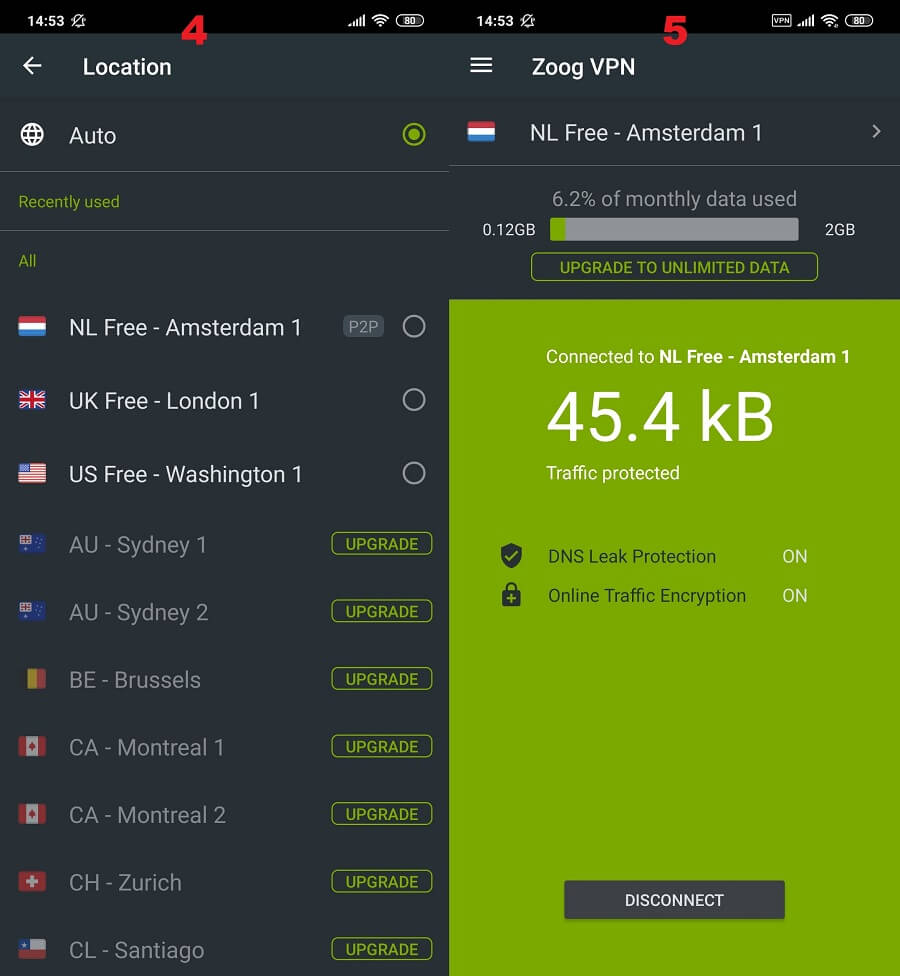 Choose the server you want from here and connect to it. Finally, in image 5, you can see how the ZoogVPN app for Android looks when you connect. It automatically turns on DNS leak protection and online traffic encryption, which is great.
The smartphone app is, in one word – intuitive. We didn't have any problems with it, as it works flawlessly.
Other Devices
We saw during our review that ZoogVPN supports many other devices apart from the basic ones. So, we have routers, BlackBerry (who still have one?!), gaming consoles, and so forth. In case you want to use the provider on your router, you can read the full guide on how to do it here.
ZoogVPN does a great job of explaining the installation process on routers, so you can protect every device that connects to your network easily. Just to remind you – a router can take up to 32 simultaneous connections, depending on the model.
You can protect all of these devices simultaneously, so basically, it supports gaming consoles, Kodi, Roku, Apple TV, and so forth. For a Virtual Private Network this cheap, we can't say we're not impressed.
How Fast is ZoogVPN? We Checked Its Speed!
But, are we going to be impressed by its speeds? ZoogVPN costs very little and chances are that its performance isn't up to par. Remember – the fastest VPN on the market is ExpressVPN, so we don't expect it to be anywhere near that provider. Even ExpressVPN will reduce your internet speed to some extent, though. Every provider will, and this is important to know.
However, the speed reduction doesn't have to be very large. The smaller the reduction, the faster the provider is. That being said, let's get to our speed test and explain how we did our testing for this ZoogVPN review.
We did 3 tests in the morning, 3 in the mid-day, and 3 in the evening, for 3 different testing locations. Also, we kept the best score and used the best location when that was possible.
Our physical location is in the USA (non-VPN test) and we used these 3 testing locations:
The United States
The United Kingdom
Australia
Without using a VPN, our native internet speeds are:
Ping: 11 ms
Download Speed: 211.88 Mb/s
Upload Speed: 202.20 Mb/s
Now, when using ZoogVPN, our ping, download, and upload speeds respectively, for 3 testing locations, were:
US Server: 51 ms / 140.85 Mbps / 132.22 Mbps
UK Server: 134 ms / 67.32 Mbps / 46.30 Mbps
Australian Server: 393 ms / 23.05 Mbps / 7.16 Mbps
As seen from the results, ZoogVPN reduced our native internet speed by quite a margin. Although we enjoyed using the US server, the UK server significantly impacted our browsing and streaming experience. We had to wait for a few more seconds to load up the pages and we couldn't stream 4K YouTube videos.
The Australian server is, however, the story for itself. Here, our speeds saw a dramatic decrease, making it unenjoyable to even watch 720p videos! After all, you can see the results for yourself, so you be the judge. But, even if you're not a tech-savvy person, noticing how slow ZoogVPN wouldn't be so hard.
In short, the provider offers very slows speeds, making it almost unusable on very distant servers.
How Good is ZoogVPN for Streaming?
Streaming and slow speeds go with each other like a cat and a mouse. On one side, you'll want to enjoy some Netflix after your day at work, and on the other side, a slow VPN like this will produce buffering and stuttering while you watch a movie or a show.
ZoogVPN definitely isn't good for streaming speeds-wise but does it unblock Netflix? Unfortunately, it doesn't. We managed to unblock it only once, logged in, started watching a movie, and boom – it disconnected us with the proxy error.
What about HBO GO? Let's begin with our warm-up round: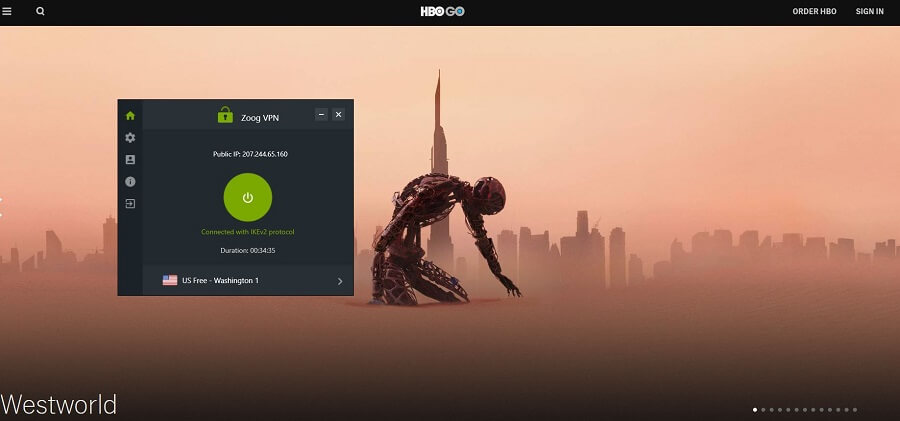 HBO GO works well, which is great. Now, let's see if Disney+ will repeat the success: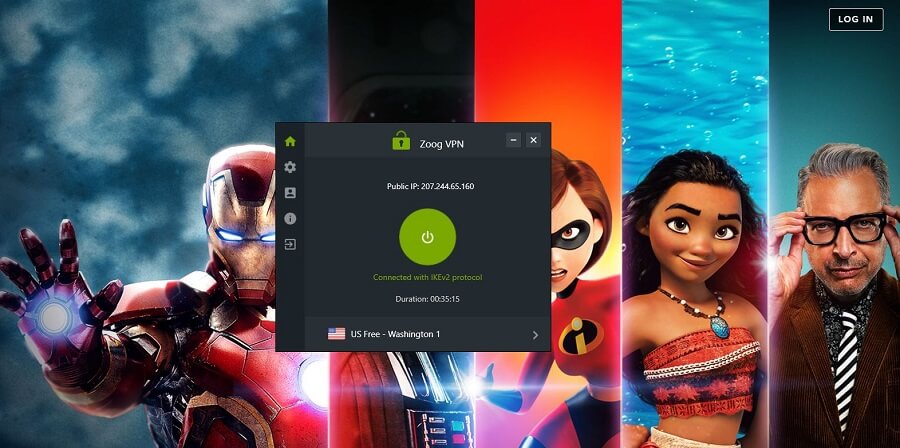 Disney+ seems like it works but it doesn't. When you click on the login button, nothing happens. The same could be said for DAZN: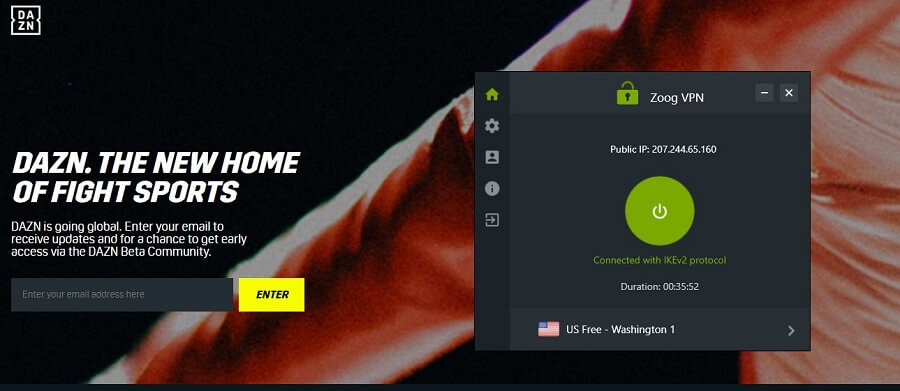 As you can see, DAZN doesn't work with ZoogVPN on. Finally, let's check BBC iPlayer: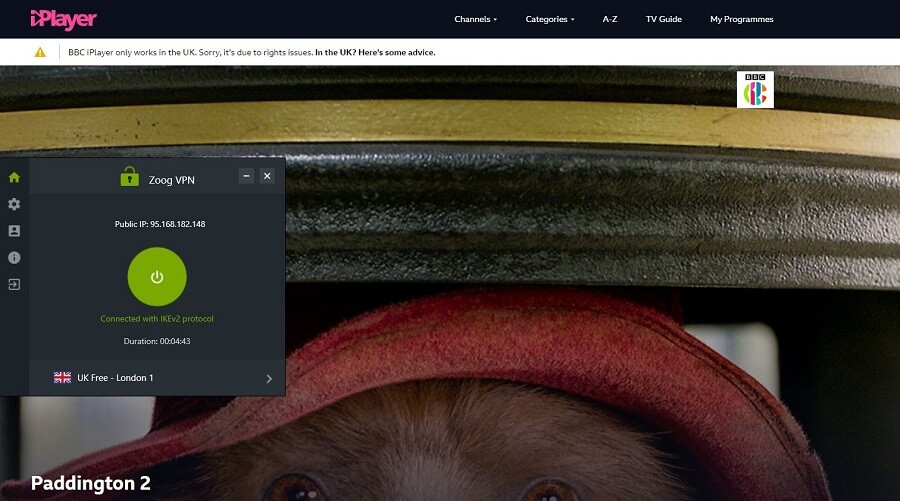 BBC iPlayer also doesn't work.
So, what's the takeaway? Well, as you had the chance to see, ZoogVPN is doomed from the get-go. Apart from slow speeds, it also can't unblock major streaming platforms, including Netflix, which can possibly be unblocked but is not guaranteed to work.
Sure, you can enjoy HBO GO but platforms like Netflix and Disney+ are more popular, yet they don't work with this provider. All things considered, ZoogVPN is bad for streaming.
Confidentiality, Security & Logs
Privacy and security are very important in a Virtual Private Network. The word 'private' isn't here for decoration but for telling us that you can expect some level of privacy when using it. This provider isn't under the 14 Eyes jurisdiction, so we can expect some good news. Is it really like that? Let's review the privacy policy:

In the first sentence, you can see that it claims that it's a zero-log provider. It only keeps your email address which connects you to your account. They don't keep a whole bunch of stuff, though, which is some good news, indeed.
ZoogVPN won't collect usage information, activities, timestamps, IP addresses or log-in/log-out sessions. But, for "rendering VPN service," they collect the amount of data transferred on their servers, both when uploading and downloading.
That's pretty fair if you ask us. Connecting info about the amount of data you use isn't malicious and isn't going to harm you in any way. Since this is officially a zero-log provider, let's see how good it is in terms of security, by checking our IP leak test: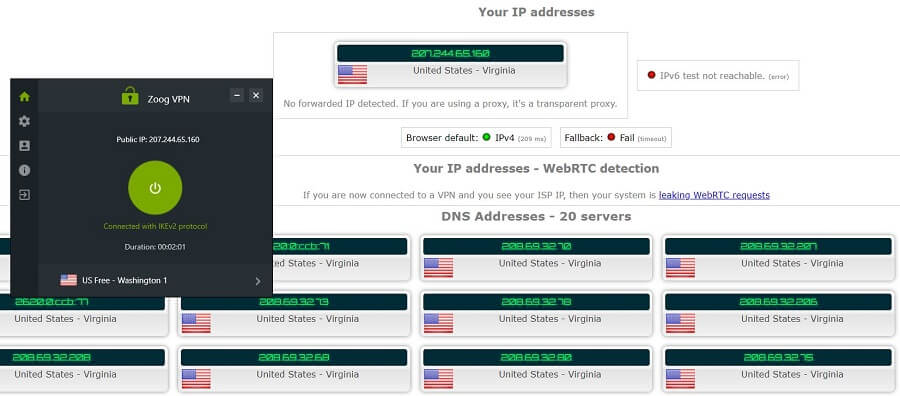 The IP address in the app is the same one in the IP leak test, so there aren't any IP leaks here. Additional security features include 256-bit encryption, DNS leak protection, and a kill switch. Up until recently, ZoogVPN had a kill switch only for Mac but now, it's available on every platform.
There are OpenVPN and IKEv2 protocols but no other advanced protocols available. Nevertheless, it's still very secure.
Can I Do Torrenting Safely With ZoogVPN?
Having a zero-log policy brings a lot of benefits to the table. One of them is being able to download torrents without fearing that the government might get its hands on your browsing history. In theory, ZoogVPN should allow you to torrent safely, right? Of course.

We tested it using the 1337x.to website, downloaded a movie, and had no issues with copyright infringement. Of course, we deleted the movie right away because we do not condone violating copyright.
But, should you decide to do that, downloading games, movies, and TV shows from torrent sites will be possible. Just be sure to use dedicated servers for that.
Can I Use ZoogVPN to Bypass Censorship?
Well, not exactly.
When we talk about censorship, China is always the first country to mention. The Great Firewall of China remains the hardest obstacle for many VPNs, so right now, only a handful of them can bypass it.
NordVPN has its obfuscated servers, Surfshark has a NoBorders mode, and ZoogVPN… well, it doesn't have any special feature for that purpose. Not only it will not work in China but it will also be a bad option for bypassing censorship in general because it lacks these special security features.
We don't recommend it for bypassing censorship and a much better option is ExpressVPN or perhaps NordVPN.
Pricing and Plan Options
If you want to buy ZoogVPN, you'll have to pay a very small price, whatever subscription plan you choose. Want to know how small? Here's the screenshot from the provider's website.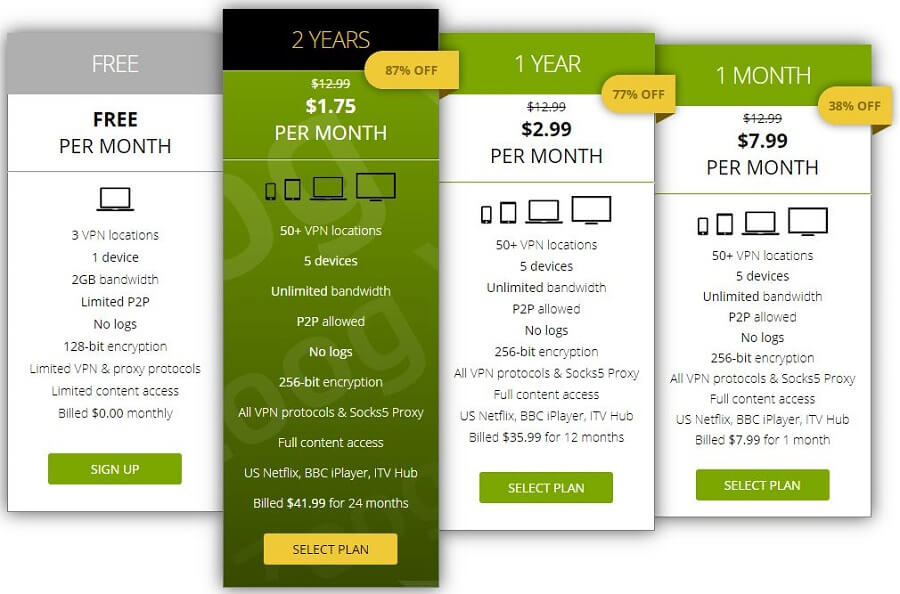 Starting from the left, the provider offers a free plan that gives you 3 locations, one device, and 2 GB data cap, alongside 128-bit encryption. We're interested in premium plans, so let's check them out.
Right next to the free plan, this flashing deal is a 2-year subscription plan at $1.75 a month that gives you a full-fledged ZoogVPN experience. The next plan is a 1-year plan at $2.99 a month, also giving you everything that the provider offers.
Finally, we have a monthly plan at just $7.99 a month, which is very cheap. In terms of pricing, beating ZoogVPN is pretty hard. However, one provider crushes it in every aspect and is just $0.24 more expensive – Surfshark.
Surfshark costs $1.99 a month for a 2-year plan, making this provider obsolete. Sure, ZoogVPN is dirt-cheap but not as good as Surfshark or CyberGhost that are also great money-saving options. Should you decide to buy it, you can use these payment methods to pay:

Bitcoin is there, letting you pay anonymously. And if you want a refund, you can get it in the first 7 days of your purchase, with some strings attached:

The most important one is that you can't use more than 2 GB. Otherwise, you are eligible only for a partial refund. Here's how to get your money back: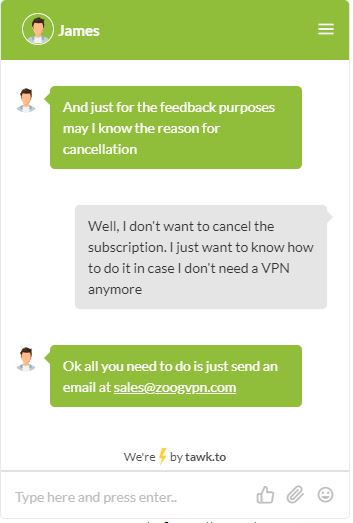 Email the provider at [email protected] and everything will be fixed.
How Can I Contact ZoogVPN?
We saw during our review that contacting ZoogVPN is pretty easy. A second ago, you saw that it has a live chat feature and even on Sunday, when we wrote this review, they were blazing-fast and gave us a response in less than a few seconds.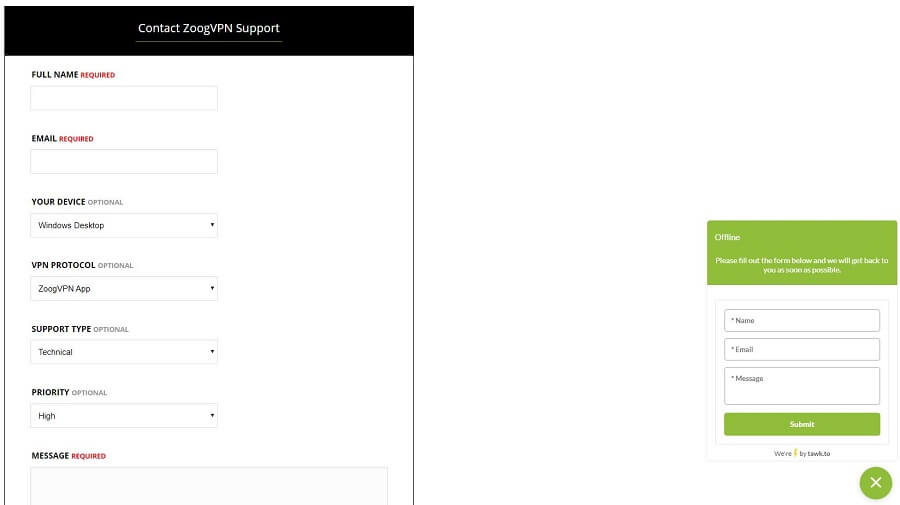 This image shows you how you can contact the provider. On the left is a classic email form, whereas, on the right side, you have your live chat. In our experience, support was very good and helpful. Plus, it's available through the live chat where you interact with a human, not with a robot.
The Special Functionalities
The special functionalities are here to enrich the basic VPN experience, and without them, the experience is drastically degraded. Thankfully, this provider does have a feature or two under its sleeve. Let's check them out:
Shadowing
Remember when we said that ZoogVPN doesn't have any special features for bypassing censorship? Well, it actually has but it didn't work for us – it's called Shadowing. Here's how to enable it.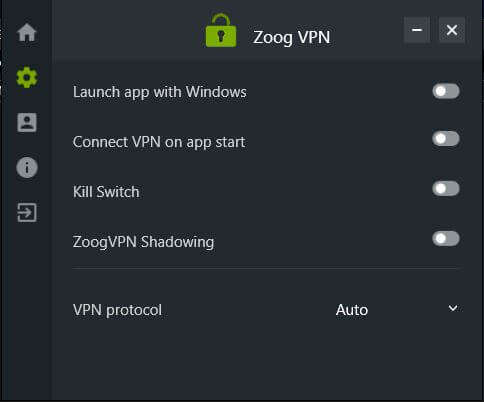 Basically, it's a feature for bypassing DPI (Deep Packet Inspection) that should, in conjunction with OpenVPN, allow you to use it in China. For us, it didn't work. We tried both OpenVPN and IKEv2, with no avail.
Still, if you want to roll the dice, here you go. You can try Shadowing and see if it works for you.
Dedicated Servers
We already mentioned dedicated servers. These servers are made specifically for streaming and torrenting, allowing you to perform these activities safely and securely. We saw this feature on many other providers, so it's nothing special and unique.
Other Things You Should Know
To make this review comprehensive and in-depth, we need to talk about everything you get with ZoogVPN.
Number of Servers
ZoogVPN follows the trend of other less-popular providers and comes with a small server network. Some servers are located in Australia, some in the USA, and some around the world. However, there aren't many of them:

As you can see, it has servers in no more than 50 locations.
Number of Countries
In the image above, you can see that it offers 27 countries, so you get 2 servers per country, on average. Not impressive, especially when a bunch of users connects at the same time and put the server under substantial load.
Number of Simultaneous Connections
In our section about pricing, you saw that the provider offers only one connection for a free account and up to 5 connections for a premium account. You can extend it even further by installing it on a router.
What Do Other Users Say About ZoogVPN?
Before we conclude our ZoogVPN review, it's time to see what other users online think about this provider. We'll start with Reddit first:

This user says that the provider works well for him, aside from torrenting, which doesn't work. Interestingly, the user can torrent for five minutes before ZoogVPN shuts off all bandwidth, preventing him from continuing. Next, we have a feedback from th Google Play Store:

The Android user confirmed what we said earlier. He bought this VPN to be able to enjoy Netflix UK but it practically doesn't work for him. Support, on the other hand, claims that it works for them, without offering any useful advice. Let's see if the situation is better on the Apple Store:

This user complains about the speed, which confirms another thing we said earlier. He loses 50% of his internet speed and in one instance, he lost 90% of it, which is unacceptable. He finishes the review by saying that he's going to get a refund. Finally, we have a review from Trustpilot:

Another complaint about customer support here. This user even says that ZoogVPN has the worst customer support he ever encountered. In his words, he wrote them four days ago from writing the review, using the live chat and they didn't help him.
He finishes the review by saying that he regrets subscribing to ZoogVPN and that he still didn't get any response or a ticket number.
Conclusion: Should You Take It?
ZoogVPN is exceptional in only one department – price. But then again, it's a tad cheaper than Surfshark, which is a much better option overall.
We like the addition of live chat and decent device support. However, everything else is simply not up to par with our expectations. The provider has very slow speeds, isn't good for streaming, doesn't work in China, and can't unblock Netflix.
If you want to pay only $0.24 more per month, getting Surshark's 2-year plan is a great idea.
Those who want a no-compromise experience should get ExpressVPN for $6.67 a month for an annual plan. And if you go for it, ExpressVPN also offers a 49% discount on its annual plan and gives you 3 months free.
As things stand, ZoogVPN isn't worth buying because of everything we mentioned in the review.