Lebanon has a lot to offer when it comes to digital content. Channels like LBCI, OTV, Future Television, and BBI are one of the most popular, yet inaccessible from abroad. Furthermore, withdrawing your money from your bank account abroad isn't possible without a Lebanese IP address. So, how do you get it? Simply put, in just a few steps. Stay with us to learn more.
Use a VPN to Change Your IP
Using a VPN will grant you tons of benefits online. The reason being is because it offers impenetrable security, military-grade encryption, and a possibility to bypass geo-restrictions.
Needless to say, it also let you change your IP e.g. online location, so you can get access to many sports events, streaming platforms, and so forth. Here's an image that explains it:

As soon as you establish a connection, your traffic is wrapped inside this tunnel. This tunnel protects you from hackers, governments, and ISPs, meaning that they can't track you. From a security standpoint, that's perfect. Right?
Given that you're also using a different IP in this case, you get both security and online freedom, which is a win-win combination. It may sound like something out of a Sci-Fi movie but it isn't. VPNs are very simple to use and require below-basic computer knowledge.
If you don't believe us, you will soon. Scroll down to the next section.
How to Get a Lebanese IP Address from Anywhere in the World?
Hey, Monkey, how do I get a Lebanese IP address from anywhere? Very simple. It's like peeling the skin off a banana. If you follow our steps carefully, you'll learn it in a single read. Our in-depth guide is below:
1. Get a Subscription
Subscribe to a provider of your choice. Beware that not many providers have servers in Lebanon, so your choices are pretty limited. Thankfully, a member of our Top 10 list is here – HideMyAss. It's a good choice if you want to use it on a Windows computer or any other platform.
Although it's not the cheapest one, it's still decent for this purpose.
2. Install the Respective Apps
After you buy it, you'll be prompted to download the apps. Download them, install them on your devices, and then, log in with your email and password. This will take you to the home screen.
3. Connect to a Lebanese Server
HideMyAss has a user-friendly interface, so finding your way would be easy. Click on Location underneath the connection button to open a server list. Scroll down a bit to find Lebanon. Click on it and wait for a few seconds to establish a connection.

4. Enjoy Local Channels and Other Benefits
With the connection established, you can freely access Lebanon's local TV channels or enjoy other benefits. The best thing is that you'll need to use only the third step to get a Lebanese IP Address again, as you already have the subscription.
What are the Benefits of Getting a Lebanese IP Address?
Since we touched on benefits, when using an IP different from your native IP, you always have some perks. We mentioned them below:
Accessing Netflix Lebanon and Local TV Channels
This country has its own Netflix catalog that's very extensive and offers some cool Lebanese movies. In case you have a subscription and you want to watch favorite shows on your mother tongue, it's possible with this service.
Furthermore, you'll also be able to access local TV channels. Not only will you enjoy local shows but also inform yourself about the local market, weather, and general situation in the country.
Using the Lebanese Bank Account
Wanna grab some cash from your bank account from abroad? Well, if you don't have a corresponding IP address, you can't do it. This is because your bank will lock you out of your account, thinking that you're trying to hack your way through.
Then, solving this issue will be a nightmare since you have to do it in-person. When using a VPN, you can easily disguise your IP, which will let you withdraw funds easily.
Preserving Online Identity
Using a different IP always grants you additional security. Who doesn't like it? Thanks to military-grade encryption and different security protocols, a Virtual Private Network will always keep you safe and secure online.
Best VPNs to Get a Lebanese IP Address
It's a shame that our top 3 providers don't have servers in this country. Luckily, we found 2 of them that do but we recommend using them only for this purpose:
1. HideMyAss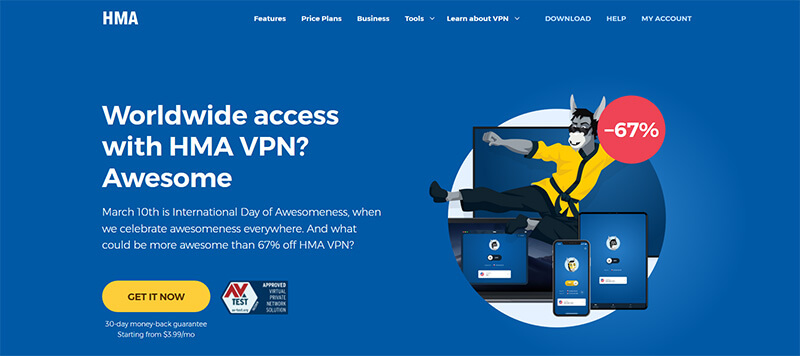 HideMyAss is a UK-based provider that offers 2 servers in Lebanon (and 6 different Lebanese IPs, as shown in the screenshot above). Granted, it's not much but then again, how many providers have servers there? The provider is great for bypassing geo-restrictions and will, in most cases, unblock even Netflix Lebanon with ease.
It has 256-bit AES encryption and DNS and IP leak protection for keeping your IP intact. HMA supports up to 5 simultaneous connections on the same account, which is decent for the price. The connections are stable and the speeds are more than decent.
Despite its not-so-private privacy-policy, HMA is still a decent option. Sure, they'll log some stuff here and there but if you're not doing anything malicious, don't be worried. After all, if you don't like it, you can always get your money back with a 30-day money-back guarantee.
Get Lebanese IP With HideMyAss >
2. PureVPN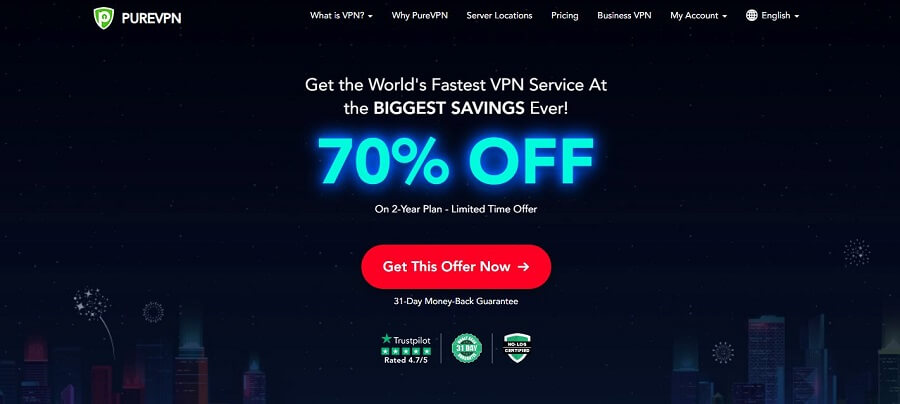 PureVPN isn't a provider that blew our minds. If you read the review, you know that we weren't impressed at all, albeit, it's a really cheap VPN. PureVPN once trumped its zero-log policy and gave the data of one user to the officials.
Nevertheless, as a VPN in general, the provider isn't very bad. You get 3 servers in this country and they offer 'okay' speeds. There's split tunneling, router support, and even 24/7 live chat. The provider also supports routers, which is impressive for the price.
Price-wise, it's very cheap but it comes with some downsides. Once again, if you aren't committing crimes online, you shouldn't worry too much.
Just know that they WILL store some logs of your connections, timestamps, and a few more, which can compromise your identity if you're doing something illegal.