We have decided to review a Swiss provider, that stands as one of the most subscribed names today. Yes, we are talking about ProtonVPN. Admittedly, there are more than a few positive points for this VPN. However, that doesn't mean it is flawless – on the contrary, there are a couple of downsides that you might consider to be deal-breakers. What are these? Read on to known more and also discover the best alternatives to ProtonVPN.
What is ProtonVPN?
When it comes to determining whether one VPN is worth your money or not, there are a couple of things that you will want to consider. Considerations should include things like security features and privacy policy, and also speed and stability.
Coming from the same team that has developed ProtonMail, which is considered to be the first successful email encryption network, ProtonVPN is a service operating in more than 30 countries.
Before we get into what it offers as well as what are its downsides (and the best alternative), it is essential that you know there is a free plan for ProtonVPN.
However, it does come with just three servers, including Netherlands, US, Japan, and can't really help you with anything other than average browsing activity (no streaming/torrenting).
When it comes to how usable this VPN is, we would rate it 9/10 because it supports any device that you can think of and that the installation process is quite quick and simple.
Regarding the offered tunneling protocols, this VPN is highlighted by OpenVPN and nothing more. While an industry-standard, it would be much better if there were L2TP or IPSec to support the overall bypassing ability.
While it does offer a fine overall performance, there are more than a couple of reasons why you may have doubts about its overall quality. Let's take a look.
Downsides of ProtonVPN
As we have mentioned above, ProtonVPN is quite good when it comes to security features, ensuring that you are not at risk of leaks, or malware.
However, it is lacking in a couple of aspects, including the fact that ProtonVPN is not the best when visiting torrent sites, or enjoying great speeds, which is way we will present to you some great alternatives later on.
Slow Speeds
If we were only reviewing the free plan that ProtonVPN offers, then the speed drops of 60% in download and 40% in upload speed would be fine.
Still, because ProtonVPN doesn't provide the most affordable paid plans, the overall server speed would have to be better.
No one denies that any VPN is going to slow down your internet connection. But what ProtonVPN offers is not within an acceptable range if you were hoping to stream HD or play games in high-quality resolution.
Limited Device Compatibility
While we did say that ProtonVPN does offer great usability and device compatibility, that is only the case for macOS, iOS, Android, Linux, and Windows. On the other hand, it doesn't seem to allow installation on smart TVs, consoles, and routers.
Not only that, but we also found that it seriously lacks in the anonymity aspect because the TOR browser is not compatible with this VPN.
Additionally, the 400+ servers that it offers are not that great compared to NordVPN, ExpressVPN, and CyberGhost.
Limited Torrenting
Lastly, we are not pleased to announce that if you opt for their free plan, torrenting is completely blocked.
Additionally, the situation is not much better if you decide to pay for it either, because it is available only in the so-called safe countries.
While it may be perfect for avoiding DMCA, the fact that you cant enjoy unlimited P2P transfers and torrenting is not the best thing out there.
Our Favorite Alternatives to ProtonVPN
Considering the downsides mentioned above, it is quite reasonable that you would want to find a relevant alternative.
It is for this reason that we have prepared a couple of paid VPNs that stand as the leading names in the industry. Take a look:
ExpressVPN
Standing as one of the fastest VPNs on the market, ExpressVPN is a provider that you can surely trust. This is not only for its strict no-log policy but also because of the vast server park that ensures global unblocking ability.
It works in countries like China, Saudi Arabia, and Russia, which is a huge plus. Also, while at a higher price, this is justified by splendid overall performance, stability, and customer service that you can rely on.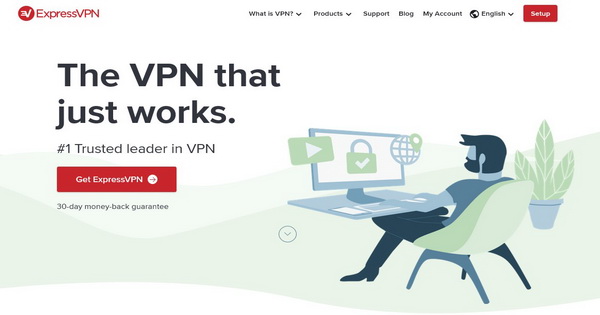 Why choose ExpressVPN over ProtonVPN?
The British Virgin Islands' headquarters location is a little bit better than in Switzerland. It is also based outside of the 5/9/14-eyes alliance.
When it comes to speed, this provider does a great job. We experienced just a slight drop in both download and upload speed when connected to US and UK servers.
Also, we were happy to see that the Hong Kong server works very well. We had a ping of 180 ms and a decrease in speed for download and upload by just 15%.
Why is ExpressVPN better than ProtonVPN?
The fact that you can unblock censored content in mainland China is what makes ExpressVPN one of the most reliable providers on the market and the best alternative to ProtonVPN.
Get a subscription at ExpressVPN.com >
NordVPN
Anyone who has ever researched what is the best VPN on the market has undoubtedly come across NordVPN as a reliable option. Situated in Panama and with a strict no-log policy, you have nothing to worry about in terms of privacy.
We do love the fact that it offers an array of instruments that protect you from potential leaks and malware risks. Additionally, a couple of tunneling protocols including OpenVPN, and 256-bit AES encryption for added security.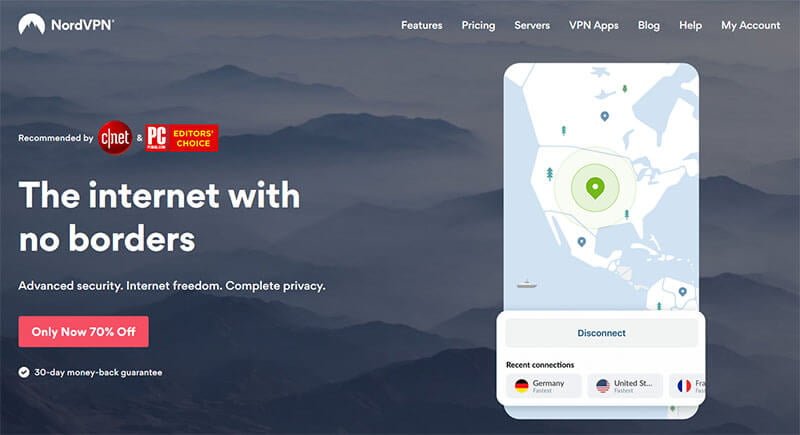 Why choose NordVPN over ProtonVPN?
It is the second best possible substitute for ProtonVPN. Frankly, it offers more than 5,000 servers and is highlighted by explicit security features.
It has compatibility that will allow you access to the dark web. Featuring a flawless ability to unblock Netflix and efficient when trying to watch geo-restricted YouTube videos.
What you should keep in mind is that these two providers are similar in terms of price and payment methods.
The most affordable subscription for NordVPN will cost you just below $3.50 per month for their three-year plan!
Why is NordVPN better than ProtonVPN?
For a couple of reasons, including the fact that it offers a more reliable overall performance (speed and stability), as well as unlimited torrenting. Isn't that a great alternative?
Additionally, you will not have to bother with 5/9/14-Eyes regulations, because NordVPN is set outside of this sphere.
Get a subscription at NordVPN.com >
CyberGhost
At the end of our paid alternatives to ProtonVPN comes CyberGhost, which has more than 6,000 servers and is incredibly effective when it comes to unblocking content across the globe.
What we love is that you can connect with up to 7 devices at a time, as it supports any operating system, including gaming consoles and smart TVs.
Additionally, their customer service is sure to get any issue settled through the effective live chat feature.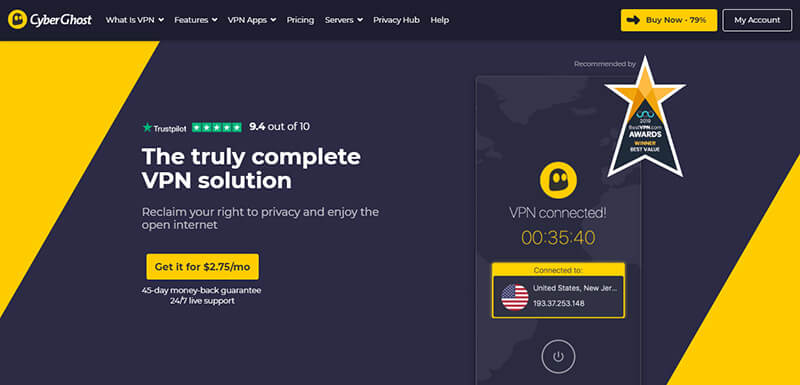 Why choose CyberGhost over ProtonVPN?
Not only because it offers a considerable server park compared to ProtonVPN, but also because the overall connectivity and stability are much better.
Why is CyberGhost better than ProtonVPN?
Apart from the robust ability to unblock content, it is also suitable for its overall usability and compatibility. Unlike with ProtonVPN, you can actually use this one with the TOR browser.
Not to forget, the pricing regime of CyberGhost is more affordable, and their refund policy is one you can certainly rely on!
Get a subscription at CyberGhost.com >
The Best Free Alternative to ProtonVPN
It is clear that there is a couple of reliable options, including NordVPN, ExpressVPN, and CyberGhost, that work much better than ProtonVPN and come at similar prices.
However, for those of you that want a free-of-charge VPN, there is a single alternative/option that might work.
Windscribe
It comes in the form of Windscribe, which offers both a paid and a free plan. It is the latter that interests us. Maybe the most important point is that Windscribe doesn't trade or sell your browsing data in order to turn a profit.
Once you know that, enjoying the offered 10GB per month with 14 different locations seems quite fair. This is especially true, considering that you are not paying anything.
Still, you shouldn't expect it to run as smooth or fast as the paid VPNs.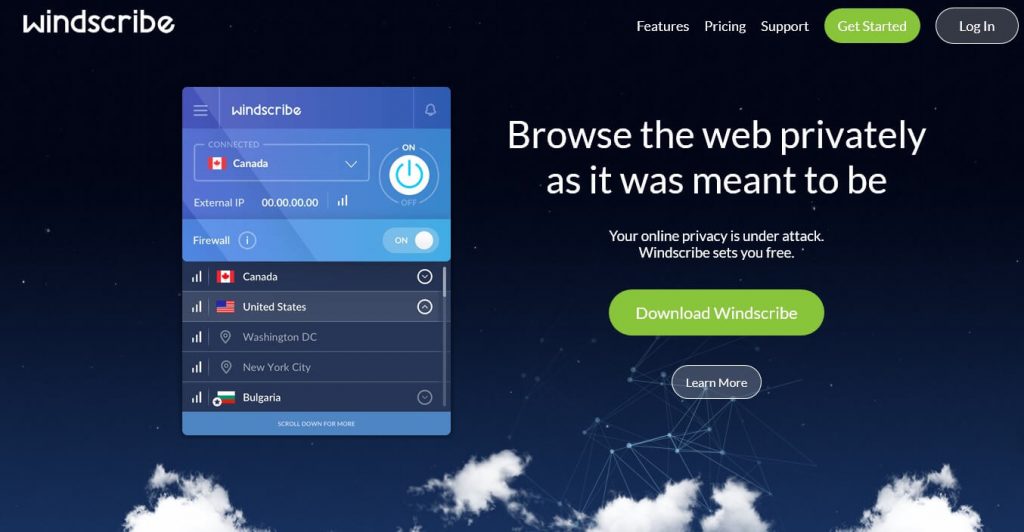 Why choose this VPN over ProtonVPN?
Because you are not paying anything and still getting a good ability to access streaming platforms. Also, the free plan of Windscribe offers 10 more locations than the one of ProtonVPN.
Why is Windscribe better than ProtonVPN?
As we have mentioned above, while there is a 10GB limit, you will be able to enjoy unlimited torrenting and browsing activity for this time.
Because ProtonVPN has issues with torrenting, even on the paid plans, this is quite good!
Wrap Up
We can say with confidence that while an average VPN, ProtonVPN is certainly not something to rely on for unblocking streaming content or torrenting.
For this purpose, we do suggest NordVPN, ExpressVPN, and CyberGhost as three alternatives that will allow you to enjoy stress-free anonymous browsing.