It's no secret that America has dominated the television industry, with the plethora of shows available in the country, and the countless blockbuster films that Hollywood produces each year. This is why so many folks from other countries want access to the channels and services that are exclusive to the US. With this being said, let's see how you can unblock and watch Pluto TV from abroad.

What is Pluto TV?
Pluto TV is an internet television service based in America and owned by Pluto Inc., which is a ViacomCBS subsidiary. The service was founded in 2013 by Ilya Pozin, Tom Ryan, and Nick Group and is based in Los Angeles, California.
It is a free video-on-demand service that is primarily supported by advertisers (advertiser-supported video on demand). Pluto TV mainly provides a variety of programs through linear digital channels.
These channels are designed to simulate the experience of viewing programs that are broadcast traditionally. The service earns revenue via video advertisements that are played during ad breaks, which is similar to the structure found in traditional television.
The content that Pluto TV broadcasts is licensed directly from providers, and they have deals with 170 content partners as of March 2021. They provide over 250 channels worth of programs, and their content is available through their website and supported apps.
Pluto TV Popular TV Shows
What Pluto TV is mostly known for is the versatility of TV shows and movies that it offers. It does offer a number of CBS original series as well as hits such as How to Get Away with Murder, Merlin, and Shameless.
Also, more than a few reality-like shows including Kitchen Nightmares, Dance Moms, and Ramsay's Kitchen Nightmares.
Pluto TV Channel Error Message – Why Does It Appear?
If you live outside of the US and have tried to tune in to Pluto TV, you've likely seen this message:
'We're sorry, but Pluto TV is no longer available in your location. We're working hard to bring Pluto TV back to this area, so stay tuned to find out when we'll be back.'
Pluto TV is only available in the United States, UK, Europe, and Austria. If you do not live in any of those regions (or are on vacation elsewhere), you'll receive the above error message and won't be able to access any programs.
How Can a VPN Help?
VPNs are most commonly used for the exact reason you've come to this article – to unblock region-blocked streaming and television services. They do this by tunneling your IP address and connecting you to servers that are located in the country that the service you wish to access is available in.
Avoid geo-blocks with the help of ExpressVPN >
For example, you would not be able to watch Pluto TV if you live in Australia. However, you can use a VPN to connect your device to a server located in a country where Pluto TV is available, such as the US or UK.
The VPN would change your IP address to match that of the server's in another country, which would allow you to bypass the 'region-wall' undetected. Most VPN providers also have dedicated servers for streaming, which can help make the streaming experience more seamless.
How to Unblock Pluto TV Outside the US Easily?
When it comes to using a VPN to unblock Pluto TV content from abroad, the process is very simple. Here is all you need to do:
Subscribe to one of the VPNs from our recommendations below. The best one being ExpressVPN in our eyes.
Download the app for your device and sign in
Connect to a server located in the US from the server list
Visit the Pluto TV site and log in or sign up
Start watching your favorite content seamlessly even if you're abroad 😉
It really is that quick and easy!
Best VPNs to Watch Pluto TV Outside the US
There are a number of VPNs that can allow you to watch Pluto TV outside of the US. Plus, you can enjoy free Champions League streaming with this trick, which is awesome! Here are our favorites:
1) ExpressVPN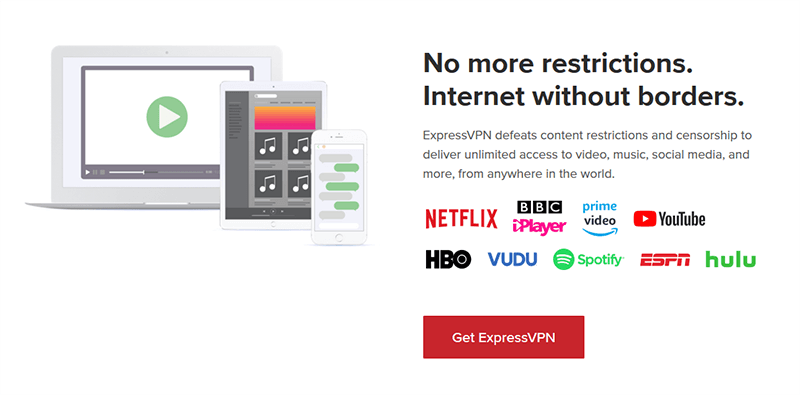 ExpressVPN is one of the most popular VPN services, thanks to its simplicity and the thorough service it provides. It works effectively and without hiccups, with very little downtime as well.
Their impressive network of more than 3,000 servers is located across 94 countries, with 24 server hosting locations in the US alone. It goes without saying that you'll be able to watch Pluto TV live from abroad. The company does not collect any traffic logs, which is a valuable trait to look for in VPNs.
There is only a small amount of metadata stored, which is the date of your connection, which server location you connected to, and the total bandwidth you used. ExpressVPN does not store any other information, and the data they do store is used to improve the quality of their service.
ExpressVPN makes use of 256-bit AES-CBC encryption protocols by default, in addition to HMAC authentication and great forward secrecy. It also includes a kill switch, which ExpressVPN refers to as a 'network lock.' Find out more about this awesome VPN here:
Pick ExpressVPN and Watch Pluto TV Outside the US >
2) CyberGhost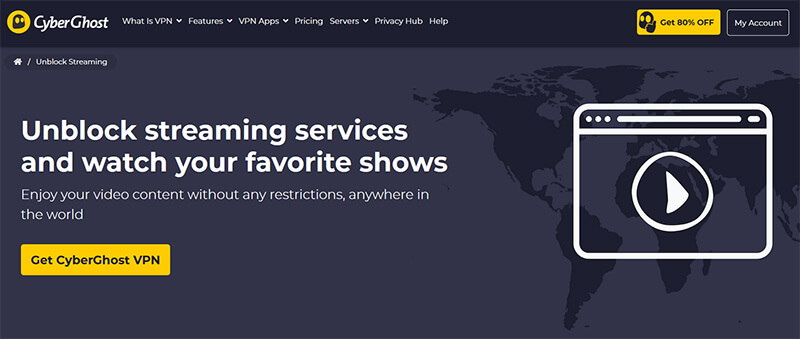 CyberGhost offers excellent value for money. They are also one of the fastest-growing VPN providers out there, with their server network expanding enough to compete with even the most popular VPNs.
CyberGhost does not log any of your online browsing habits and behavior. The company is based in Romania, meaning that they are not under the jurisdiction of Western government agencies. In short, they are not required to abide by mandatory data retention laws.
They have slightly more than 6,000 servers found in just under 90 countries, with 730+ servers located in the US. This allows you to watch Pluto TV outside the US with no problems AT ALL.
CyberGhost has apps available for iOS and Android, as well as desktop software for macOS and Windows. Very rarely do VPNs have such a wide variety of device compatibility, so this puts CyberGhost amongst the elites.
Unfortunately, it does not unblock Amazon Prime but is able to bypass Netflix and BBC iPlayer's regional security blocks effortlessly. Finally, CyberGhost offers a good variety of encryption methods, with the Pro version making use of a 256-bit AES encryption method.
Get CyberGhost and bypass geo-restrictions >
3) NordVPN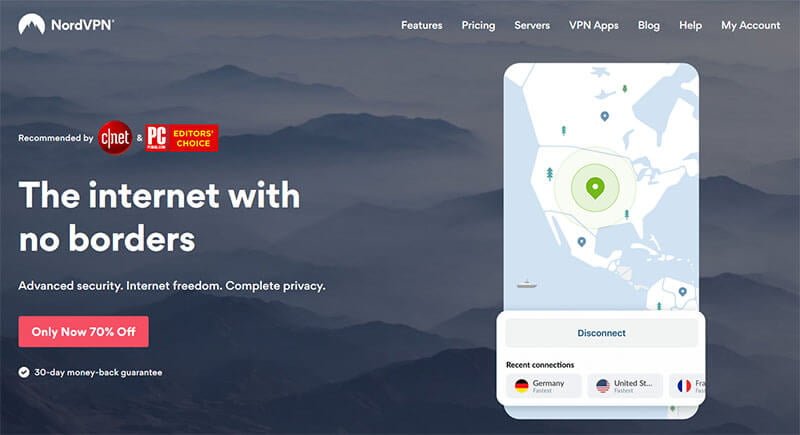 Another top-rated VPN that is able to unblock Pluto TV outside the US is NordVPN. It allows you to choose a server based on its location or use – ultra-secure privacy, TV streaming, or anonymity. The company was created nearly ten years ago, so they have more than enough experience to provide a premium service.
They surpass all the prerequisites that make a VPN exceptional. NordVPN does not record any of your data, which makes it a privacy-friendly service. They host over 5,500 servers found in over 50 countries, 1,700 of which are located in the US.
By default, they use a 256-bit AES encryption protocol, as well as 2,048-bit SSL keys, and DNS leak protection. Plus, you can use the VPN on Roku and various other devices. If you would like to sign up for the benefits of this top VPN, click the button below: