Suits is one of the best-rated TV shows on IMDB that saw massive popularity on numerous streaming platforms. If you love streaming, you've probably heard about it or watched some episodes on the way. But, did you know that Suits is available on Netflix, as well? Those who have a hard time finding it should bear with us, as we're going to show you how to access it easily.
On Which Netflix Catalog is Suits Available?
Being a pretty popular show, Suits is available on multiple Netflix catalogs around the world. However, despite being recorded in the USA, the show can't be found on Netflix US. Since it's available in a total of 32 countries, we won't mention all of them.
Instead, we'll mention some of the countries that have ALL Suits seasons that you can access using our method below. Here they are:
Argentina
Australia
Brazil
Canada
HongKong
India
Mexico
Portugal
Singapore
Spain
Thailand
United Kingdom
Netflix catalogs that have Suits, but not with all seasons, are:
Greece – 8/9 Seasons
Netherlands 8/9 seasons
Turkey – 7/9 seasons
Romania – 7/9 seasons
Russia 8/9 seasons
There are a few more countries for both lists, but these are the entries we deemed relevant. If you want to unblock this show from abroad, you want to aim for the upper list.
How to Watch Suits on Netflix?
If you're outside of an eligible country, you can unblock and watch Suits on Netflix with a VPN. This service lets you change your IP address, making it easy to bypass geo-restrictions. To put it simply, you connect to a VPN server in another country to "fool" the streaming platform into thinking you're from that country.
That way, it shows you a catalog tailored to your region. This is one of the reasons why you should use a VPN. Another reason is to stay safe and secure online, which is very important in today's day and age.
A VPN will let you do much more than unblock Netflix, and that's why it's so important for your privacy and security online. Here's how to use it to watch Suits on Netflix:
1. Get a VPN Subscription
The first step is to subscribe to a VPN of your choice. We recommend ExpressVPN. It allows you to install and use your VPN on Mac, Windows, iOS, Android, and Linux platforms, making it great for all purposes.
2. Download & Install the Respective Apps
When you subscribe, download and install the app you're going to use. Then, open the app and sign in with the credentials provided upon registration.
3. Connect to the Server Closest to You for Watching Suits
You should now be at the home screen, where you can see the connection button. Under it, click on the country to open the server list. Now, choose the country from our recommended list above. Our tip is to choose the one that's closest to you, that will still allow you to watch Suits.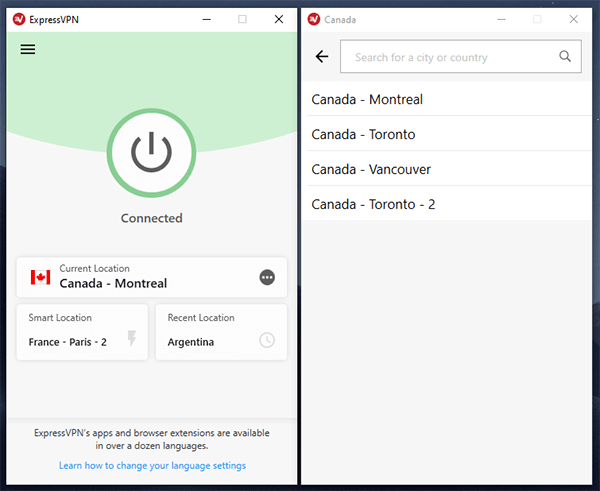 Choosing the country will show you all the available VPN servers there. Click on the server and use the connection button to establish a connection.
4. Enjoy Suits on Netflix
With your connection established, visit Netflix, type "Suits" in the search bar, and you should find it easily. After that, just watch all the season you want 😉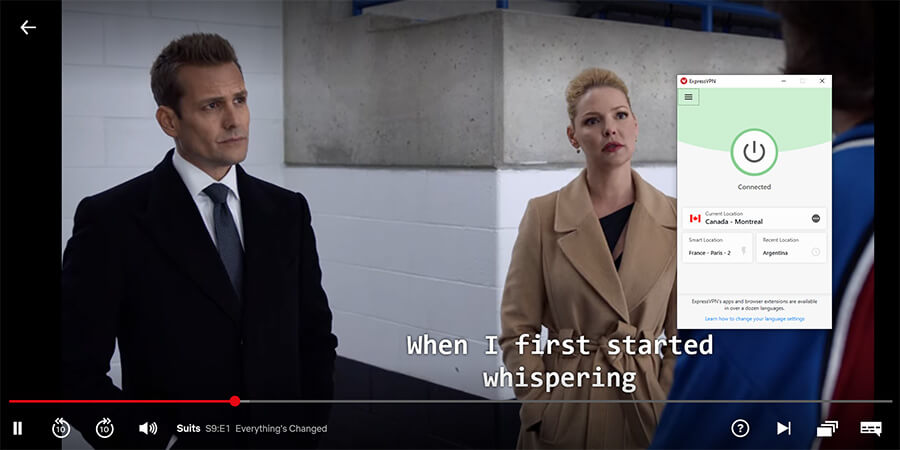 Best VPN to Watch Suits on Netflix
Not all providers can unblock Netflix catalogs, which is why you should be very careful when choosing the right one. As said, we recommend ExpressVPN if you want to watch Suits and other shows on Netflix.
The reason being is because it's very reliable and works with this streaming platform perfectly. ExpressVPN offers 3,000+ servers in 94 countries, allowing you to bypass geo-restrictions such as this one in a single click.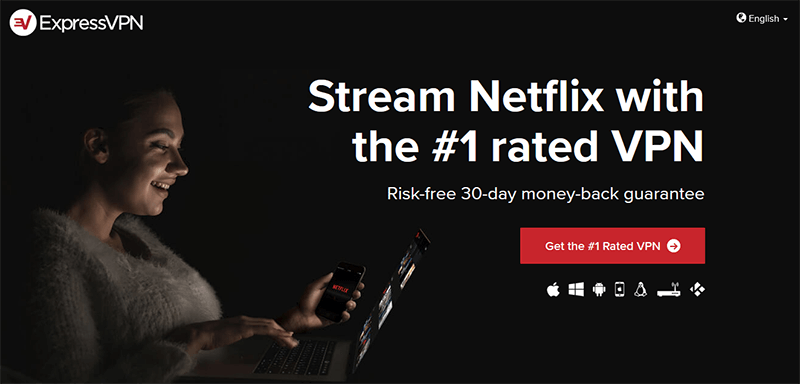 Furthermore, the provider has the fastest speeds on the market, which is another good thing for streaming. You can forget about stutters and buffers, even if you have a Premium account for 4K footage.
Watch Suits on Netflix With ExpressVPN >
ExpressVPN is great at unblocking platforms like Hulu, HBO GO, and Disney+, too. This will let you expand your streaming capabilities and enjoy all your favorite shows, movies, and cartoons. To watch Suits on your mobile phone, ExpressVPN won't require another subscription.
You can cover up to 5 devices with a single subscription, where all devices get 256-bit AES protection and an automatic kill switch. Lastly, ExpressVPN offers a 49% discount and 3 months free for an annual plan. And if you don't like it, a 30-day money-back guarantee is in place. You probably won't use it, but hey…
Can Free VPNs Unblock Netflix Catalogs?
Free VPNs will do you more harm than actually provide benefits. Why?
Because they do a poor job of keeping you safe and secure online. On top of that, they almost always store logs of your browsing history and personal data, which they later sell to third parties for revenue.
For Netflix, free VPNs won't suffice, either. They're bad at unblocking it, and if they aren't, issues like slow speeds and limited bandwidth will appear. With limited bandwidth and slow speeds, you won't be able to watch more than 3 episodes a month.
Our suggestion is to avoid them at all costs and focus on the premium offers. They'll give you a true VPN experience that includes unblocking Suits on Netflix and preserving privacy online.